After completing our home bar project and renovating our staircase, we decided it was finally time to tackle our laundry room. And while we're used to seeing beautiful pictures of designed laundry rooms online, we had no idea where to start.
So after hours of research, quotes, and contractors, we've compiled our complete Laundry room renovation guide below based on our experience. Plus, we're sharing exactly how much our laundry room renovation cost and how long it took.
Our Original Laundry Room
Since moving into our home, we've pretty much ignored our laundry room. While it is a great size and convenient at the top of our stairs, it's also been an unfinished eye sore. As you can see from the pictures below, our laundry room had just a washer, dryer, and wire shelves. And, of course, the lovely builder-grade brown tile (sarcasm!).
The biggest waste of this room, though, is the lack of storage!
Because of its great size, we found ourselves just stacking paper products and other items, but we knew with cabinets and storage, this area could be great. Finally, after months, we decided to embark on our laundry room renovation.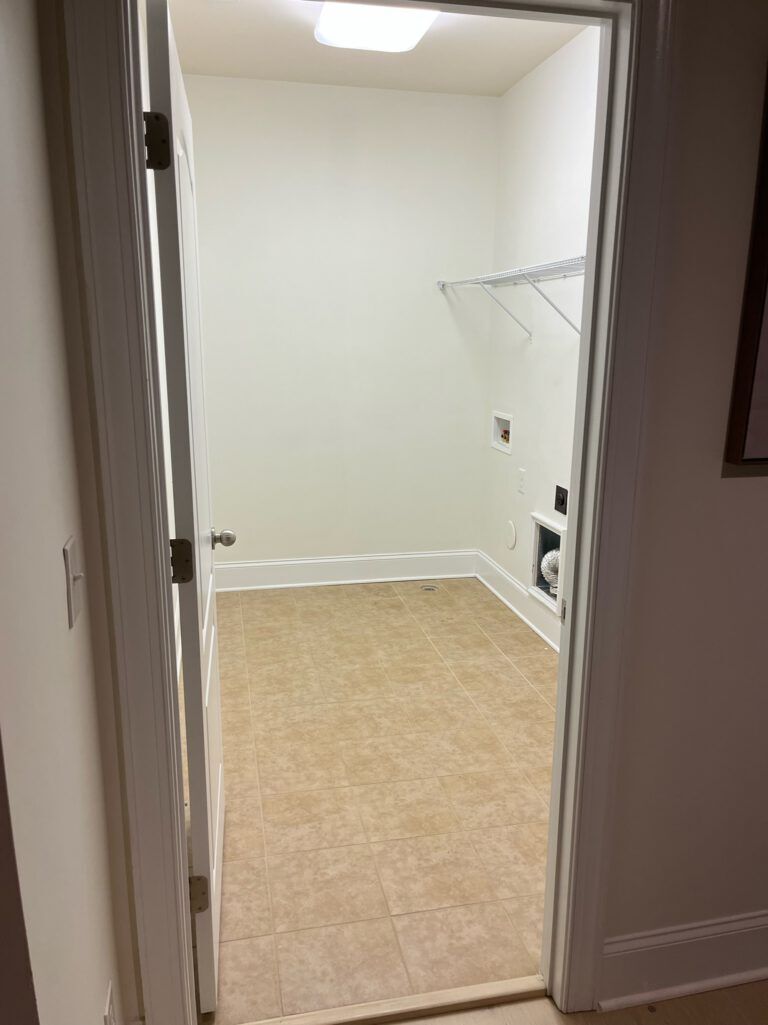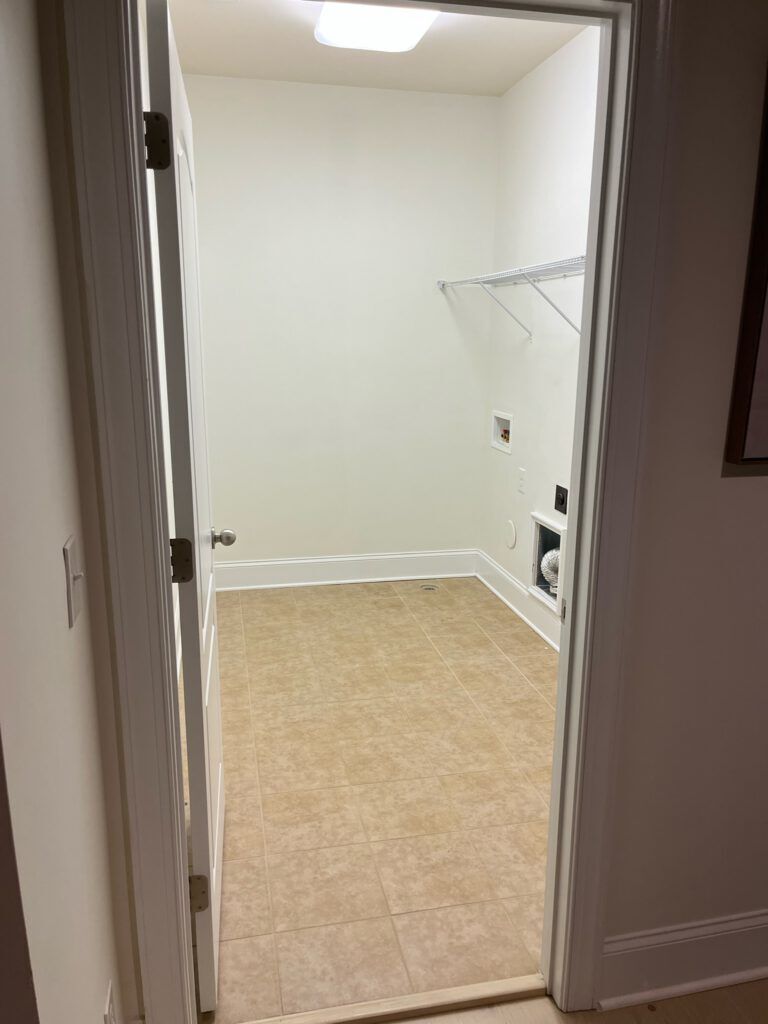 Our Laundry Room Renovation Guide
We've broken this guide into each of the typical areas for renovating a laundry room, including how we ordered them. Plus, we've included all of the decisions and research we conducted when planning this renovation.
It's also important to note that while you can use a local kitchen or bathroom general contractor for renovating your laundry room, we decided to subcontract this project ourselves. That means we hired each of the individual subcontractors (tile, cabinets, etc.) for this project. While a bit more time-consuming, this is usually 20-30% less expensive than using a general contractor.
Flooring
Since we knew we would be installing cabinets in our laundry room, the first step was to replace the floors. If you have existing cabinetry or anything connected to the ground, you'll want to remove these first before moving on to flooring.
Why We Choose Tile Over Hardwood
As mentioned above, our original space had brown builder-grade tiles. And while the rest of our house has white oak engineered hardwood floors, we wanted to stick with tile for this space, mainly because of the water.
Tile is a great flooring material as its durable, water-resistant, and easy to keep clean. Plus, it helped to break up the rest of our house, which is engineered hardwood.
Another popular option is LVP flooring. Since LVP is water-resistant and durable, it can easily withstand the high traffic of a laundry room. However, LVP is also a softer material than tile, so if you're worried about dropping heavy items on the floor or are concerned with scuffing or scratching from rolling carts, LVP may not be the best option for your space.
Picking a Tile and Grout
Next, we had to pick the style and type of tile. We visited our local Floor & Decor and also ordered several samples from tilebar.com (not sponsored) so we could see how they looked in our house.
In the end, we selected this 4×19 Matte Porcelain Texstone Gray Subway Tile. Because of its grey color, this would be a practical tile in our laundry room.
In total, we ordered 80 square feet of tile, which cost $596.35.
But to add a bit of wow, we decided to have the tile installed in a herringbone pattern. While we knew this was a bit more expensive because it's such a small space, this is a great way to make a statement.
At this point, it's also a good idea to consider what color grout you want. Grout is like the "paint" between your tiles and can drastically change the look of a room.
While white grout is standard, we wanted to avoid it since it often gets dirty and is hard to clean. Instead, since we had light grey tile, we decided on grey grout that should help hide dirt over time.
Once we selected our tile and picked a grout color, we reached out to installers in our area.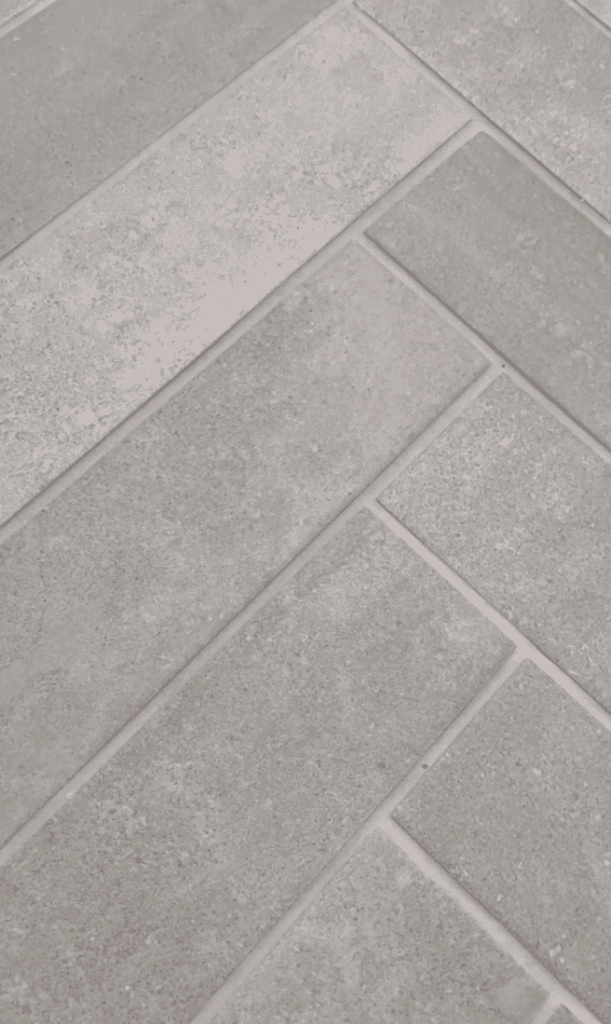 Hiring an Installer
To find our tile installers, we reached out to several local contractors on Thumbtack and google. During the process, each confirmed the size of our project, the pattern of the tile, and the color of the grout we wanted.
After receiving 3 quotes ranging from
After selecting our tile installer, we scheduled the installation for the following week.
Finally, since our laundry room is only about 400 square feet, we confirmed with the installer that this would be a one-day job.
Prep for Installation
Ahead of your installer's arrival, be sure to remove everything from the laundry room, including your washer and dryer (for guidance, see the section below), and have your tile ready.
It's also important to know you won't be able to move your washer and dryer back for several days. During this time, your tile is setting and any large or heavy objects could damage your floor. Because of this, we'd recommend making sure all of your laundry is done the day before tile installation!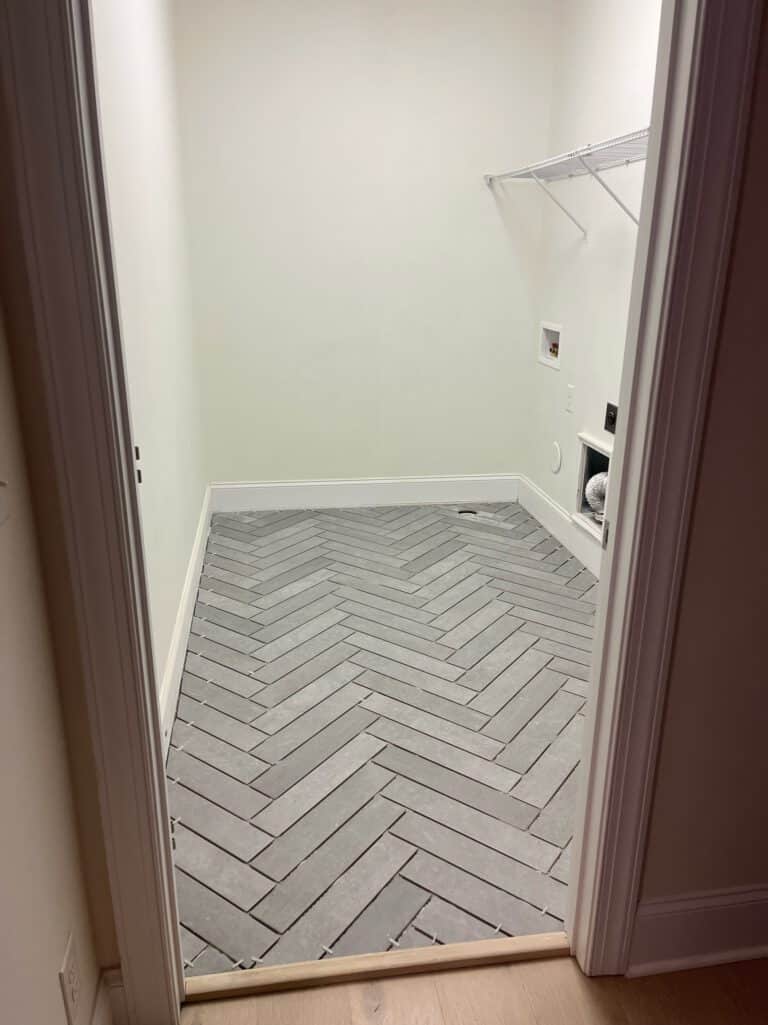 Removing Existing Tile and Installing New Tile
On the day of installation, our contractors arrived and immediately began removing the tile. To remove the existing tile, they used a hammer and chisel to break up the tile and then a scraper tool to remove adhesives.
Once the floor was prepped, our installers measured out the tiles for cutting and laying, using chalk lines so that everything would be straight. After marking each line with a pencil, they cut along those lines using a wet saw. Since we opted for a herringbone floor, they spent most of the morning cutting and prepping.
Once they had the floor fully tiled, our contractors grouted the tile using a sponge and rubber float. They also sealed all of the cut edges to further protect the tiles from moisture.
From there, they left for lunch as the tile set for about 2 hours. Once they returned, they inspected the tile for any issues and cleaned up.
Before they left, they reminded us that we couldn't move the washer and dryer back for 3 days while the tile set. This also made us realize it was a great time to buy a new washer and dryer!
Buying a New Washer & Dryer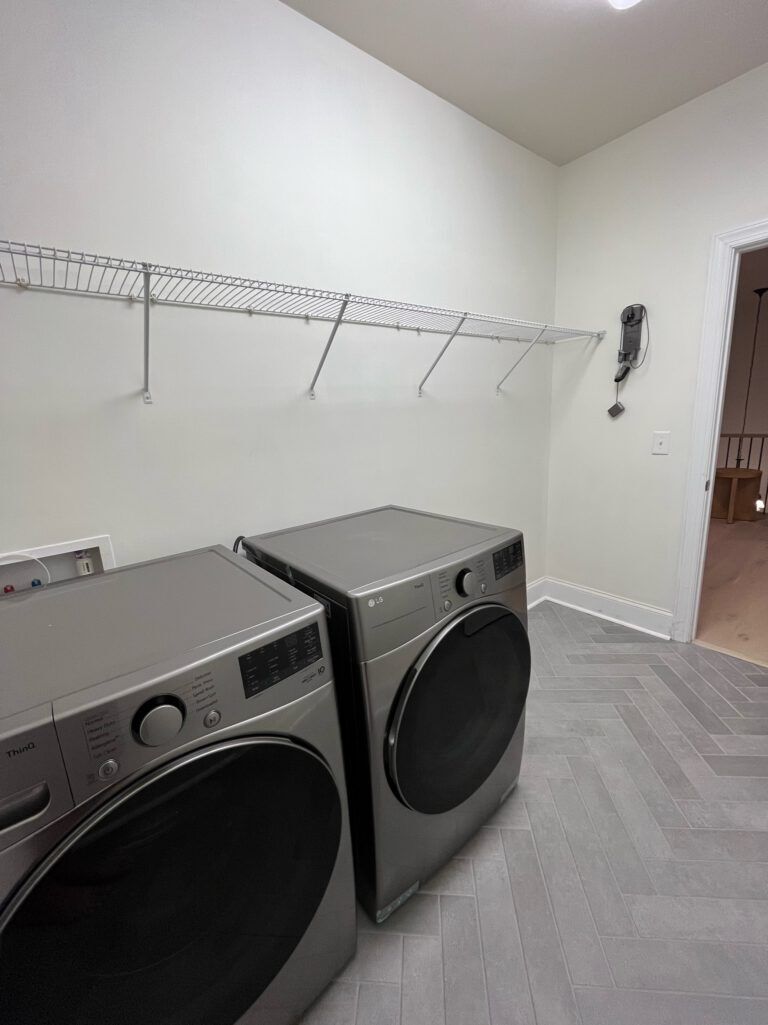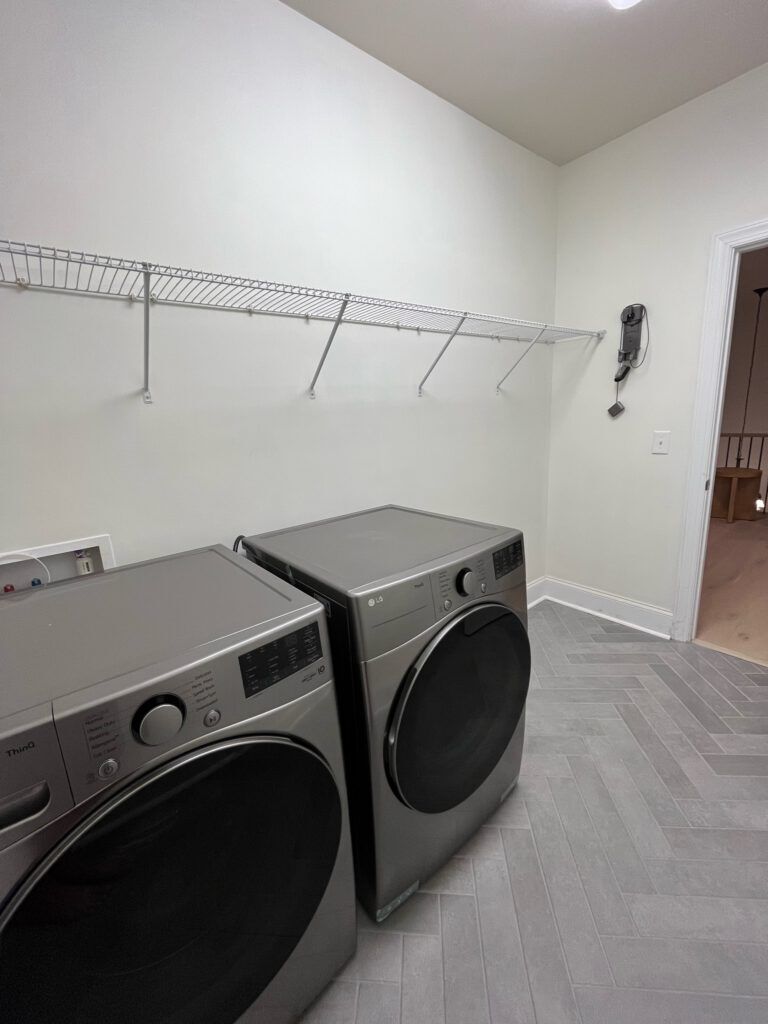 How to Remove a Washer and Dryer
As mentioned above, when we re-tiled our laundry room, we had to remove the washer and dryer.
The first step to removing your washer and dryer is to disconnect both units. To start, unplug the power from both units. Now, you'll want to carefully disconnect each unit one-by-one.
Disconnecting the Washer
For the washer, you need to turn off the water before disconnecting any hoses. For most washers, you should be able to track the hose that is connected to your machine back to a valve. Once you locate the valve, simply twist them to close, which will stop the flow of water.
Before you disconnect the hoses from the wall, make sure you have a bucket handy since water in the hoses will likely flow out. Once you have your bucket, position it under the valve and remove the hose that connects to the wall valve. Once disconnected, simply place the hose in the bucket. You'll repeat this process for the drainage valve or any other hookups you have.
Disconnecting the Dryer
To remove your dryer, the first step is to disconnect the vent that connects to the wall. You'll likely need to pull the dryer away slightly to make this easier. Typically these vents are a friction fit or have a coil that wraps around the connection. Once disconnected, you're ready to move your dryer.
After disconnecting both units, you can move them out of your laundry room. From our experience, this is definitely the worst part. Not only are washers and dryers heavy, but they're just large and awkward. If you have a helper around, it definitely makes it easy to have a second person. We used a hand truck to move both units and placed them outside our laundry room on blankets to avoid damaging our wood floors.
Deciding to Buy A New Washer & Dryer
After doing all of the work of removing our washer and dryer, we also realized this was the right time to replace them. Our units were about 10 years old, and the typical lifespan of a washer or dryer is 10-20 years, so we knew they were getting to the end.
But that also brought up the tough decision of a top loader or front loader washing machine. Luckily after a lot of research and trips to Lowes/Home Depot, we've got insights to share.
Top Loader vs. Front Loader
If you're deciding between a top loader and a front-loader, there are a lot of factors to consider. And before we tell you which we picked, we wanted to share what we considered:
Price – Front-loaders tend to be more expensive than top loaders.
Efficiency – Front-loaders use less water but also spin harder, which can lead to vibration. Top loaders generally use more water and energy with less efficiency than front loaders. Performance – Top loaders are generally thought to perform better with heavier loads, as they have more water and agitation. Front-loaders tend to be better for small or delicate loads, as they use less water.
What Washing Machine Did We Pick?
After compiling all of our research (and debating back and forth), we finally decided on the LG TurboWash 360 Smart Wi-Fi High-Effeciency Washer and Dryer (linked).
While we'll post a full review on our washer and dryer shortly, what ultimately sold us on these units was the brand, appearance, and features.
We loved that these LG units had features like push alerts to your phone since we tend to forget about loads of laundry. While it may be a bit gimmicky, we've really enjoyed it, especially on busy days!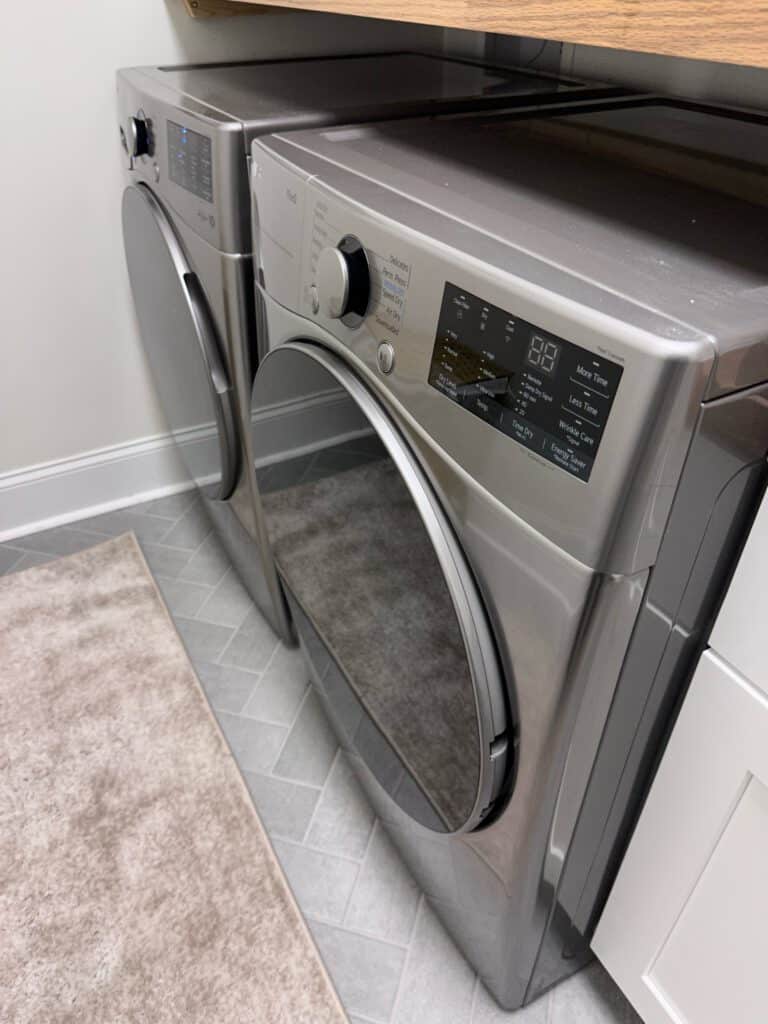 Adding a Sink / Plumbing
If you're planning on adding a sink to your laundry room or any plumbing, now is the time. You'll want to make sure this is done before you install any cabinets or countertops.
Since your laundry room already has water (for your washing machine), running plumbing for a sink isn't too hard. You'll just need to tap into the cold water line and run a drain pipe. We recommend working with a professional on this since it does involve some plumbing work.
In the end, we decided not to put it in a sink or any plumbing. For us, the value wasn't really there. We knew it would likely cost $500-$1000 for the plumbing and sink/faucet, and we didn't see ourselves using it enough. If you find yourself with muddy clothes or big messes, then a sink may absolutely be worth it! Ultimately this will come down to how you're using your laundry room.
Installing Laundry Room Cabinets
Once your tile and plumbing are installed, you're ready to move on to cabinets. Since we subcontracted this project ourselves, we reached out to a local cabinet company we worked with on our bar.
Hiring an Installer vs. DIY
While we decided to hire a local cabinet company we've worked with in the past, you can also install cabinets yourself.
If you're buying standard-size cabinets, you can easily buy them from a local home improvement store or online retailers like Cabinets.com. From there, your installation process will be similar to ours below.
On the other hand, if you're looking for custom cabinets, you'll likely want to use a professional contractor. Custom cabinets will need to be built specifically for your laundry room.
Selecting Cabinets
Before our cabinet contractor came for his initial visit, we drew up a rough sketch of what we had in mind for our laundry room. We wanted standard upper and lower cabinets that made the conversation easy, plus a countertop and a hanging bar for clothes.
Once decided, our contractor ordered the cabinets and returned when they came in.
Removing Existing Shelves
The first step to installing cabinets is to remove any existing shelves or cabinets. In our laundry room, we had Rubbermaid wire shelves, so these had to be removed.
Since we were installing cabinets, our contractor ripped the existing wire shelves out of the wall pretty easily. While there was some damage to the drywall, it would either be covered by the cabinets or could be patched once the installation is completed.
As a note: Installing cabinets will usually leave scuffs and dings on your walls, so be ready to touch up any paint after the project.
Installing the Cabinets
Once the old wire shelves were removed, our contractor began installing the upper cabinets. Starting with the upper cabinets allows you to get under them without having to work around the lowers.
To install the upper cabinets, your contractor will measure and mark where the cabinets should be hung on the wall. He'll then use a level to make sure they're even before screwing them in place.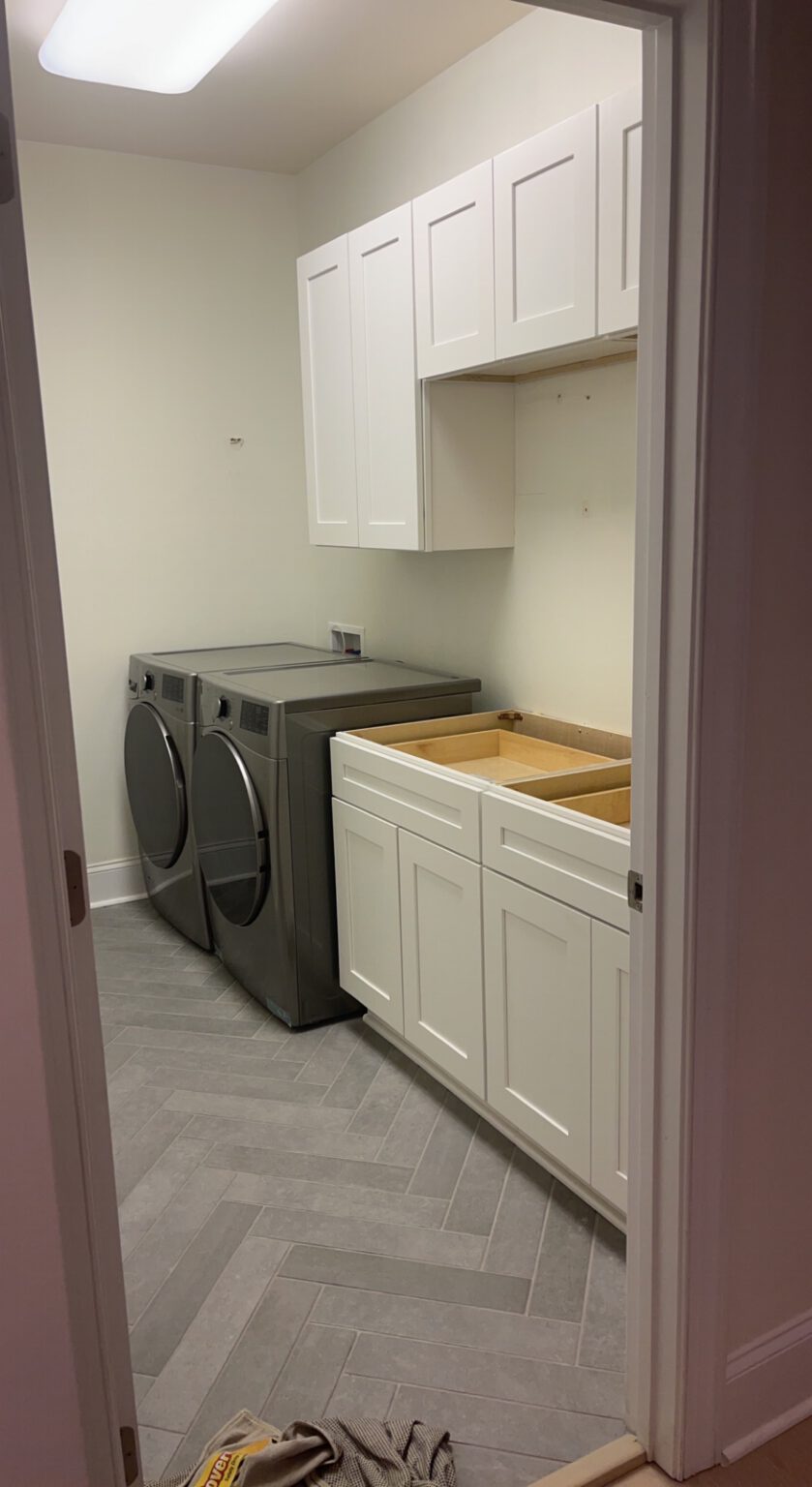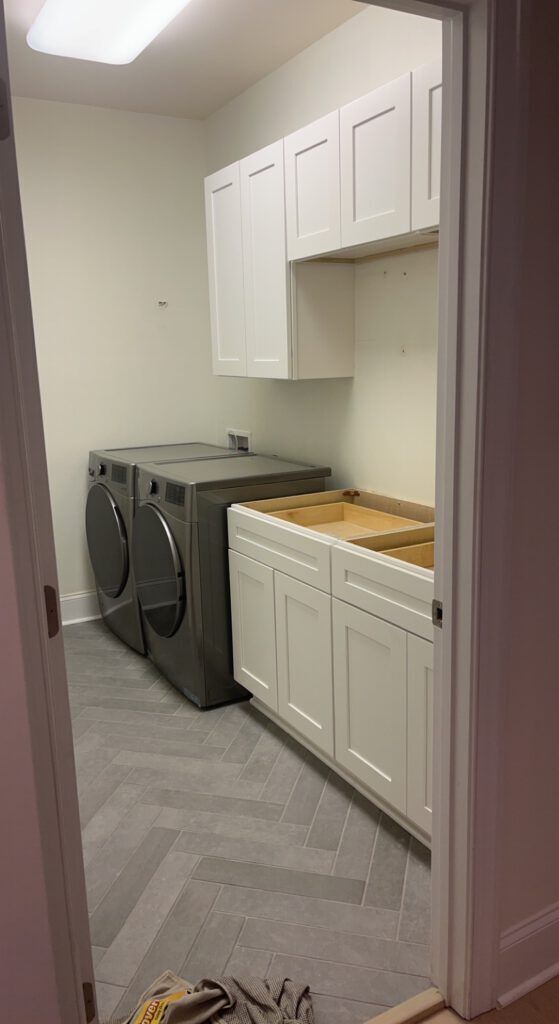 After the uppers are installed, he'll do the same thing for the lowers. When installing these, your contractor will take into account any baseboards or moldings you have.
As a general rule, you'll need to remove the molding, so your cabinets sit flush against the wall. But you'll want to hang on to this molding since you may need it to fill any gaps between the remaining molding and your cabinets.
Extending Cabinets to the Ceiling
Once our cabinets were installed, we realized there was a lot of space between the top of the cabinets and the ceiling. While this is typical for cabinets, extending your cabinets to the ceiling is a great way to give a space a high-end look. Since we didn't want to pay for custom cabinets to go to the ceiling, we asked if our contractor could build open boxes that would fill the space.
By opting for open boxes, they would be fairly inexpensive to build while still adding storage.
After our contractor built the boxes, he installed them in the laundry room and added a piece of crown molding to the top to give it a finished look.
Installing Countertop
Once the cabinets were finished, our contractor began installing the countertop. For our laundry room, we decided to go with a natural wood butcherblock countertop. This not only brought in a warm natural tone, it also helped keep the cost down. You can even buy ready-to-install butcher block countertops at your local lowes or home depot (linked here)
The best part of wood countertops is you can cut and install them yourselves. Though for our laundry room, our contractor took care of this part.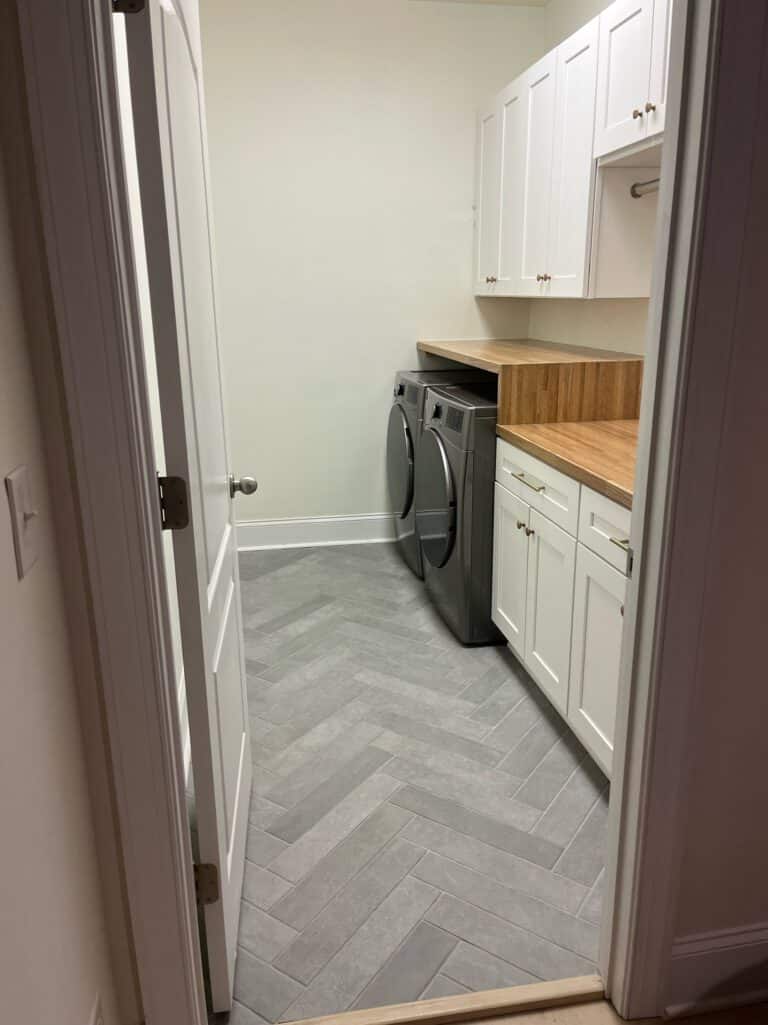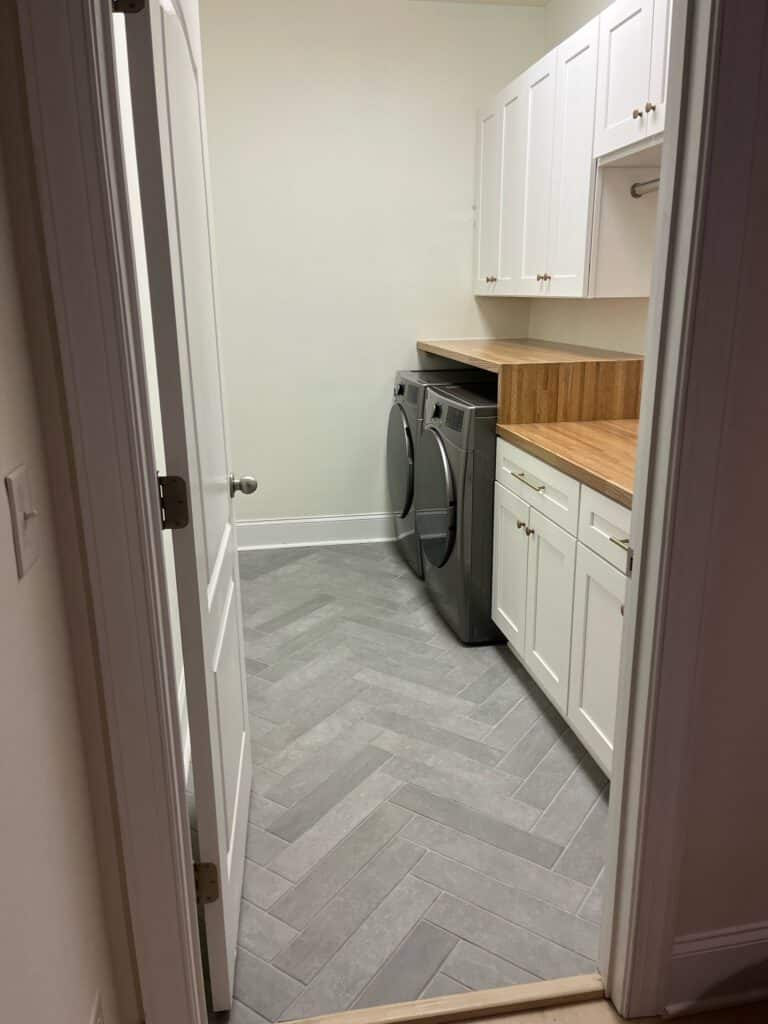 And since we ended up buying our new front-loading washing machines, we asked if he could extend the countertop above the units. Since he had extra wood countertop, it ended up working out great. He even added a waterfall edge to connect the two different height countertops, which is a great design detail.
Touch-ups, Decorate, and Enjoy
Once your countertops are installed, you may need to touch up some areas with paint. We bought a quart of paint and fixed any areas that had scuffs or damage from the installation.
And voila, your laundry room renovation is complete! Now you can add any decor like rugs or artwork and enjoy your beautiful, functional new laundry room!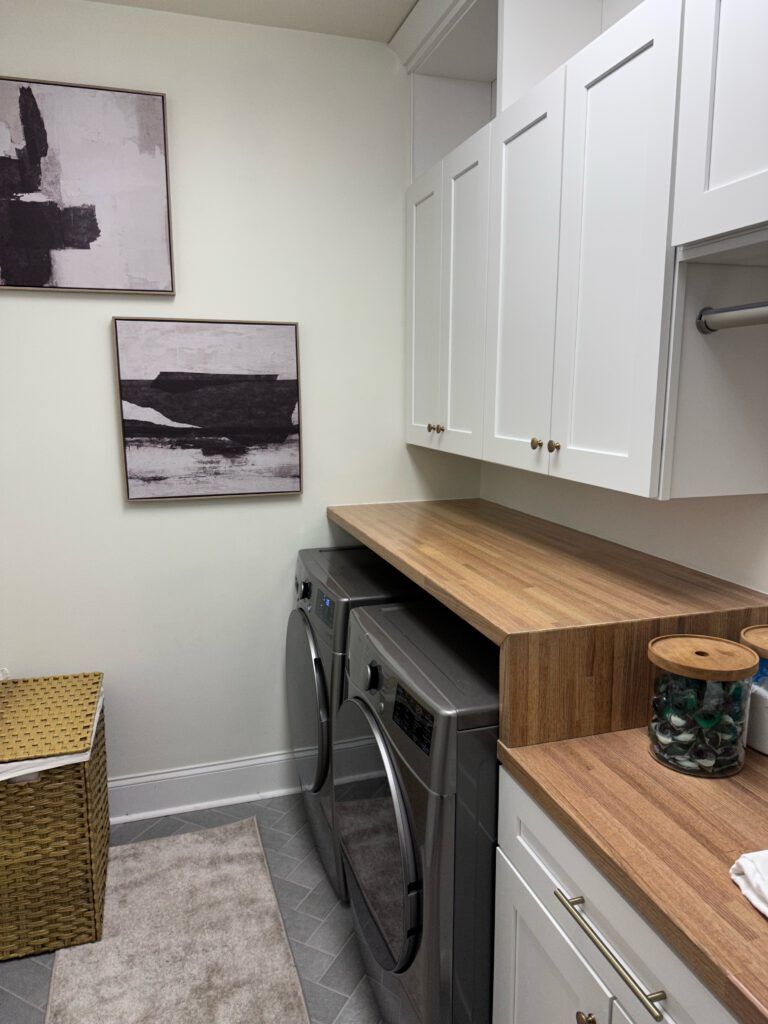 Total Cost to Renovate Our Laundry Room
In total our laundry room renovation cost $8,742.37 for new tile, cabinets, countertop, and a washer and dryer. Plus, this includes all of the labor/installation by subcontractors.
While some areas we splurged (like the herringbone tile), other areas we saved (like the wood countertop). You can see the complete breakdown of our laundry room cost below:
Laundry Room Renovation Cost
Cabinets / Countertop (Materials + Labor): $3,700
Box to extend cabinets to ceiling: $700
Tile (Materials): $596.35
Tile Installation: $1,750
New Washer + Dryer: $1,996.02
Total Laundry Room Cost: $8,742.37
Laundry Room Renovation Timeline
In total, our laundry room renovation took ~8 weeks; however, a lot of this time was waiting for materials and coordinating contractors. If you were to DIY most of this project yourself, you could likely complete it in 1-2 weeks.
Here's the breakdown of our timeline:
Gathering Tile + Cabinets quotes: Day 1
Ordering Tile: Day 4
Receiving Tile: Day 8
Tile Installation: Day 16
New Washer + Dryer: Day 20
Cabinet Installation: Day 28
Countertop installation: Day 29
Cabinet extension to ceiling: Day 36
Final Touchups: Day 39
As you can see, there was a lot of waiting. But the good part was, besides the 4 days waiting for the tile to set and our new washer/dryer to be installed, we were able to do laundry.
Lessons Learned – What Would We Change?
Overall this was a fantastic project that completely transformed our laundry room in terms of usability and design. But, we still had some lessons learned on this project. Here's what we would do differently if we renovated another laundry room:
Schedule it all – As you can see from our timeline above, there was a lot of waiting. Instead, we'd recommend lining up all of your materials and installers from the start. This could easily reduce our timeline in half!
Cabinets to the ceiling – This is a tough one because it really comes down to value. While we love the open boxes and crown molding to the ceiling, cabinets really give a high-end look. That being said, it also would have added another $2-3,000. If you're designing your dream laundry room, or want a high-end custom look, definitely include cabinets to the ceiling!
Bottom Line
If you're considering renovating your laundry room, we highly recommend it! Not only will it make doing laundry more enjoyable (trust us), but you can also increase the value of your home. Everyone loves a gorgeous and functional laundry room, and this renovation is on the more affordable side. Plus, you can likely reduce our cost by another 20-30% by doing more of the work yourself.
Have you recently renovated your laundry room? What lessons did you learn? We'd love to hear about it in the comments below!