If you're following our hardwood flooring renovation, you know that we tried to refinish our stairs only to be dissatisfied with the result. You can read about that entire experience in our refinishing stairs step-by-step guide. But in the end, we knew we wanted to renovate our staircase. And based on the size of a full staircase renovation (and our original DIY results), we knew it was time for a professional.
Based on our initial research, we found it very difficult to find accurate information on stair renovations. The costs online seemed to vary wildly across websites, and most were focused on either basic staircases or multi-million dollar houses.
Keep reading as we review our entire stair renovation project, the actual costs, timelines, and everything to know before starting this project.
Table of Contents
Starting With Our Refinished Stairs
As mentioned above, after refinishing our stairs ourselves, we were left with a bit of a hodgepodge. We stained our treads black and painted our risers white, but we had left all the banisters and newel posts their original color, brown. We knew it was only a matter of time before we renovated the stairs, and after about 6 months, we were ready.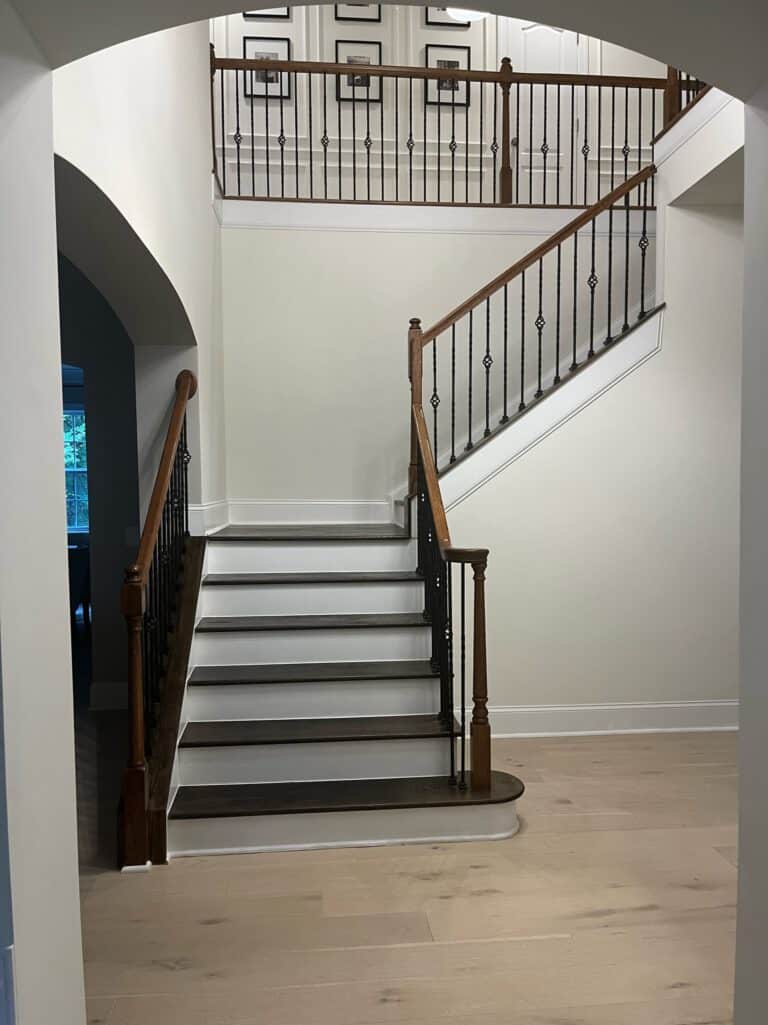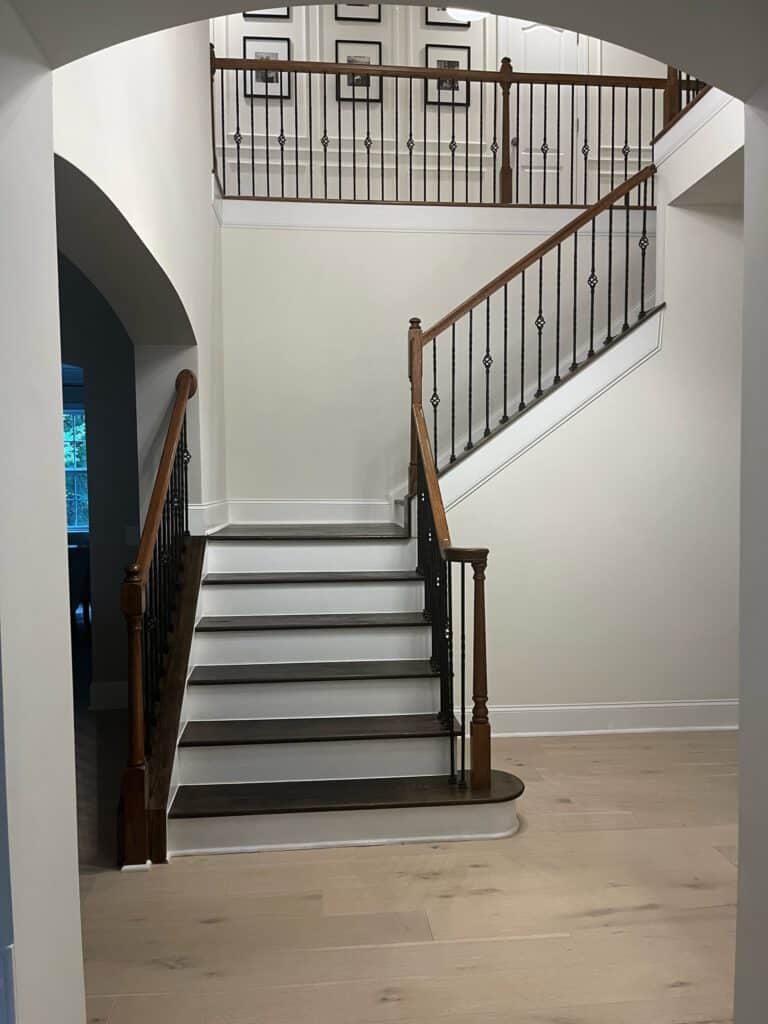 What Does a Stair Renovation Involve?
If you're new to stair renovation, you may be wondering what does it actually involve? We definitely had this question! Based on the stair inspirations we had found, we had an idea of what we wanted but no clue how to get there.
First, it's important to understand the parts of your staircase. There are 7 main parts involved in stairs:
Parts of a Staircase
Treads: These are the horizontal parts of your staircase that you step on.
Risers: These are the vertical parts of your staircase in between each tread.
Landings: If your staircase has a turn or angle, there will be a flat landing in between.
Banisters: Also called handrails, these are the horizontal bars that you hold onto while going up or down the stairs.
Newel posts: These are the large vertical posts at the beginning and end of your banister.
Balusters

: These are the small vertical posts in between each Banister.

Shoe rail: The flooring piece that the balusters connect to on the bottom.
Stair nosing: The part of the tread that hangs past the riser.
You can also see these in the graphic below: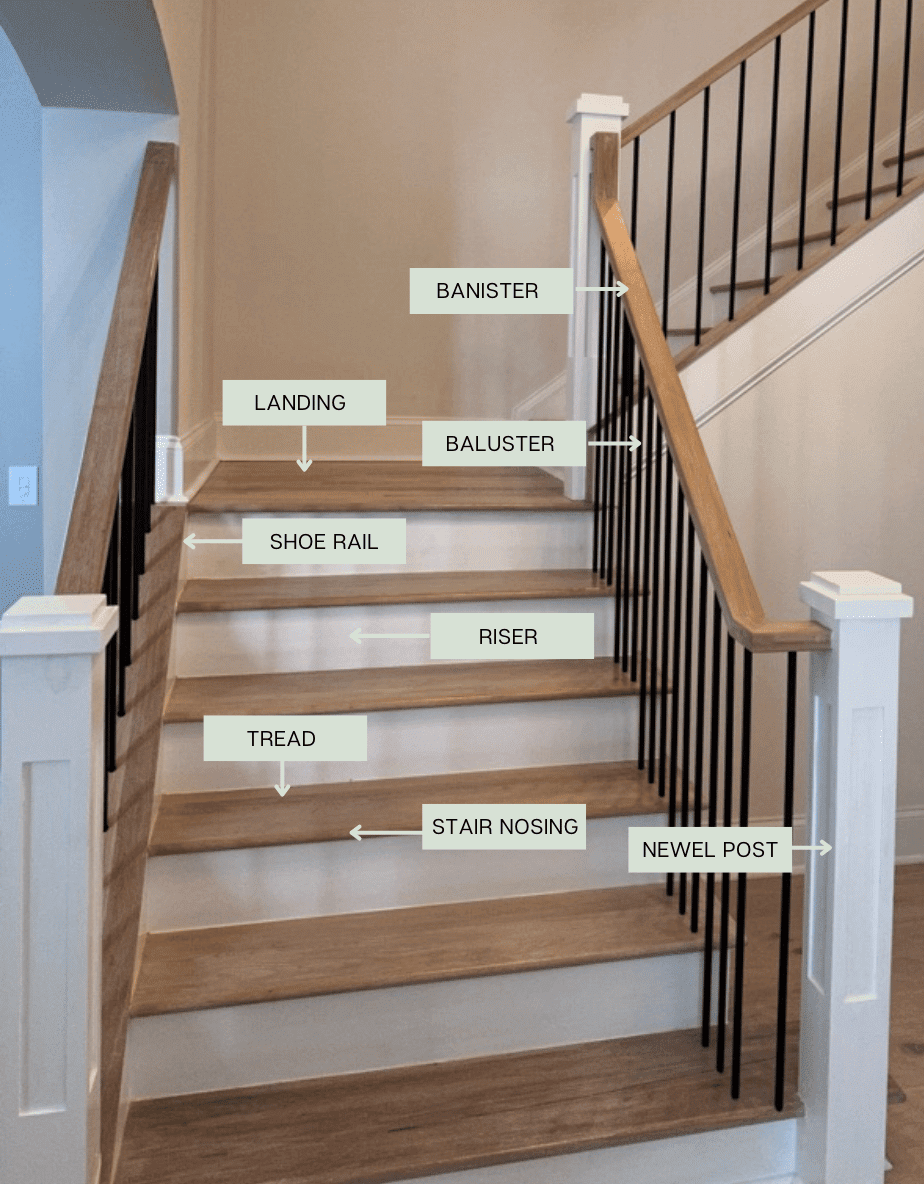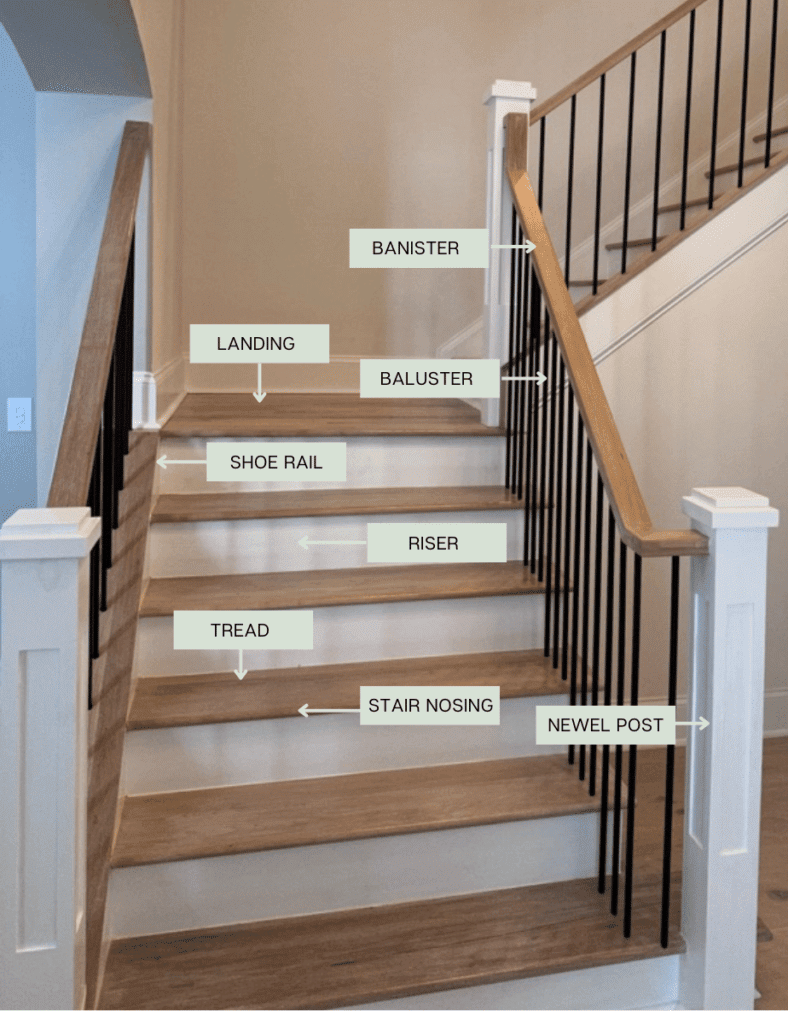 In a typical staircase renovation, you will likely be replacing all of the above parts. However, sometimes you may be able to reuse the treads and risers (although you may refinish them).
For our staircase, we knew we needed to replace everything, including the treads. In our case, we had red oak treads but wanted to match our white oak flooring. You can read more in our guide comparing red oak vs. white oak.
Picking a Design
Before we reached out to any contractors, we looked at tons of stair designs to find what we wanted. In the end, we decided on white newel posts and risers with natural banisters and treads and black modern balusters.
You can see similar designs that we used as inspiration below: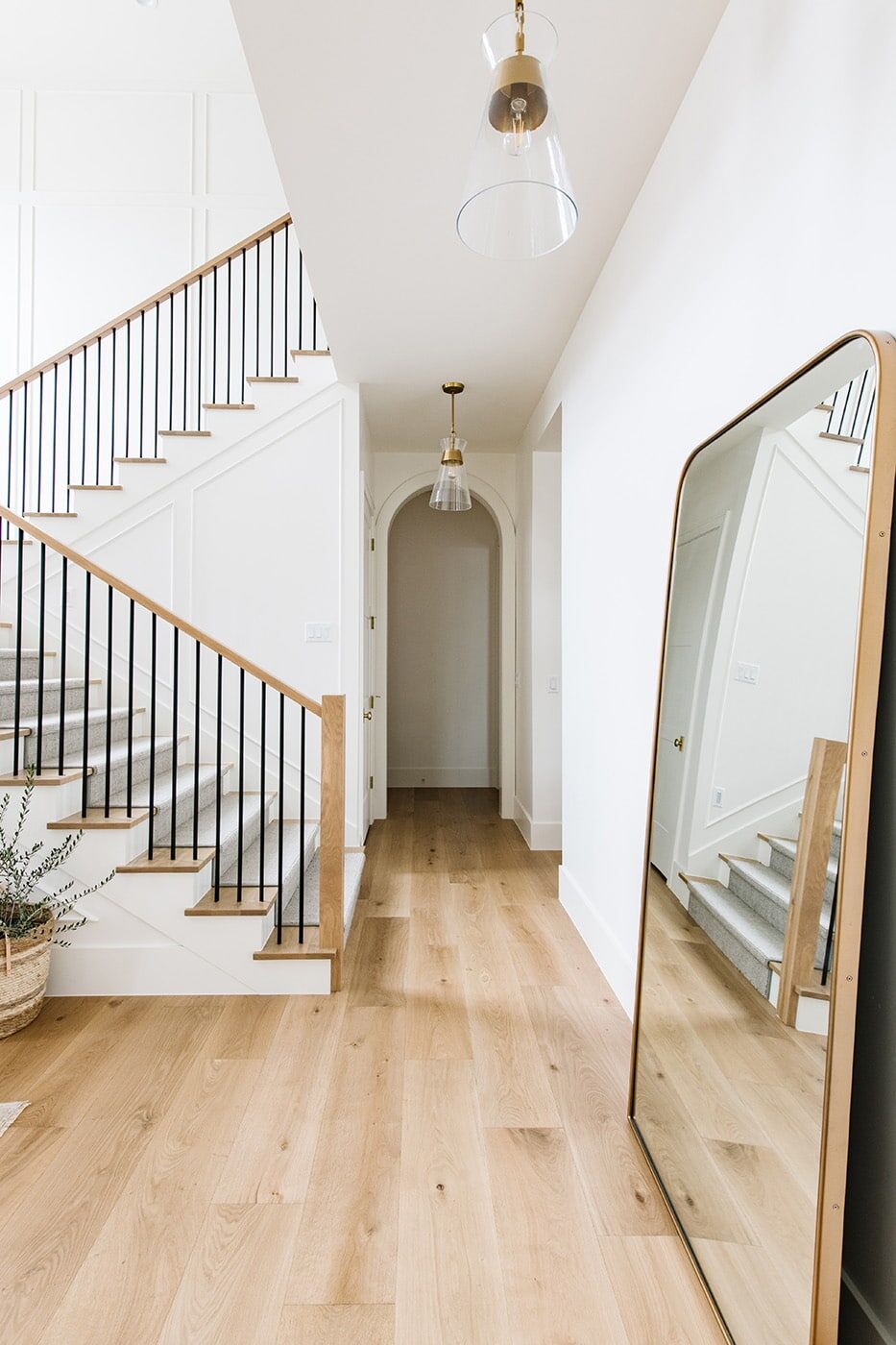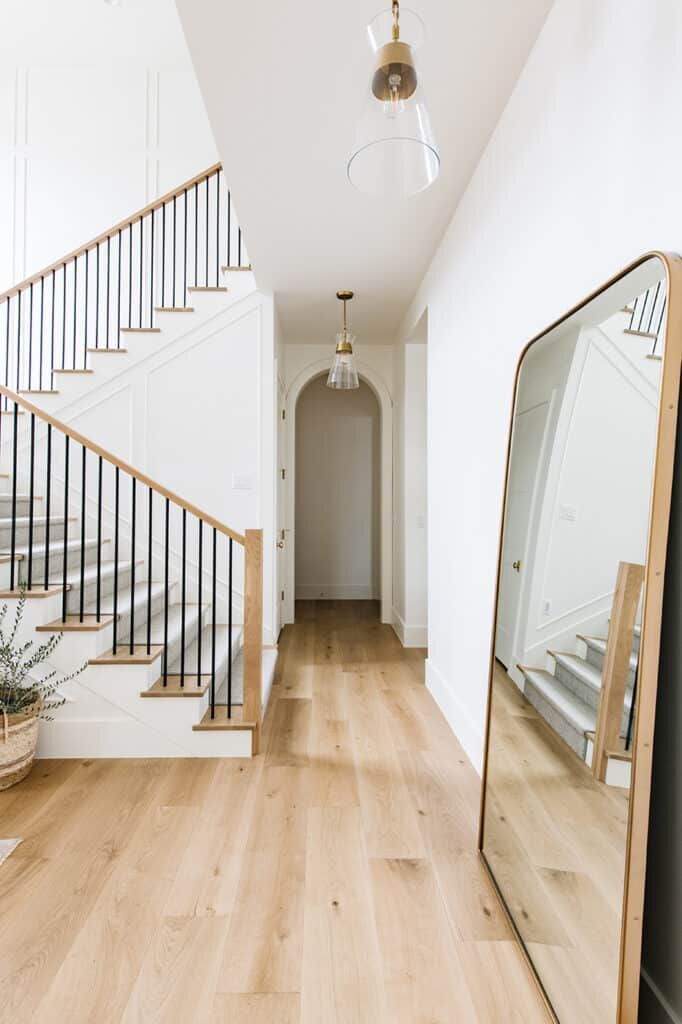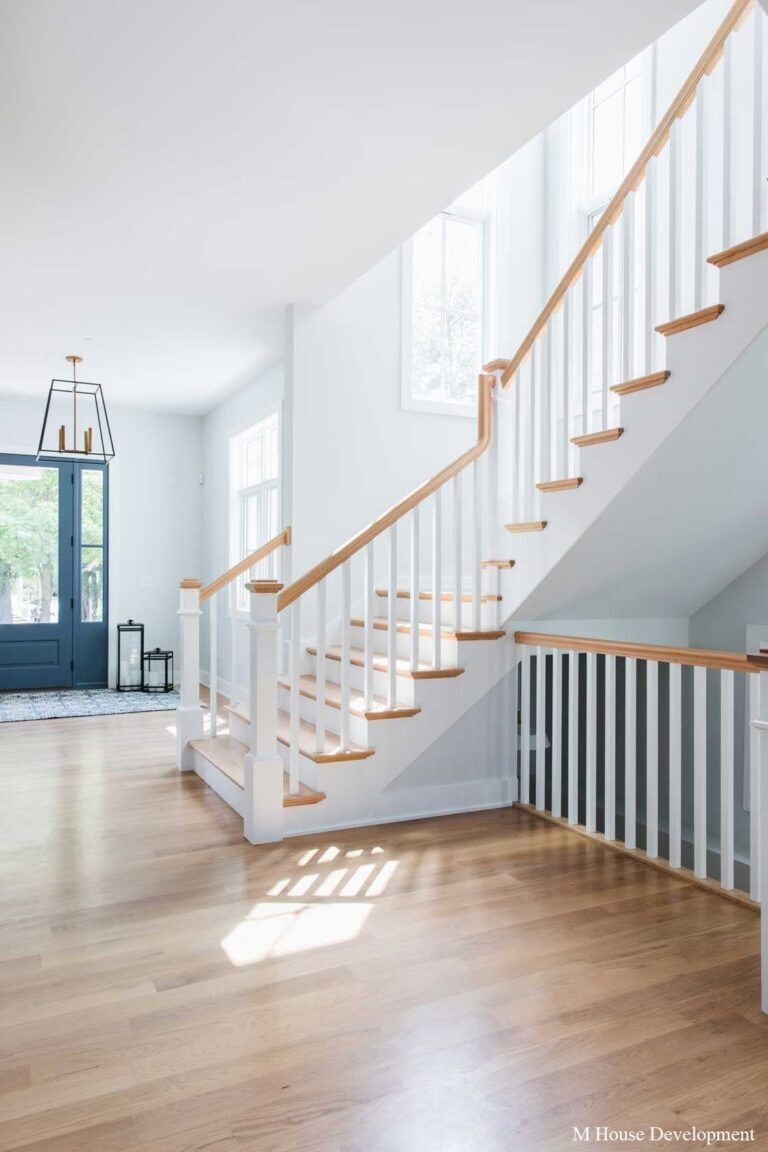 Finding a Stair Renovation Contractor
Once we had an idea of what we wanted, we began reaching out to contractors. We quickly learned that finding contractors for stair renovations can be a bit tricky. We found a lot of general contractors that claimed they could renovate stairs. But after our first experience with our floor contractor installing red oak treads, we didn't have a lot of faith.
If you have a general contractor you work with, it's definitely worth a conversation to see if they've done this type of work. It will also depend on the complexity of your project. If you're renovating a grand staircase in your foyer, you're going to want someone with stairs experience.
After searching google and thumbtack, we finally found 3 different contractors specializing in stair renovation. Based on their websites and reviews, we could tell they were reputable and experienced.
Actual Quotes and Cost for Stair Renovation
We received 3 different quotes for our stair renovation, which I've included below. Since our contractor was gathering the materials (which is common), these quotes are for both materials and labor.
For reference, here are our stair details so you can compare these quotes to your home:
8 newel posts

10 square foot landing

16 treads

16 risers

50 feet of shoe rail

70 feet of banisters

124 balusters
Quote 1: Thumbtack Installer
Note: this contractor bundled the pricing for all the items into remodel and painting categories:
Remodel: $9,400

Prepare work area, remove current treads, landings, newels, rails, rail caps, and balusters. Install (16) white oak solid treads, (16) birch risers, (1) new white oak solid hardwood landing, (8) new poplar newels, new white oak squared rails, new white oak rail caps, and (124) black satin plain hollow iron balusters without shoes.

Painting:

$1,400

Stain new treads, landing, rails, and rail caps to match the floors color and paint newels and risers
Total Quote 1 Cost: $10,800
Quote 2: General Contractor
Materials:
Treads and risers: $996
Landing remodel: $106
Newel posts: $856
White oak banister: $1,628
Iron balusters: $452
Total Materials: $4,038
Labor:
Prep, demo, installation, staining, painting, and cleanup: $4,800
Total Quote 2 Cost: $8,838
Quote 3: Local Stairs Renovation Company
Materials:
White oak treads: $806
Birch risers: $406
Landing hardwood: $206
Newel posts: $912
White oak banister: $2,426
Black iron balusters: $464
Total Materials: $5,220
Labor:
Prep, demo, installation, staining, painting, and cleanup: $6,000
Total Quote 3 Cost: $11,220
Which Contractor Did We Select?
First, we were shocked by how affordable renovating the stairs turned out to be! We thought this would be a $20,000+ project, and all 3 quotes turned out to be below $12,000!
While the general contractor from quote 2 was the least expensive option, we had some hesitancy after our flooring experience. This narrowed it down to quote 1 and quote 3.
In the end, we choose to go with quote 1. Since the prices were so similar, this wasn't really a factor in our decision. Instead, we chose quote 1 because we were able to view pictures and reviews on their profile, and they were the most responsive!
Read more in our full guide to our Actual Staircase Renovation Cost.
How Long Does it Take to Renovate Stairs?
Now that we found a contractor, we were ready to start! And our first question was, how long would this take? When we refinished our stairs, it took us over a week, and that was much smaller than this project.
To our surprise, our contractor told us they expected the entire project, including demo, installation, staining, and clear coat, to be 1 week (we'll detail this entire timeline below.)
Can You Use the Stairs During the Renovation?
Yes, we were able to use our stairs every night during the renovation. On one or two of the days, we were unable to use them mid-day since they had removed the treads, but that was it.
This is absolutely a question to ask your contractor about. Since every installer is different, you want to make sure you're prepared for when you can't use them!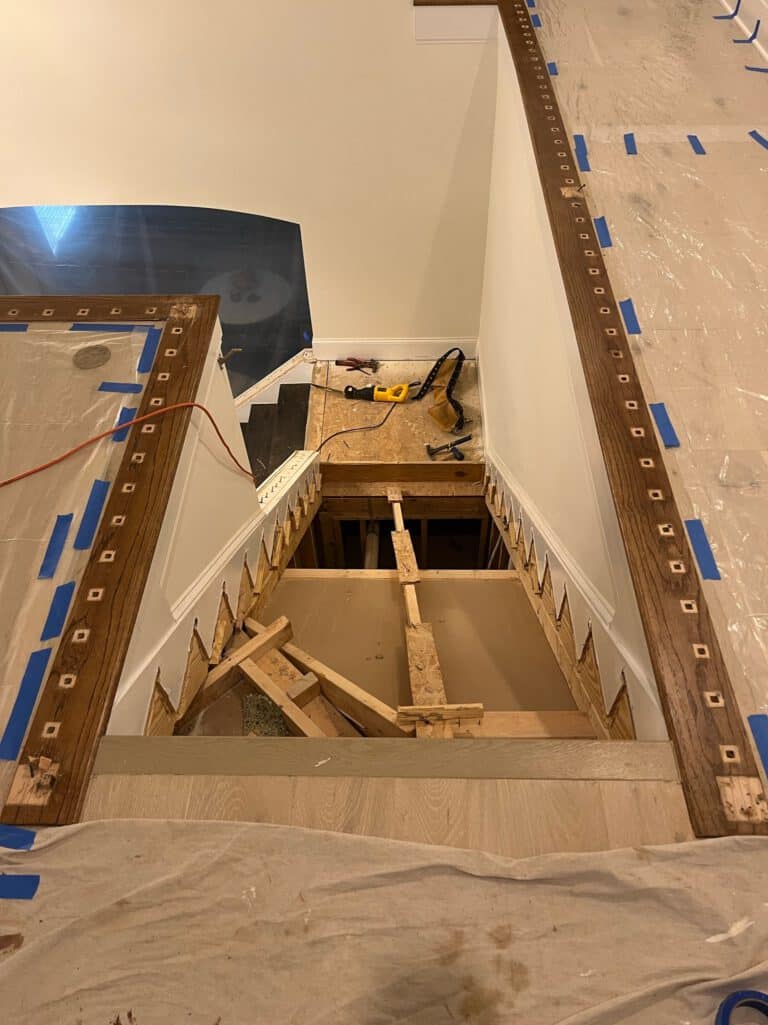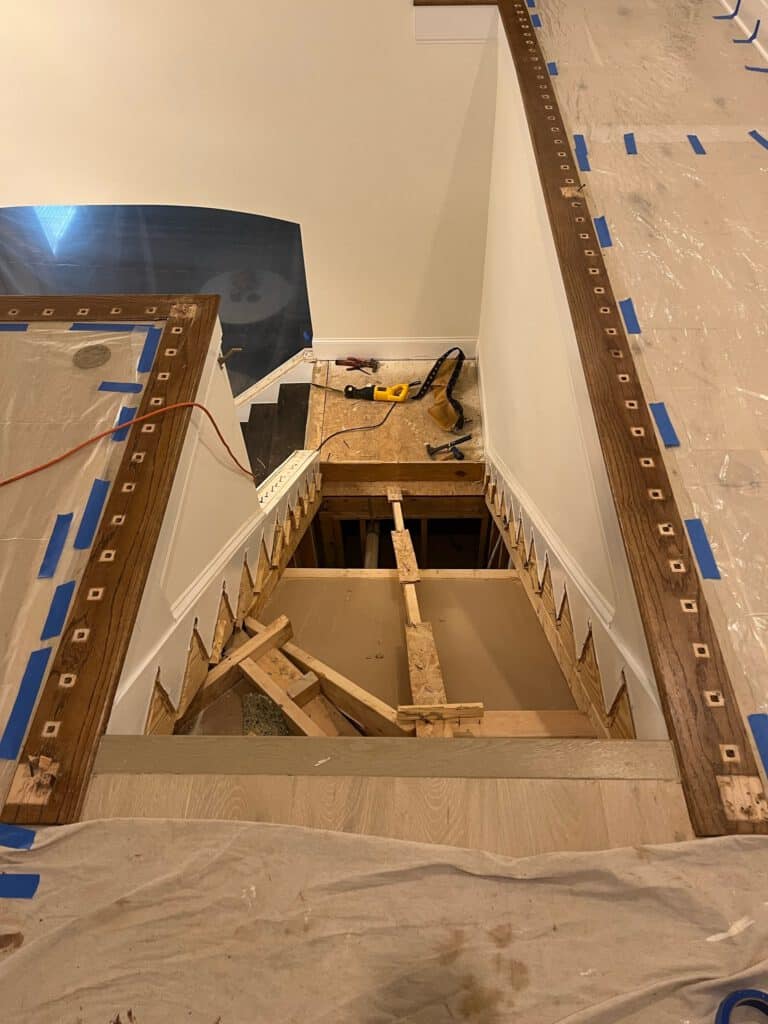 Now let's talk about the actual timeline for renovating stairs.
Actual Timeline For Renovating Stairs
Here's the actual timeline our stair contractors used for our renovation. As mentioned above, you always want to check with your installer since time may vary based on your project and their team.
Day 1: Demo old steps and new treads/landing
The first day our contractor started, they immediately went to work removing the old handrails and balusters. Once those were out, they removed the treads and risers. And they got all of this done before lunchtime.
In the afternoon, they installed the new white oak treads and birch risers. The only exception is our base step. Since our first step was custom-shaped, we knew they would need to custom-cut this step. Plus, we wanted to move from a round shape to a more modern squared step.
By the end of the day were able to use our stairs like normal, even though they were unfinished.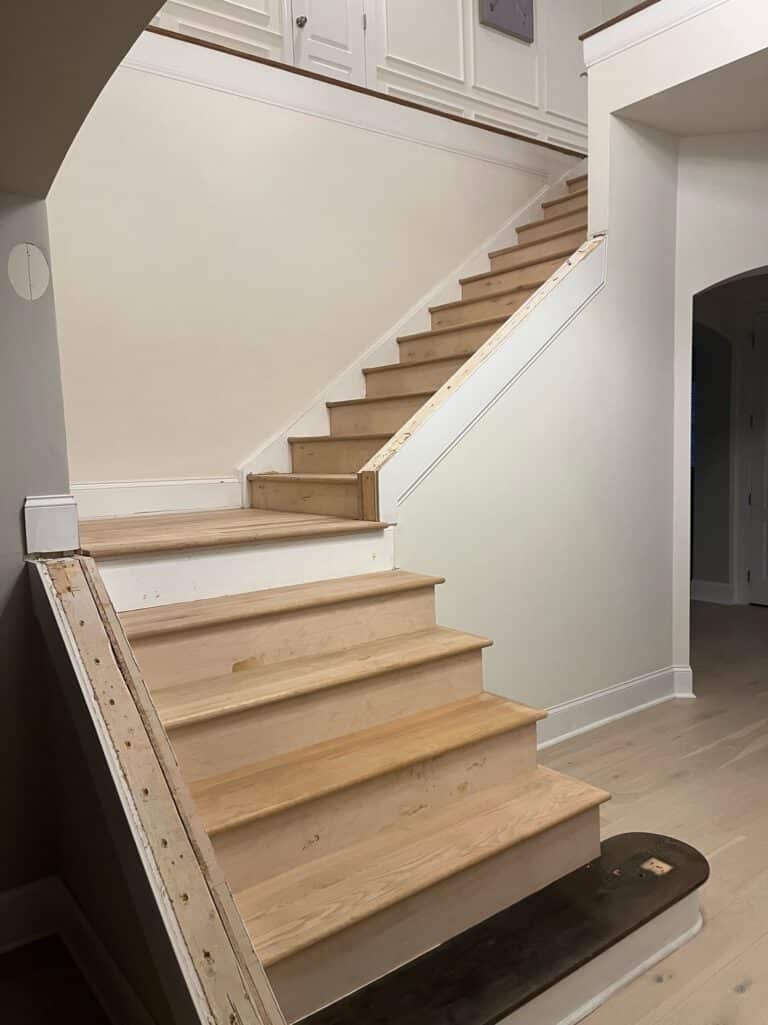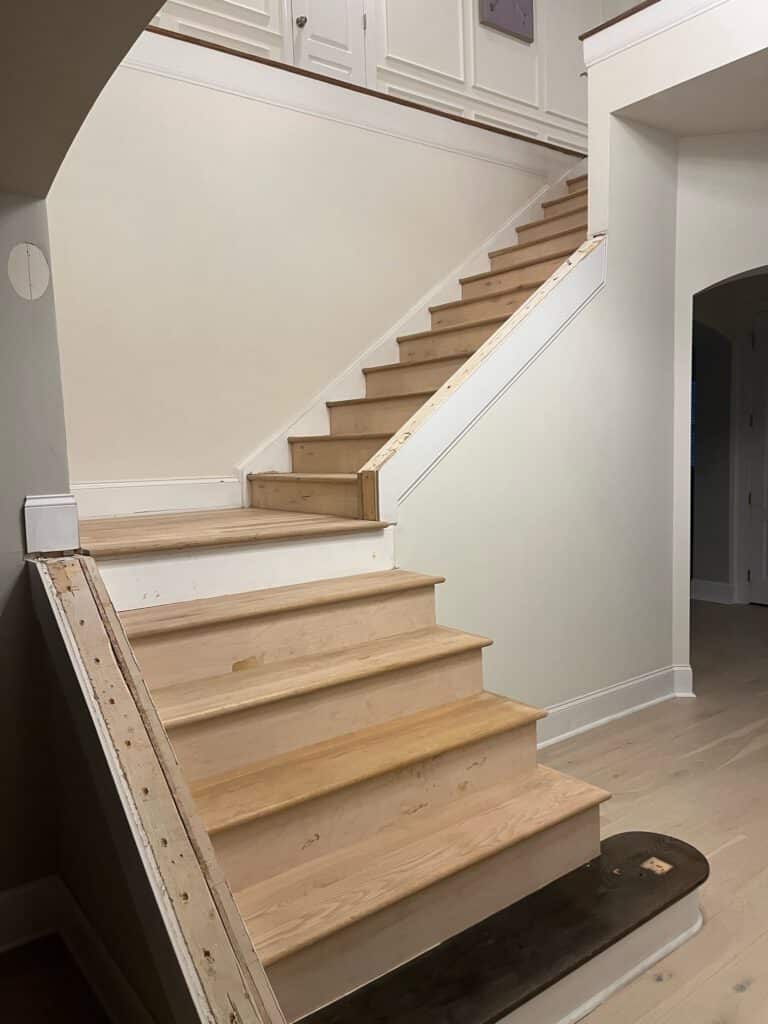 Day 2: Remodel base step, install newel post
On the second day, the crew started by remodeling the base step. This involved removing the tread and reconstructing the risers in the new square shape. And since it is a non-standard tread shape, they had to custom cut a white oak tread. And as you can imagine all of this is time consuming.
They also installed one newel post, since the rest were still being made. That morning our contractor had let us know that when they arrived pick up the newel posts, they weren't satisfied and asked for them to be remade. We definitely appreciated this attention to detail!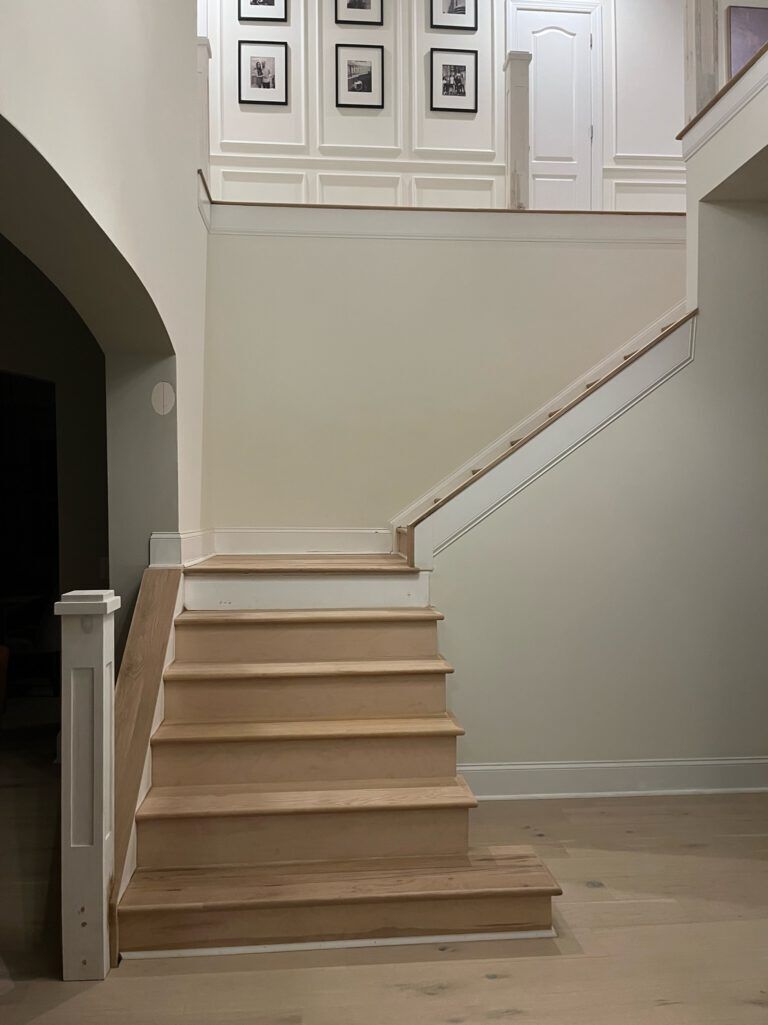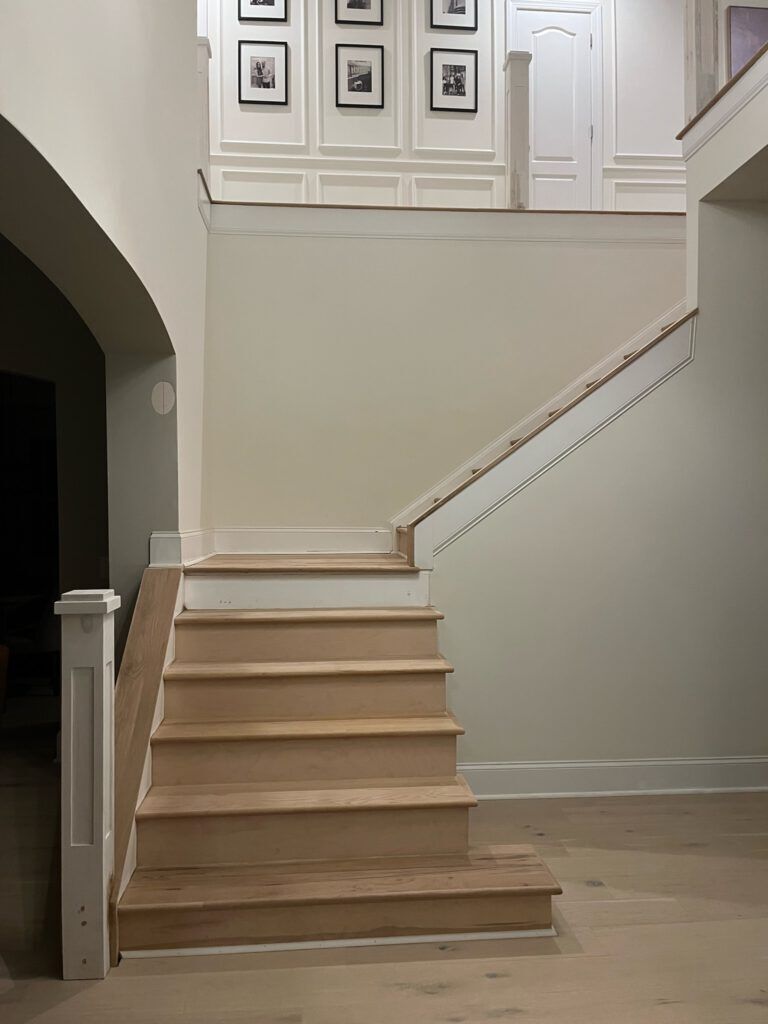 Day 3: Install newel posts and handrail
By day 3, our contractor was able to pick up the completed newel posts and began installing them. They also finished installing a new white oak shoe rail (the piece the balusters connect into).
Around lunch, our contractor also asked our opinion on the stain, giving us 3 different options. So we could get an idea of what they'd look like, he stained a small area on one of the base steps. In the end, we picked the lighted, most natural stain since we loved the character of the white oak.
Then in the afternoon, they installed the handrail. While certain pieces are pretty easy since they run straight across newel posts. Others are much harder, especially where the handrail goes up the staircase and needs to jig in and out! We were impressed by how seamlessly our installers address this!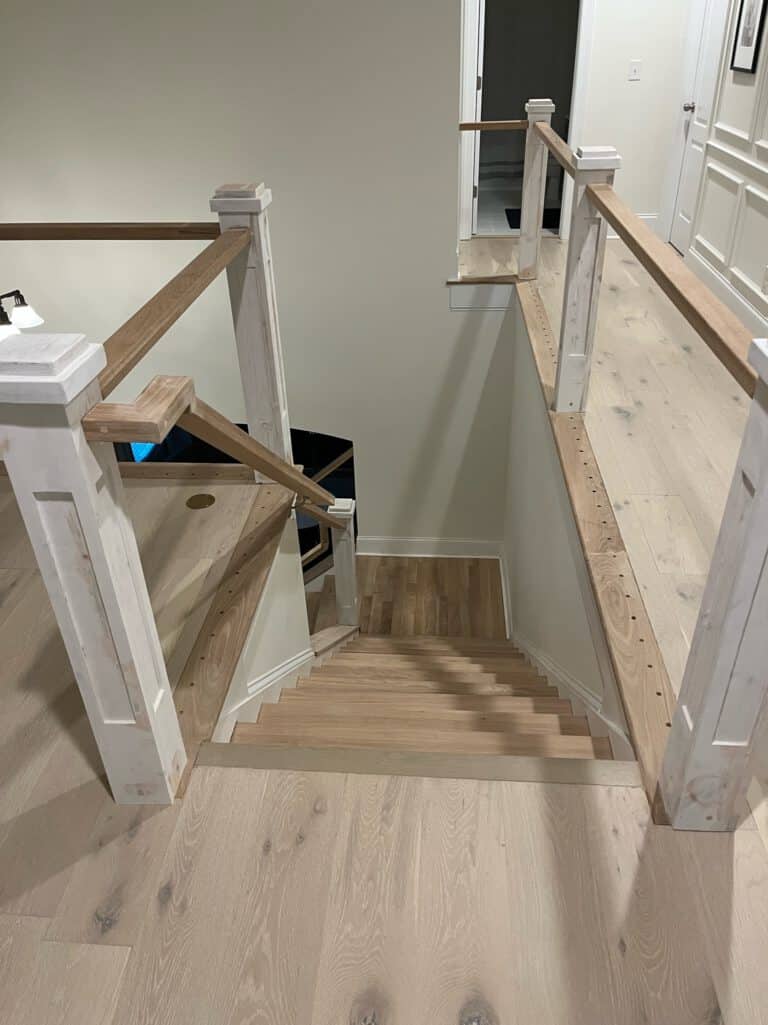 Day 4: Stain
After they installed all the white oak wood parts (treads, shoe rail, and banister), they were ready for stain. When they started, we were wondering if we'd actually be able to use the stairs in the evening since most stain needs several hours to dry. But they assured us it would be no problem as long as we wore socks (not shoes!)
By the end of day 4, they had finished both coats of stain on the wood, and it was looking great! And even though they told us it was no problem to walk on the stairs, we still tried to limit our trips out of fear of messing it up.
Day 5: Clearcoat
On the fifth day, the team came by and brushed two coats of polyurethane clear coat to seal the stain. It was a fairly short day, which also worked out since it was Friday, and we were happy to have the team out of the house before 6 pm.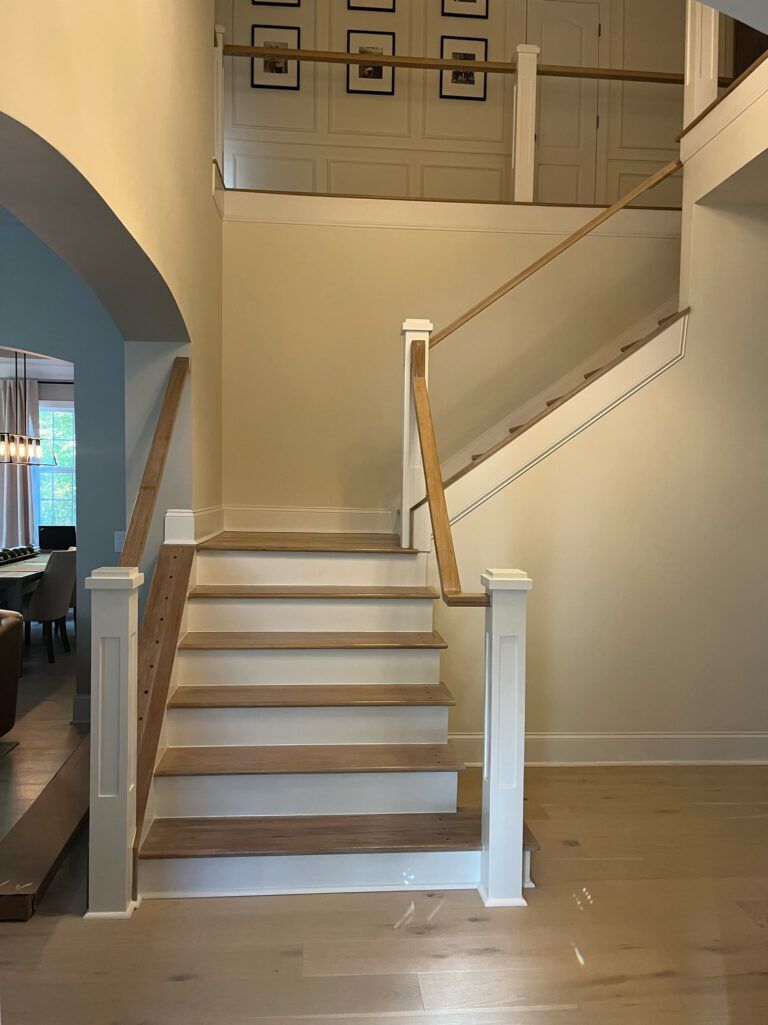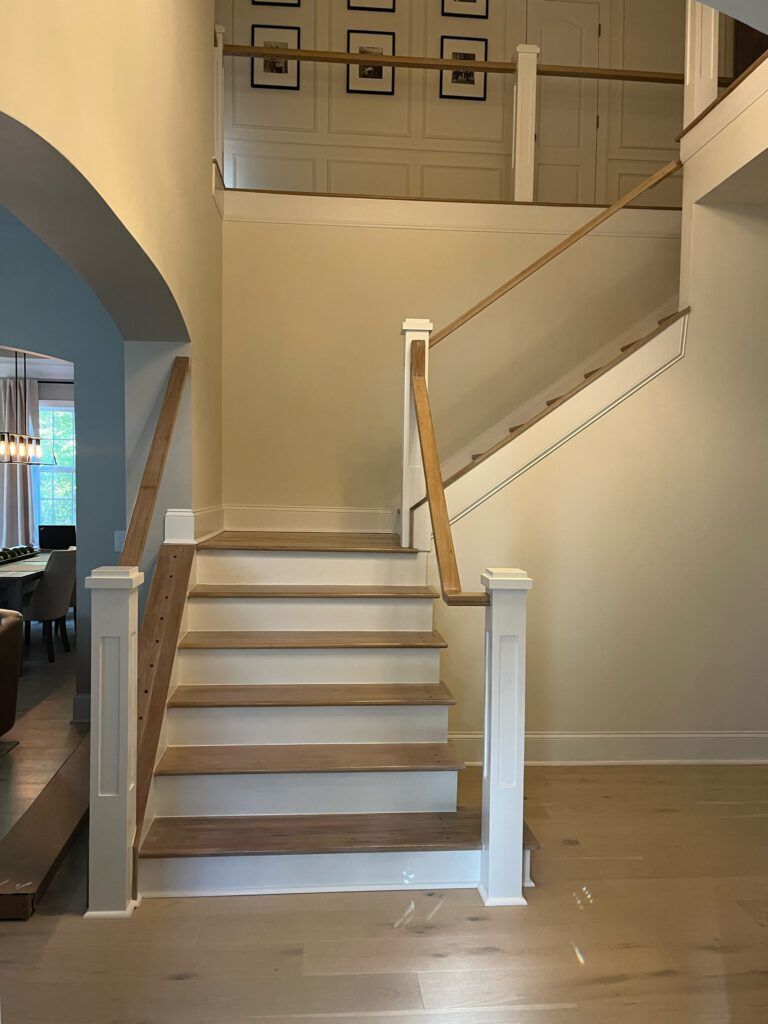 Day 6: Install balusters and quarter round
Day six was definitely a big one since the crew installed balusters. While one of the easier parts of the installation, it also makes the biggest difference. They also installed quarter round in the landing, where they had replaced the flooring.
After the team left for the day, we noticed it looked like a baluster was missing next to the right base newel post. You can see this in the picture, where it looks like there is a large gap. Based on the holes drilled in the banister, we could tell they weren't planning on installing one there, so we decided to ask. Our contractor immediately texted back, saying they could look at it the next day.
We also used this as an opportunity to mark any areas for touchups. Each of us took a fine look at all the areas and used painter's tape to mark anything that needed to be fixed. In the end, we found about half a dozen areas.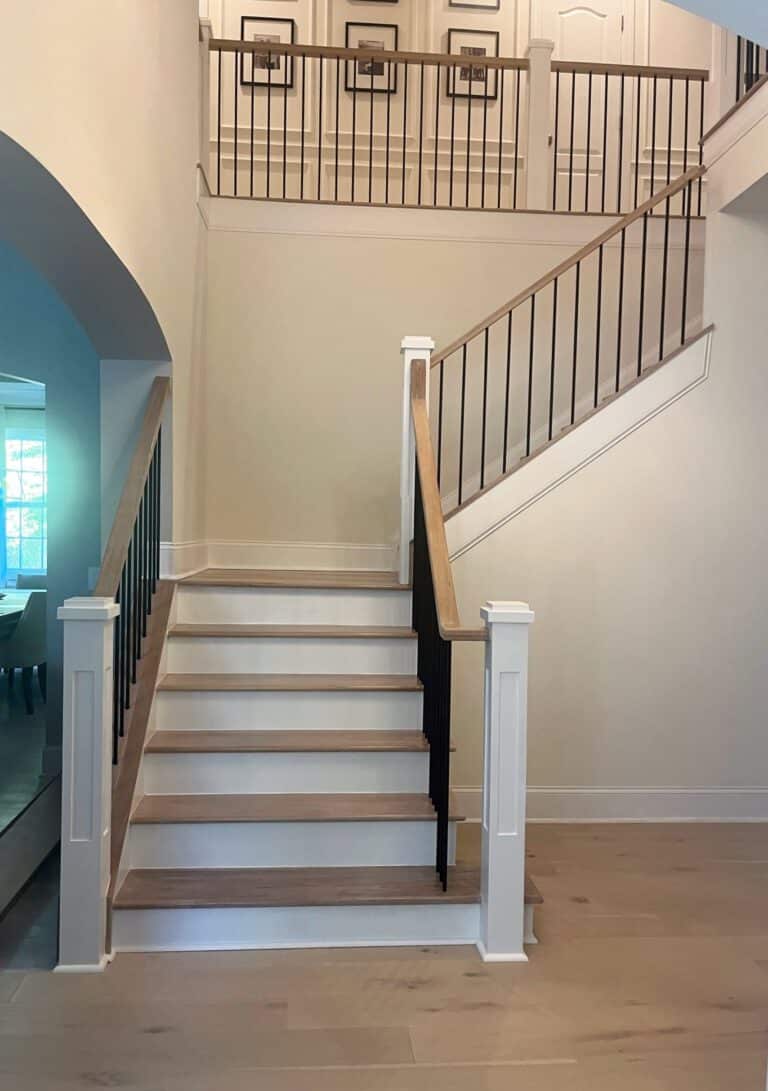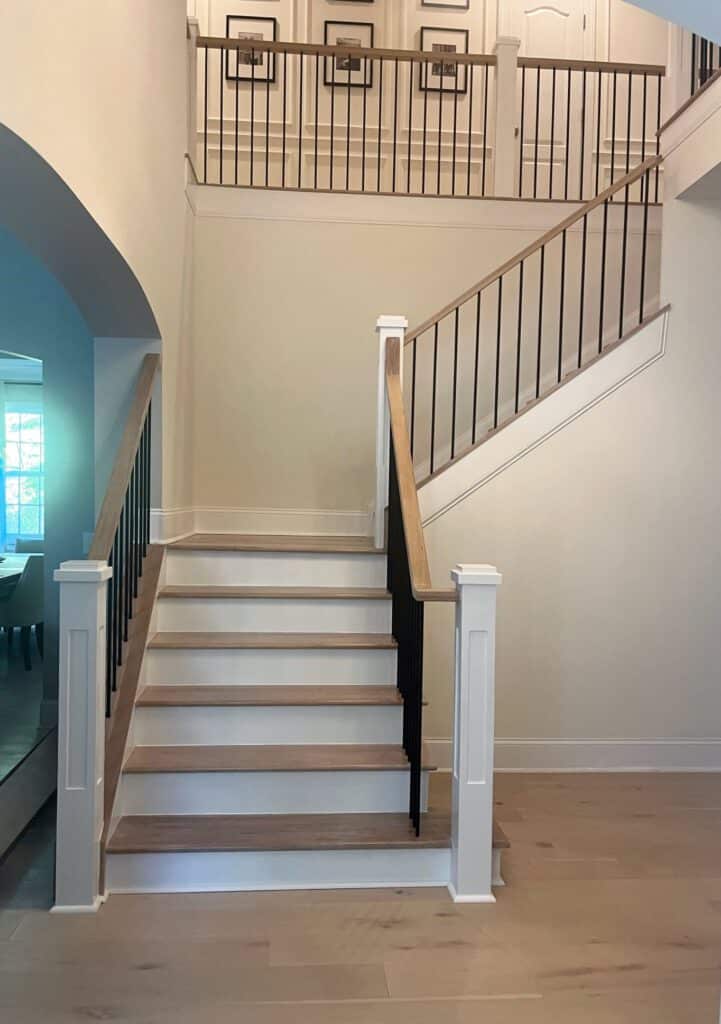 Day 7: Touch-ups and cleanup
The last day! On day seven, the team arrived and started by addressing the missing baluster, which they quickly cut and installed. After that, we talked them through the touch-ups we noticed. They agreed with all of them and said they would fix them today.
After they finished the touch-ups, they cleaned up the site, did a final walk-through with us, and then marked it as complete.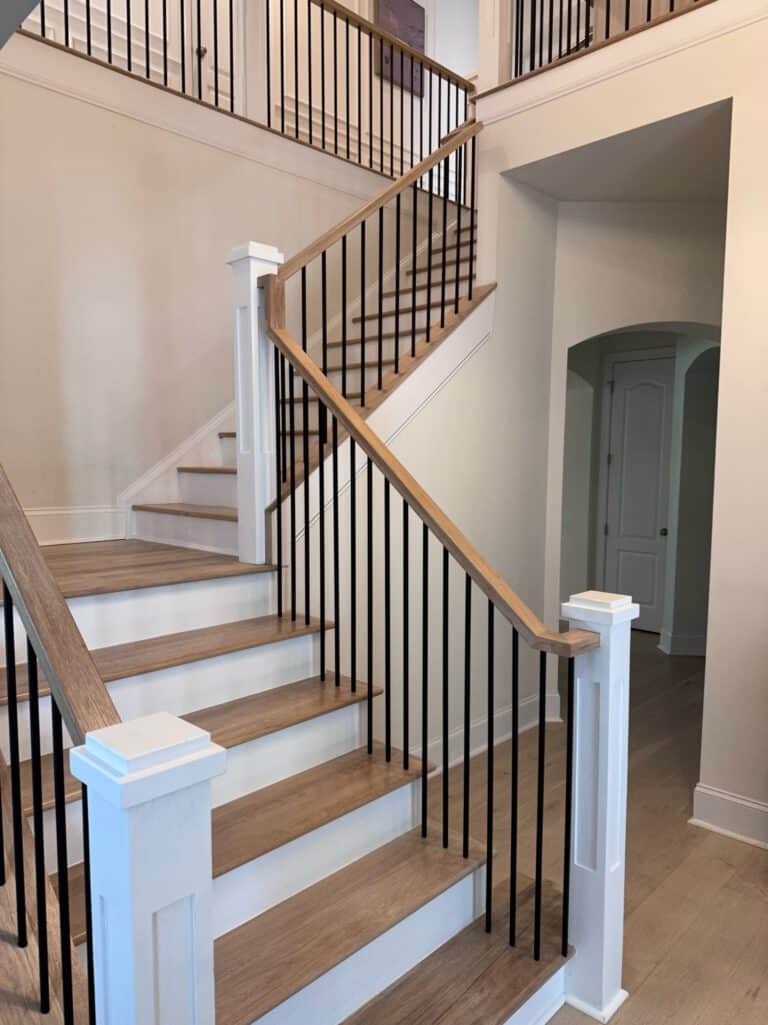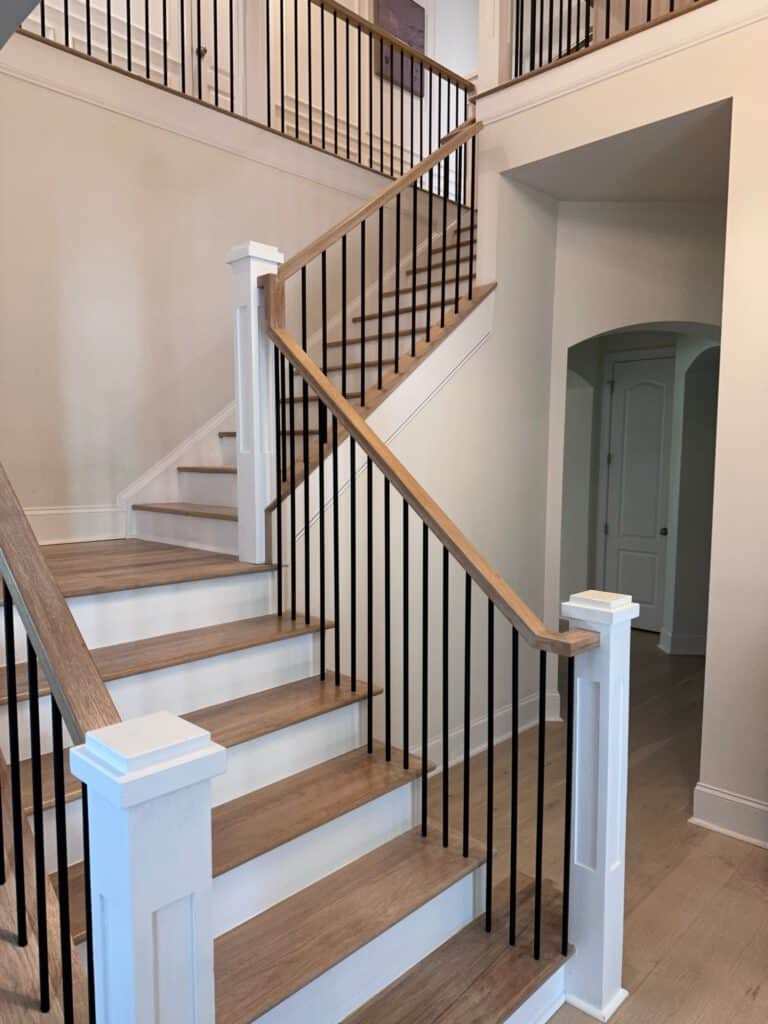 Timeline Summary
In the end, our stair renovation took around 7 working days and 9 calendar days since the crew didn't work on Saturday or Sunday. We started our project on a Monday and finished on the following Tuesday.
Timeline Summary
Day 1: Demo old steps and new treads/landing
Day 2: Remodel base step, install newel posts
Day 3: Install the handrail
Day 4: Stain
Day 5: Clearcoat
Day 6: Install balusters
Day 7: Touch-ups and cleanup
Would We Do It Again?
Absolutely, renovating our stairs had such a massive impact on the look of our house. You don't always think about it, but staircases are usually a central part of a home. And they're often the first thing people see when they come into your home. Renovating our stairs instantly updated our entire home!
As we mentioned above, this was also one of the more affordable home projects. Don't get us wrong, $11,000 is a lot of money, but compared to the cost of renovating a kitchen or bathroom, which can be much more, this was a great value.
Lessons Learned
While this project was fairly easy and painless, it wasn't without its lessons learned. Especially after we've lived with our stairs for a few months now, we've noticed a few things that we'd wished we found earlier.
Pay VERY close attention during inspection – It can often be overwhelming and exciting that a project is done, so you give a quick once over during the final inspection. We did exactly this and missed a few items we'd wished we noticed. First, we noticed two of the newel posts needed some more paint in extra spots. Then, we noticed a few nails that were sticking out and had to be punched in and wood filler.
Ask about the wear of their clear coat – After a few months of living with our stairs, we noticed the caulk around the treads and risers began to yellow. After further inspection, it looks like it's the clearcoat that ran over into the coat and has yellowed. A quick google search revealed this can happen due to "unexpected chemical reactions." This one we never would have known without living it, but hopefully, it saves you a lesson learned.
Clean well even after your contractor does – While this may be obvious, renovating your stairs leaves a lot of nails, screws, and staples laying around. Take your time to do a thorough cleaning after your contractor leaves to avoid stepping on something sharp in the middle of the night.
Bottom Line
Stair renovations are a great way to update your home without spending a fortune. Our project cost around $11,000 and took just over a week to complete. We're so happy with how it turned out and would absolutely do it again!
If you're considering renovating your stairs, we highly recommend doing it. Just be sure to pay close attention during the inspection and be prepared for a little bit of cleanup after the project is complete.
Have a question about renovating your stairs? Let us know in the comments below!