As we finished installing our hardwood floors, one area stuck out like a sore thumb: our stairs. While our flooring contractor had offered to refinish our stairs, he didn't seem confident as we began talking about matching the color to our floors. So, in the end, we decided to try refinishing our stair treads ourselves (more if we were successful below). But, if you're refinishing your stairs or just considering it, this step-by-step guide will outline everything you need to know before you start.
Keep reading as we detail every tool you'll need and every step to follow to refinish your stairs. Plus, our biggest lessons learned (so you can avoid them)!
Table of Contents
What Tools You'll Need For Refinishing Stairs
While the tools you'll need may vary slightly depending on your stairs, in general, you'll need the following:
Safety glasses
Dust mask
Sandpaper (coarse, medium, and fine grits)
Random Orbital Sander (optional but highly recommended)
Stain (we ended up using a Minwax Trueblack stain)
Paint (for risers)
Caulk
Polyurethane clearcoat
Paintbrush
Foam Brush
Lint-free cloth
Tack cloth (~9 total sheets)
Paint Scraper
Putty knife
Nail Punch
Hammer
Steps to Refinish Your Stairs
1. Replace Treads if Necessary
Treads are the top part of your stairs that you step on. And if your stair treads are in bad shape or you previously had carpet, you may need to replace them.
During our floor renovation, we learned that the upper treads on our stairs were carpeted with plywood underneath. Unfortunately, that meant we had to replace the treads for our upper stairs. Our contractor offered to replace the treads with red oak for about $200 per tread, which we went with.
We'll talk about this more later, but if you're replacing treads, make sure you understand the type of wood being installed. For example, we wanted our stairs to match our white oak floors and didn't realize the contractor was using red oak. This was a major challenge due to the red pigment in the wood.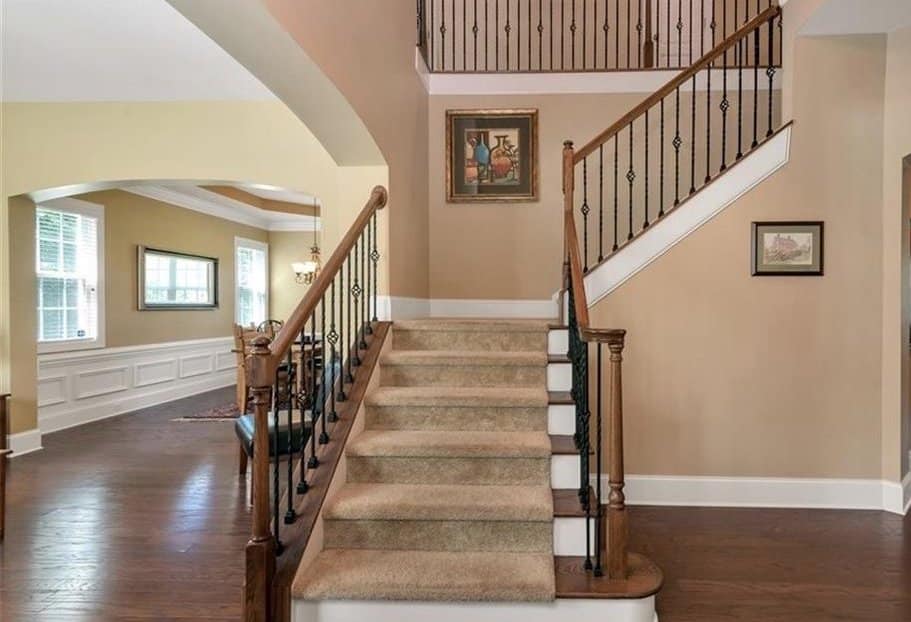 2. Remove Any Paint
We learned our lesson the hard way about removing the existing stain after trying to sand the steps down. Spoiler alert: it takes way too long and leaves you with a gooey material on the sandpaper.
After getting frustrated halfway through (and wasting hours), we finally found something that worked better: a chemical paint stripper. The brand we used was called Citristrip (linked here). You simply apply to the stained area, wait 30 minutes (or longer if needed, but 30 minutes was enough for us), then scrape away. For us, the stain came right up after applying the chemical remover.
Start with a chemical remover and scraper before sanding if you're refinishing stairs with existing paint or stain.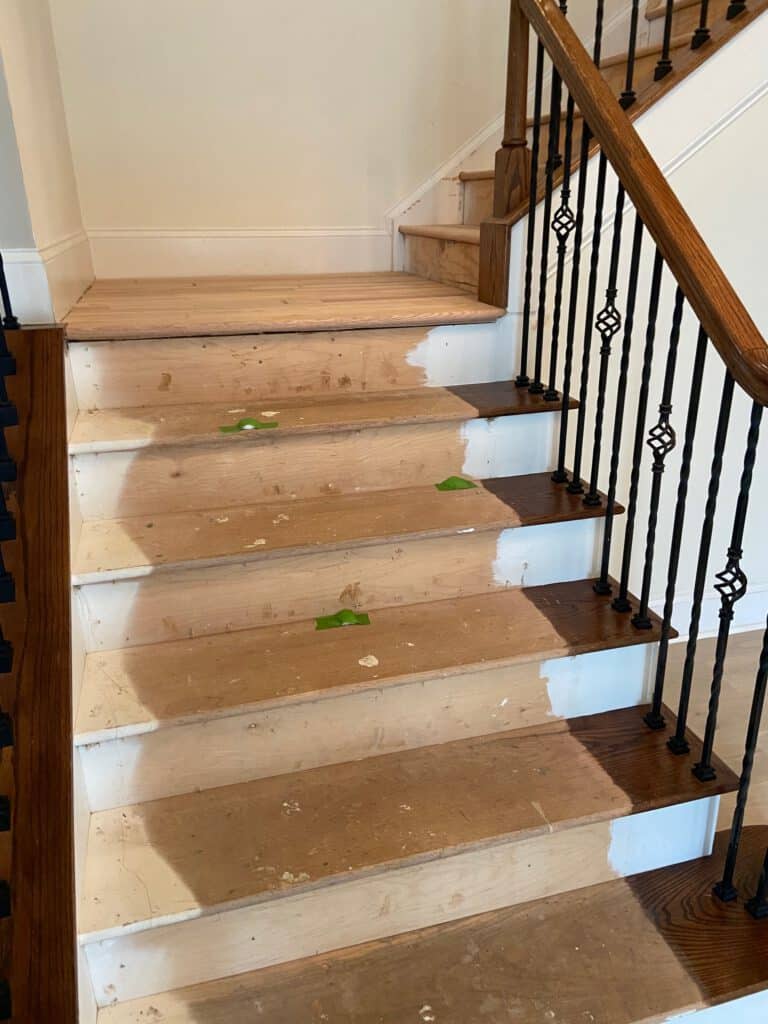 3. Sand
Whether replacing treads or not, you'll need to sand your stairs to get them ready for stain.
We used a 5″ random orbital sander (linked here) to sand the stairs. Start with a coarse grit (we used 60) and work your way up to finer and finer grits (we used 120 and 240).
Our biggest lesson learned here was to buy plenty of sandpaper! You will definitely go through it while refinishing stairs, especially the higher grits that will wear faster.
4. Vacuum and Wipe Down
After sanding, it's important to vacuum and wipe down your stairs thoroughly. We used our Shop Vac (linked here) to suck up any sawdust and then went over the stairs with a tack cloth (linked here).
Tack cloth is a super sticky cheese cloth that works very well to pick up fine dirt and dust particles. We'd recommend buying 2-3 packages of it since we went through more than we expected (and it's pretty cheap).
Don't worry about being as thorough during this step since you'll need to sand and clean all over again.
5. Punch Nails and Woodfill Holes
After sanding your first time, you'll want to inspect your stairs. Specifically, you want to look for nails sticking slightly out and any holes, divots, or cracks.
First, if you find any nails that are now slightly raised, you'll want to "punch" them in. You can buy a set of basic nail punches (linked here) for under $10, and they are great for any project. All you need to do is align the punch over the nail and hammer it down to push the nail flush with the wood.
After punching the nails, you'll want to fill them with wood filler. You also want to wood-fill any holes, divots, or cracks in your stair treads. We used a Minwax wood filler (linked here) and followed the directions on the package. You can pick these up at any home improvement store, and they can give your project a finished look. Just be sure to buy a stainable wood filler since you want it to absorb your stain and match your finished stairs.
We'd also recommend going light on the wood filler, we used a heavy hand on ours, and the stairs ended up coming out a bit splotchy in spots even after sanding and staining.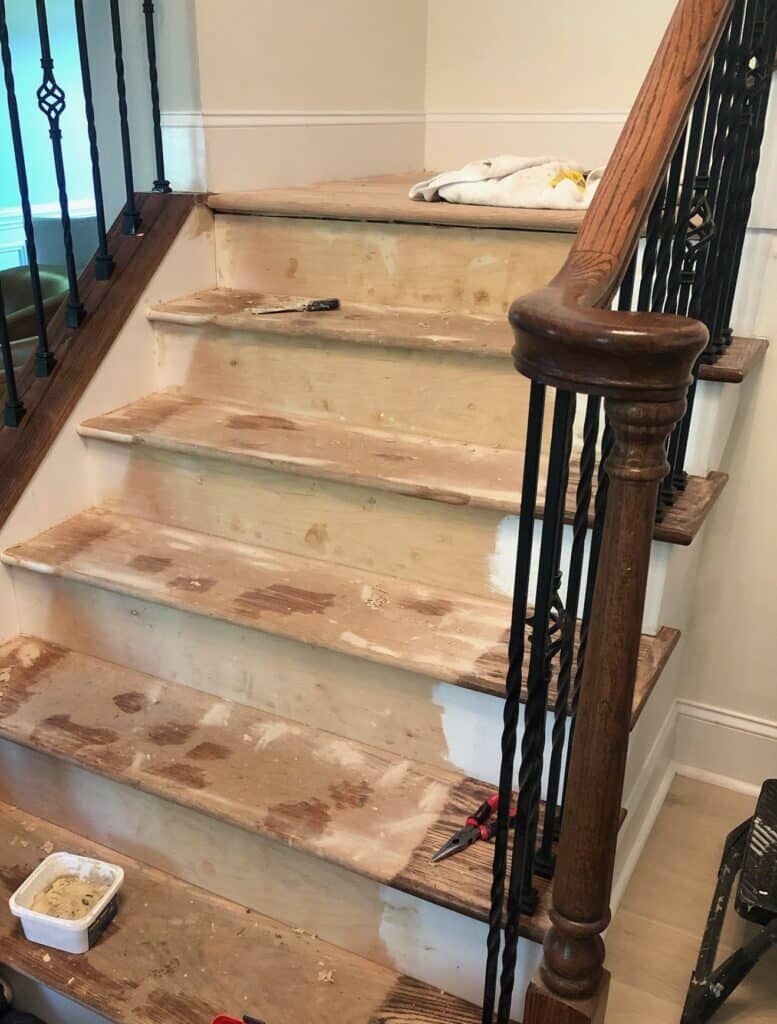 6. Sand again
Once the wood filler is dry, now is the time to sand again. Typically at this point, you can start with a 120 or 240 grit, skipping the course 60 grit sandpaper. Again, you'll want to make sure you go over the entire stairs carefully since this is the last round of sanding before staining.
And as we mentioned before, make sure you buy plenty of sandpaper as you'll use a lot of it! We went through about eight pieces of 120 grit and six pieces of 240 grit on our 20-step staircase.
7. Vacuum and Clean with Tack Paper
After sanding, it's time to vacuum and tack cloth your stairs. This is a crucial step, as any dust or particles left on your stairs will show up after staining.
Start by vacuuming the entire staircase; then, give them a gentle wipe-down with a towel and all-purpose cleaner. While we didn't see this step recommended anywhere online, we found there was still a fine layer of dust on the stairs after vacuuming. And to avoid wasting tack paper, we wiped it down with paper towels and cleaner to help remove most of this.
Once we wiped down the stairs, it was time for tack cloths again. We started at the top of the stairs and worked our way down carefully, wiping each inch of the stairs with the tack cloth.
Now it is finally time for stain!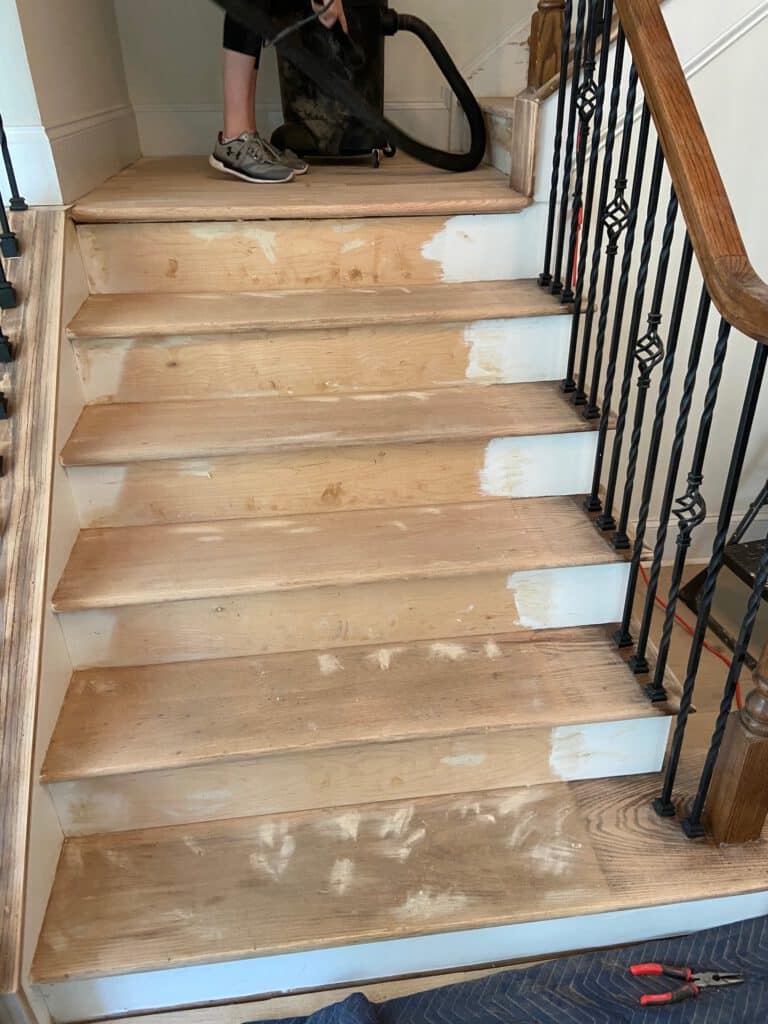 8. Stain the Treads
After all that prep work, it's time for the fun part – staining your stairs! We broke this section into two different sub-steps since staining is an intricate process.
8a. Choosing Your Stain
First, you need to choose your stain. We experimented with ten different stains, trying to match our white oak floors, but we struggled since our treads were red oak. Per our comment below, this is where understanding how different types of wood react to stain comes in handy.
For example, red oak is tough to remove the red pigment. We even tried bleaching the wood (along with a few other chemicals), but it never got the light white oak look we wanted.
Ultimately, we decided to stain our stairs dark with Minwax True Black (linked here). By this point, we were willing to take the risk with the stain while going for black treads and white risers.
8b. Applying the Stain
Be sure to read the directions for your specific stain before starting. While applying stain is usually similar, it's always better to be safe than sorry.
To apply the stain, you want to start at the top of your stairs and work your way down.
Typically, you'll apply stain with a foam brush (like this) and not a paintbrush.
Once your stain is applied to the wood, then you'll wipe it off after a certain amount of time, depending on how dark you want the color. The longer the stain soaks into the wood before wiping, the more prominent the stain will be. And don't worry if it appears light after wiping down; this is where multiple coats will come in.
We also recommend wearing gloves to avoid staining your hands (we made this mistake by wearing cheap gloves and stained our hands, it's a lot of scrubbing).
When applying the stain, start with a light hand and go over the stairs multiple times until you reach your desired darkness. It's always easier to add more stain than sand down and start over.
Once you've reached the bottom of the stairs, take a well-deserved break, and avoid walking on the stairs. Your stain should tell you how long to avoid stepping on the stain after applying (usually 2-4 hours).
And when you do walk on your stairs between coats, be sure only to wear socks and remove them at either end of the stairs. We kept a towel at both ends of our staircase and used this to remove our socks. At this point in the process, there may still be some wet spots or stains, so take off your socks to avoid ruining your floors!
9. Apply the 2nd Coat of Stain (and 3rd if needed)
You'll likely need multiple coats of stain to achieve your desired darkness. We applied two coats of paint and waited overnight after the two coats to give the stairs plenty of time to dry.
When applying the 2nd (and 3rd) coat of stain, follow the same steps as above.
For our final coat, we gave the stairs extra time to dry before proceeding to the clear coat. This wasn't necessary according to the directions, but since we made it this far, we didn't want to risk it. Plus, if you've made it this far in the process, you're likely tired, so this is a great excuse for a good night's rest.
10. Apply Clearcoat
After your final coat of stain has dried, you'll want to apply a clear coat. We used Minwax Polyurethane in a matte finish (linked here). The main reason for using a clearcoat is to protect your stairs from wear and tear and seal your stain.
When selecting a clear coat, you have three main options:
Oil-based Polyurethane
Water-based Polyurethane
Water-based Polycrylic
Polyurethane and Polycyrlic are very similar, but Polyurethane tends to be more durable, while polyacrylic can only be used on interior surfaces like cabinets and trim.
We ended up going with a water-based Polyurethane because it's less smelly than oil-based, and we wanted to be able to use our stairs as soon as possible. We purchased Minwax ultra fast-drying polyurethane for floors (linked here).
This specific polyurethane directs you to apply the first coat on the stairs, wait 2 hours but not more than 8 hours, then apply a second coat. Applying the second coat within 8 hours prevents you from needing to sand between coats.
When applying the clear coat, you want a very light coat and to avoid going over the same spot multiple times. We used a paintbrush (linked here) because it gave us more control than a foam brush.
As with the stain, apply the clearcoat in a well-ventilated room and avoid walking on your stairs until the clear coat is dry (overnight).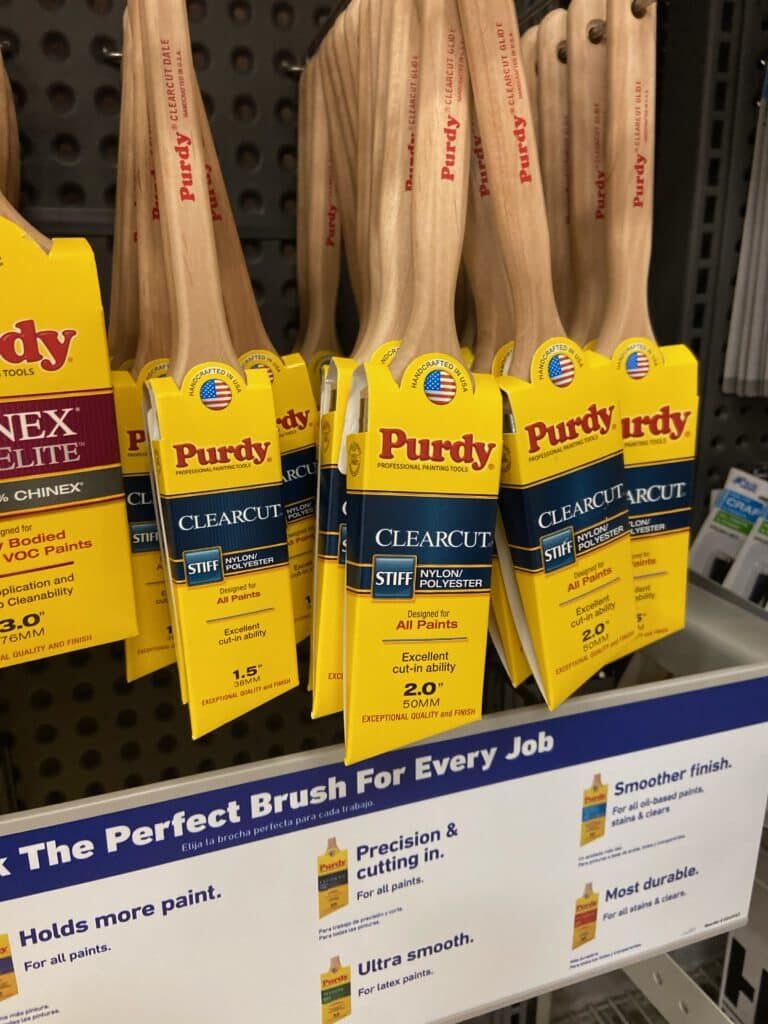 11. Paint Risers
We painted our risers white because we wanted a clean, crisp look for our staircase. If you decide to paint your risers, you'll need to prep them before starting.
First, you'll want to cover your newly stained treads; we used painter's paper and frog tape, sealing off each step.
Next, if there is your first time painting your risers, you'll need to prime them. Depending on how well the wood takes the paint, you may want to do two coats of primer. The good rule of thumb for priming is you don't want to see the wood underneath.
After your primer has dried completely (we waited 4 hours), you can start painting your risers. Depending on your paint, you may want to do two coats.
When we finished painting our risers, we immediately removed the painter's paper and frog tape from our treads. However, you don't want to wait too long, or the paint will start to dry on the paper and be more difficult to remove.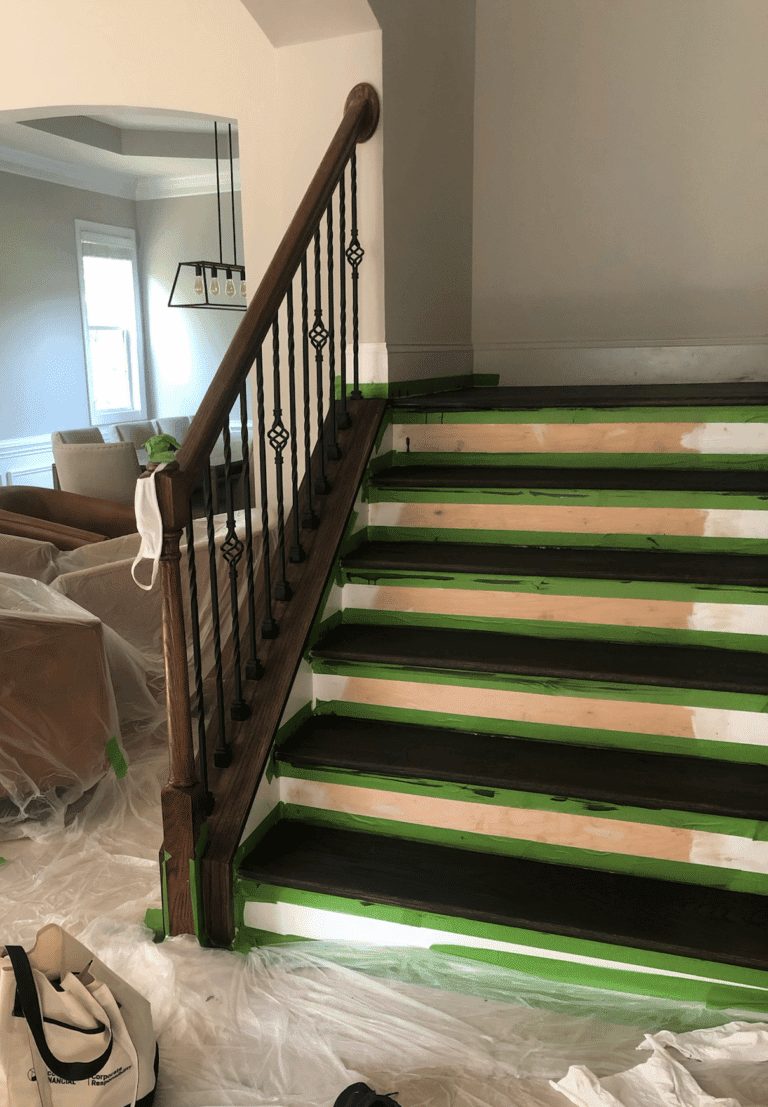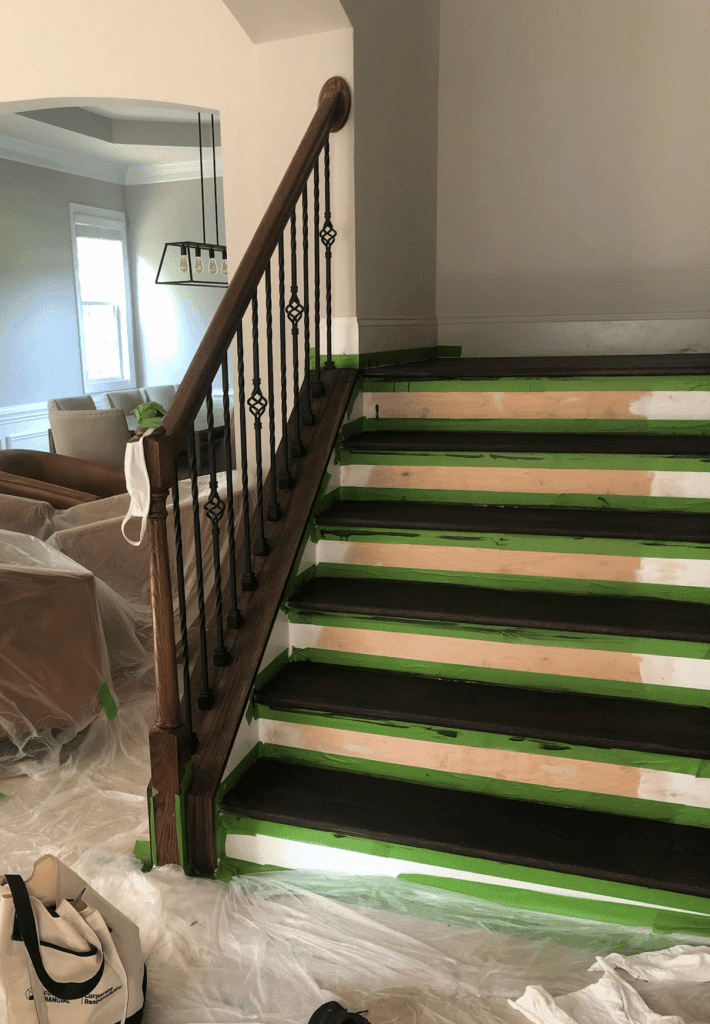 12. Caulk Risers
This is an optional step, but if you have any gaps between your risers and treads, we recommend caulking them. This will help to create a seamless look and will also help to protect your stairs from water damage.
We used Alex Plus White Premium All-Purpose Caulk and a caulk gun.
To apply the caulk, cut the tip of the tube at a 45-degree angle, load it into your caulking gun, and apply it to the gap. Use your finger to smooth out the caulk; this will help to create a clean look.
Wipe away any excess caulk with a wet rag.
13. Clean and Enjoy Your Stairs
The last step is to simply clean up your workspace and enjoy your newly refinished stairs! We recommend being gentle on your stairs for 2-3 days after completing your project. This lets all of the paint, caulk, and clearcoats cure and set before heavy wear and tear.
How Our Stairs Turned Out
Refinishing the stairs was one of our first big DIY projects, and we soon realized that we might be in over our heads. The first sign of defeat was when we couldn't match (or even get close to) our white oak floors. We knew we wanted our staircase to blend with the floors naturally and that we'd probably end up renovating them because of this (hint: we did).
In the end, we went with black-stained treads and white risers as an interim solution until we were ready to renovate our stairs. It worked, but we had plenty of lessons learned that made us realize we wanted to hire professionals for this.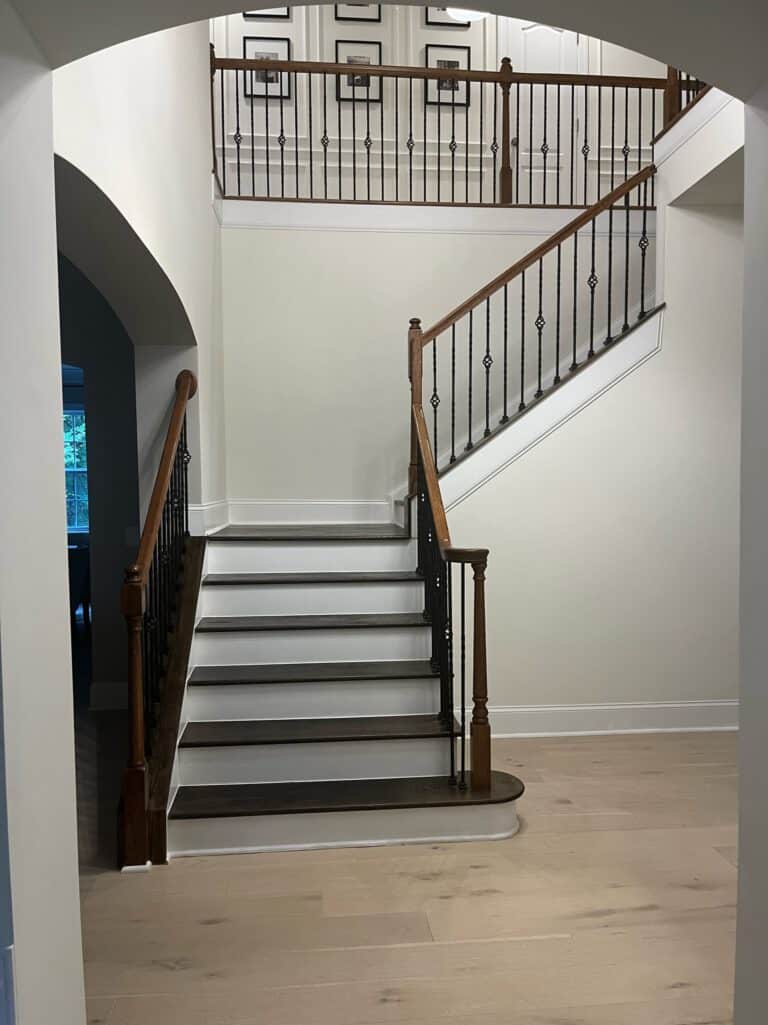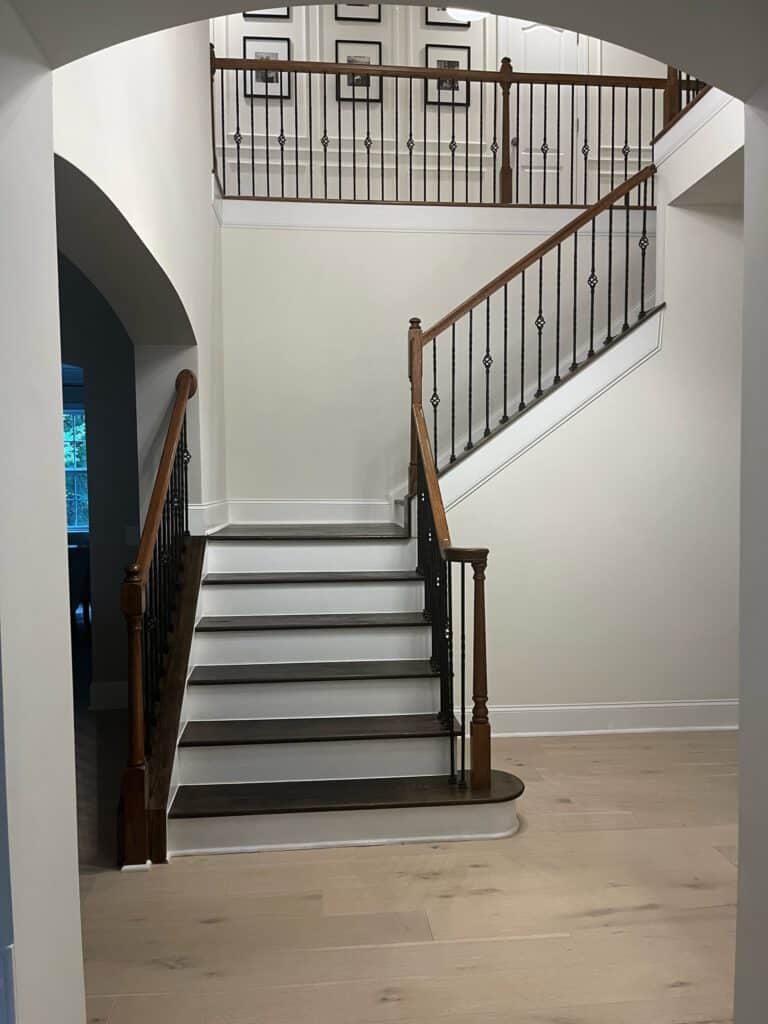 How Long Did It Take?
While timelines may vary based on your speed, it took us about one week to refinish our stairs. You can see the complete timeline below:
Replace Treads: .5 days (done by our contractor)
Removing Paint, Sanding (both times), and Prep: 3 days
Staining (2 coats): 1 day
Clear Coat and cure time: 1 day
Prep, Paint Risers, and Caulk: 1 day
Total Time: ~ 1 week
Refinishing stairs is not a quick process, so you'll want to be aware of the time required before you start.
Our Biggest Lessons Learned
Have a Vision & Plan
When we started out, we had a specific vision for our staircase; we wanted white oak treads with a natural stain and white risers. But we didn't have an idea for the ballisters or railings.
Since our floors had been redone and the carpet pulled up from the old stairs, we knew we had to do something to make them usable. Unfortunately, this forced us to make quick decisions instead of thinking out our full vision and plan.
We'd recommend having a few stair design inspirations in mind, determining if those looks can be achieved in a DIY project or what parts you might need a professional for.
Replace Your Treads
You can likely skip this if you're just touching up existing stairs. But if you're going for a new look, it's usually easier to replace your treads than to scrape and sand down the existing ones.
We tried scraping and sanding the lower portion of our stairs since these were custom-shaped, and it was terrible. Not only was it a lot of work, but after we wood-filled the holes, the stained lower stairs also looked blotchy.
The Wood You Use Matters
As we mentioned above, our contractor installed red oak treads where they needed to be replaced. This is one of the most common woods for stair treads. The only problem? We were trying to match white oak floors. And despite what you may read online, it's nearly impossible to get red oak to look like white oak. While there are professionals that can do it, it's much easier to start with white oak.
Similar to having a vision above, understand precisely what you need to execute that vision and don't sacrifice – especially with the type of wood.
Read more about different types of woods in our Solid Hardwood Floors Guide.
Don't Underestimate Sanding
Maybe this is obvious if you've done any type of woodworking. But if not, refinishing stairs involved a lot of sanding. It's not only time-consuming, but it can also be a bit intimidating. If you sand too much, you can create dips in the treads, while not enough sanding can leave your stairs rough.
Sanding also creates a tone of dust and debris in your home, and it goes everywhere! While this will happen whether you hire a professional or DIY it, it's much easier to find the energy to clean after your professional leaves than after five days of refinishing your stairs.
Bottom Line
Refinishing stairs is a doable DIY project, but it all comes down to the size and vision of your project. With 20 treads (including custom shapes and sizes, along with 100+ ballisters) and a complex vision (matching our white oak floors), we were not prepared for this one. While we learned a lot about refinishing builder grade stairs, we ended up renovating them only a few months later using a professional contractor.