After purchasing our house, we knew we wanted to replace the existing dark-engineered hardwood flooring throughout the house. But the truth is, we had no idea how much white oak floors actually cost.
With some light research, you'll discover it can cost anywhere from $10,000 to $100,000 to install white oak floors. But we can do much better than that! Keep reading as we review the full cost breakdown to install white oak floors, including removal, materials, and labor!
Plus, check out our entire step-by-step process of installing new hardwood floors for more.
Our Old Home Floors
When we bought it, our house had a combination of dark 1.5″ engineered hardwood and carpet throughout the house.
We knew from when we purchased our home that we would be replacing the floors and ultimately decided to do this before we moved into the house. This avoided us having to deal with moving furniture into storage or doing the floors room by room (thankfully!). But it didn't mean the project was painless!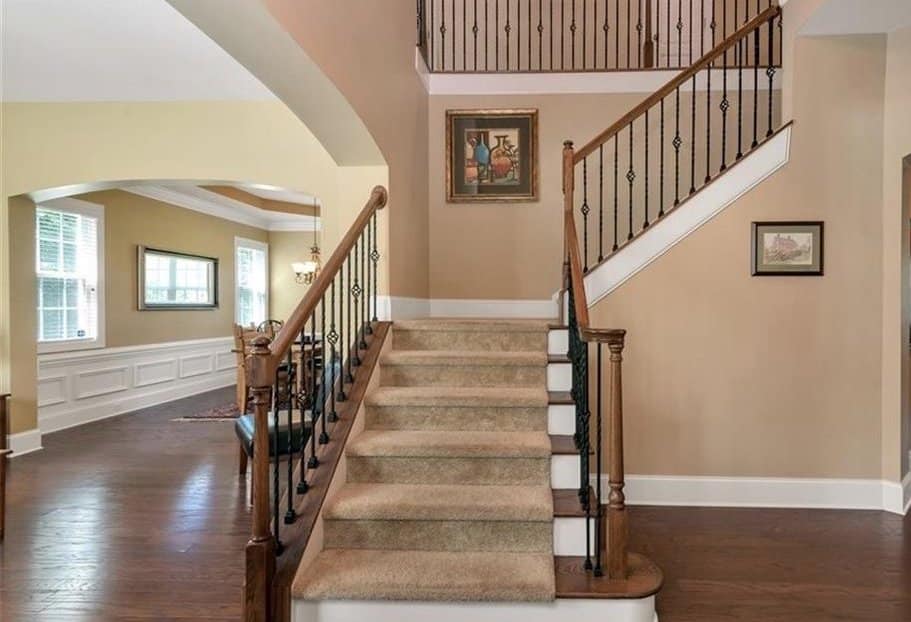 Types of Wood Flooring and Cost Factors
The first step on your pathway to white oak floors is determining the type of wood floor you'll be installing.
Generally, there are three factors that influence the cost of materials for your hardwood floors:
Type of wood (more on that below)
Size of your home/installation space
Quality of wood flooring
Now let's talk about each of these factors.
Type of Wood
The first and most important factor is to determine which type of wood flooring you want and can install. The three most common types of flooring are solid hardwood, engineered hardwood, and laminate (though this isn't traditionally considered "hardwood"). And as you can see, the below costs can vary wildly:
• Solid hardwood: $6 to $12 per square foot
• Engineered hardwood: $4 to $10 per square foot
• Laminate: $2 to $7 per square foot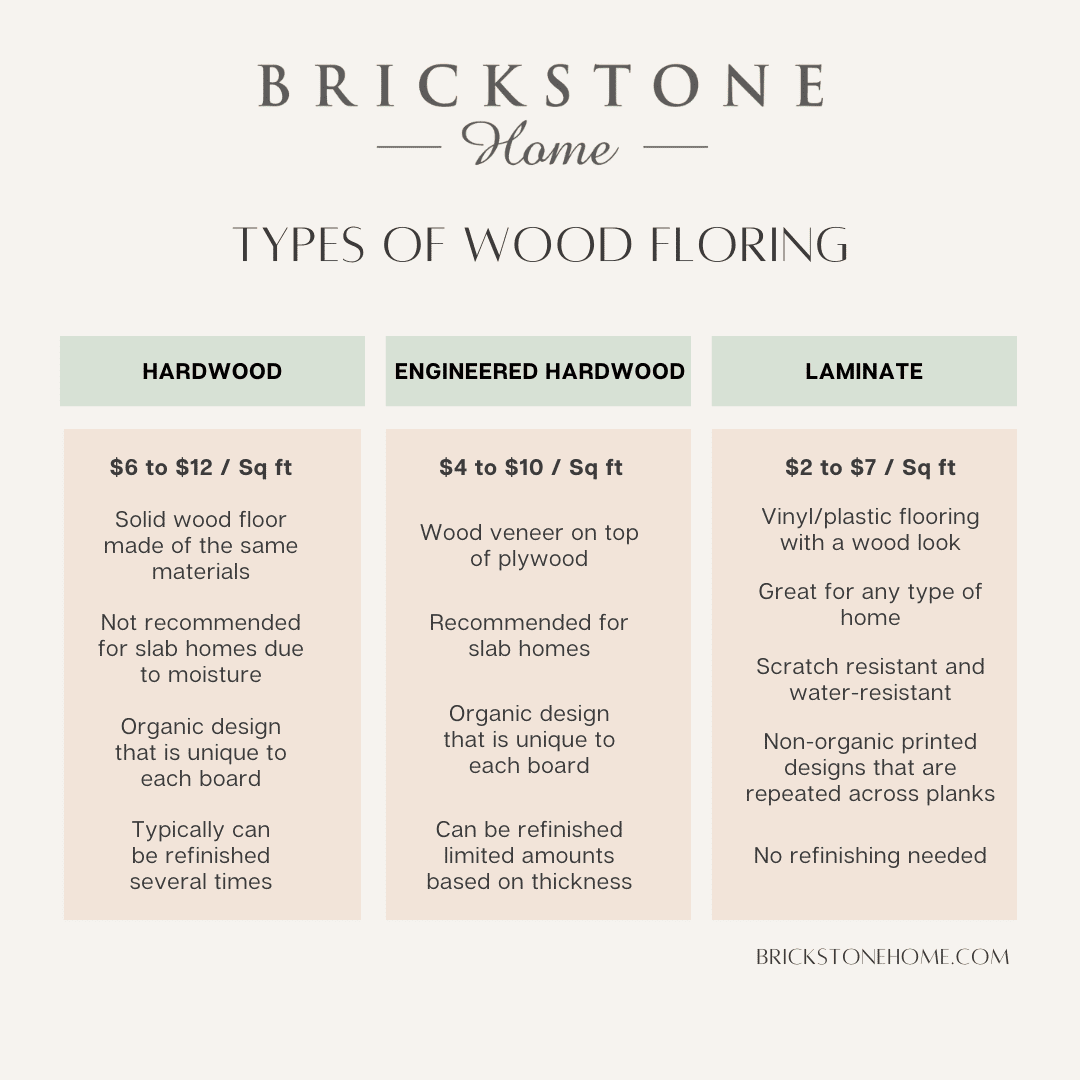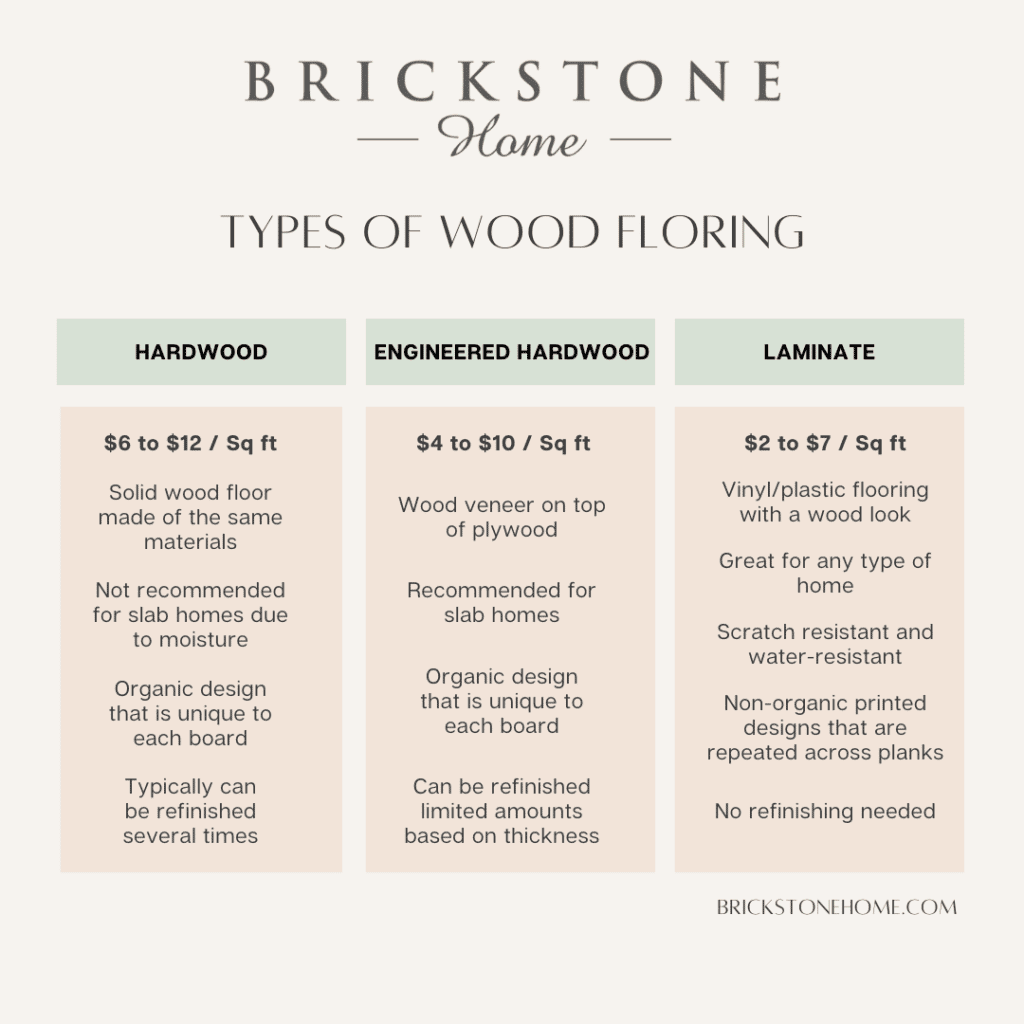 As you can see, there's quite a range in prices for different types of flooring. But it isn't all about quality. First, it's about what you can install. You can check out our table and graphic below explaining the benefits and limitations of each type of wood flooring:
For our home, since we are on a slab foundation, we went with engineered hardwood. While we did debate laminate flooring for its durability, we loved the natural and organic look of real hardwood.
Size of Your Project/Home
The next biggest factor in the total cost of materials is the size of your project or how much flooring you're purchasing. When we first started getting quotes for flooring, the prices varied wildly for the same exact floor across retailers.
For the same Mohawk Coastal Couture Seaspray Oak floor, we gathered about six quotes that varied from $4 to $12 / sq foot. Most of the quotes on the higher end of the range gave a general quote without considering how much we were purchasing. While the lowest quote (which we ended up going with) called the manufacturer directly after realizing we were buying 3,700 sq feet of flooring!
Especially if you're purchasing a large quantity of flooring (e.g., over 1,000 feet), we'd recommend reaching out directly to a retailer and asking for a custom quote.
Quality of Wood
Finally, the last factor in determining your material cost is the actual floors themselves. Within each of the types of wood floors we mentioned above, there are many options! Typically, you'll find a few factors that influence the quality (and the price) of floors:
Width – Wider plank floors generally cost more since they are made from old-growth trees to provide a more natural look
Thickness – For hardwood and engineered hardwood, the thickness of the floors (or the thickness of the laminate layer for engineered) determines how many times you can sand and refinish your floors. Because of this, thicker floors are more expensive.
Color – While not a major factor, color certainly influences the cost of your floors, and white Oak is generally more expensive than cheaper red oak options.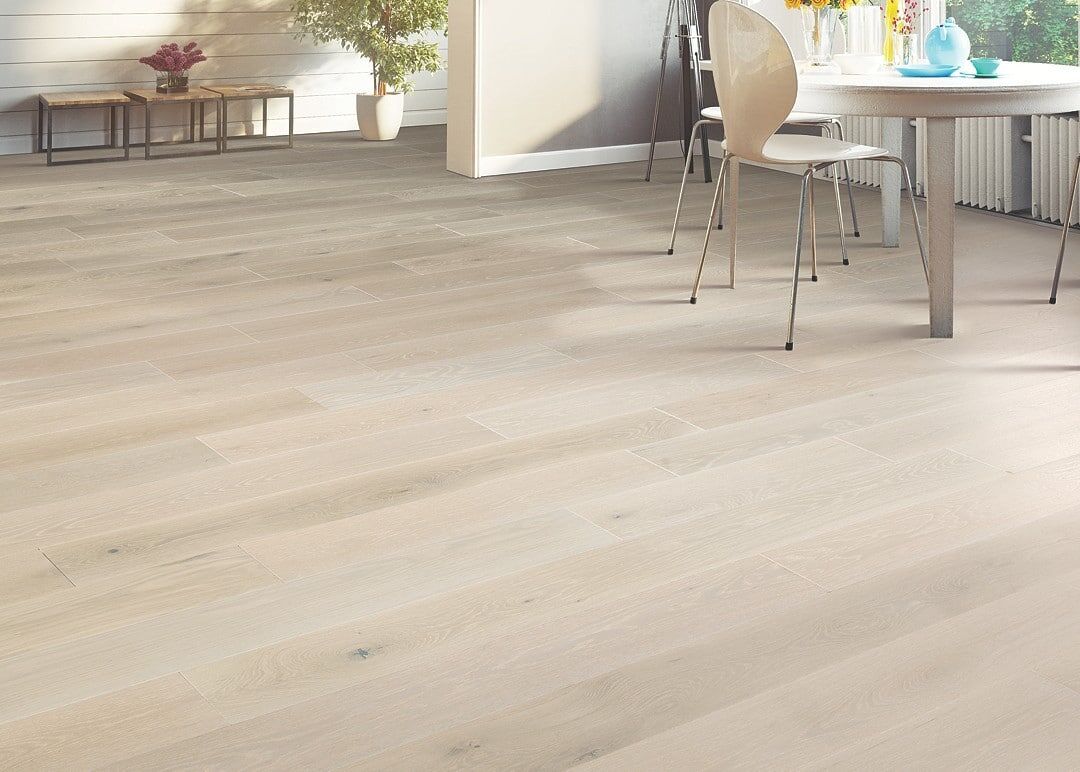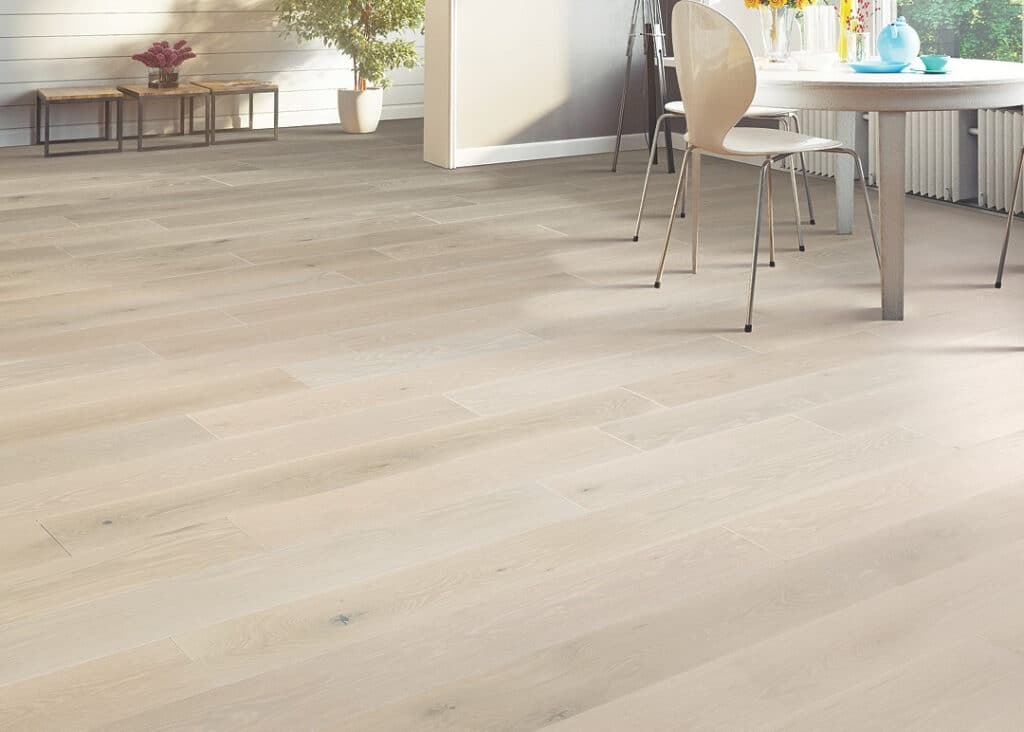 Materials: Ordering White Oak Floors
As we mentioned earlier, we ended up purchasing Mohawk Coastal Couture Seaspray Oak floor (Linked here) and got six quotes from online and local suppliers, which we included below:
Quote 1: $5.60 / sq ft
Quote 2: $7.08 / sq ft
Quote 3: $5.40 / sq ft
Quote 4: $9.80 / sq ft
Quote 5: Originally $5.74, $4.00 / sq ft after calling
Quote 6: $7.24 / sq ft
Ultimately since this was materials and we were purchasing the same product, we went with the cheapest option, which was quote 5 through fastfloors.com (not sponsored).
During the process, we priced out floors on their website at $5.74/sq ft and soon after received a call from a sales rep confirming the quantity we were looking for (3,700 sq ft). Once he heard this, he asked us to give him 24 hours to call his Mohawk rep and work on a better price.
He called us back the next day and was able to get us the floors for $4.00/sq ft, which was the best price we found. This brought our material cost for white oak floors to $14,800.
Shipping
The other element to consider is that the quotes above do not include shipping costs, which are typically another $200-$2,000, depending on the amount of flooring.
In our case, shipping added another $1,006.74 to our cost for approximately 3,700 square feet of floors.
How Much Floor to Buy?
One of the biggest questions we faced when buying flooring was knowing how much to buy! Especially if you're buying materials on your own (and not through an all-in-one showroom or contractor), it can be a daunting task.
In full disclosure, during our flooring project, we were left with about 500 square feet of extra flooring (not an inexpensive mistake). But there are two main factors to consider for a more accurate number:
Waste – Most flooring companies estimate you should assume 5-10% waste. This means 5-10% of the floor you purchase will be unusable due to color variations, divots, cracks, etc.
Cabinets / Appliances – Especially if you're flooring an entire house, consider the areas covered by cabinets, appliances, toilets, etc., where you don't need a floor. Generally, we'd recommend taking your total home square footage and reducing it by 20% to accurately account for this (assuming you're doing the whole house).
In the end, a large amount of our extra flooring was because our installer did not "waste" enough. While we love our floors, there are definitely pieces that I wish they had thrown out due to color variation, peeling, or divots. But if you're left with any extra floor, you're not out of luck. You can sell extra flooring pretty easily.
Labor: Hiring an Installer vs. Doing-It-Yourself
For our flooring, we ultimately decided to hire an installer, though the thought of DIY-ing this project definitely crossed our minds. And depending on a few factors, it may actually make sense to do it yourself.
How to Decide Whether to DIY It
Size of the project – First and foremost is the size of the project. Flooring a 500-square-foot den is very different than doing a 3,500-square-foot house. For reference, it took a team of 3 guys 10 days to remove the floor and finish our entire house.
Pattern – If you're considering a more intricate design like herringbone floors, it may be time to call in the professionals. These types of designs require a lot more cuts and know-how to come out perfectly.
Type of install – Are you floating your floor (common or engineered hardwood) or gluing/nailing down (common for hardwood and engineered). While both have their advantages and disadvantages, gluing or nailing down your floors definitely is more time-consuming.
As we hinted above, we decided to hire a professional installer due to the sheer size of the project. This led to us getting several quotes for the installation of our floors.
Labor Quotes for Installing White Oak Floors
When hiring an installer, they will likely need to walk through your house and discuss the project to understand your specific requirements. Along with installation, there are a number of other costs that come along with this type of project, including:
Flooring removal (cheaper for carpet, higher for floating wood floor, highest for glue down)
Floor installation
Shoe Molding / Quarter round
Glue / Nails (depending on the type of installation)
Stain / Finish (depending on whether your floor is pre-finished)
For installation, we gathered three local quotes. I'll also caveat that these prices may vary based on your area (high-cost areas like NYC or California will likely be a lot more):
Quotes for installing 3,300 sq ft of floors
Quote 1: $9,700 (quote we selected)
Quote 2: $10,307
Quote 3: $16,450
While the typical rule of home quotes is to get three and select the one in the middle, we ended up opting for the cheapest here (not recommended). Overall we love our floors, but there are slight inconsistencies (mentioned above when discussing waste), that make us wish we had splurged a bit more on the installation.
For a full breakdown of these quotes, keep reading the next section, where we list each quote. Plus, our actual cost of installation, including labor and materials.
Actual Total Cost to Install White Oak Floors
In the end, we spent a total of $25,598.92 on buying and installing our white oak floors for our 3,800-square-foot home. You can see the full cost breakdown of the three quotes we decided between below:
Quote 1: Flooring showroom (Materials & Labor)
Materials
Mohawk Coastal Couture 7″ ($5.40/SF): $17,860.50
3mm Cork Underlayment (for floating): $2,837
Transitions/thresholds: $247.40
Shoe Molding: $726.90
Vapor Barrier (for floating): $627.00
Glue: $618.42
Leveling Compound: $584.85
Labor
Installation Float: $11,220
Subfloor Prep / Leveling: $3,150
Glued Flooring (where needed): $1,950
Carpet Removal: Included
Appliance Removal / Reinstall: $130
Containment/Prep/Haul Away: $325.00
Discount: $495.41
Total Approximate Quote 1 Cost (with tax): $41,493.98
Quote 2: Materials + Local Installer #1
Materials
Mohawk Coastal Couture 7″ ($4.00/SF): $14,800
Shoe molding (To be purchased by us): $1000.00
Thresholds/stair nose (To be purchased by us): $337.92
Labor
Remove existing floor/Haul away/Glue down new floor (1st floor): $5,513
Remove existing floor/Haul away/Glue down new floor (2nd floor): $4,794
Total Approximate Quote 2 Cost (with tax): $26,444.92
Quote 3: Materials + Local Installer #2
Mohawk Coastal Couture 7″ ($4.00/SF): $14,800
Shoe molding (Provided by installer): $650.00
Glue (Provided by installer): $2,318
Shoe Molding (Provided by installer): $1,050
Thresholds/stair nose (To be purchased by us): $337.92
Labor
Flooring removal: $1,318
Carpet removal: $50
Flooring installation (~3,500 SF) : $5,075
Total Approximate Quote 3 Cost (with tax): $25,598.92
What this cost didn't include
While these costs generally included everything we needed to remove and install new flooring in our home, there were a few items not included to consider:
Moving the Flooring into the House
Since we subcontracted the project and ordered the materials (e.g., the floors) on our own, we were also responsible for putting them in the house. The floors came via freight delivery and were put in our garage. From there, we had to move ~160 boxes, each weighing 78 pounds, into various rooms in our house to "acclimate" before being installed. In the end, this took 8+ hours and was way more than we bargained for.
Stairs
While we installed white oak floors in the entire house, the prices above did not include redoing the carpeted stairs in our home. This turned out to be an entirely separate project that we'll cover in another blog post.
Cleanup
The dirt and debris created from removing the old floors is serious! We couldn't believe how much of a mess it made. While our installers picked up any scrap pieces and vacuumed the house with a shop-vac, they didn't do a deep clean. And a deep clean is definitely needed!
As you can imagine from the picture below, there was dust and debris on every surface imaginable. It took us 8+ hours of cleaning to wipe, dust, and vacuum. And we still found dust in random spots for the next few months.
Our advice would be to budget $300-$500 for a professional deep clean after your contractor leaves to save yourself a lot of time!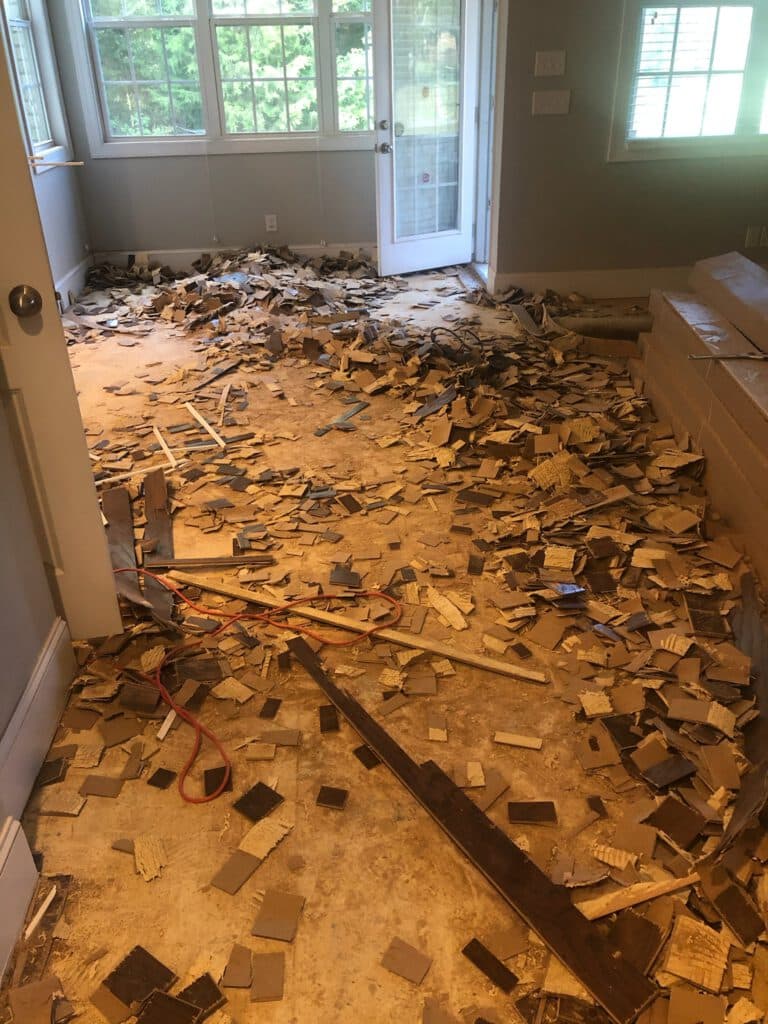 Caulking Shoe Molding
Each of the installers included shoe molding/quarter round in their quotes, but that doesn't mean they caulk it.
Since shoe molding or quarter round is typically installed with pin nails, there will be a somewhat noticeable gap between the quarter round and your molding, in addition to nail holes. To give it a clean look, you need to caulk the quarter round to the wall and fill the nail holes. While this doesn't sound terrible, it is very tedious. For us, this required us to scoot around the floors for 8+ hours and 5 cans of caulk. In the future, we would definitely negotiate this with our installer.
Cost of White Oak Floors by House Size
To determine the cost of buying and installing white oak floors for your house, we've researched quotes for the most common house sizes (exact prices will vary based on the market):
1,000 SF: $9,435
1,500 SF: $13,460
2,000 SF: $16,632
2,500 SF: $19,874
3,000 SF: $21,941
3,500 SF: $25,598
4,000 SF: $29,255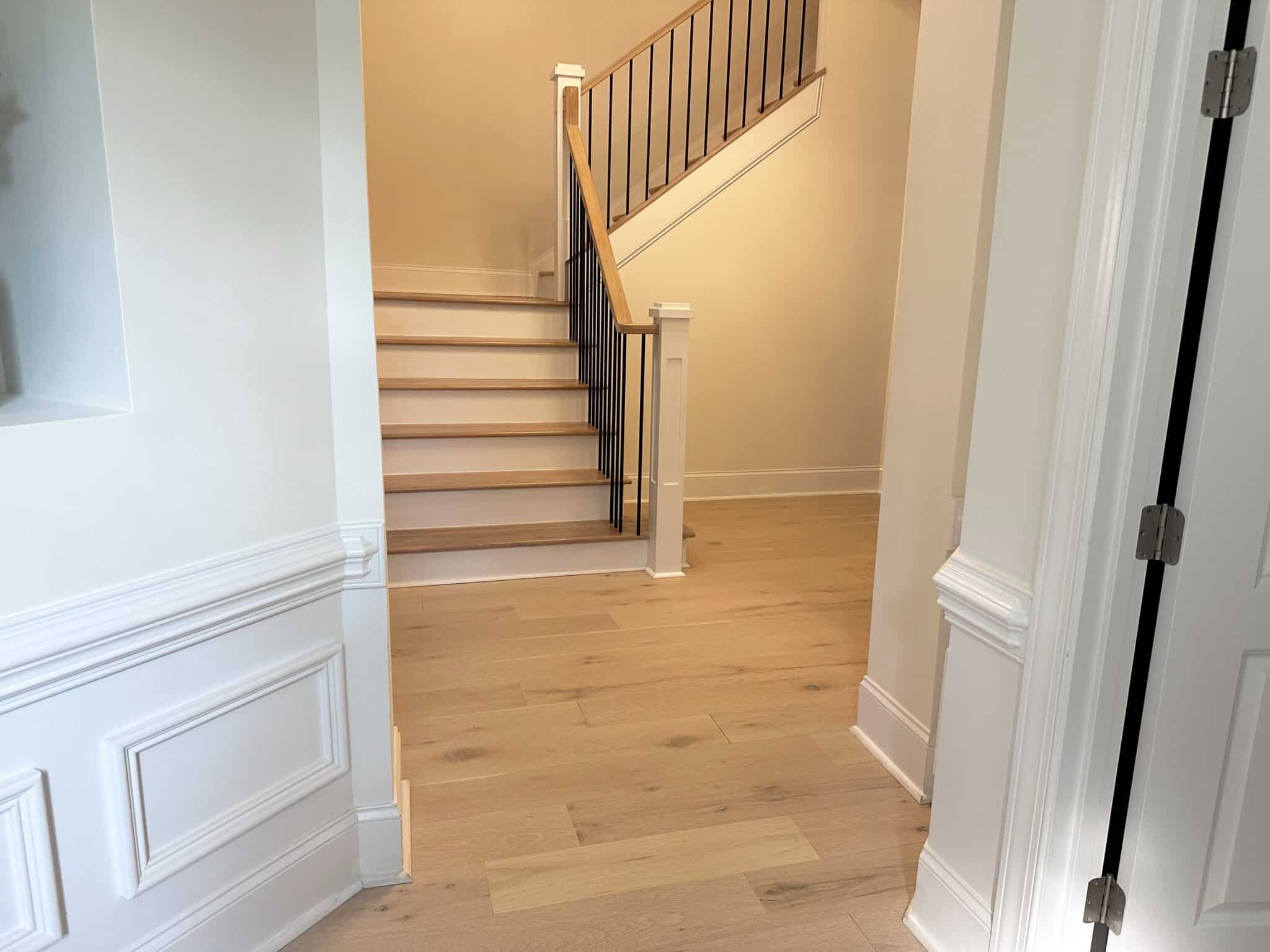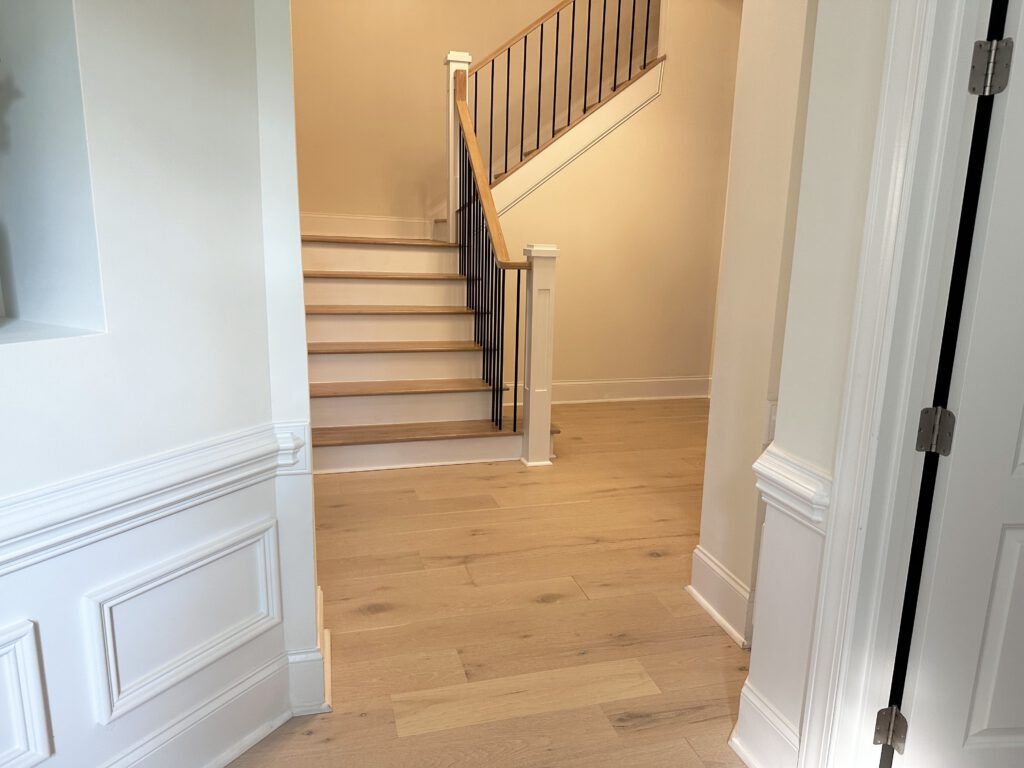 Conclusion
While installing floors can be one of the most costly home projects, it also makes a huge impact on a house. We knew we wanted white oak floors in our house and have never looked back from putting them. As mentioned above, we did learn that it's better to splurge on your installer.
Higher-quality floor installers will level your floors and discard floor pieces that don't meet your standards. While it may cost you a few thousand dollars, going with the slightly better installer for a project of this size is definitely worth it.