Are you considering engineered hardwood flooring for your home? If so, you're not alone. Engineered hardwood is one of the most popular types of flooring on the market today, thanks to its beauty, durability, and affordability.
In this blog post, we'll give you a crash course in everything you need to know about engineered hardwood floors, including what they are, how they're made, and where they can be installed. Keep reading to learn more!
Plus, check out our step-by-step guide to installing hardwood floors from our experience renovating all of our floors!
Table of Contents
What is Engineered Hardwood Flooring?
Engineered hardwood floors are a type of wood flooring that consists of multiple layers of wood veneer glued together. The top layer (also known as the wear layer) is made of real wood and can be sanded and refinished multiple times over the lifetime of the floor. The bottom layers are made of cheaper wood or plywood and serve to add stability to the floor.
Engineered hardwood floors come in a wide variety of wood species, finishes, and plank sizes, so it's easy to find an option that fits your style and budget.
| | |
| --- | --- |
| | |
| | $4 to $16+ per Square Foot |
| | Mix of plywood and solid wood with a solid top layer |
| | |
| | 0 to 4+ times depending on top layer thickness |
| | 1mm-6mm top layer thickness |
| | |
| | Floating, Glue down or Nail down |
| | Available in most types of woods/stains (e.g., Oak, Maple, Hickory) |
How is Engineered Hardwood Flooring Made?
Engineered hardwood floors are made by bonding together multiple layers of wood veneer with high-strength adhesives. The thickness of the veneers and the number of layers vary depending on the manufacturer; some engineered hardwoods have as few as three layers, while others have as many as 12.
The top layer (otherwise known as the veneer or wear layer) is always made of real wood, while the bottom layers can be made of plywood or other cheaper wood. Once the layers are glued together, they are cut into planks and finished with a protective coating that helps to resist scratching and fading from sunlight.
Where Can Engineered Hardwood Floors be Installed?
One of the great things about engineered hardwood floors is that they can be installed almost anywhere in your home, including below-grade (in basements) and over-radiant heating systems. They also don't have as many moisture issues as solid hardwood floors, meaning they can be easily installed on slab foundations.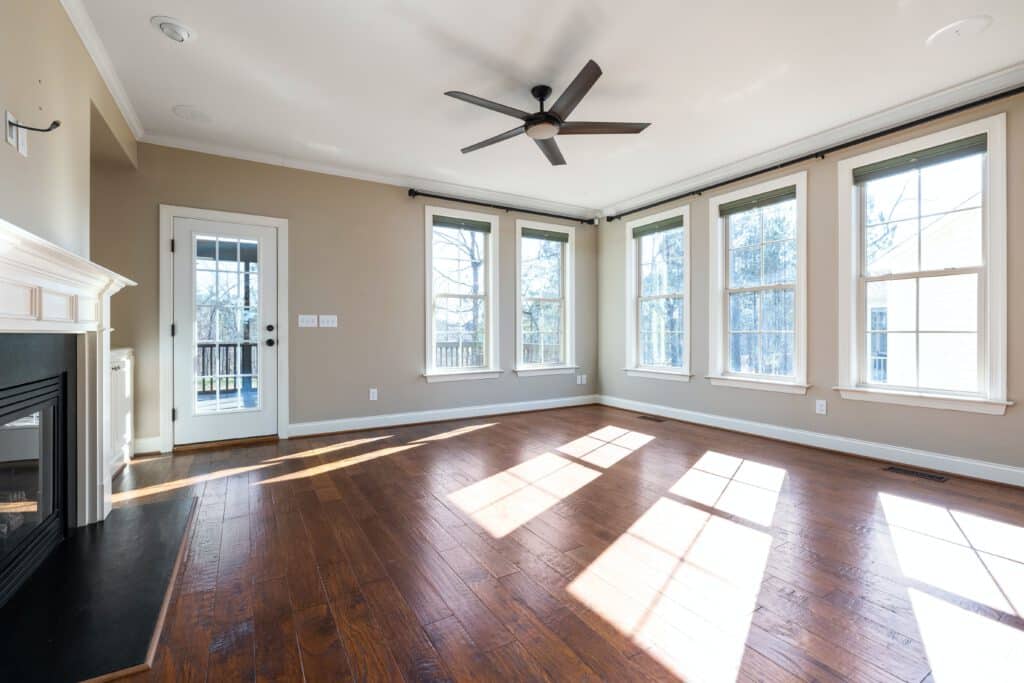 How to Install Engineered Flooring?
Installing engineered hardwood floors is a relatively easy process that can be done by most do-it-yourselfers for smaller rooms. For larger projects, you'll want to make sure you know what you're getting into before installing. At our 3,700 square-foot house, it took a crew of 3 professionals over 2 weeks to remove our existing flooring and install engineered hardwood.
The first step is to choose the right installation method for your project. There are three main ways to install engineered hardwood:
Floating
A floating floor is not attached to the subfloor, which makes it ideal for DIY installations. The boards are attached to each other using a tongue-and-groove system that simply "clicks" , and the entire floor "floats" on top of an underlayment.
Glue-Down
A glue-down installation involves attaching the boards to the subfloor with adhesive. This method is recommended for rooms that are subject to high amounts of moisture, such as bathrooms and kitchens.
Nail-down
A nail-down installation is similar to a glue-down, except that the boards are attached to the subfloor with nails instead of adhesive. This method is recommended for rooms with low levels of moisture.
Once you've chosen your installation method, you can begin installing your engineered hardwood floor. Start by laying down an underlayment (if necessary), then position the first row of boards along the wall with the tongue side facing out.
For a floating installation, use a mallet to tap the boards together. For a glue-down or nail-down installation, apply adhesive or nails to the tongue of each board and position them on the subfloor.
Continue installing the boards in rows, making sure to offset the joints by at least 6 inches. Once all the boards are in place, trim off any excess material with a saw.
Finally, install baseboard or quarter-round molding to cover the expansion gap and give your floor a finished look.
How Long Do Engineered Hardwood Floors Last?
Engineered hardwood typically lasts between 20 and 80 years, depending on the overall quality and, most importantly, the top layer thickness of your floors.
As you'll read in the next section, the thickness of your top layer determines how many times you can refinish your floors and, ultimately, how long they last.
As a rule of thumb, floors in the average household will need to be refinished every 20 years or so. This number can decrease if you have a busy household with pets and little kids and increase for lower-traffic areas with less wear and tear.
Refinishing Engineered Hardwood – Can it be done?
While engineered hardwood floors can be refinished and restained, they are more limited than solid wood flooring. Since only the top layer of engineered hardwood is made to be visible, the amount of times you can refinish is limited to its thickness.
The rule of thumb for refinishing engineered hardwood floors is that each refinish will remove about 1mm of the top veneer. And since you want some flooring left (about 1mm at a minimum), that means you can figure out the number of times you can refinish pretty easily. Simply take the veneer thickness and subtract 1. This is the number of times you can refinish the floors.
For example, for a floor with a 3mm top veneer, we would take 3mm to subtract 1 and be left with 2, meaning we can refinish the floors twice. You can see this in practice with the calculations below based on the wear layer:
Under 1mm: Do not refinish
2mm and under: Maximum once, or you can damage your floors
3mm: Up to 2 times
4mm: Up to 3 times
5mm: Up to 4 times
How Much Does Engineered Hardwood Cost?
Engineered hardwood typically costs between $4 and $16 per square foot, depending on a few factors:
Width – This refers to the width of your floorboards. Generally, the wider the floors, the more expensive they are.
Wood Type / Look – Certain woods like Oak and Maple tend to be more expensive than others like Hickory.
Veneer or Top Layer Thickness – The thicker your top layer, the more times you can refinish your floors and, ultimately, the longer they will last.
While engineered hardwood is typically cheaper than similar solid hardwoods, that isn't always the case. When we shopped for our floors, we found some high-end engineered hardwoods that cost as much as solid flooring.
For an actual full cost breakdown of our floor renovation, check out our Actual Cost of White Oak Floors guide.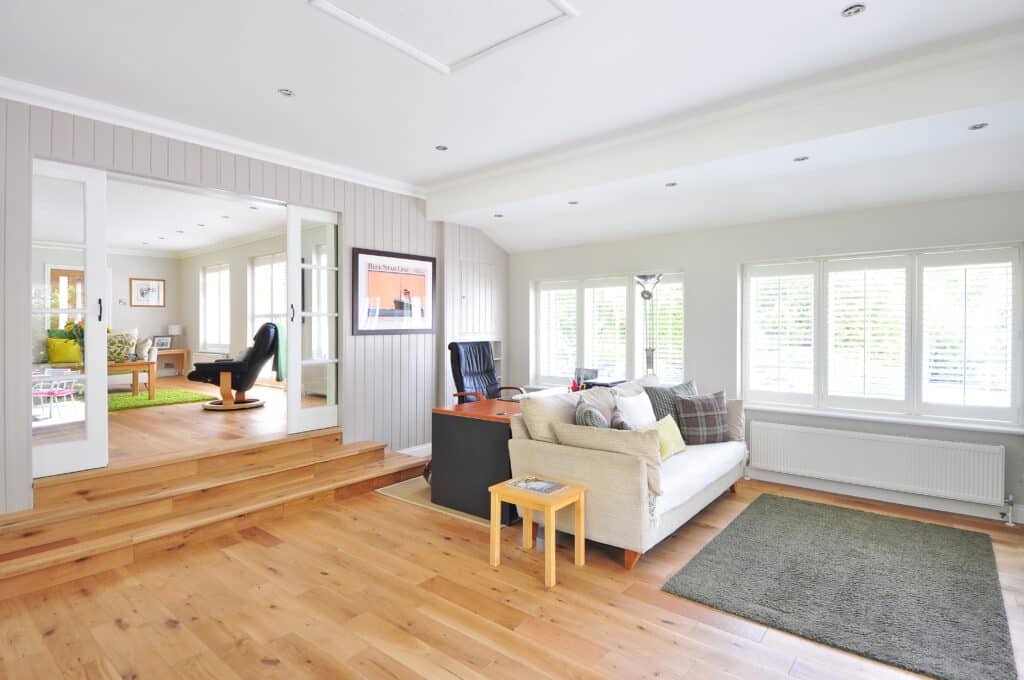 Engineered Hardwood vs. Solid Hardwood
While both types of floors have their advantages and disadvantages, there are some key differences to know before you decide:
Engineered Hardwood
Pros
Can be installed over radiant heating
Can be installed on any level of your home using glue down, nail down, or floating installations
More resistant to moisture, making it ideal for homes in humid climates or on concrete slabs
Can be sanded and refinished a few times, depending on the thickness of the top layer
Available in a wide variety of wood types, colors, and plank sizes
Typically more affordable than solid hardwood floors
Cons
Limited amount of refinishing and lifespan compared to solid hardwood; once the top layer is worn floor must be replaced
Can fade over time depending on the wood style and color
Less sturdy since it's made of a plywood core mixed with solid wood and a hardwood veneer
Still susceptible to water damage and moisture
Solid Hardwood
Pros
Hardwood floors are an excellent investment that give your home a high-end appearance
Easy to keep clean and maintain, as they don't require special cleaners or treatments
Can be refinished multiple times, lasting up to 100 years
Extremely durable since they're made of one solid wood
Available in a wide variety of wood types, colors, and plank sizes
Cons
Typically more expensive than engineered hardwood floors
Usually installed only on crawl space foundations due to issues with moisture on a slab or concrete subfloor
Need to be nailed down, which is more complex than floating or gluing down floors
And read more in our complete comparison of Hardwood vs. Engineered Hardwood vs. LVP Flooring.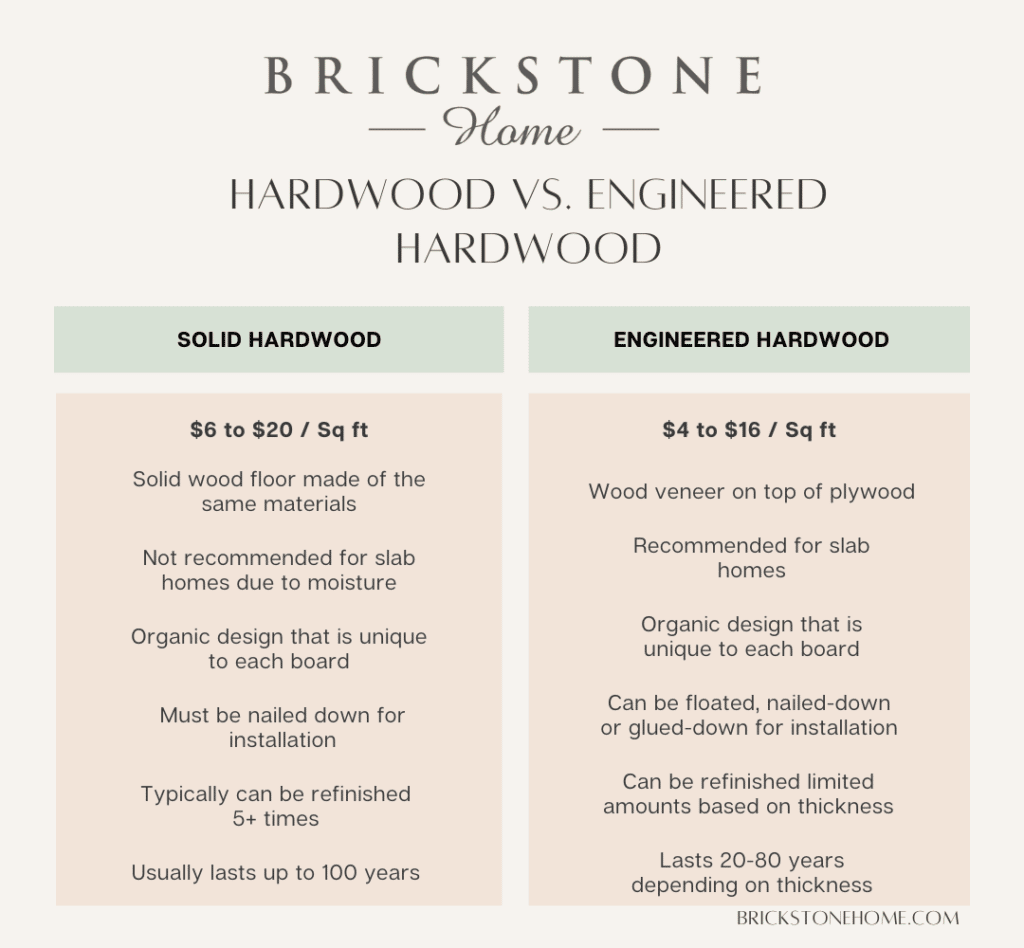 Conclusion
Engineered hardwood is a fantastic flooring option for your home as they're affordable and can be installed on any foundation. We installed engineered hardwood in our entire house and have never looked back. If you're considering engineered hardwood floors for your home, we hope that this blog post has given you a better understanding of what they are and how they're made.
Still have a question about your home? Let us know in the comments below!