Looking to update your home with a chic new flooring option? You may have come across the terms "chevron" and "herringbone" and found yourself wondering what sets these styles apart. Keep reading as we explain the differences between chevron and herringbone floors.
Plus, for more, check out our guide to Installing Hardwood Floors in an Entire House (including Real Costs and Timelines).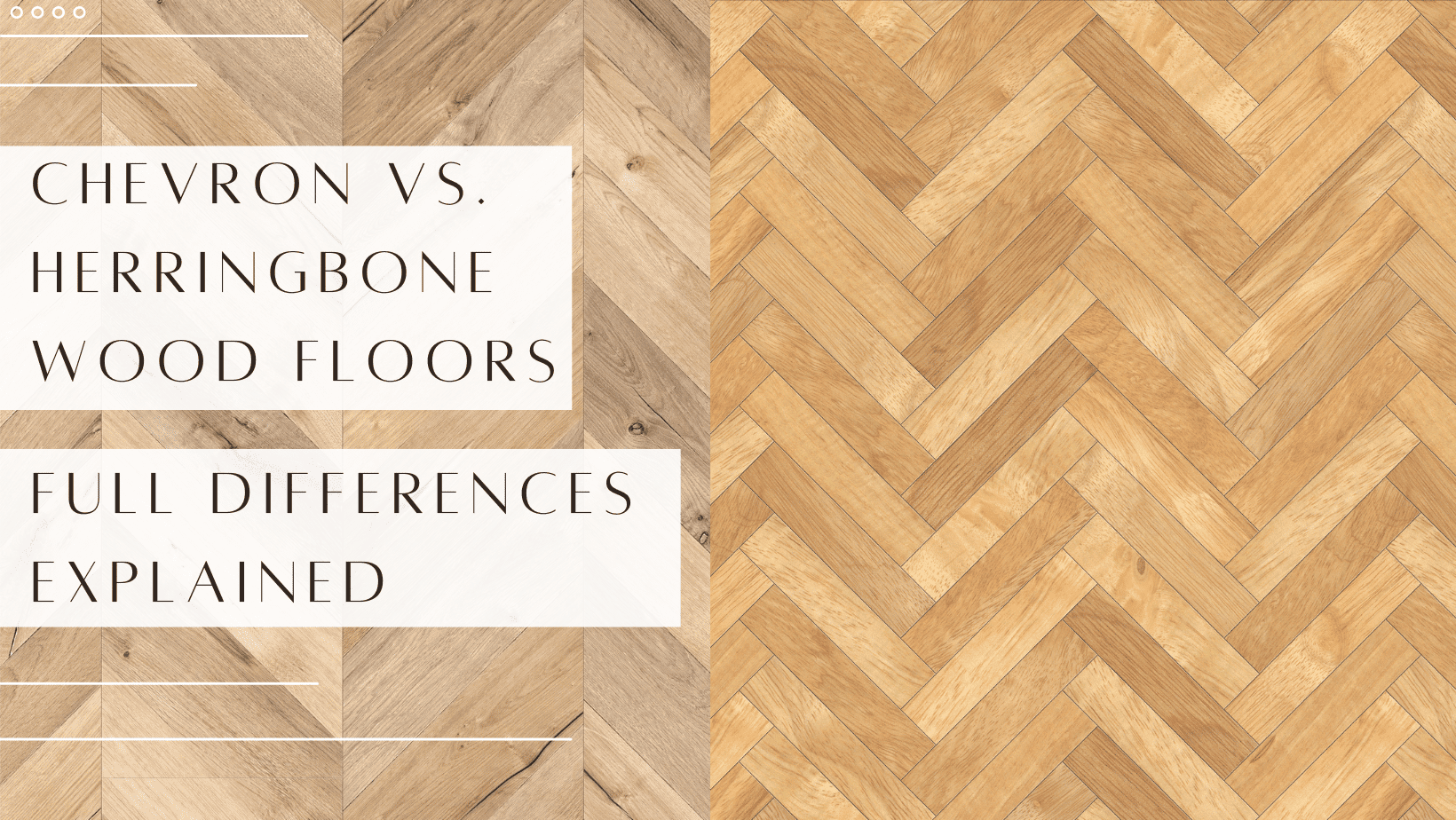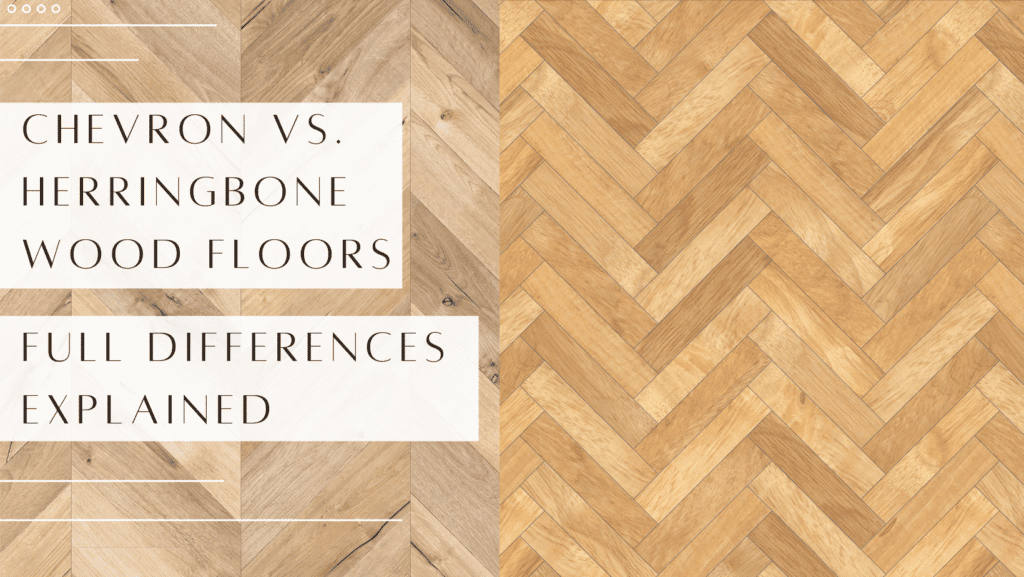 Chevron vs. Herringbone Floors – Differences Explained
Chevron vs. herringbone floors are two different types of wood flooring that have distinct differences in appearance, pattern, and overall effect. While both styles incorporate a zig-zag or broken pattern, chevron floors feature planks with more sharply angled cuts, while herringbone floors have more subtle angles. Additionally, the overall look of a herringbone floor is more understated, whereas the sharp angles of chevron floors create a more striking visual effect.
Ultimately, which type of wood flooring is right for your home will depend on your personal style and preferences. So if you're looking for an elegant, classic look, herringbone floors may be a better choice, while chevron floors can add a contemporary or modern touch to your home.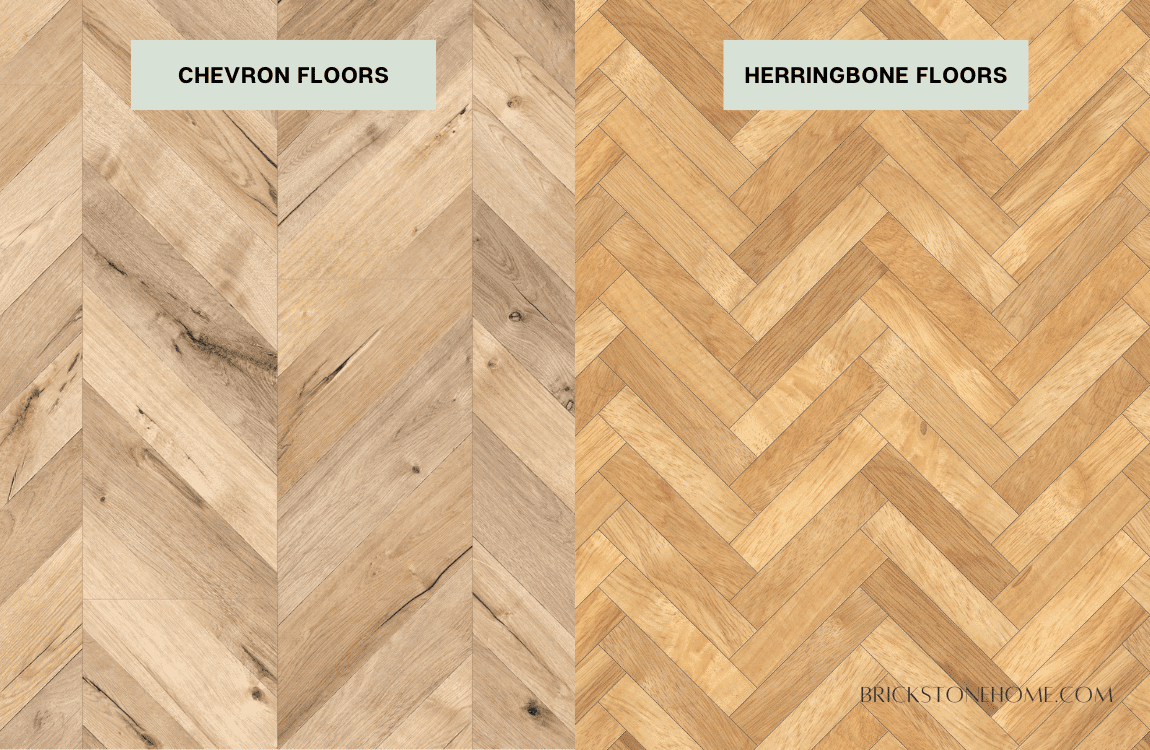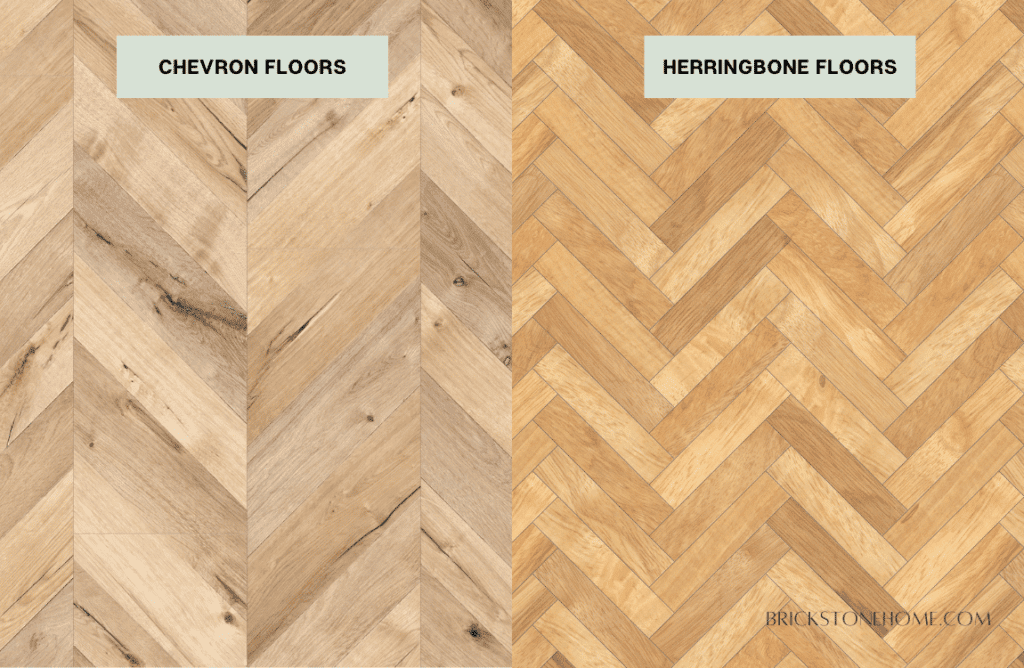 Chevron Floors Key Differences
Striking visual effect thanks to sharply angled cuts
More of a modern and contemporary style
Typically don't align from column to column of floors
Herringbone Floors Key Differences
Understated visual effect due to subtle angles
Classic, elegant style
Continuous design that carries naturally across flooring planks
Are Herringbone or Chevron Floors More Popular in 2022?
Both herringbone and chevron floors have surged in popularity in recent years. This is thanks to their elegant, classic designs. As well as the fact that they can be incorporated into a wide range of different home styles and decor. However, chevron floors seem to be gaining traction a bit more quickly than herringbone floors due to their modern style and sharper design.
Ultimately, it's likely that both types of wood flooring will remain popular in 2022. Though chevron floors are likely to continue growing in popularity. Which style you choose will ultimately depend on your personal preferences and the overall aesthetic of your home. So if you're looking for a stylish, eye-catching wood flooring option that is sure to make a statement, then chevron may be right for you.
Herringbone vs. Chevron vs. Parquet Floors Explained
What are Herringbone Floors?
Herringbone floors are a type of wood flooring that features a distinctive zig-zag or broken pattern. Made up of planks with subtly angled cuts, these floors have a subtle, elegant appearance that can complement a variety of different home styles and decor. In addition to their classic look, herringbone floors are known for being highly durable, making them an excellent choice for homes with high traffic.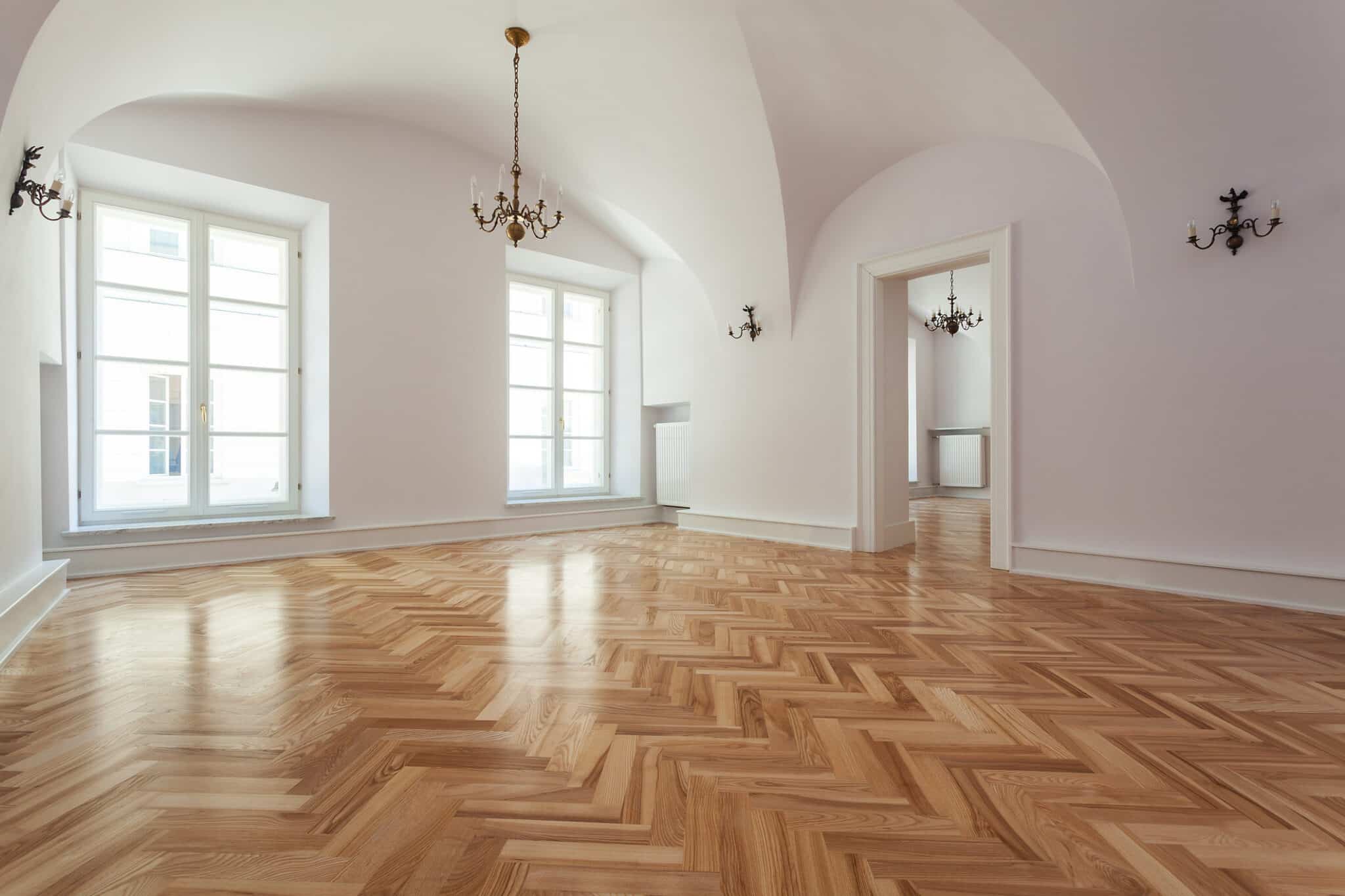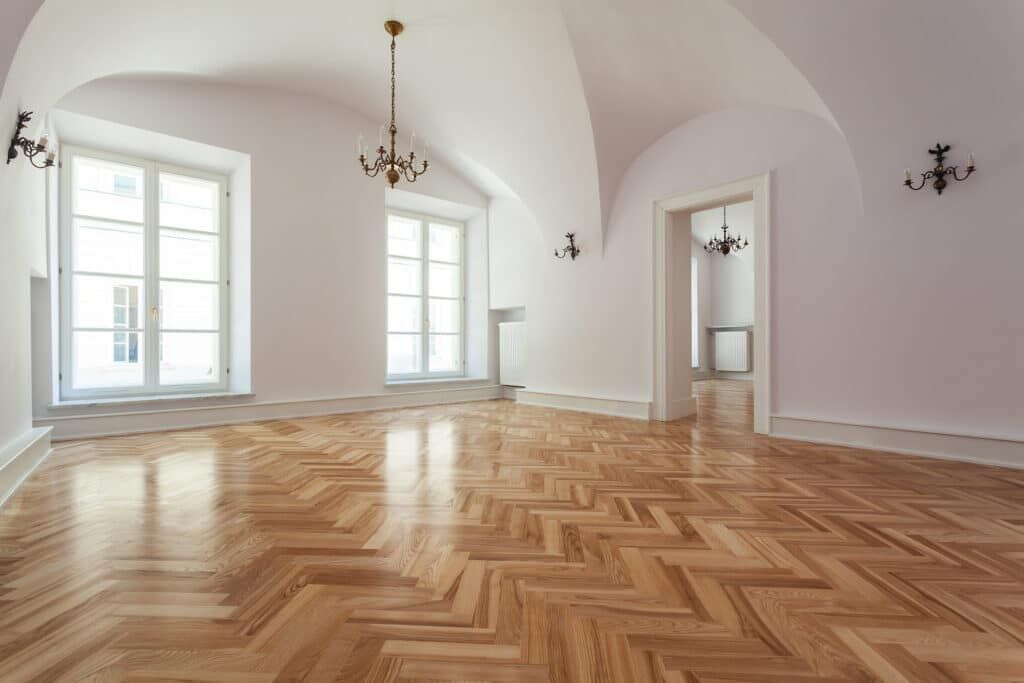 What are Chevron Floors?
Chevron floors are a type of wood flooring that has sharply angled cuts. This creates a striking visual effect. They are made from high-quality materials and designed to last for years. Chevron floors are versatile and can be used in many different types of homes. If you want an elegant, durable wood flooring option that will make a statement in your home, then chevron floors may be the perfect choice for you.
What are Parquet Floors?
Parquet floors are a type of wood flooring that consists of small geometric patterns and designs. Typically made from oak or other hardwood materials, parquet floors feature intricate designs that give them a distinctive look and feel. They can be either solid or engineered, with the latter being more durable and easier to maintain.
Due to their intricate patterns, parquet floors are often used in high-end homes and commercial spaces. Both Herringbone and Chevron floors are considered Parquet floors since they follow a repetitive broken pattern.
Can Any Flooring Be Installed In These Patterns?
There are many different types of flooring that can be installed in a herringbone or chevron pattern. However, hardwood is often the best material to use for these styles. This is because wood gives an elegant and classic look, as well as being a durable surface that can withstand high traffic and wear. But other materials like vinyl, laminate, and tile can be installed in these patterns as well.
Whether you choose wood, tile, or another type of material will depend on your own personal preferences and the style of your home. So if you're looking for a stylish and eye-catching flooring option that will make a statement in your space, then herringbone or chevron floors may be right for you.
Read more in our comparison of Hardwood vs. Engineered Hardwood vs. LVP floors.
Bottom Line
Overall, herringbone and chevron wood floors are both excellent options for homeowners who are looking for a stylish, high-quality wood flooring option. Both styles offer an elegant, classic appearance that can complement a variety of different home styles while also being highly durable.