When choosing a wood floor for your home, there are a few different options to consider. For example, do you want solid hardwood, engineered hardwood, or luxury vinyl plank (LVP)?
Each option has its advantages and disadvantages, so it's essential to choose the one that's right for your needs. This article will compare hardwood, engineered hardwood, and luxury vinyl plank flooring side-by-side.
Table of Contents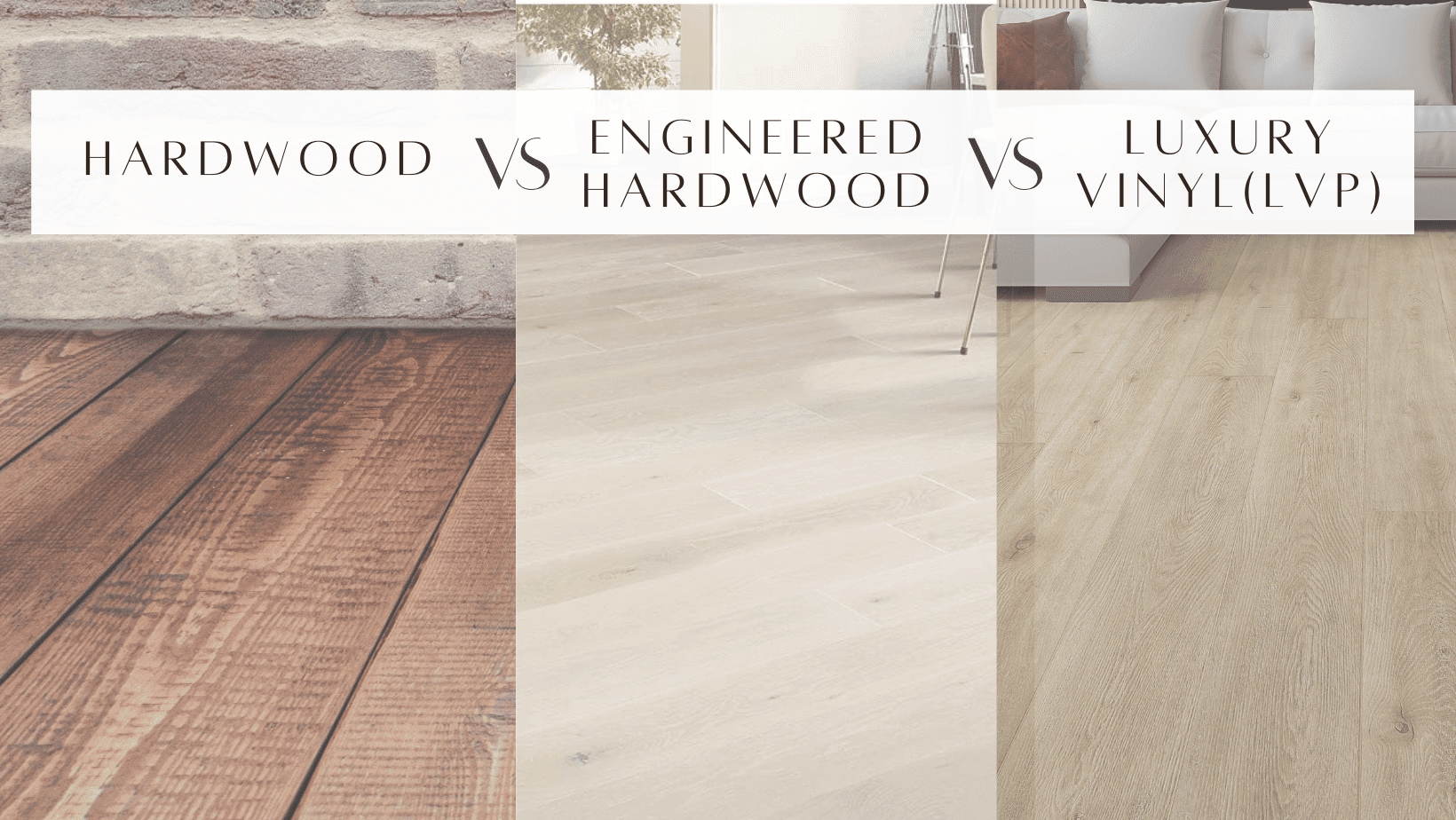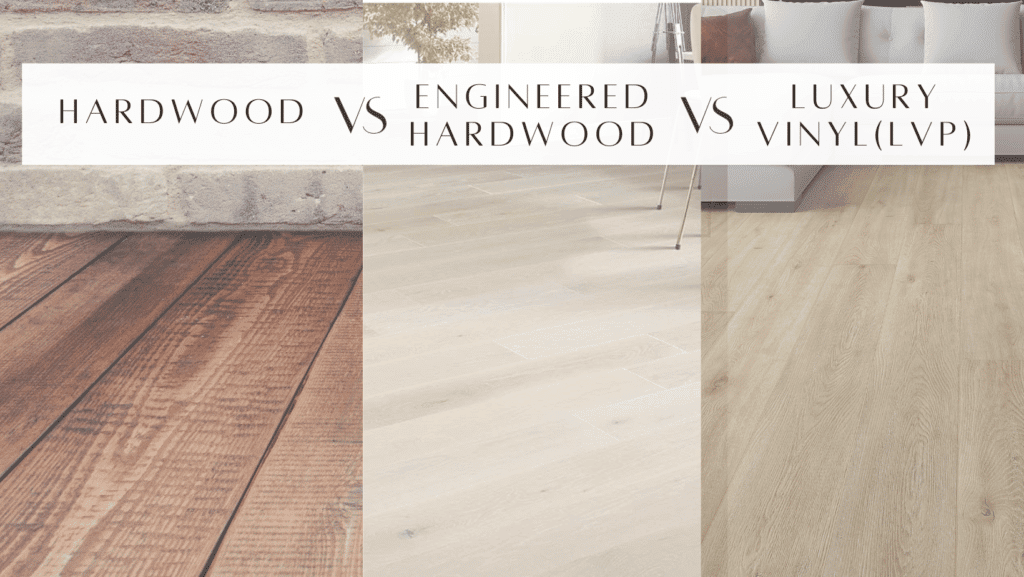 What Are Hardwood Floors?
As you probably guessed from the name, hardwood floors are made from solid wood boards, typically cut from a tree. They can be made from any wood, but the most popular choices are maple and oak.
Hardwood floors are prized for their natural beauty and durability. Because they are so strong, they can last for many years with proper care. And hardwood floors can be refinished if scratched or damaged, but this is not always necessary. They can also be sanded down and stained to change their appearance.
It's important to note that hardwood floors must be nailed or glued down to a sub-floor; they cannot float. They also typically can't be put down on slab foundations without moisture issues.
Read more in our Everything to Know About Solid Hardwood Floors guide.
What Are Engineered Hardwood Floors?
Engineered hardwood floors are made of several layers of plywood with a top layer of hardwood veneer. This construction makes engineered hardwood more affordable than traditional hardwood floors while still being durable.
When shopping for engineered hardwood, look for the veneer thickness, typically shown in millimeters. This measurement will tell you how thick the top layer of hardwood is. It also indicates whether you'll be able to refinish the floors.
Additionally, engineered hardwood may be the better choice if your home has a slab foundation to avoid moisture damage.
Read more in our Complete Guide to Engineered Hardwood Floors.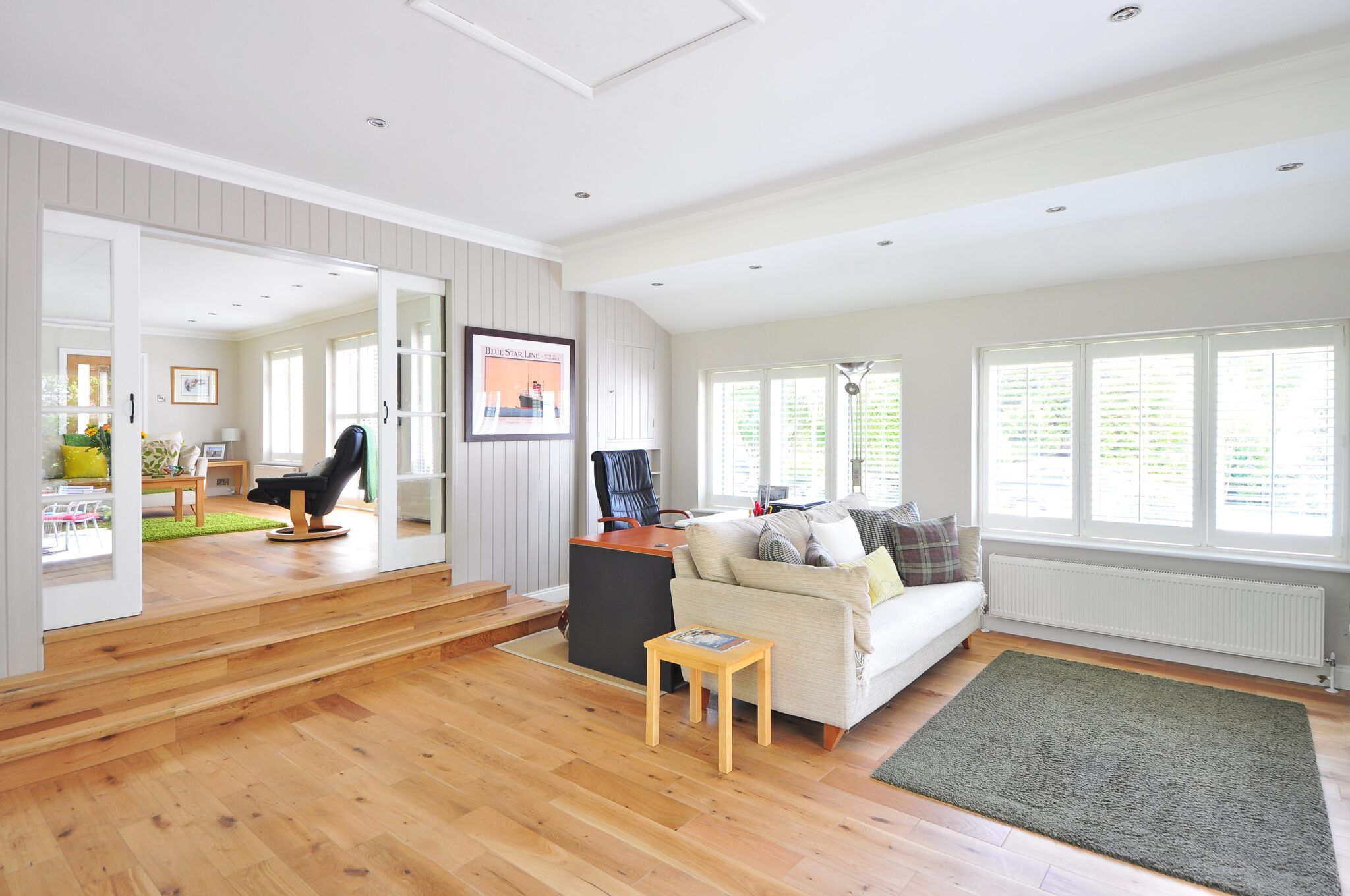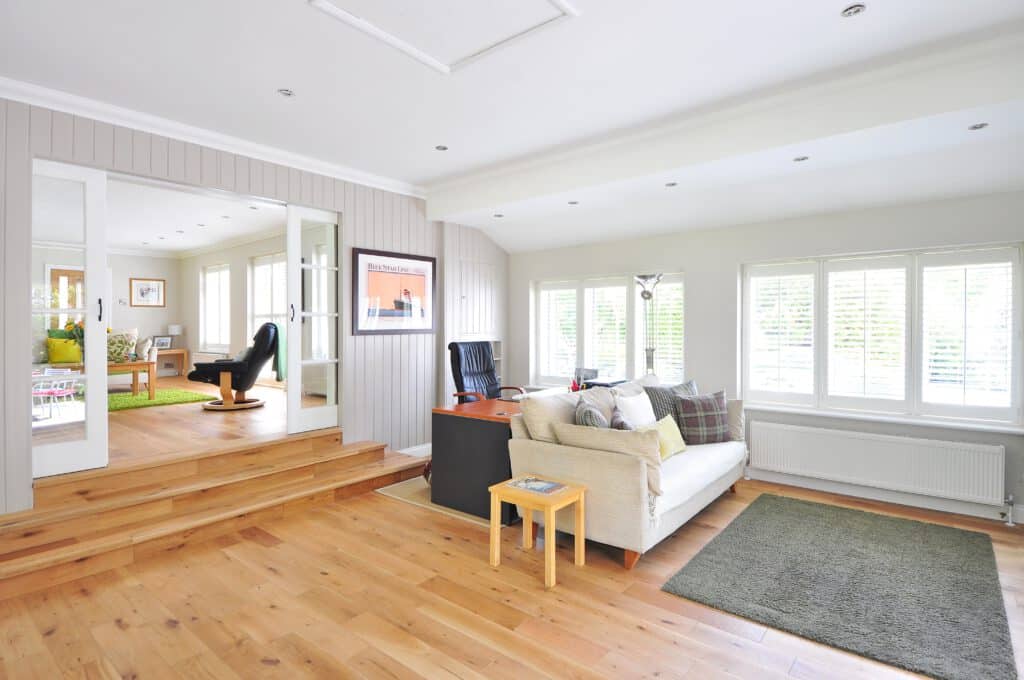 What are Luxury Vinyl Planking (LVP) or Laminate Floors?
Luxury Vinyl Plank (LVP) flooring is made out of a composite of several different materials, with a base of PVC for stability. The top layer of LVP is vinyl, designed to look like wood floors. However, because LVP is not made of real hardwood, it is not considered "real hardwood" flooring.
One of the main advantages of LVP flooring is that it is more durable and scratch-resistant than wood floors. This makes it a good choice for areas with a lot of foot traffic or homes with pets, as pet claws will not scratch the surface of the flooring. Additionally, most LVP is water-resistant, making it a good choice for areas where you expect to get wet (such as mudrooms or pool houses).
One downside of LVP is that the patterns on the vinyl can be repetitive, so if you are installing LVP in a large area, you may see the same way repeated multiple times.
Read more in our Complete Guide to LVP Floors.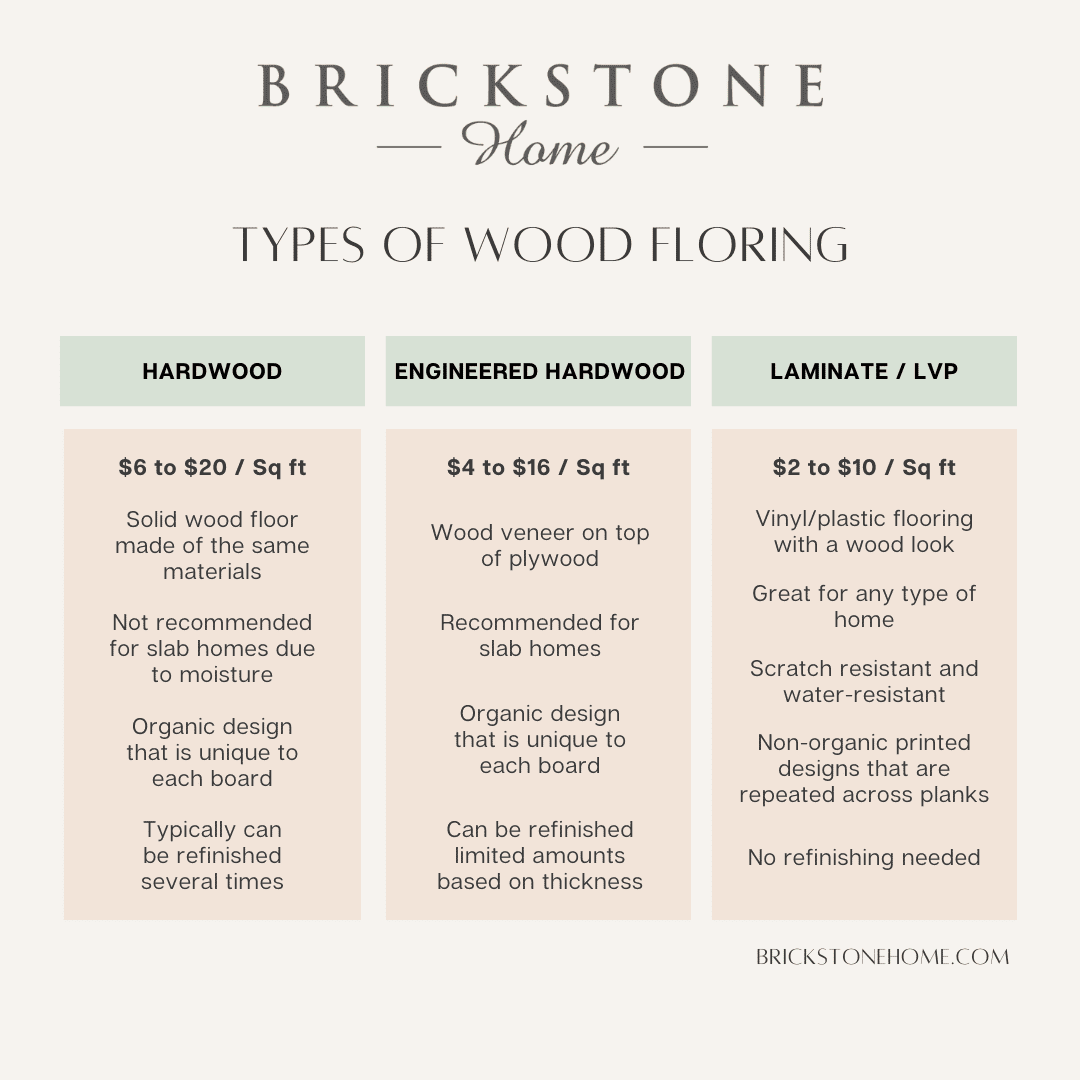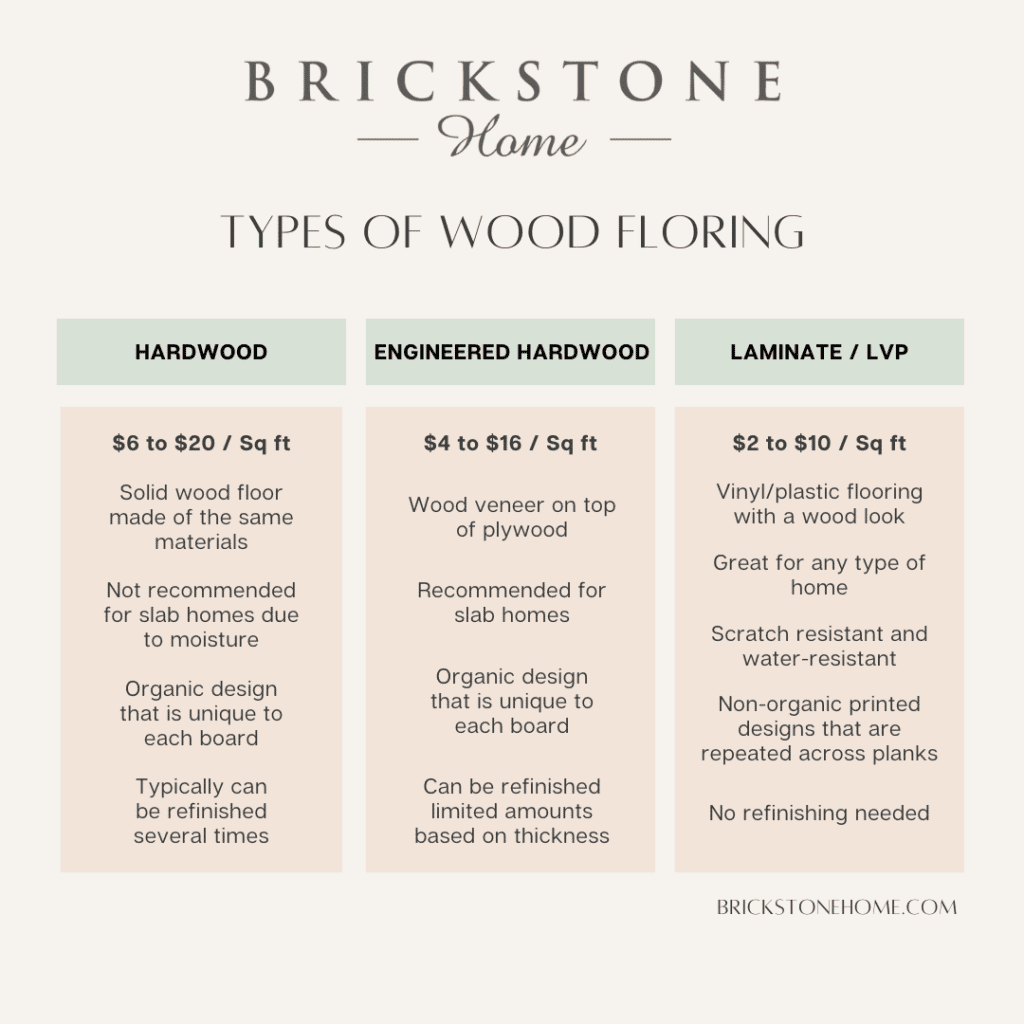 Solid Hardwood Vs. Engineered Hardwood Vs. Luxury Vinyl Flooring
Now that we've covered the different types of flooring let's compare them side-by-side. For our comparison, we'll be looking at the three categories below:
Durability
Appearance
Cost and Value
1. Durability And Stability
One of the most important categories for your floors is durability. After all, you don't want to spend time and money installing your floors only for them to get damaged shortly thereafter.
Hardwood
Hardwood floors are one of the most durable flooring options on the market. They can withstand a lot of wear and tear, making them ideal for busy households with kids and pets.
While solid hardwood floors may wear down faster than engineered hardwood floors, they can still handle a fair amount of traffic. Choose a harder wood species like oak for added durability.
Keep in mind that hardwood floors are not suitable for all areas of the home. They should not be installed in rooms with high humidity or where there is a risk of water damage, as this can cause the boards to warp and discolor. If you want hardwood floors in a room with high humidity, you will need to install a water vapor barrier to prevent moisture from reaching the boards.
Engineered Hardwood
Engineered hardwood floors are one of the most durable types on the market. This is because the top layer of solid wood is protected from scratches and dents by a finish that the manufacturer typically applies. Because it's applied by the manufacturer, as opposed to an installer, this finish can last for years, meaning that your floor will not need to be refinished as often as other types of floors.
In addition, engineered hardwood floors are designed to resist changes in temperature and moisture, meaning that they can be used in various settings.
Overall, engineered hardwood floors are an excellent choice for anyone looking for a durable and long-lasting flooring option.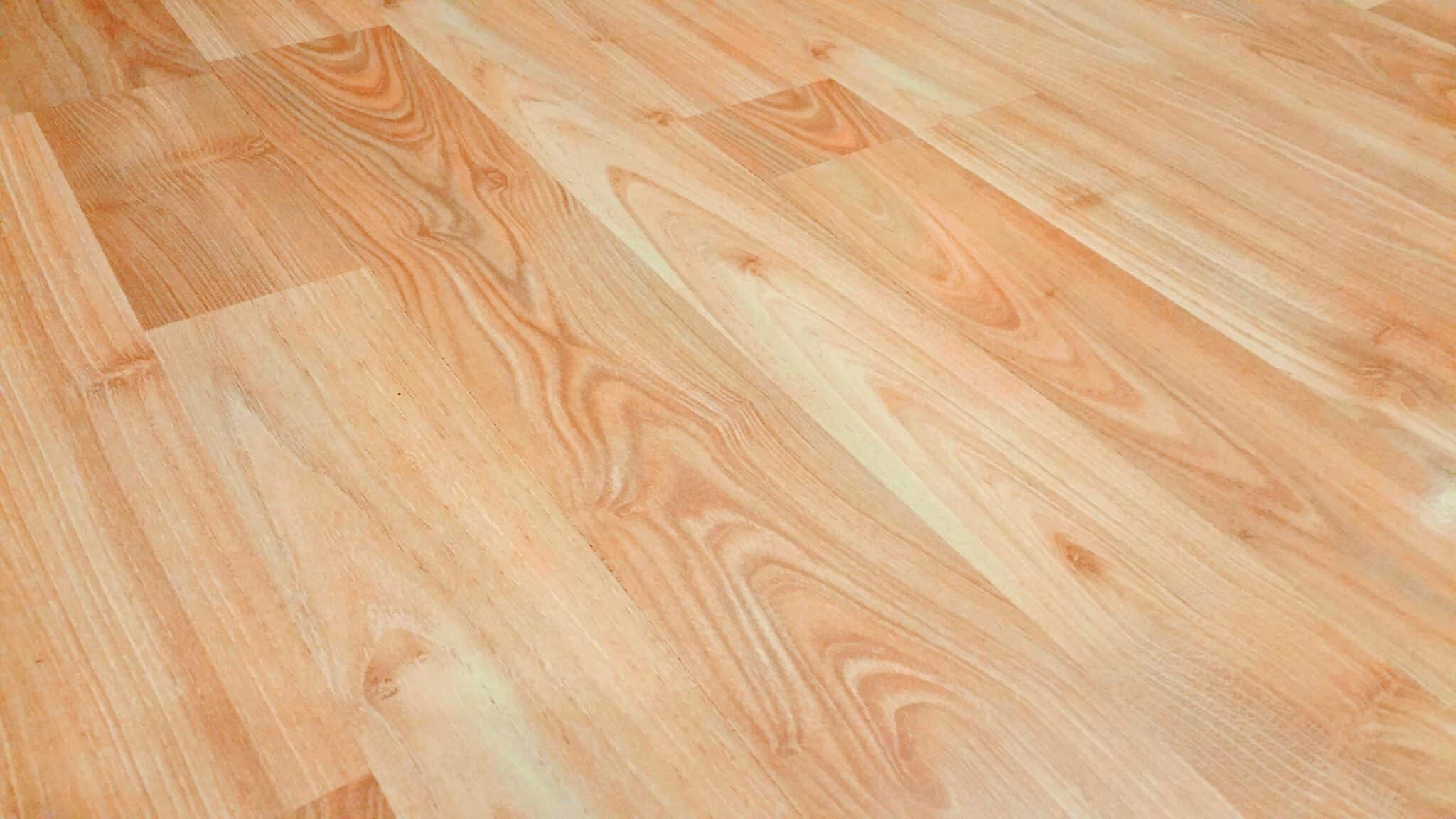 LVP Floors
LVP floors are some of the most durable on the market. They are made of several layers that work together to create resilient, low-maintenance flooring. The bottom layer is a "backer board" – a flexible base made of PVC for stability. The central core is what makes most LVP "water-resistant" rather than "waterproof." Finally, the top layer is the "vinyl layer," which is printed with the pattern and color – traditionally mimicking wood or stone. On top of it all, the most critical layer – is the wear layer.
The wear layer is a thin, clear protective coating that makes the flooring scratch and stain-resistant. Typically, the wear layer's thickness determines the usage – thinner is residential, and thicker wear layer planks are used for commercial floors. Wear layer thickness varies from 6 mils on the thin end and 30 mils on the high end. For example, 12 mil up to 20 mil thickness are standard commercial wear layers; under 12 are rated for light commercial and residential use.
LVP is a more flexible product than some of the other vinyl products on the market, but its strength is aided by the fact that it is a glue-down flooring – permanently affixed to the subfloor with adhesive. As a result, these planks do not interlock or float like their Rigid Core counterparts.
LVP floors are an excellent choice for any home or office because of their durability and low maintenance. If you are looking for flooring that will last for many years, LVP is the way to go.
2. Styles And Colors
While each of the three floors has similar appearances, there are some key differences too.
Solid Hardwood Floors
Hardwood floors are available in various styles and colors, typically named after the type of tree or wood they're made of. These hardwood floors vary from expensive styles like zebra wood, ebony, maple, and oak to more affordable options like pine.
And since these floors come from actual trees, you'll find natural variations in the wood, along with knots and holes.
Finally, since hardwood floors are typically installed, then stained and sealed, you have various options in color and finish. They include matte, high and semi-gloss.
Engineered Hardwood Floors
Since engineered hardwood floors have a veneer or top layer of hardwood, they generally have the same style properties as solid hardwood floors (see above).
The biggest difference between engineered hardwood floors is that they can't be refinished as often as solid hardwood. That means over time; if you want to change the look of your floors by refinishing, you'll be limited. Eventually, once the top veneer has thinned from wear and refinishing, you'll need to replace your floors.
LVP Floors
LVP floors come in a variety of wood and stone looks. They are made using an embossing technique that creates a mold from natural stone or wood. The image layer is then formed from the mold, resulting in an LVP floor with the same look and texture as the original material but with varying lengths.
The most popular LVP colors are weathered, grey, white, light, and dark brown. There are also stone and concrete styles available.
3. Costs
The cost of hardwood, engineered hardwood, and LVP flooring can vary greatly depending on the style and finish you choose.
Hardwood floors are often seen as a luxurious and expensive choice. And while they can be pricier than other types of flooring, the cost will vary depending on the style and finish you choose. Engineered hardwood tends to be less expensive than solid hardwood, but the final cost will still depend on your selected product. LVP flooring is usually the most budget-friendly option of the three, but there is a wide range of prices depending on the quality of the product.
Regarding installation costs, hardwood and engineered hardwood can be more expensive than LVP. This is because they require special tools and skills to install them correctly. LVP flooring, on the other hand, can often be installed as a DIY project, which can help save on installation costs.
Side-by-Side Price Comparison
To accurately compare wood prices, we researched the costs of 5 popular wood styles to see how much they cost across different floors.
As you can see, solid hardwood is typically the most expensive, averaging $6.69 per square foot in our research, compared to $5.81 for engineered hardwood and $3.06 for LVP. That means solid hardwood is 118% more expensive than LVP, while engineered hardwood is 89% more expensive, on average.
And for more real pricing, check out the actual cost to replace the wood floors in our 3,700-square-foot home.
| | | | |
| --- | --- | --- | --- |
| | | | Luxury Vinyl Planking (LVP) |
| | | | |
| | | | |
| | | | |
| | | | |
| | | | |
| | | | |
Bottom Line
There are a few key things to consider when choosing between hardwood, engineered hardwood, and LVP floors. The flooring cost, style, color options, and installation costs are all important factors to keep in mind.
Solid hardwood floors are typically the most expensive option, followed by engineered hardwood. LVP flooring is usually the most budget-friendly option. However, there is a wide range of prices for all three types of flooring, so it's important to compare options and choose the best product for your needs.
And for more, check out our experience ordering and installing hardwood floors in our house.