When we first bought our house, we already knew we wanted to install white Oak floors throughout. Inspired by countless online pictures of bright, airy rooms with light-colored floors, we loved the overall look. This ultimately led to our first major house project and quite the adventure of epic proportions! Keep reading as we detail everything you should know about installing hardwood floors!
And before we scare anyone off, this was absolutely worth it in the long run. And hopefully, this post helps you prepare for what's really involved in replacing your floors with hardwood.
The House Before
Our house originally had a mixture of ~1.5″ dark brown engineered hardwood floors and carpet (both of which you can see in the picture below).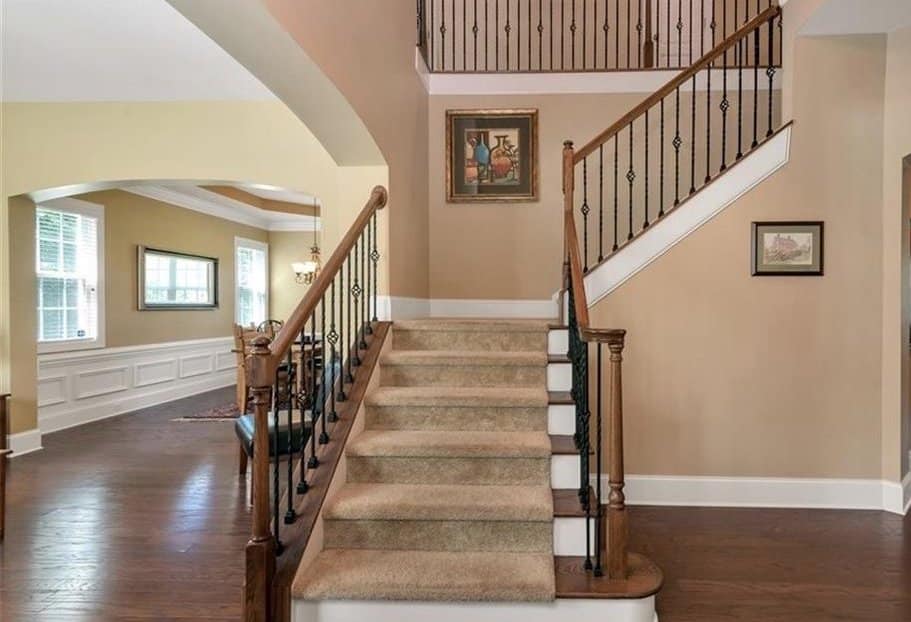 Determining The Type of Wood Floor
The first step in installing hardwood floors in a room or house isn't actually picking out floors. Instead, it's figuring out which type of floor you can and want to install in your home. Typically there are 3 common types of "hardwood" floors installed in most residential homes:
Hardwood
Engineered Hardwood
Luxury Vinyl Planking (LVP)
Now let's talk about each of these in more detail.
Hardwood
Hardwood floors are the most traditional choice of flooring. Each plank of flooring is made of solid wood and is the same as its veneer layer (the layer you see). This means hardwood floors can often be refinished over and over for decades to come.
And along with that quality also comes cost. Hardwood floors are usually the most expensive ranging from $6 to $20+ per square foot.
The biggest limitation of hardwood is that it typically can only be installed on crawl space foundations. This is due to moisture concerns since slab foundations handle moisture variations differently than crawl space foundations. If you do have a slab foundation, your floor salesman or installer will likely suggest engineered hardwood (like ours did).
Read more in our guide, Everything You Need to Know About Solid Hardwood Flooring.
Engineered Hardwood
Engineered hardwood is made of several layers of plywood and hardwood, with a top "veneer" layer of hardwood. This veneer layer is what you ultimately see on your floors. Because these floors are not made of solid wood, they are often cheaper than traditional hardwood flooring.
Additionally, as we mentioned above, if you have a slab foundation, you'll likely end up with engineered hardwood versus traditional due to moisture concerns.
When purchasing engineered hardwood, you'll want to focus on the veneer thickness, usually shown in millimeters. This tells you the thickness of the top layer of the flooring that you actually see. And also translates to whether you can refinish your floor in the future.
Read more in our Engineered Hardwood Flooring Guide.
Refinishing Engineered Hardwood Based on Thickness
The rule of thumb for refinishing engineered hardwood floors is that each refinish will remove 1mm of veneer. And since you want some flooring left (about 1mm at a minimum), that means you can figure out the number of times you can refinish pretty easily. Simply take the veneer thickness and subtract 1. This is the number of times you can refinish the floors.
For example floor with a 3mm top veneer, we would take 3mm to subtract 1 and be left with 2, meaning we can refinish the floors twice. To simplify further, we've included the simple calculations for each thickness of flooring below:
Under 1mm: Do not refinish
2mm and under: Maximum once, or you may damage your floors
3mm: Up to 2 times
4mm: Up to 3 times
5mm: Up to 4 times
Luxury Vinyl Planking (LVP) or Laminate
Finally, if you're researching wood flooring, you're probably hearing about Luxury Vinyl Planking or LVP. In the last few years, LVP has surged in popularity thanks to better quality options and highlights on social media. LVP is made of several materials with a flexible base of PVC for stability. Ultimately the top layer of LVP is vinyl designed to look like wood floors. Because of this, LVP is not considered "real hardwood"; typically, this doesn't matter though outside of real estate listings.
The main downside of LVP is both the feel and the look. While LVP is designed to mimic wood, since the design is printed, you'll see the same 10 or so patterns repeated in a box of flooring. Depending on the size of your installation, this may not be noticeable, but in an entire house, it may bother you.
However, LVP does offer several advantages compared to traditional wood floors. Because LVP is made of a composite of materials, it's more durable and scratch-resistant than wood floors. This includes pet claws that can scratch hardwood floors. Additionally, most LVP is also water-resistant, making it a great choice for basements or areas in which you expect to get wet (think mudrooms, pool houses, etc.).
Learn more in our comparison of Engineered Hardwood, Hardwood, and LVP Floors.
Types of Wood Flooring Compared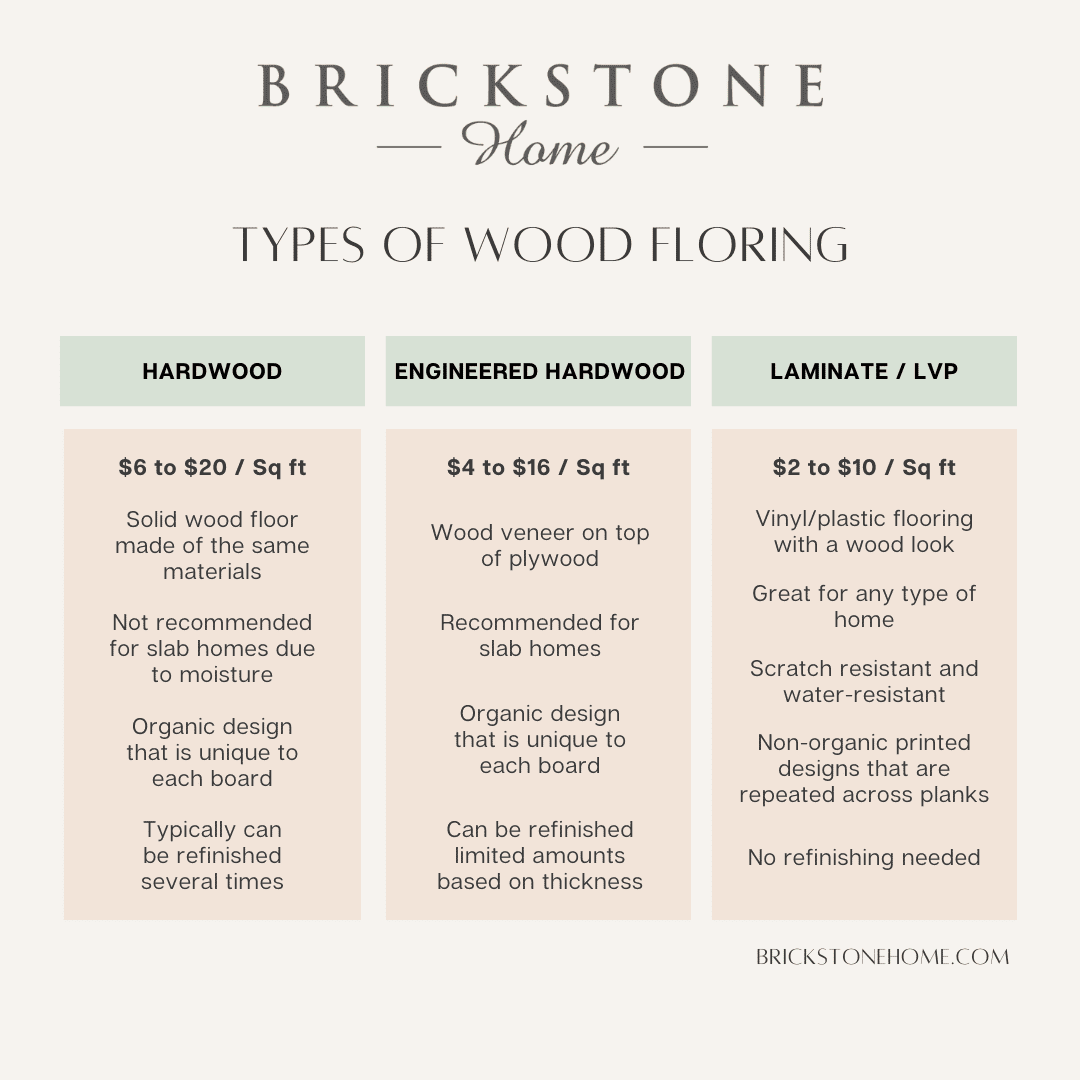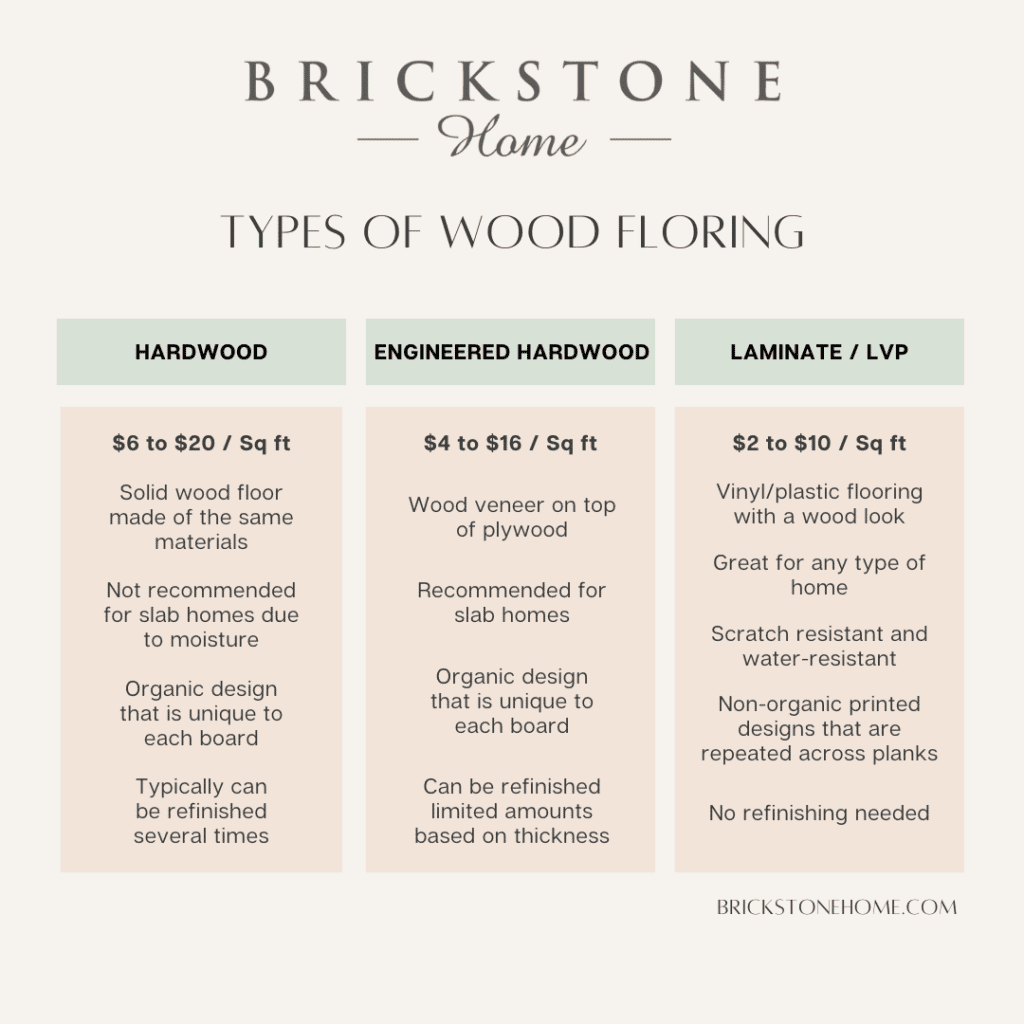 Why We Chose Engineered Hardwood?
For our home, we decided to install engineered hardwood floors. This was mainly because our home is on a slab foundation, and we were advised against solid hardwood by several reputable professionals.
It also helped the case that installing engineered hardwood was much cheaper than similar solid flooring!
Picking Out Our Floors
The next step in the process is to select your floors. After we narrowed down the type of flooring (in our case, engineered hardwood), it became much easier to see what was available.
Especially if you're early in the process, we'd recommend visiting a local showroom or two or a flooring store like Floor-And-Decor. These stores often have a wide variety of floors so you can get an idea of what you like, what you don't like, and what you are running straight away from!
Since going into this process, we already knew we wanted white oak floors, which made it very easy for us. From there, we had to find what characteristics we wanted on our floor.
Generally, there are a few factors that will help you narrow down your search:
Price – This may be the most obvious, but since we knew flooring that was $20/SF was out of our price range, there was no reason to look at it
Grain/Knots – Determine how much graining or knotting you like in your floors, these are the natural striations that occur in wood, but usually, more "natural" look flooring will have more knots, while others will offer a clean look. You can see this demonstrated in the example picture below.
Width – This refers to the width of your planks and typically ranges from 1″ (very narrow) to 10″+ (super wide). Typically the wider the plank, the more expensive your flooring will be.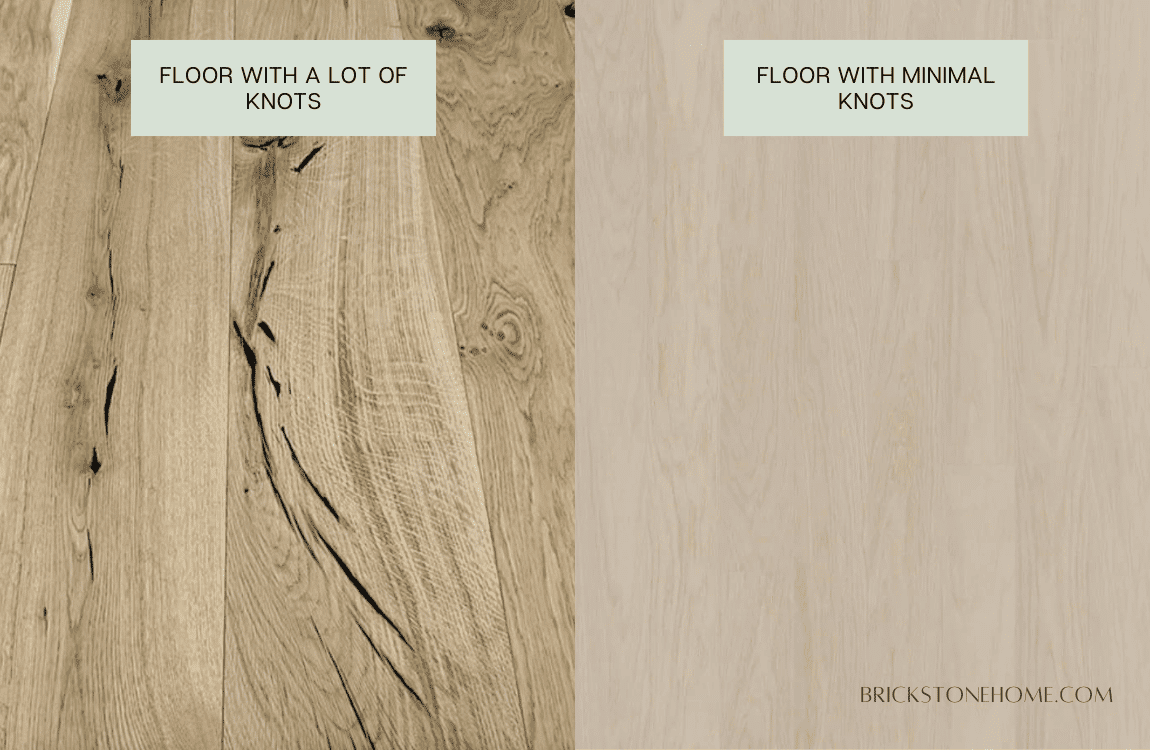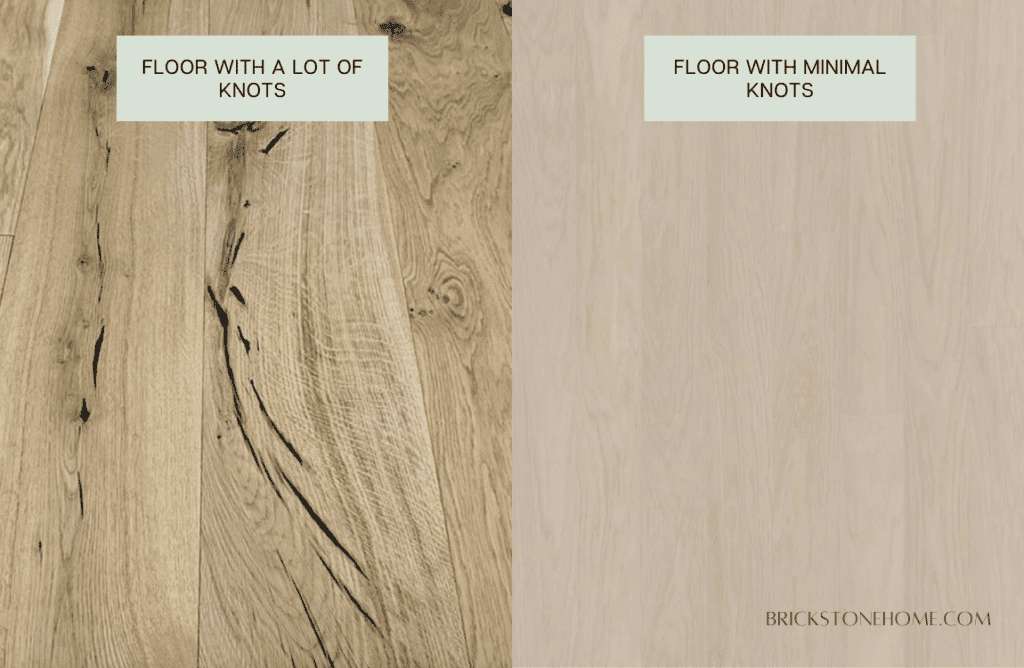 What Floors We Picked
For our floors, we settled on Mohawk Coastal Couture SeaSpray Oak (pictured below). Unfortunately, this has since been discontinued, but you can still find it from several resellers online (Linked here).
We loved the light white oak color of these floors, and they came with a 50-year residential warranty which gave us some piece of mind. And as you can see, while there is some knotting in the wood, it doesn't overpower the clean white oak look.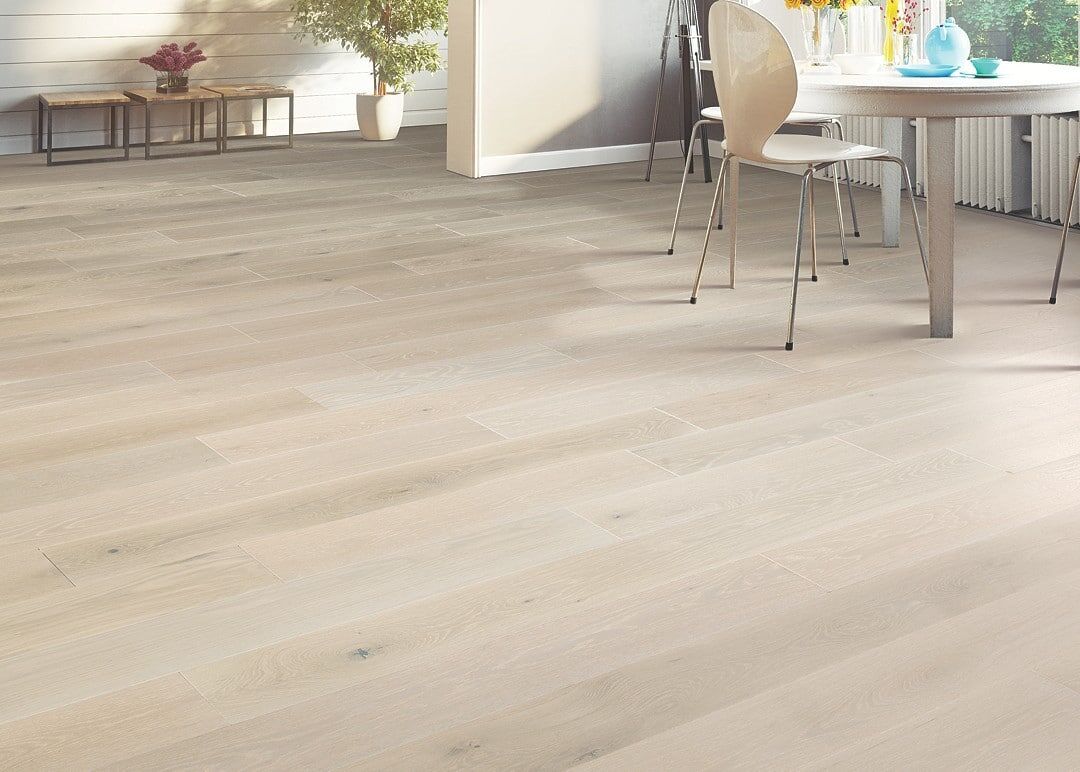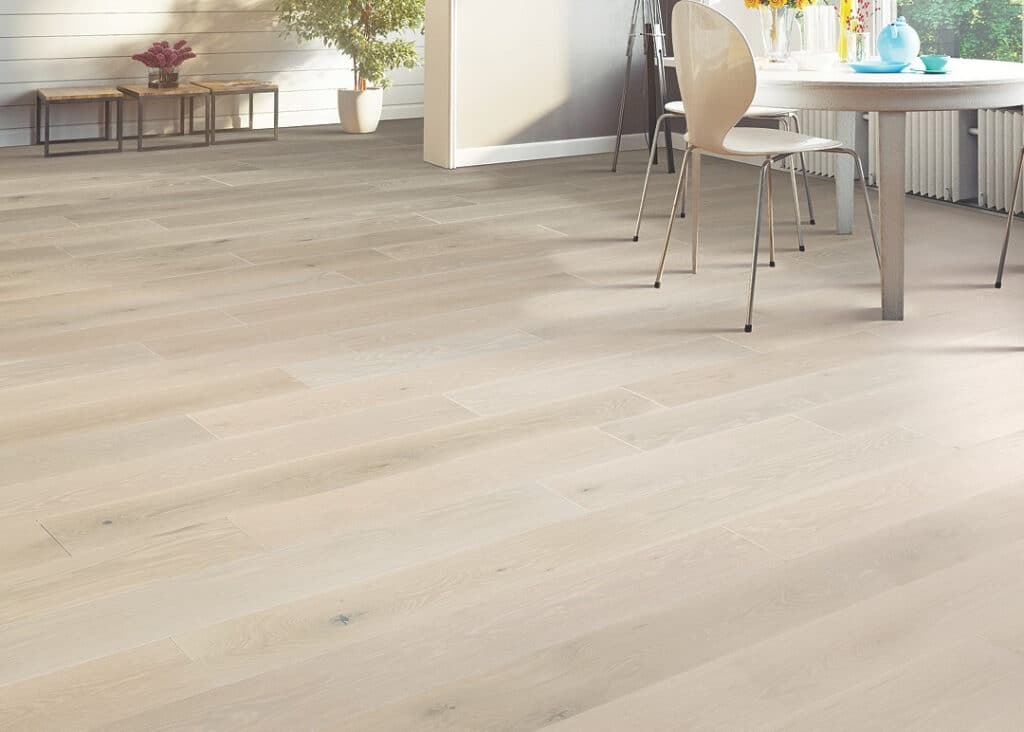 Calculating How Much Floor You Need
At this point in the process, it's a great time to determine exactly how much floor you need. When calculating this, it won't be as straightforward as the size of the room. Instead, you'll want to consider the following:
Waste – Most flooring companies estimate you should assume 5-10% waste. This means 5-10% of the floor you purchase will be thrown away and not installed.
Cabinets / Appliances – Especially if you're flooring an entire house, consider the areas covered by cabinets, appliances, toilets, etc., where you don't need a floor. We'd recommend taking your total home square footage and reducing it by 20% to accurately account for this (assuming you're doing the whole house).
Ordering and Delivery
Once we decided on our floors, we had to find a retailer to purchase from. Like most flooring companies, Mohawk does not sell directly to consumers. In these cases, you'll need to find a reseller. But this also lets you shop around for the best price.
When purchasing your floors, you have three options:
Buy from a showroom/All-in-one Installer – These are your one-stop shop for flooring and often have fancy showrooms, so you can see all of your options in person.
Buy materials from a reseller directly and hire an installer – This allows you to purchase the flooring from anyone you want, have it delivered, then hire an independent contractor for the installation.
Buy materials and install yourself – This allows you to purchase the flooring from anyone you want, have it delivered, and install it on your own schedule. This works much better for smaller projects rather than larger ones.
While we considered installing the floors ourselves, we quickly were talked out of it due to the sheer size of our project. And we can say with complete certainty that this was the right move since it took a crew of three professionals 10 full days to complete the job!
All-In-One Showroom vs. Subcontracting Yourself
From our experience, the all-in-one-installers are usually 20-80% more expensive than subcontracting the materials and labor yourself. But there is definitely a bigger time commitment managing the materials and labor with subcontracting yourself. You'll need to determine how hands-on or off you want to be for this project.
And as you'll read below, after we got out floors delivered, we were in for a BIG surprise with subcontracting ourselves. Make sure you're aware of everything you're signing up for before deciding which is right for you.
Ordering Your Floor
With a quick google search of most flooring, you'll likely find several resellers offering a wide variety of prices. As you can see by the quotes below, our initial quotes ranged from $4 to $10 per square foot.
Our Initial Quotes
Quote 1: $5.60 / sq ft
Quote 2: $7.08 / sq ft
Quote 3: $5.40 / sq ft
Quote 4: $9.80 / sq ft
Quote 5: Originally $5.74, $4.00 / sq ft after calling (read below on this)
Quote 6: $7.24 / sq ft
Why You Should Talk to a Real Person
We learned this the hard way, but the prices you see online are not set in stone. Especially if you have a big project. After we priced out a number of online quotes, including Quote 5, which was FastFloors.com (not sponsored), we received a call.
The sales rep from FastFloors wanted to confirm the quantity he saw captured on the website (yes, we wanted 3,700 square feet). Once he heard this, he said he could absolutely get us a better price. After reaching out to his Mohawk rep, he was able to offer us the flooring at $4/SF plus shipping.
Materials Delivery
After submitting payment for the floors and getting confirmation, we were told they would be delivered in 1-2 weeks. We timed this to line up about a week after closing on our house, knowing that we wanted to paint and then have the floors installed before moving in furniture.
About 10 days later, we received a call from the freight company coordinating the delivery and confirming it was a residential address.
Do You Have a Forklift?
Right on time, the 18-wheeler arrived at our house for delivery. And when the first question the driver asked us was, "Do you have a forklift?" both of us gulped a bit.
Turned out the floors were 160 boxes or four 8-foot-long pallets, each weighing 3,500 pounds. He had brought a hand jack that could move the pallets, but due to their size, he wasn't able to get them down the lift of his truck with the jack. This adventure lasted about 2-hours until another truck from the freight company arrived with a second lift, and within minutes they had the pallets in our garage. It's also important to note that both drivers were nothing but gentlemen, even while we knew this was delaying their entire day.
Acclimating Your Floors
The next step once your floor has been delivered is to "acclimate" the floor. Acclimating is the process of adjusting the floor to the humidity and temperature of your house prior to installation. Since the wood floor will contract and expand in various conditions, you want it to be acclimated before installation to avoid any large gaps or issues.
Typically, you want your floors to acclimate for 5-7 days before installation. And don't worry, they can stay in sealed boxes during this process (no reason to get carried away).
Moving 14,000 Pounds
In our case, since we ordered the floors separately from our installer, acclimating the floors meant moving them into the house. All 14,000 pounds of floors.
Each box of flooring weighed approximately 87 pounds and was about 8 feet long. This required both of us to move each box one by one into the house, all 160 of them. This was definitely the most unexpected part of the entire journey. We had not thought of this, and in the end, it cost us 8 hours plus sore arms.
Hiring an Installer
While you're ordering your materials, you should also begin to reach out to installers. Since most installers book jobs a few weeks out, you'll want to schedule them about a week after you expect materials to arrive. Again, if you're going with an all-in-one company, this doesn't matter as much since they'll coordinate the timing.
For an accurate quote, your installer will want to know the following:
Type of floor being installed – Not just hardwood or engineered hardwood but also the width and type since it may affect the effort on their end
Pattern for installation – Straightforward patterns like you see in most houses are the cheapest, while more intricate patterns like herringbone can cost 20-50% more due to the increased effort
Size of the project – You'll typically see the cost per square foot installed decreased for larger projects, while smaller projects will be on the higher end of the range
For our installation, we received 3 quotes to install flooring:
Actual Quotes for Installing Hardwood Floors
Quote 1: $2.93 / Sq ft
Quote 2: $3.12 / Sq ft
Quote 3: $4.98 / Sq ft
Ultimately we ended up going with Quote 1 and had an interesting experience, which you can read about below.
Glue/Nail vs. Floating Floors
When installing hardwood floors, specifically engineered hardwood, you have the option to glue/nail down your floors or float them. You've likely heard how easy floating floors are from friends who have done it themselves in a basement or den.
From our experience, we found no noticeable difference in cost between the two. For floating, you typically need underlayment below the floor for moisture and movement protection, while glue/nail down the floor has the added cost of glue. Both are about the same, and you should ultimately discuss it with your installer.
Floor Removal and Inches of Dirt + Debris
The first step for any installer is to remove your existing flooring. This is significantly easier and cheaper for carpet than it is for wood floors, especially if the wood floor is glued down (more on that in a moment).
The day our installer started, the crew had all of the carpet (about 2,000 square feet) removed within the first hour of the project. Unfortunately, during that time, our installer had also called me twice to come back to the house since they learned our old wood floors were glued down.
Removing Glued Floors
After discovering our existing wood floors were glued, our contractor wanted to discuss the cost of removing them. He had assumed they were floating (despite suggesting we glue down the new floors). While he said he would remove them at a cost to him, it still would cost an extra $1/sq ft or $1,500 for the project. An hour into the project and we were already over budget.
But this was just the start.
Removing the floors themselves involves sheer force. First, the crew cross-cut the floors every 3-4 inches with a circular saw, then used an angle jackhammer to chip up the pieces. In the end, removing the 1,500 square feet of glued-down floors took 5 days.
Dirt, Dust, and More Dust
The worst part of this entire process was the dirt, debris, and dust. When we checked in on the project in the evenings, you could see inches of orange dust from the old floors caked onto the entire house.
No one seems to ever talk about the clean-up after the new floor installation, but from talking with friends, this is definitely a thing.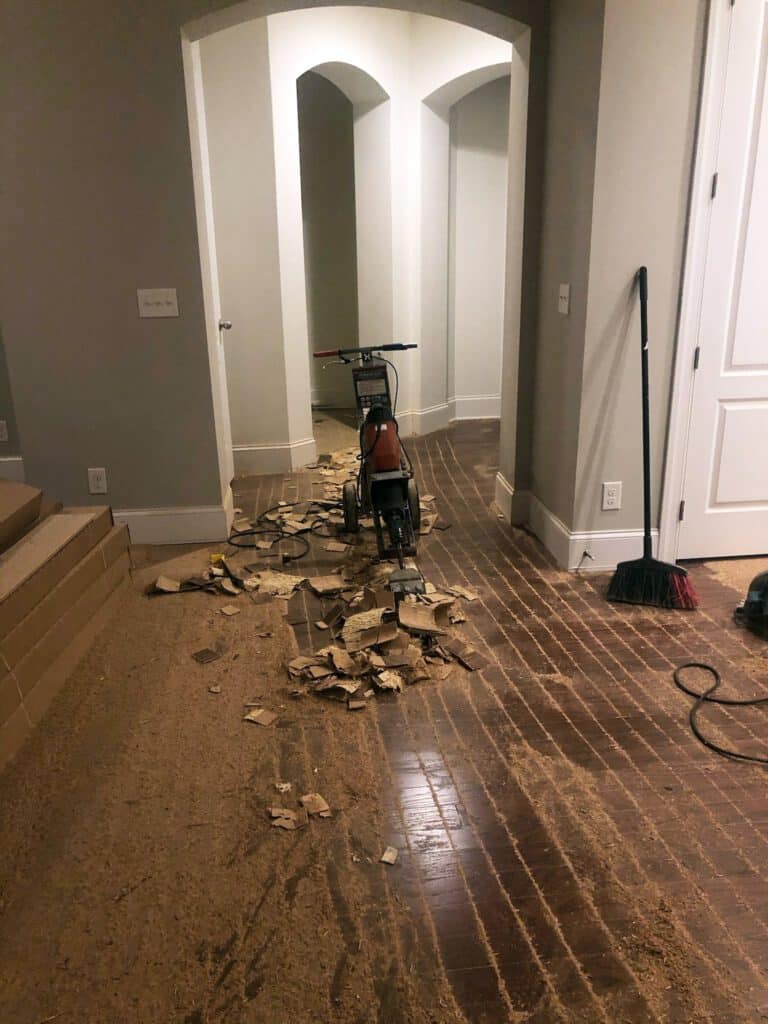 In our case, it took about 12 hours of wiping down every imaginable surface in our house to remove the dust. And even a year after the installation, we still find floor debris caked onto out-of-reach spots. We'd also recommend changing all of your air filters in the house after a project like this and then changing them again after 1 month. During the first change, you'll notice a large amount of dust and debris, but by the second, it will be significantly less.
If you're hiring an installer, this clean-up is definitely something to ask about. And if you have it in your budget, absolutely hire professional cleaners after!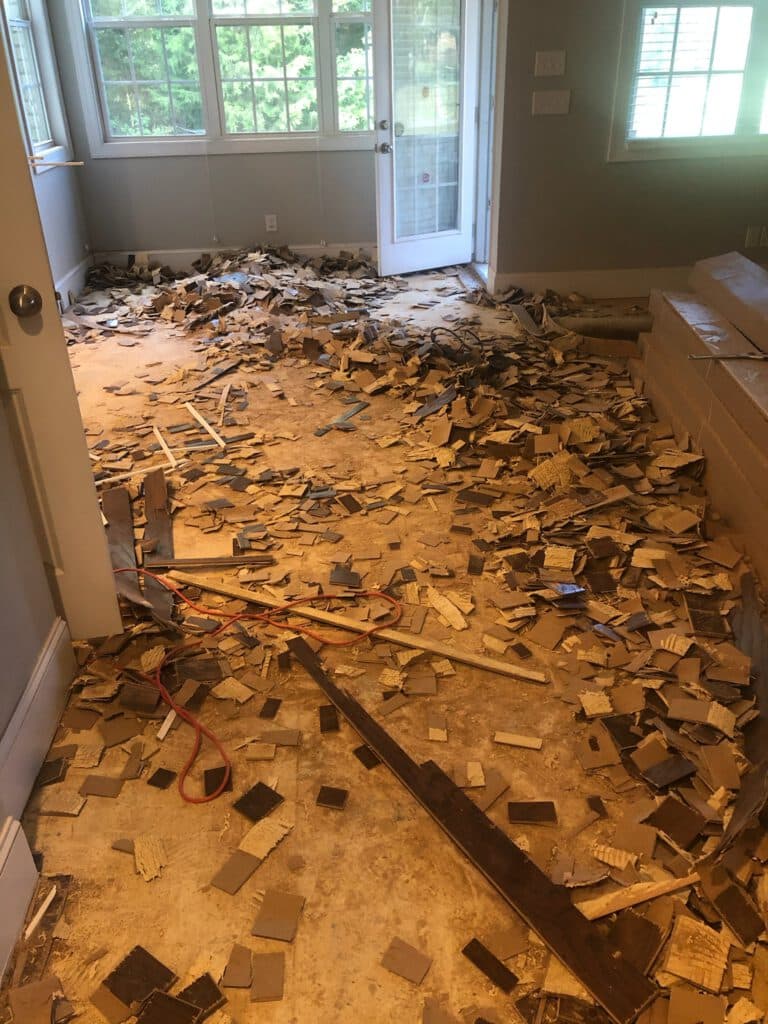 Floor Installation
If you've made it this far, the worst is behind you. That's because actually installing the floor is probably the most straightforward part of this entire process. Depending on your installation type (glue/nail down vs. floating) will determine how easy the process is. But in both cases, it's not too difficult.
Installing your floors really comes down to lining up the pieces and interlocking them together. The most difficult part of this process is cutting pieces of wood to fit the width of rooms or funky angles in your home. This is where having a quality installer really shows.
Quarter Round
Once all the floors have been installed, one of the final steps is to install quarter-round or shoe molding. This is the small round piece of wood that is nailed to the bottom of your molding and hides the edges of your wood for a cleaner look. In some brand-new high-end houses, you may see no quarter round. Instead, the molding itself hides these imperfect edges. But in most homes, and if you're redoing your floors (and not re-doing molding), this is a must.
Caulking Quarter Round
After the quarter round is installed, you'll want to caulk it to the molding along with filling the nail holes. This was another step in the process we were blissfully unaware. And while it wasn't the worst step, it is definitely tedious. To caulk the quarter round in our 3,800 square foot house, it took about 12 hours and 5 cans of caulk.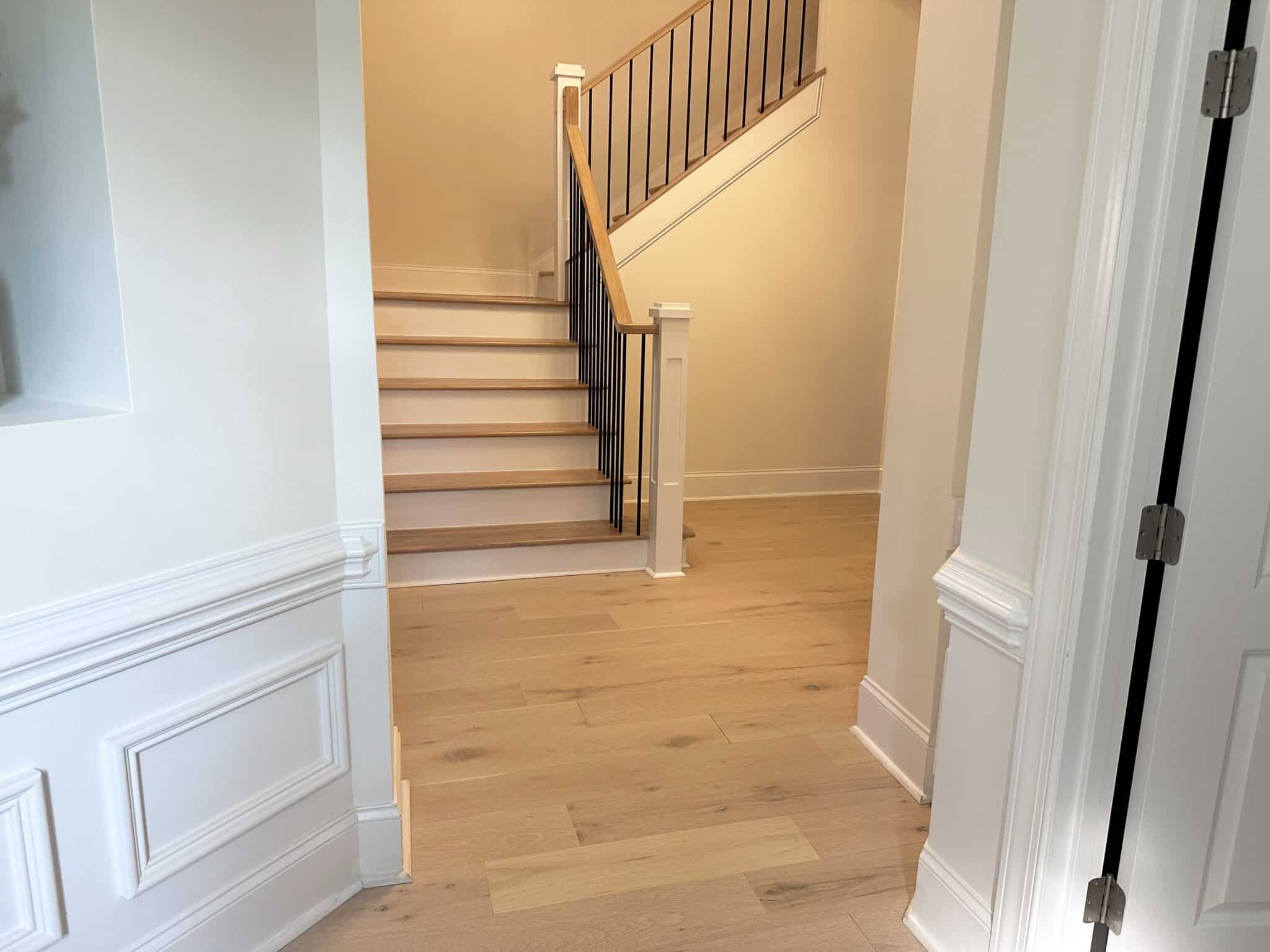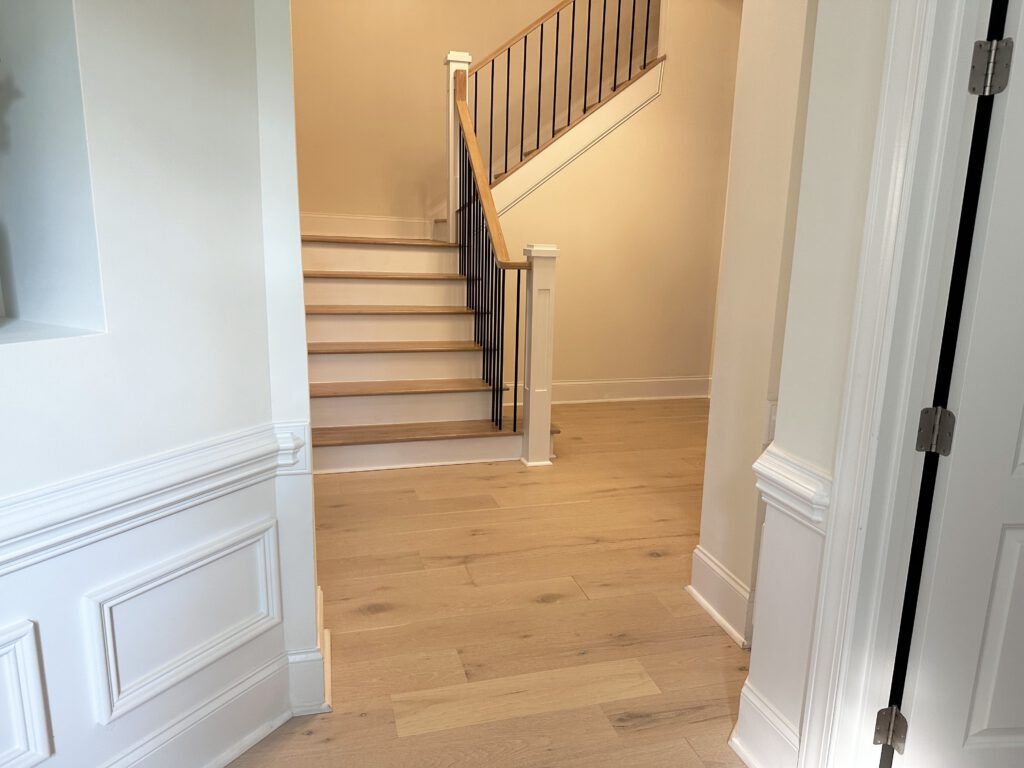 If this is something you can negotiate for your installer to do – we would absolutely go for it!
The Finished Product and Total Cost
In a total of about 5 weeks, from searching for materials to completing the installation, we had our dream floors. While there were twists and turns throughout, it overall came out great. But the biggest two questions we get are "Would you do it again" and "How much did it cost," so we'll answer both of those directly here:
Total Cost to Install Engineered Hardwood Floors
In the end, we spent $25,506.74 on buying and installing our white oak engineered hardwood floors. You can see the full cost breakdown below. And for the complete cost plus the quotes we received, check out our guide to the actual cost of installing white oak floors.
Complete Cost Outline
Materials
Mohawk Coastal Couture 7″ ($4.00/SF): $14,800
Glue (Provided by the installer): $2,318
Shoe Molding (Provided by the installer): $1,050
Thresholds/stair nose (To be purchased by us): $337.92
Labor
Flooring removal: $1,318
Carpet removal: $50
Flooring installation (~3,500 SF): $5,075
Shoe Molding installation: $650
Total Approximate Quote 2 Cost (with tax): $25,598.92
What's Not Included?
In the interest of transparency, it's important to talk about what's not included in the cost above that you should absolutely budget for:
Caulking – As mentioned above, caulking quarter-round to the molding is time-consuming and a pain
Stairs – If you're doing floors for your entire house, you may want also to consider how you plan to handle the stairs
Clean-up – Cleaning the dust and debris from the removal phase is not for the faint of heart; if you can hire a professional, we'd recommend it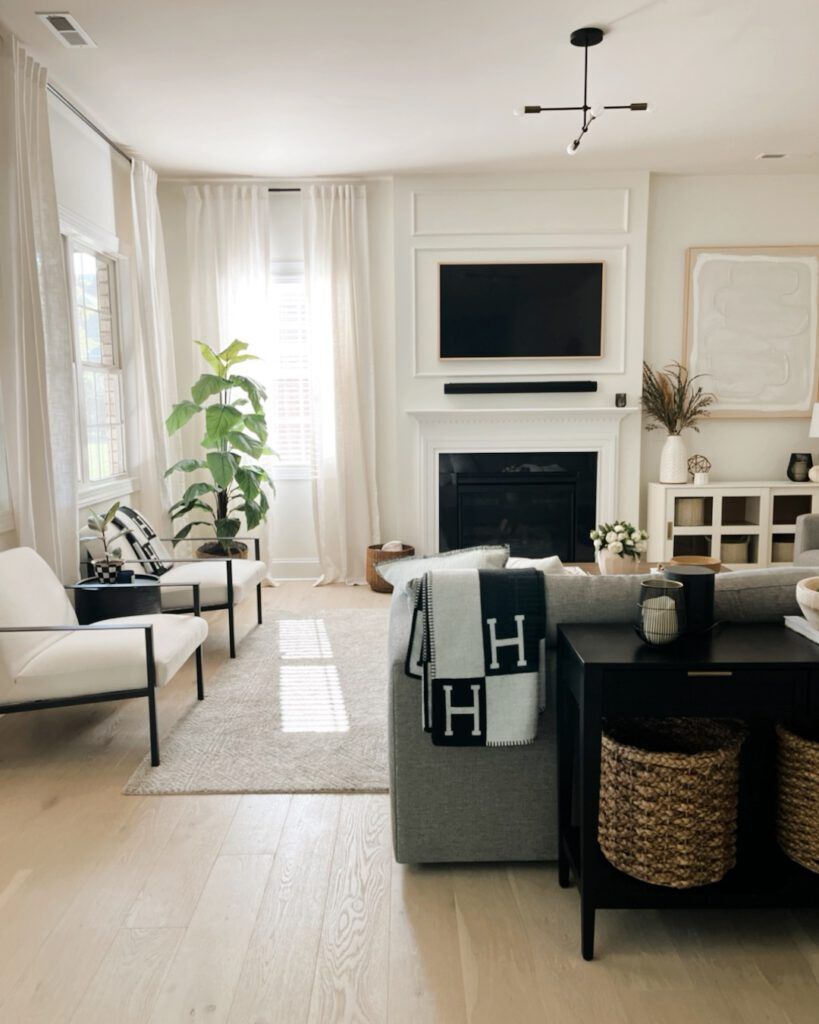 Would We Do it Again?
Absolutely, this project has had one of the biggest impacts on the overall look of our house. As we look at old pictures compared to new ones, the floors give a bright and airy appearance to all of the rooms that we absolutely love. That being said, if we did it again, there are absolutely lessons learned from this project that we've highlighted below:
Plus, find out exactly how long it takes to install hardwood floors based on our actual experience.
Lessons Learned
Don't skimp on your installer – While it's tempting for a project of this size to go with a cheaper quote (like we did), it does show in certain aspects. Our installer didn't use enough waste, and we wish we addressed this early in the project (see next bullet).
Throw out more floor – We planned for 5-10% waste and bought accordingly, but our installer tried to "save" us the flooring by throwing out as little as possible. This ended up meaning we have some pieces of wood that are mismatched or have rough textures that we wish were thrown out. This is absolutely a conversation we recommend having with your installer upfront.
Hire a Cleaner – Since this is the third time we've mentioned the cleaning process in this guide, it should tell you how much it haunts us. Hire a cleaner, and you will never regret it. The cleaning process was tedious, and after weeks of dealing with the floors, it was the last thing we wanted to deal with.
Take Risks on Pattern – While not for everyone, if you have it in your budget, you should explore other floor patterns like herringbone. While these patterns are more expensive, you can save by only doing them in your entryway or main floor.
Ways to Save Money – If you're looking to save, an easy tip is to do hardwood floors on your main floor and second-floor landing while keeping the carpet in your upstairs bedrooms. This also helps to reduce sound if you have little kids.
Read more in our post 7 Lessons Learned from Installing Our New Floors.
Have a question about installing hardwood floors in your home? Or did you find this guide useful? Let us know in the comments below.