We wanted to create a unique space in our home, and a home bar/lounge was the perfect opportunity. A home bar can serve as a great place for mingling, making your favorite drinks, and chatting with friends after dinner. And it can also act as a great spot to relax and read a book or listen to music.
Regardless of how you plan on using your home bar, the build process is relatively similar. In this post, we'll take you through our home bar build process from start to finish, including exactly how much we spent along the way. Plus, some of the lessons we learned throughout the building of our home bar.
Table of Contents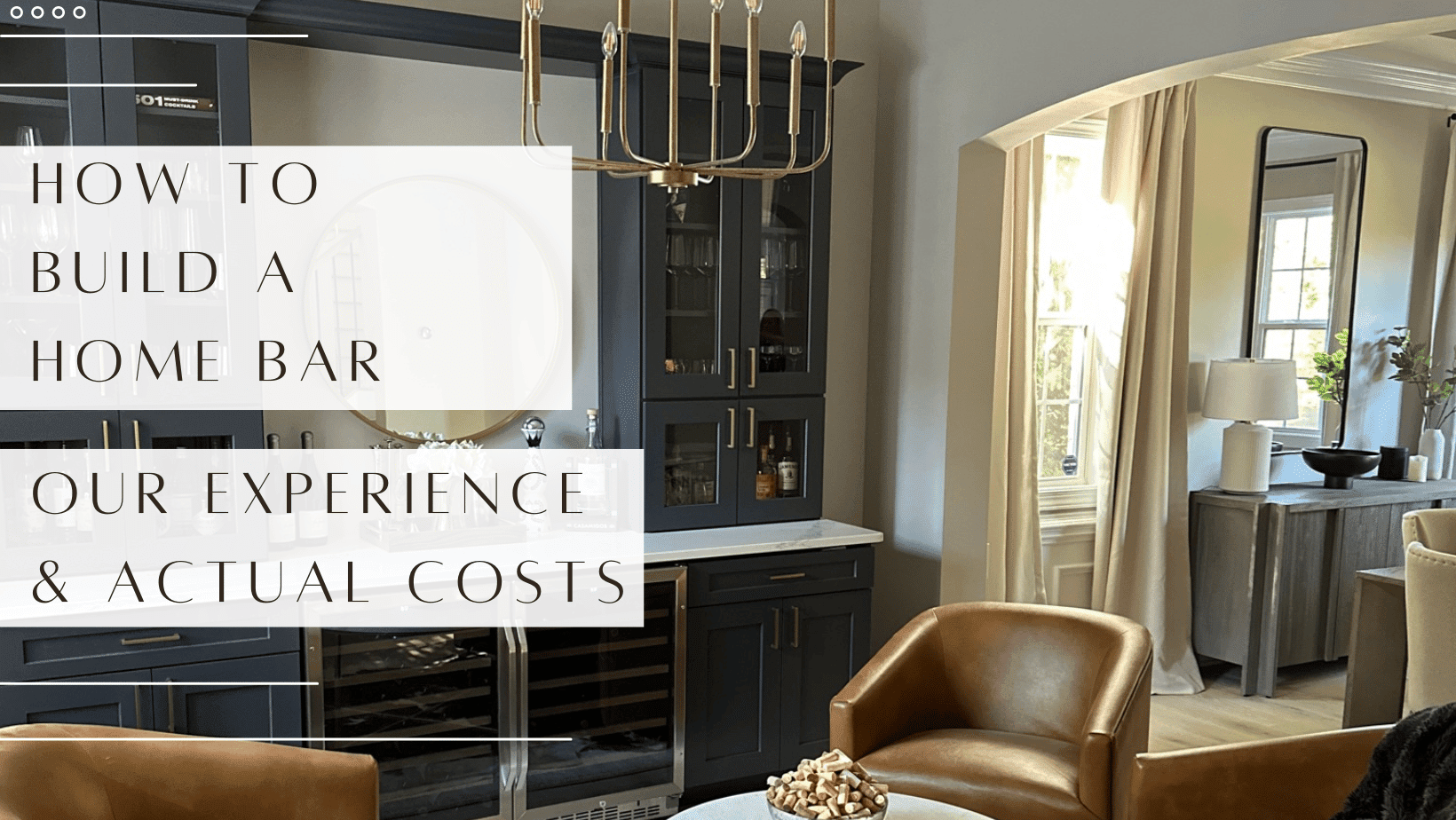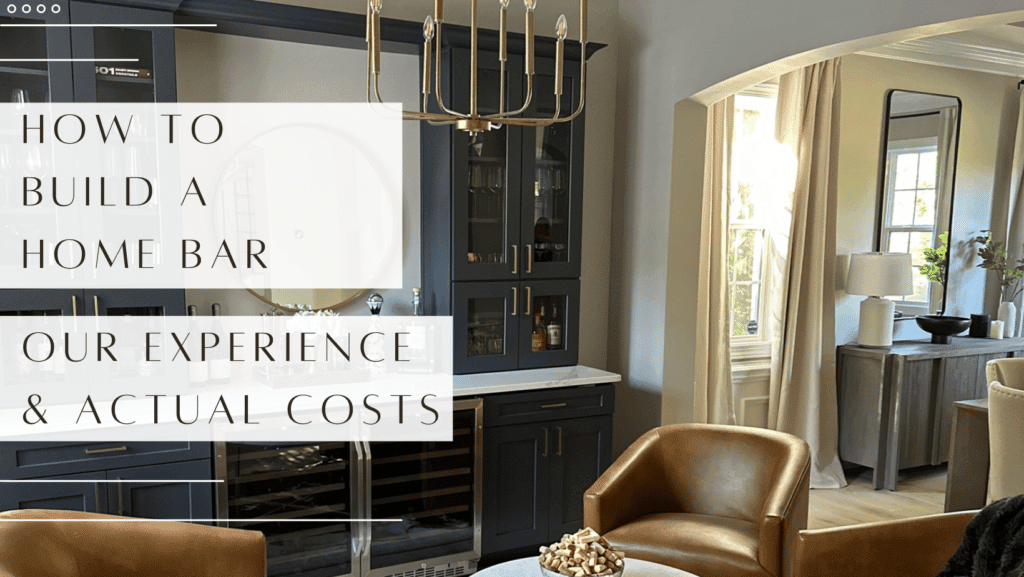 Our Original Space
For our home bar, we decided to repurpose the formal sitting room (sometimes called a keeping room) off of our dining room. We felt like sitting rooms always get filled with beautiful furniture and then are never used. Instead, we wanted a warm, inviting (and thirst-quenching) space that would become the focal point of our home.
Our sitting room is a fairly simple square design, with no overhead lighting (more on how we solved that below) and an opening to our dining room. You can see the original space below before we painted and renovated the floors.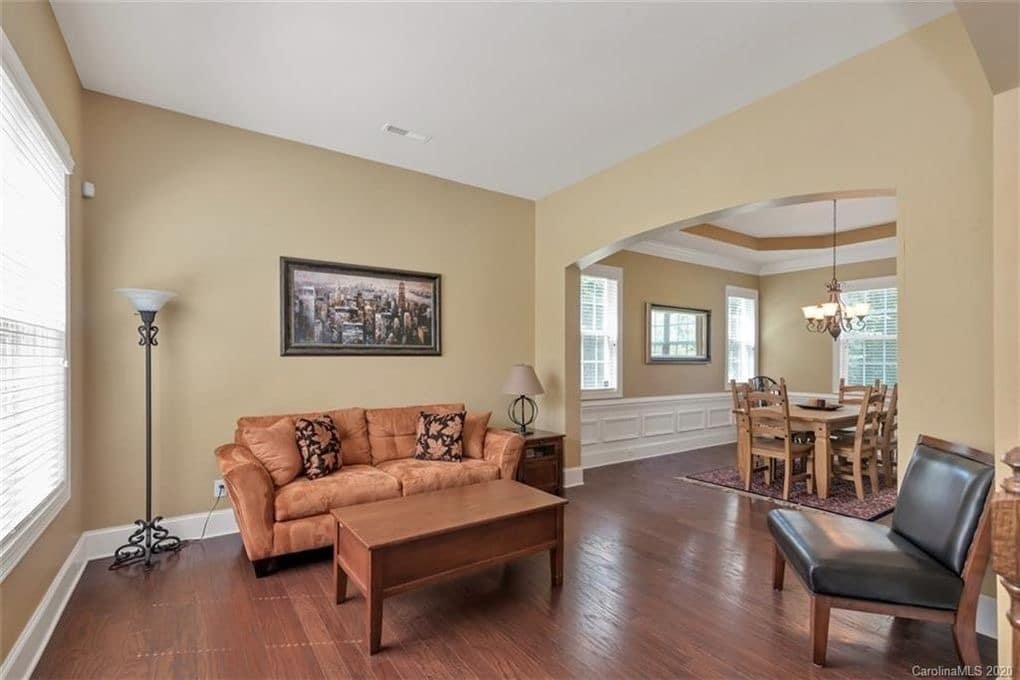 Planning Our Bar / Lounge
The first step in any project is coming up with a vision and initial design. As we've learned from our other projects, designs often change once the project starts. But regardless, you should always have a starting point.
For our home bar, we knew that we wanted a place to sit and relax, as well as entertain guests. We also knew we wanted it to have plenty of storage, including wine refrigerators. While our original ideas included full-height wine refrigerators, we quickly were persuaded to under counter models for the design.
Generally, for a home bar, you'll want:
Cabinets / Shelves
Countertop
Lighting
Sink (optional if you want a wet bar)
Seating (optional depending on the size of the space)
Designing the Space
Once we had a general idea (and a poorly done sketch), we started talking to cabinet companies. Most companies have their own in-house designers that will mock up a design for free to show you the art of the possible. Our first design came from Home Depot. We happened to be at the store and stopped by the kitchen design center, where they offered to mock up the design and price it out.
Our design included a lower bar with two lower cabinets surrounding two side-by-side wine refrigerators and countertops. Then two upper cabinets with glass fronts for displaying glassware and drinks.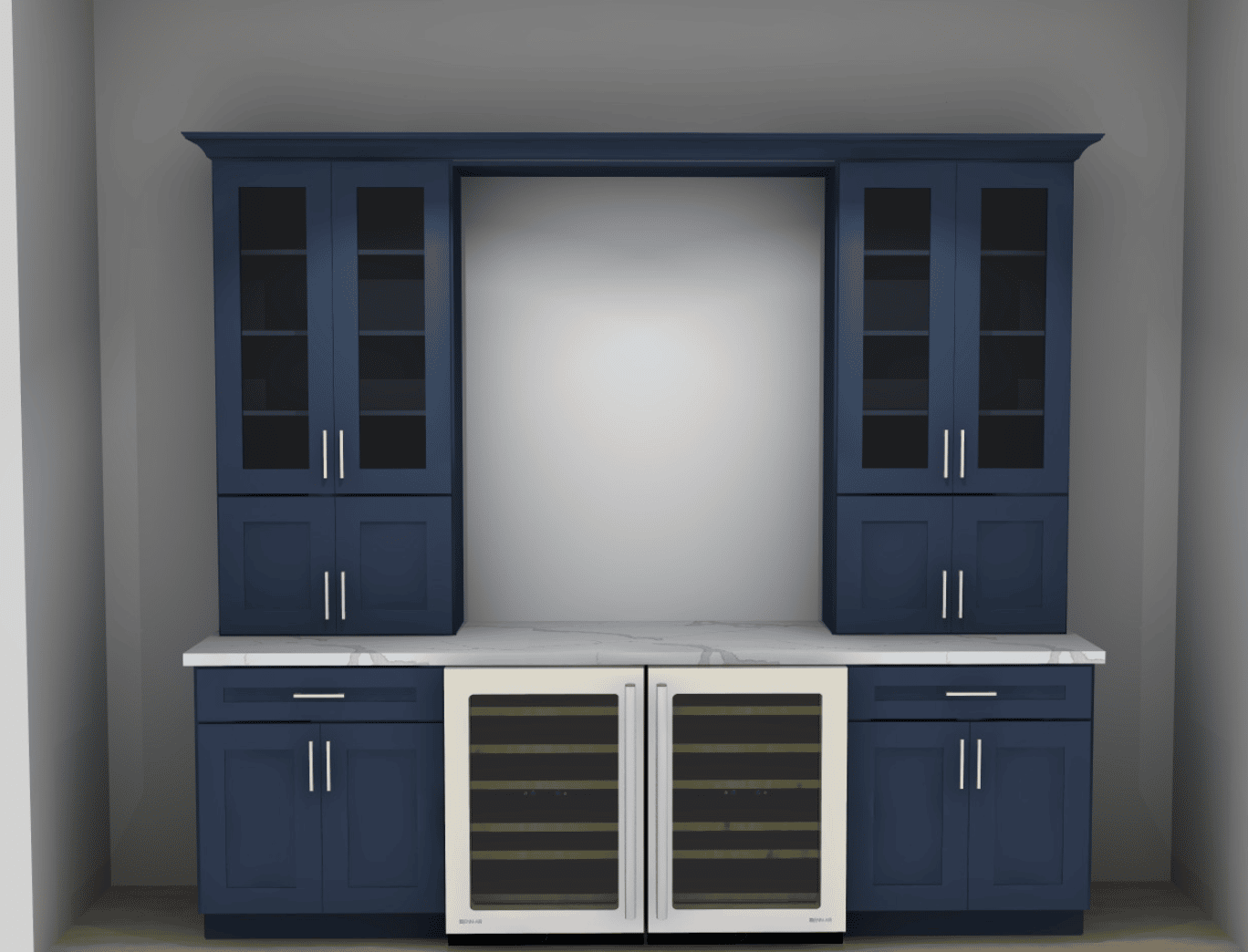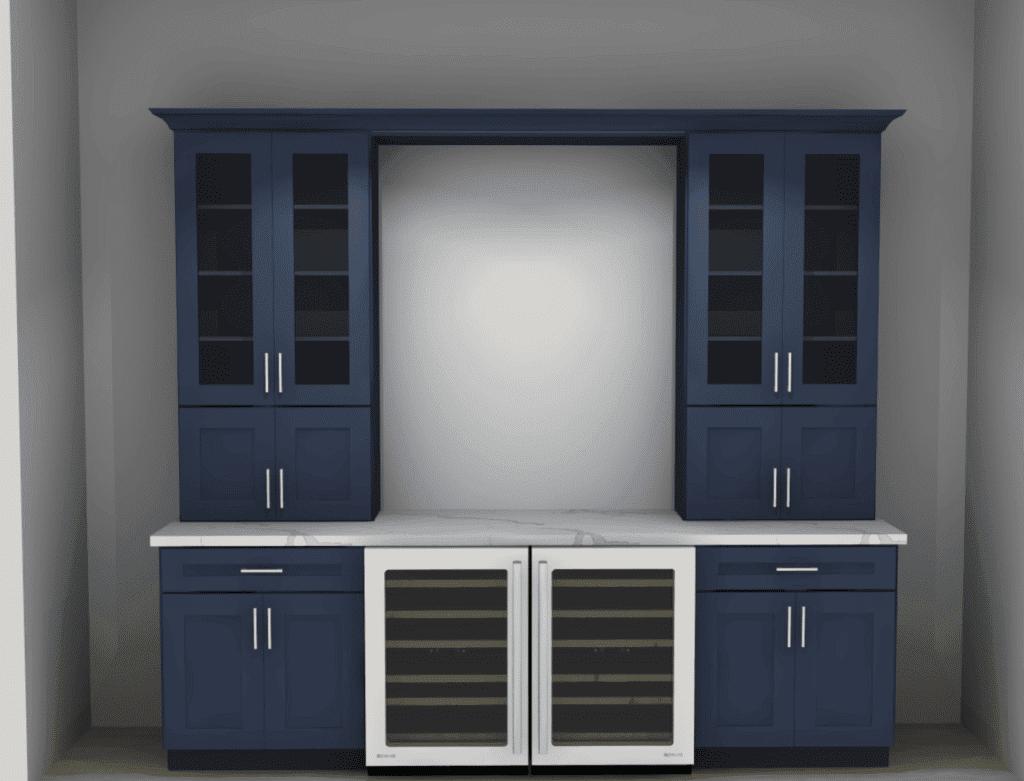 Ordering Cabinets
While we got our initial design from Home Depot, we didn't end up ordering from them. They were just too expensive! The original design and quote they provided were for over $10,000!
And this didn't even include shipping or installation. We would have to pick up all the cabinets and bring them to our house and install them ourselves. We honestly thought they were joking at first when the associate mentioned us picking up the cabinets ourselves.
Instead, we did some quick googling and found Cabinets.com (not sponsored). After finding similar-looking cabinets, we reached out to one of their designers, who started working on the design for free. Within 72 hours, the designer returned with a final mockup and a shopping cart of everything we'd need to buy from them.
In total, our cabinets cost $2,907.85, including crown molding, trim, and the cabinets themselves. This included a 25% discount code emailed to us by Cabinets.com after signing up for their newsletter.
Once ordered, our cabinets took about 7 weeks to ship and another week to receive them at our house. At the time, they were projecting 12 weeks of lead time for manufacturing, so we were still happy with the 7-week turnaround. We've summarized our experience below, but you can also read our Cabinet.com Full Review for the complete timeline and lessons learned.
Ordering and Receiving the Wine Refrigerators
At the same time, we ordered the cabinets, we also ordered the wine refrigerators. As we mentioned above, we ordered under counter models. After researching, we purchased a 48″ Edgestar Side-by-Side wine cooler that holds 106 bottles (Linked here).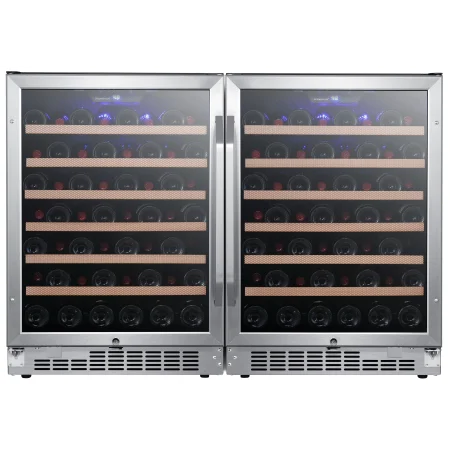 After discounts, we paid $1,485.52 for the wine refrigerators.
The wine refrigerators arrived about a week after ordering them. From there, it was simply unboxing them and plugging them in.
Receiving our Cabinets
Our cabinets arrived via FedEx freight shipping. Since this is a larger truck, we received a call in advance confirming we'd be home to get the shipment. Once they arrived, the driver was fantastic and offered to put the cabinets directly in our garage.
Remaking A Damaged Cabinet
Once we signed off, we unpacked each of the cabinets and noticed one of the upper cabinets had the wrong lower doors. And there was damage on the inside of the same upper cabinet in multiple places.
After taking pictures, we contacted Cabinets.com, who agreed to remake the cabinet at no cost and expedite the shipping.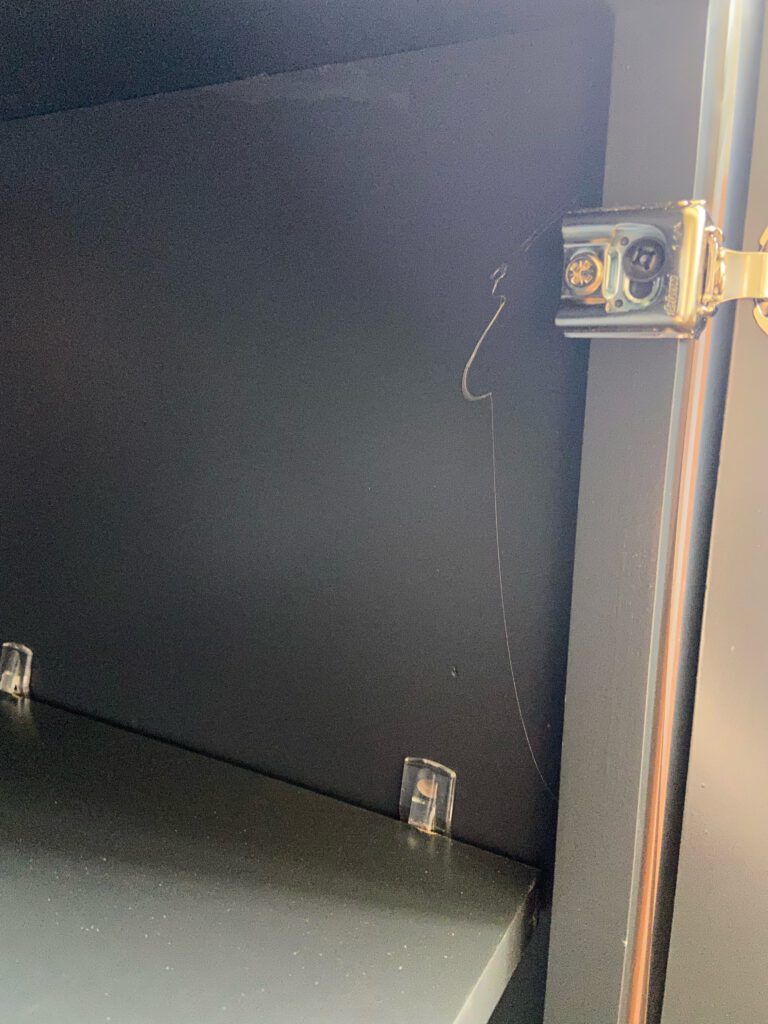 After another 16 days, we received our new cabinet. But unfortunately, we noticed similar damage and scratches.
We again reached out to Cabinets.com, who apologized and agreed to remake the cabinet. At this point, they also offered a partial refund on the cabinet, which we accepted.
Finally, the second remade cabinet was in perfect condition, and we were ready for installation.
Installation
Installating all of the pieces of the bar is more of a coordinating act than actually difficult since many pieces (like upper cabinets) can't go in until the countertop is in (which has to happen after the wine fridges are in). While others, like installing lights or ordering furniture, can all happen in parallel.
This part of the process focuses on planning, so here's how we broke up our installation.
Making our Wine Fridges Look Built-in
Since our wine fridges arrived first, we simply leveled them, plugged them in, and they were ready to go. We did have to switch one of the doors handles to the other side so that both met in the middle. But this was very easy and took about 15 minutes. Switching the door handles makes the refrigerators look like one unit instead of two fridges.
Now that the fridges were in, we were ready for the lower cabinets to be installed.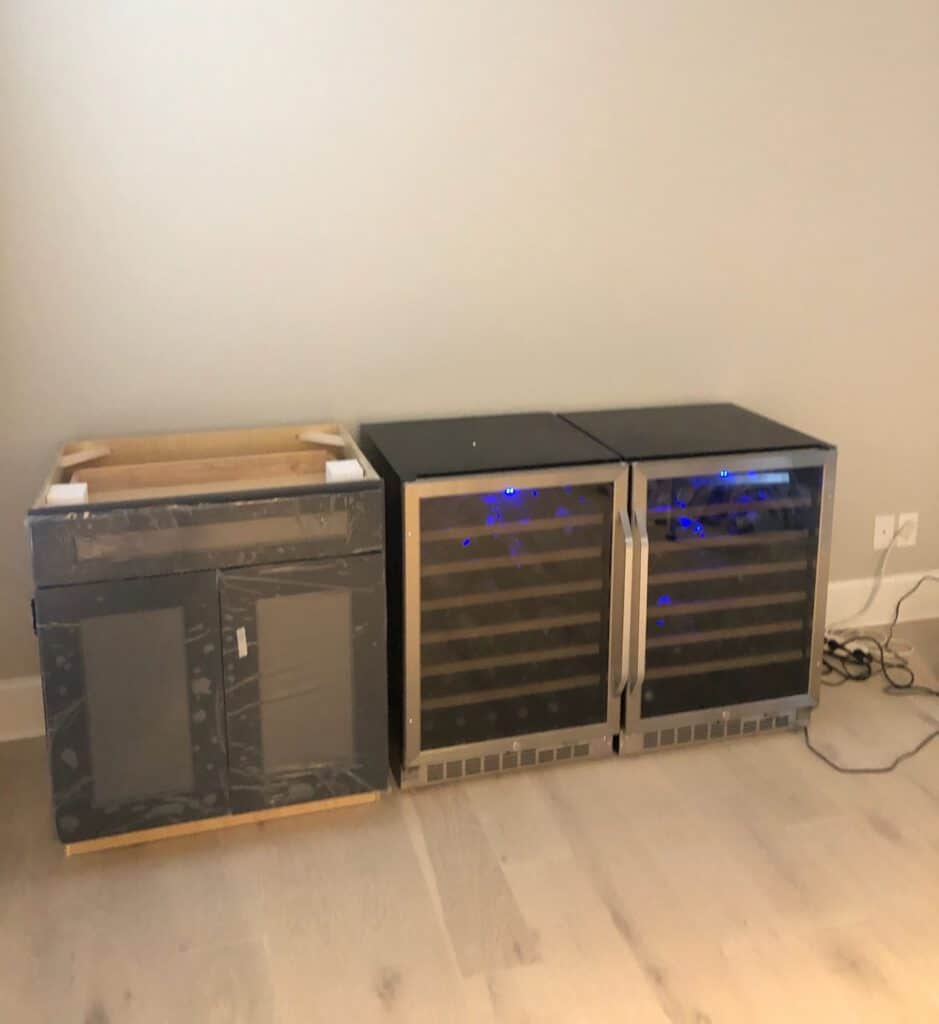 Installing Lower Cabinets
Once the wine fridges were in, we installed the lower cabinets. Even though they were all predrilled, and our measurements were spot on, there was a lot of leveling done to ensure everything lined up perfectly before screwing them into the wall.
We also noticed that our wall was bowed, and the floors weren't perfectly level. This is pretty common in homes, so don't be alarmed. And we easily solved this by using shims (linked here). Shims are small pieces of wood that look like wedges and easily slide under the bottom of the cabinet to help level them.
Once level with the shims, we screwed the lower cabinets into studs, and we were done. Since the lower cabinets were now installed, we were ready to move onto countertops.
Finally, we installed countertop brackets above the wine refrigerators. We received mixed opinions on whether we needed brackets across this span but figured it was better to be safe than sorry.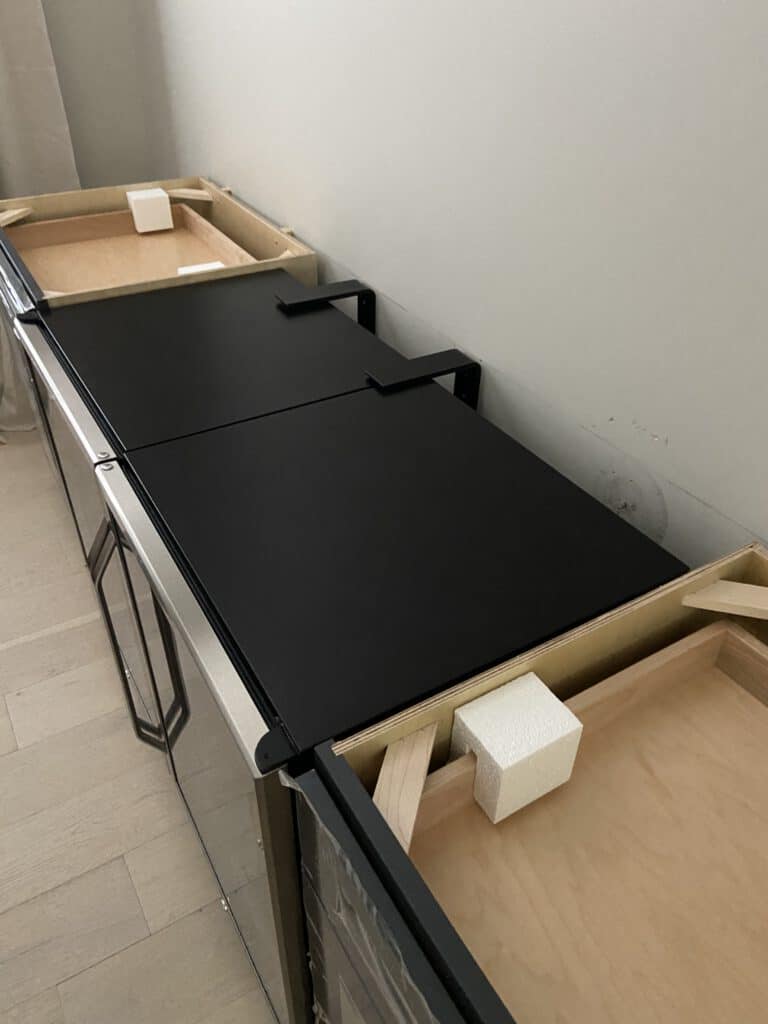 Picking a Countertop Material
Once our lower cabinets were installed, it was time to get countertops. And the first step is to pick out what type of countertop material you want.
For our bar, we've decided to go with quartz countertops. Much like granite, quartz looks stunning and has a great shine. It is also non-porous, which means it won't stain or scratch easily.
We picked Calcutta Venice as the Quartz material because it is light grey with white veining. This gives the bar a clean and crisp look that we love! Once we decided on our quartz countertop, it was time for ordering and installation.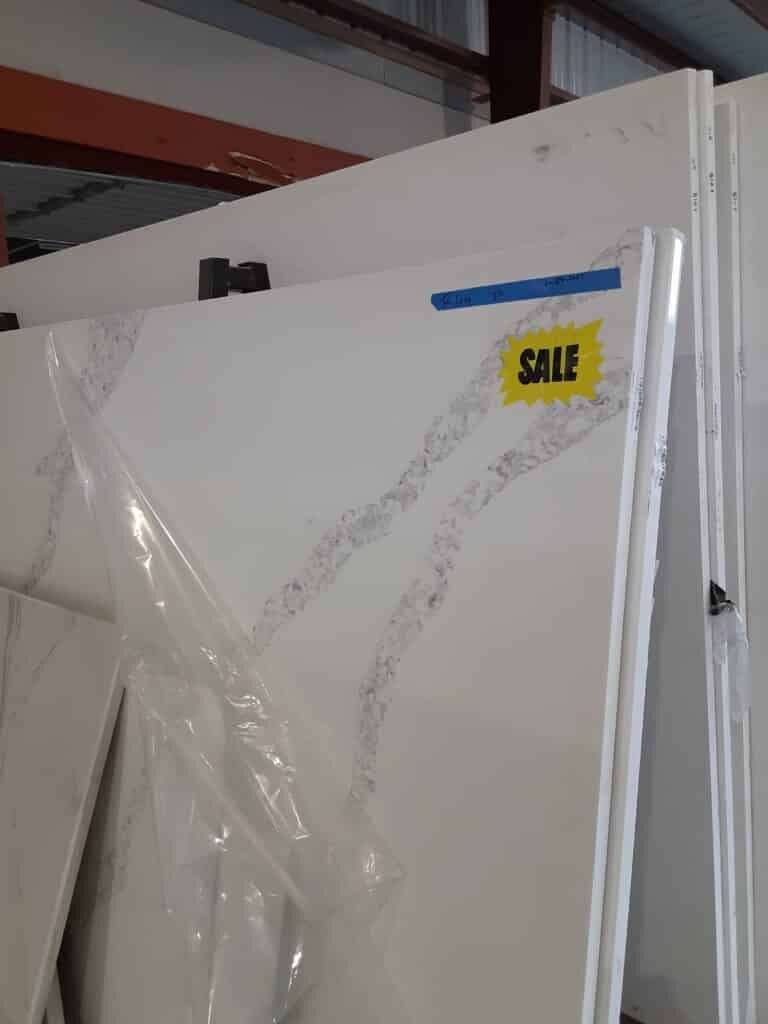 Finding a Remnant Countertop
For our bar, the countertop measures approximately 2.5′ by 8′. Unfortunately for us, countertop is usually sold in slabs measuring 6′ by 10′. This meant if we bought a slab, we'd have a lot leftover and likely overspend. Alternatively, we could find a remnant piece in a stone yard around us. Remnants are leftover pieces from countertop slabs or small pieces of the leftovers from a bigger slab.
The good news is that remnants are generally much cheaper than full slabs and custom cut to the exact measurements you need. The downside of remnants is finding the right size. We went to 5 different stone yards and weren't able to find a remnant that was long enough for our needs. Depending on the size of your project, a remnant may work, and they are usually very affordable.
In the end, we realized that big box stores like Home Depot and Lowes sell countertops by the square foot (as opposed to by the slab). While they are typically higher per square foot than a local stone yard, because of the small amount of countertop we needed, it worked out.
We ordered 21 square feet of Calcutta Venice countertop for $60 per square foot, bringing our total to $1,260.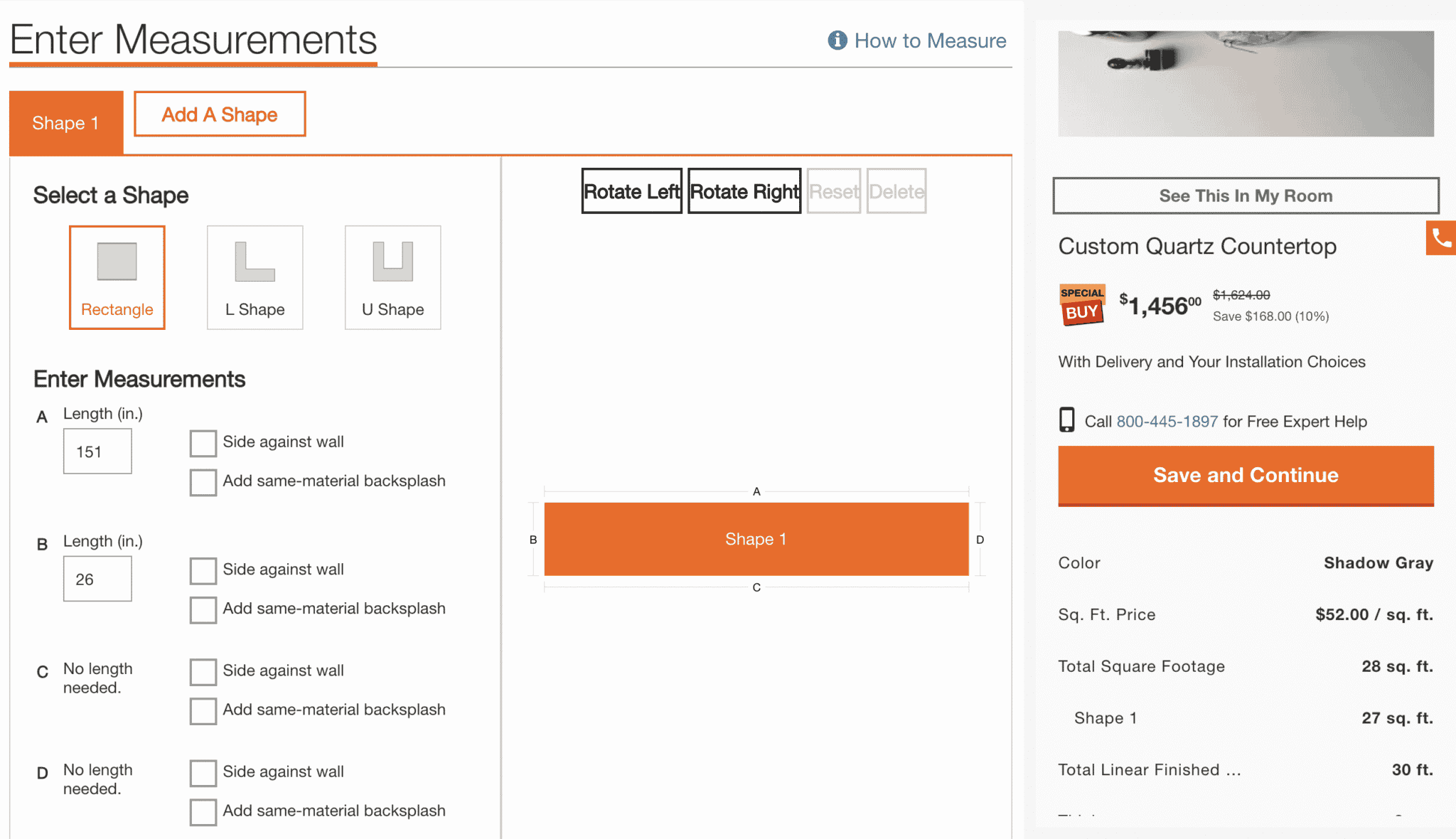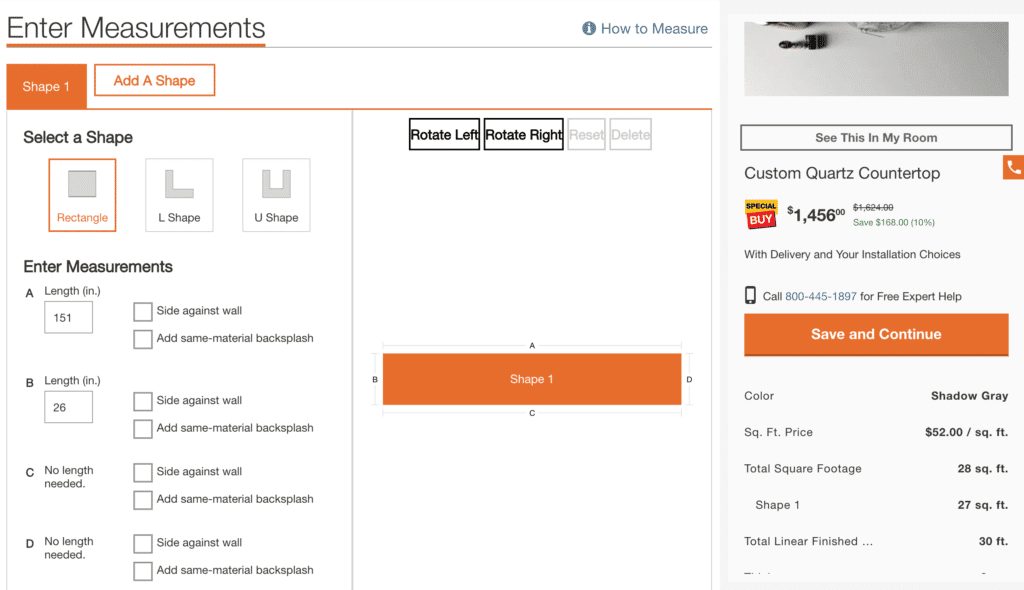 Countertop Installation
Like most countertop companies, the installation was included. During this process, we also learned that Home Depot subcontracts fabricators and installers.
One week after ordering, the subcontractor reached out to schedule the measuring. This is typical of any countertop installation. Before cutting, they'll come out, laser measure the space, and note any cutouts (sinks, stovetops, etc.). This allows your fabricator or installer to get the exact measurements and avoid recutting the material.
For our countertops, we opted to have holes cut out above the two lower cabinets since they would be covered by our upper cabinets and allow for electric to be run if needed.
About two weeks after measuring, the installers arrived with our quartz countertop. Installation was quick and easy, but that was only the start.
Shortly after they left, we noticed how large the gaps were between the countertop and the wall. This was because our walls were bowed (which isn't uncommon). We did some googling and ultimately realized this could be fixed, and they should have addressed it during installation.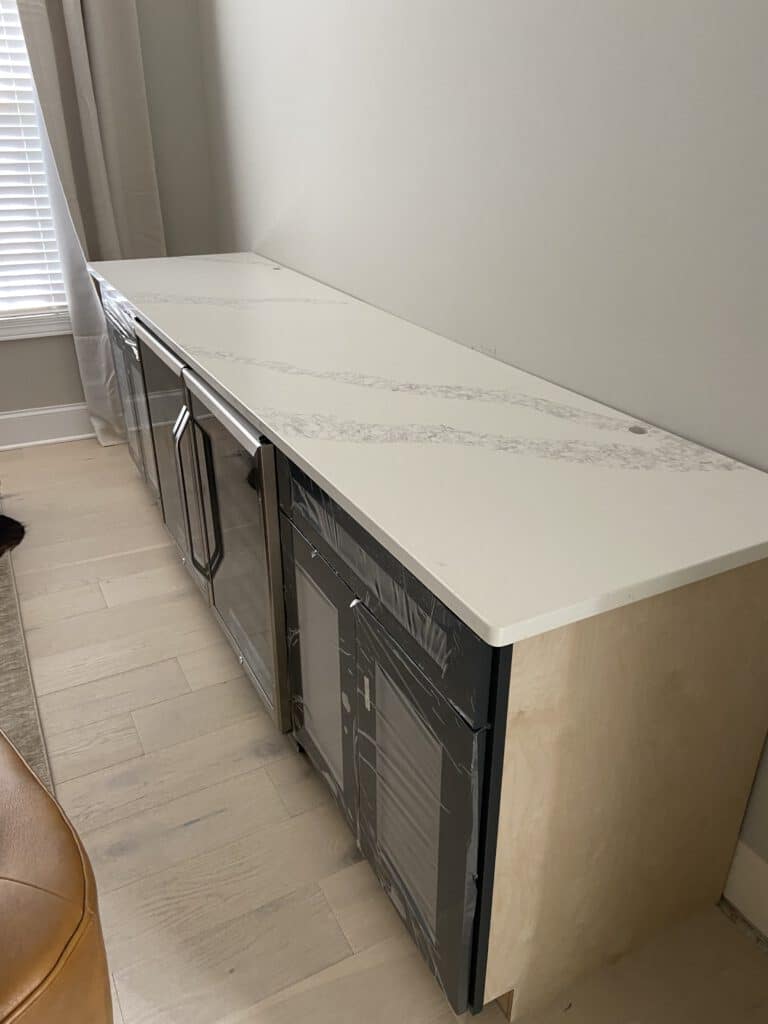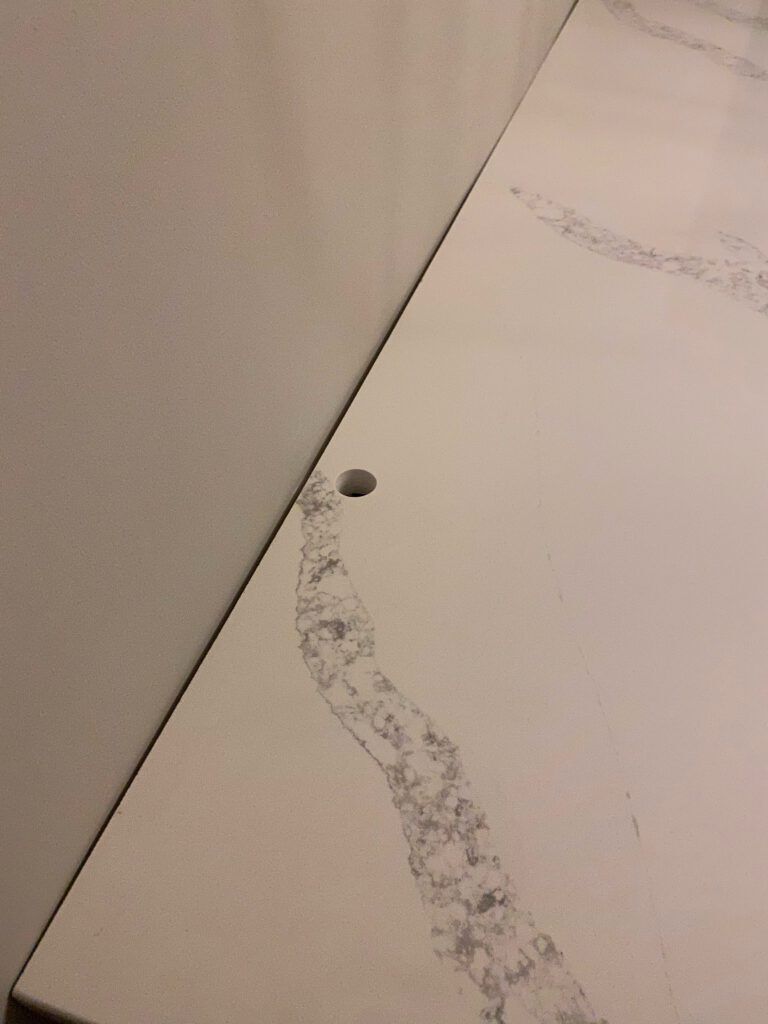 Re-installing Countertops
After we reached back out to Home Depot about the sloppy installation, they immediately agreed to send another contractor to take a look.
A few days later, the second countertop installer arrived. Immediately he agreed that it wasn't installed properly and offered to fix it.
To get it to sit evenly in the wall, they cut out some of the drywall to account for the bowed wall. After they got the countertop to sit flush, they caulked it to the wall. The difference between the first installer and the second was massive. After this installer finished, the countertop looked perfect. And now we could move on to installing the upper cabinets!
Installing Upper Cabinets & Glass
Since installing the upper cabinets was going to be a bit trickier and involved installing the trim around the top, we decided to hire a professional.
We reached out to a local cabinet maker (who's now become our go-to), and he quoted us $555 for the installation, including trim and installing hardware.
About a week later, he came by and had the project done within 4 hours. At this point, the bar was finally coming together. But we still didn't have any lighting in the room.
Adding a Ceiling Light
Since our room didn't have existing lighting, we knew we had to do something. While we debated a lamp or freestanding light, we didn't feel it would go well in the room. Instead, we decided on a chandelier (Linked) to match the gold hardware on our bar.
Our next step was finding an electrician. We used thumbtack and received 3 different quotes ranging from $200 to $350 dollars. Ultimately, we picked a company that quoted us $200 and offered to come out the same week.
To install the light, he spliced electricity from a nearby outlet, then ran the wire up the wall. To get to the ceiling position, he had to cut two holes in the drywall roughly 4 inches by 8 inches each.
From there, he installed the switch where we requested, and voila, we had a light! This was honestly way easier than we thought, and it really adds to the room.
Now we were into the home stretch and onto the final touches.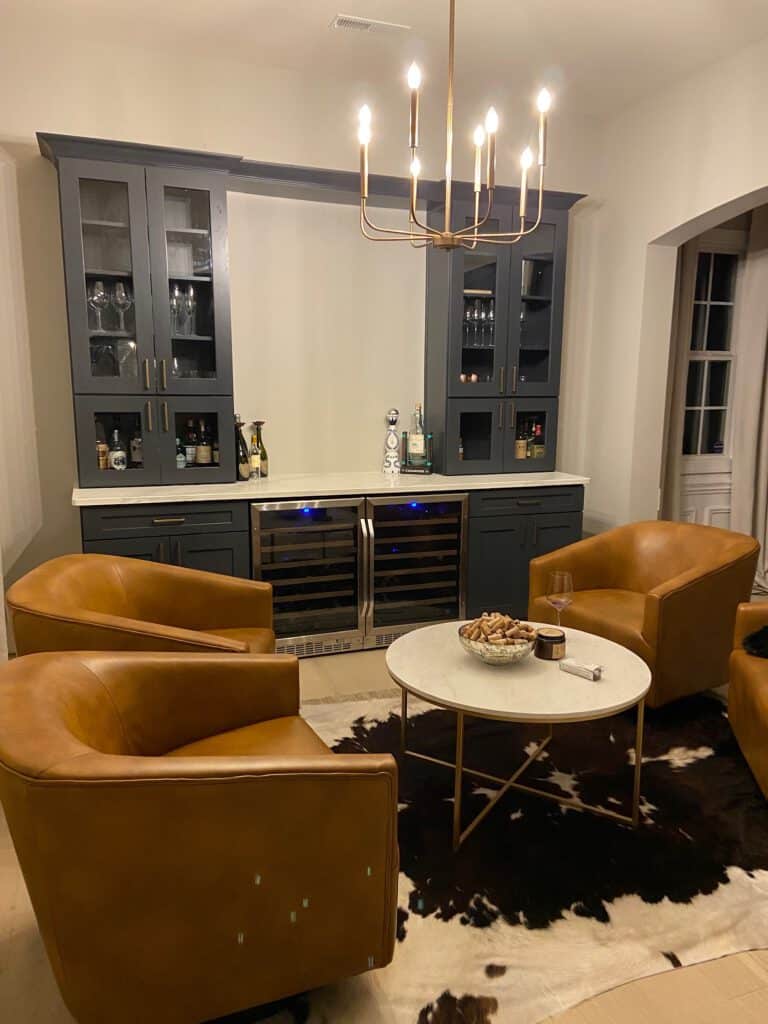 Finishing with Decor and Furniture
The last step in completing our home bar was furnishing, adding decor, and filling it with delicious drinks.
For furniture, we decided to add a neutral rug (Linked) with a cowhide rug on top (Linked), which tied in well with the brown leather chairs we purchased (Linked). Then we finished with a faux marble top gold table (Linked) that matched well with our chandelier (Linked) and cabinet hardware (Linked).
I've also included the itemized list of furniture and decor here:
Finally, we stocked our glassware and favorite beverage bottles. You can see how this all came together in the picture below.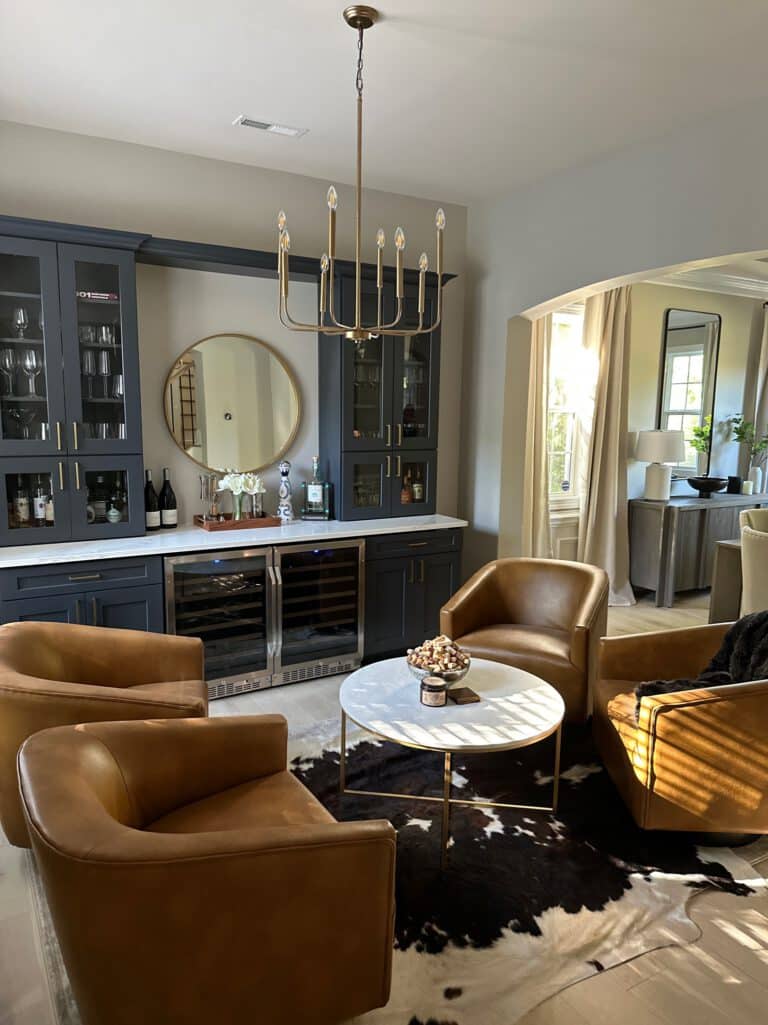 Total Cost of our Home Bar Build
Here's the actual breakdown of how much we spent building and furnishing our home bar:
Cabinets: $2,907.85
Cabinet Hardware: $38.36
Beverage Refrigerators: $1,485.52
Glass Inserts (For cabinets): $200
Countertop: $1,260
Cabinet Installation: $555
Light Fixture: $137.99
Ceiling Light Wiring & Installation: $200
Furniture & Decor : $2743.74
Total: $9,528.46
Would We Do It Again?
Absolutely, we are so happy with the results of our home bar. The whole process was a bit more involved than we expected, but at the end of the day, it was totally worth it. If you are considering building or remodeling your own home bar, we would highly recommend going for it! Just be sure to set aside plenty of time and budget accordingly.
Bottom Line
Our bar has become a focal point of our home and the perfect place to entertain friends and family. Whether you are looking for a spot to relax or just want somewhere to kick back with some drinks, we highly recommend building your own home bar!