After trying to find a remnant countertop piece for our home bar for weeks, we finally went back to the drawing board. And that's when we remembered that stores like Home Depot sell countertops by the square foot as opposed to a full slab.
This means for smaller areas that don't use a full slab, big box stores can actually be cheaper. Regardless our experience applies to both small spaces and entire kitchen renovations. And after ordering and having ours installed, we finally wanted to do a Home Depot countertop review of our full experience.
Keep reading as we outline what we loved about the process and what went wrong.
And for more, check out Our Complete Home Bar/Lounge Build Guide, including the real costs and timeline.
Table of Contents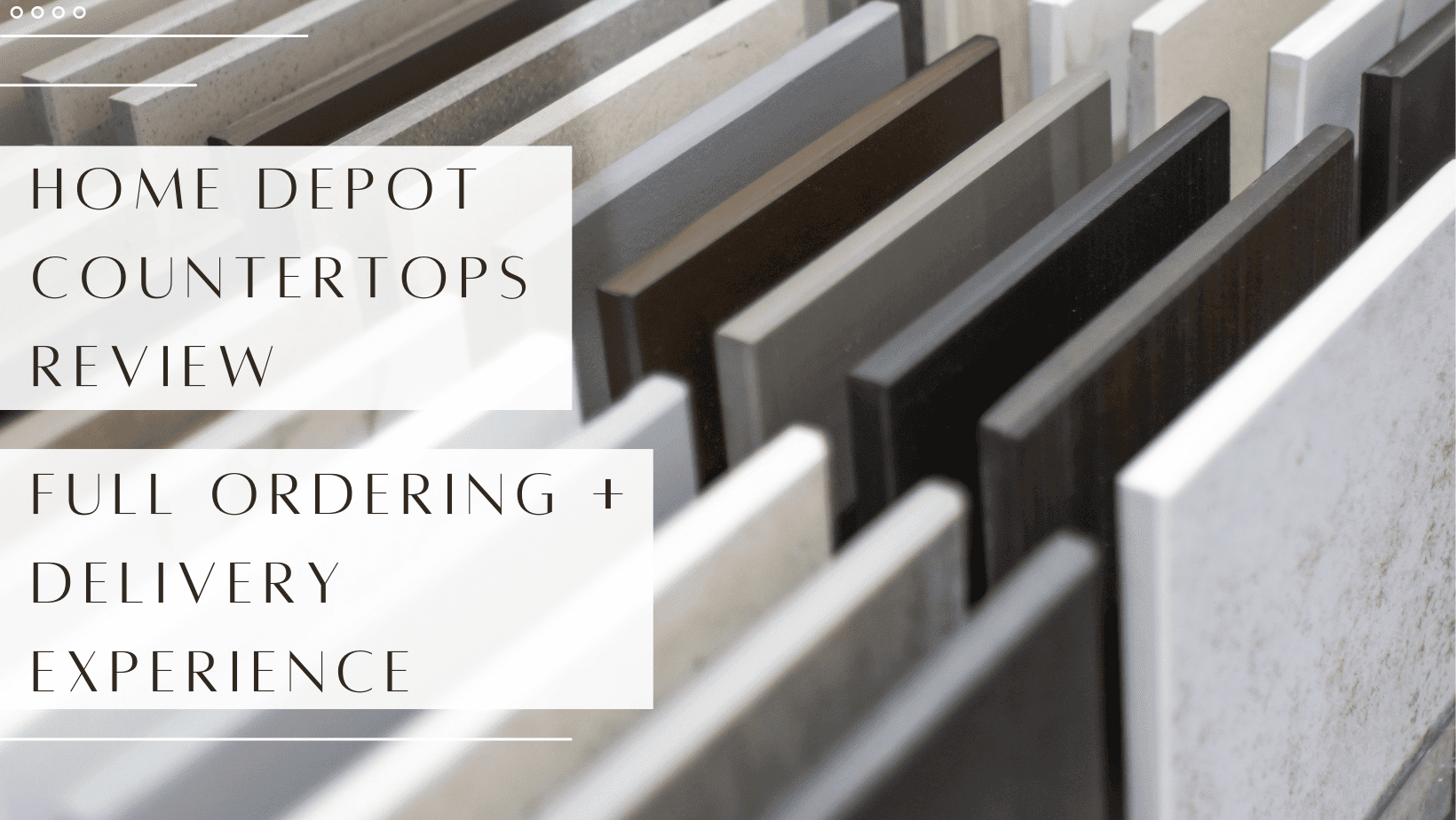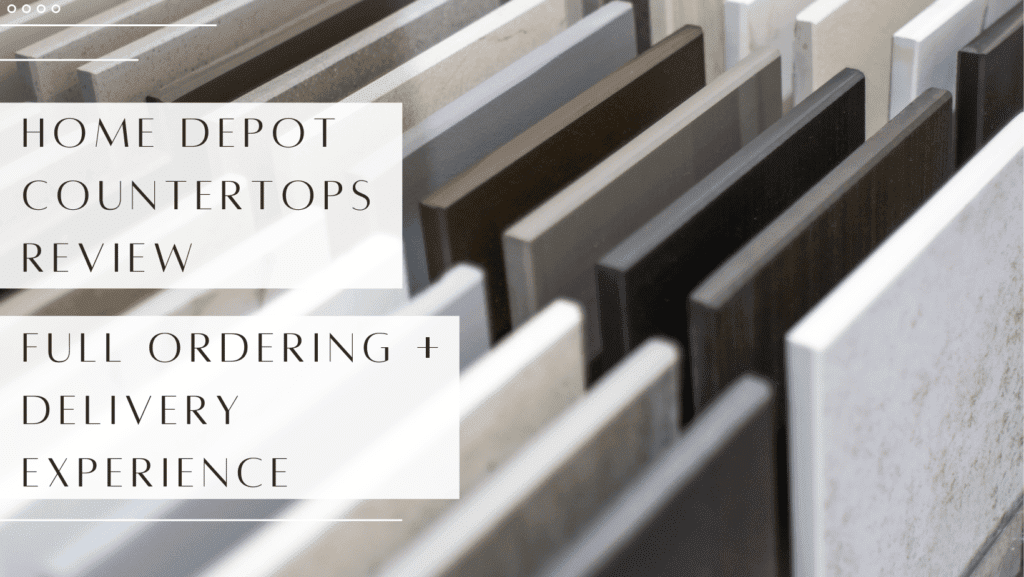 Home Depot Countertops Review – Our Full Experience
We were hesitant to order our countertops from Home Depot at first since we knew they were likely subcontracting the work. But after doing some more research and realizing that they offered better pricing for smaller areas, we decided to give it a try.
Ordering In-Store vs. Online
The ordering process was simple. You can either visit a local Home Depot store or go to the kitchen design area, which also covers countertops. Or you can purchase your countertops online through their website.
If you're looking to view samples of countertops and bevels, we'd recommend visiting the store. While you can find pictures of countertops online, it's always better to see them in person.
Otherwise, HomeDepot.com offers a quick and easy ordering experience.
HomeDepot.com Countertop Ordering
Since we already knew that we wanted Calcutta Venice quartz, we ordered our countertops online. The ordering process was easy to navigate online, and we felt that the website provided all of the information we needed to make an informed decision.
Once you select the build your countertop option, it will start by verifying your local Home Depot location. From there, you'll enter your measurements and the shape of the countertop. Don't worry if you're not exactly on your measurements since a professional will come out and laser measure the area.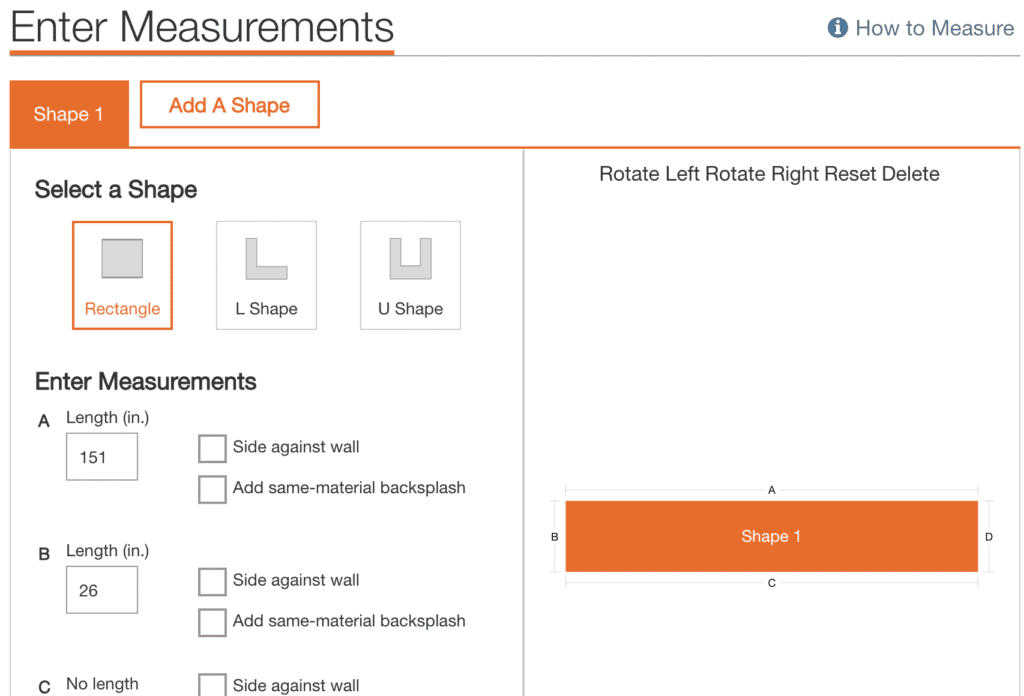 Picking a Countertop Material
Once you've entered your dimensions, you can scroll down and select your countertop material. As we mentioned, we went with Calcutta Venice quartz which is white quartz with light grey veiny. While we debated between a few different colors, we loved the lighter grainier veiny of this color compared to others that had very stark veining that stood out too much.
Once you select your countertop, it will generate a pricing estimate on the right side. Let me just say this was the best part of the whole experience. When you're shopping for countertops, it can be tough to find prices anywhere without actually visiting stores, so we appreciated the transparency here.
From there, we continued through checkout just like we were purchasing anything else online and received an email confirmation shortly after.
In total, our countertops came to $1,260 with tax. This includes all installation and delivery fees, which is standard for countertops.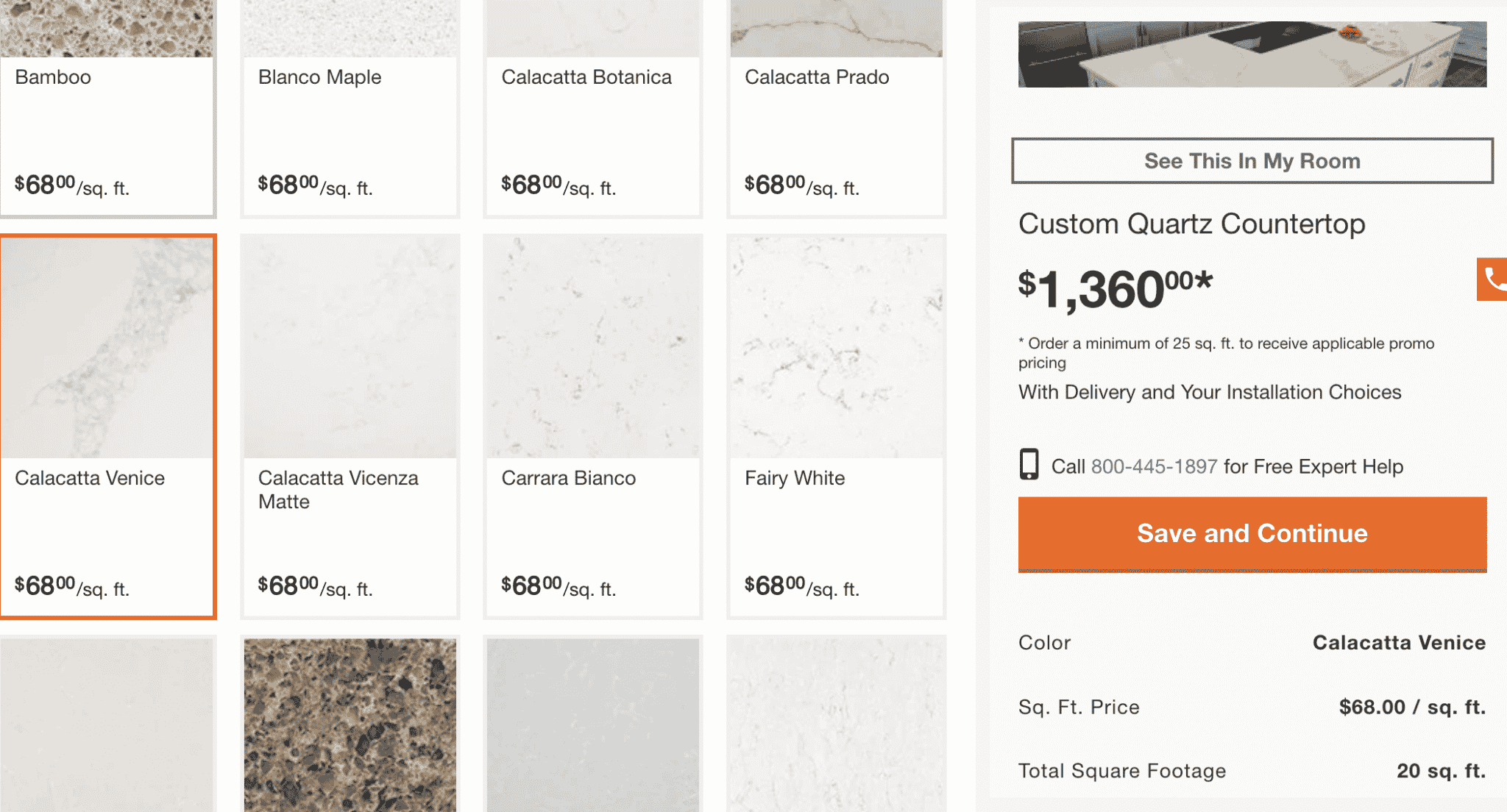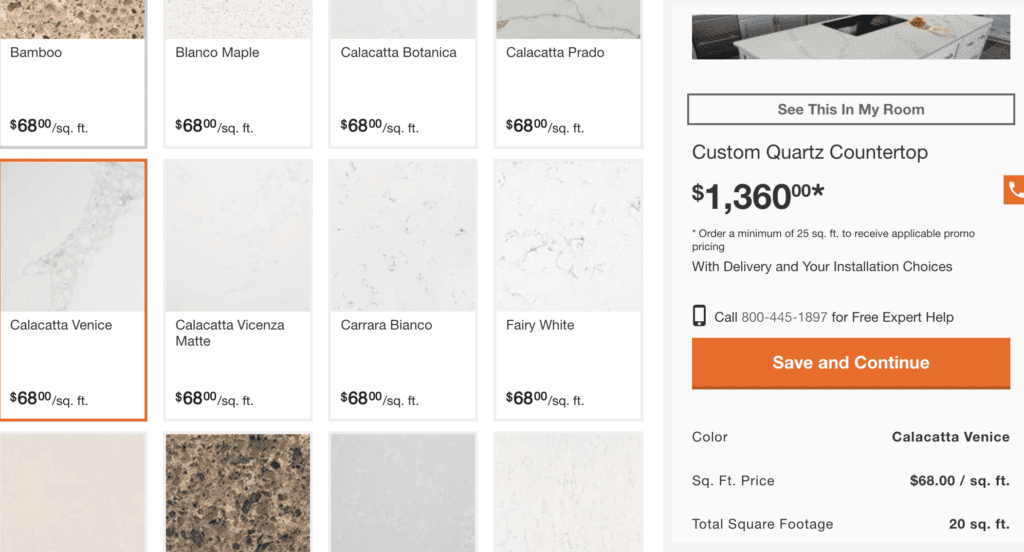 Measuring the Space
A few days after we placed our order online, Home Depot reached out to schedule the measurement of the space.
Later that week, the countertop subcontractor arrived for measurements. As we mentioned above, Home Depot subcontracts all of its work. This means that instead of working with their own installers, they partner with local contractors to handle the fabrication and installation.
While we were a bit concerned about this at first, we were happy to find that the subcontractor was professional, friendly, and did an excellent job with measuring.
The measuring took about 20 minutes in total, and he used a laser system to get the exact dimensions of our space. If you're planning to have a sink or stovetop installed, this is also the time to mention it since they'll want to consider it in the dimensions.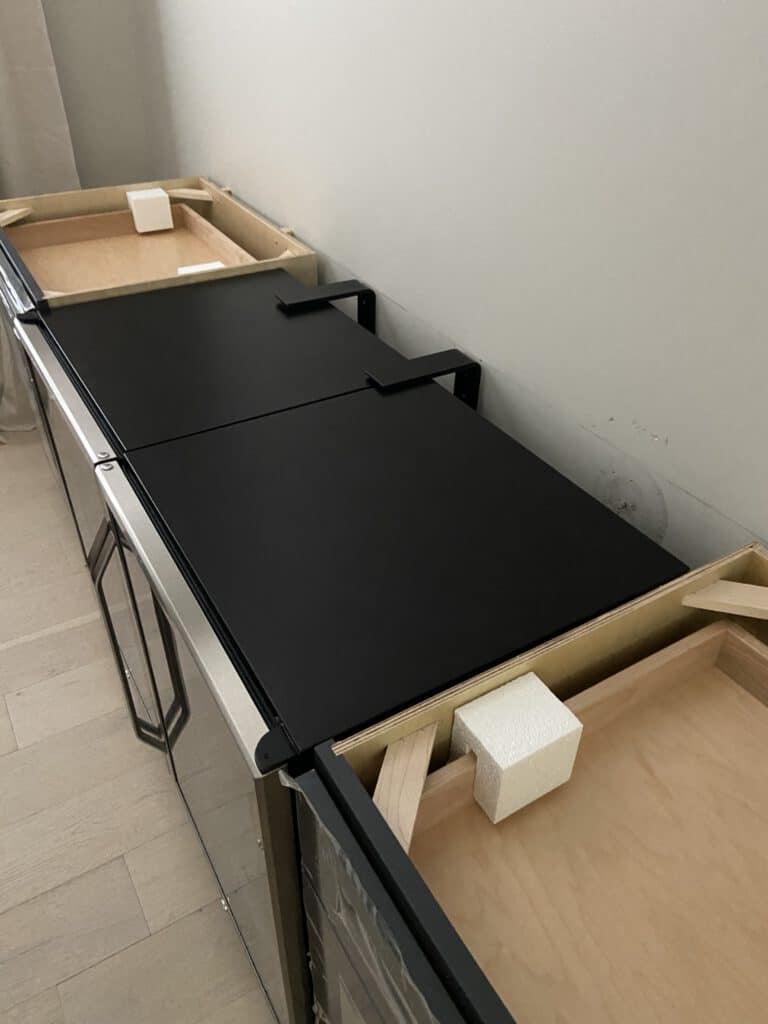 Installing the Countertop
About 2 weeks after measuring, Home Depot reached out that the countertops were ready for installation, and we scheduled a time for the following week.
On the day of installation, we had to make sure the area was clear and that they had an easy path to the area. That means you'll want to move any toys, chairs, or decor that may be out. If they're removing existing countertops (this wasn't our case), you'll need to also remove anything from the top of our counters.
After they arrived and confirmed the area was clear, they brought in the cut countertop piece and attached it to the cabinets with glue. They also offered to cut two holes for wires where our upper cabinets would rest on the countertops.
A few minutes later, they were out of our house. But that's when we began noticing a big issue.
Issues with the Installation
Once the installers left, we noticed how large of a gap there was between the countertop and the wall (see picture below). This was because the wall is bowed (fairly common in homes), but they didn't seem to accommodate it in any way.
After a few phone calls to friends and google searches online, we confirmed this wasn't right.
We called Home Depot customer service, who apologized for the error and agreed to send another contractor for a second opinion.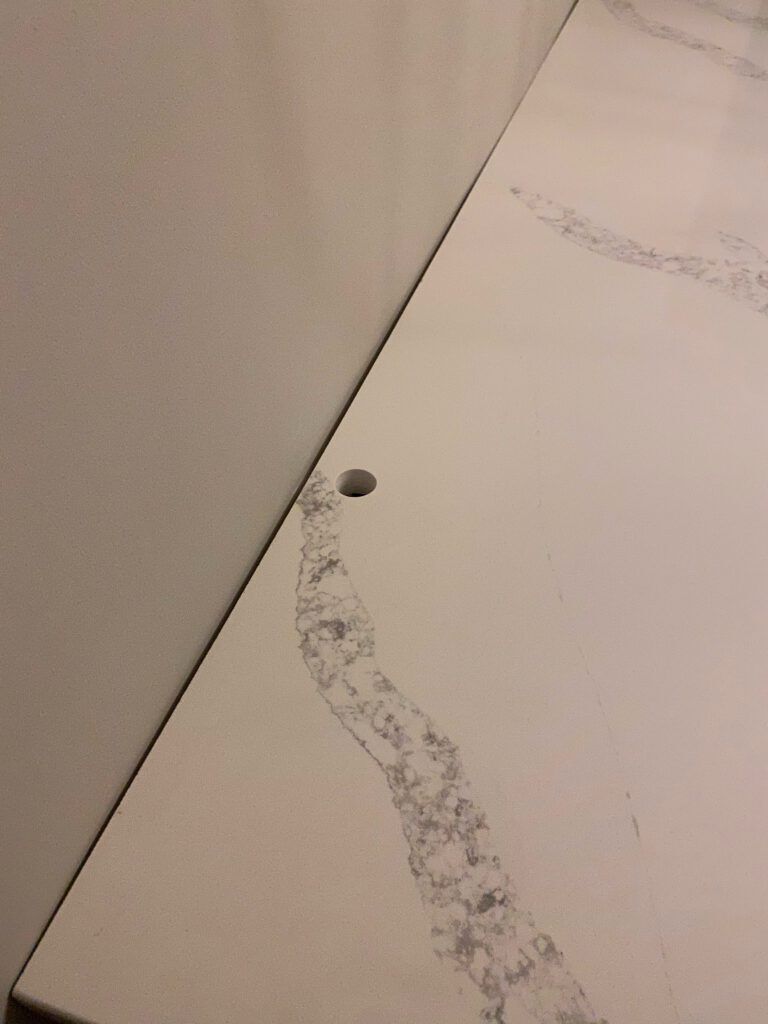 Fixing the Countertop Against The Wall
About a week later, the second contractor arrived, and after we explained the situation, he took a look at the countertop. He agreed it was a sloppy installation and that the countertop should be flush with the wall.
He explained the best option was to cut into the drywall slightly to account for the curve so the countertop would sit flush. We agreed, and in about 10 minutes, he had the countertop looking 100 times better! Plus, he caulked the countertop, something the original installer seemed to ignore.
You can see from the picture below how much better the countertop looked after the second contractor. Bottom line – if you think it looks bad, don't be afraid to speak up!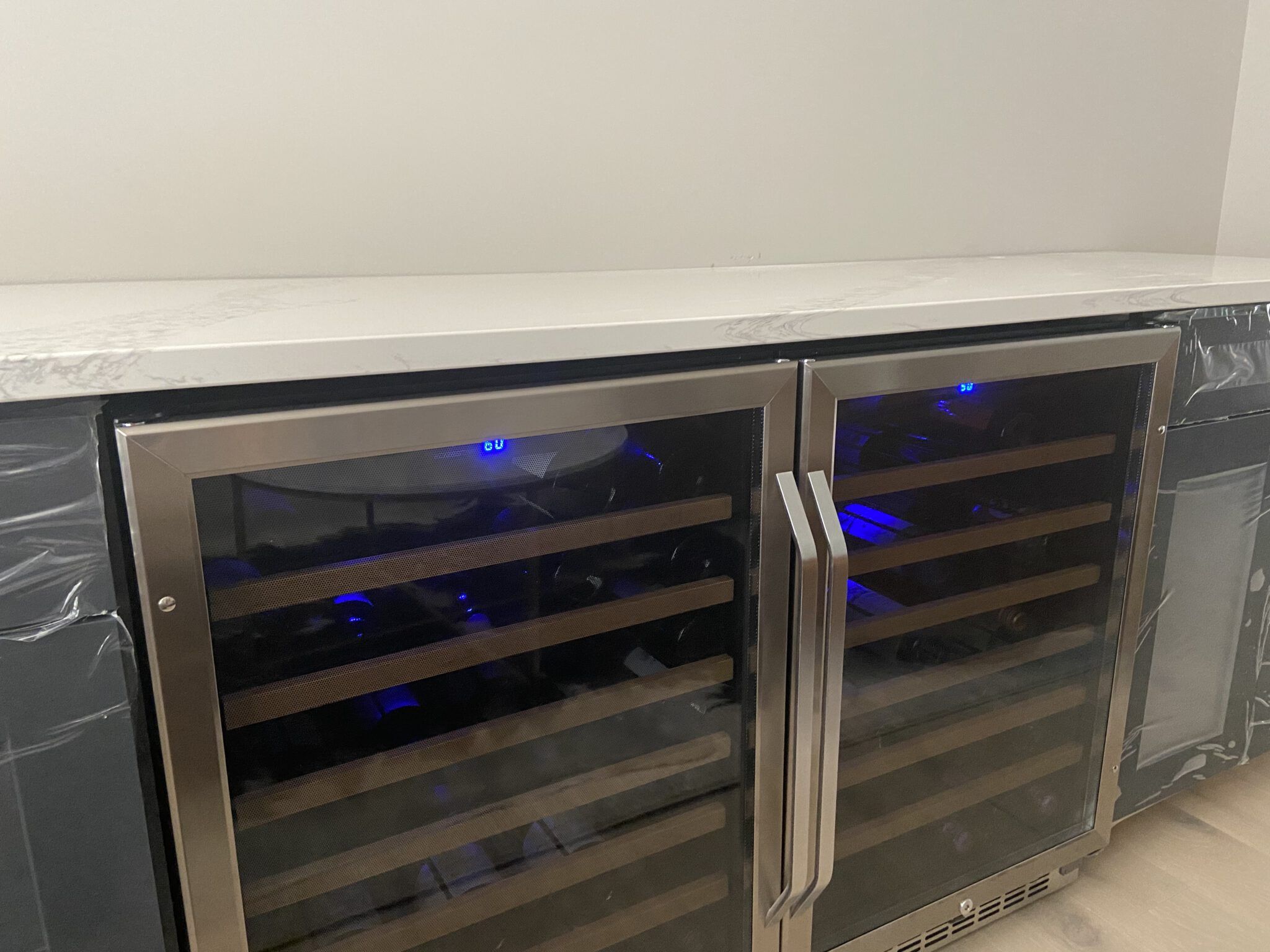 Our Review – Would We Buy Home Depot Countertops Again?
While our Home Depot countertops experience had some ups and downs, overall, it ended with a great-looking countertop. We'd recommend Home Depot for anyone needing countertops for a smaller area and who can't find a remnant.
Otherwise, if you're looking for a larger area like a kitchen, you'll usually get a better price and experience working with a local stone yard. These are the same stone yards your local Home Depot is subcontracting with, so you can easily cut out the middleman.
How Long Did Our Home Depot Countertops Take?
In total our Home Depot countertops took about 4 weeks from ordering to completion. You can see the complete timeline below:
Day 1: Ordering Countertops
Day 4: Call from Home Depot to schedule measuring
Day 8: Contractor came to laser measure countertop
Day 21: Installation of initial countertop
Day 29: Second contractor fixed initial installation – Project complete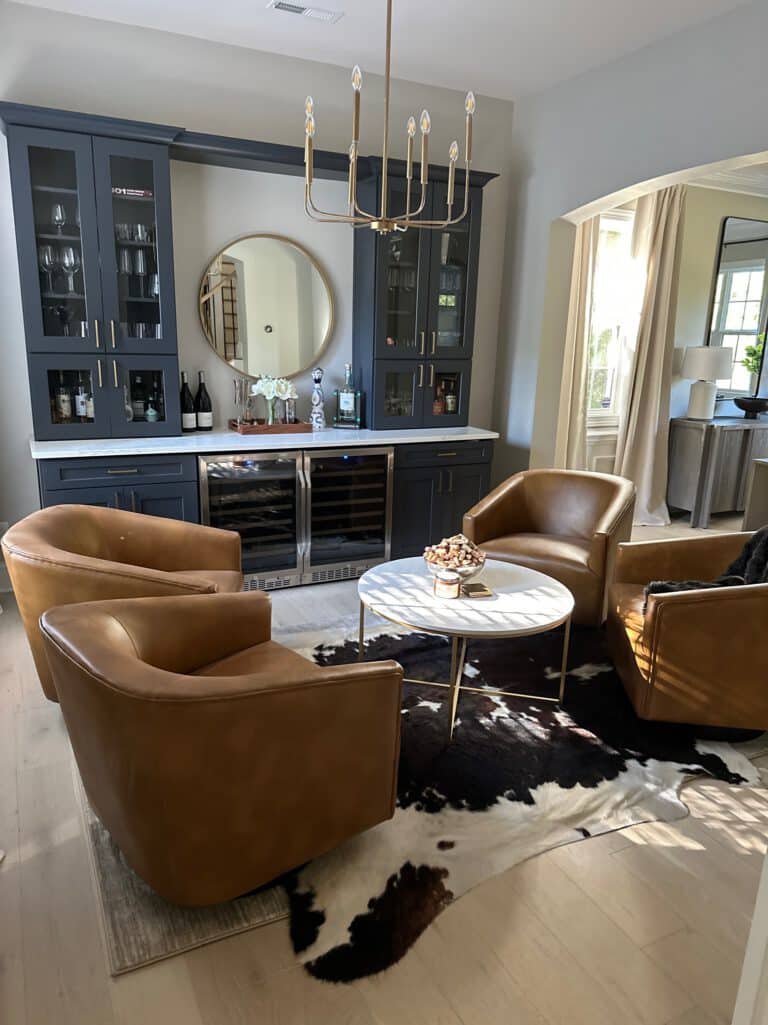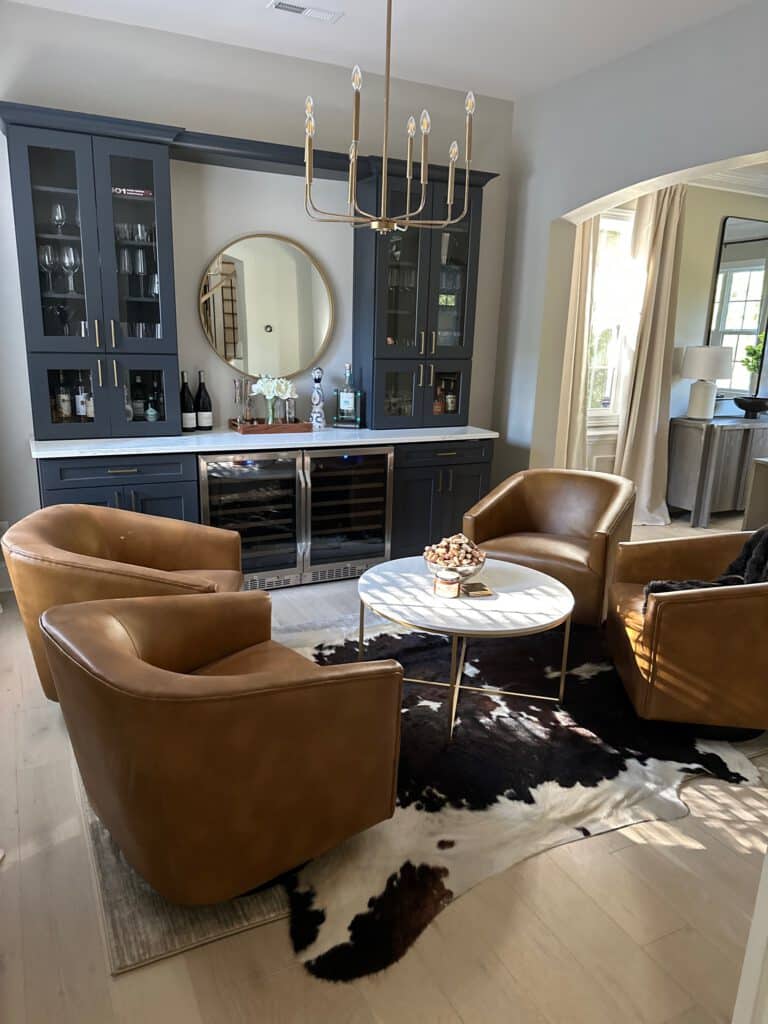 Bottom Line
Overall, we found that Home Depot countertops are a good option for smaller spaces, but if you're looking for something larger or need more customization, it may be worth considering other options. That said, their customer service is excellent, and they're willing to work with you to address any issues that arise. If you're in the market for countertops, we'd recommend giving them a try!
Do you think Home Depot countertops are a good option for your home? Let us know in the comments!