White oak everything has taken the home design space by storm in the last few years, with white oak floors leading the way. Now white oak kitchen cabinets are about to have their moment.
With an emphasis on light and natural colors, white oak has become incredibly popular in home design. The natural tones of white oak complement the popular beige and white colors of decor and furniture.
Now, with white oak cabinets, you can add those same natural wood tones to the most important room in your house.
We've rounded up 25 of our favorite white oak kitchen cabinet inspirations for design inspiration. Plus, we'll discuss the pros and cons of white oak kitchen cabinets, their cost, and what to consider before installing them in your home.
25 White Oak Kitchen Cabinet Design Ideas
1. Sleek White Oak Cabinetry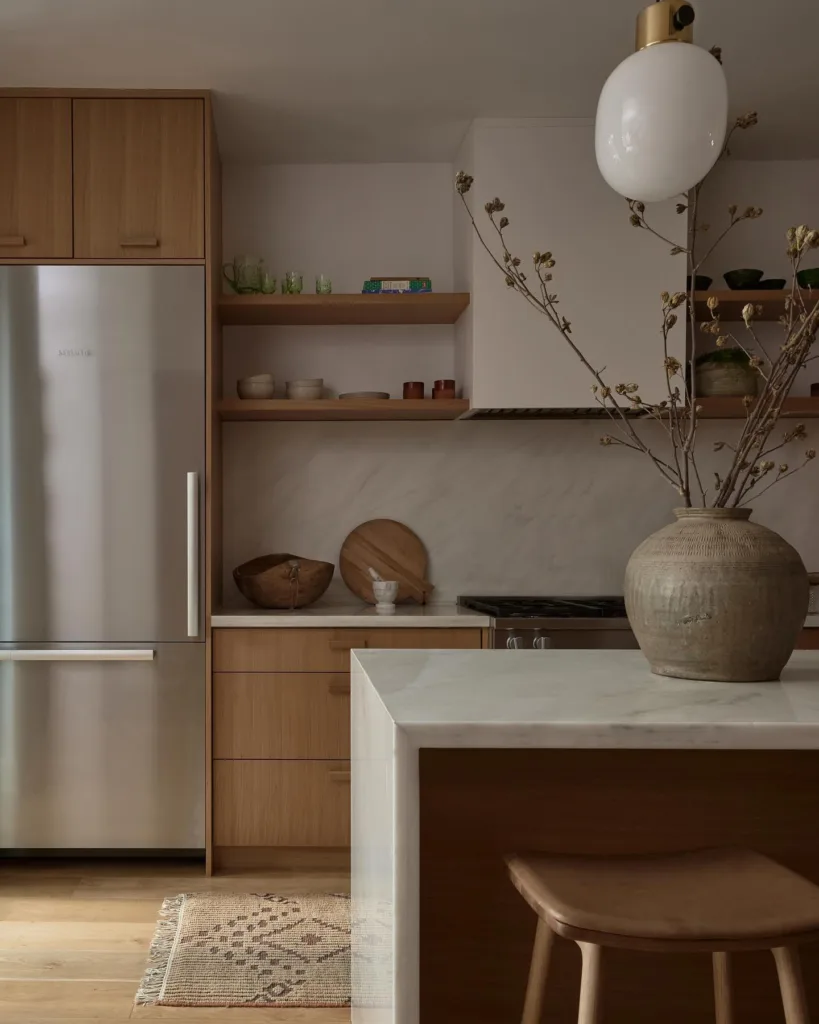 This kitchen's sleek white oak cabinets balance beautifully with the marble island. White oak cabinets look fantastic with light oak floors and add warmth to your kitchen.
2. Embracing Textures and Materials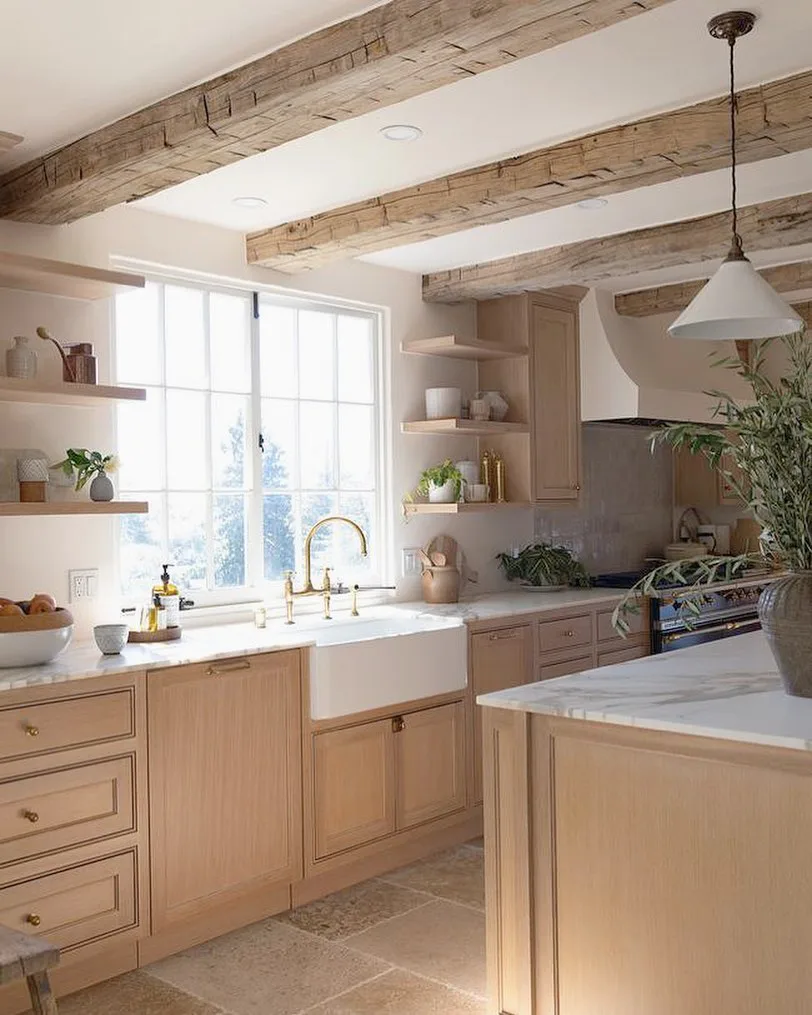 The wood beams and natural floor tiles accent this space's white oak kitchen cabinets. Adding a farmhouse sink and thin stone countertop help keep the room bright.
3. Inset White Oak Kitchen Cabinets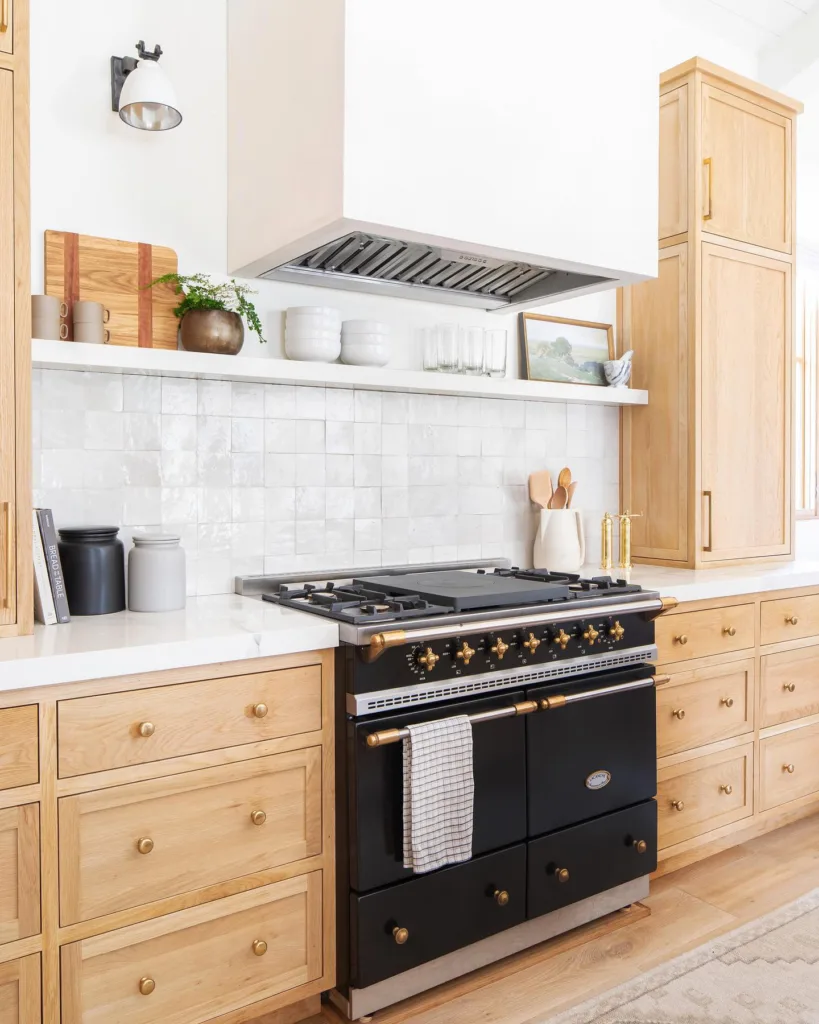 A high-end black range contrasts the white countertop and white oak inset cabinets. Mixing colors allows you to draw the eye towards statement pieces like this stove.
4. Wood beams and Arches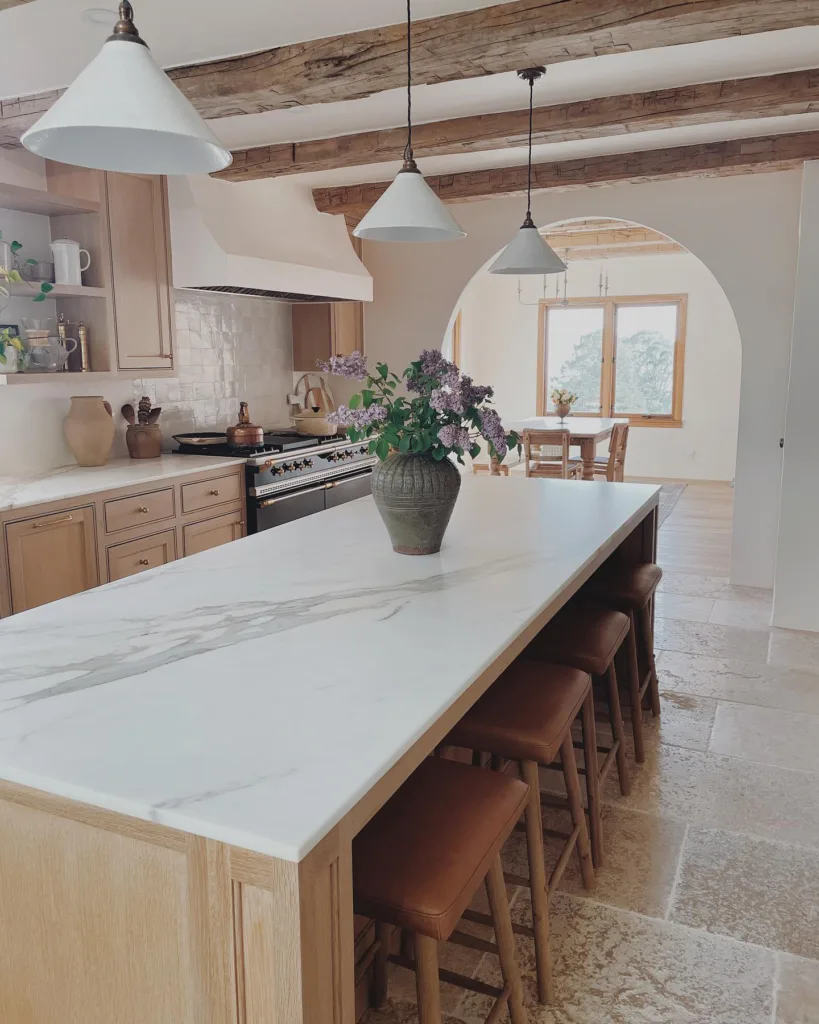 While we typically see white oak cabinets in homes with wood floors, this kitchen with taupe-colored tile looks fantastic. The wood beams and quartz countertops balance the natural tones.
5. Minimalist White Oak Kitchen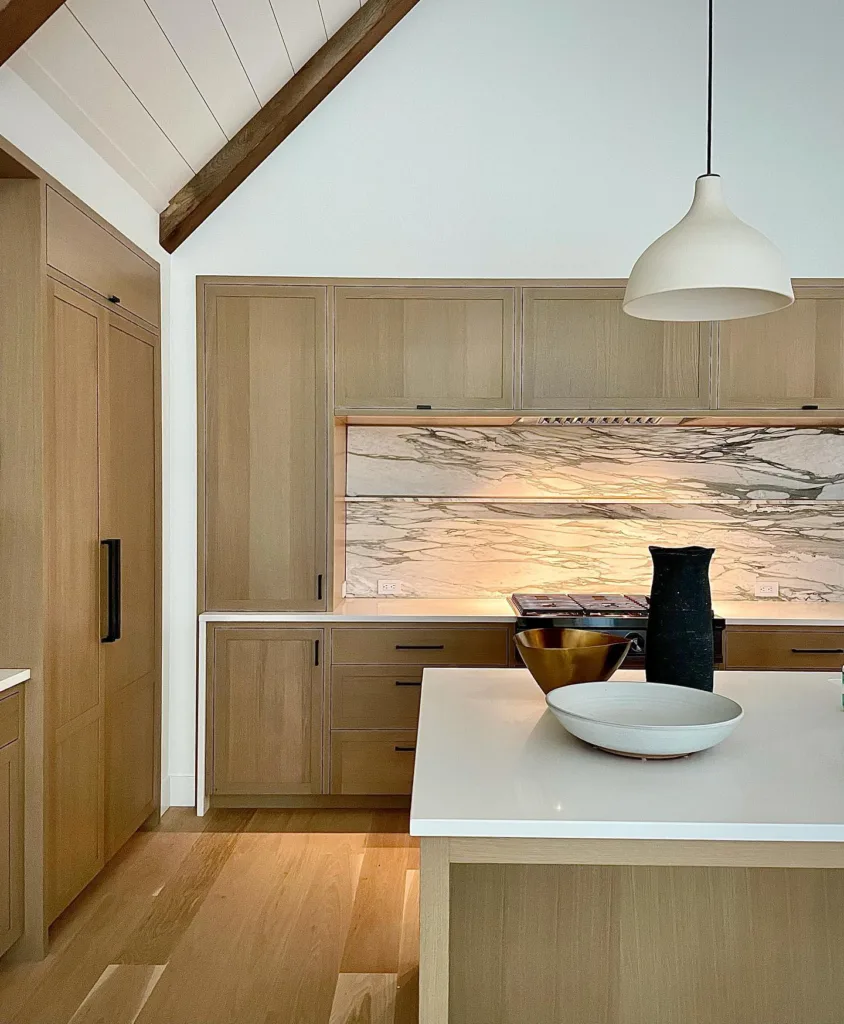 Long black handles and a marble backsplash accent minimalist white oak kitchen cabinets. This stunning kitchen feels warm and inviting.
6. Shaker Style Oak Kitchen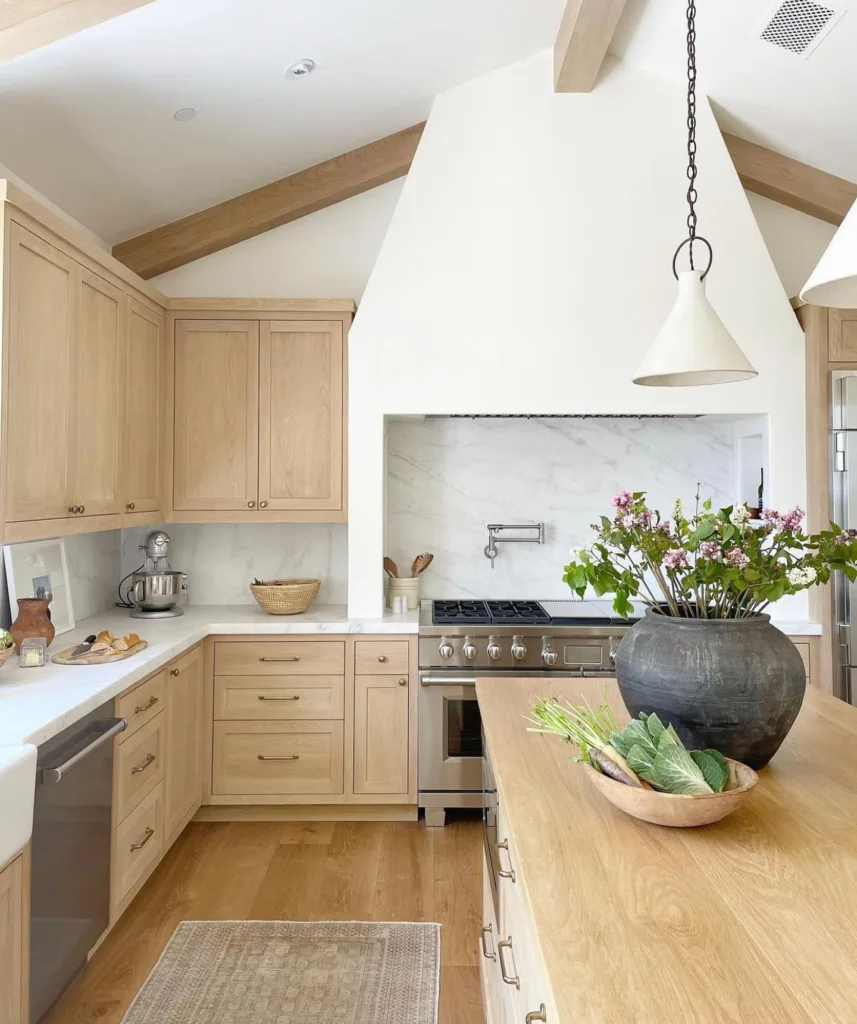 This shaker-style kitchen combines transitional style with southwestern style using light woods. We love the use of wood countertops to double down on the warm white oak kitchen cabinets.
7. Marble and White Oak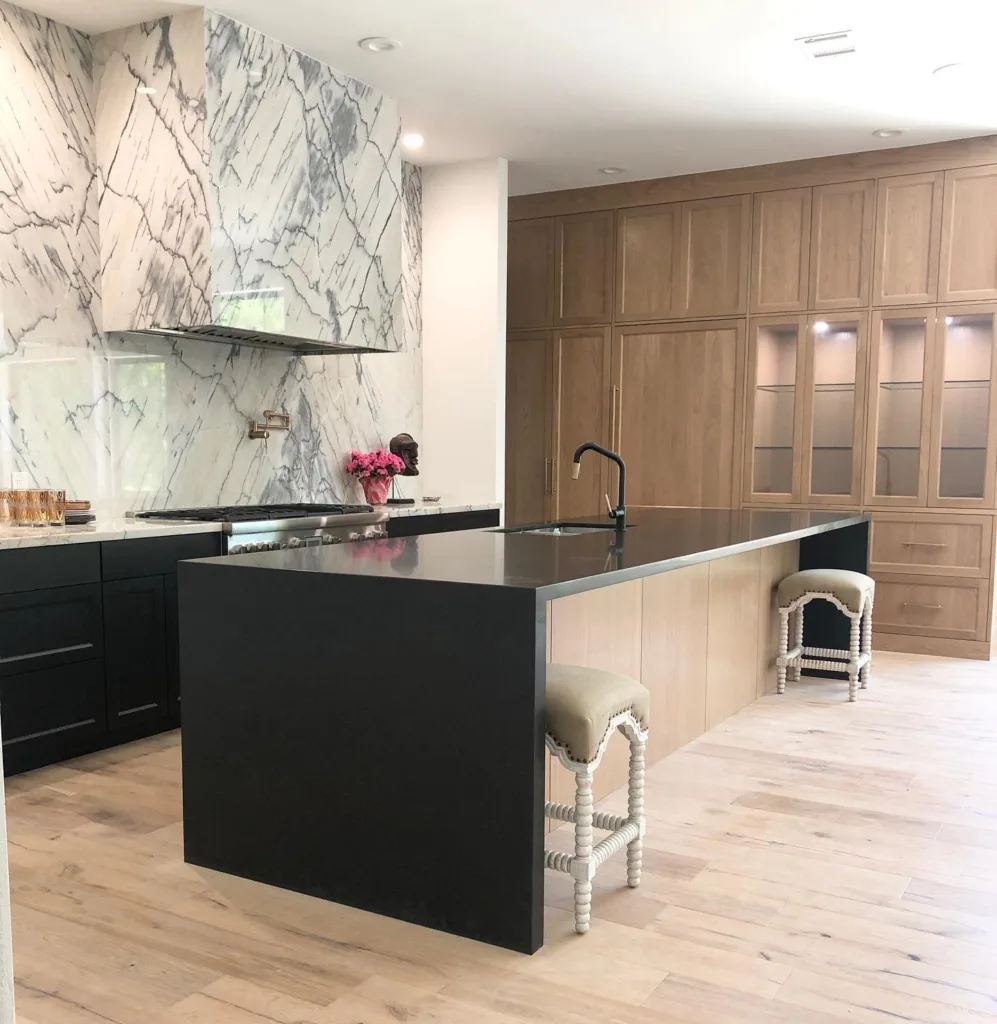 This stunning kitchen features a large marble range hood and backsplash that compliments the black countertop and white oak cabinets. The built-in cabinets along the wall provide plenty of storage with glass doors.
8. Small but Beautiful Kitchen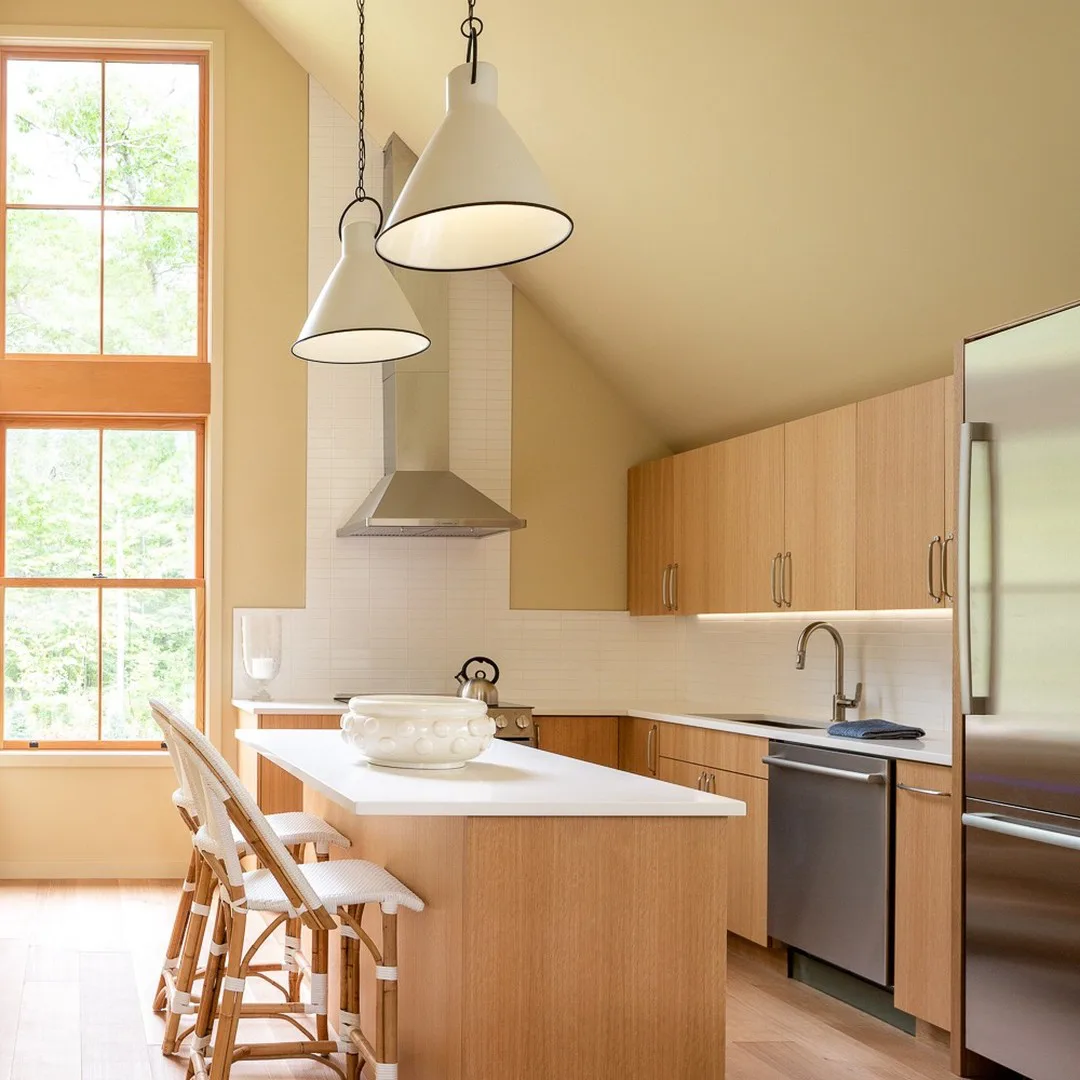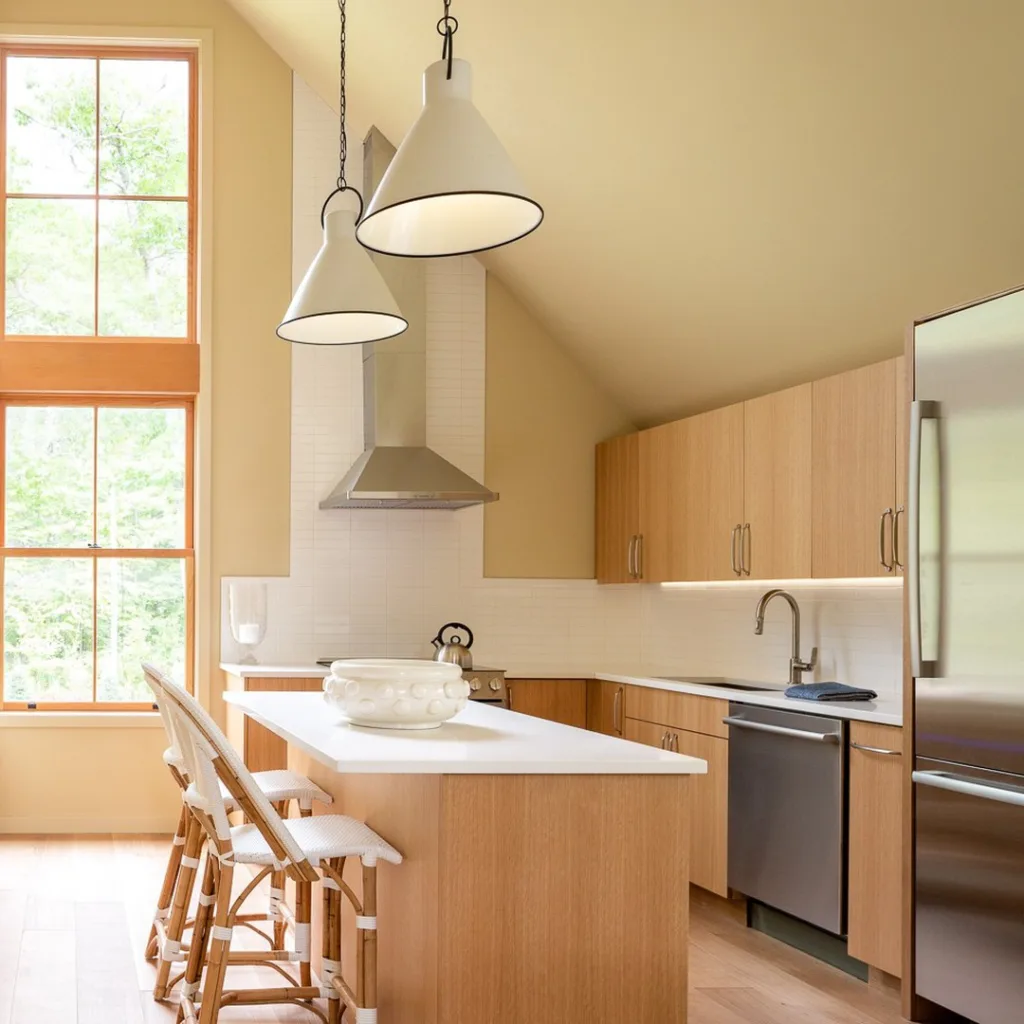 This kitchen shows you don't need a massive space to design beautifully. While white oak is typically seen in large homes, this space shows you can design beautifully with any size.
9. Farmhouse White Oak Design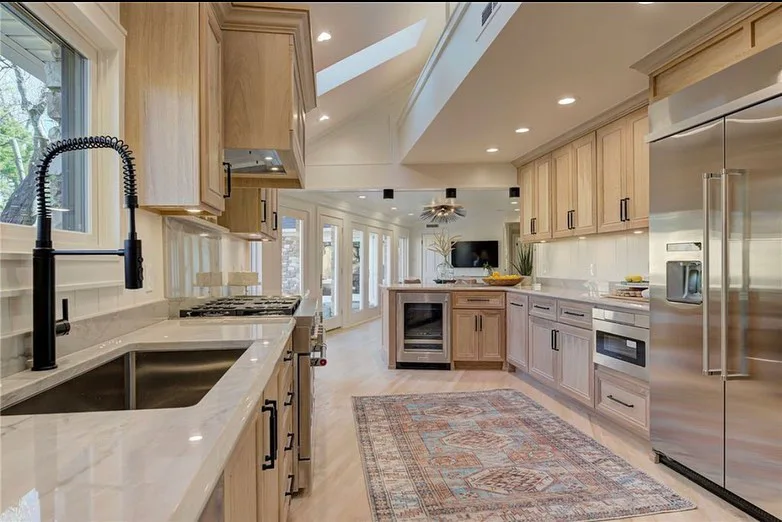 By using large black handles on white oak cabinets, this kitchen has a farmhouse style. This highlights how essential handles and hardware are when designing your kitchen.
10. White and White Oak Mixed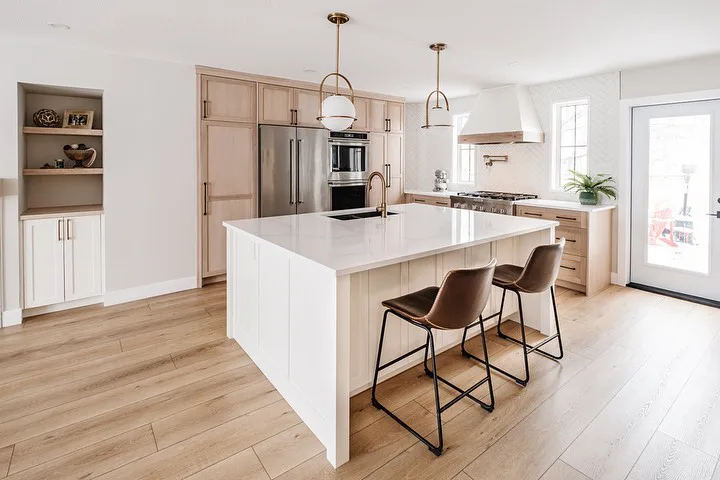 A prominent white island tones down the wood in this space's white oak kitchen cabinets. By mixing colors and natural wood cabinets, you can create a balanced design.
11. Modern White Oak Kitchen cabinets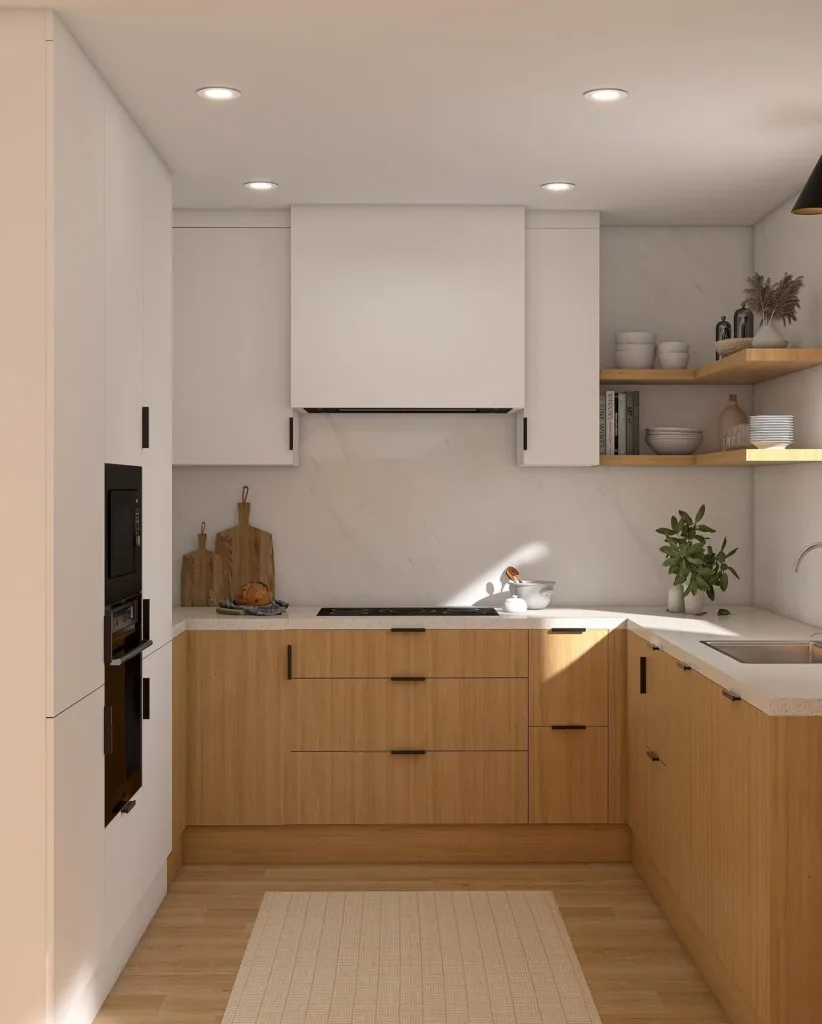 This European-designed kitchen uses white oak lower cabinets mixed with white paneling for a bright and airy look. All appliances are installed flush with the wall for a minimalist look.
12. White cabinets with oak accents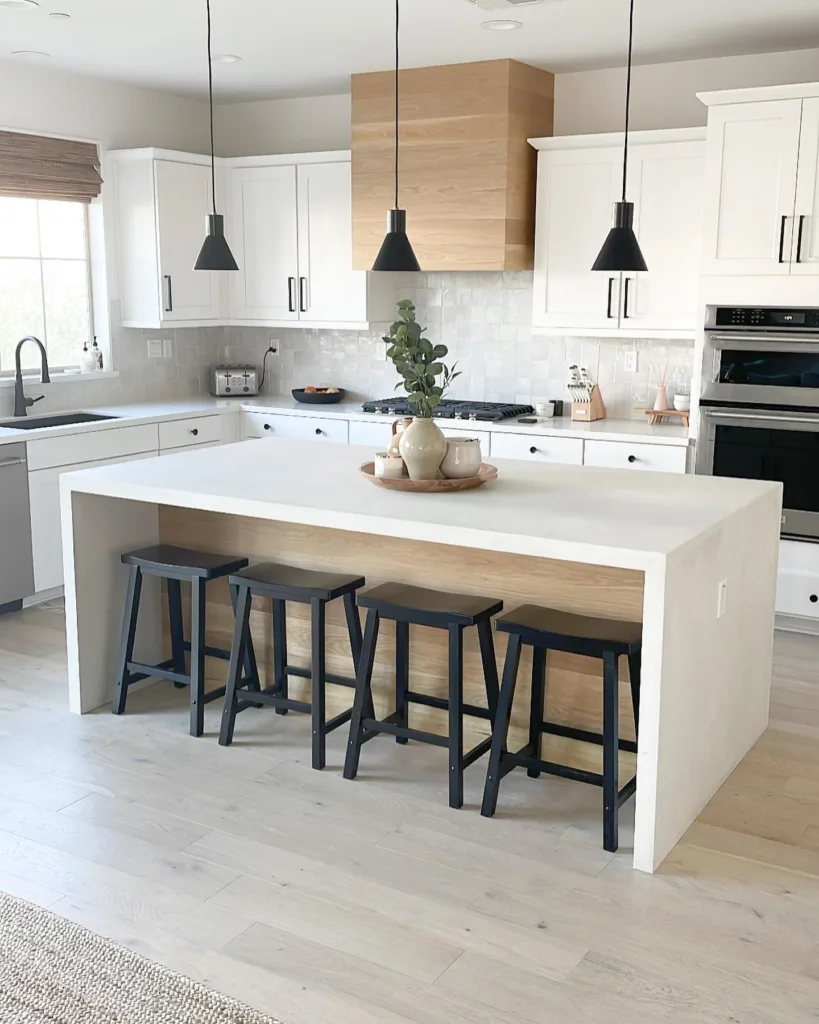 This kitchen uses white oak on the island and range hood to accent the white cabinets and countertops. This is a great way to bring warm natural wood tones without breaking the bank on expensive cabinets.
13. shelves and built-in cabinetry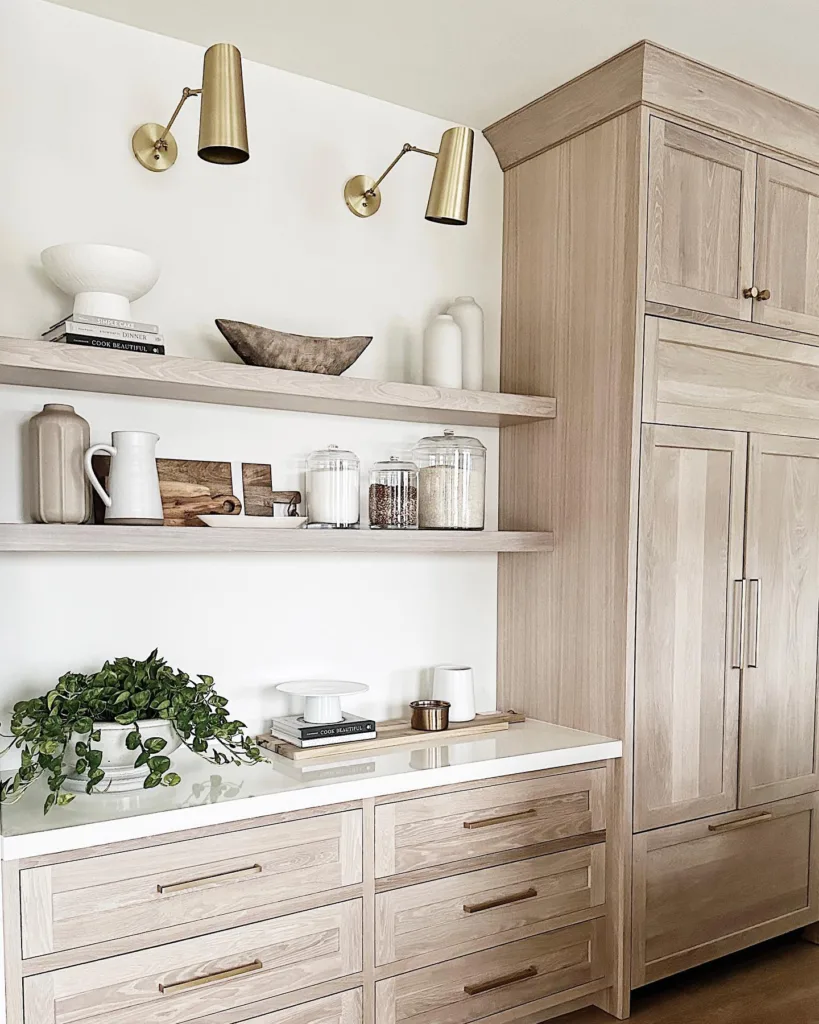 This beautiful kitchen has natural white oak cabinets mixed with open shelves and white countertops. We love the natural color of these cabinets, that brings out the natural color of the wood.
14. Large White Oak kitchen cabinets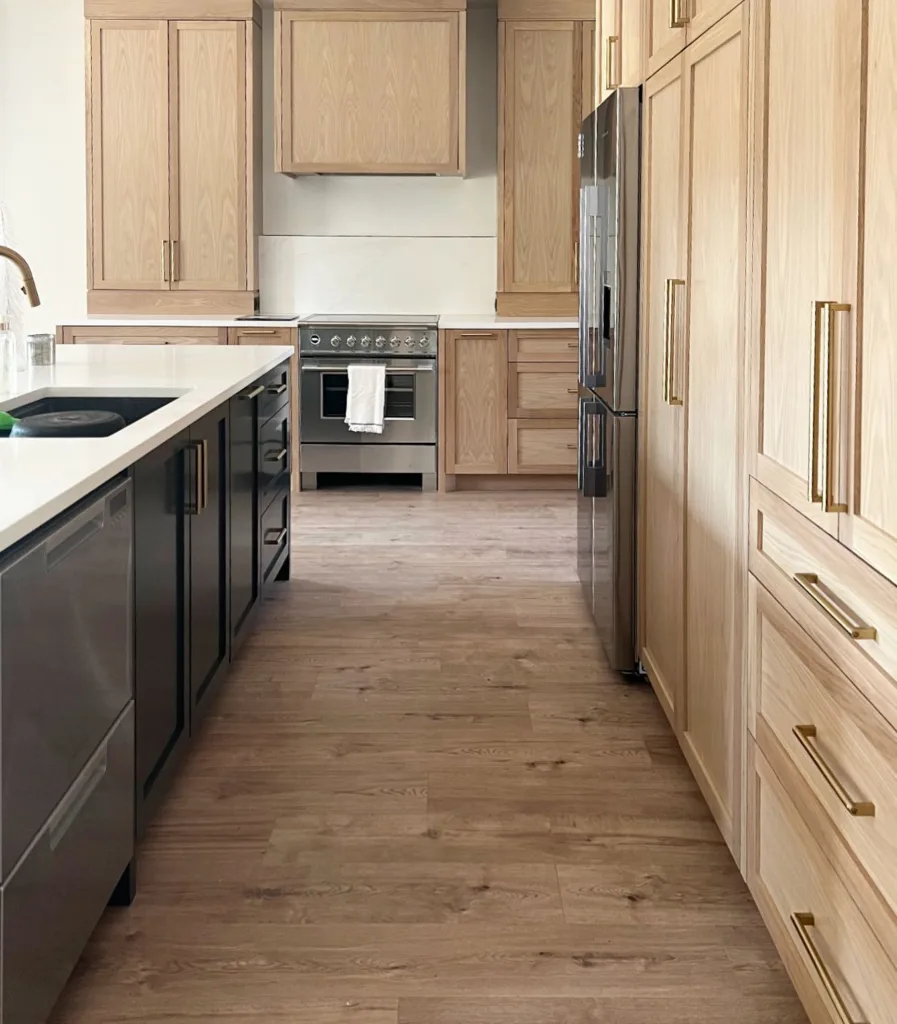 This kitchen reminds us that mixing dark colors and light woods is stunning. The black island helps to balance the light wood floors and white oak kitchen cabinets.
15. Sleek but effective kitchen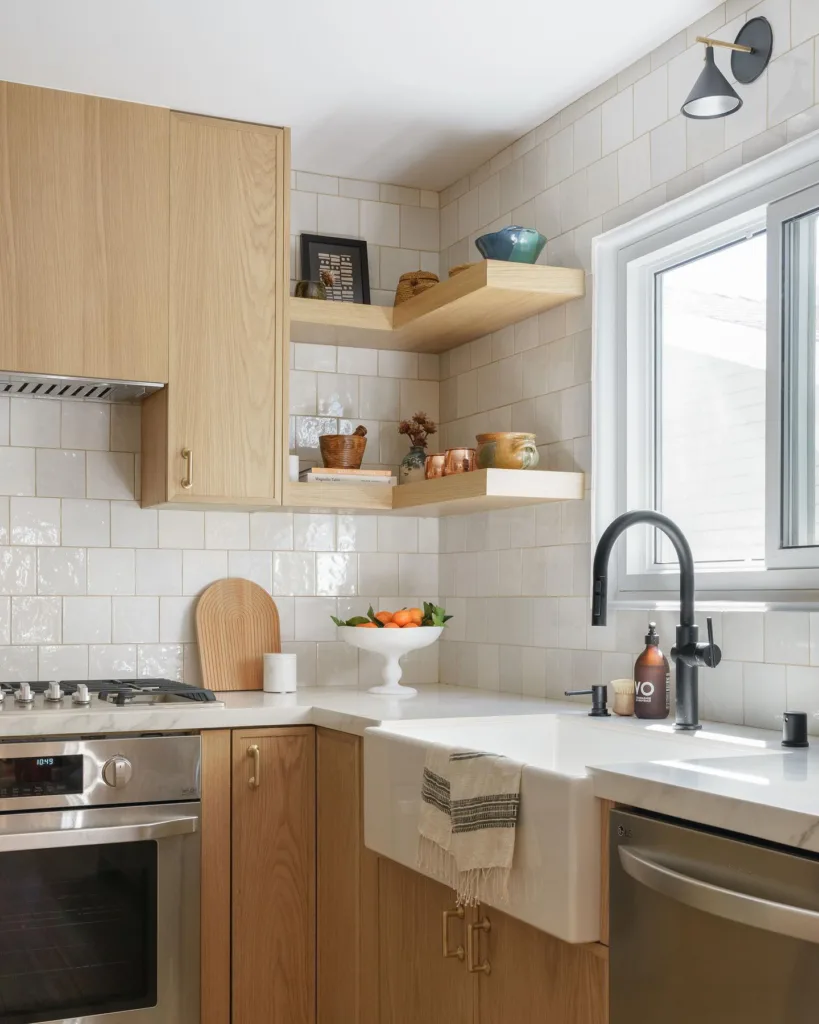 With limited space, this kitchen uses open shelves mixed with cabinets and a farmhouse sink to create a beautiful design. We love the use of white oak in this kitchen because it shows you don't need a lot of cabinets to make a statement.
16. water view with natural light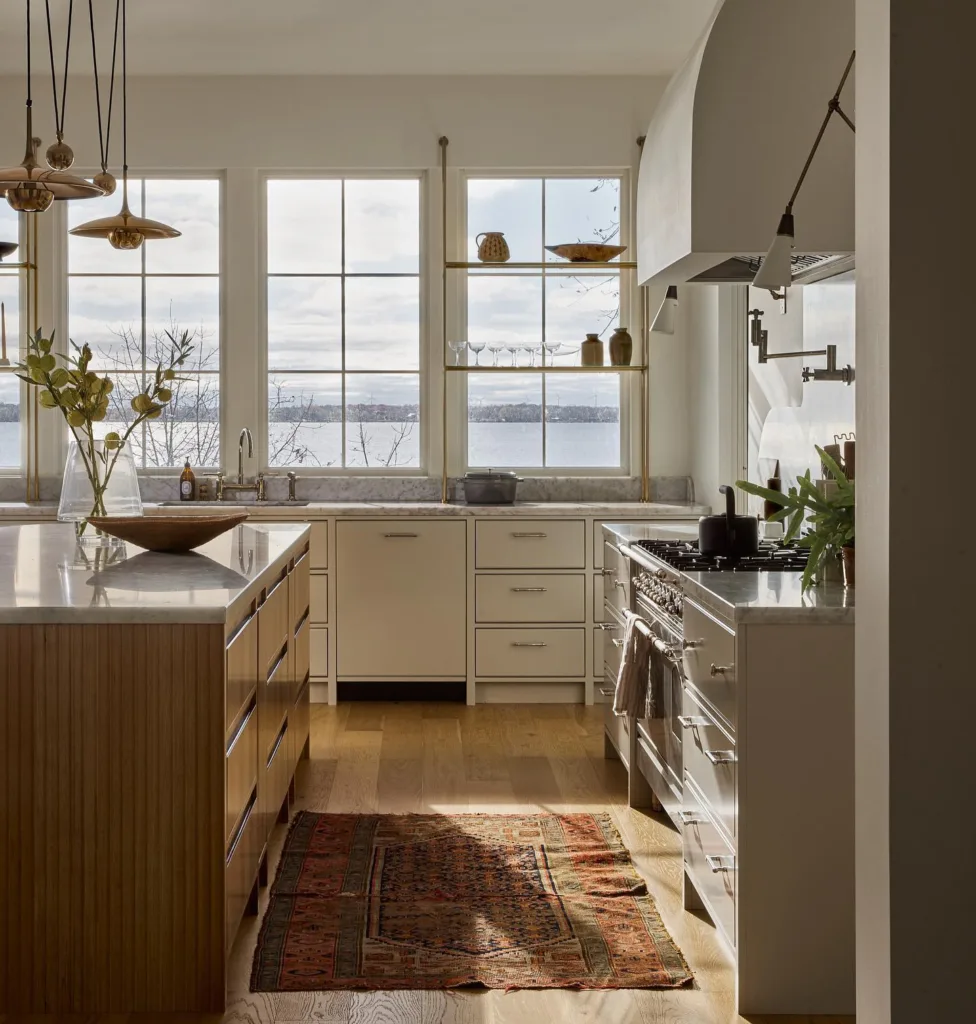 The warm wood in this kitchen mixes with white cabinets and large windows overlooking the water. While light woods are trendy in kitchens currently, this design shows dark and warm woods can also be beautiful.
17. White oak Cabinets and stainless steel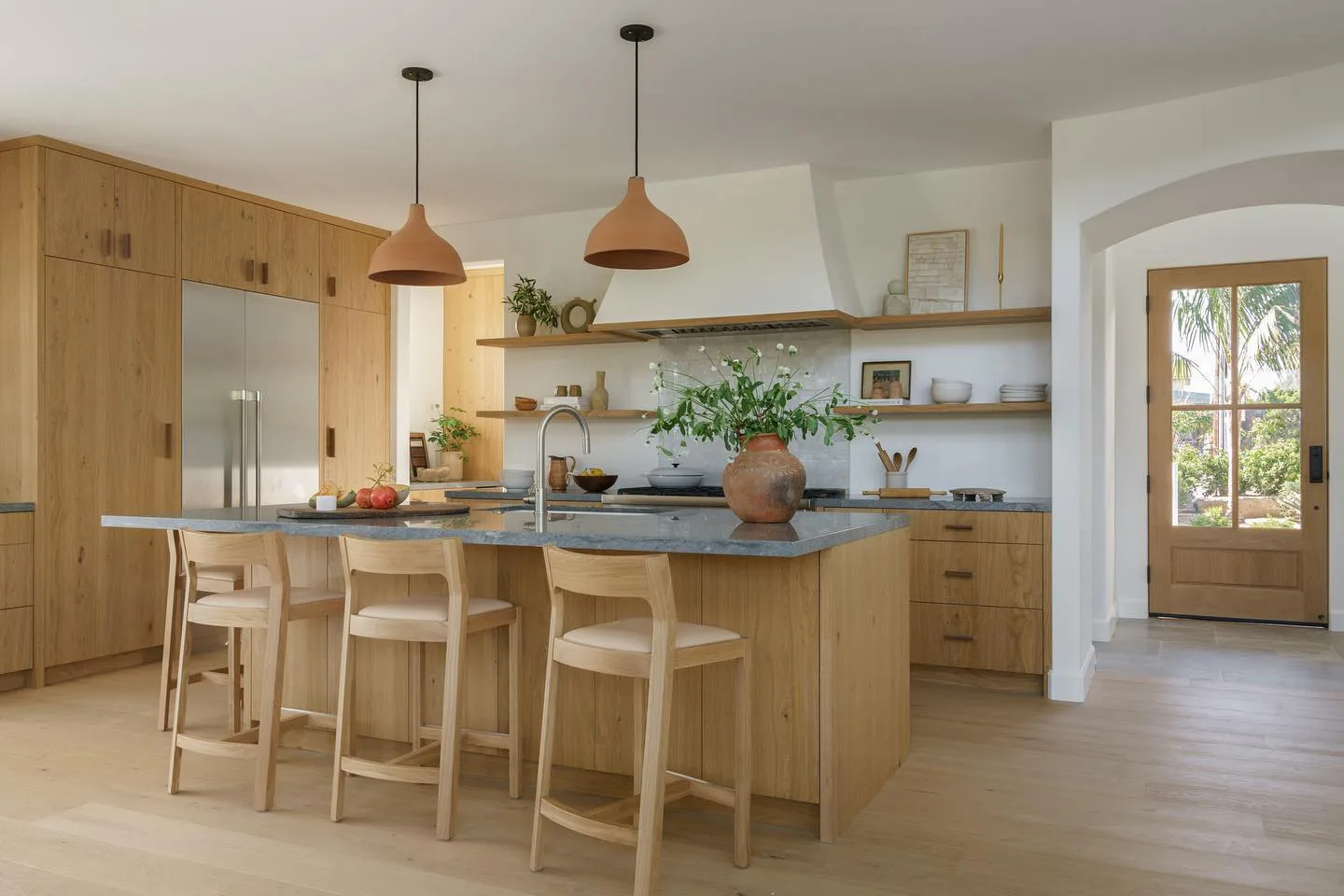 Stunning floor-to-ceiling white oak cabinets are balanced with open shelving next to the large range in this kitchen. The owners also doubled-down on natural woods pairing the island with matching chairs.
18. black hardware and red accents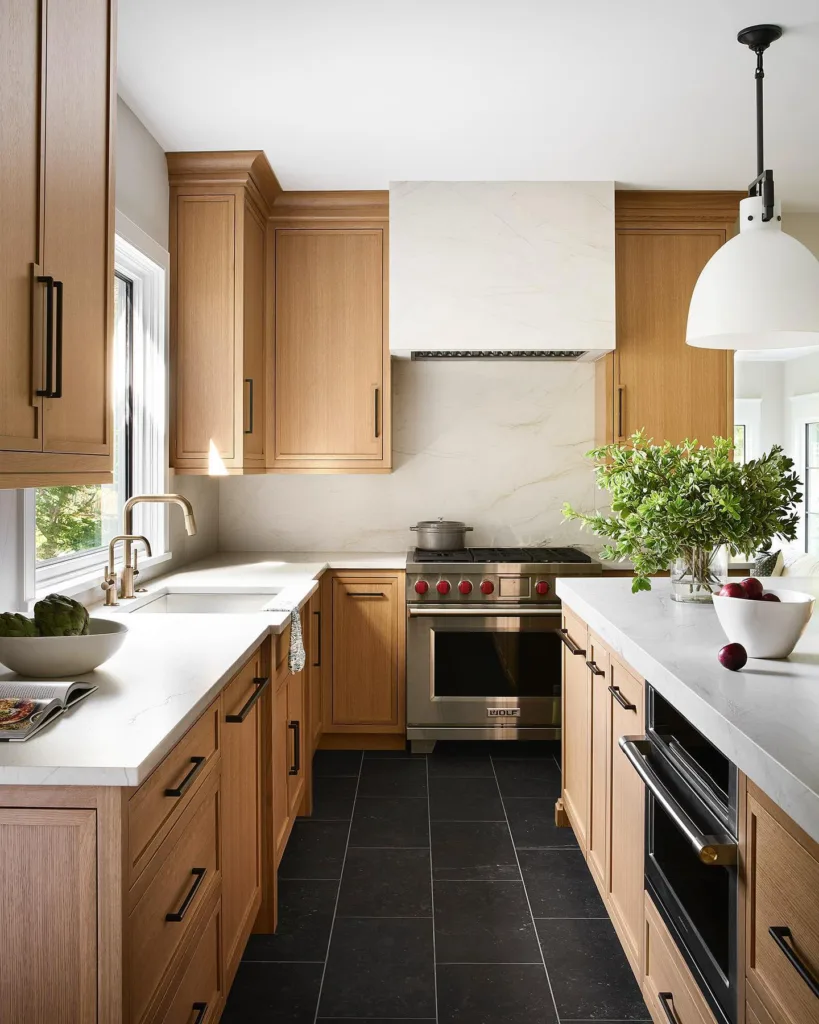 We love how this kitchen coordinates black tile floors with black handles on the white oak cabinets. This helps create a beautiful space that highlights the wolf range.
19. gold faucet and white oak island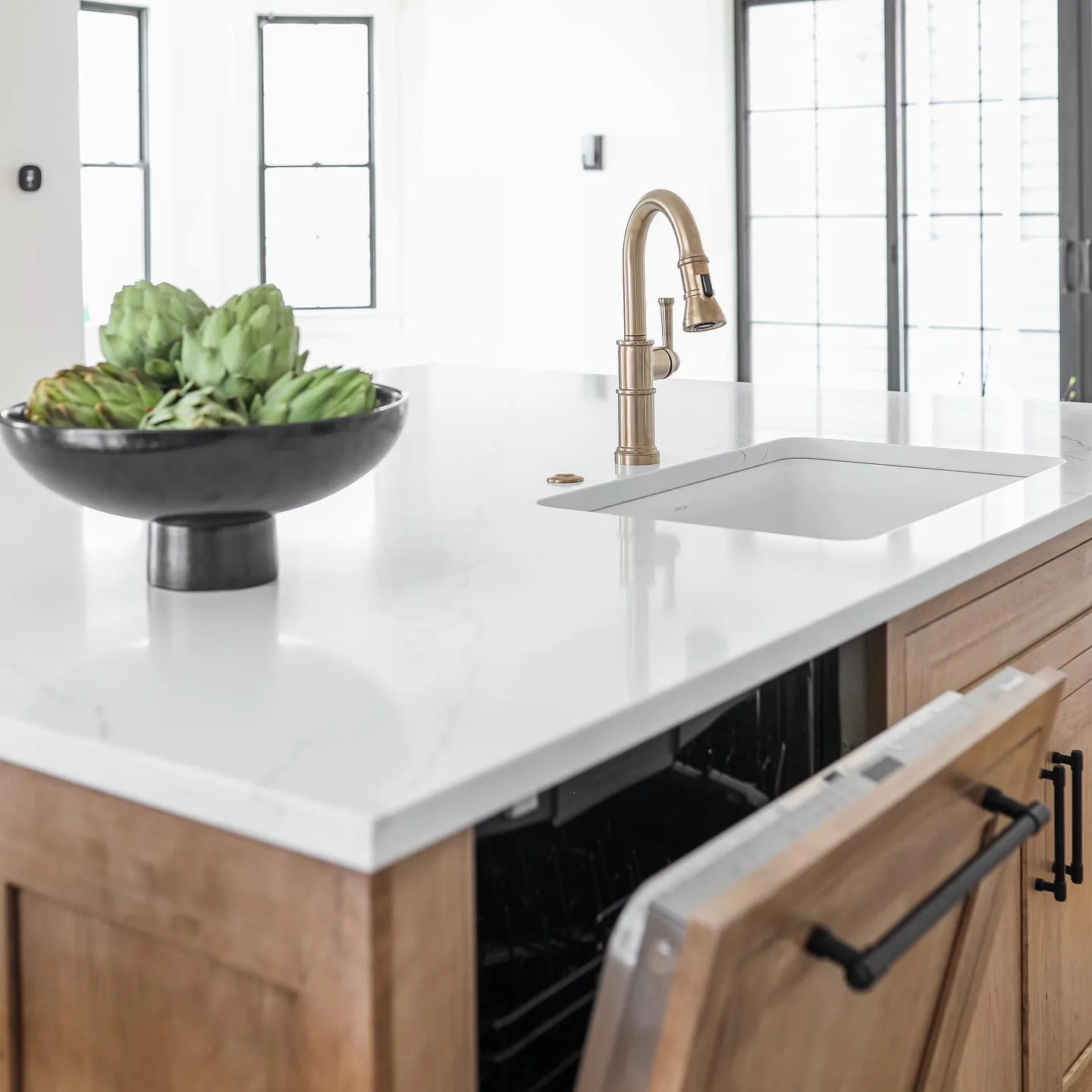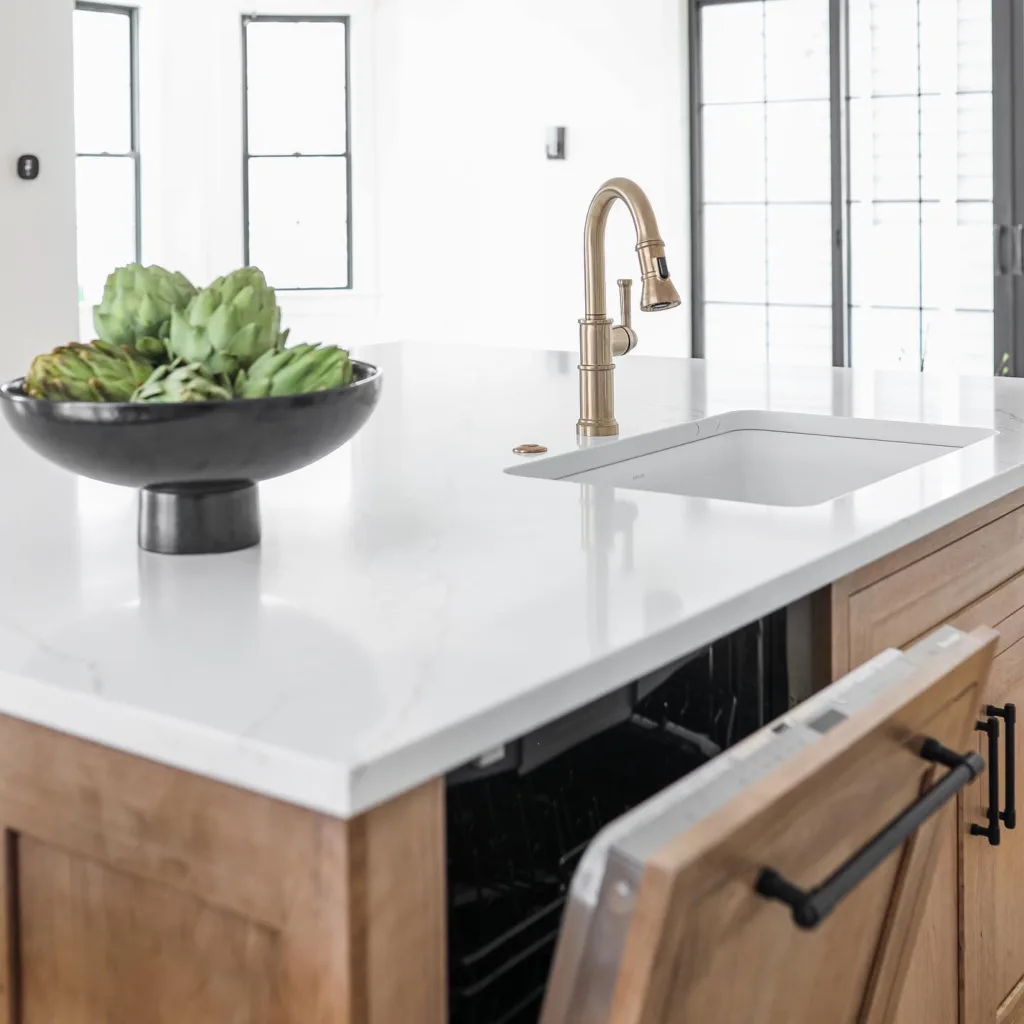 Don't forget that white oak can be great for paneling appliances like this dishwasher. While stainless steel appliances are viewed as high-end, we're beginning to see paneled appliances trending again.
20. white oak cabinets and island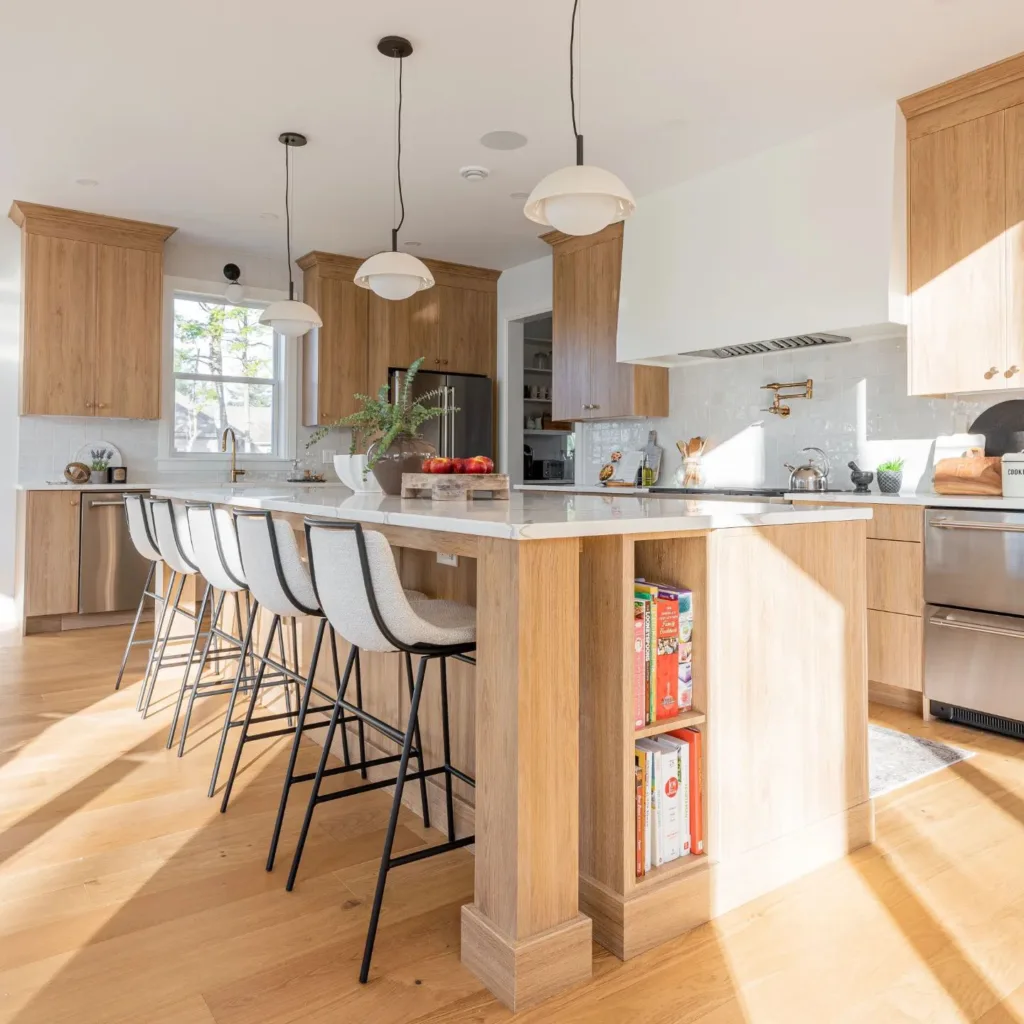 This kitchen mixes white, black, and natural wood to create a simple but elegant design. The large white range hood and countertops help to break up the wood in this space.
21. warm neutral kitchen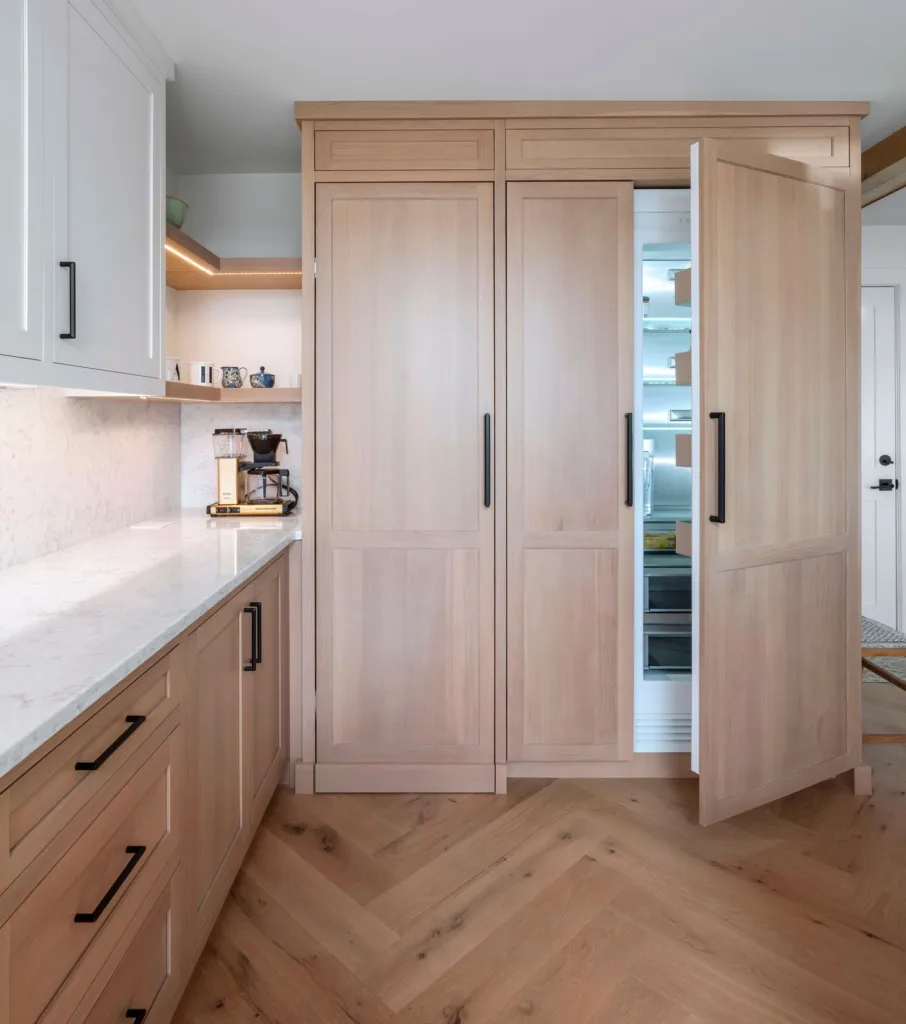 Matching the cabinets to the herringbone wood floors in this kitchen gives it a cohesive and beautiful look. We love the large white oak paneled refrigerator in this design because it removes stainless steel from the space entirely.
22. small white oak kitchen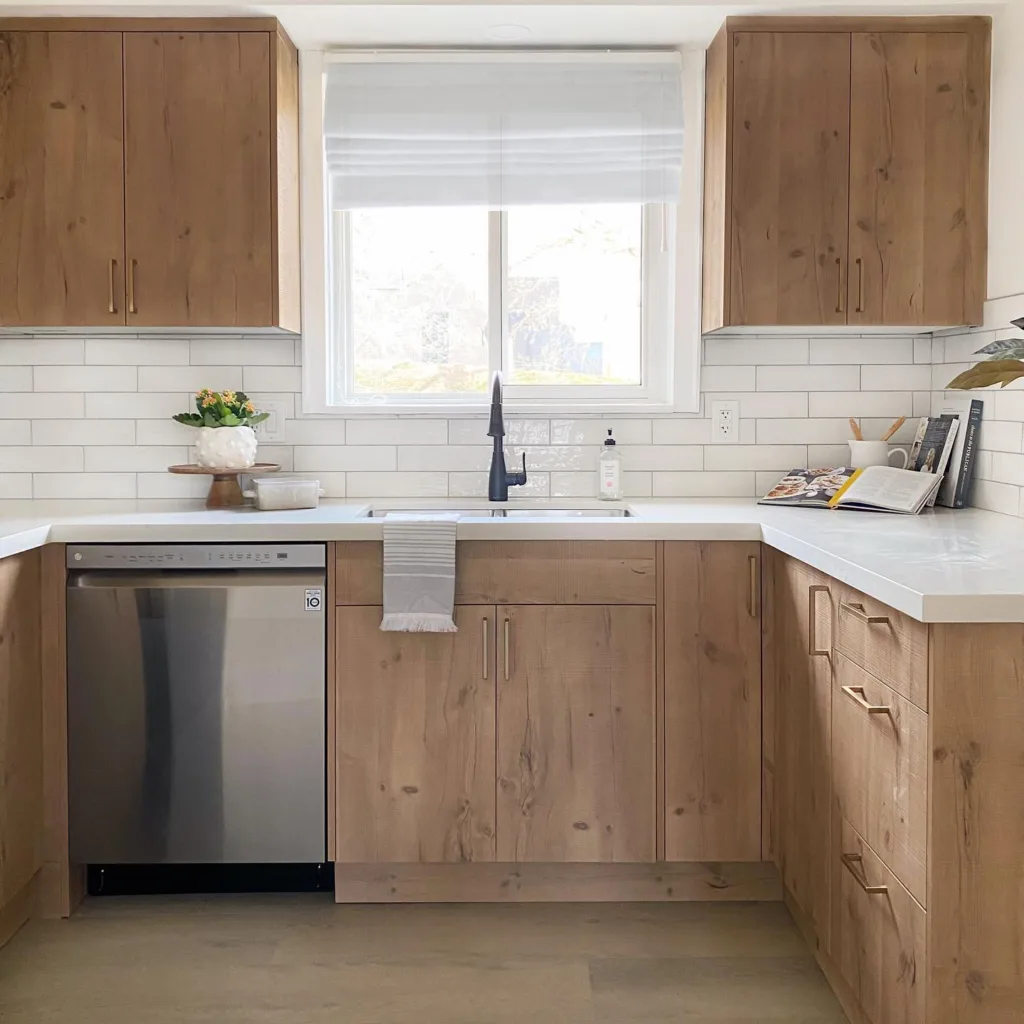 This small kitchen proves you can still create a beautiful design without costing too much. Using basic standard cabinetry and white subway tile, this design isn't too expensive but still looks stunning.
23. white and white oak kitchen cabinets mixed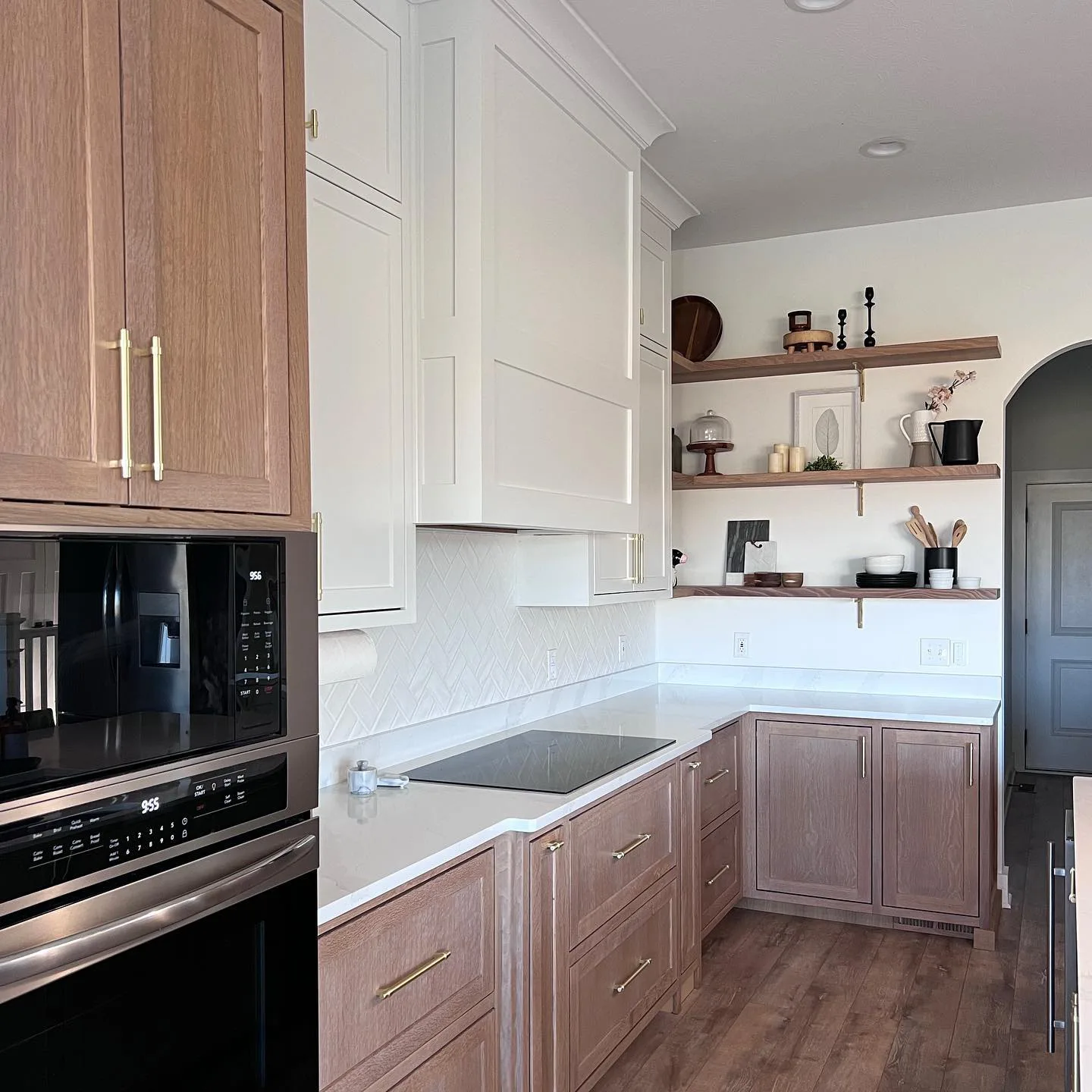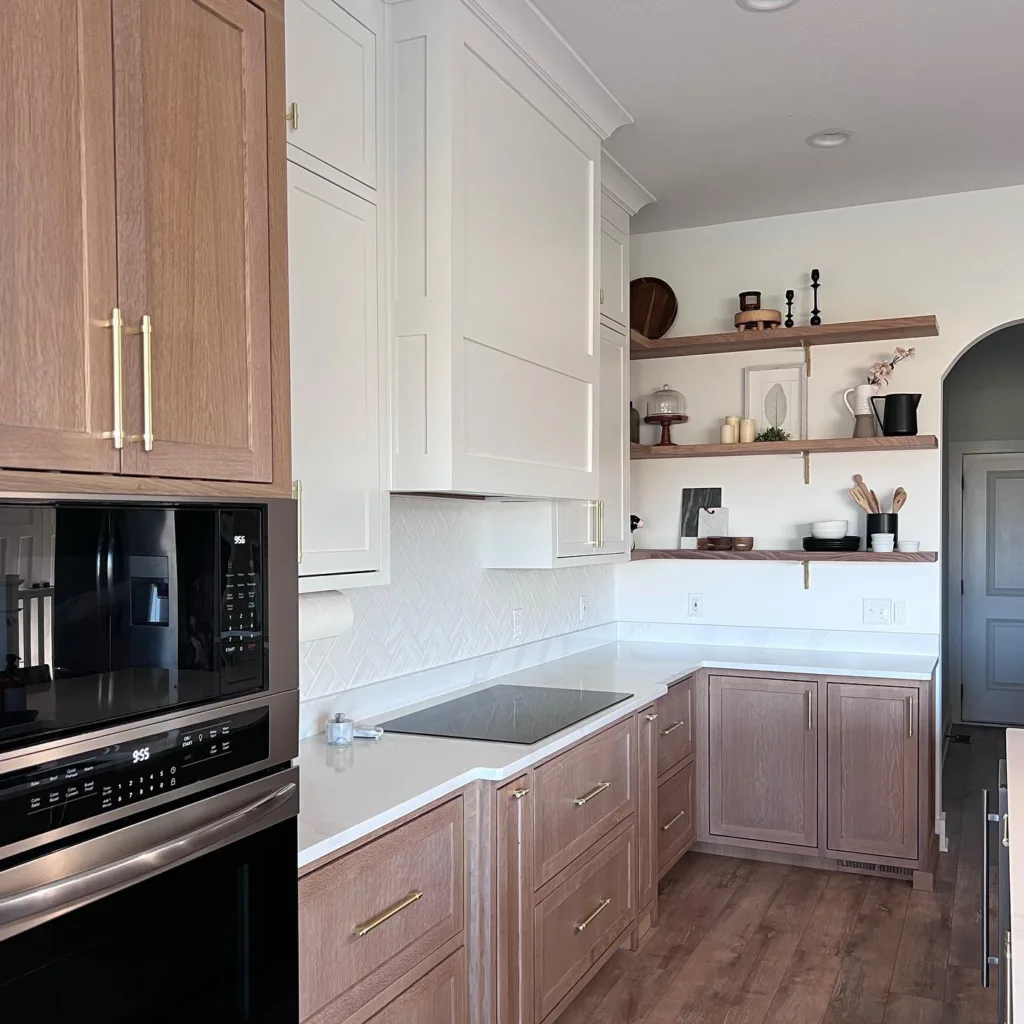 While not common, we love the mix of white and white oak cabinets in this kitchen. The gold hardware helps pull all the cabinetry together while still looking cohesive.
24. white oak paneled refrigerator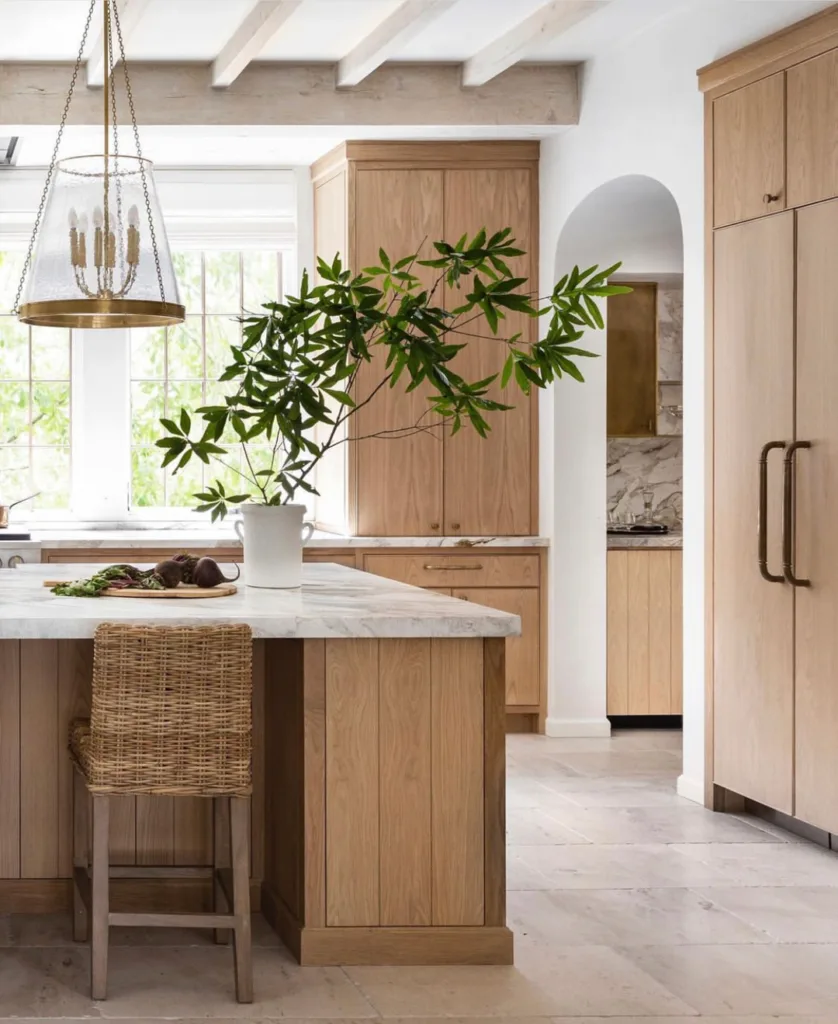 A shiplap white oak island matches the large white oak cabinets in this kitchen. The cabinets match beautifully with the natural stone floor tile.
25. stunning island with white oak cabinets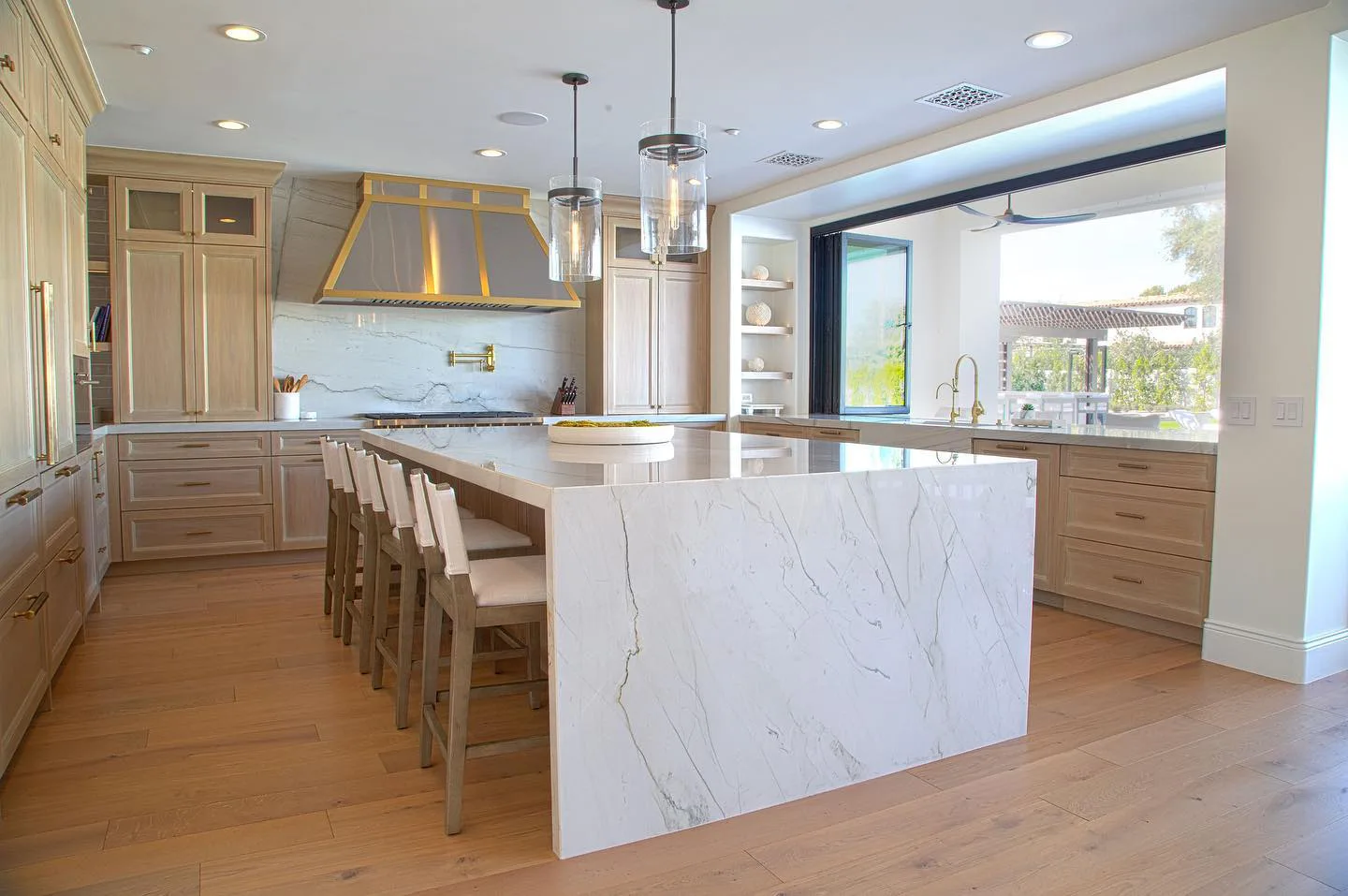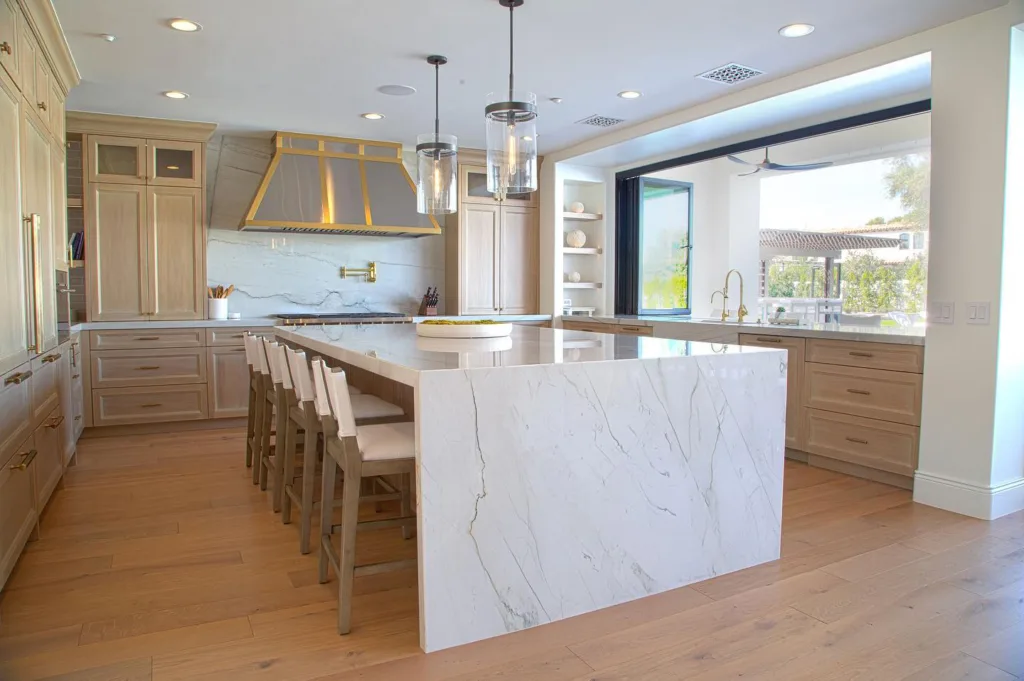 We love this kitchen's massive waterfall island that helps to accent and break up the white oak cabinets. The large window also helps to provide plenty of natural light that makes this kitchen seem even brighter.
Is White Oak Good For Kitchen Cabinets?
Let's first start with whether you should even consider white oak for your kitchen. The simple answer is yes; white oak cabinets are a great option for your kitchen. Adding white oak cabinets is a great way to give your kitchen a high-end and on-trend look.
White oak is also highly durable, meaning you don't have to worry about your cabinets warping or cracking with time. And while white oak stains well, the most popular kitchen styles today feature natural white oak cabinets (more on that below).
Potential Drawbacks of White Oak Cabinets
Like any wood, white oak does have some drawbacks. Along with its sturdiness, it's also a heavier wood, making it harder to install and move around if needed.
Additionally, the grain pattern tends to be more visible than other lighter woods, such as maple or cherry, meaning that it may not be the best choice if you're looking for a uniform look or to paint your cabinets.
Most of all, white oak also tends to be a more expensive wood, which can begin to add up since cabinets are already expensive!
Are White Oak Cabinets In Style?
White oak cabinets have been in style for quite some time, and they will continue to be popular in the years ahead. However, natural cabinets are having a moment right now in the kitchen and they're giving traditional white cabinets a run for their money.
Our favorite style right now is mixing and matching natural and painted cabinets to break up mono-tone kitchens. You can see this in action in the image below: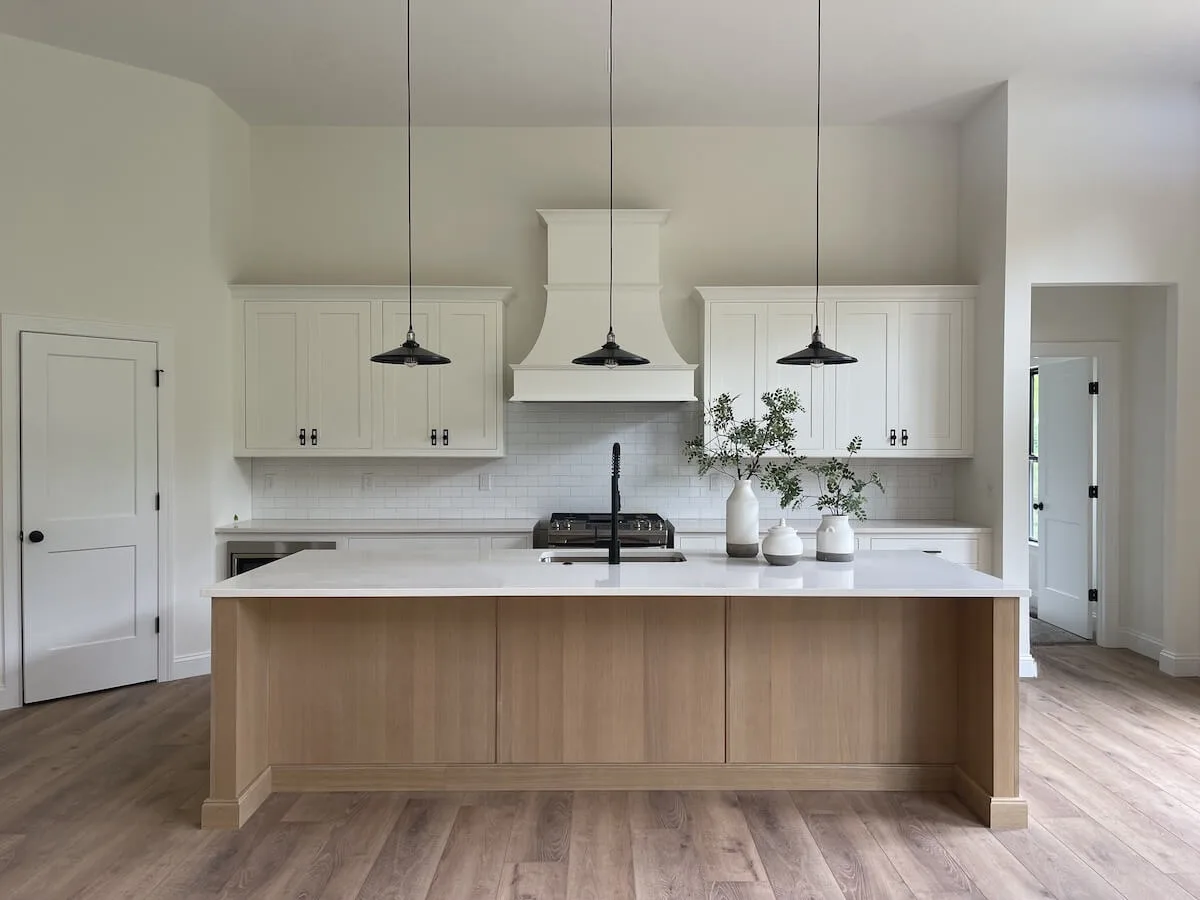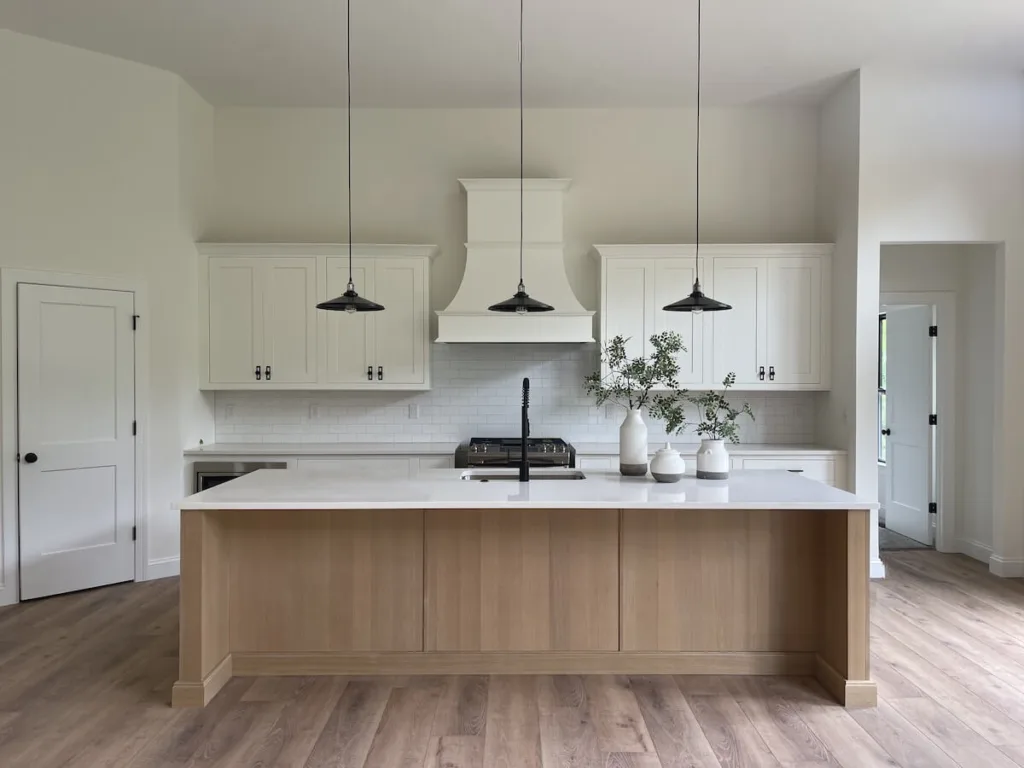 This white oak island does a great job of adding warmth to the kitchen space while breaking up the amount of white cabinetry and countertops. Plus, the yellow tone of the white oak contrasts the floor without standing out.
Overall, white oak cabinets are an excellent choice for those who want solid and timeless cabinets that will last for years. While they may be more expensive than some other wood types, their durability and classic look make them well worth the investment. Consider your personal preferences and budget when deciding, as this will help you find the right option for your home.
Are White Oak Kitchen Cabinets Expensive?
The cost of white oak kitchen cabinets depends on several factors, including quality, thickness, and the number of cabinets you need. For a standard-size kitchen, expect to pay between $5,000 and $10,000 for cabinetry. For larger or custom kitchens, white oak cabinets can cost as much as $100,000!
In general, white oak kitchen cabinets tend to be more expensive than other wood types because of the higher cost of raw materials. White oak is one of the most expensive wood types, and that translates to higher costs for finished products like cabinets or floors.
However, there are some ways that you can save money on your white oak cabinets, including shopping around at local cabinet makers or even big box stores. Ultimately your cost will depend on the type of cabinets you choose and the quality of materials used.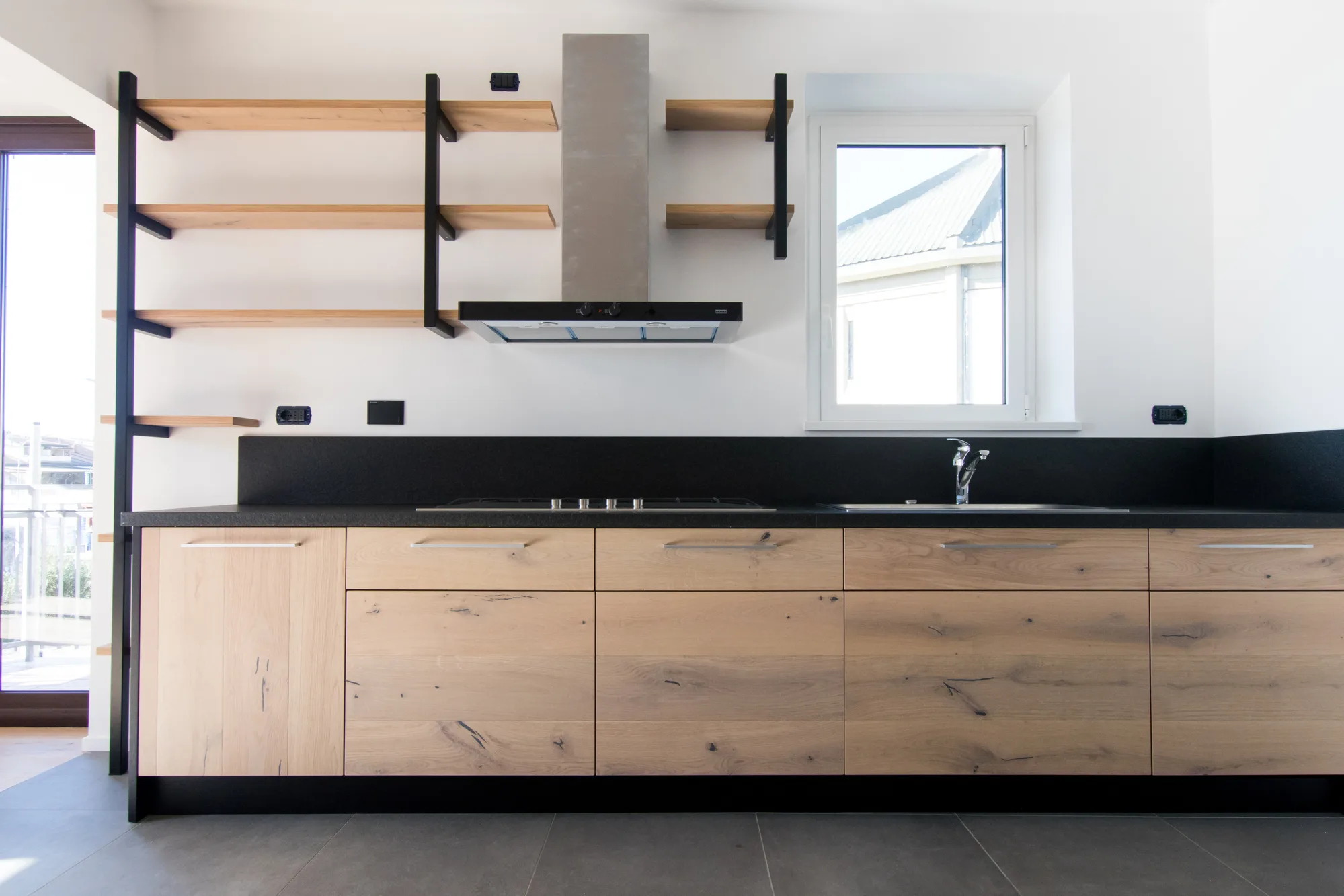 Are White Oak Cabinets Worth It?
Whether or not you should invest in white oak cabinets depends on your personal preferences and budget. If you're looking for durable cabinets with a natural wood look, white oak is an excellent option.
However, if you're on a tight budget or looking to paint your cabinets, other wood options are likely better suited to your needs. When painting cabinets, you'll want woods that absorb the paint well and don't show much grain. We'd recommend maple, alder, and birch for painted cabinets instead of white oak.
Now that we've discussed the quality, style, and cost of white oak cabinets, let's review the pros and cons.
Pros & Cons of White Oak Kitchen Cabinets
We used the simple list of pros and cons below to help us decide whether white oak kitchen cabinets were right for our home:
Pros:
More durable and stronger than many other cabinet woods
Timeless, natural wood look that brings warmth to any space
Stains well and can be finished in any color or shade
Can feature a natural stain with a modern appearance
Cons:
Heavier, making it harder to install and move around if needed
Grain pattern is more visible than other lighter woods if painted or stained
Tend to be more expensive than other wood types
Now let's talk about our final decision and whether we installed white oak kitchen cabinets in our home.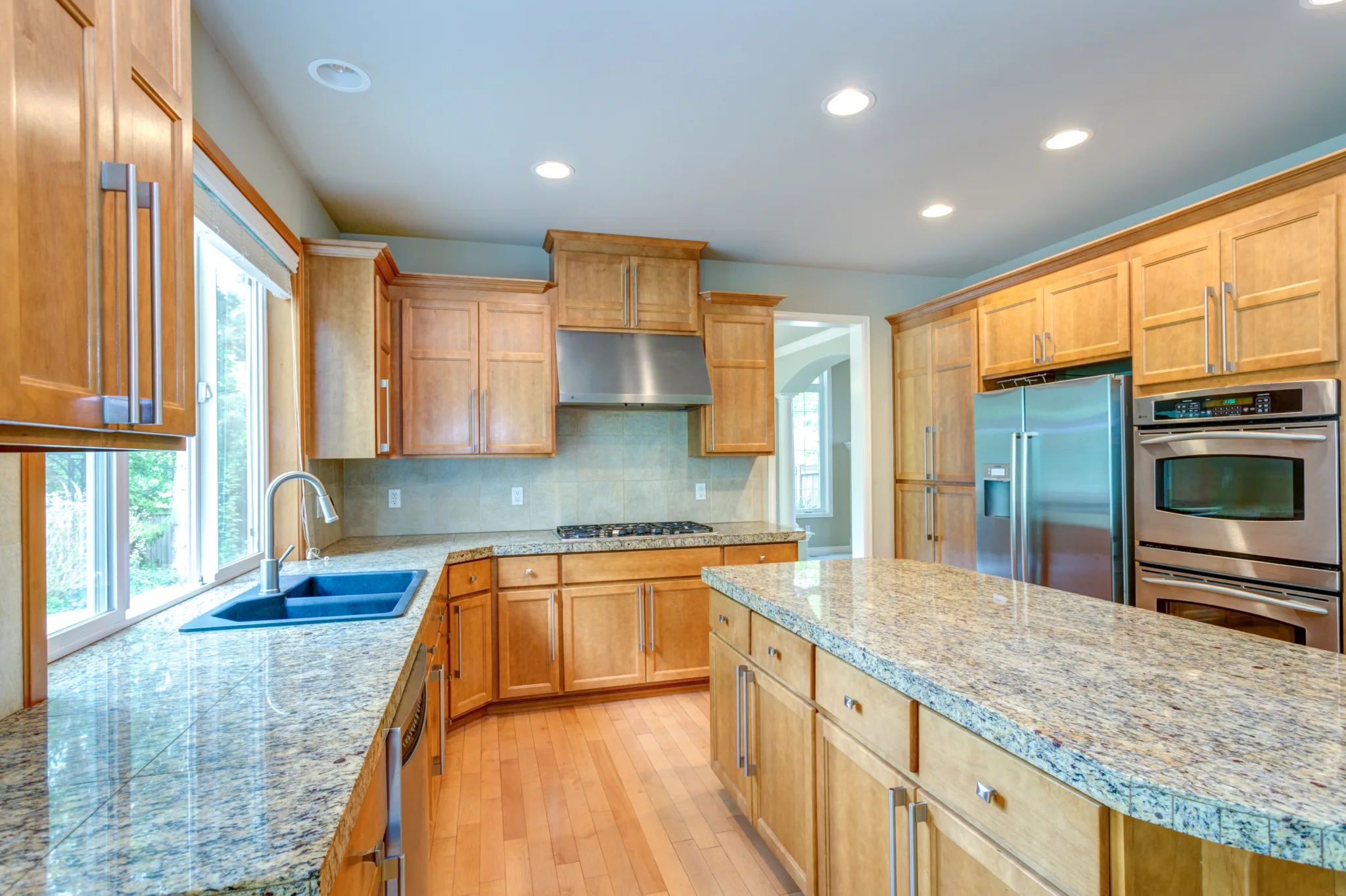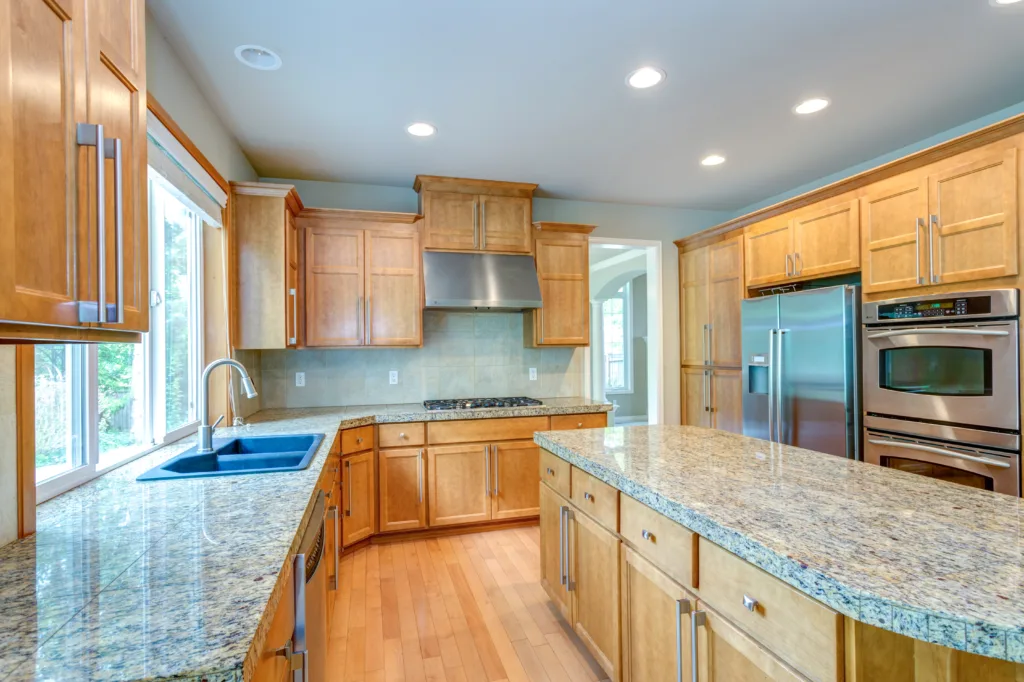 Our Decision – Did We Choose White Oak Cabinets?
In the end, we decided not to install white oak kitchen cabinets in our home. Don't get us wrong, we loved the look of natural kitchen cabinets, especially on a large island. However, our kitchen island isn't large enough to make the type of statement we want. And we knew for this kitchen update, we weren't trying to renovate the entire space.
Additionally, white oak kitchen cabinets were more expensive than we wanted. When we reached out to a local cabinet maker, they quoted us $50,000 to replace our existing cabinets with white oak! Ultimately, we painted our existing cabinets to give them an updated and refreshed look.
Frequently Asked Questions
Are Farmhouse White Oak Kitchen Cabinets Trendy?
Farmhouse white oak kitchen cabinets are a classic choice that never goes out of style. This timeless look is perfect for those who want to add a cozy, rustic feel to their kitchen without overdoing it. That said, you can always mix and match the cabinets with other styles and colors if you're looking for something more modern.
Can You Paint Oak Kitchen Cabinets White?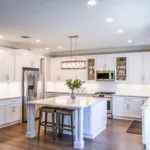 Yes, you can paint oak kitchen cabinets white. However, it is essential to use a high-quality primer and paint to ensure that the paint will adhere properly to the wood. Additionally, if your cabinets are already stained or varnished, you may need to strip them down before painting. For best results, always consult a professional if you're unsure what to do.
Can You Refinish White Oak Kitchen Cabinets?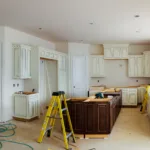 Yes, you can refinish white oak kitchen cabinets. This is a great way to update the look and feel of your cabinets without completely replacing them. Depending on the condition of your cabinets, you may be able to simply sand and refinish them with a new stain. However, if they are in bad shape, you may need to replace some parts or start from scratch. If you're unfamiliar with the process, it's best to consult a professional before refinishing.
The Bottom Line
White oak cabinets are an attractive and durable choice for homeowners who want natural-looking cabinets that will last for years. Although they tend to be more expensive than other wood types, their classic look and long-lasting durability make them well worth the investment.
If you're renovating your kitchen or updating your cabinets, we'd recommend determining your vision upfront and finding the best materials (within your budget) to accomplish that vision.
Have a question? Or want to share your white oak kitchen cabinets? Let us know in the comments below!