When we decided to build our home bar, one of the biggest pieces was finding and buying cabinets. After speaking with some big box stores (and having some sticker shock), we did a quick google search and found Cabinets.com. After reaching out to their team and receiving a design (and quote) we loved, we went ahead and ordered our cabinets.
In this post, we'll detail our experience ordering from Cabinets.com, including some of the hiccups we had along the way. Keep reading for our full Cabinets.com review.
Note: This review is not sponsored by Cabinets.com, nor were they aware that we would review their products during this process.
Table of Contents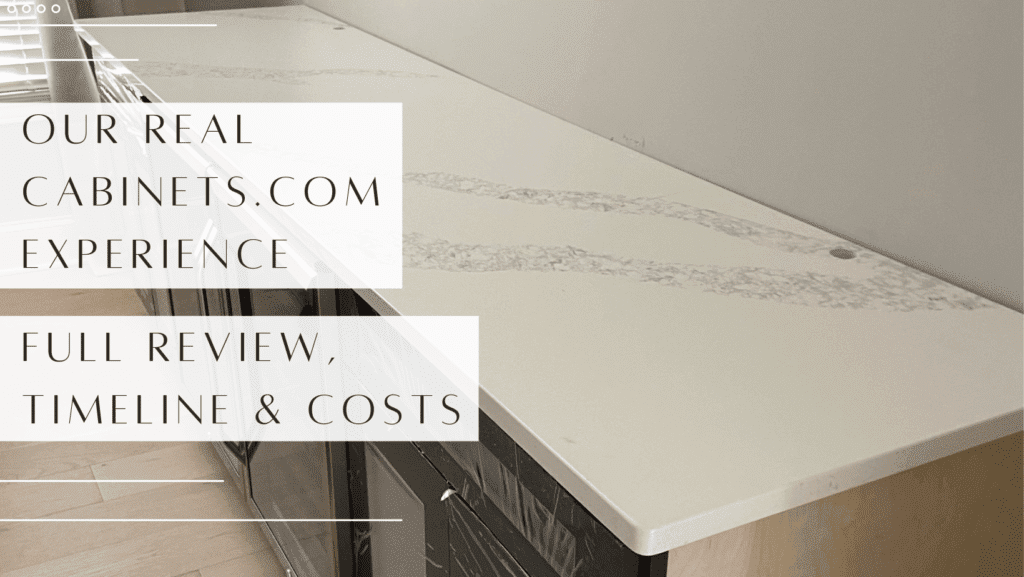 What is Cabinets.com?
Cabinets.com is a website that sells custom cabinets for home renovations and remodeling projects. They offer a wide variety of cabinet designs and styles, as well as competitive pricing and fast delivery times.
Founded in 2009, the company is focused on 3 goals:
Delivering quality
Providing competitively priced cabinets
Having an impact on the community
Where Are They Located?
Cabinets.com is located in Florida, although they ship cabinets to customers all over the country. And all of their cabinets are manufactured in the USA!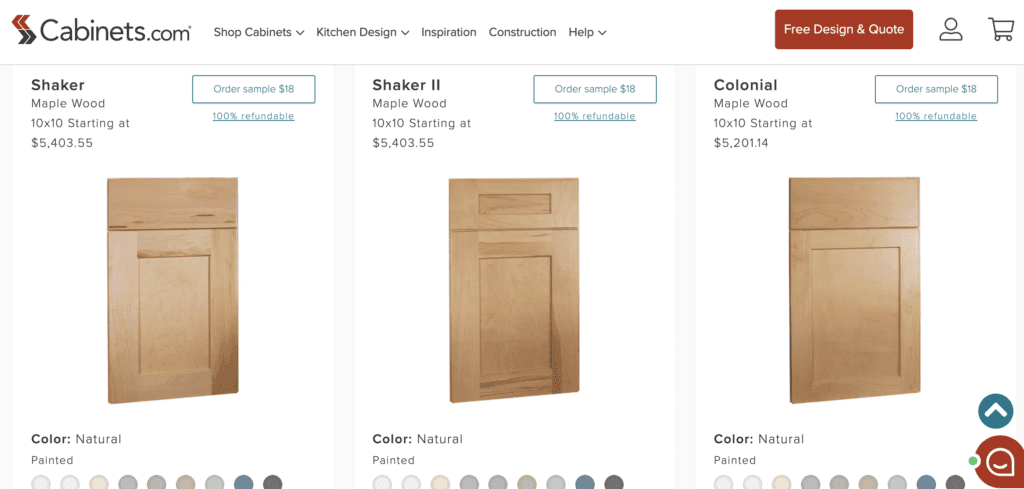 Working with Cabinets.com – Our Process
After originally getting a design from Home Depot and being shocked by the price, we decided to reach out to Cabinets.com for a quote.
Designing the Space
To start, we reached out to a designer on Cabinets.com, who helped us come up with a design for our home bar. Since we had an idea of what we wanted, they were able to hone the design and provide a mockup.
Within 72 hours, the designer provided our design along with an itemized list of everything we'd need to buy from them.
We loved the design (pictured below) and appreciated how easy the process was working with them. The next step after you have a design is to finalize the colors.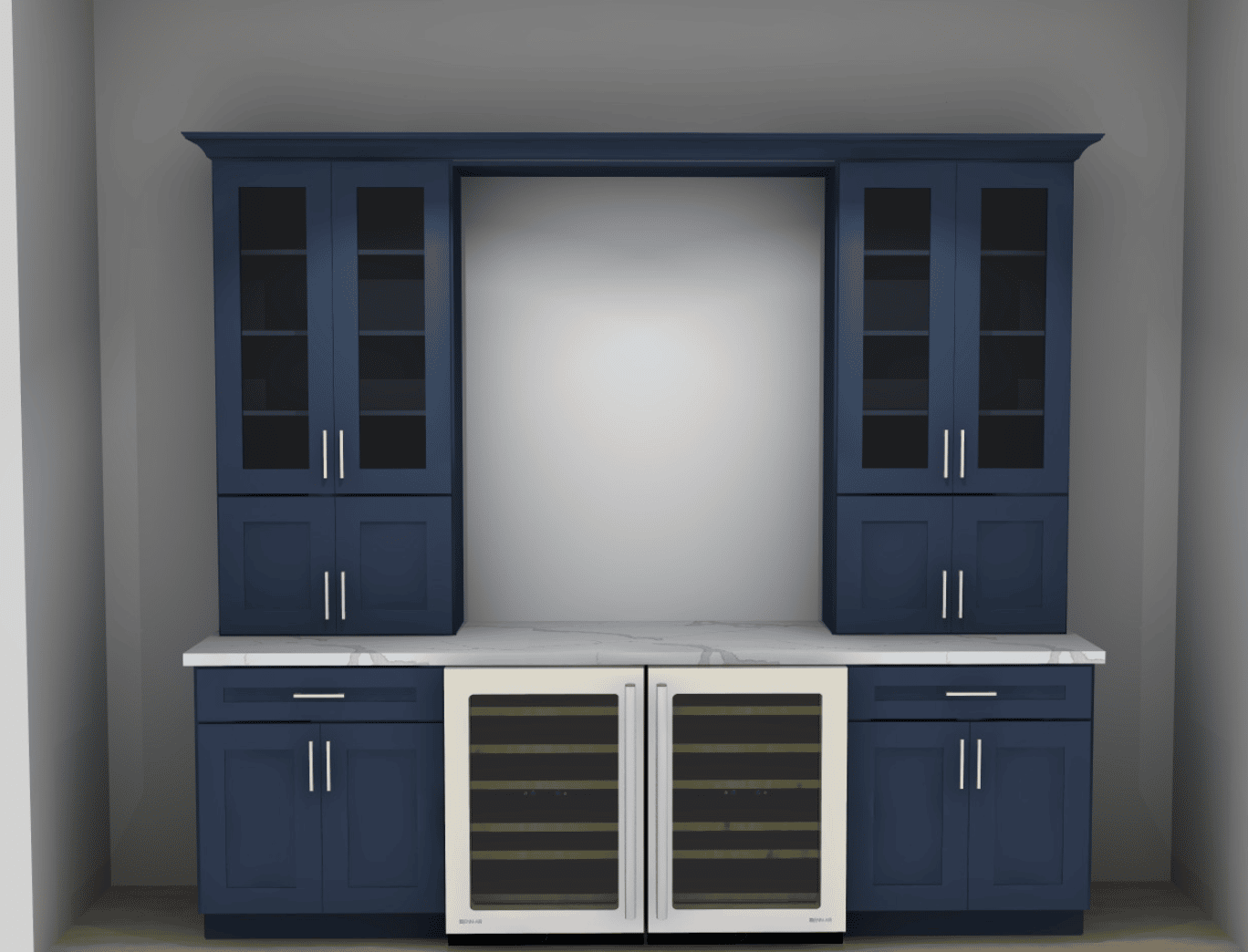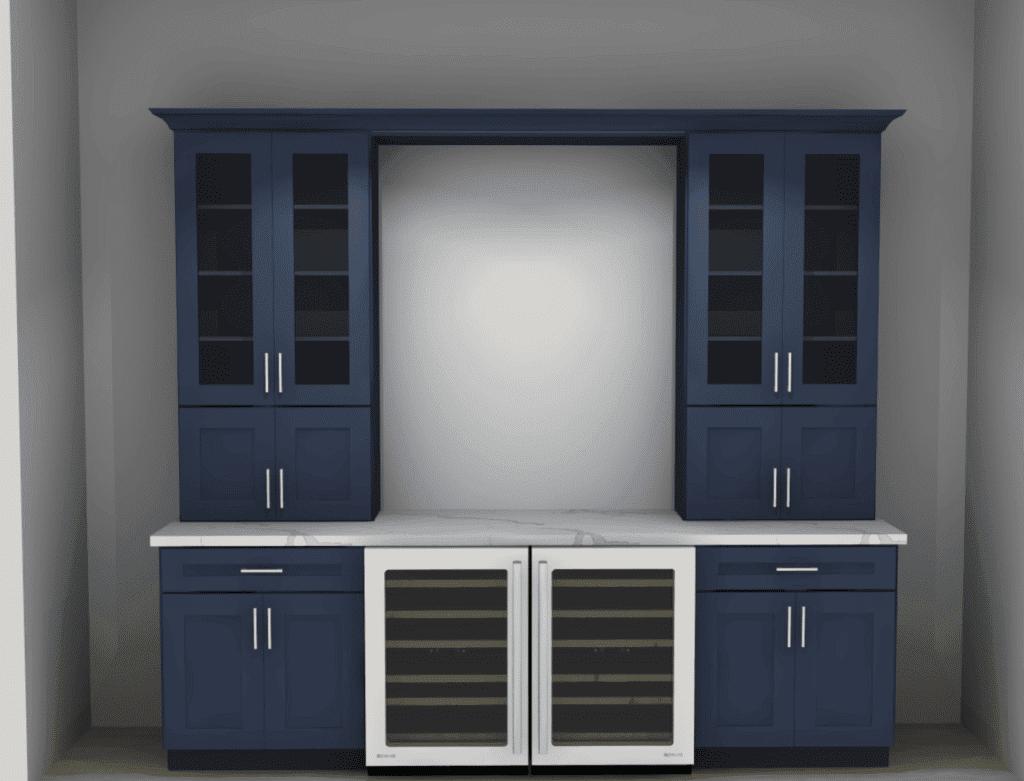 Choosing a Color
For our bar, we knew we wanted to make a statement and were leaning towards a blue shade for the cabinetry.
Luckily, Cabinets.com offers door samples so you can see both the style of the door and the color. Plus, the door samples are 100% refundable once returned. To make our decision, we ordered two samples of the Shaker-style cabinet in Naval and Midnight.
With shipping, the samples came to $38.61, all of which we received back once we returned the samples about 2 weeks later.
After receiving the samples, we decided on Naval, which you can see in our pictures further down.
Ordering Process and Total Cost
Once we decided on a color and finalized our design, we ordered our cabinets. Cabinets.com offers several different payment options, including financing, check/money order, wire transfer, and credit card. For most people like us, a credit card is likely the easiest option.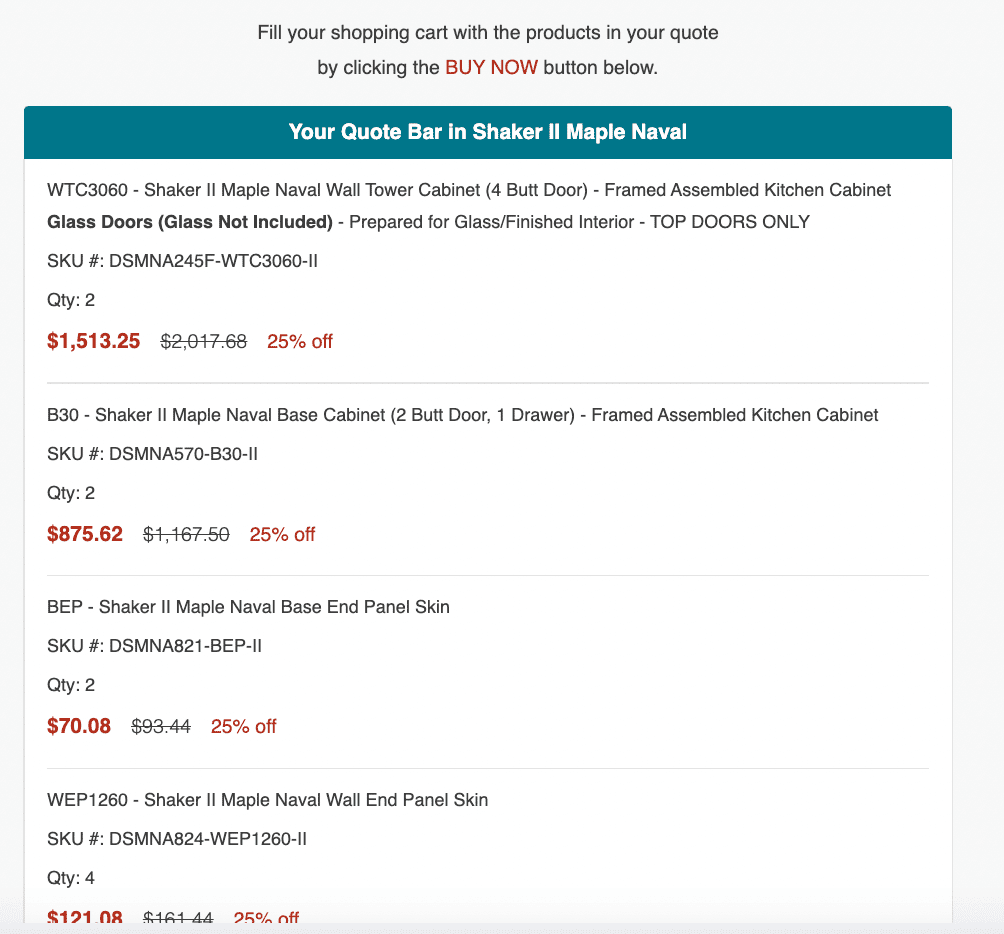 Our total cost for the cabinets, after a 25% discount code, came to $2,907.85, including crown molding, trim, and the cabinets themselves. You can see an itemized list of what we bought below:
Our Cabinets Order (All in Shaker II Maple Naval)
Wall Tower Cabinet (4 Butt Door) x 2
Base Cabinet (2 Butt Door, 1 Drawer) x 2
Base End Panel Skin x 2
Wall End Panel Skin x 4
Finished 3/4″ Shelving x 1
Toe Kick x 1
Cove Crown Molding – 3″ x 1
Touch Up Kit x 1
We really appreciated our designer putting together the shopping list since didn't realize we needed most of this.
Shipping and Receiving the Cabinets
Cabinets.com projects the lead time for all of their cabinets. When we ordered ours, it was a 12-week lead time, but they ended up being done in about 7 weeks.
The cabinets are shipped via FedEx Freight, which means it will be a larger truck delivering them. We received a notification that they were shipped and the anticipated delivery date a few days before. Then, the day of, we received a call from the driver that he was about an hour away.
FedEx Freight delivered the cabinets directly into our garage. Each one was on a pallet and wrapped in plastic wrap.
Once we unwrapped the cabinets, we were finally able to inspect them. And unfortunately, we found a few surprises.
Our Damaged Cabinets
After unpacking the cabinets, we found that the upper cabinet in our kitchen had the wrong doors, and there was also some damage inside of it.
We took pictures of each and sent them to Cabinets.com for review. Thankfully, they agreed to remake the cabinet at no cost, plus they would expedite the production so we wouldn't have to wait another 7-12 weeks.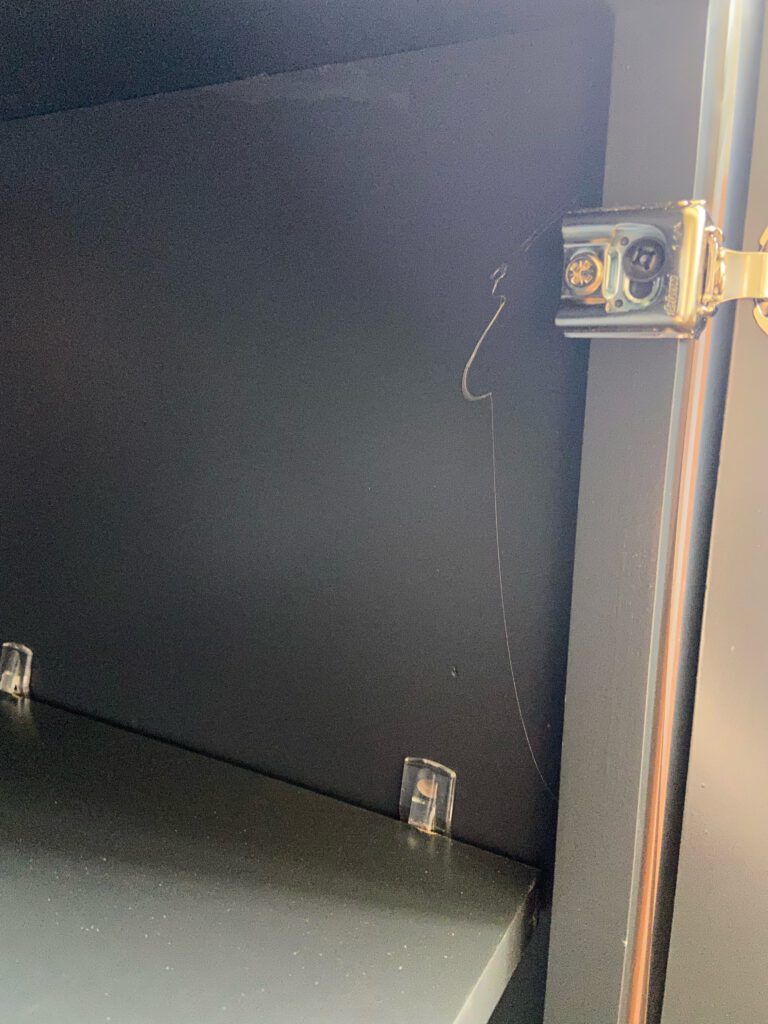 About 2 weeks later, we received the new cabinet. But unfortunately, it still wasn't perfect. The cabinet again had some internal scratches and damage. After reaching out to Cabinets.com again, they gladly remade the cabinet and offered a partial refund.
Finally, after about 2 weeks more and we received the new cabinet, which was in perfect condition. Cabinets.com also never asked for the old cabinets back, so after they sat in our garage for months, we finally sold them on a local marketplace. To find out how check out our guide to selling your leftover project materials.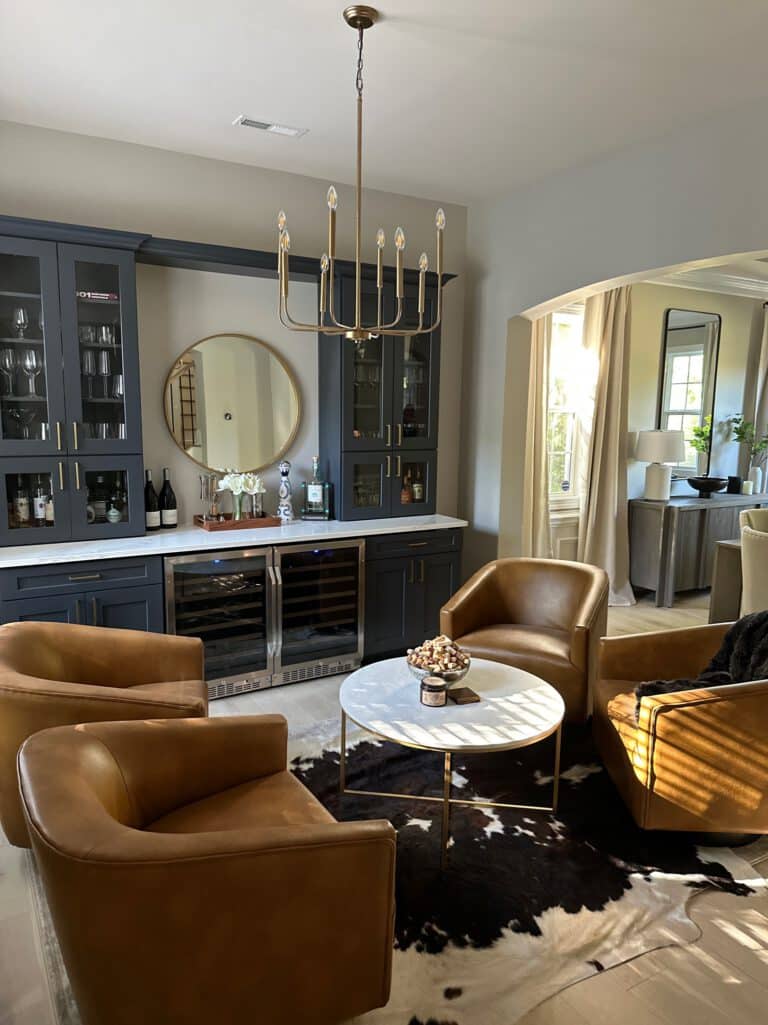 In total, our Cabinets.com order took about 12 weeks from start to end, including our hiccups with damaged cabinets. Here's how that timeline looks:
Design & Ordering – 3 days
Cabinet Production – 7 weeks
Shipping – 1 week
Remaking damaged cabinets & shipping – 4 weeks
Total Timeline: ~ 12 weeks
Our Review – Would We Use Cabinets.com Again?
Overall, we would use Cabinets.com again for our next project if they were the most competitive option. The cabinets themselves were solid and of high quality, and we appreciated the discount code they offered us upfront, as well as their willingness to remake the damaged cabinets with no questions asked.
However, given this experience, we would definitely recommend users pay close attention during the ordering process and also make sure to inspect the cabinets immediately after delivery for any damage or issues.
Bottom Line
Overall, our experience with Cabinets.com was somewhat mixed. While the quality of products and pricing are excellent, we did encounter some issues during the ordering process that were frustrating and delayed the completion of our project. Despite these challenges, we would still recommend Cabinets.com.
In total, our cabinets came to $2,907.85, including crown molding, trim, and the cabinets themselves. We did use a 25% discount code that was emailed to us by Cabinets.com after signing up for their newsletter.
Once ordered, our cabinets took about 3 weeks to ship and another week to receive them at our house.
Have you tried Cabinets.com, or have a question? Let us know in the comments!