After refinishing our stairs and not loving the results (mainly due to using red oak instead of white oak), we decided to renovate our stairs. But after DIY'ing the first try on our stairs and learning how much work they can be, we decided to hire a contractor for our staircase renovation. And naturally, our first question was, how much does it actually cost to renovate a staircase?
Through online research, we found the average cost of a staircase renovation is between $1,000 and $10,000. But it's difficult to know what those prices do and don't include and include. That's why we're sharing exactly how much we paid for our staircase renovation. Plus, the 3 quotes we received while pricing out this project.
Table of Contents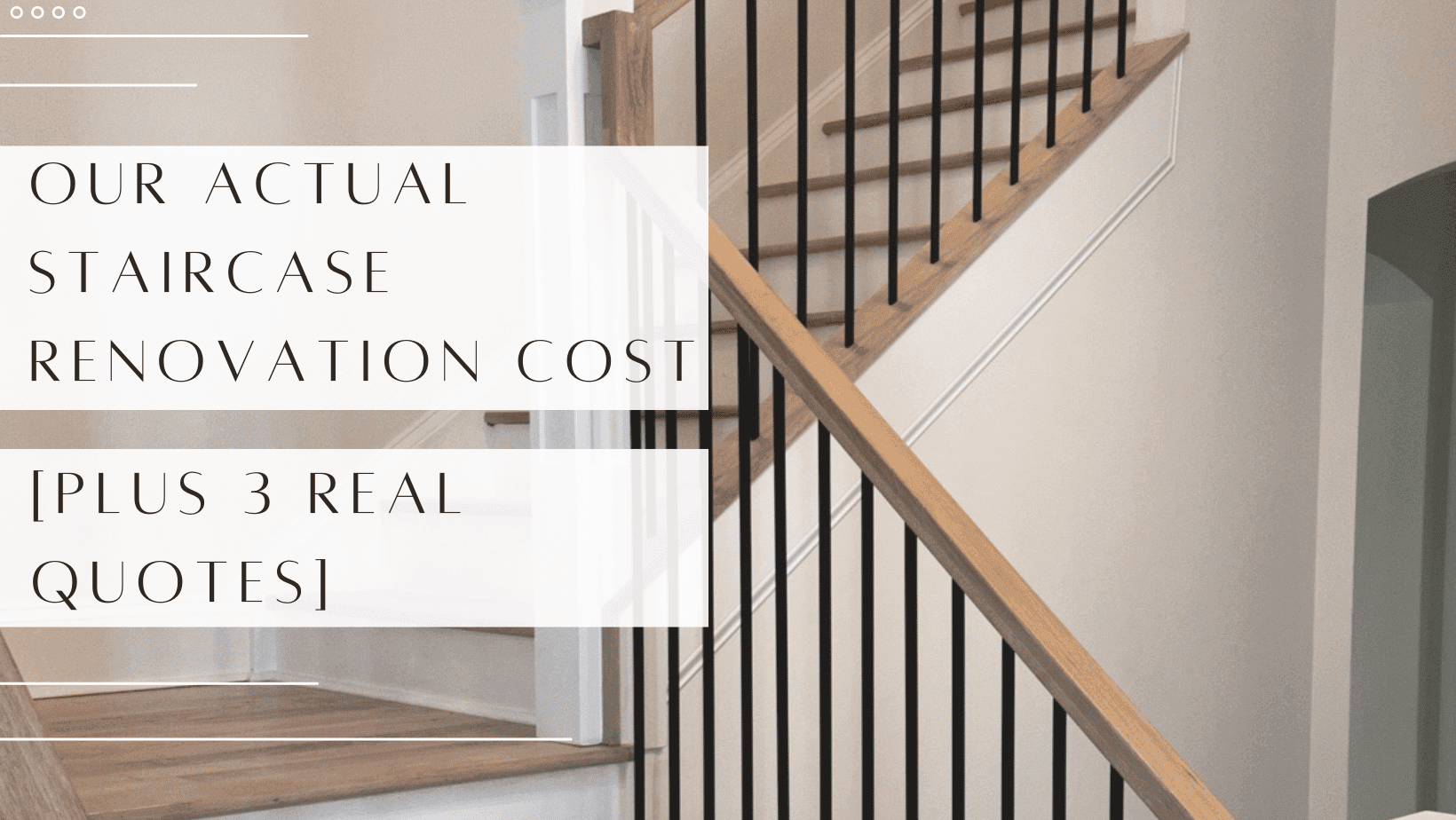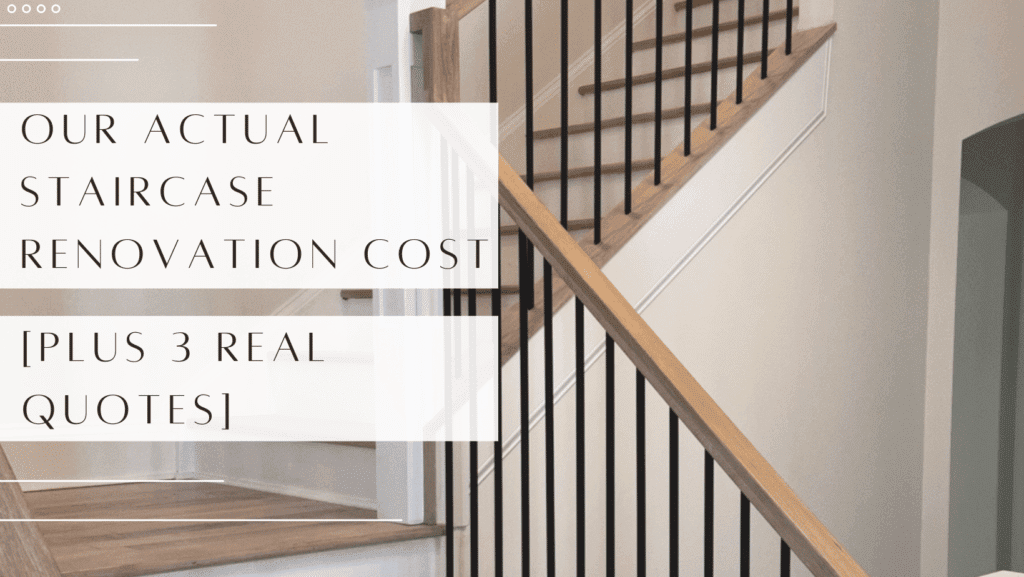 Our Stairs and Scope of the Project
Since we installed white oak engineered hardwood floors, we wanted our stairs to be lighter and match closer to the floors. This also meant we needed every part of our staircase to be renovated.
Before you talk to contractors, you'll want to know the details of your stairs. Typically stairs are measured in 7 different parts, which you can see labeled below:
Parts of a Staircase
Treads: These are the horizontal parts of your staircase that you step on.
Risers: These are the vertical parts of your staircase in between each tread.
Landings: If your staircase has a turn or angle, there will be a flat landing in between.
Banisters: Also called handrails, these are the horizontal bars that you hold onto while going up or down the stairs.
Newel posts: These are the large vertical posts at the beginning and end of your banister.
Balusters

: These are the small vertical posts in between each Banister.

Shoe rail: The flooring piece that the balusters connect to on the bottom.
You can also see all of these parts labeled in the picture below: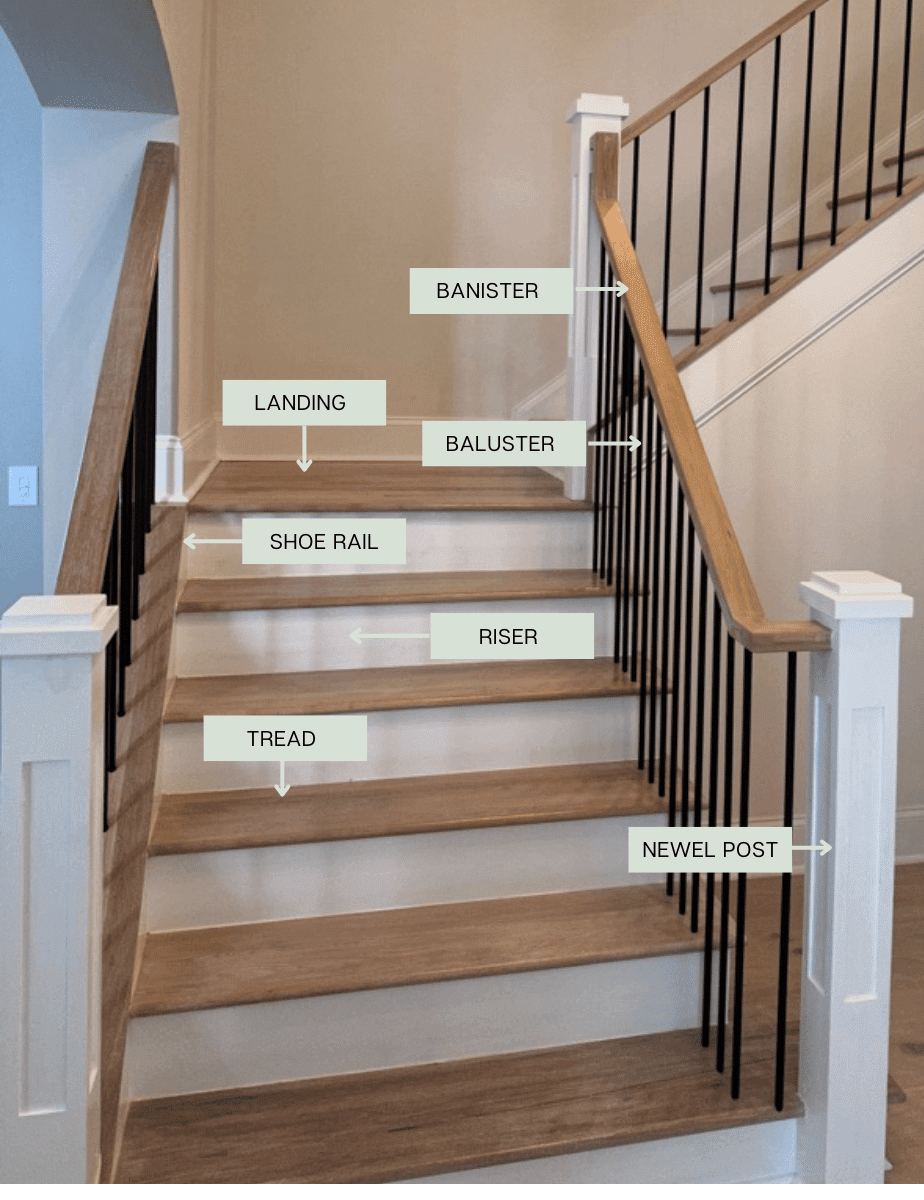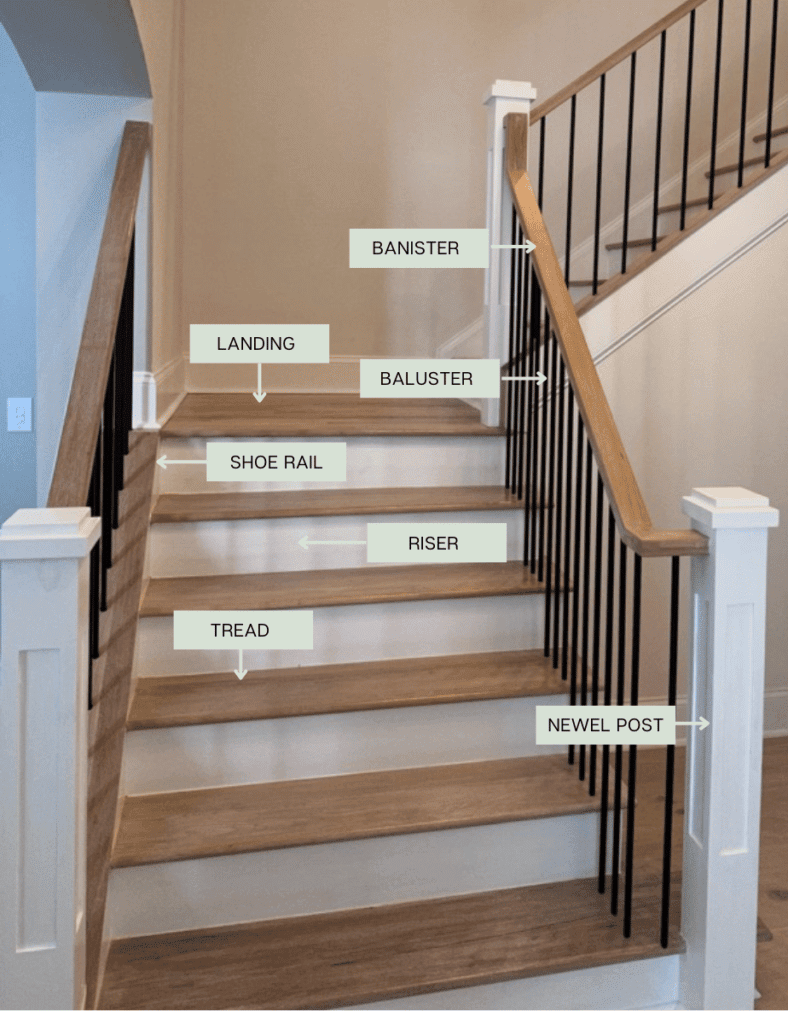 By counting these parts on our stairs, we were able to come up with a rough estimate to provide contractors. Don't worry if these numbers aren't exact; just tell them they are approximate, and they will measure on their own.
Our Stairs in Numbers
8 newel posts

10 square foot landing

16 treads

16 risers

50 feet of shoe rail

70 feet of banisters

124 balusters
Gathering Quotes
Now that we understood the scope of our project, we reached out to 3 different contractors with the numbers above and a few pictures of our design inspiration. We'd always recommend showing your contractors what your end vision is so they give you as accurate of a quote as possible.
For example, we knew we wanted white oak treads and showed designs with this look along with telling our contractor. This allowed all of our quotes to factor in the cost of white oak instead of red oak (which is typically used in stair remodels).
Check out our favorite 11 stair design inspirations and ideas here.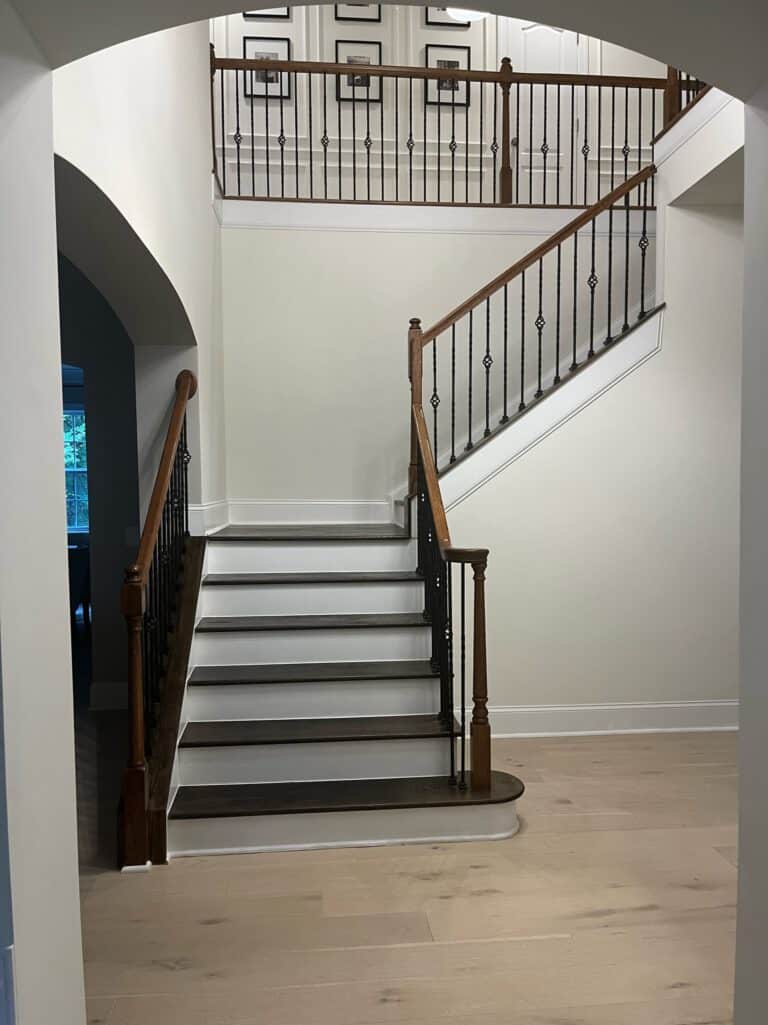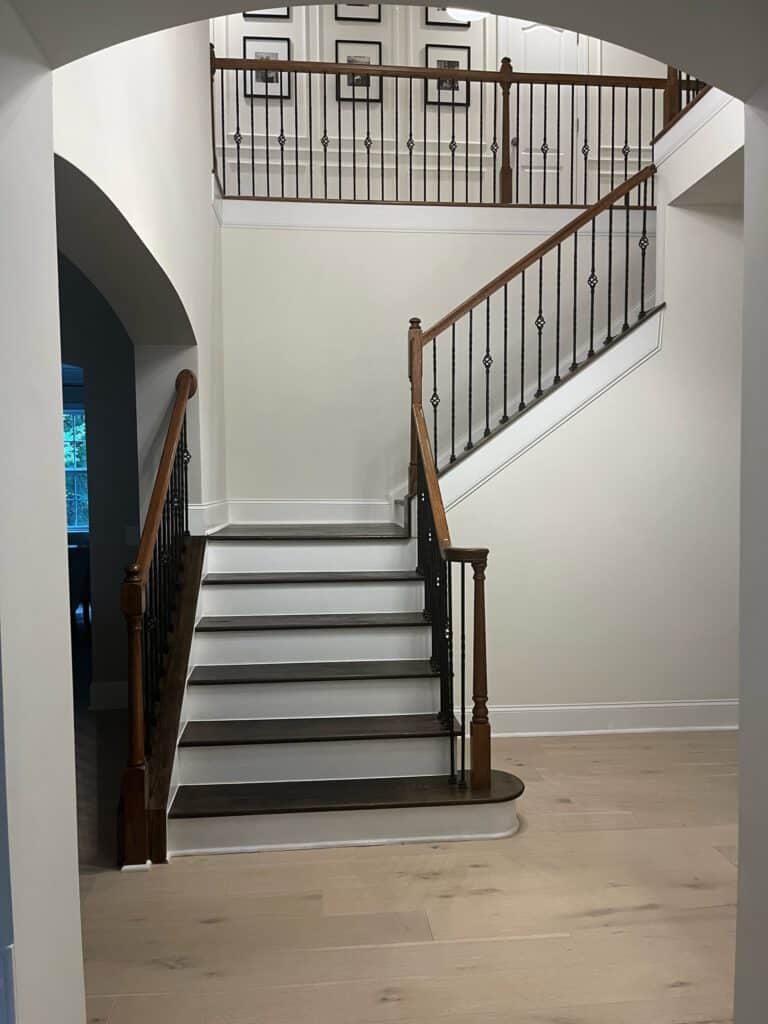 3 Stair Renovation Quotes We Received
We provided three contractors with the same details about our stairs and received the 3 quotes back. You can compare these prices to the size and scale of your project for a better estimate of the cost.
Quote 1: Thumbtack Installer
Note: this contractor bundled the pricing for all the items into remodel and painting categories:
Remodel: $9,400

Prepare work area, remove current treads, landings, newels, rails, rail caps, and balusters. Install (16) white oak solid treads, (16) birch risers, (1) new white oak solid hardwood landing, (8) new poplar newels, new white oak squared rails, new white oak rail caps, and (124) black satin plain hollow iron balusters without shoes.

Painting:

$1,400

Stain new treads, landing, rails, and rail caps to match the floors color and paint newels and risers
Total Quote 1 Cost: $10,800
Quote 2: General Contractor
Materials:
Treads and risers: $996
Landing remodel: $106
Newel posts: $856
White oak banister: $1,628
Iron balusters: $452
Total Materials: $4,038
Labor:
Prep, demo, installation, staining, painting, and cleanup: $4,800
Total Quote 2 Cost: $8,838
Quote 3: Local Stairs Renovation Company
Materials:
White oak treads: $806
Birch risers: $406
Landing hardwood: $206
Newel posts: $912
White oak banister: $2,426
Black iron balusters: $464
Total Materials: $5,220
Labor:
Prep, demo, installation, staining, painting, and cleanup: $6,000
Total Quote 3 Cost: $11,220
Our Reaction to the Quotes
We were actually surprised by how reasonable all of the quotes were. While our initial research gave us an idea of $1,000 to $10,000, that seemed low, especially for how many banisters and balusters we have. But we were pleasantly surprised when the quotes we received weren't that far off the range. All that was left was to pick a contractor.
Picking a Contractor
After seeing some of the mistakes our flooring installer made, we wanted a contractor that specialized in stair remodels. We knew this wasn't a project that any contractor could do well, and we were willing to spend more for the right result. Based on that, we eliminated Quote 2.
From there, we compared quotes 1 and 3, which were very similar. In the end, we felt very comfortable with the first quote's responsiveness, online reviews, and completed project pictures they provided.
Once we confirmed and signed the estimate, they were able to start within 2 weeks! So, where did we end up with our final cost?
Our Final Stair Renovation Cost
In the end, we selected quote 1 and had no overages during the installation, which meant our final staircase renovation cost came to $10,800.
Based on the size of your staircase (treads, banisters, balusters, etc.), you can use this number to get an idea of your project cost.
We always recommend getting three quotes for any project since this will give you an idea if any of the contractors are very high or low. Plus, by seeing other quotes, you'll learn about any parts or activities other contractors are leaving off their quotes.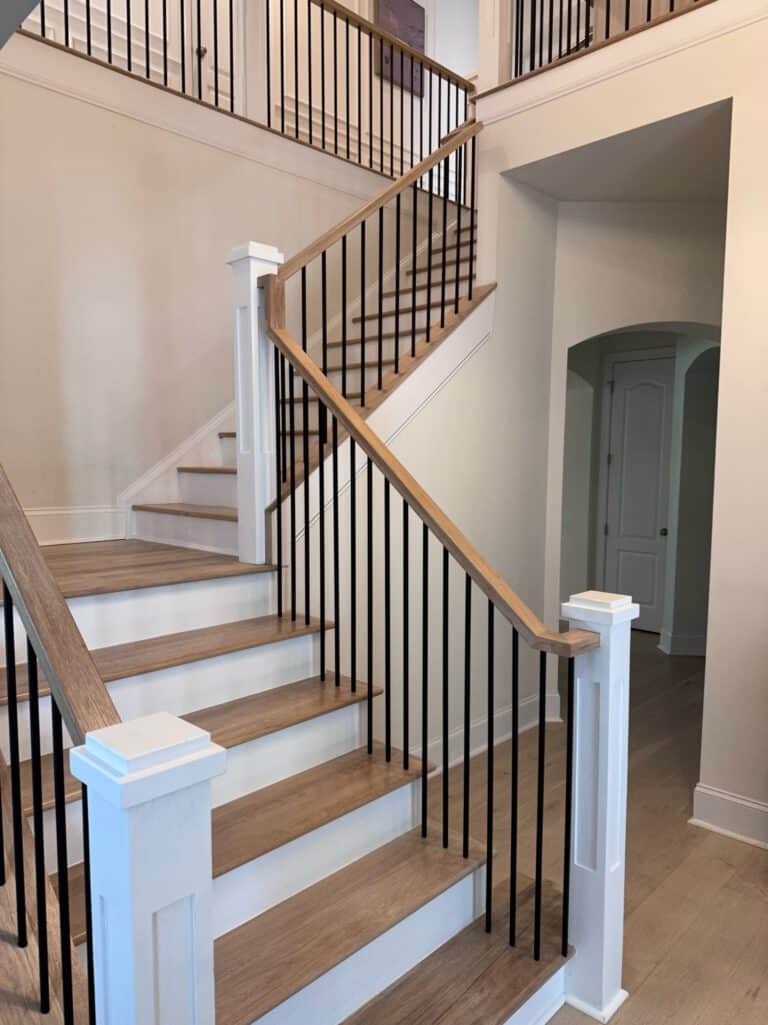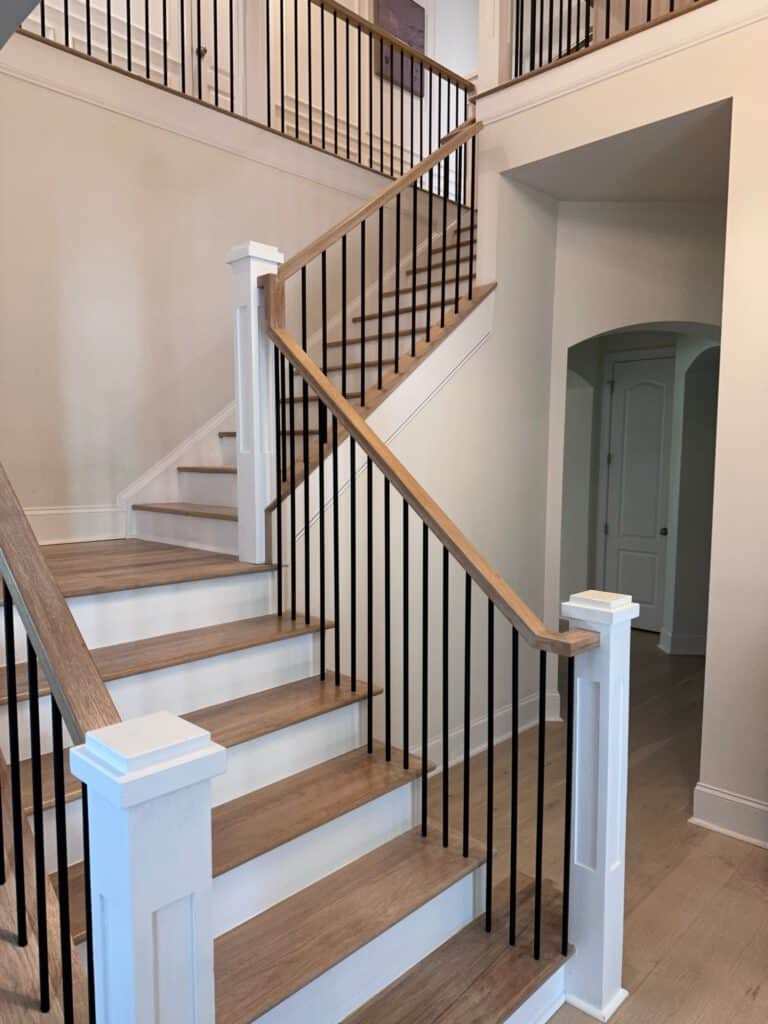 What Wasn't Included In Our Renovation?
Stair Nosing – After starting, our contractor let us know we would need to order a stair nose to for the top step to match our floors. Stair nosing is the end piece of wood that hangs above your riser. Since our top step is connected to the floors, it was a cleaner look to have this matched from our floors. We ended up ordering this part online for about $200, including shipping.
Cleanup – This goes with just about any project but you will need to clean once your contractor is done. Between all of the removal and sanding, there was a decent amount of dust around. It definitely wasn't as much as our flooring installation, but you'll still want to plan for a thorough cleaning afterward. If this isn't your cup of tea, go ahead and hire a cleaning service for a one-time deep clean.
Bottom Line
In our opinion renovating your stairs is one of the best values in home projects. Stairs are at the heart of any home, and a renovation can instantly update your home. And with our costs coming in under $11,000, we couldn't be happier. By no means is this an inexpensive project, but when you compare the cost to remodeling a kitchen or bathroom, this definitely feels like a great value.
If you're planning a stair renovation in the near future, we hope our cost guide helps set your expectations. Just remember to get multiple quotes, understand what's included (or not included), and don't be afraid to spend a little more for the right contractor.
Plus, for more information, check out Our Full Staircase Renovation Guide with Costs, Timeline & More.
Have you renovated your stairs? Tell us about your experience in the comments below!