If you're in the market for new floors, you may have come across luxury vinyl plank (LVP) flooring. When we first started planning to renovate our floors (you can read about our journey installing 3,700 square feet of white oak hardwood here), we began hearing about LVP. And we had no idea what it was. So what exactly is luxury vinyl planking, and is it the right choice for your home?
In this post, we'll take a look at what LVP is, the pros and cons of using it, how to install it, and how much it actually costs. We'll also compare LVP to some of its competitors, so you can make an informed decision about which type of flooring is best for your needs. Let's get started!
What are Luxury Vinyl Plank (LVP) Floors?
Luxury vinyl plank (LVP) is a type of flooring that looks like hardwood but is actually made from a thin layer of vinyl. The vinyl is covered with a wear-resistant top layer that makes it durable and easy to clean. This makes LVP a popular choice for high-traffic areas such as kitchens, bathrooms, and laundry rooms.
And while you may be familiar with the peel-and-stick Vinyl floors or vinyl tiles from the 80s, LVP floors have come a very long way since then. Today, LVP is made in planks similar to real hardwood and uses a click-lock system for super easy installation. Keep reading as we review the pros and cons of LVP, plus everything to know before you install it!
Benefits of LVP floors
Compared to traditional wood flooring, LVP floors have several benefits for your home. Here are a few of the most popular:
Waterproof
With their waterproof qualities, vinyl planks are perfect for protecting your floor from any number of moisture-based disasters. From spilled drinks or fruit juice to accidents with wet towels and pets who decide that there's an open sewage canal in need of scrubbing through it, these floors will keep you safe!
Unlike solid hardwood floors that don't react well to water, waterproof vinyl planks won't get damaged.
Easy to Clean
Vinyl plank flooring is very easy to clean and maintain. Since it only requires the occasional cleaning, even in high-traffic areas, it's great for people who don't have time to constantly clean their floors.
Plus, vinyl planks wear less quickly than other types of wood because they're typically protected with an anti-slip layer that keeps them looking great for years.
Realistic Appearance
While not real wood, some vinyl plank flooring gets pretty close to the real deal appearance, as you can hope. The many appearances and textures make for a great look, making this type of surface popular for people who want would floor but are worried about the wear-and-tear. While patterns will repeat across planks, this can be solved by spacing similar planks out in a room.
Durability
As we mentioned above, vinyl plank flooring is extremely durable. Unlike other materials such as wood or carpet, which can scratch easily and stain, this type of surface doesn't have that problem.
This also means you'll never need to worry about pet accidents or spills on them either since liquids won't break through the tough surface layer of LVP.
Disadvantages of LVP floors
No Repairing
Vinyl plank flooring may be the ultimate in step-by-step installation, but it comes with one major drawback: if you damage your vinyl planks, you can't repair them.
Since vinyl plank isn't real wood, it's very difficult to repair any divots or scratches. The only way to repair your floor is to replace every piece of damaged floor; scratch or crack alike, and that can get pricey quickly!
Repetitive Patterns
Since LVP patterns are printed, they can repeat across planks. This can give your floors an unnatural look. This is usually one of the biggest drawbacks of LVP floors.
But if you pay attention to the way your pattern is laid out, you can minimize the repetition. We suggest using a single plank at each door threshold and alternating the direction of planks in each row. You can also use different widths or colors of planks to break up the repetition.
Can Appear Cheap
While LVP is more affordable than solid hardwood, it can still appear cheap if not installed properly or if you purchase lower-quality flooring.
If your subfloor is uneven or you have gaps between the planks, it will look like a cheap installation. Make sure to level your subfloor and use transition strips at doors to get a professional look.
We'd also recommend getting samples of any floors and seeing how they look in your house before buying. This helps to make sure the floors look good under your home's lighting versus the showroom.
Is LVP Flooring Right for You?
If you're looking for an affordable, durable, and easy-to-clean flooring option, vinyl plank flooring is a great choice. It's also a good choice if you want a floor that looks like wood but is easier to care for. If you have pets or small children, or you're installing the floor in an area that gets wet, LVP may be a great fit.
However, if you're looking for a higher-end or more natural flooring, LVP is not the right choice. Instead, we'd recommend engineered hardwood floors that combine some of the durability of LVP with the natural appearance of solid hardwood.
LVP vs. Engineered Hardwood vs. Hardwood
Check out our useful graphic below comparing the most popular wood flooring types and LVP. Plus, check out our detailed side-by-side comparison of LVP, Hardwood, and Engineered flooring.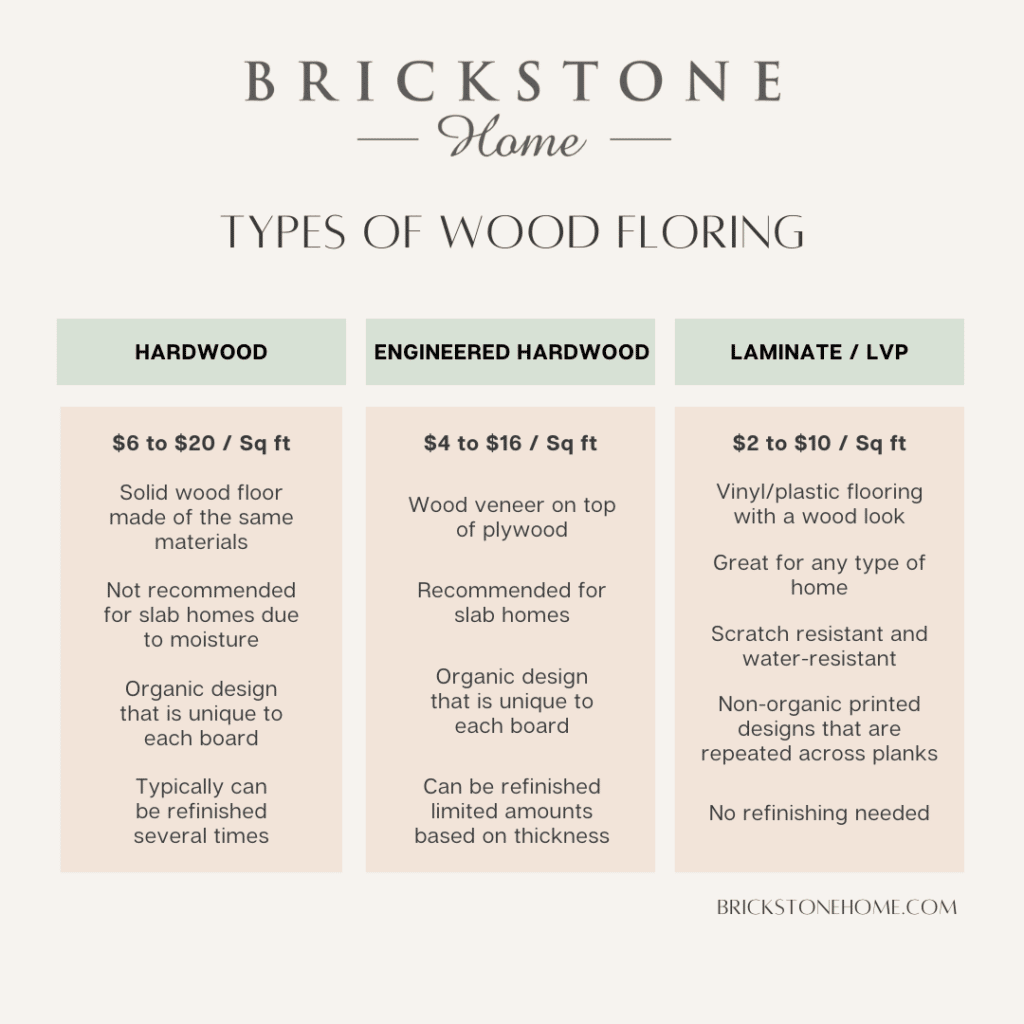 Choosing a Style of Luxury Vinyl Plank Flooring
Luxury vinyl plank flooring comes in a wide range of styles, colors, and textures. You can find planks that look like wood, stone, or even metal!
When choosing your LVP, consider the style of your home and the look you're trying to achieve. If you want a rustic look, choose a plank with a distressed wood finish. If you want a modern look, choose a plank with a cleaner finish.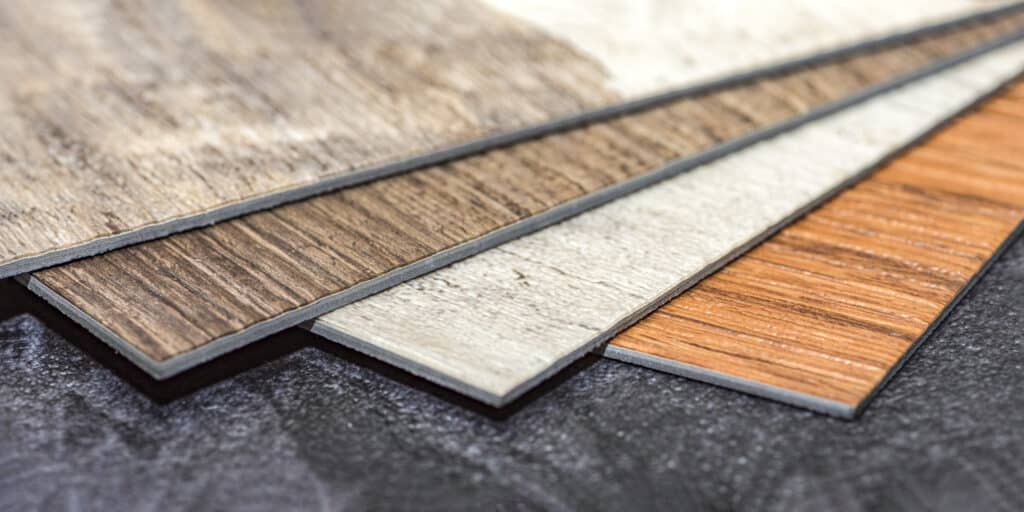 Types of LVP
There are also different types of LVP, all with different features and durability. The most common 3 variations of LVP are:
Standard Vinyl Plank Flooring: This is the most common type of LVP and is made from multiple layers of vinyl and plastic with a rigid core. Standard LVP is durable and easy to install, making it a great choice for a DIY project.
WPC Vinyl Plank Flooring: WPC vinyl plank flooring stands for wood plastic composite. These planks are made from a mixture of wood pulp and plastic, making them more durable than standard LVP. WPC vinyl plank flooring is also more resistant to water and heat, making it a good choice for high-traffic areas or homes with pets.
SPC Vinyl Plank Flooring: SPC vinyl plank flooring stands for stone plastic composite. These planks are made from a mixture of stone and plastic, making them the most durable type of LVP. SPC vinyl plank flooring is also more resistant to water and heat, making it a good choice for high-traffic areas or homes with pets.
What to Look for in LVP?
Once you choose your style of luxury vinyl flooring, you'll need to select a specific floor. Here are a few things to keep in mind when shopping for LVP:
Thickness: The thickness of your vinyl plank flooring is important for both durability and comfort. Thicker planks will last longer and feel more comfortable walking on.
Wear Layer: The wear layer is the top layer of your vinyl plank that protects against scratches, dents, and stains. The thicker the wear layer, the more durable your floor will be.
Core: The core of your vinyl plank is made from either wood pulp or stone. The type of core you choose will affect the durability and price of your flooring.
Installation Method: Luxury vinyl plank flooring can either be glued down or floating. Glue-down vinyl plank flooring is more durable but harder to install.
How to Install Luxury Vinyl Plank Floors?
Vinyl plank flooring is a simple and easy material to install, which can be cut efficiently without any bonding needed. This makes it perfect for high moisture areas such as bathrooms or basements since the product will always keep its durability even if they are constantly being splashed with water!
Installing luxury vinyl plank floors is easy since most include a "click" mechanism. This "floating" floor system installs over existing hard surfaces (even ceramic tile!) with minimal prep work.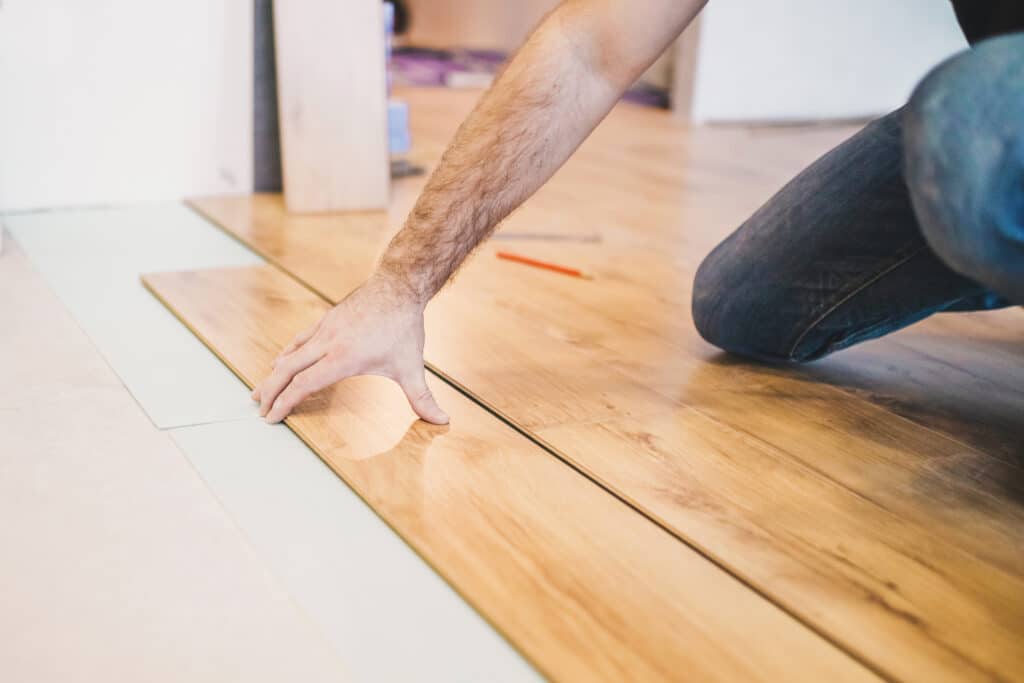 To install, simply slide the planks into each other using the built-in click mechanism. For uneven edges, you'll need to cut the planks. However, most modern LVP can be cut fairly easily and cleanly using a sharp razor blade or saw.
Check out the useful video below from The Home Depot that shows exactly how easy it is to install LVP:
How to Clean Luxury Vinyl Plank Floors?
Luxury vinyl plank floors are easy to clean and maintain. To keep your floors looking like new, sweep or vacuum regularly to remove dirt and debris. You can also damp-mop your floors with a vinegar and water solution or an approved floor cleaner.
Avoid using harsh chemicals, abrasive cleaners, or steam cleaners on your LVP floors. Since these can damage the finish and void your warranty.
While LVP floors are mostly waterproof, if you notice spills or stains, you'll want to clean them up immediately with a damp cloth or sponge. For tougher stains, you may need to use a mild cleaning solution.
To protect your floors from scratches and scuffs, place mats at entryways and use furniture pads on chairs and table legs. You should also limit wearing high heels or other shoes with sharp heels when walking on your vinyl floors.
Where to Buy Luxury Vinyl Plank Flooring?
You can find luxury vinyl plank flooring at most home improvement stores, including Lowe's, Home Depot, and Menards. You can also find LVP online from a variety of retailers.
When shopping for luxury vinyl plank flooring, compare prices and read reviews to find the best product for your needs. Be sure to check the warranty before purchasing to make sure you're covered in case of any damage.
Actual Cost of Luxury Vinyl Plank Floors
Luxury vinyl plank flooring ranges in price from $2 to $8 per square foot. The cost of your floor will depend on the style, brand, and quality of the product. From our research, the sweet spot in terms of value and quality was around $3-4 per square foot. Above those amounts and you can likely get a good quality engineered hardwood. While below those dollar amounts, the floors tend to look lower quality.
To get the best deal on luxury vinyl plank flooring, compare prices from multiple retailers and read online reviews. You can also find discounts and coupons from popular retailers to save even more money.
Bottom Line
LVP flooring is a great option for those looking for an affordable, easy-to-install floor that has a realistic appearance.
While there are some disadvantages to this type of flooring, such as the inability to be repaired and the potential for a repetitive pattern, if you're looking for floors that can take a beating, LVP is likely your best bet.
What type of floor are you considering? Or have a question about LVP? Let us know in the comments.