Laundry room tile is one of the most important design elements when building your dream laundry room. The tile you pick can help accent your style and take your space from functional to fun!
Traditionally laundry room tile has been dull and conservative since it was a room hidden away from guests. But in the last decade, well-designed laundry rooms have become the hottest trend, with stunning cabinets and beautiful floors using marble, ceramic, and subway tile!
For a modern laundry room, try using herringbone subway tile or marble floor that will add a luxurious look. Or, if you're looking for farmhouse laundry room tile, try a black-and-white pattern that will complement shaker-style cabinets. But, as you'll see below, you can find the right laundry room flooring for your home, no matter your style.
Check out the gallery below for our favorite laundry room tile and flooring design ideas!
1. White and Black Penny tile Laundry Room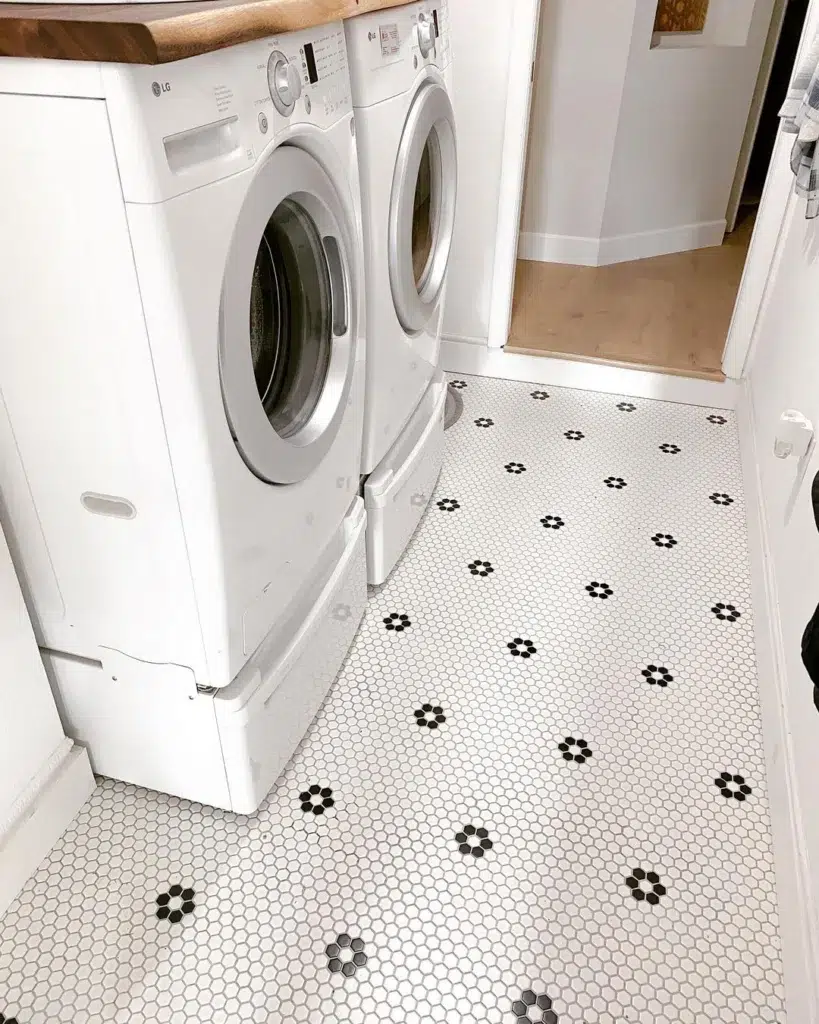 White penny floor tile with a black flower design adds stunning detail to this small laundry room. Penny tile is made of small circular tiles that feature lots of grout lines for a high-contrast look. While this type of flooring is beautiful, it can also be expensive due to the extra cuts and labor required during installation.
2. Black Marble Herringbone Tile in a Large Room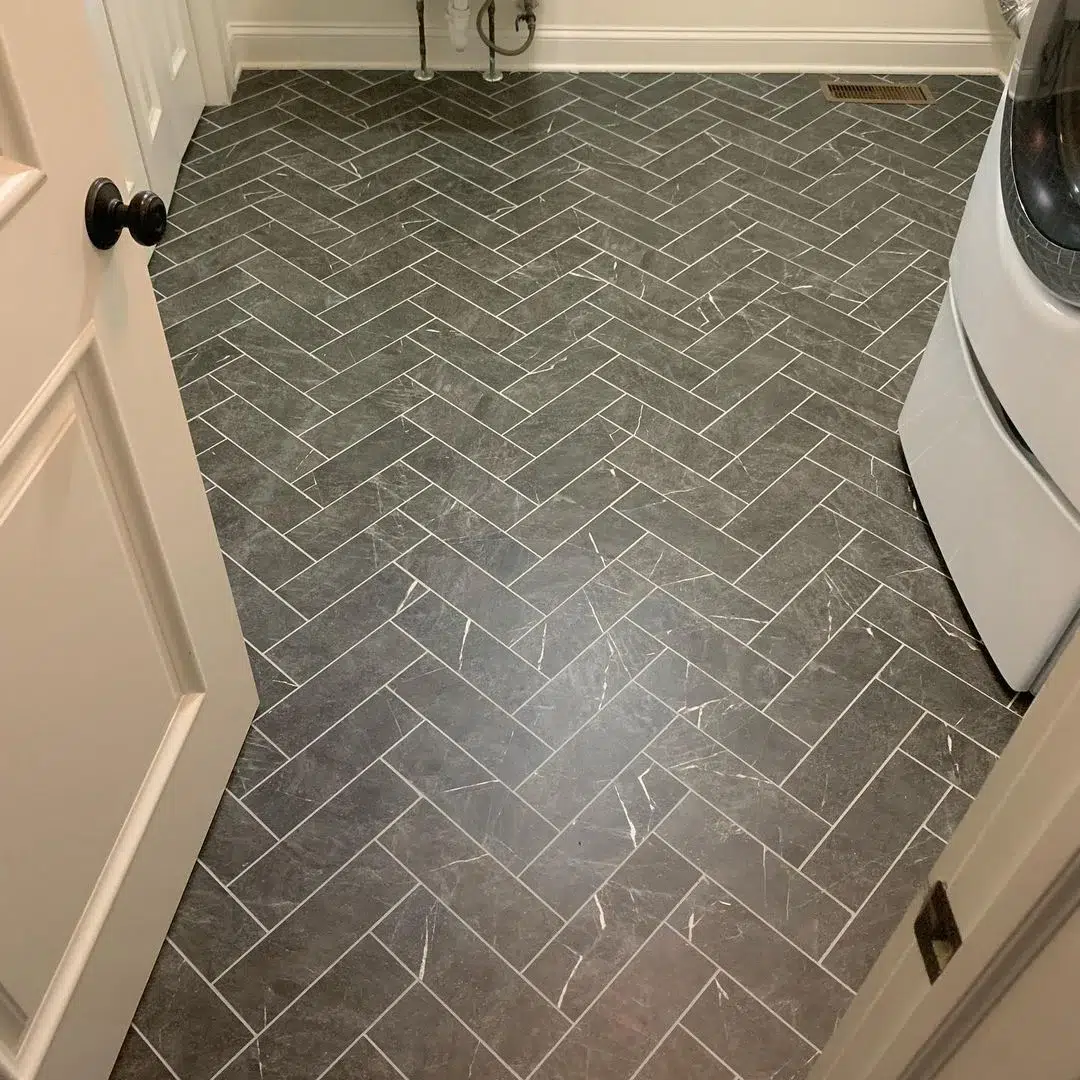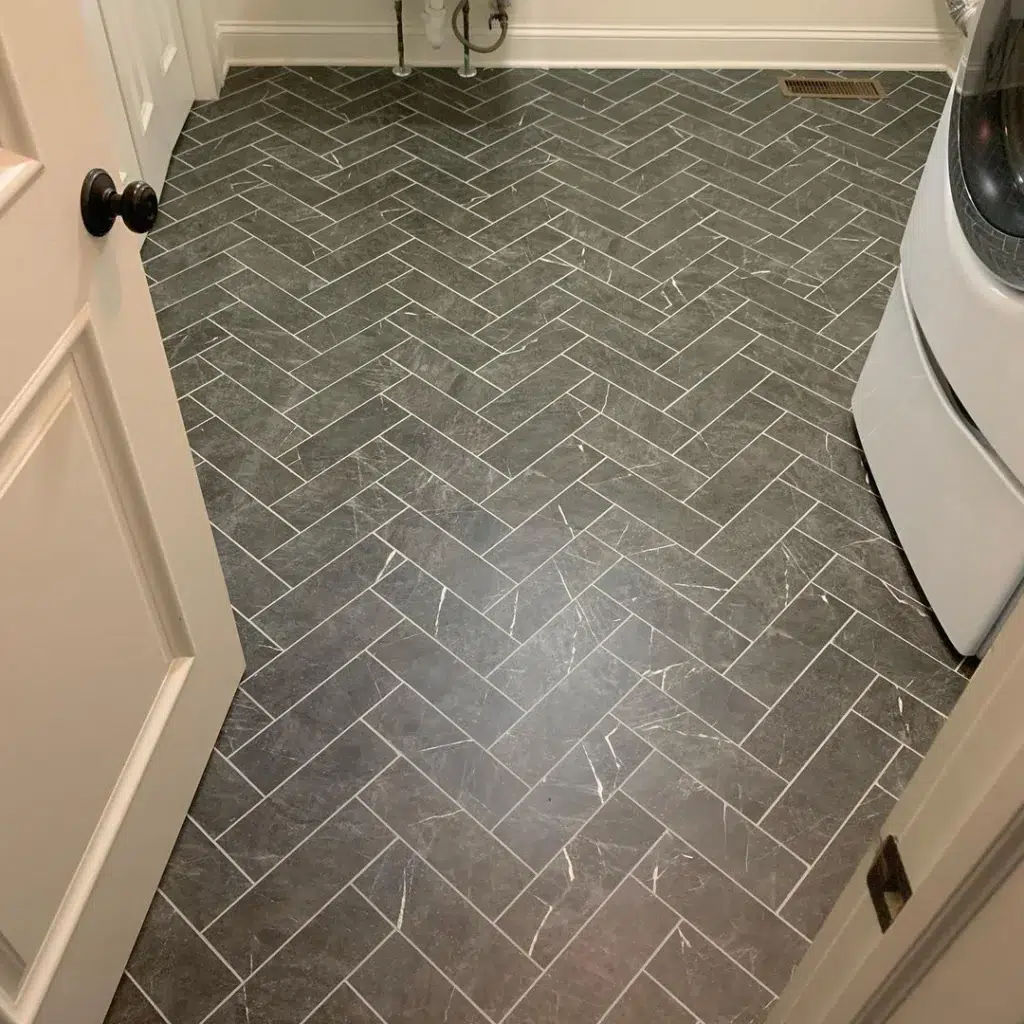 Black marble subway tile in a herringbone pattern adds a beautiful contrast to this white laundry room. The natural veining of the marble stands out in this space, and the herringbone pattern takes the luxurious look to the next level.
3. Grey Patterned Laundry Room Floor Tile
A white and grey mosaic pattern floor is laid in a laundry room with navy blue cabinets and silver hardware. A stainless steel sink is installed with a black framed window behind it.
4. Dark Grey Hexagon Tile with White Cabinets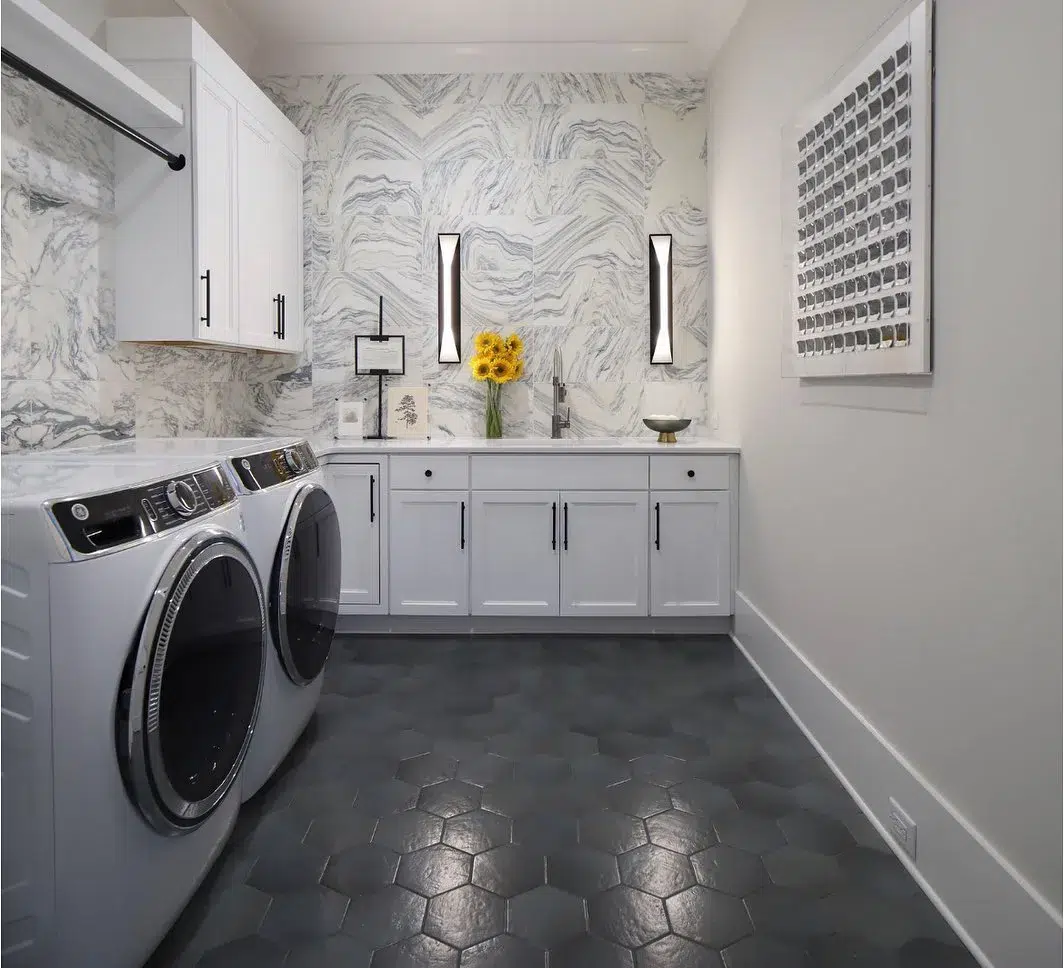 A swirl print porcelain wall tile adorns this large laundry room with a dark hexagon floor. Black grout on the floor gives the tile a seamless look that contrasts the white cabinets with black hardware. White laundry machines with black details accent the colors in the room.
5. White Subway Tile Backsplash with Black Flooring
Black and white laundry room floor tile accents the colors around the space. This large laundry room includes an island for folding clothes and double washers and dryers for maximum efficiency. Green cabinets are installed around the machines with a white subway tile backsplash.
6. Black and White Peel and Stick Floor Tile
Black and white peel-and-stick floor tile gives this laundry room an upgraded look while still fitting the farmhouse style of the home. Black hardware on the shaker-style doors adds to the country charm of this home.
7. Farmhouse Laundry Room Tile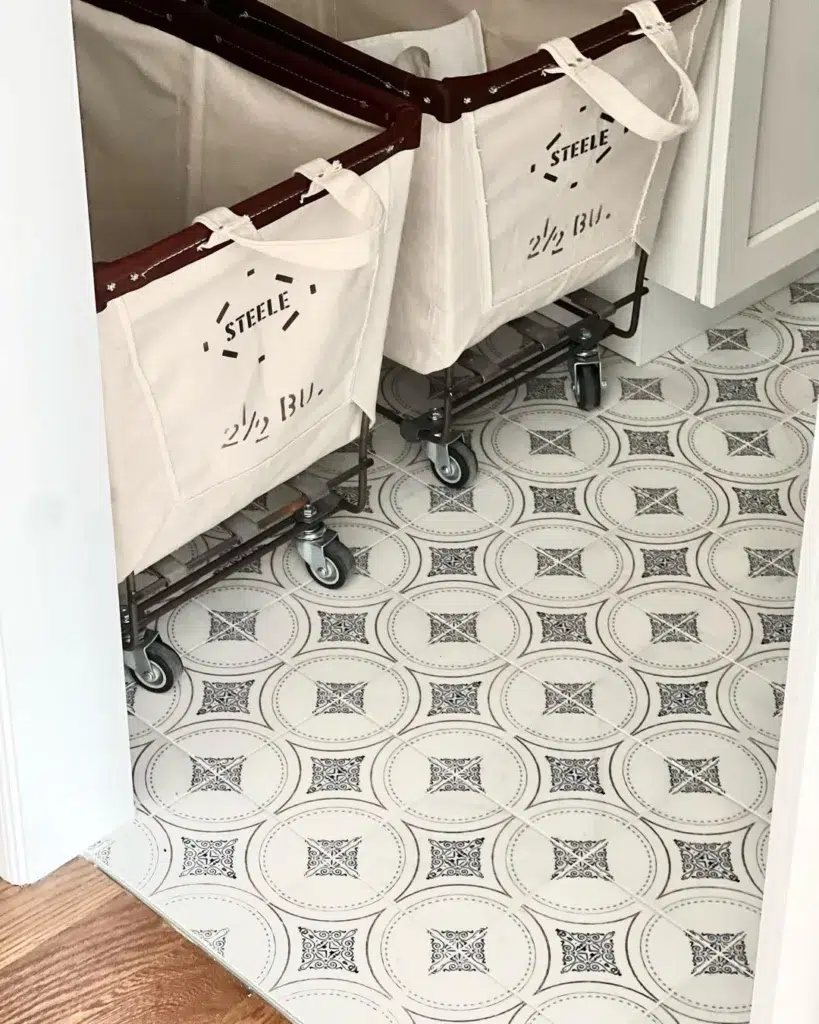 This farmhouse laundry room has grey and white square floor tile that has a faded appearance lending a rustic charm to the space. Two rolling baskets are used as hampers next to the white cabinetry.
8. Blue and Green Ceramic Tile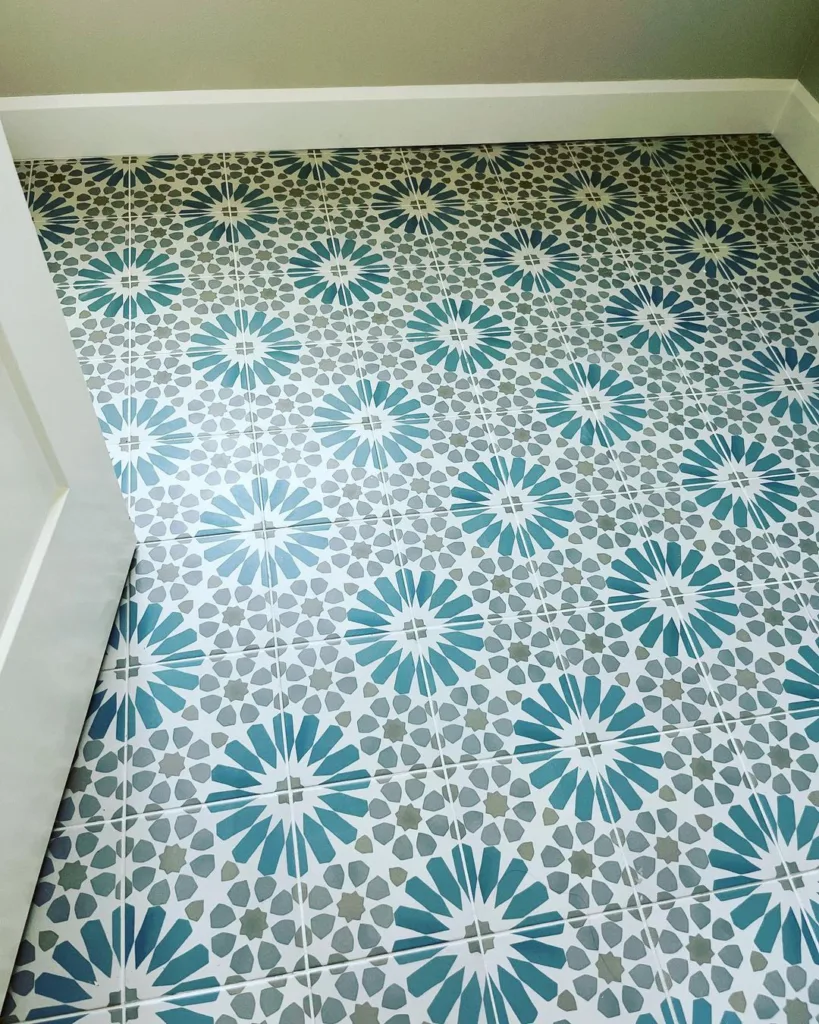 Blue and green floor tile with white accents fills this laundry space, adding a fun pop of color. While using colorful tiles can be intimidating, a laundry room design is the perfect place to get creative with your style.
9. Patterned Floor in an Earth Tone Laundry Space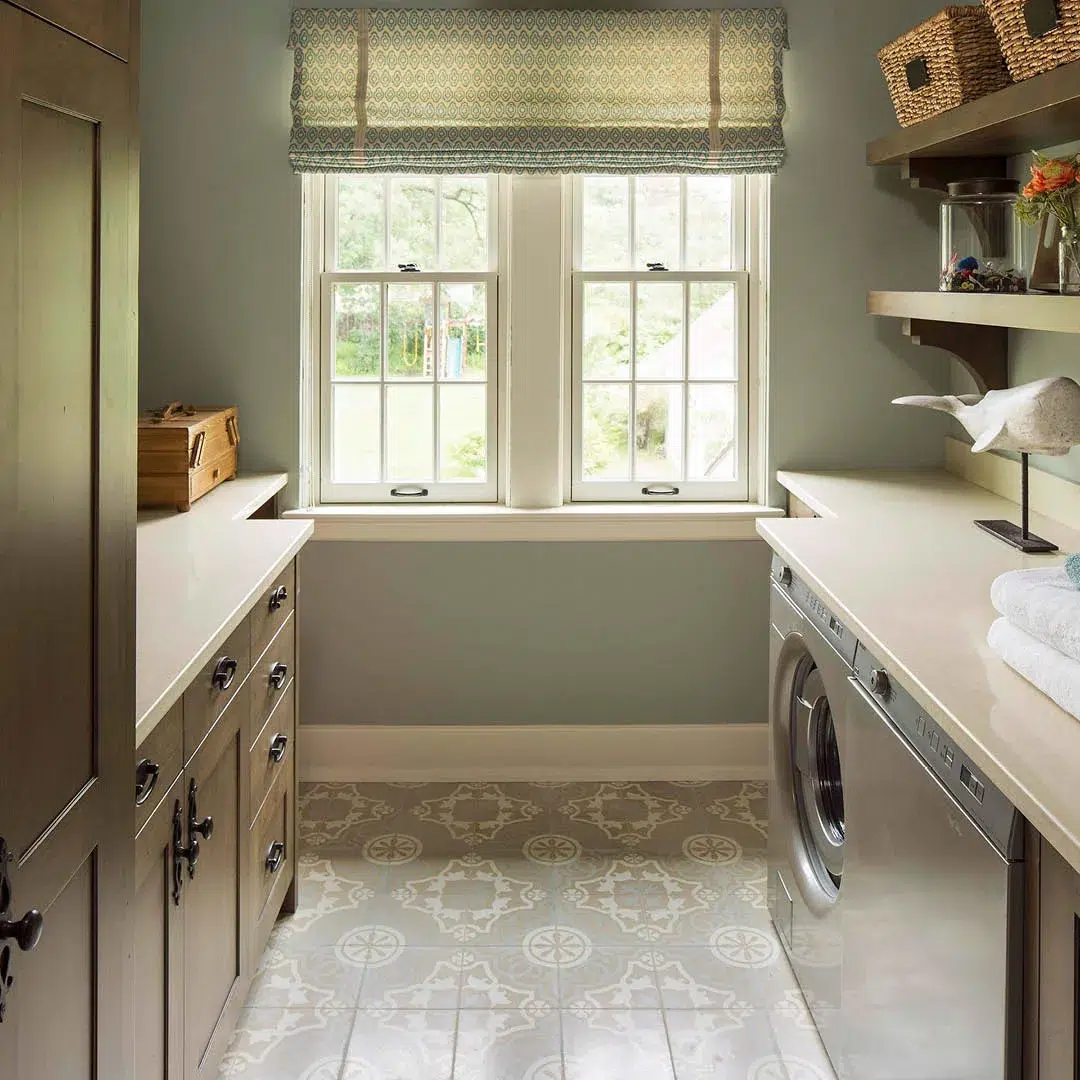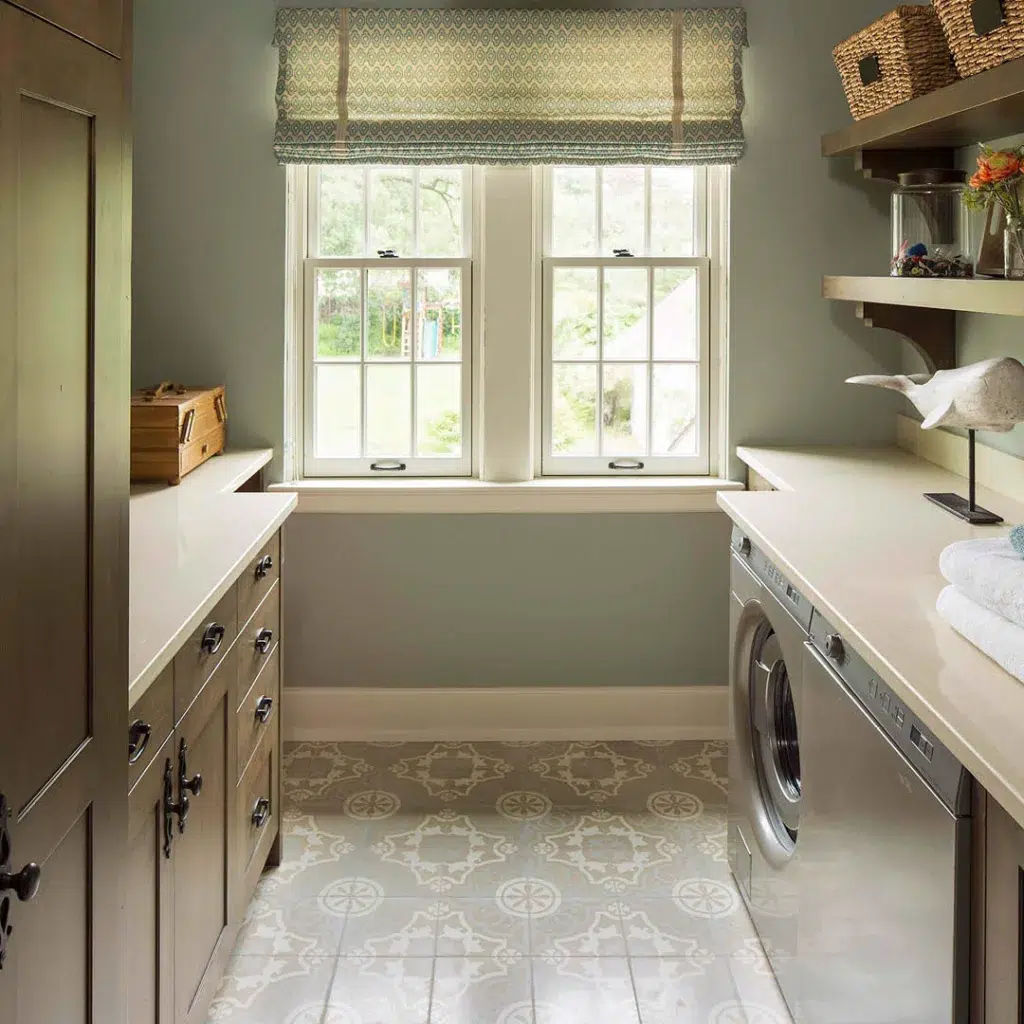 Earth tones in this laundry room with beige cabinets and countertops are continued with the light grey patterned tile. Using a patterned floor tile is a great way to add a bit of flair to your design, especially since laundry rooms are typically filled with cabinets and coutnertops that don't feature patterns.
10. Grey Ceramic Tile Floor in a Small Space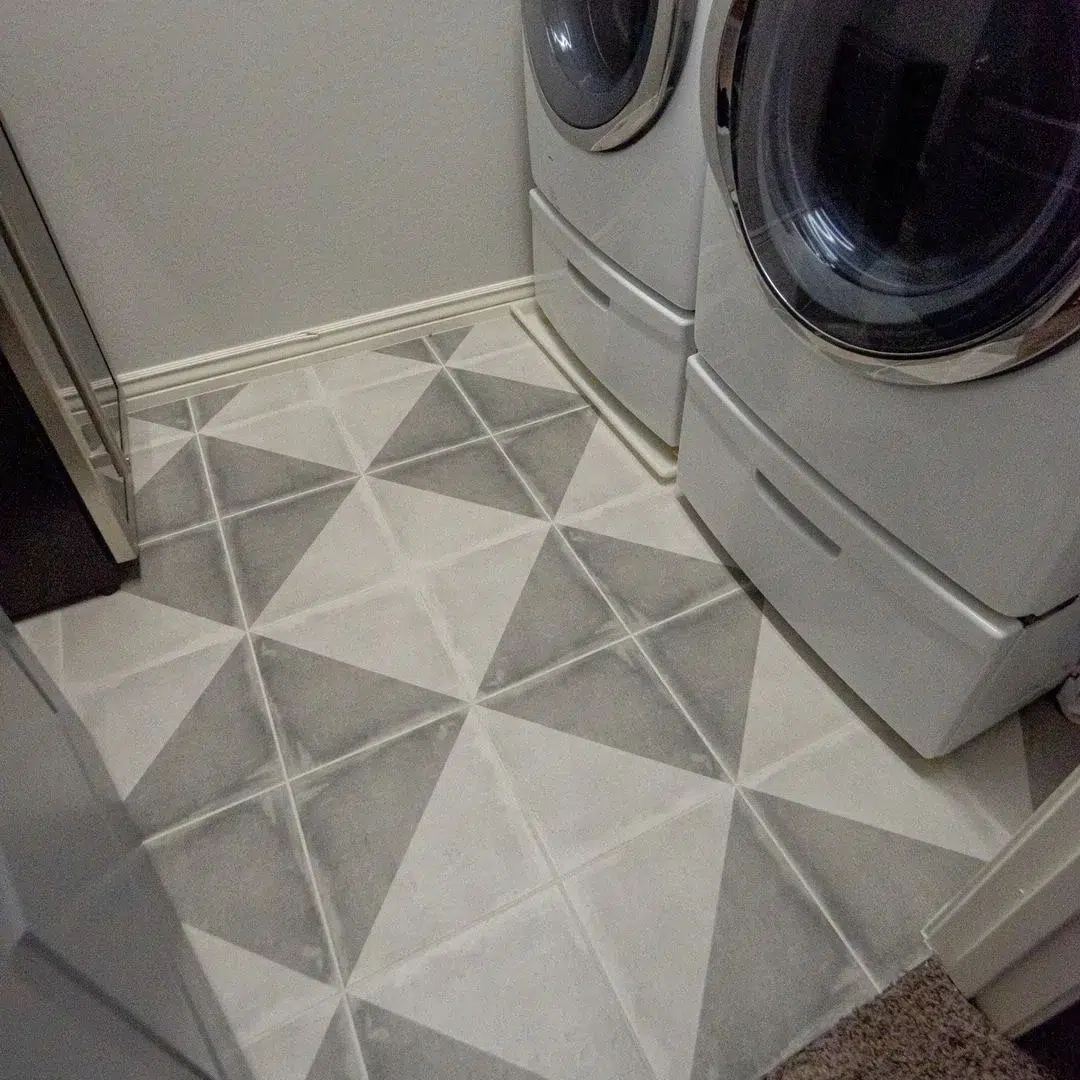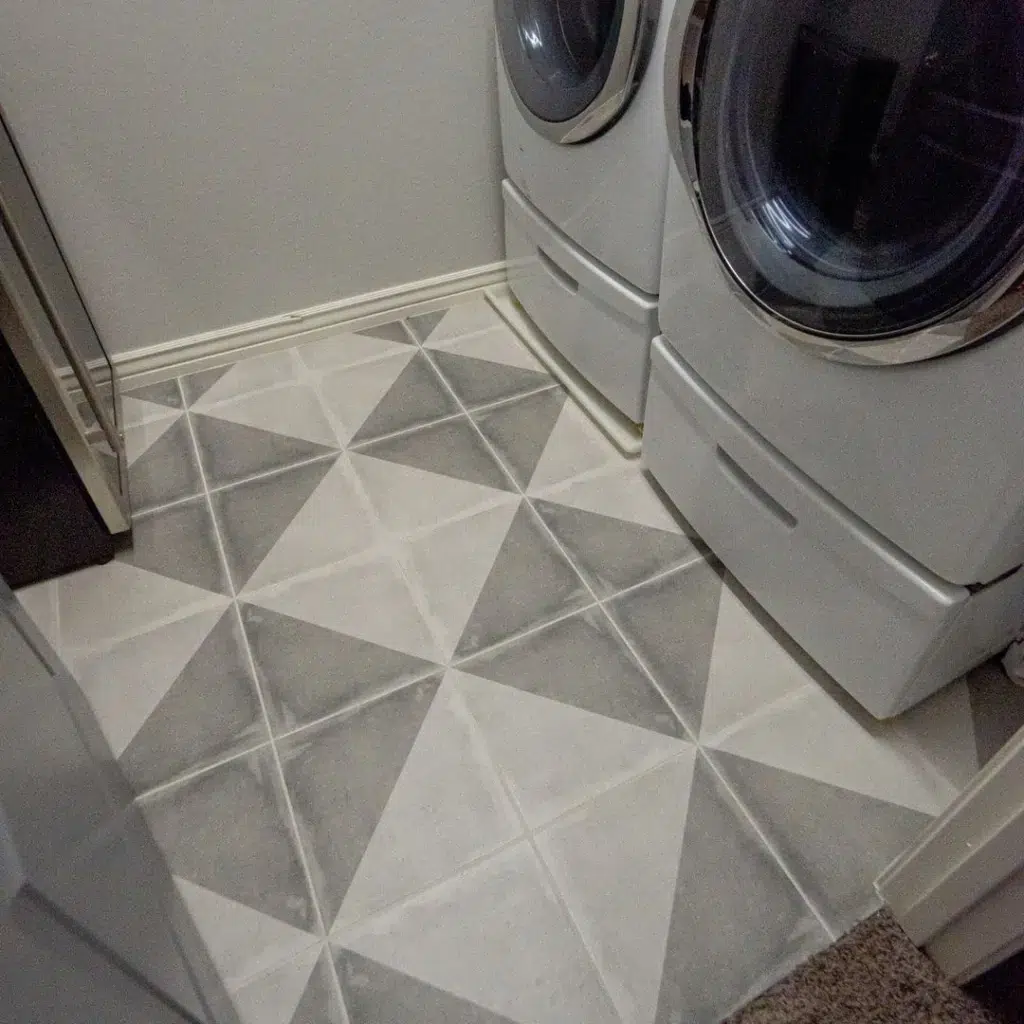 These white and grey tiles have a rustic look thanks to the tile's uneven grout lines and faded edges. The grey walls in this small laundry closet match the colors in the tile while still blending with the white appliances.
11. Blue and White Pattern Tile with White Machines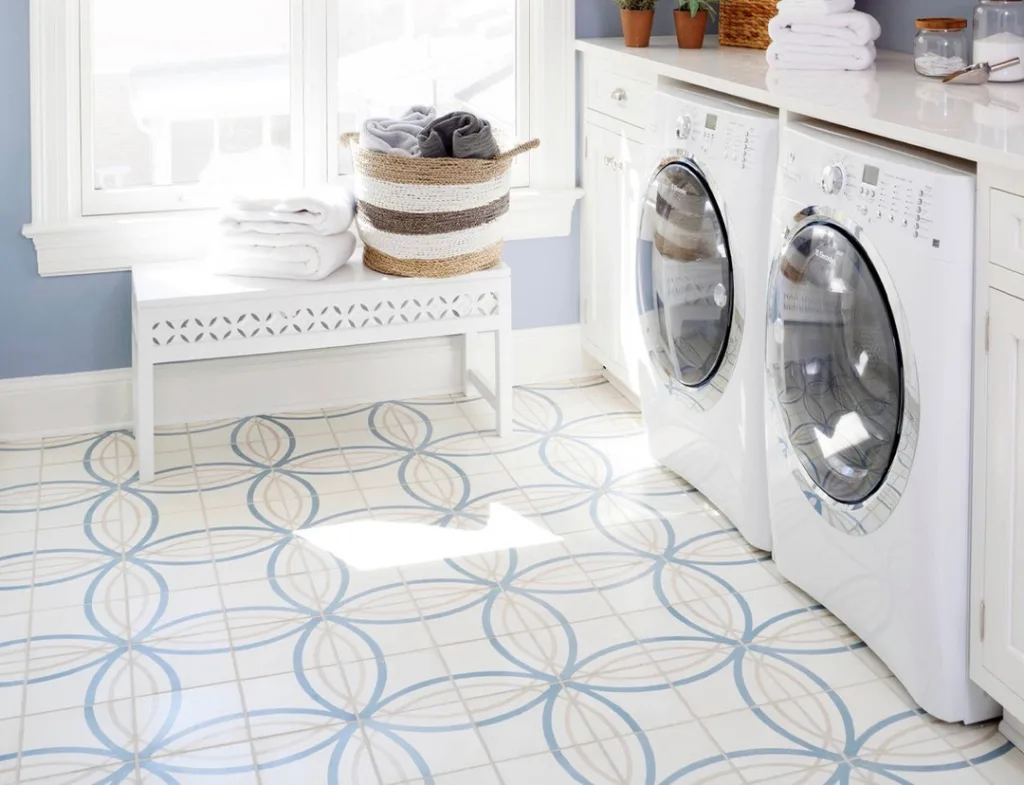 This classic country laundry room uses white and blue patterned tile to tie together the colors in the room. Blue walls surround the white cabinets and appliances in this space.
12. A powder Blue Laundry Room with Beautiful Tile
This powder blue laundry room with inset cabinets is one of our favorite high-end designs. A grey and white laundry room floor tile adorns the space adding a fun geometric design that balances the country charm of the blue cabinets. Using inset cabinets in a laundry room is an easy way to give your space a premium look, but it is also more expensive than traditional cabinetry. A porcelain bathtub for pet baths sits against the wall, featuring box molding.
13. Grey and White Tile in a Navy Laundry Room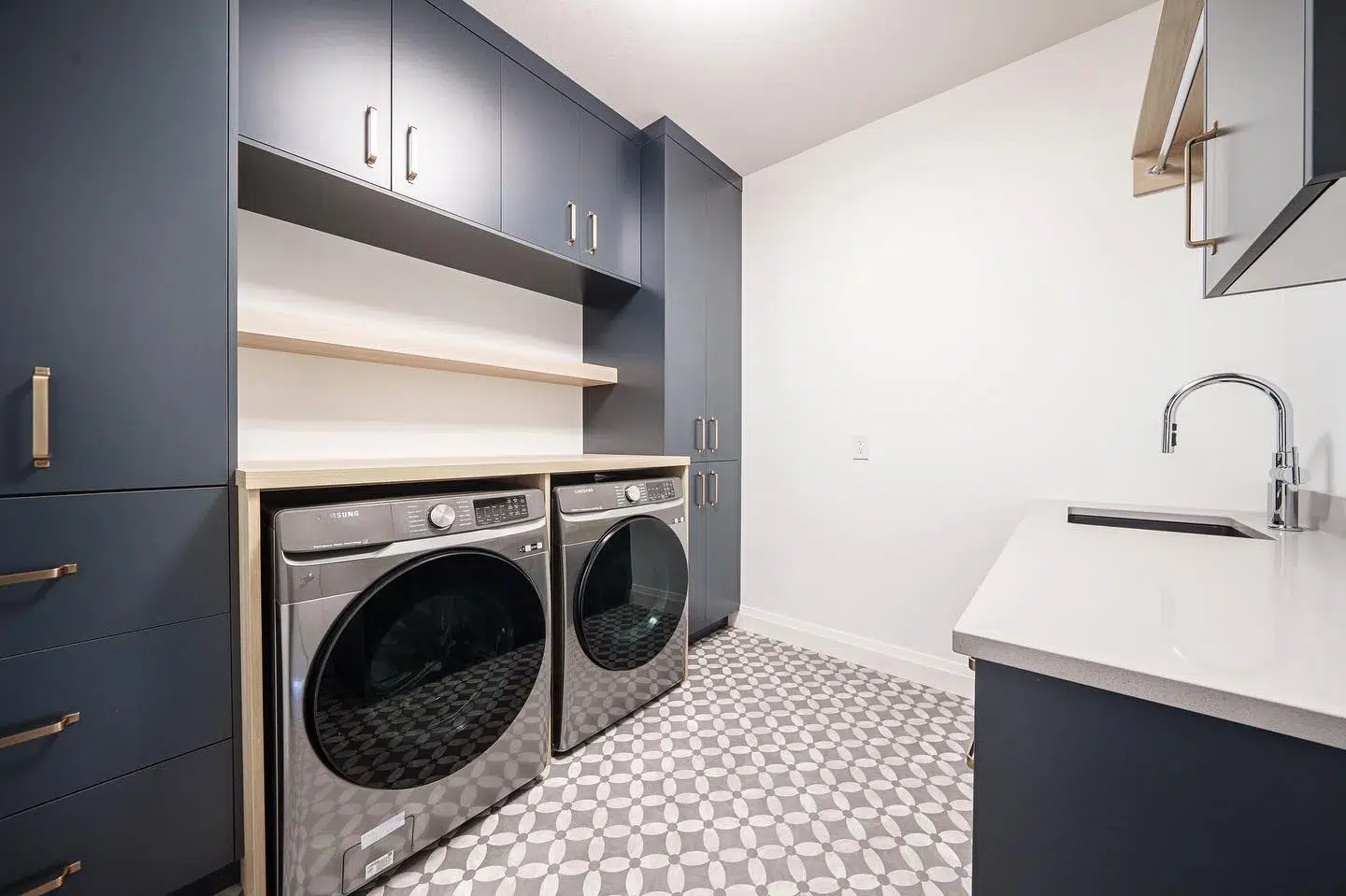 Navy cabinets provide storage in this white laundry room with light grey floor tile with a diamond pattern. A light wood countertop over the silver washing machines adds warm tones to the space. Across from the machines, a sink is installed on the white countertop, which can be used for washing delicates or other cleaning.
14. Porcelain Tile That Looks like Carpet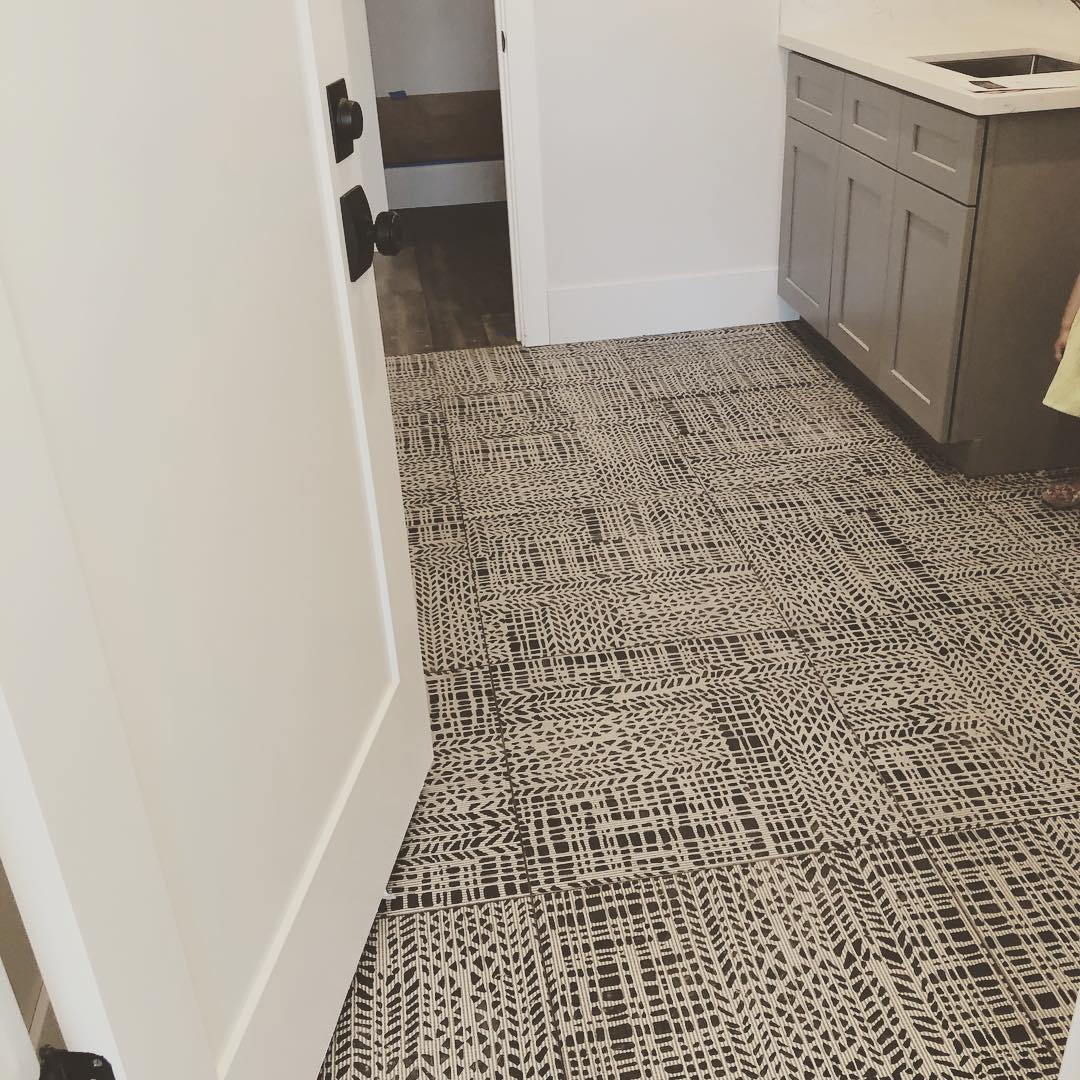 This porcelain tile almost resembles a carpet with its busy pattern combining beige tones with a black background. The earthy colors in the tile work well with this space's brown cabinetry and off-white countertops. When designing a room with busy tile, it's best to stick to solid neutral colors for the walls, like white.
15. Large Grey Natural Stone in a Shiplap Space
This laundry room features large natural grey tile that feels like you brought the outdoors inside. These rough-cut tiles are balanced by high-end custom cabinetry painted light grey. A beige shiplap backsplash adds to the rustic country charm of this space.
16. A Barnhouse Door in a Navy Laundry Room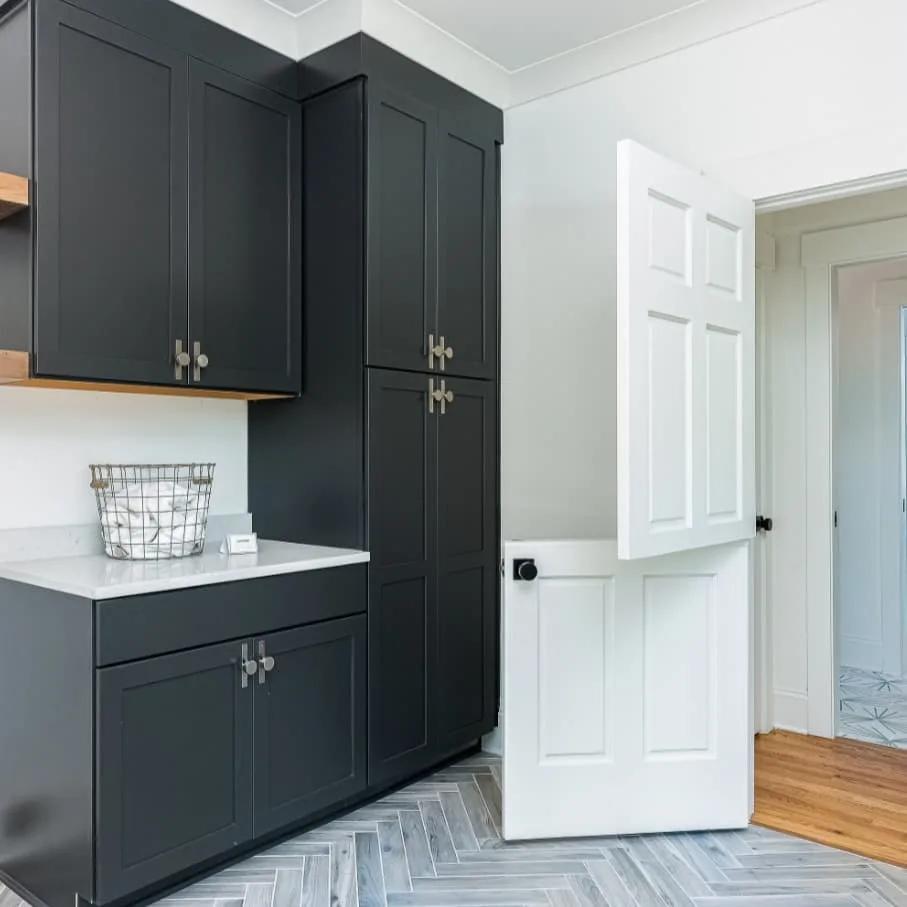 A barn house door on this laundry room with gray herringbone floor tile adds a fun take on the classic country style. Barnhouse doors are split just above the handle and were traditionally used to pass food and other items without needing to open the door. Navy cabinets add storage and contrast the white walls.
17. Natural grey Hexagone Tile with White Grout
This green laundry room features natural colored grey hexagon floor tile that continues to the mudroom. Wood shelves add to the rustic feel of the space, while dark cabinets provide plenty of storage.
18. Black Marble Flooring in a Dark Design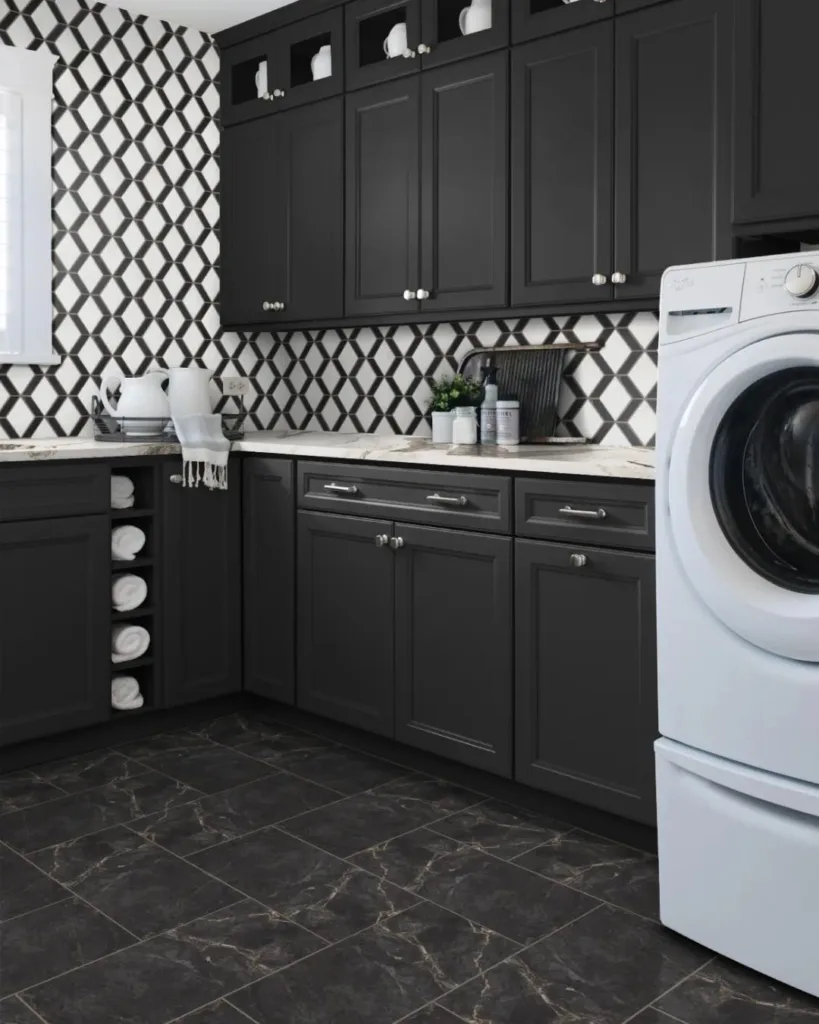 A black marble tile floor is laid in this stunning laundry room with a black and white color scheme. Black cabinets fill the space, while patterned square tile is used as a backsplash and extends to the ceiling.
19. Grey Herringbone Floor Tile with Wood Countertops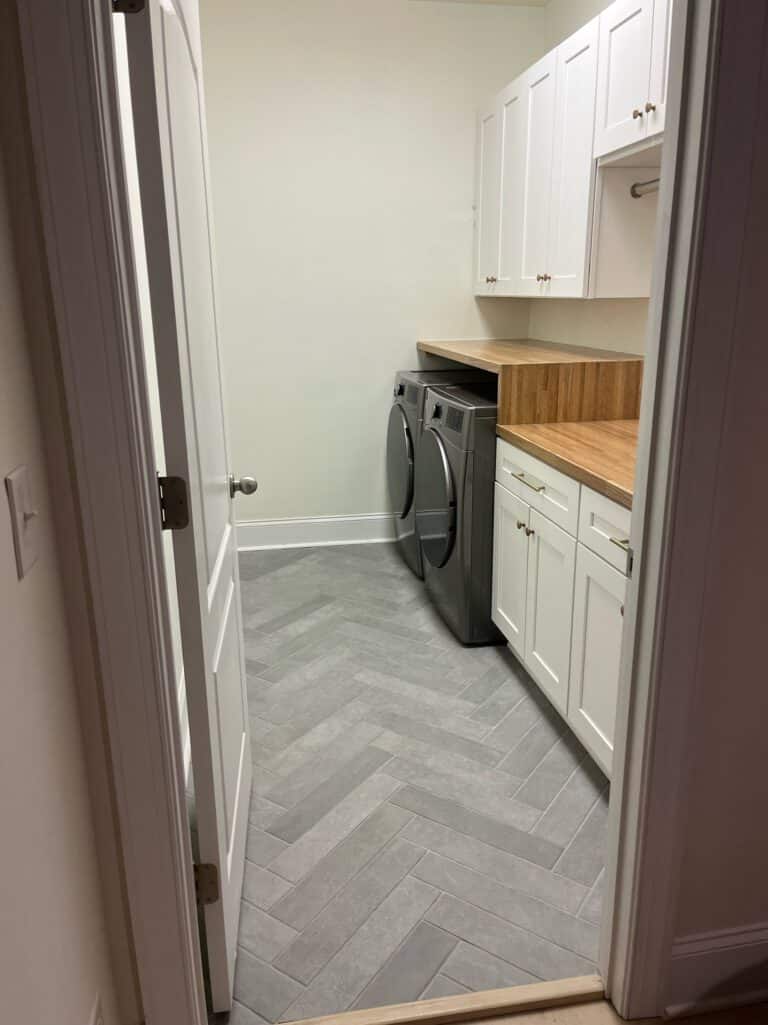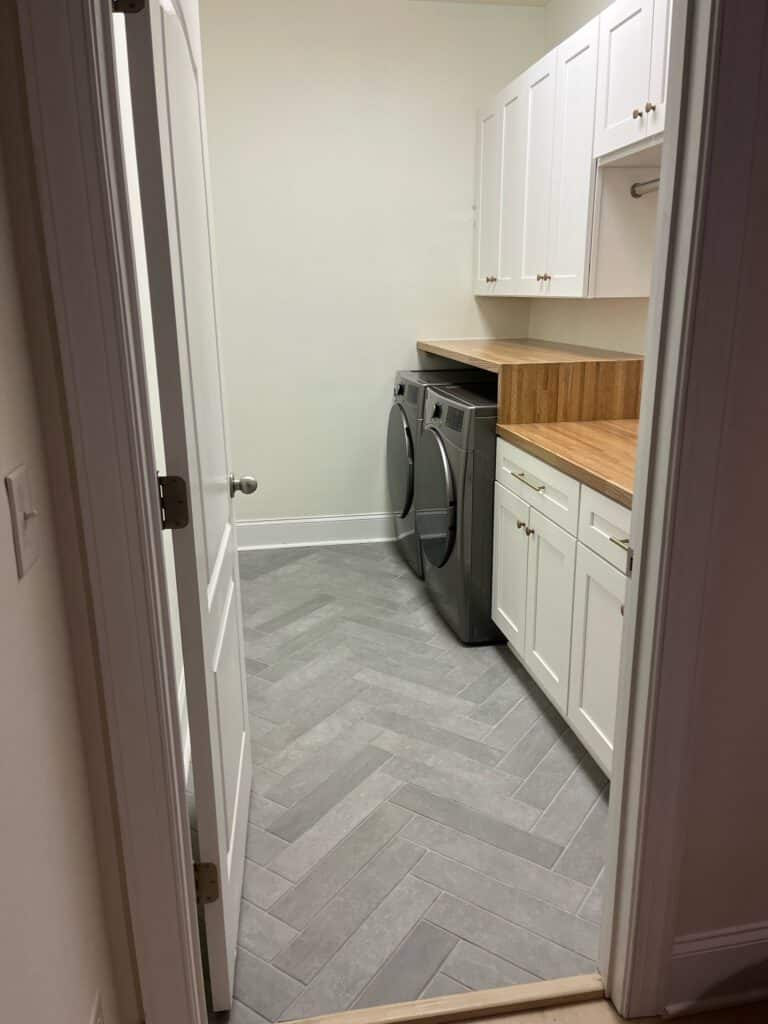 If we're talking laundry room tile, we had to feature our own recent laundry room renovation! We decided to use a grey subway tile with a natural finish to contrast the white cabinets for our home. In addition, we added a long runner rug that you can see in our final pictures. This helped soften the amount of grey tile and tied it into the warm tones of the wood countertops.
20. Blue Polished Backsplash with Patterned Flooring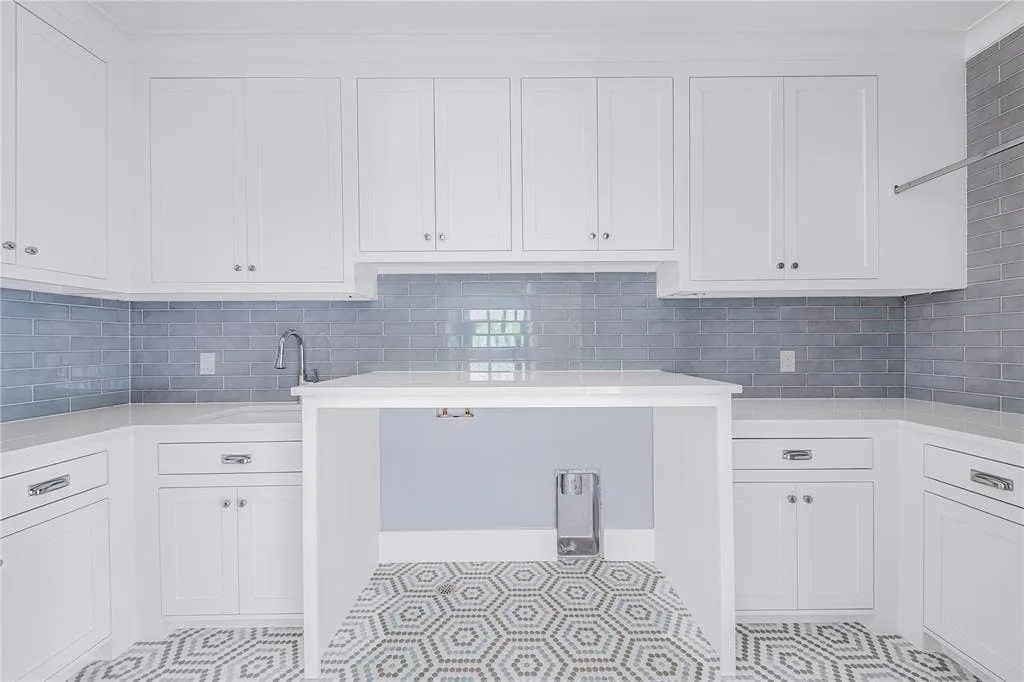 Blue tiled backsplash introduced texture and color to this white laundry room. The polished finish of the backsplash tile reflects light in the space adding dimension. In addition, a white and black mosaic floor tile with blue accents adds a fun look to the room.
21. Herringbone Tile Floor Tile with Dark Cabinets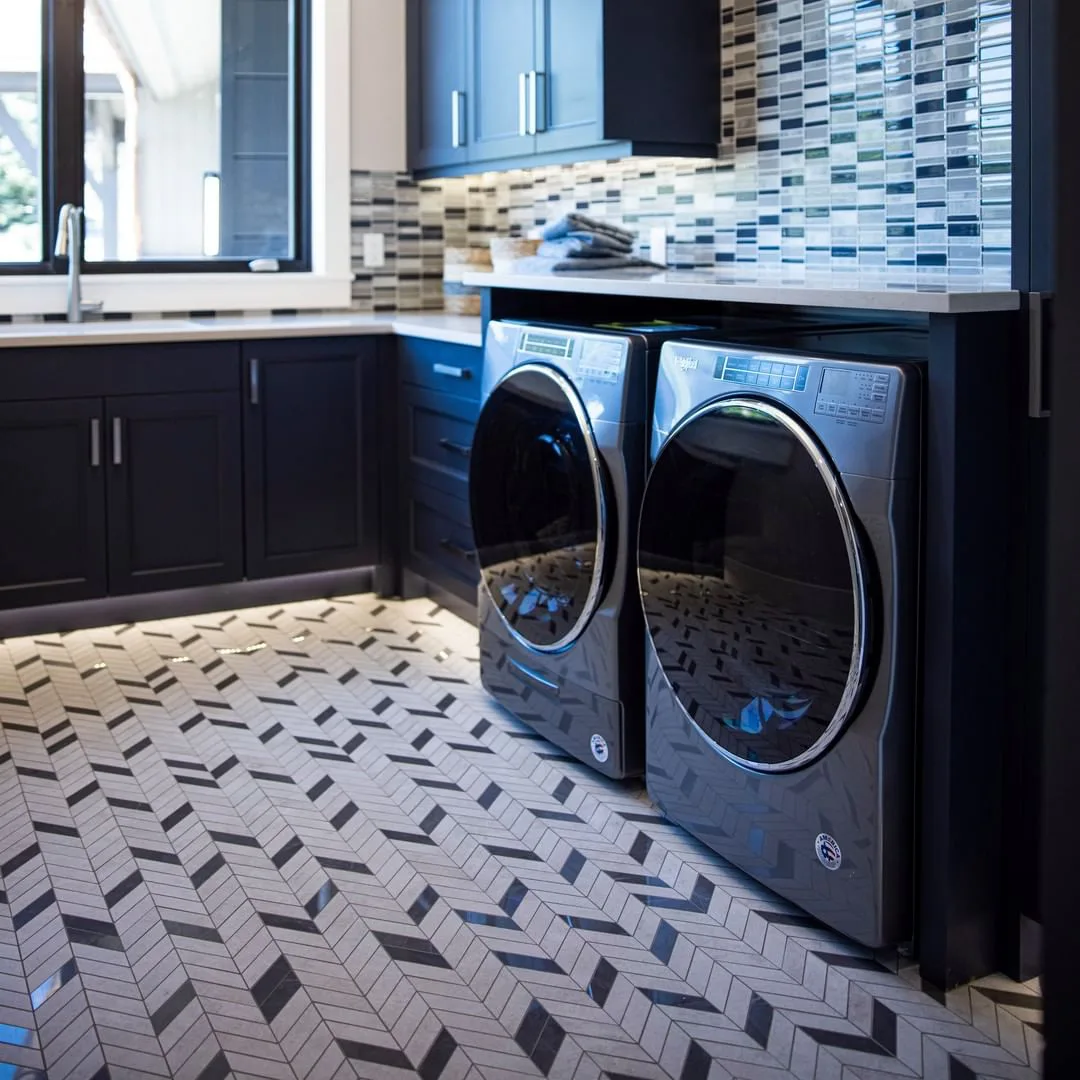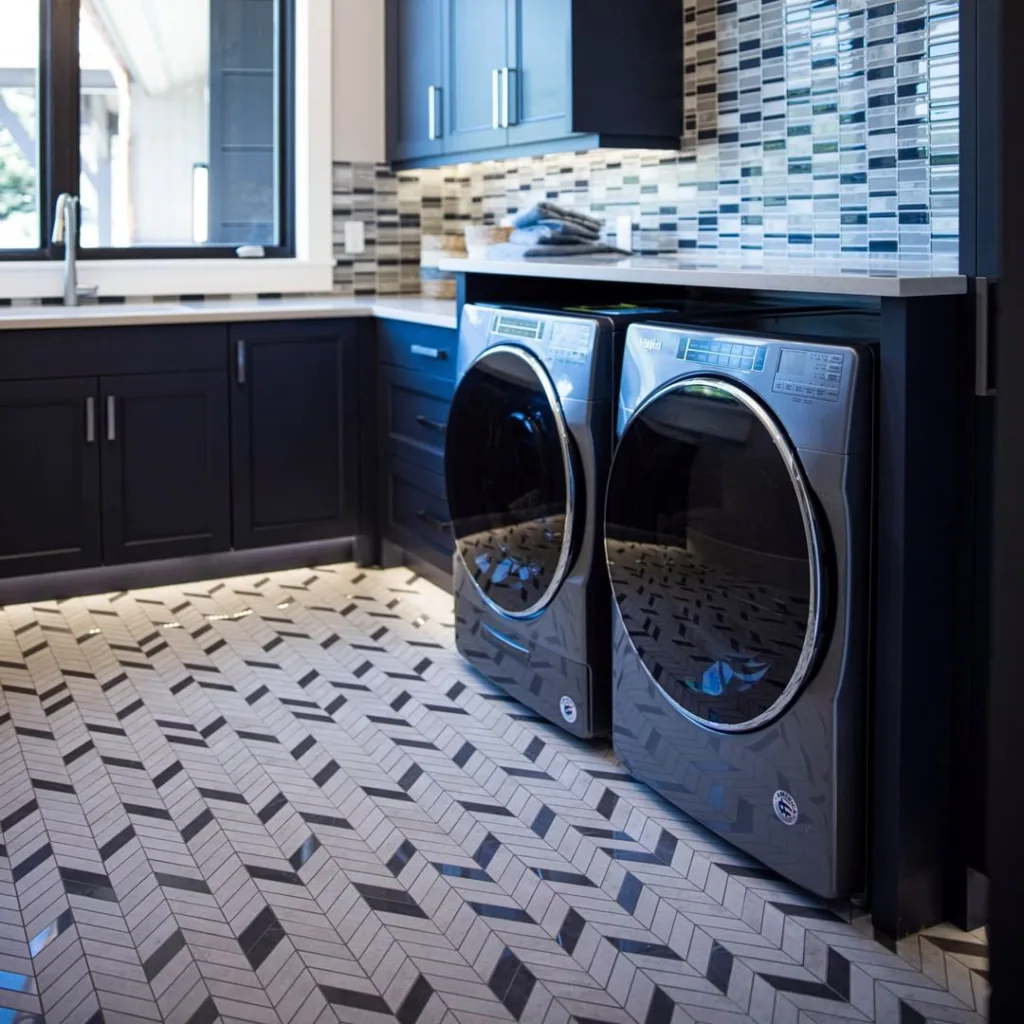 The small brown laundry room floor tile is laid in a herringbone pattern with random black accents included. This sporadic design is a unique accent that complements the backsplash in the space. Adding black accents to the tile helps tie the floor and backsplash to the dark-colored cabinets.
22. Gray Diagonal Floor Tile with a Dog bath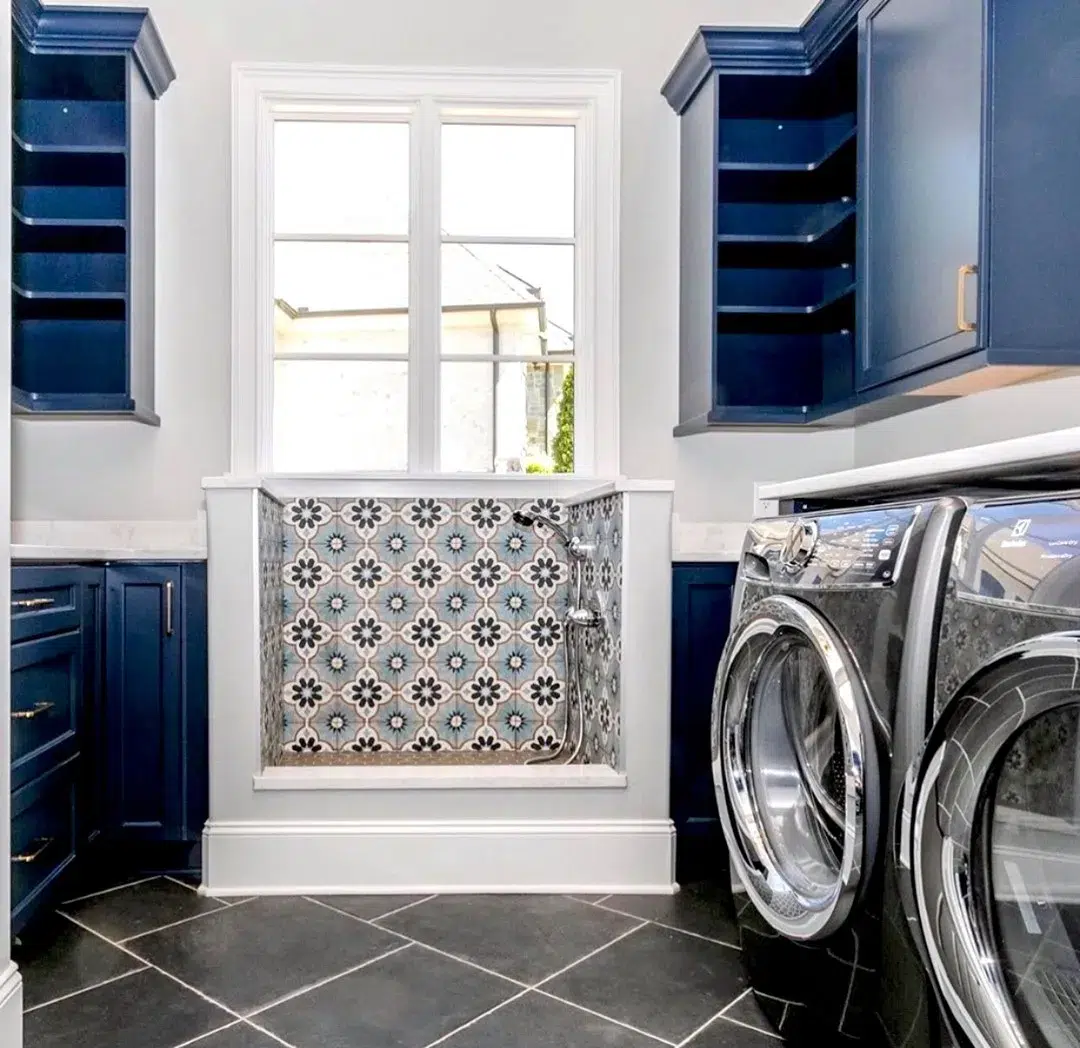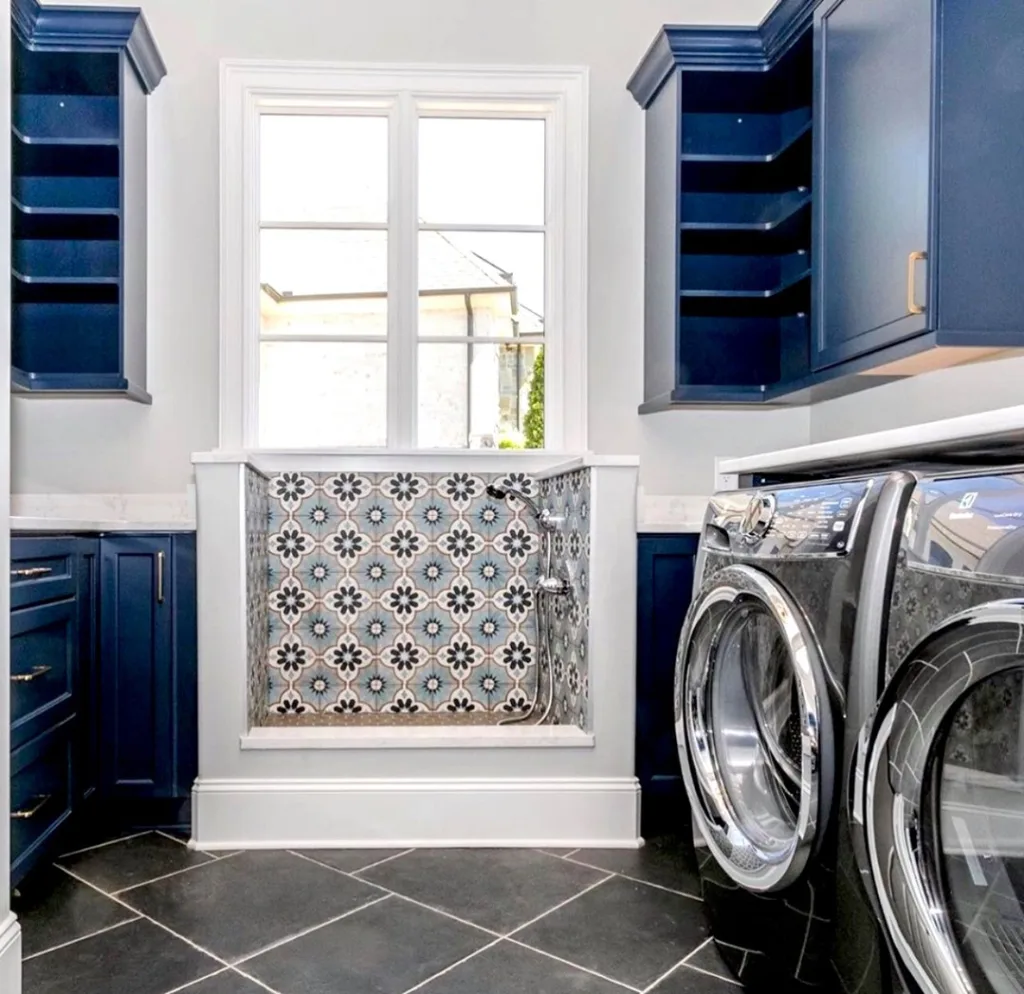 Large gray floor tile with white grout contrasts this laundry room's blue cabinets with brass hardware. A dog bath is the focal point of this room, with a floral patterned tile that draws your eye toward it. Using a fun tile like this floral design is excellent for smaller laundry room areas instead of large floor spaces where it can become overwhelming.
23. Mixed Color Floor Tile with Marble Counters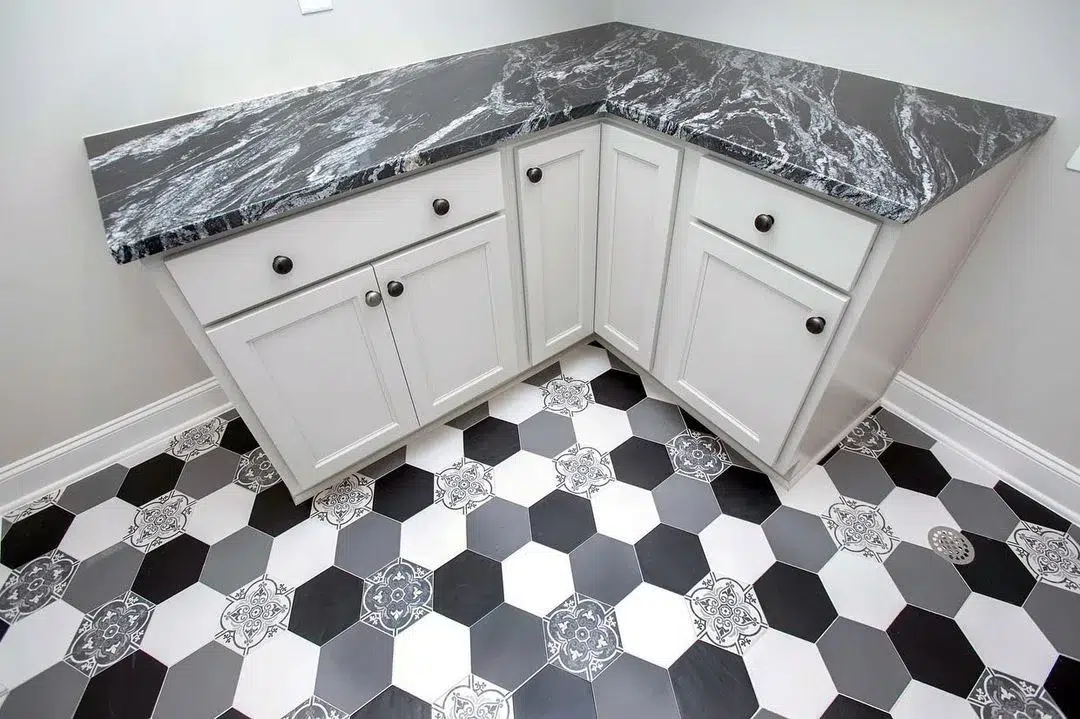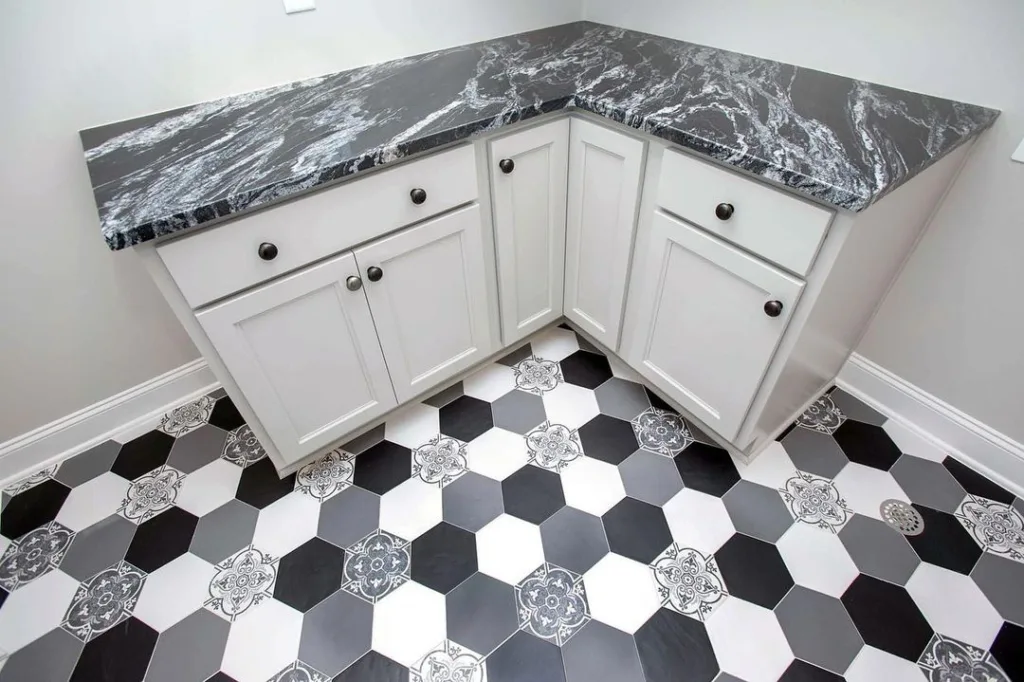 This hexagon laundry room floor tile features black, white, and charcoal gray shades that complement the marble countertop. While there are only a few cabinets in this space, the marble counters help to elevate the design. Splurging on more expensive countertops in smaller areas is an excellent idea since it'll be less expensive, and you may be able to find remnant pieces for your project.
24. A farmhouse Pink and White Laundry Room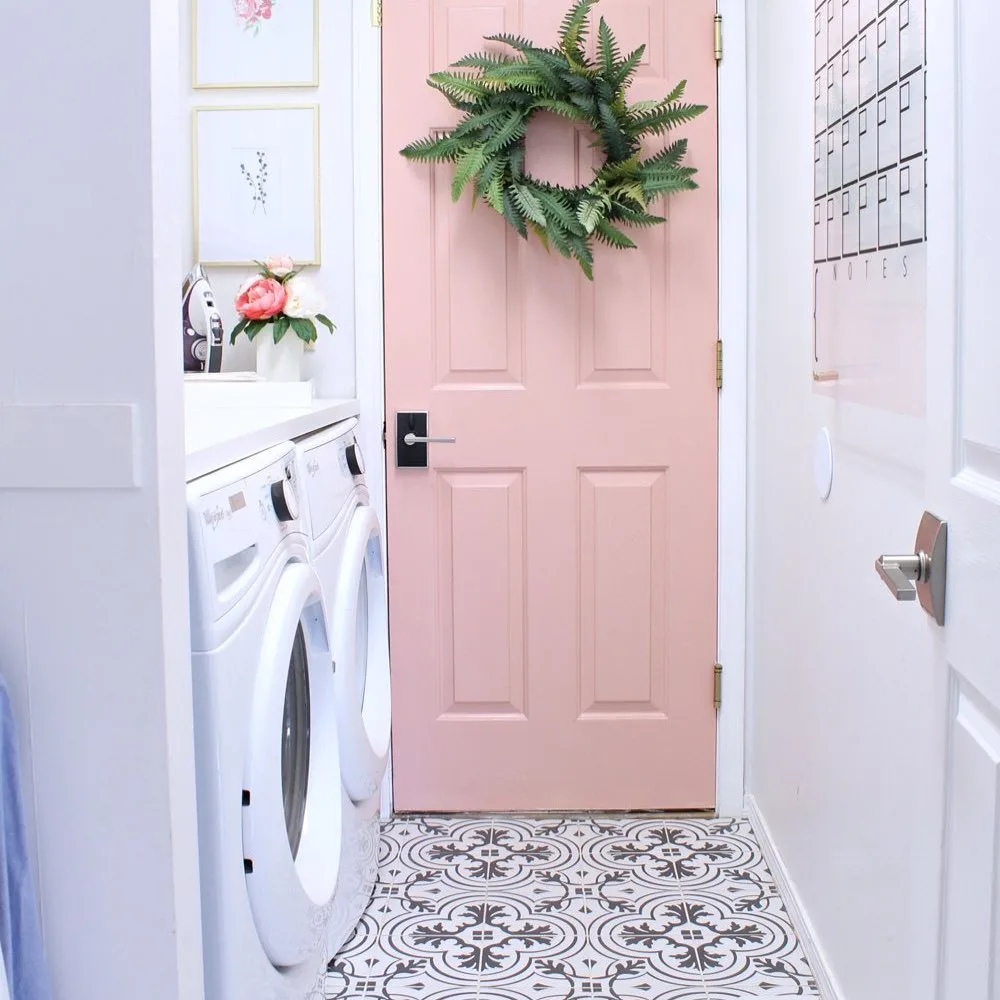 A mosaic print laundry room tile adds to the feminine design of this space with a pink door and gold picture frames on the wall. White appliances match the bright white walls. A calendar hangs on the wall for organizing family events.
25. Busy Pattern Porcelain Flooring with Lots of Blue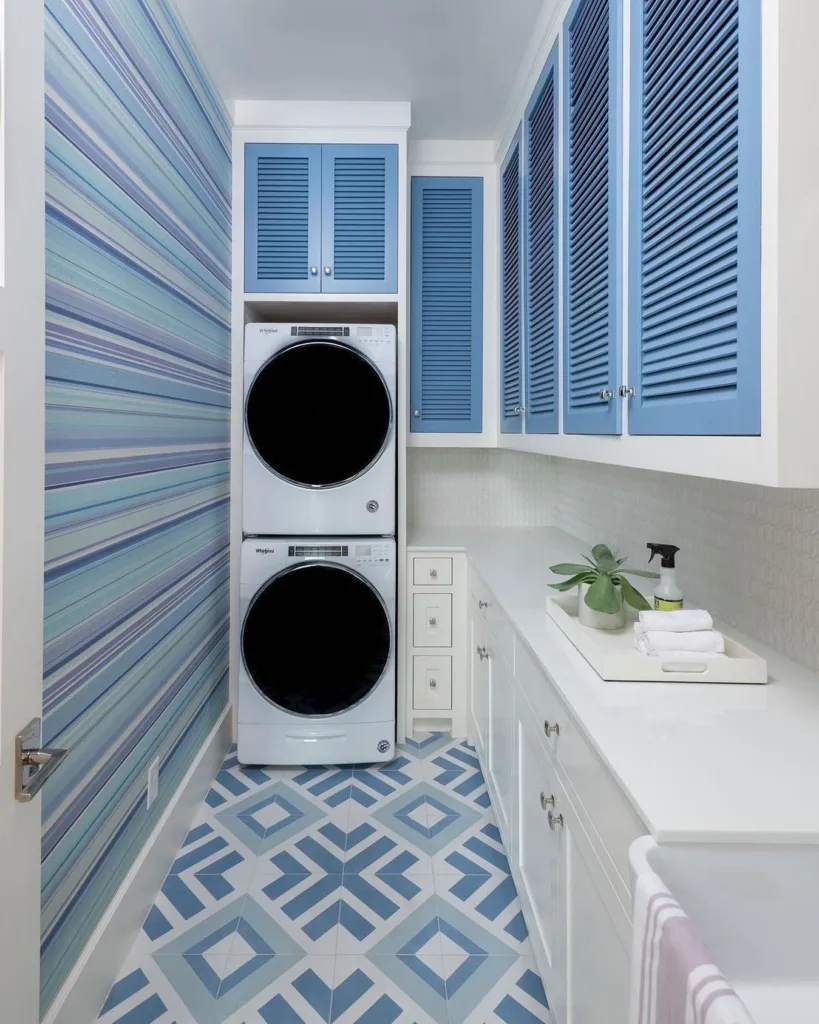 This laundry room uses blue at every turn, with striped wallpaper featuring different shades of blue and purple. The blue doors on the white upper cabinetry add a unique accent that matches the patterned floor tile.
26. Dark Grey Herringbone Subway Tile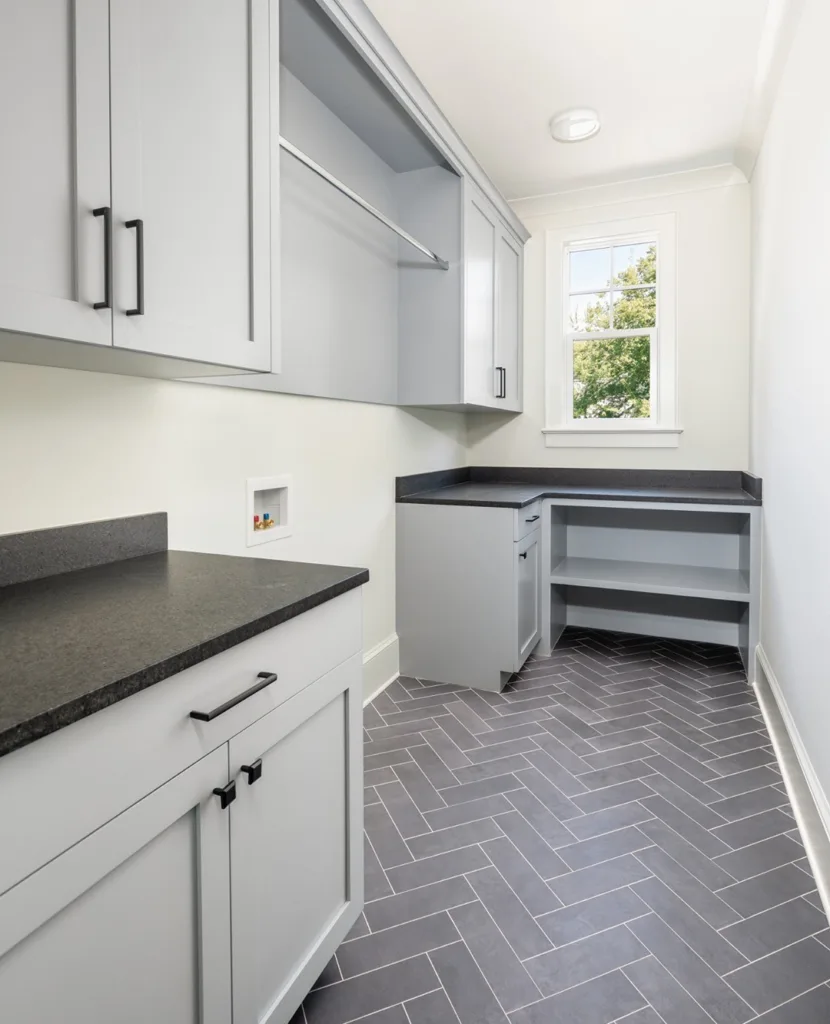 The dark gray tile floor with white grout creates a beautiful contrast that matches the color scheme of this laundry room. Light gray cabinets with black hardware and countertops continue the design.
27. Black and White Tile in a Mudroom with Laundry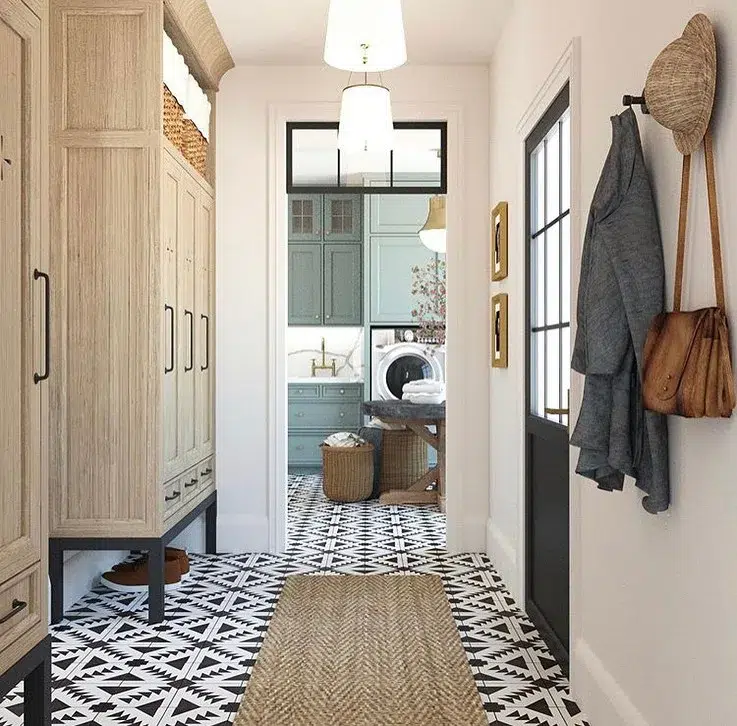 Black and white tile is continued from this entryway mudroom to the laundry room in this home. Connecting these two spaces is pretty standard, and using the same tile helps both areas feel bigger. To differentiate the rooms, the mudroom features white oak cabinets, while the laundry has green cabinets extending to the ceiling.
28. Fun Patterned Floor Tile in a Small Space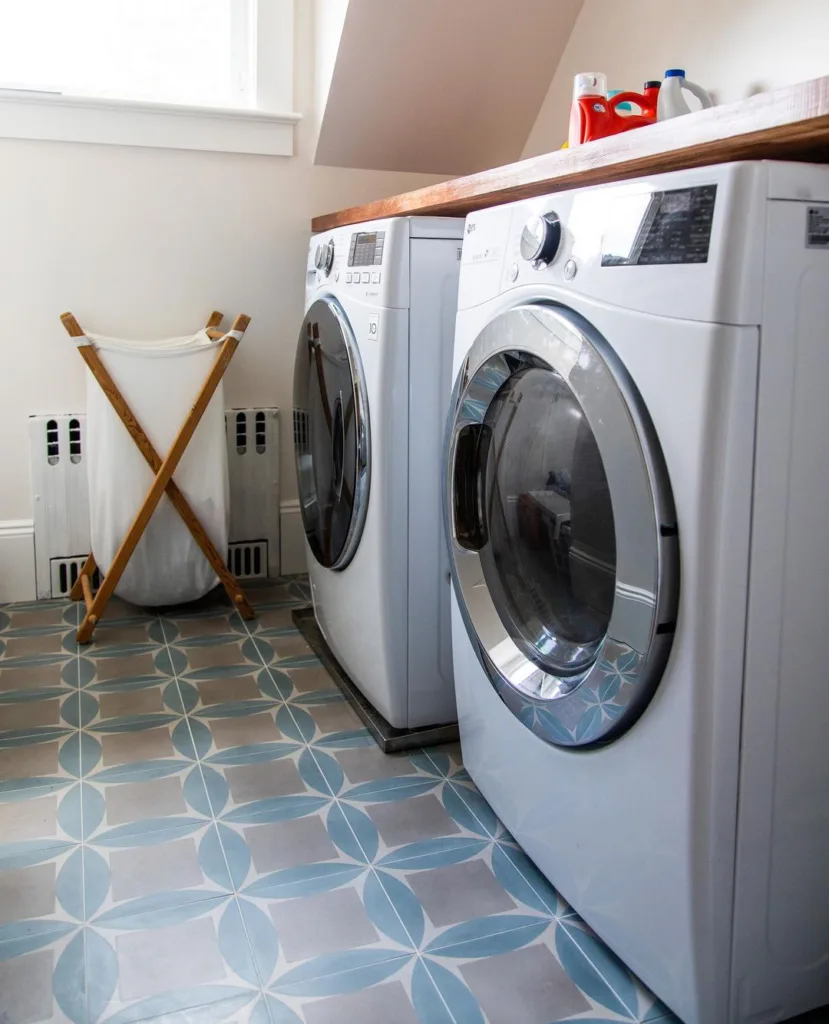 This blue laundry room tile features brown tones that match the wood accents in this space. In addition, a wood countertop adds warmth to the room, with a matching hamper nearby. Using wood in your laundry room is a great way to bring neutral tones and texture into the space and avoid your design being too sterile.
29. Stacked Laundry Machines with Modern Tile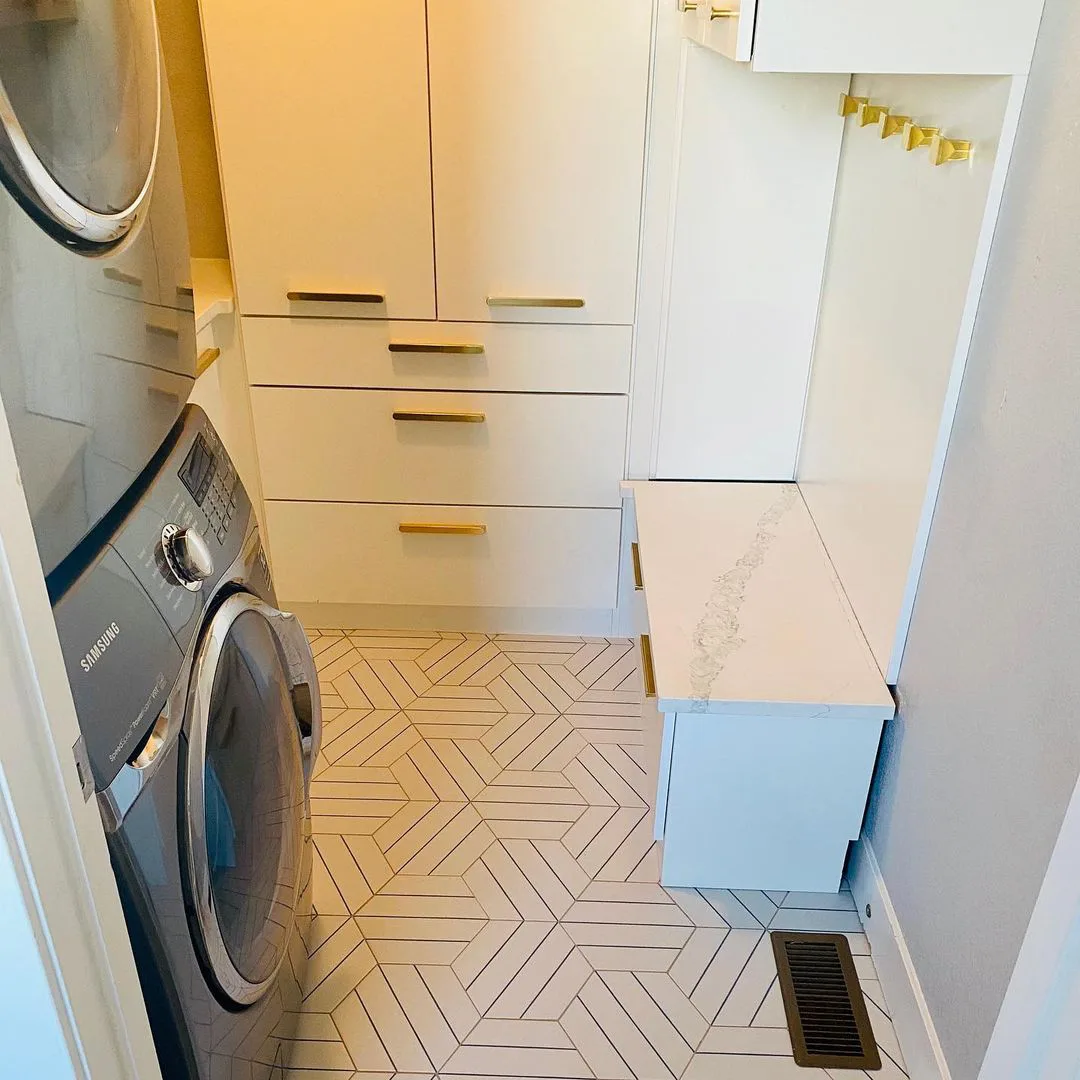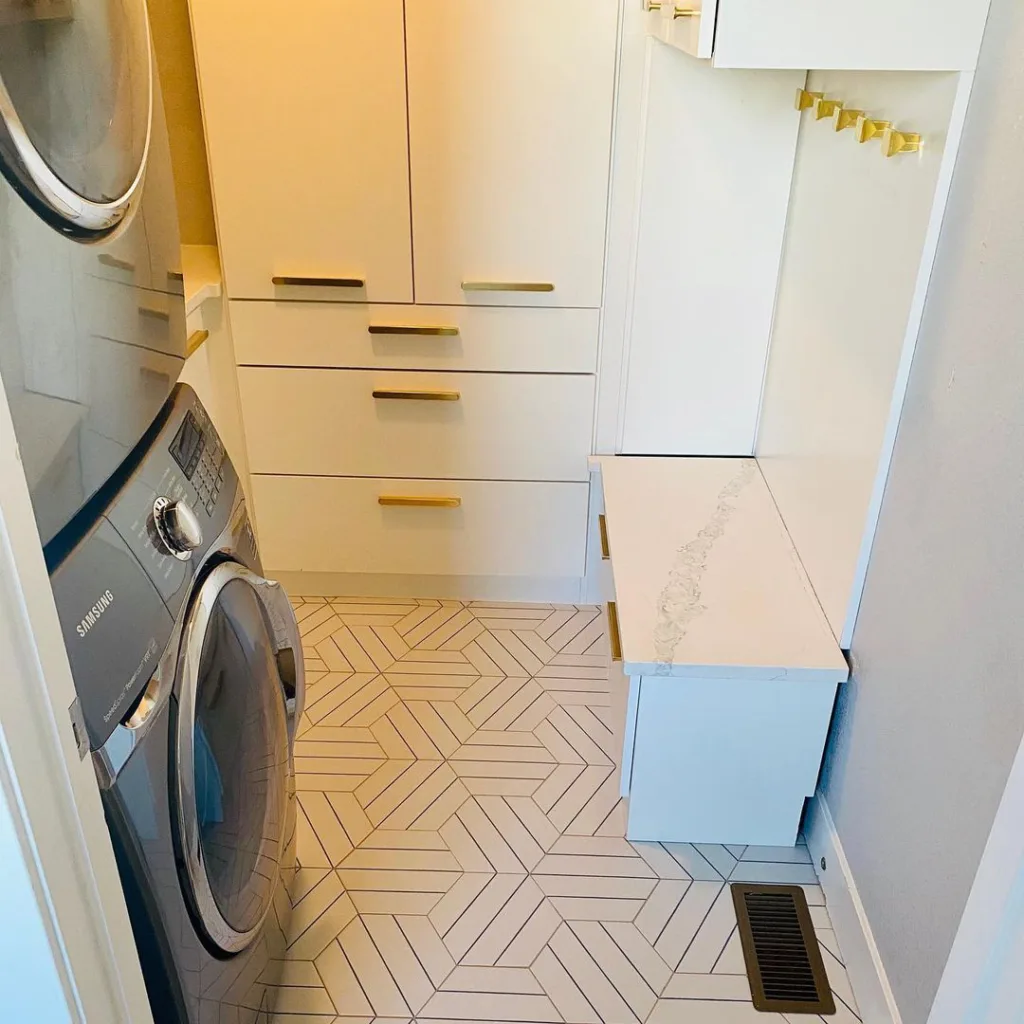 Black striping in these white triangle floor tiles gives it an ultra-modern design perfect for this small laundry room space. Stacking the machines in this area provides enough space for a small mudroom area and plenty of cabinets.
30. Black and White Checkerboard Tile and Backsplash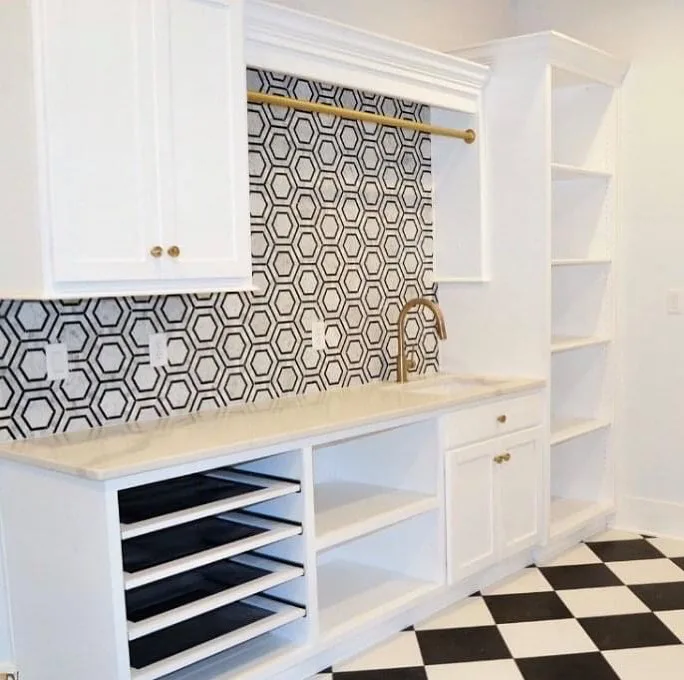 A black and white checkerboard laundry room tile is complemented by a hexagon pattern backsplash. This laundry room uses brass hardware on the white cabinets to avoid a completely black-and-white design. A section of cabinets also features pullout drying racks, which make line drying clothes even easier!
31. Black Hexagon Farmhouse Laundry Room Floor Tile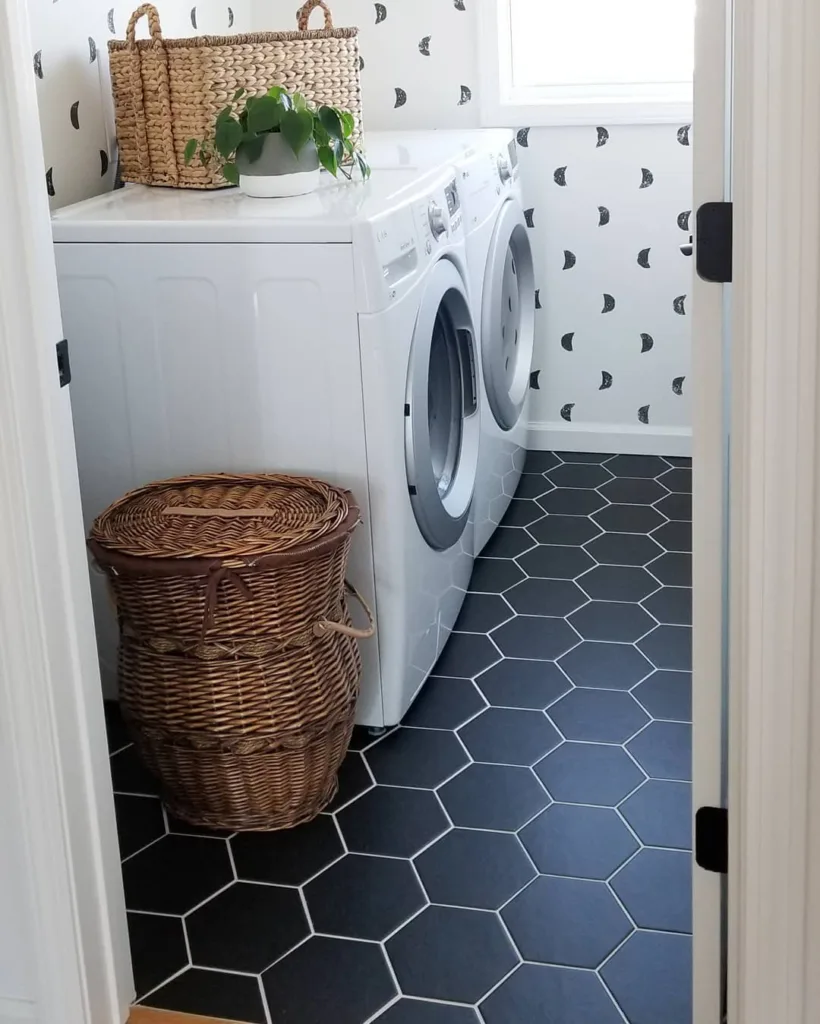 Black hexagon floor tile with white grout gives this space a modern look and contrasts the white walls. Black accents on the walls create a cohesive design that matches the floors. A basket next to the washing machines adds neutral hues and is an excellent place for storing dirty clothes.
32. Blue and White Patterned Porcelain Tile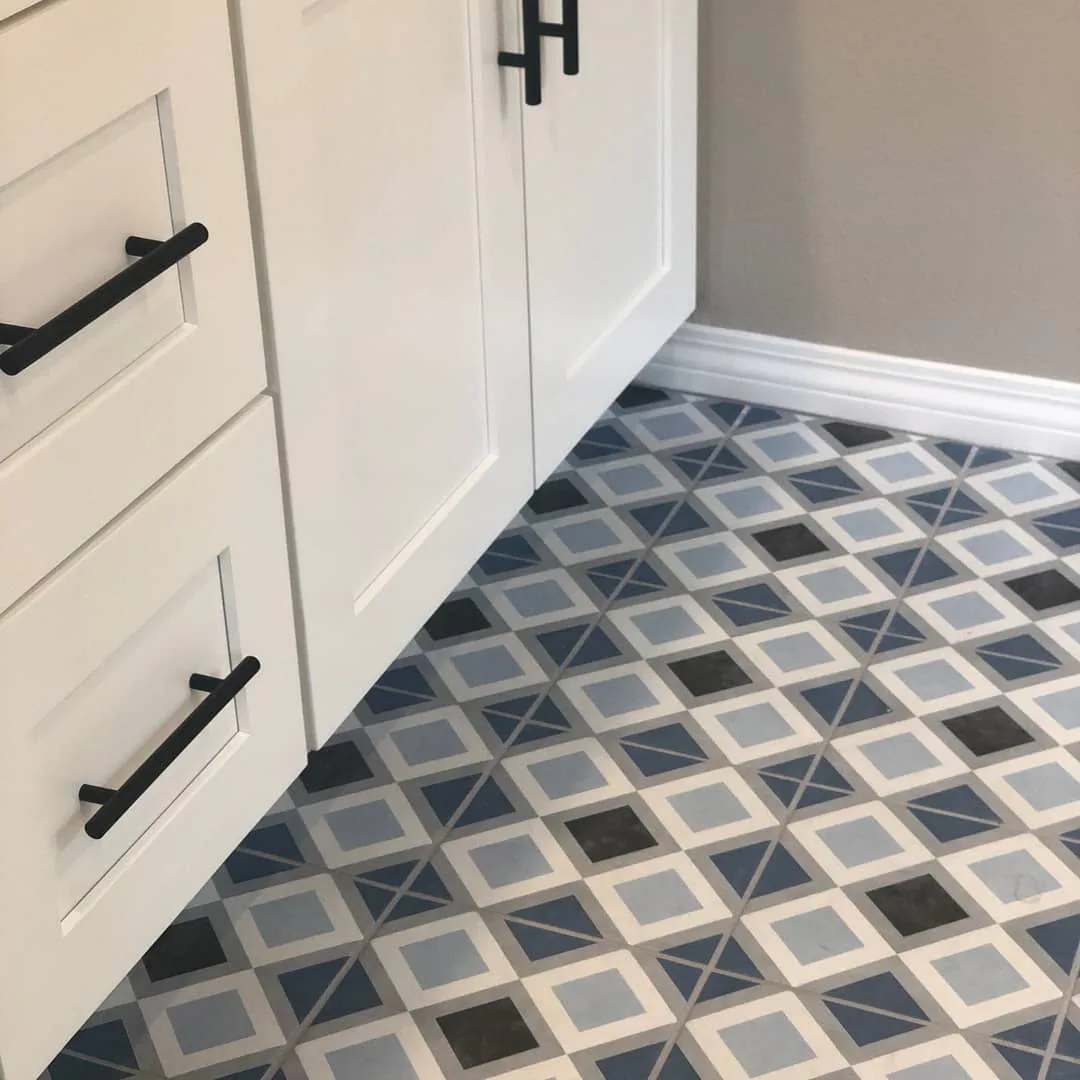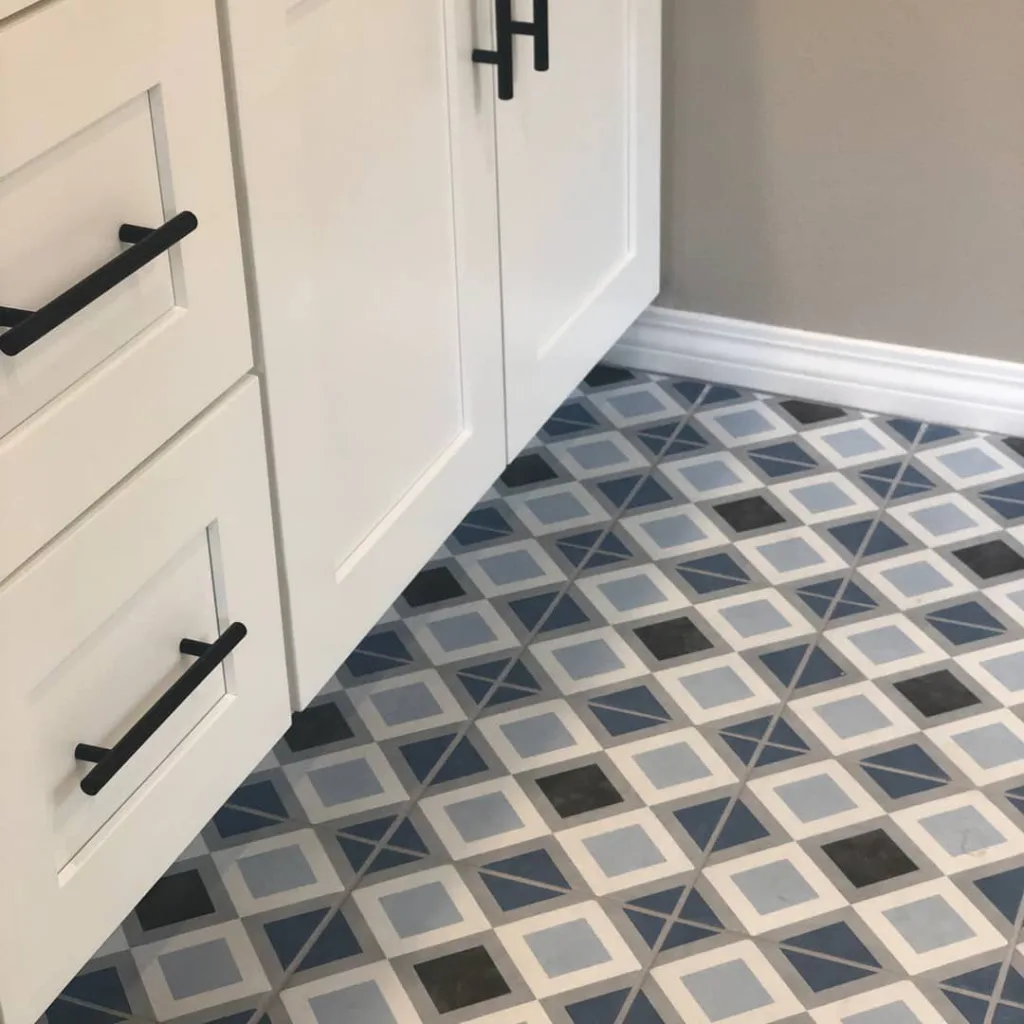 This blue and white patterned tile floor adds a pop of color to the farmhouse-style cabinets in this laundry room. While farmhouse designs traditionally use white and black color schemes, adding a pop of color is a great way to create your own style and avoid your space looking too generic.
33. Colorful Floor Tile with Grey Washing Machines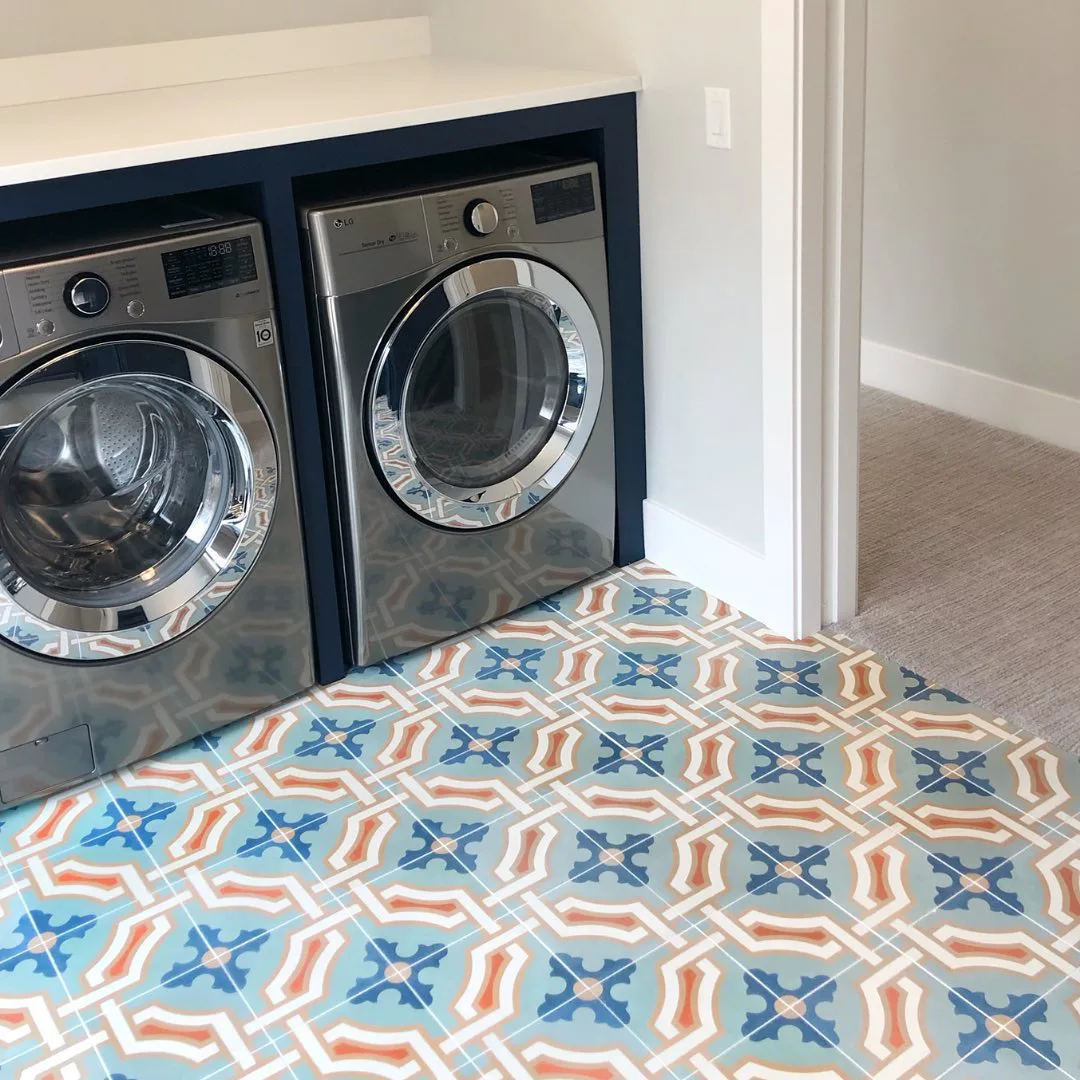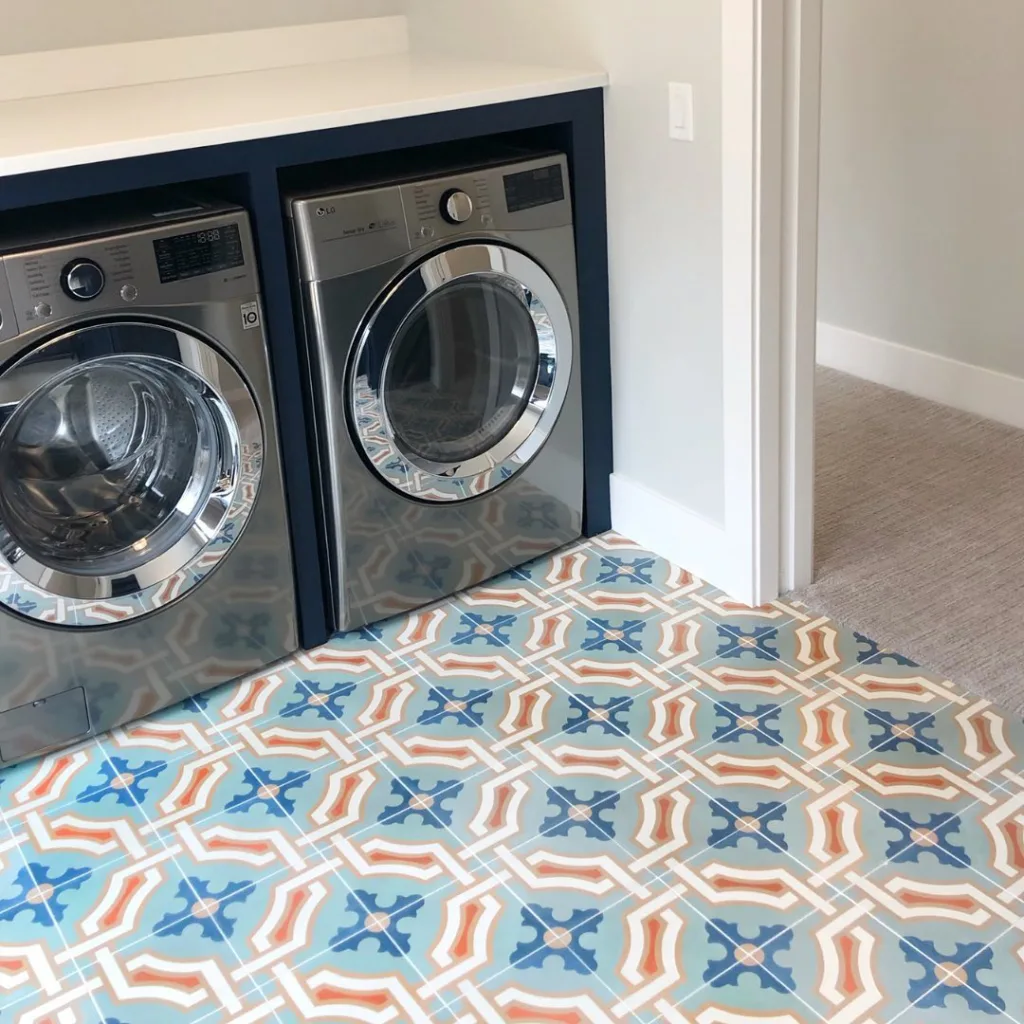 A colorful blue and orange tile fills this laundry room with silver washing machines and light grey walls. White trim extends around the room for a traditional look that contrasts the funky design of the flooring.
34. Brown Checkerboard Tile in a Natural Wood Room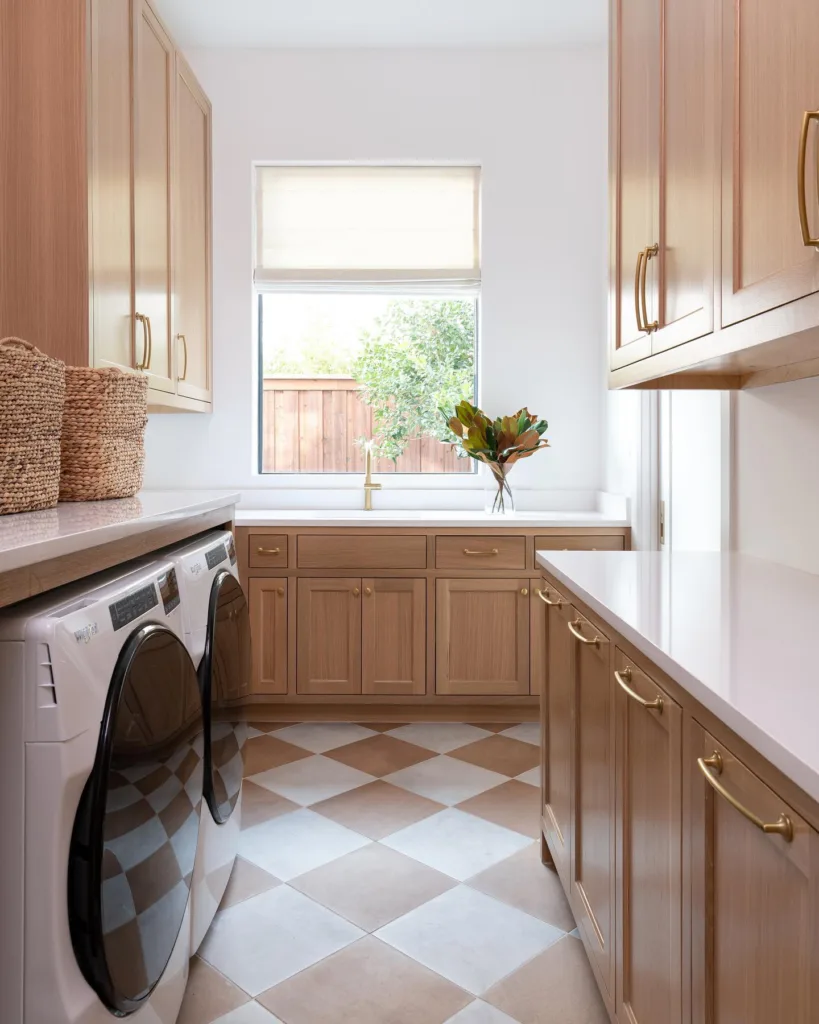 The brown and white checkerboard design of this laundry room flooring accents the earth tones in this space. Light wood cabinets fill the room with brass handles adding to the neutral color palette. White countertops and walls brighten the look balancing the neutral hues.
35. Marble Floor Tile with Navy Cabinetry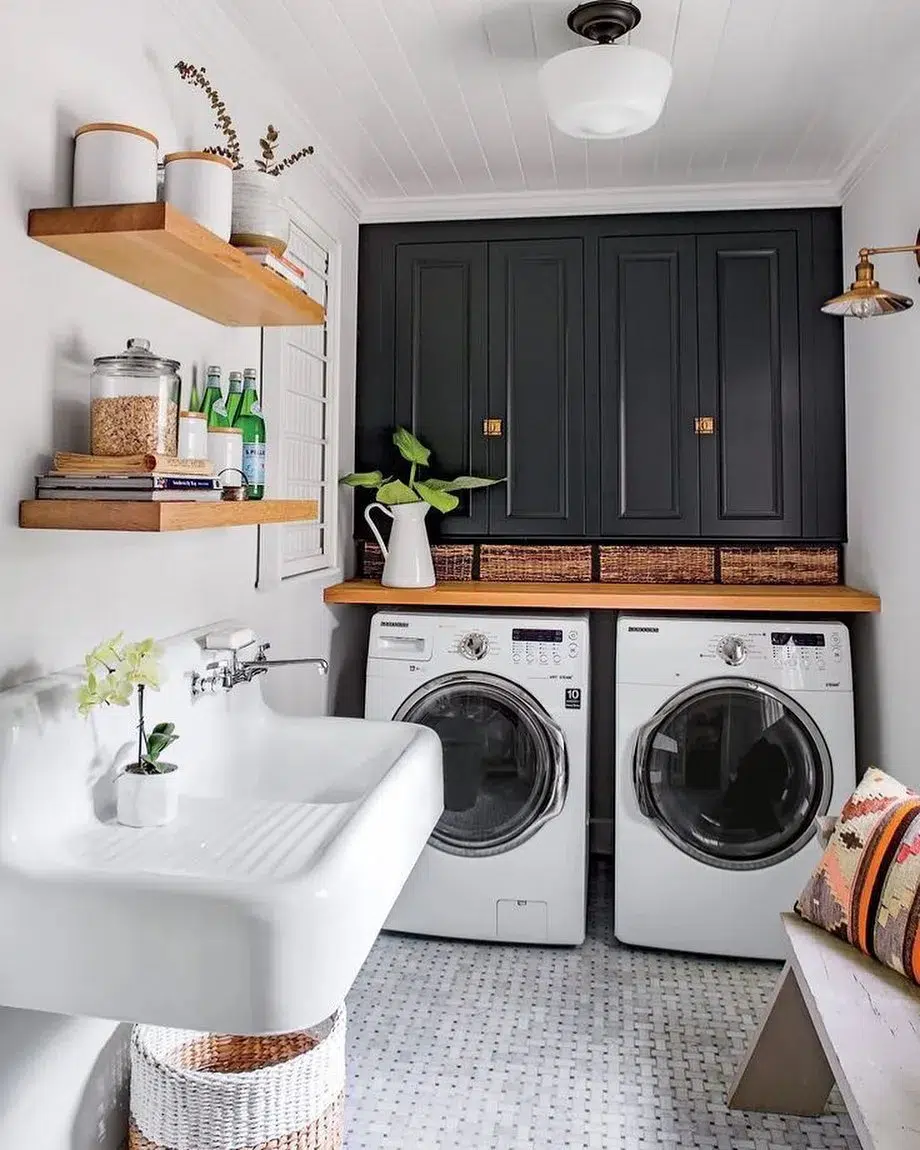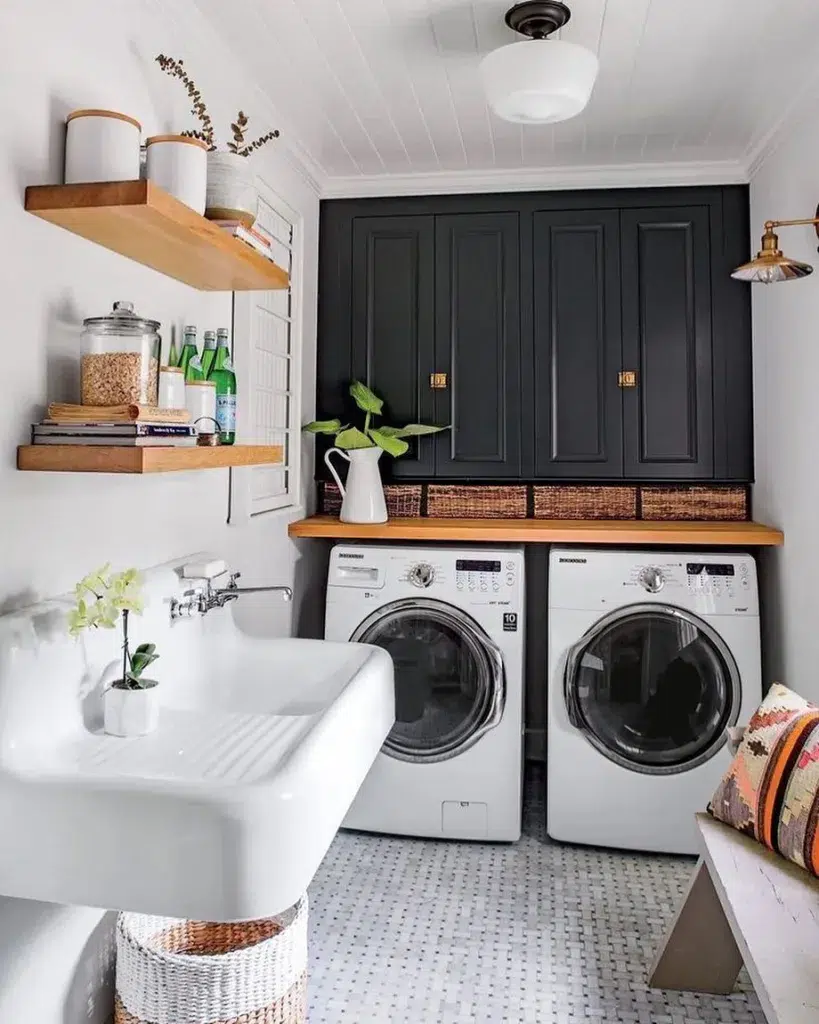 A marble floor tile offers this small laundry room a luxurious feel, with two navy cabinets above the washing machines. Wood countertops and butcher block shelves are added to bring in warm neutral tones.
36. White Square Floor Tile in a Shiplap Laundry Room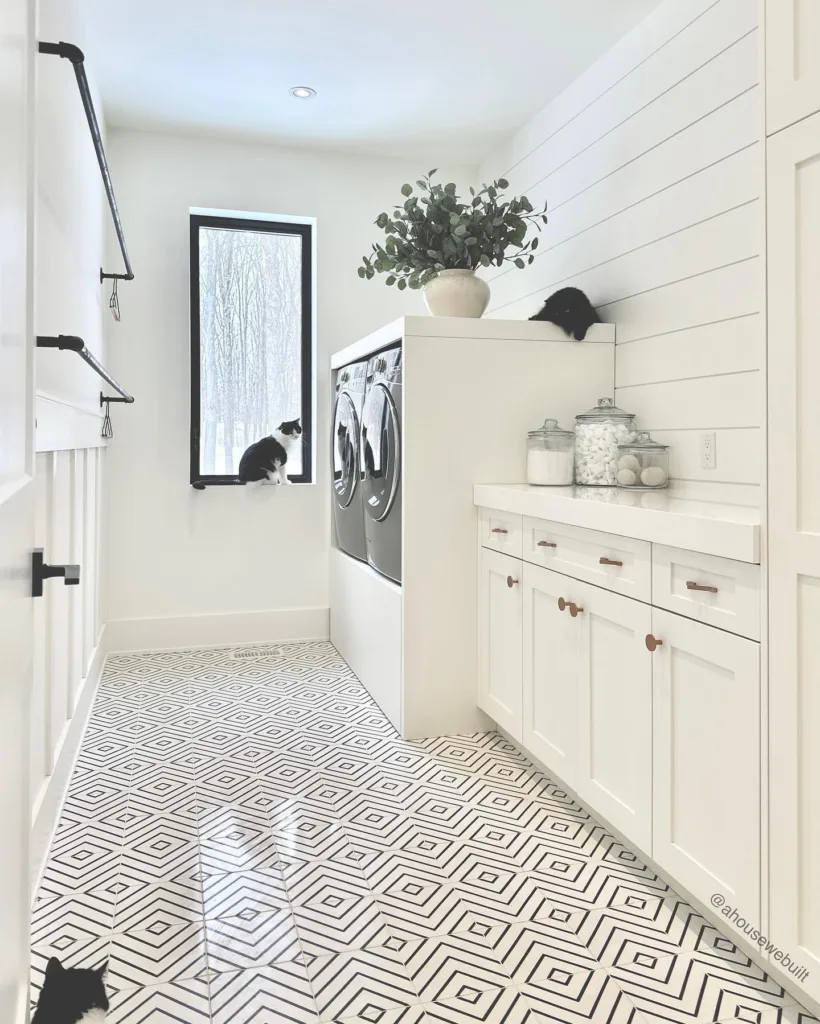 This farmhouse laundry room features a black and white patterned floor tile that is actually made up of 12″x12″ squares. A white horizontal shiplap acts as a backsplash behind the shaker-style cabinets and appliances. White butcher block countertops add to the clean look of this space.