Do you have a two-story foyer and want to create a grand entrance for your home? Then, the addition of a stunning statement chandelier would be a game-changer!
With large ceiling spaces and ample horizontal height, a foyer can seem empty. However, a stunning chandelier can add an elegant touch to the ambiance and help fill that space. Nevertheless, choosing the right chandelier for a two-story foyer can be challenging.
There are tons of factors to consider, such as—the size and design of this light fixture, whether or not it compliments the rest of the decor, and the list is never-ending!
Check out 21 of our favorite two-story foyer designs and get inspired for your home!
1. hanging waterfall chandelier with spherical lights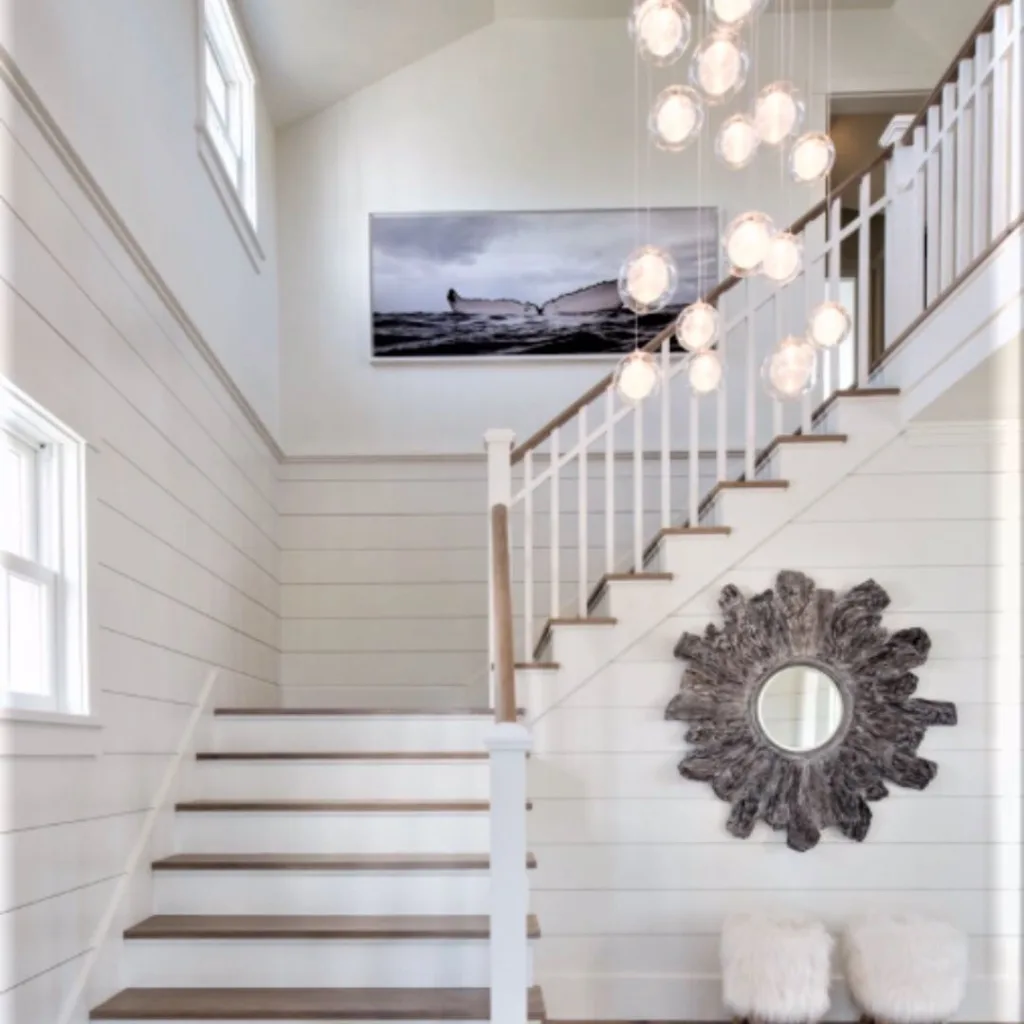 This chandelier features cascading disc-shaped lights that resemble a waterfall. This ensemble of glass elements is suspended from the ceiling and is an excellent addition to a foyer entrance.
It not only acts as the focal point of the space but also creates a stunning visual effect. The spherical disc lights add a contemporary touch to this elegant lighting fixture.
2. circular cage chandelier with a brass finish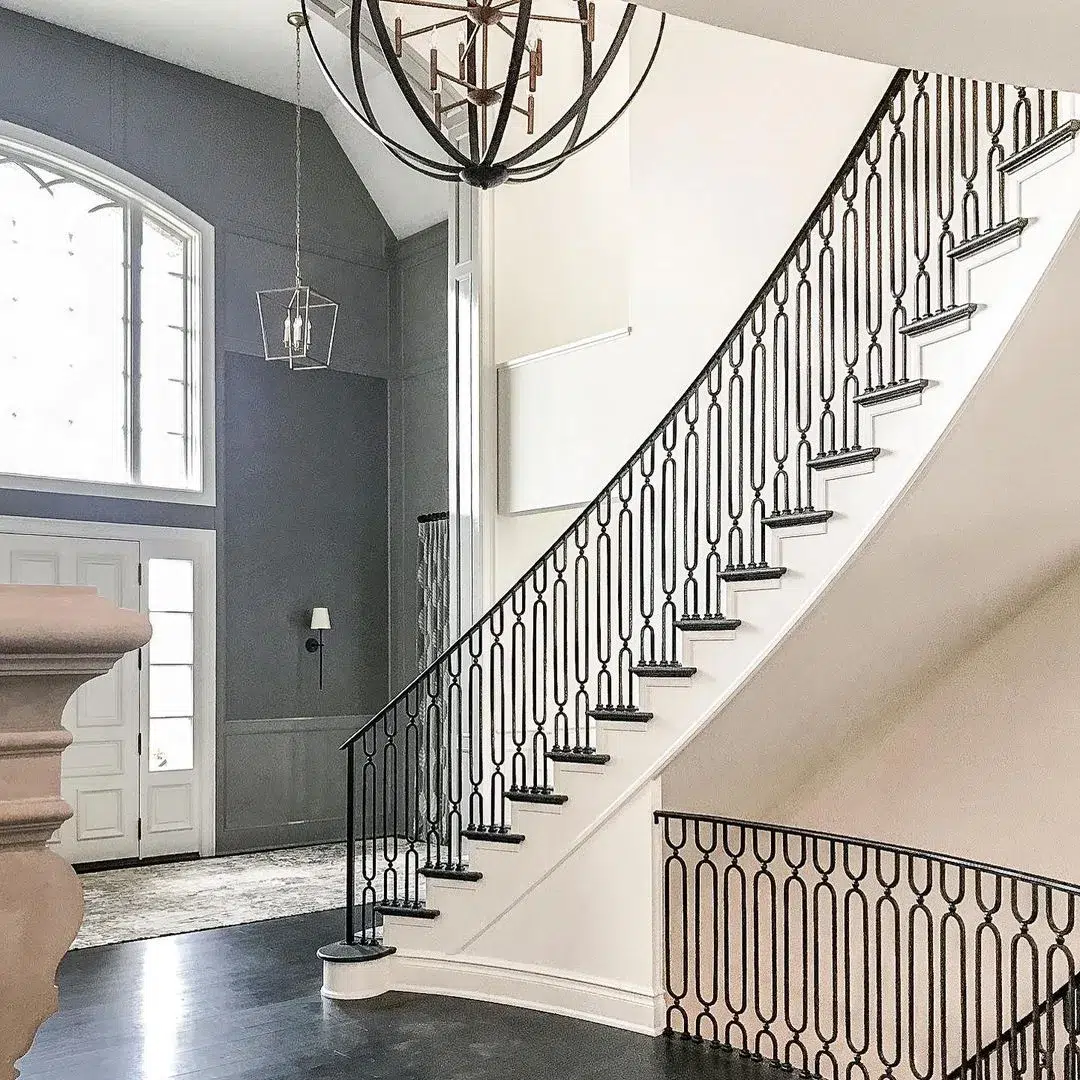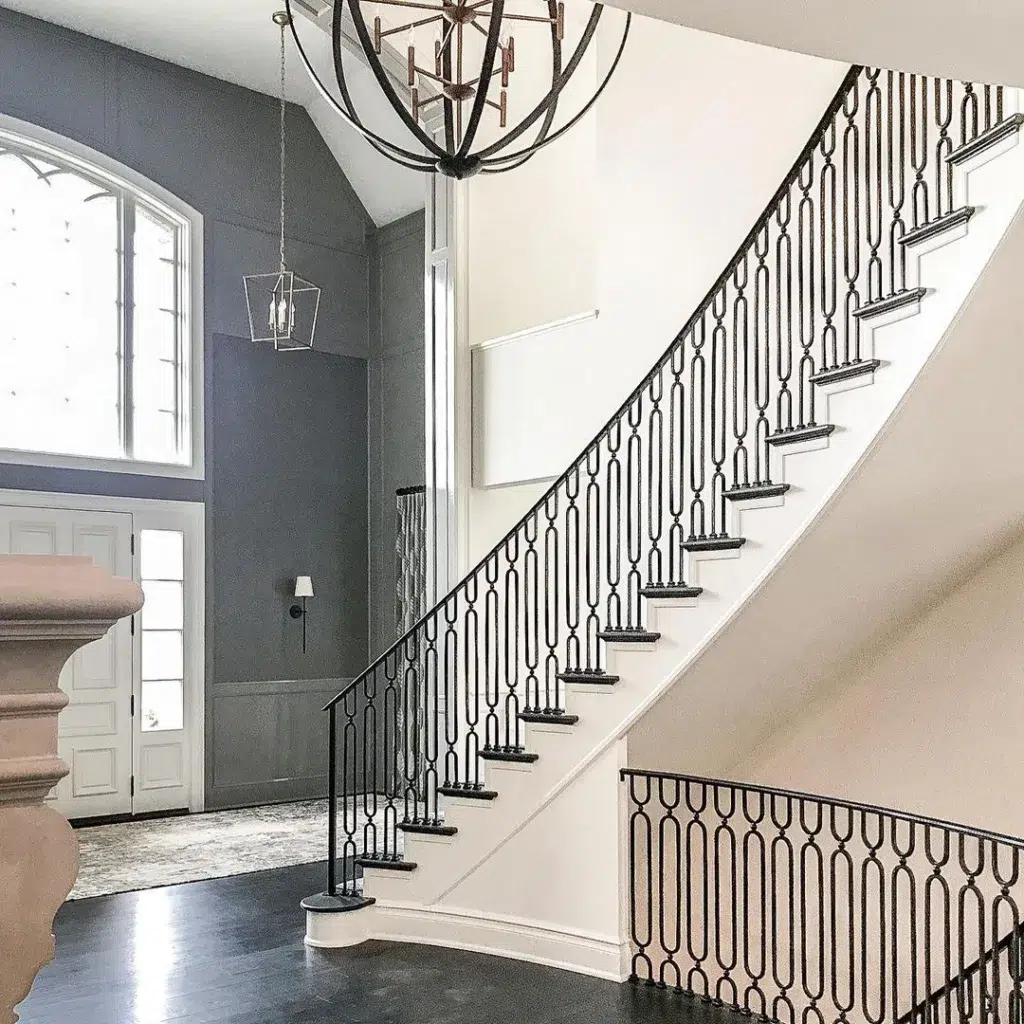 A unique way of elevating the entrance for a two-story foyer is to include a contemporary chandelier with a circular frame made of brass.
This candelabrum's arms are straight and effective in holding light bulbs or candles. The chandelier's open cage-like frame and brass finish add a touch of elegance to the overall design.
3. geometric glass encased chandelier with gold accents
This chandelier features a geometrical arrangement of glass pieces, and where bulbs are kept within. The gold accent of the chandelier enhances the beauty of this aesthetically pleasing girandole.
The two-story foyer's white and minimalistic color scheme lets the chandelier be the focal point of the space. Overall, this unique light fixture design exudes glamour and sophistication.
4. Modern cylindrical chandelier with crystal lights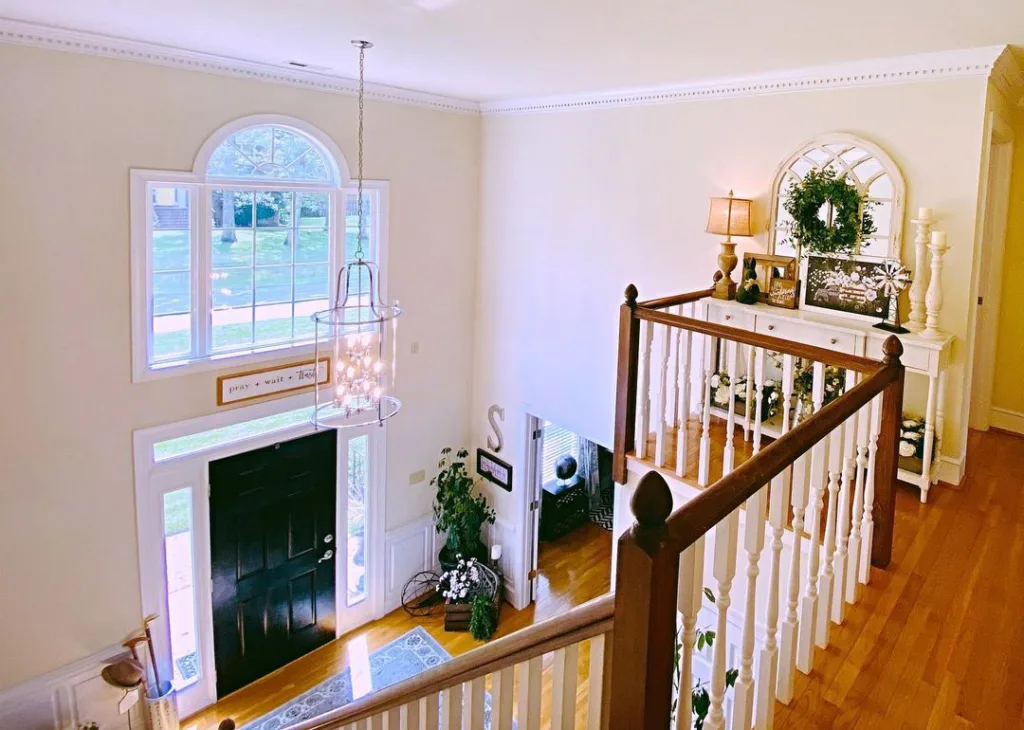 This distinctive two story foyer design features a contemporary, sleek chandelier with a cylindrical body frame, and multiple miniature crystal lights adorn its interior.
The size and the striking design make a dramatic statement, and the minimalistic design makes it perfect for homeowners looking to add a statement decor to their foyer space without going overboard.
5. traditional shaded chandelier with a wagon-wheel base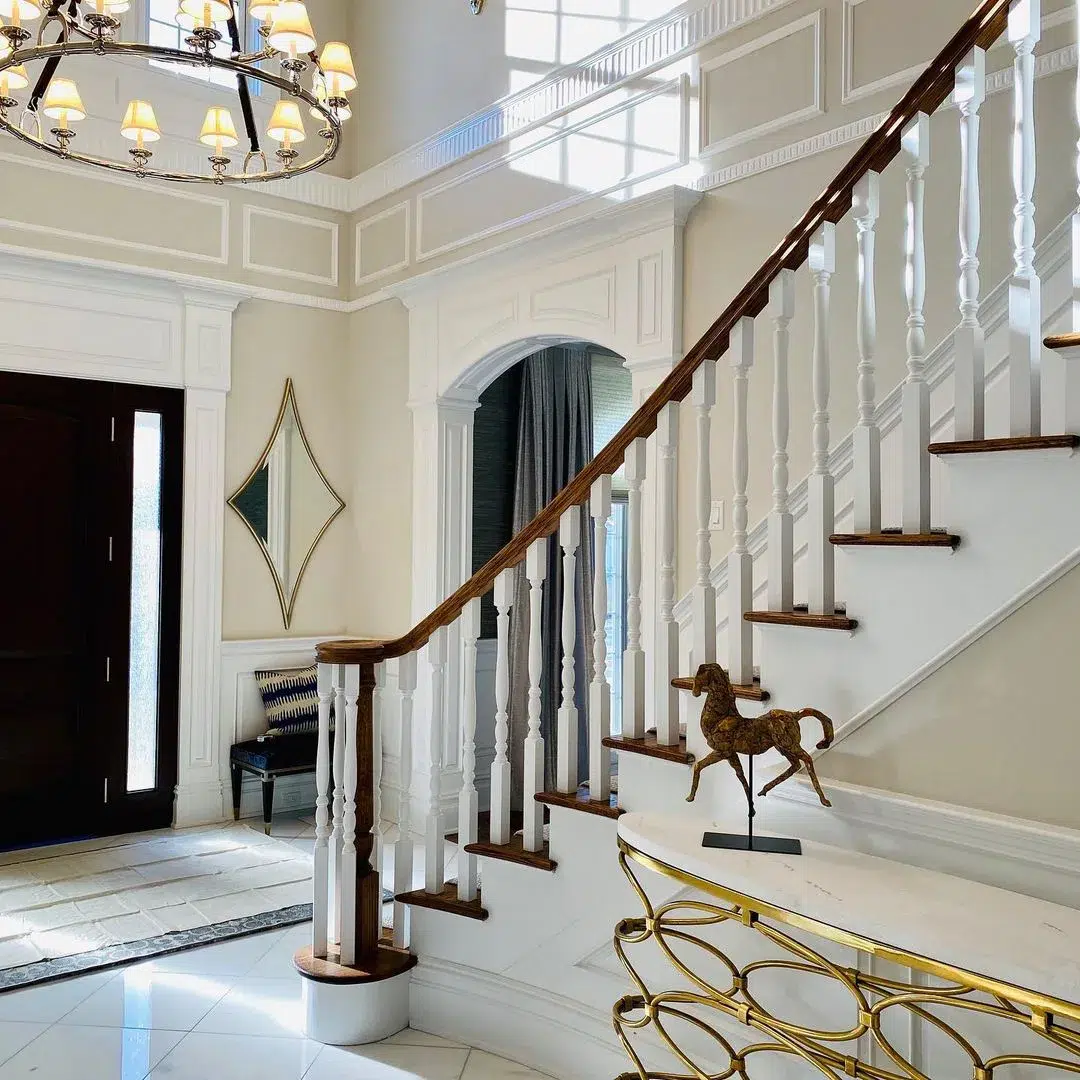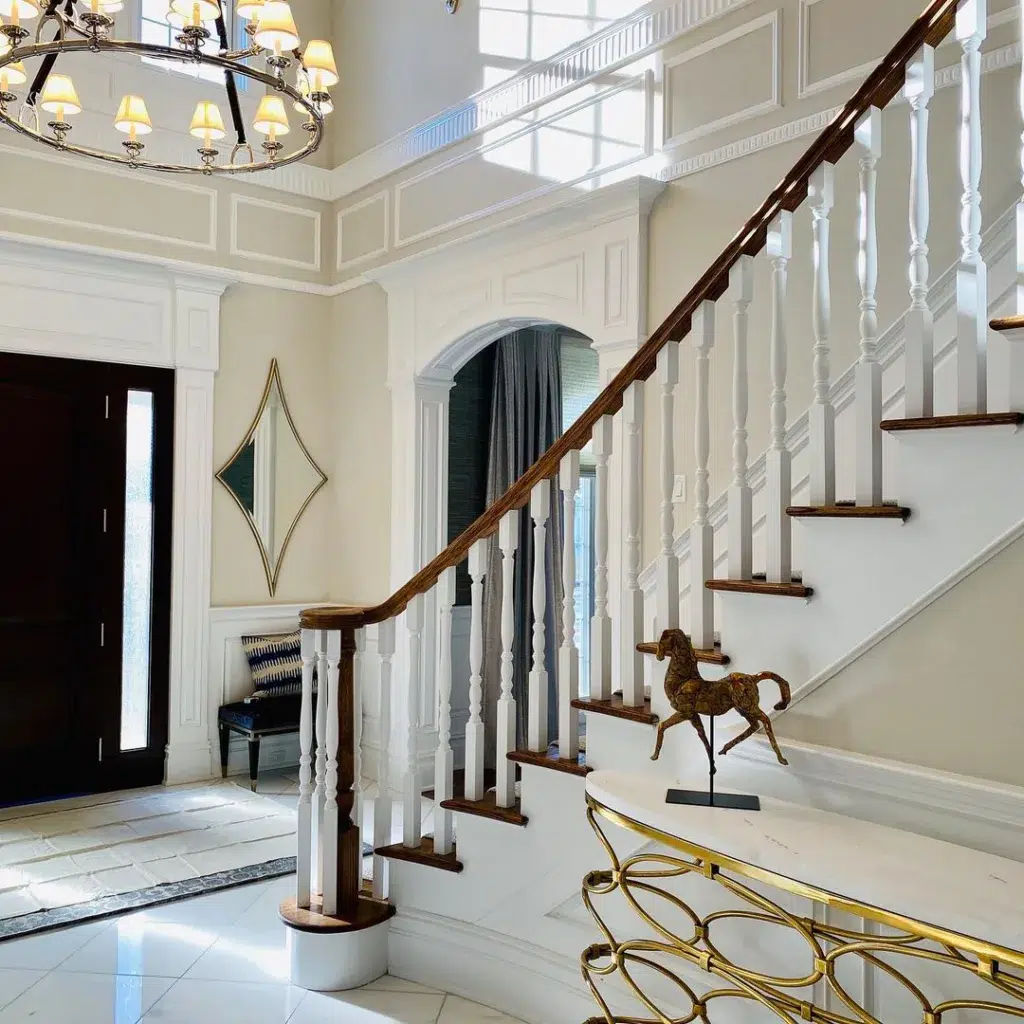 Any minimalistic space can be made grand with the addition of this traditional shaded chandelier. Its wagon-wheel base helps to attach the light bulbs and gives the overall design a vintage look.
The arms of the candelabrum adorn tiny shaded lamps, and the metal framework has a hint of gold that compliments the eclectic decor of the house.
6. stunning hybrid crystal chandelier in a spiral arrangement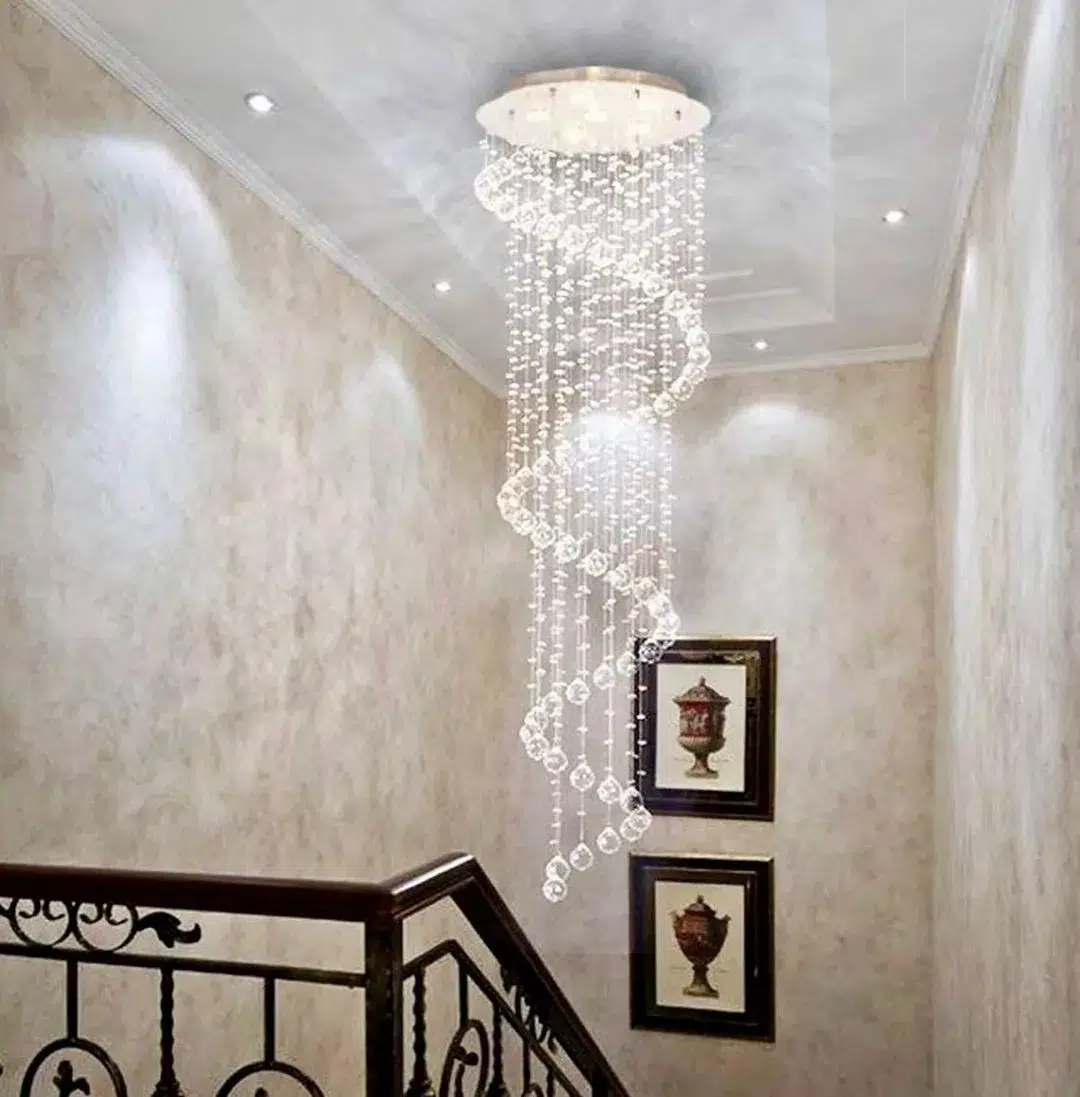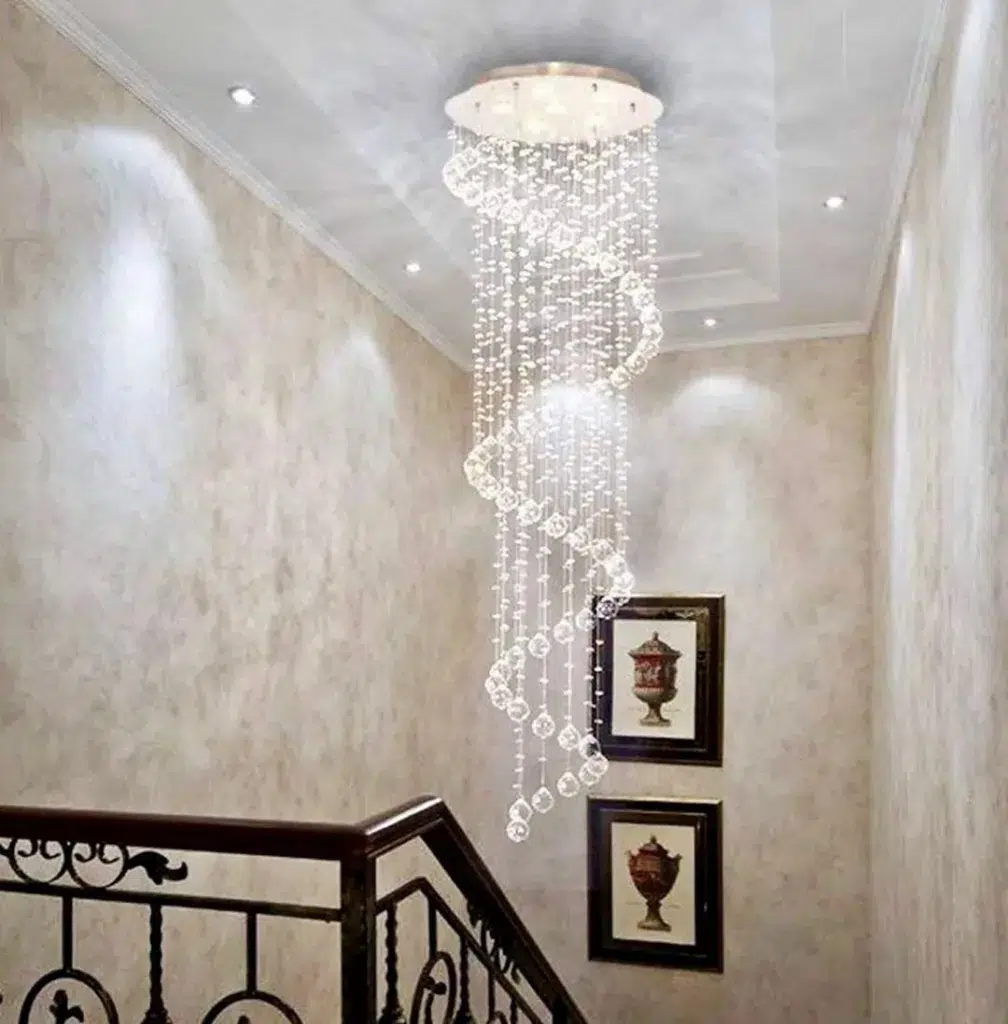 This chandelier design screams elegance and grandeur. The spiral arrangement of the glass elements creates a striking visual that will draw the eyes upwards.
The bright white light emitted from this stunning light fixture brightens the entrance of the two-story foyer. Overall, this statement piece is a popular choice for anyone with a thing for bling!
7. Mini vintage lantern chandelier with a foliage design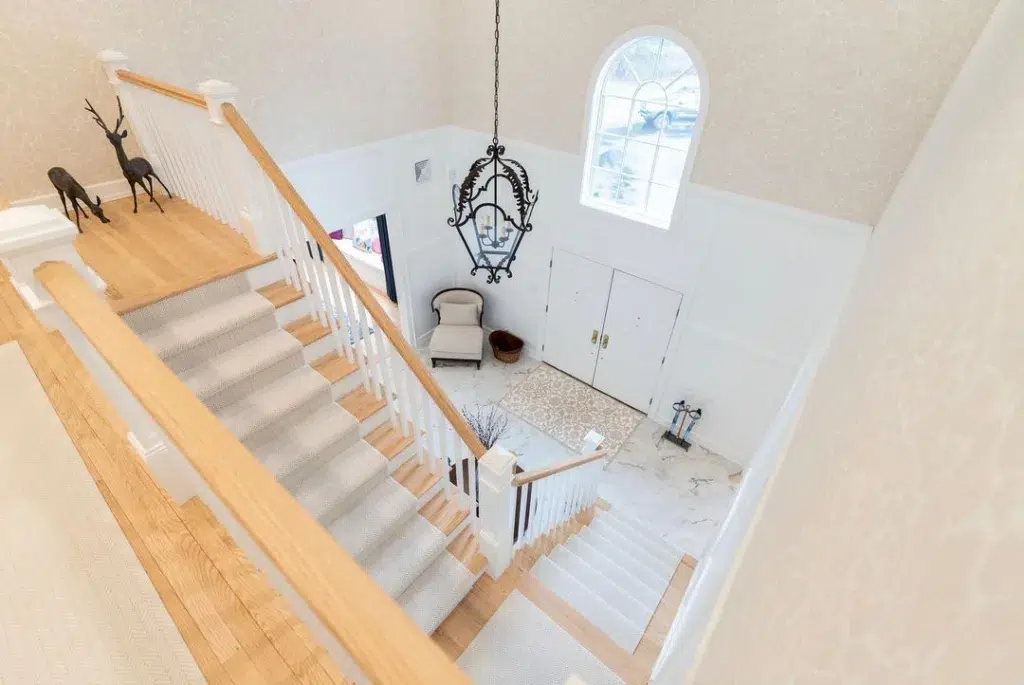 This two-foyer entrance displays a minimalistic yet chic decor that is complimented by adding a mini vintage chandelier.
This candelabra has a lantern-shaped design with tiny foliage motifs adorning its frame. The light bulbs are encased within the tiny metal chandelier, whose frame exudes a rustic brass finish.
8. modern glass chandelier with a chic gold accent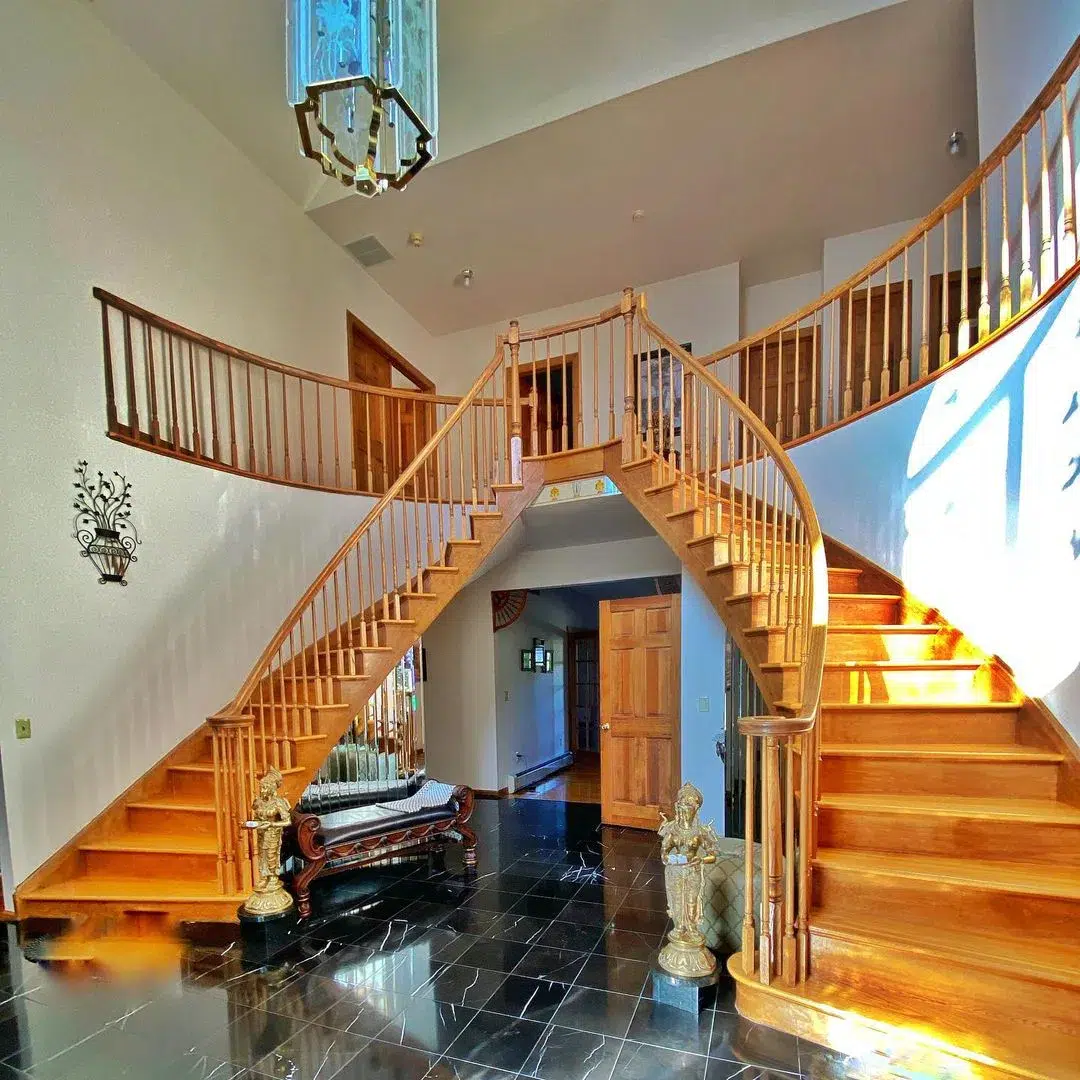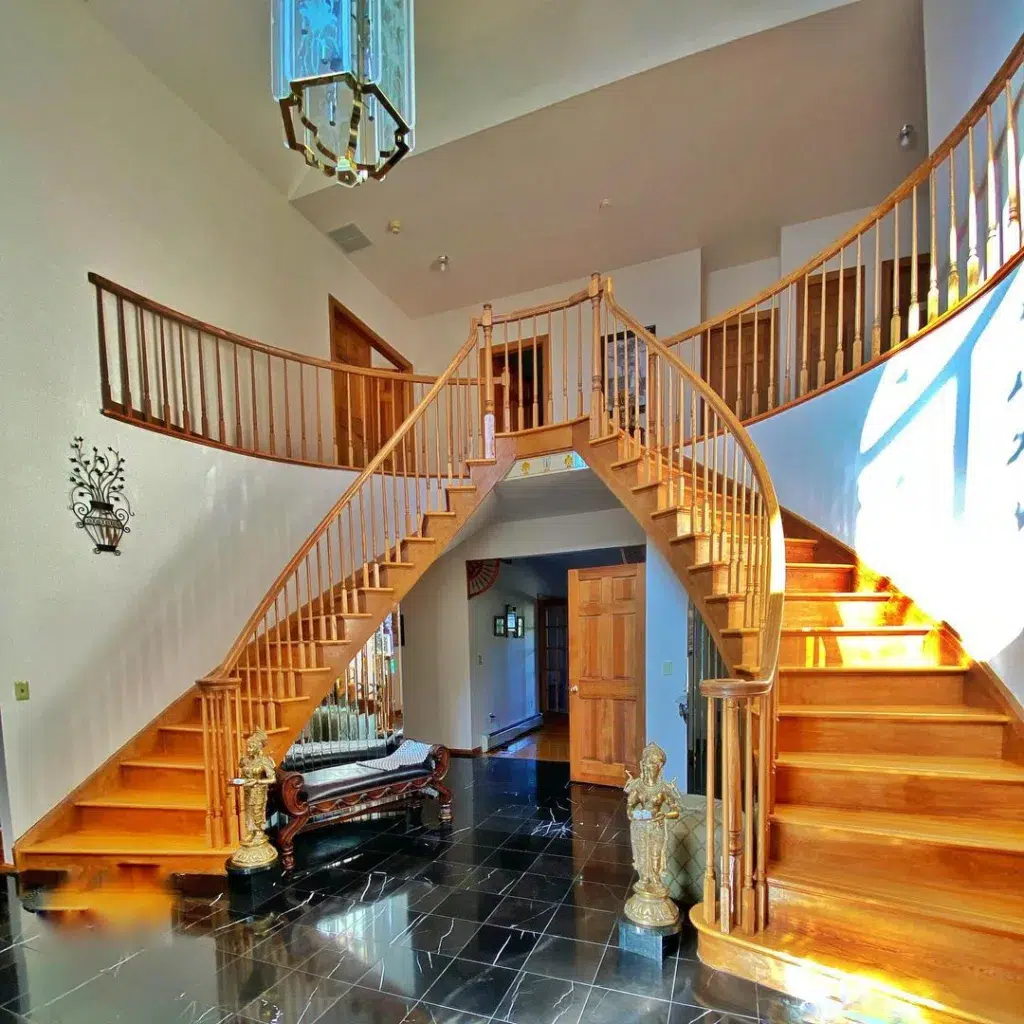 This modern geometric glass chandelier strikes a visual contrast to this overall elegant two story foyer entrance. In addition, this light fixture's unique longitudinal design and the minimalistic golden accent add a touch of sophistication to this decor.
In broad spectra, this new-world sconce is a great addition to the space as it uplifts the mood and aesthetic of the ambiance.
9. elegant sputnik chandelier with a golden hue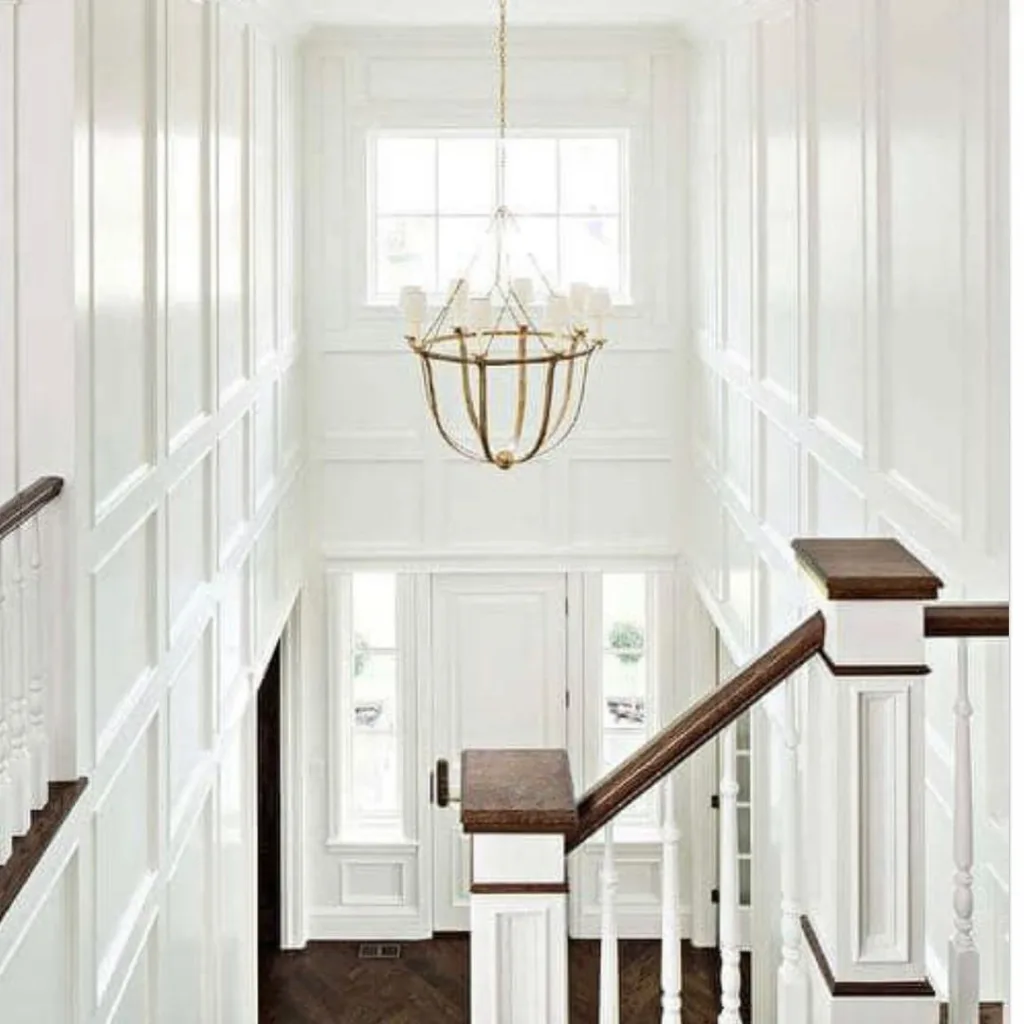 The simplicity of this two-foyer entrance is enhanced by suspending a mid-size ceiling light.
With its size, shape, and overall design, this candelabrum adds a touch of elegance to this white-washed, minimalistic environment.
10. antique shaded chandelier with A black & white theme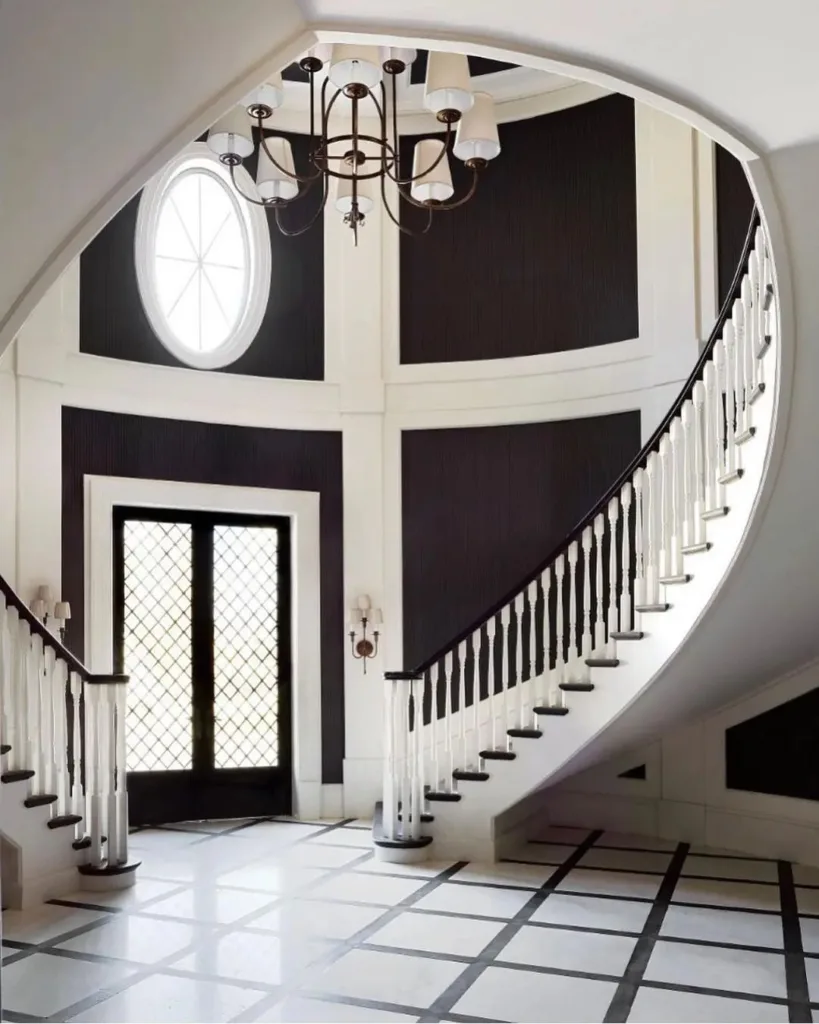 Glitz and glam might not always be the right approach for home decor, and this simplistic sconce is a great example. This antique shaded chandelier with a black and white hue perfectly compliments the overall aesthetic of the two story foyer.
The tiny shaded lamps are a classy way to enhance the visual interest of a suspended chandelier.
11. triple white Caged ellipsoid chandelier
This two story foyer chandelier design features three large ellipsoids painted a serene white color with a caged body. These ellipsoids are suspended from the ceiling and are far from each other.
This light fixture design exudes minimalistic with a chic twist. It is a one-of-a-kind sconce design that is a popular choice among homeowners who enjoy a laid-back ambiance.
12. statement white Spherical designer chandelier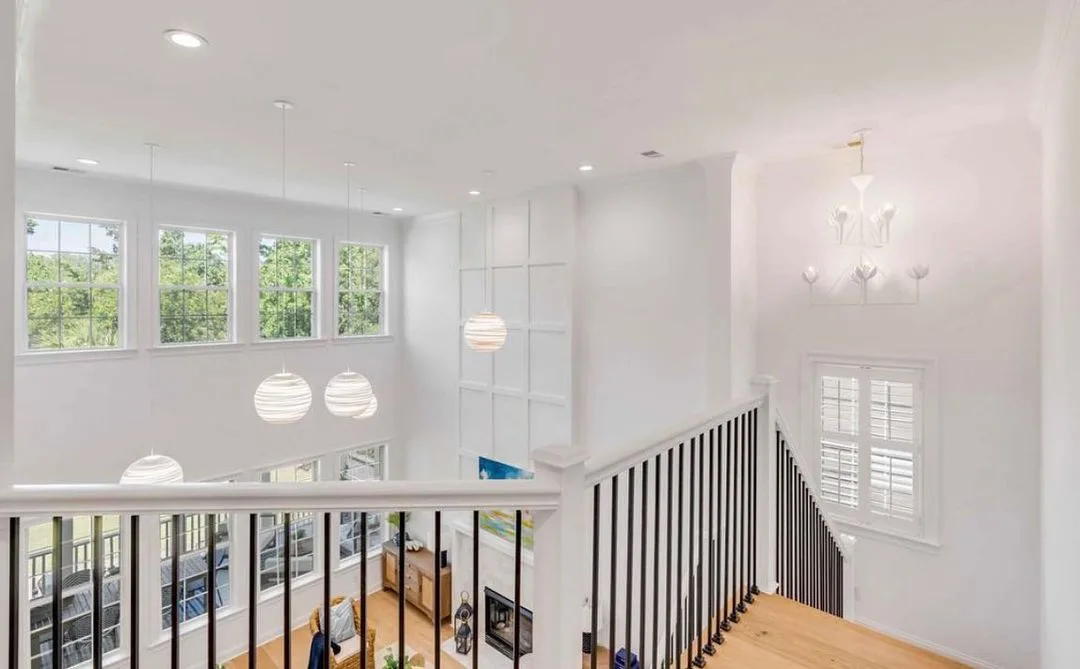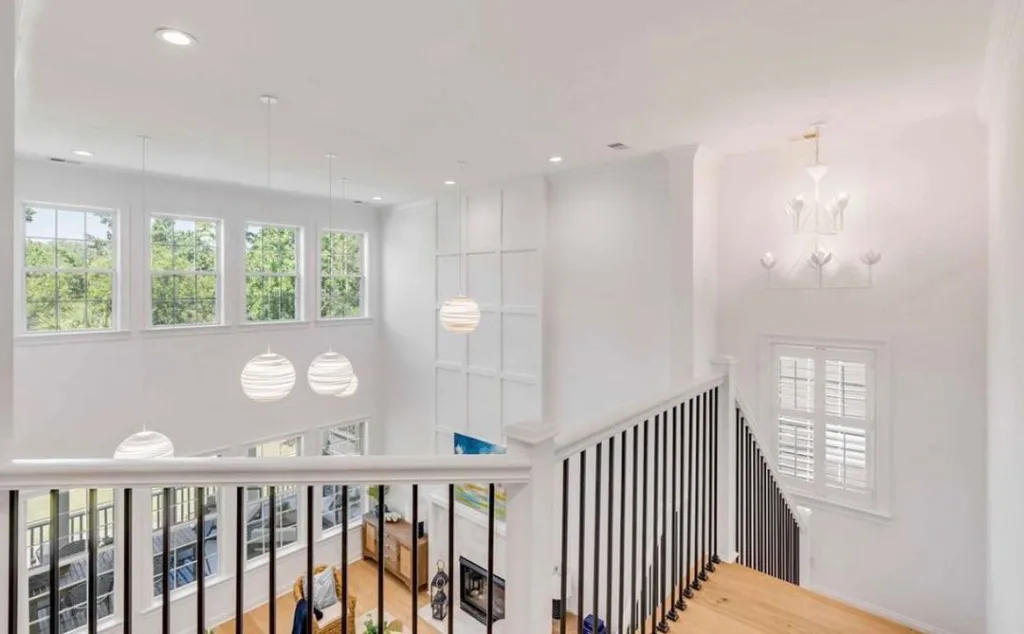 These five white artistic spheres suspended from the ceiling at a sparse distance create a visually aesthetic ambiance for a two-foyer entrance.
This modern chandelier design is an excellent way of adding a touch of elegance to the space and creating an inviting and visually aesthetic ambiance.
13. modern minimalistic lantern-style chandelier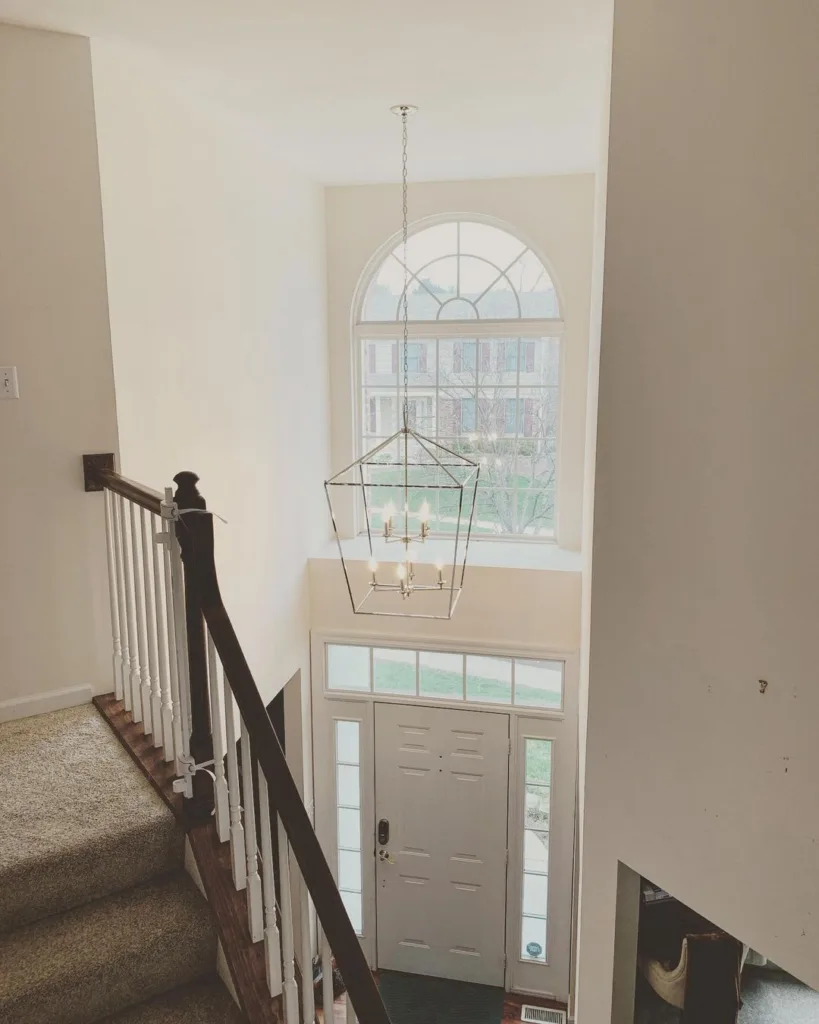 This chandelier design features a sleek, dainty lantern-style light fixture with a naked metal framework that encases tiny candles or light bulbs.
This statement piece's minimalistic design emphasizes the chandelier's function and simplicity. On the other hand, the silver hue of the framework adds a touch of contemporary sophistication.
14. traditional empire chandelier with glass beads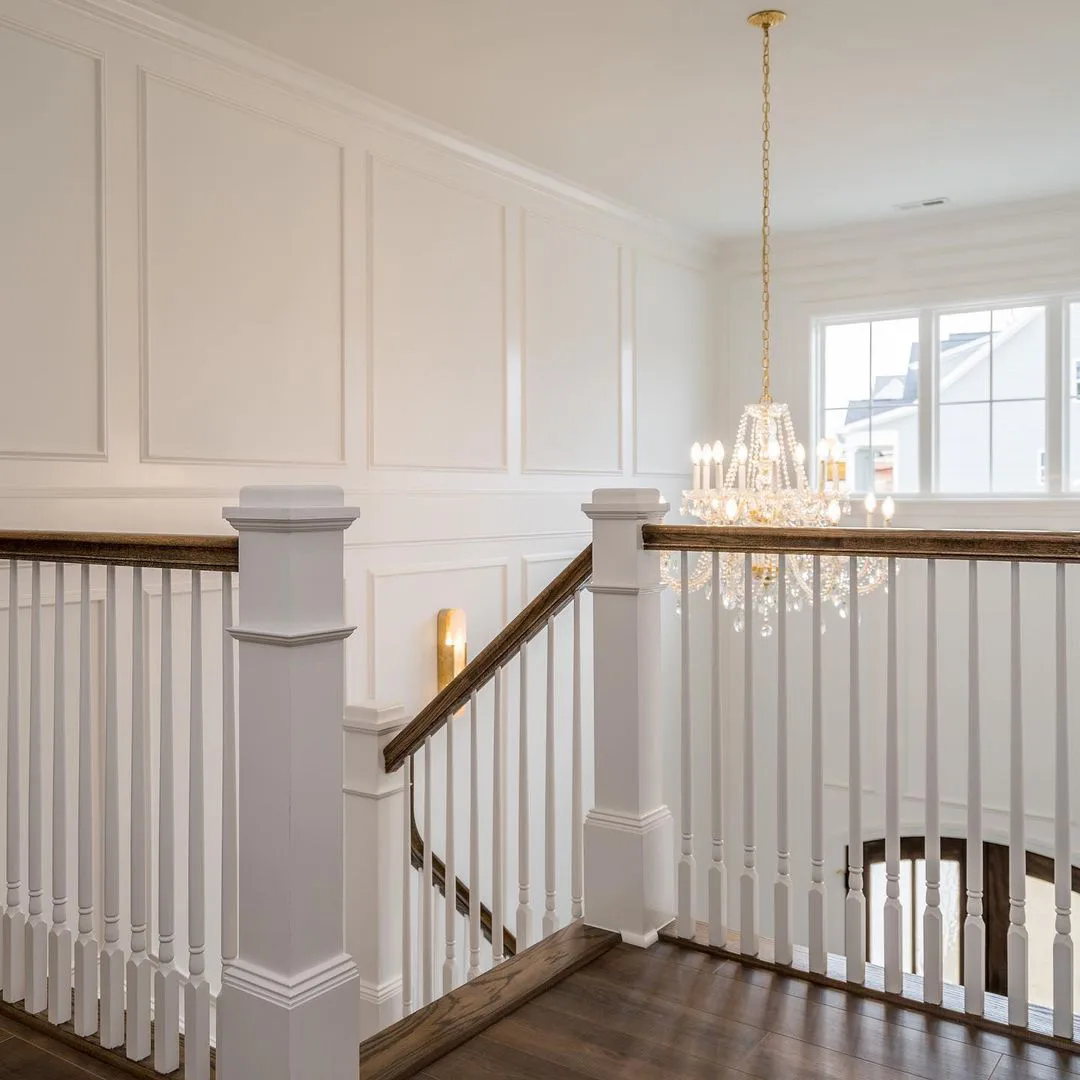 A classic traditional empire chandelier features an elegant flow of tiny glass beads covering the entirety of this light fixture.
When the light shines through these tiny beads, a beautiful sparkle and shimmer radiate throughout the space. Overall, this sconce adds an elegant touch to any two story foyer entrance.
15. antique shaded chandelier with rustic Branched arms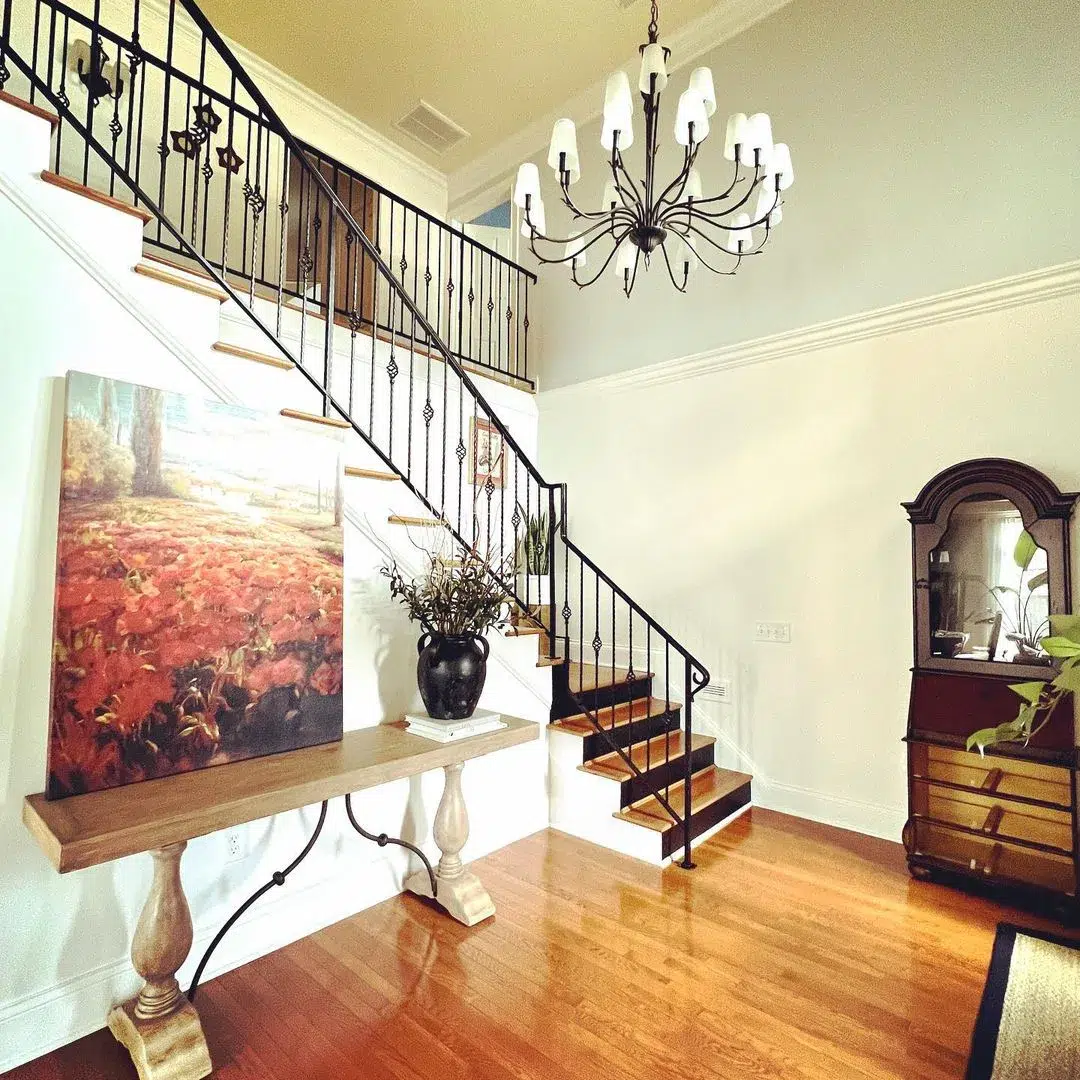 In this rustic chandelier design, the arms of the light fixture are branched in such a way that they resemble the branches of a tree. At the same time, the shaded lamps provide a visual contrast to the overall aesthetic.
Adding this sconce to a two-story foyer entrance can elevate the ambiance naturally while blending in with the overall rustic decor of the household.
16. contemporary caged oblate spheroidal chandelier
Adding this modern, sleek oblate spherical chandelier is the easiest way to enhance the vast open space of the two foyer entrances.
The caged body frame and the copper hue create an aesthetically pleasing statement piece that is perfect for anyone looking to elevate the space without traditional heavy lighting fixtures.
17. vintage empire chandelier with silver accents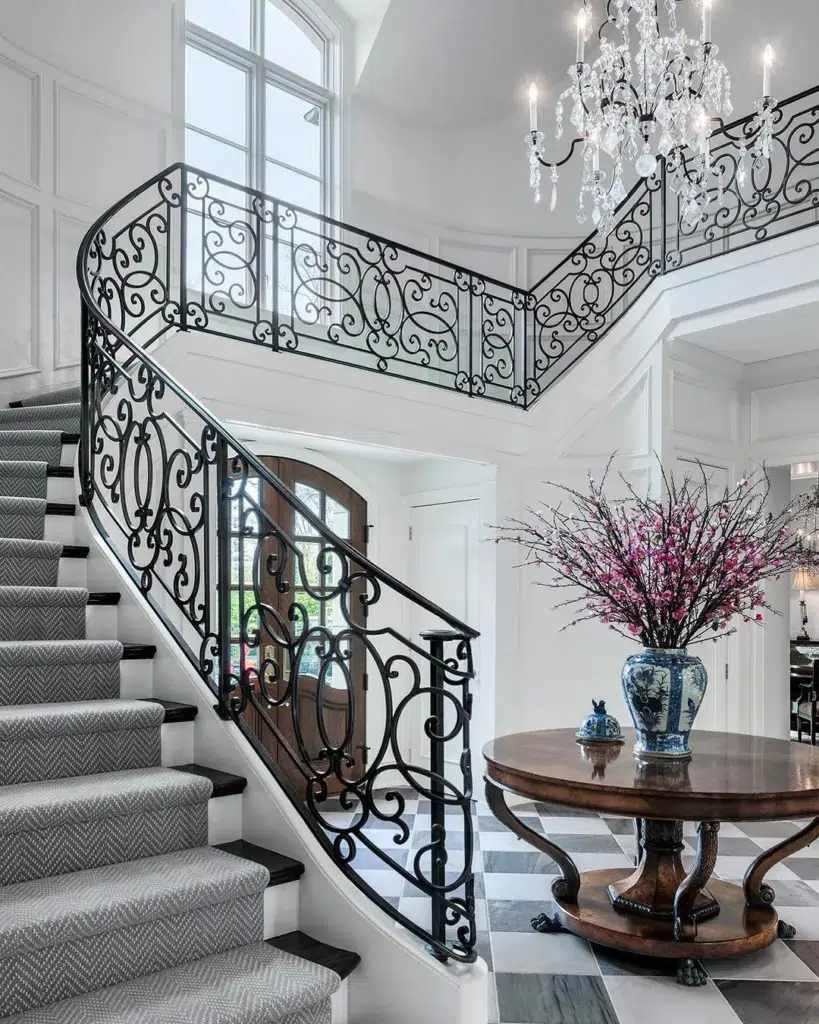 This classic empire-style chandelier features ornate crystals and a silver-plated framework that exudes luxury and glamour.
The size of this light fixture creates a dramatic statement, and the decorative elements make it look timeless and elegant. Overall, this sophisticated chandelier is the perfect fit for any foyer space.
18. rustic beaded chandelier with a wagon-wheel base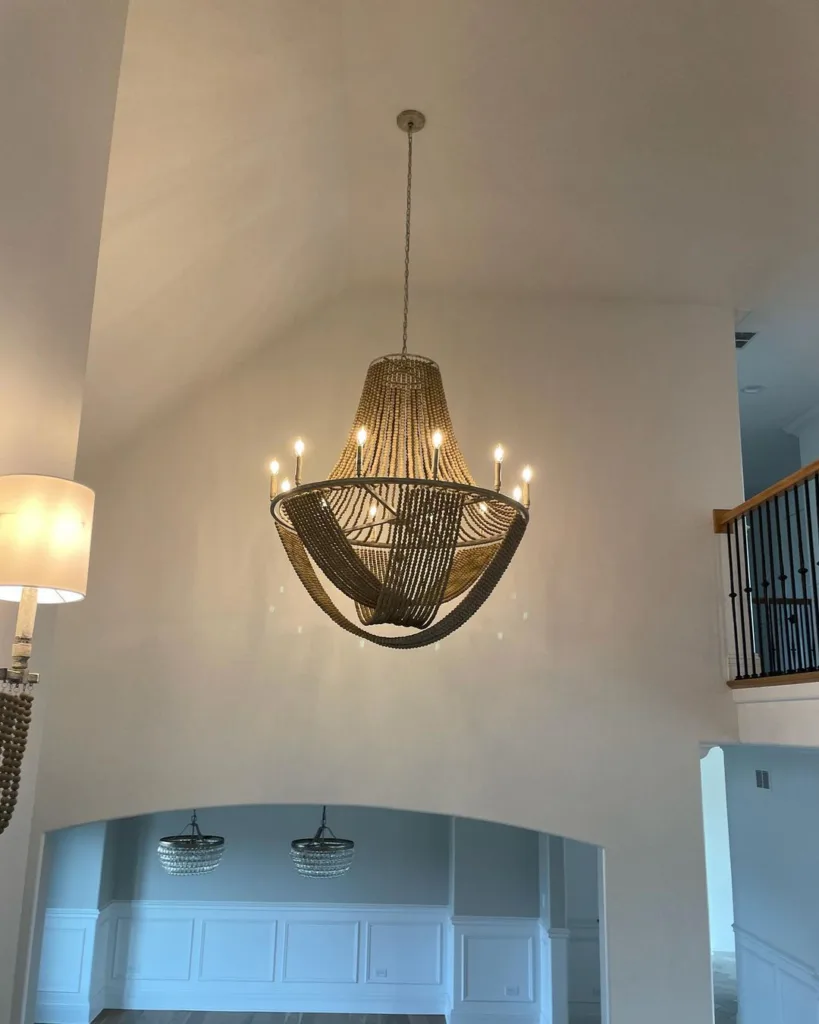 The base for this chandelier is called a wagon wheel style. It is infamous for being utilized in two-story foyer spaces and supports the suspended elements of the chandelier.
The rustic beads are strung together to create a stunning cascading effect. In addition, the decor of this candelabrum adds a touch of warmth to the overall ambiance of the space.
19. mini crystal chandelier with floral motifs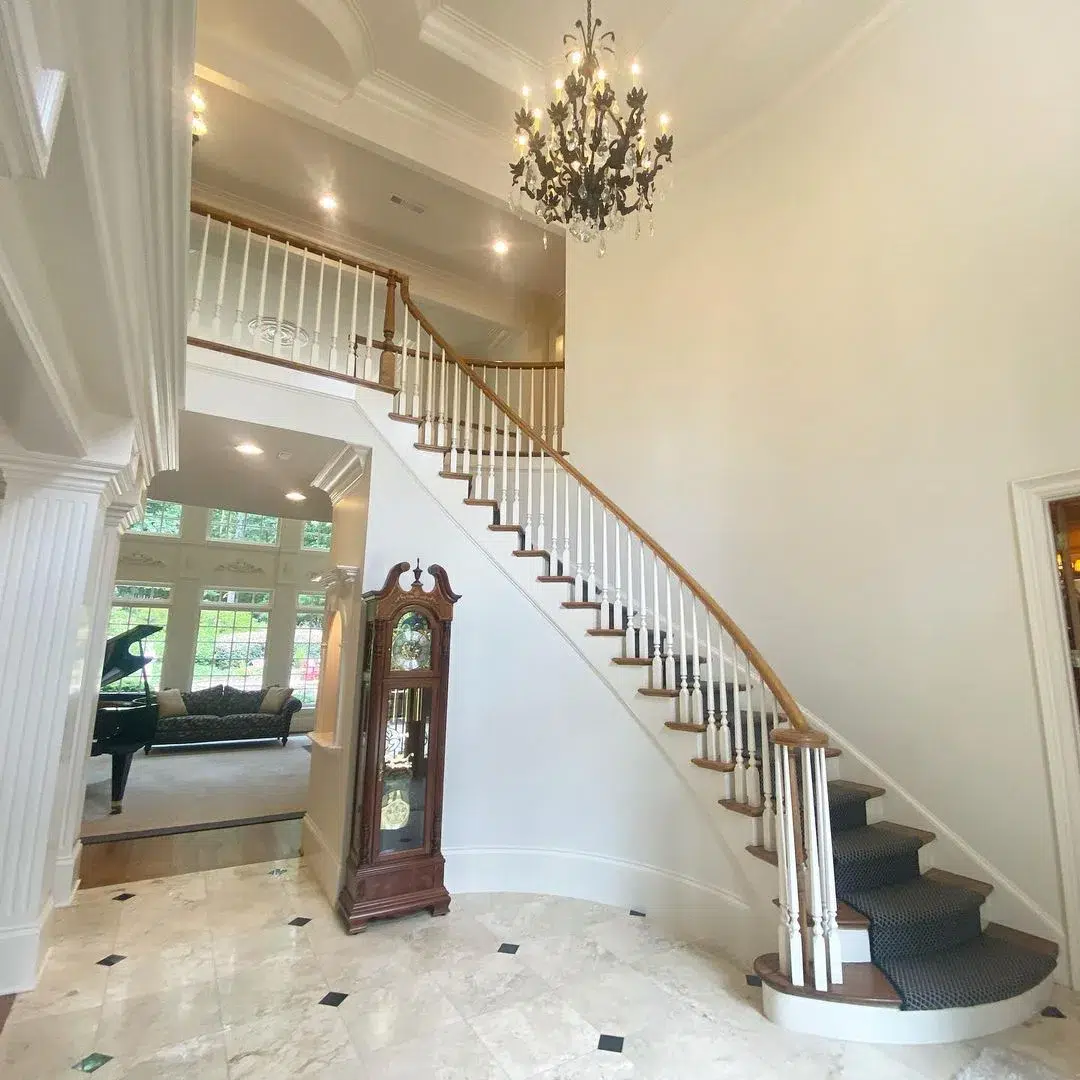 This chandelier is characterized by using crystals and floral decorative elements throughout its framework. The miniature size of this sconce makes it look elegant and chic.
Overall, this kind of lighting fixture acts as a focal point of the room and adds a touch of sophistication and glamour to the two story foyer entrance. The curved staircase in this entryway accents the foyer's style.
20. empire-style chandelier with a Glided glamour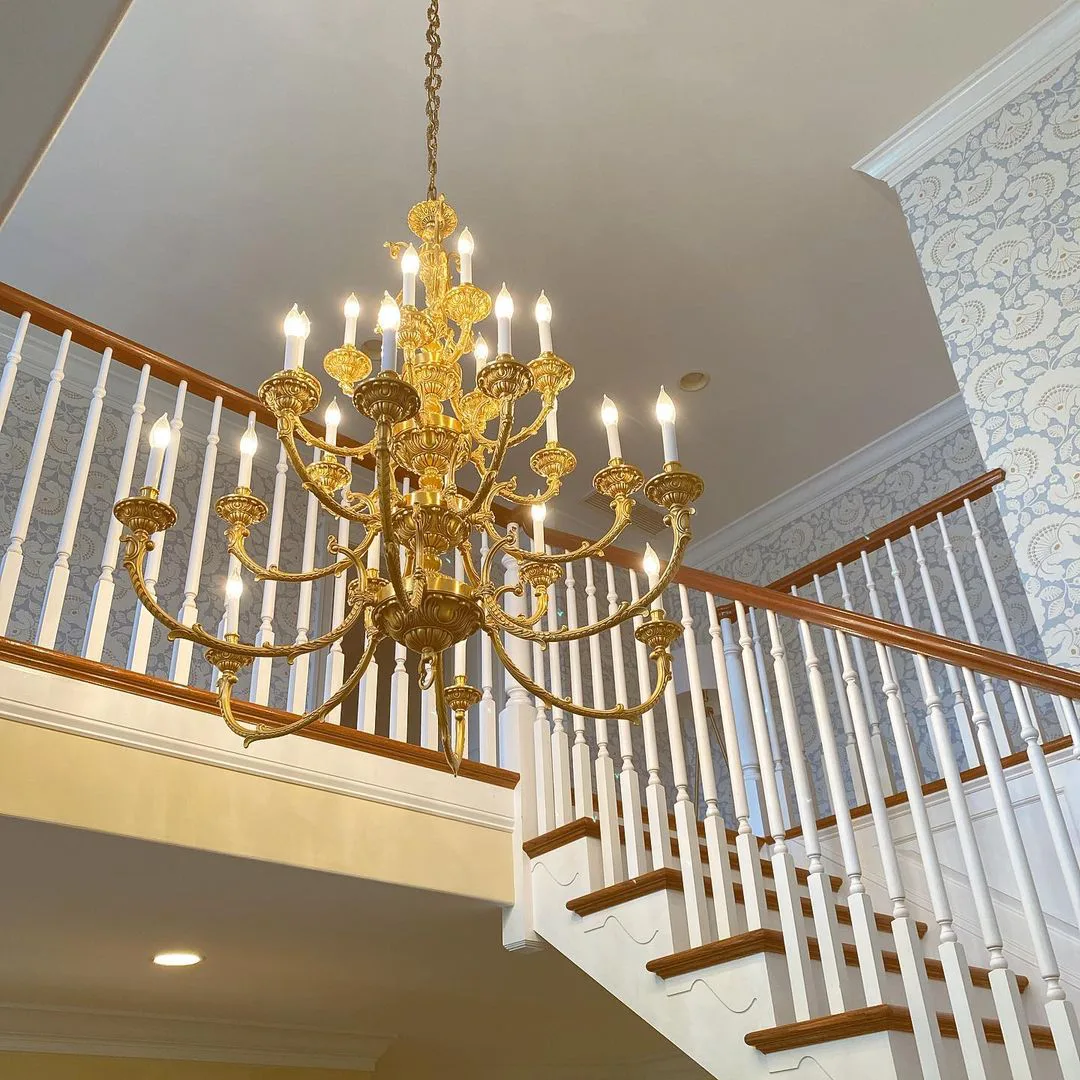 This vintage empire-style chandelier is characterized by the statement golden hue and the intricate designs carved on its framework.
On the other hand, the candles or light bulbs perfectly uplift this candelabra's glided glamour. All in all, this chandelier creates an air of grandeur and elegance in the overall minimalistic entrance of a two-story foyer.
21. contemporary geometric chandelier with a silver hue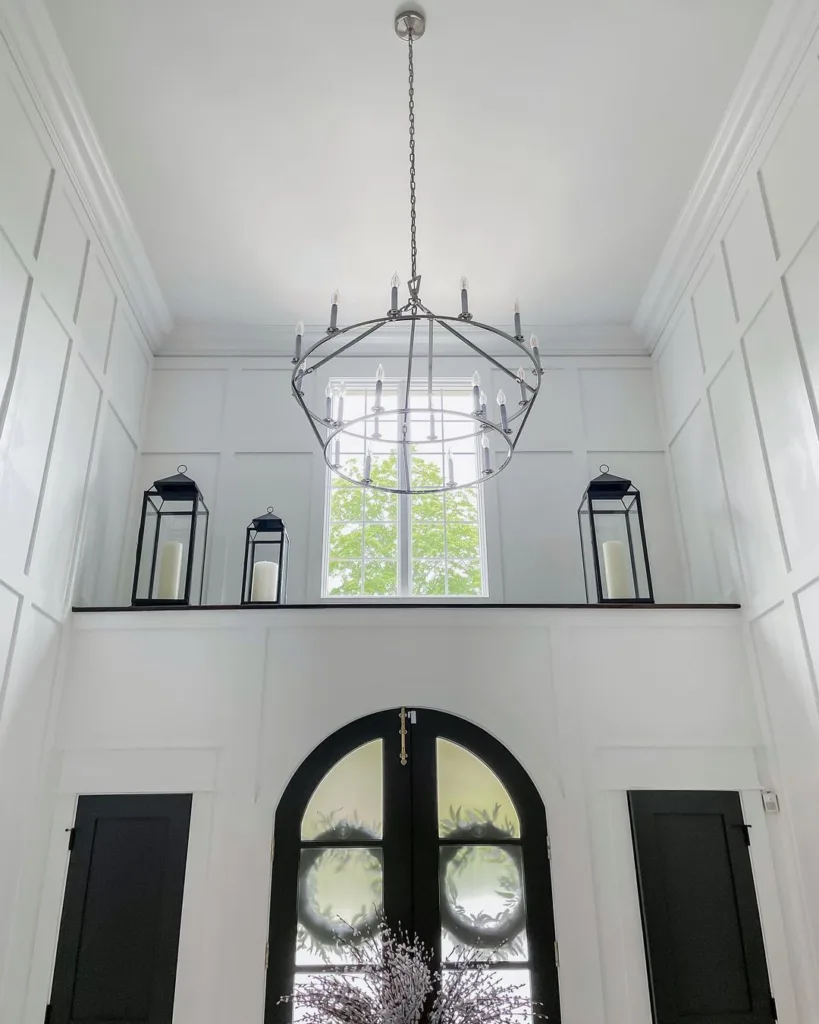 This modern chandelier has a unique asymmetric geometry and a shiny silver finish. The light fixture is suspended from the ceiling of a two-story foyer and strikes as the space's focal point.
Overall, this candelabrum creates an aesthetically pleasing statement in the space and exudes simplicity and sophistication.