A painted stone fireplace can transform the centerpiece of your home to be more modern and fit your design. While natural stone works well in rustic designs, if you're looking for a more modern style, painting your stone fireplace is the way to go!
Painting your fireplace can seem intimidating, but it doesn't need to be. This is actually a relatively easy DIY project you can do over a weekend. The most important part is cleaning your stone first so the paint sticks to it better. From there, paint away and enjoy the results!
To create a brighter living room, try a white-painted fireplace that will stand out! Or, if you want a moody and modern look, go dark with a black-painted fireplace that's sure to be a conversation starter! The possibilities are endless, and you can even use colors to accent your design (#17 does a great job with this)!
Browse our gallery of painted stone fireplace designs for more inspiration!
1. White Painted Stone with White Shiplap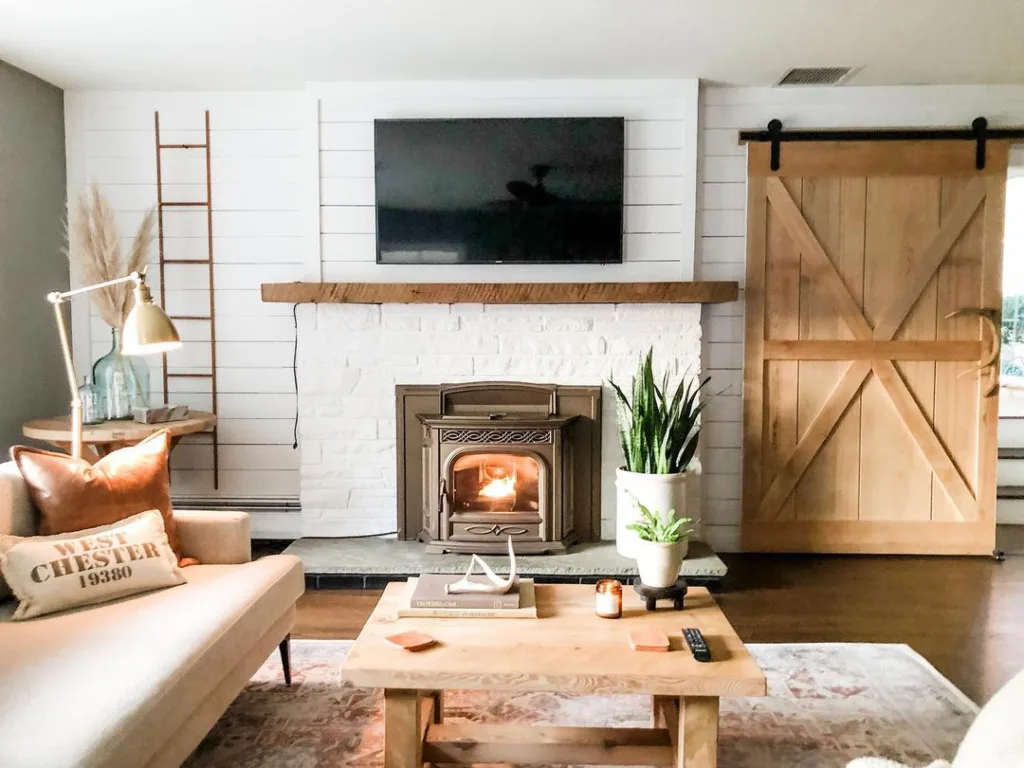 This white-painted stone fireplace is met by a white shiplap on the wall behind it, adding to the farmhouse style of this living room. A natural wood barn door nearby adds to the rustic style and matches the wood mantel and coffee table.
2. Black Painted Brick with a Wood Mantel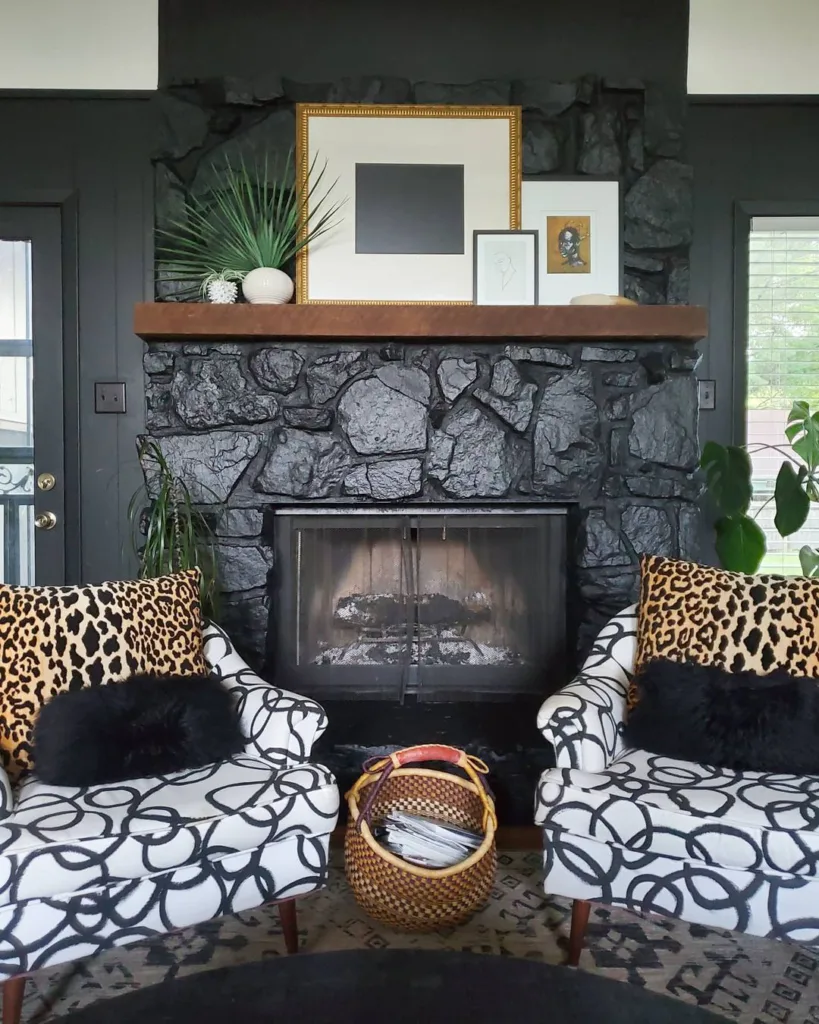 This black-painted fireplace creates a dark contrast accented by the two patterned chairs positioned in front of it. Cheetah print pillows add a unique pop of color and pattern to the space while complementing the gold-framed artwork on the mantel.
3. White Painted Stacked Stone in a Dining Room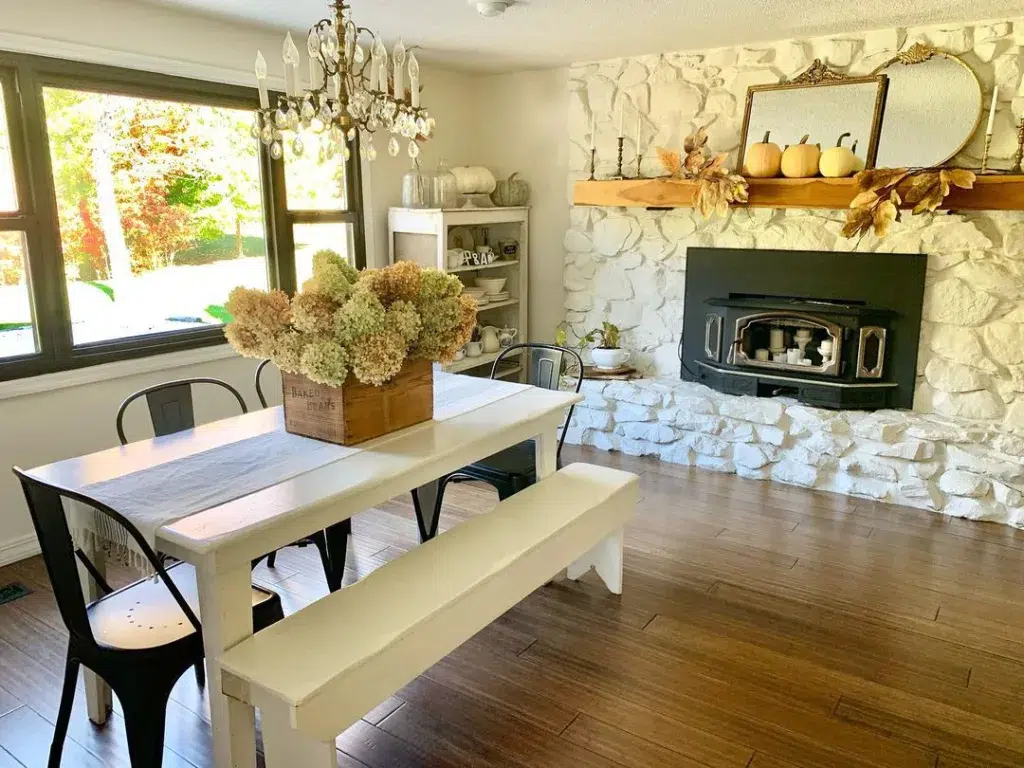 Painting this stacked stone fireplace white helps it blend with the white walls and dining room table nearby. Black metal chairs accent the black fireplace insert at the table and black window trim.
4. Whitewashed Stone with Wood Shelves
White oak built-ins flank this whitewashed stone fireplace. Whitewashing is a technique that involves watering down white paint before applying it to your stone. The result is a lighter stone fireplace that still lets some of the natural colors shine through. You can control the color by adjusting the amount of water you add to the paint.
5. A Black painted Brick Stone Chimney Fireplace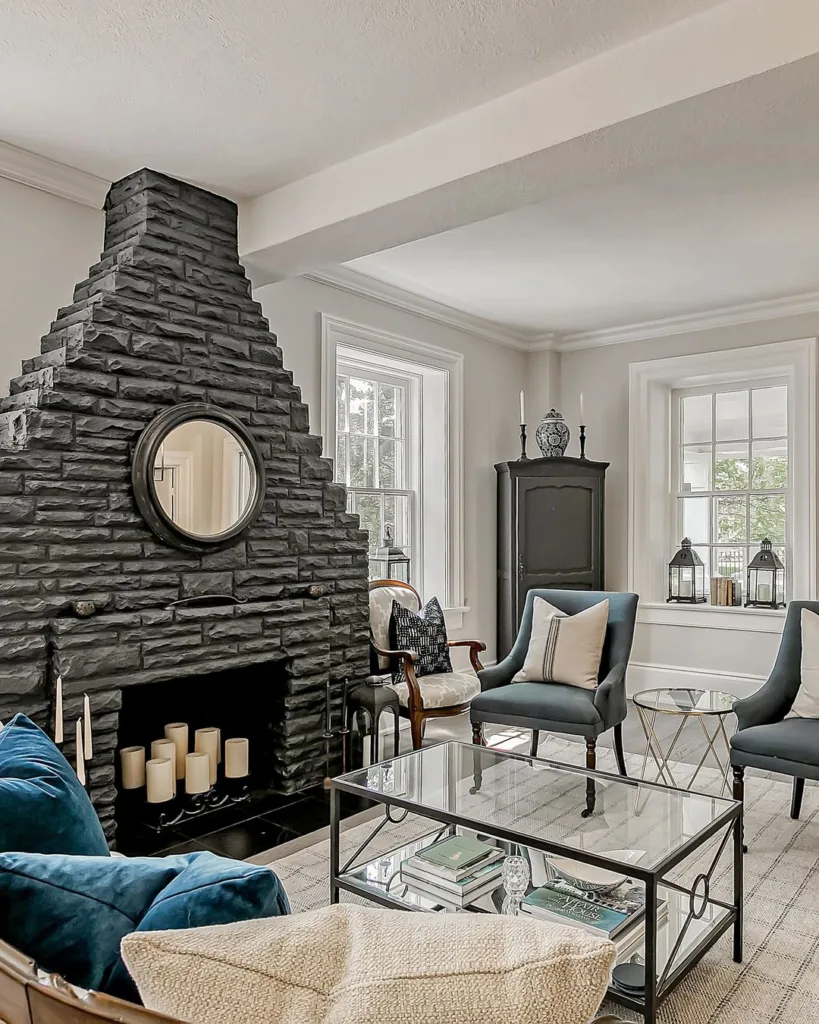 This stone chimney-style fireplace is painted black, contrasting this elegant seating area with a beige rug. Dark grey accent chairs and a black metal framed glass coffee table complement the fireplace.
6. A White Painted Tall Fireplace with Vaulted Ceilings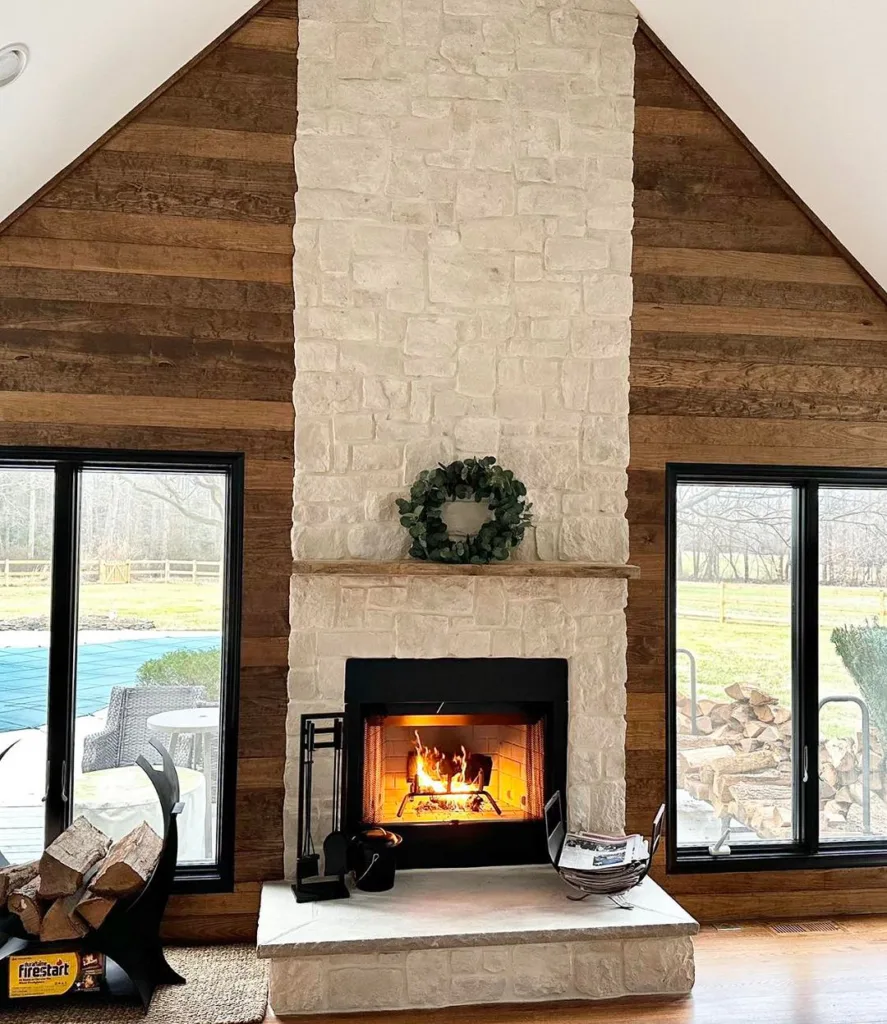 This white-painted stacked stone fireplace is the perfect addition to this cabin with a shiplap accent wall. Painting the stone white helps neutralize the color and adds a bright contrast to the space.
7. A Brown Wood on a Chalk White Stone Fireplace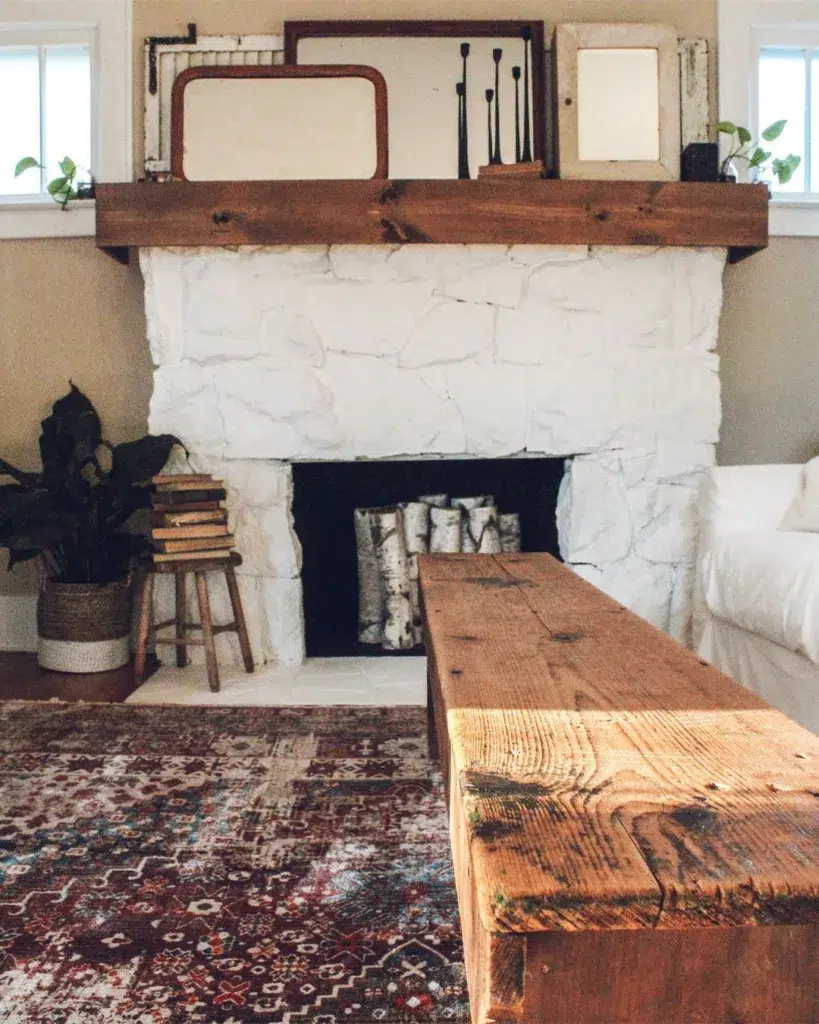 By contrasting the warm, organic tones of the wood with the cool, crisp tones of the stone, this combination of brown wood on a chalk white stone creates an aesthetically appealing and fashionable fireplace decor.
8. White Stone Fireplace Painted with Built-ins
For storage or display reasons, the fireplace's design can include built-in cabinets or shelves on either side. This design adds utility to the room and gives it a clean, contemporary appearance.
9. Painting A Stone Fireplace White to Brighten its Looks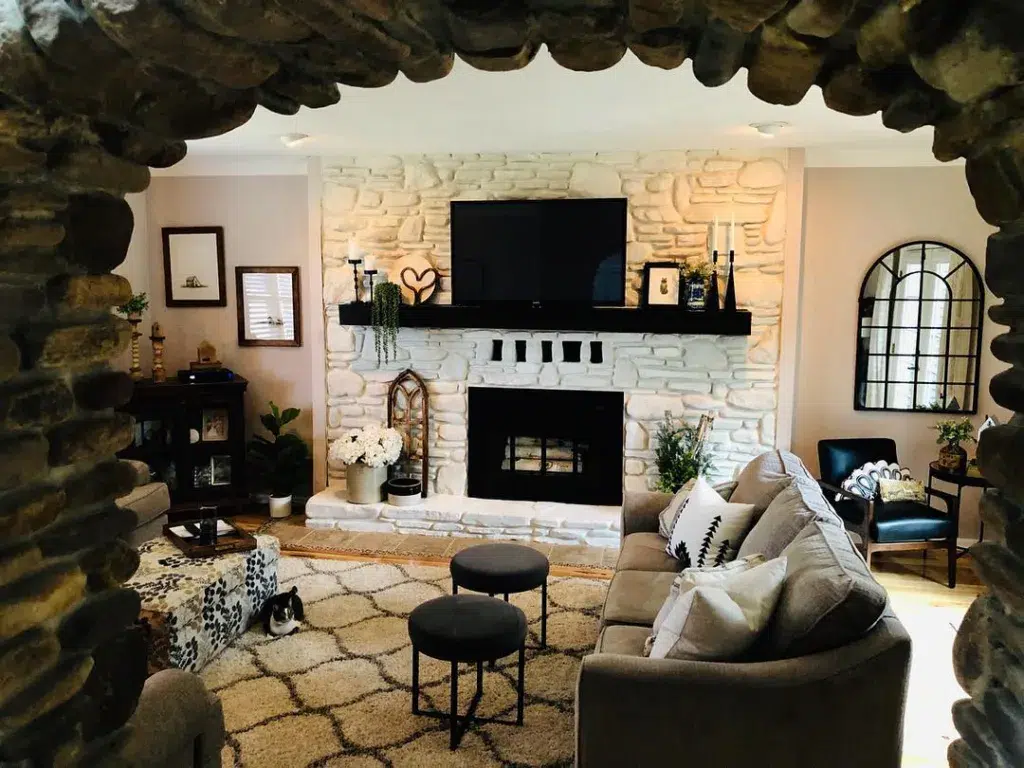 A stone fireplace can be painted white using this decorating technique, covering the stone's surface with white paint. This is done to make the fireplace look brighter and improve the space's interior design.
10. Whitewash Stone For a Lighter Appearance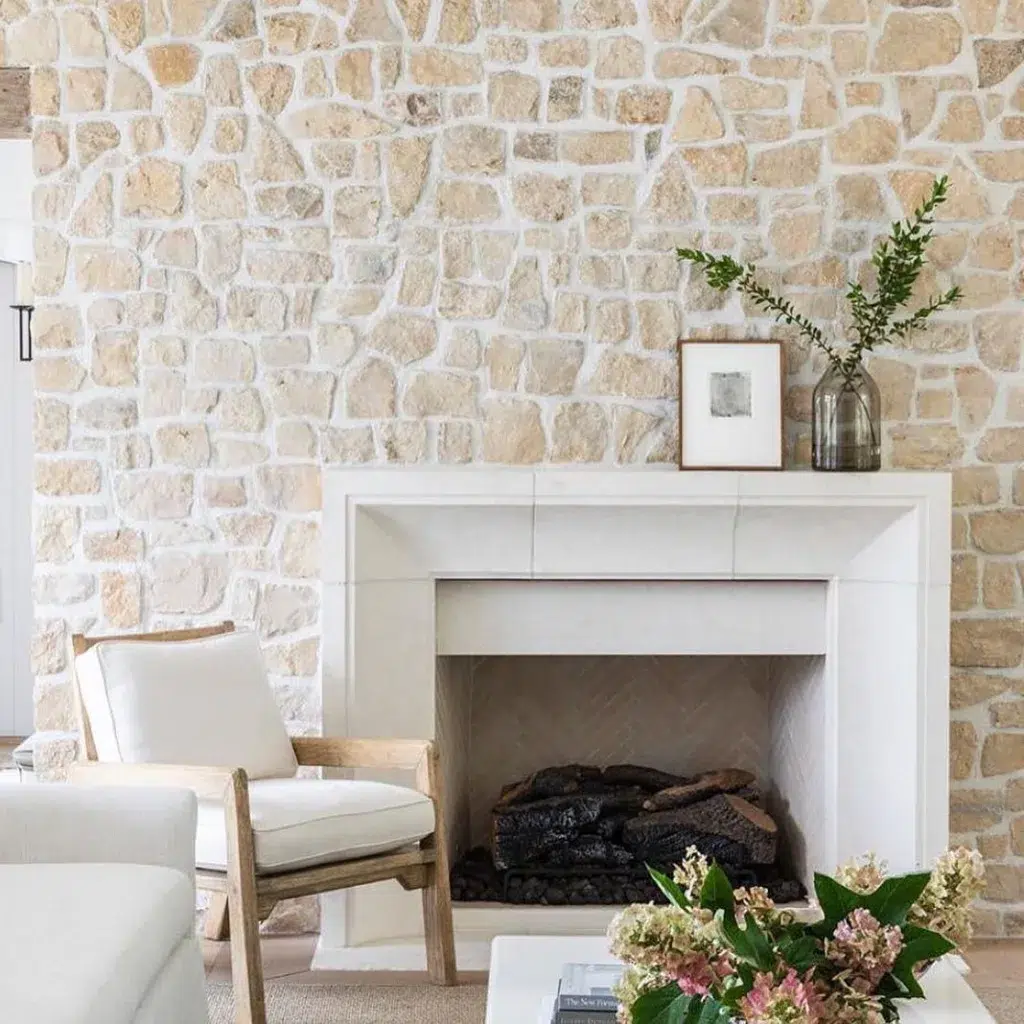 To give a stone surface a lighter and brighter appearance, "whitewash stone" alludes to applying a white or light-colored paint or lime wash. The stone's natural texture and features are also enhanced by the whitewash.
11. Black and White Painted Stone Fireplace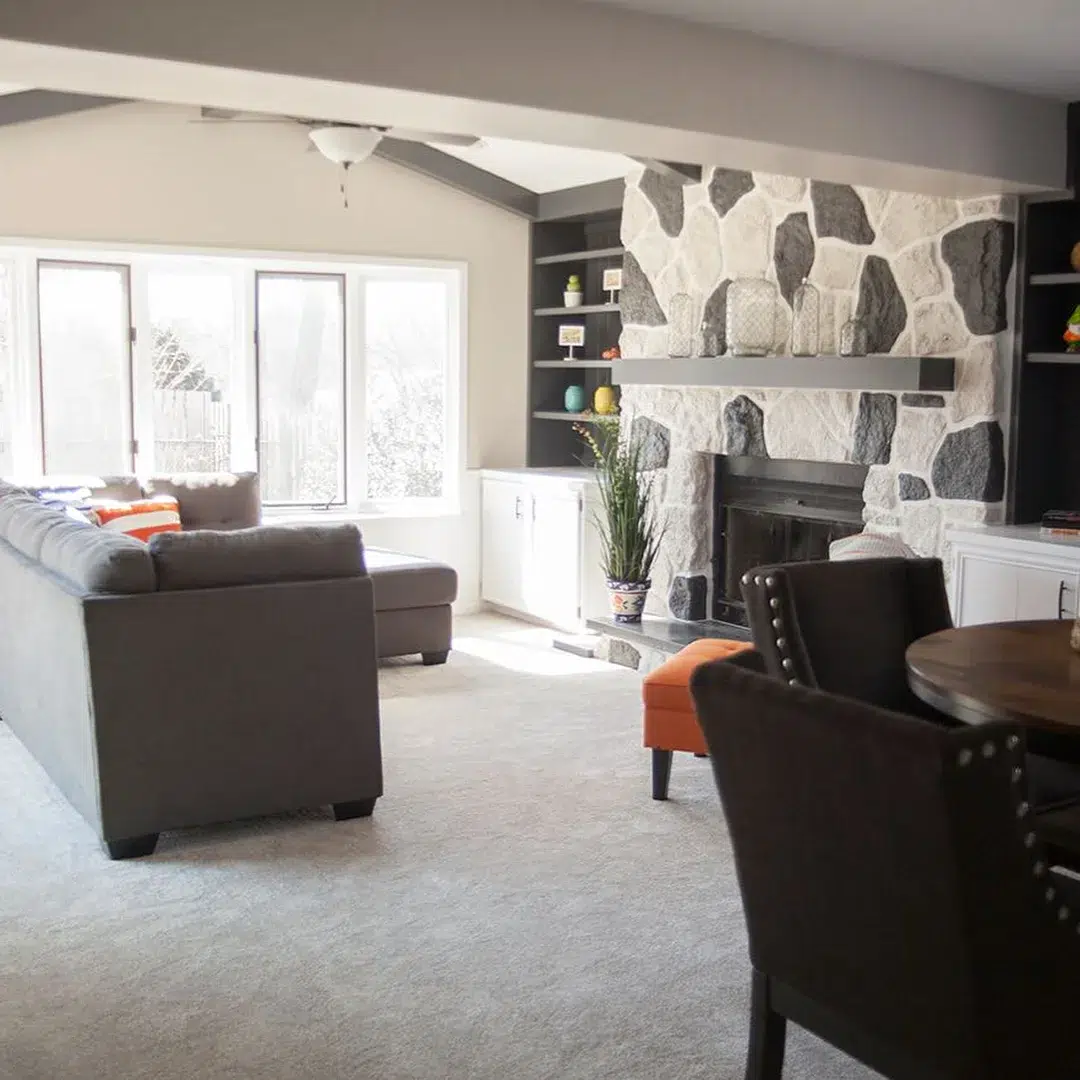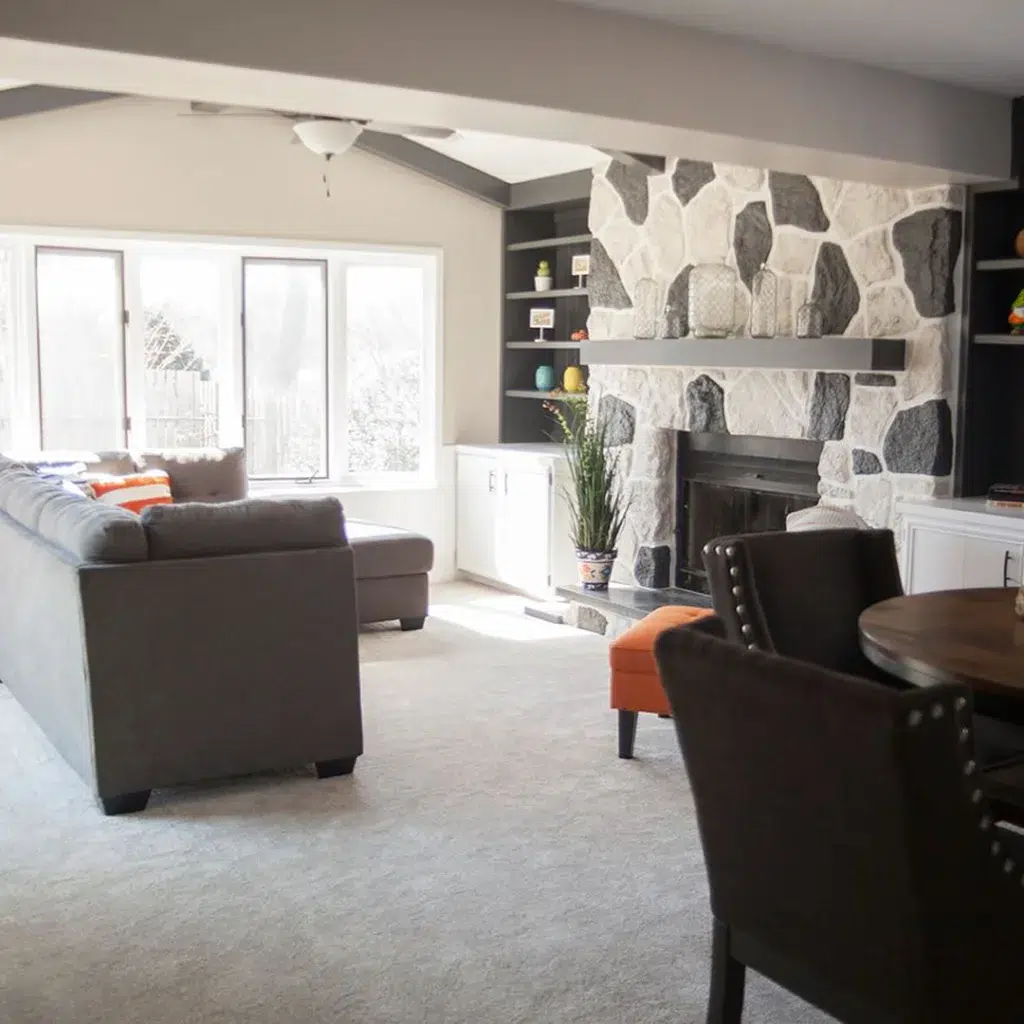 Depending on the specific design of the fireplace and the corresponding decor, a black and white painted stone fireplace decor can produce a contemporary and sophisticated look or a more classic and timeless aesthetic.
12. Bright White Painted Stone Fireplace and Hearth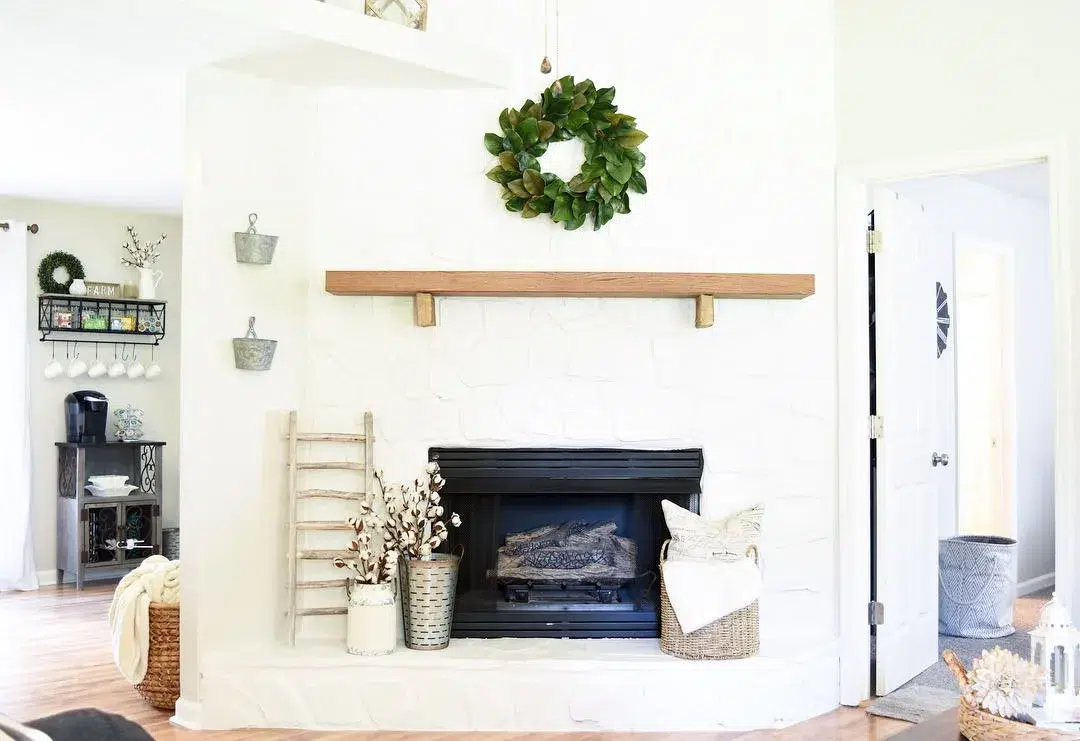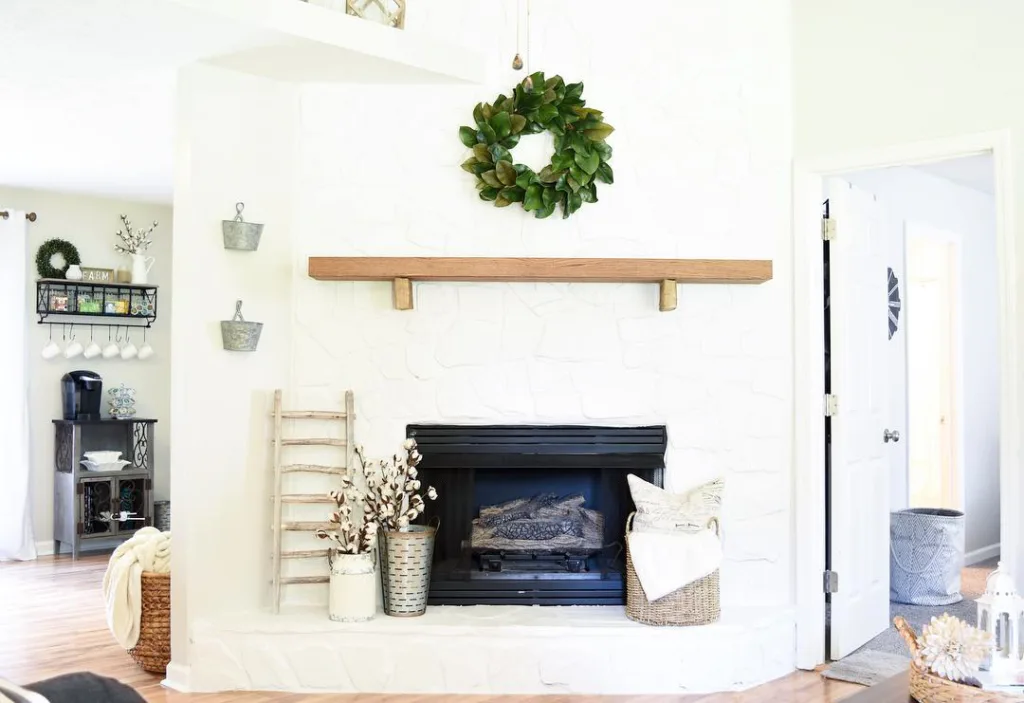 This design is frequently used in contemporary and minimalist home plans and in coastal or country-style décor. White paint can accentuate the stone's texture and give the impression that the space is larger and livelier.
13. Whitewashed Stone Fireplace Surround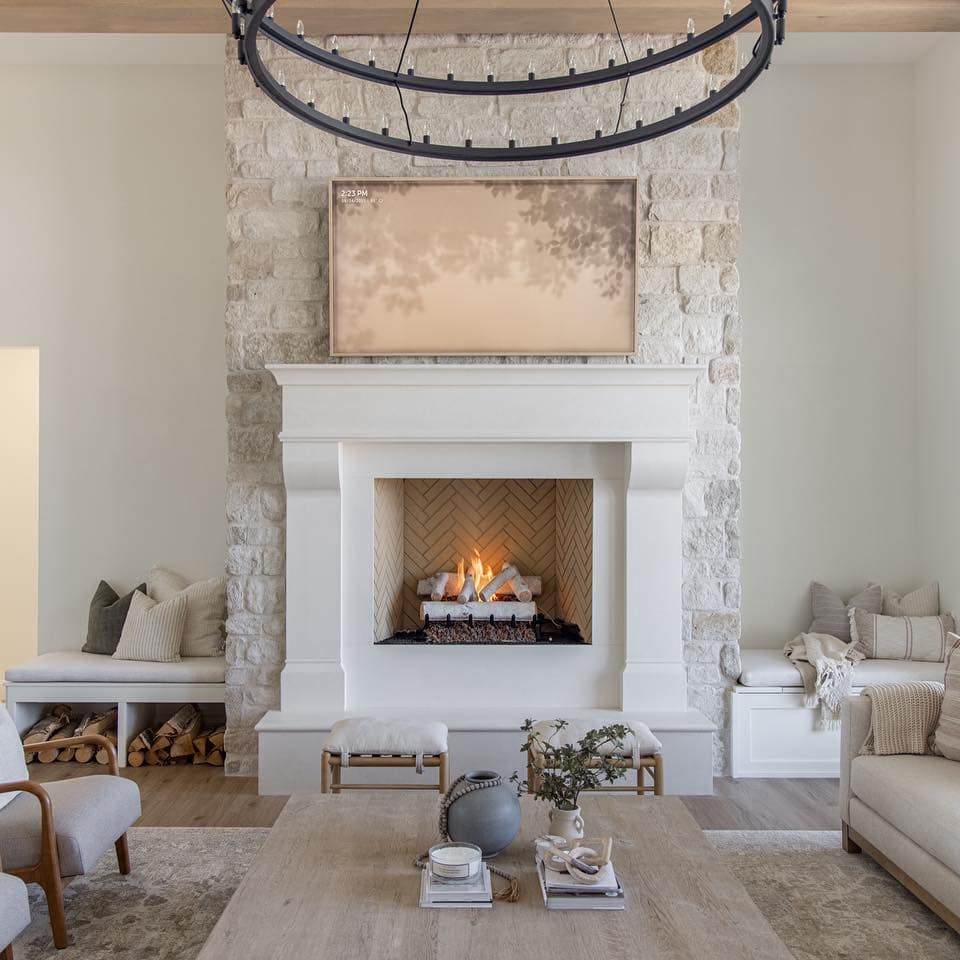 Whitewashing is a method frequently used to modernize or refresh the look of an older stone fireplace, making the space feel lighter and brighter. Whitewash gives the stone a more contemporary look, highlighting its texture and inherent beauty. The grey couch in this living room accents the colors of the whitewashed fireplace.
14. White painted Stone in a Rustic Cabin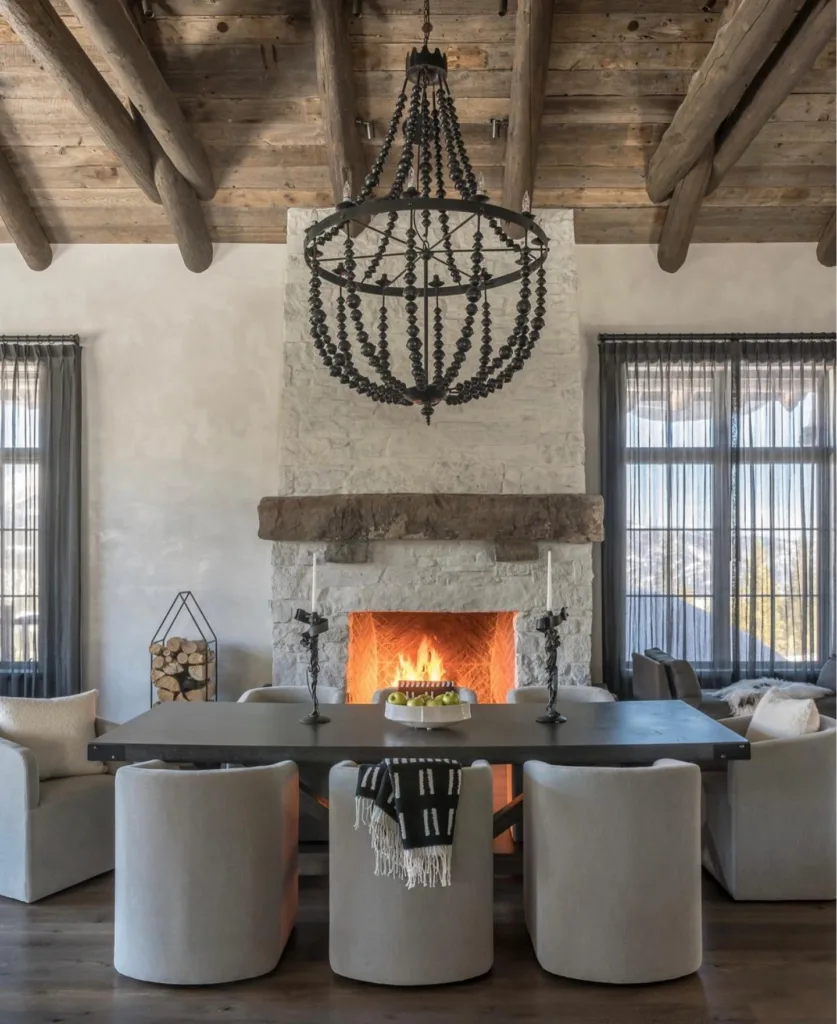 This rustic winter home features a white-painted stone fireplace with a wood mantel behind the large dining room table. White seats around the table accent the fireplace with black decor for contrast. Dark brown wood floors add to the cozy vibe of this space.
15. A wood Mantel with Stone Painted White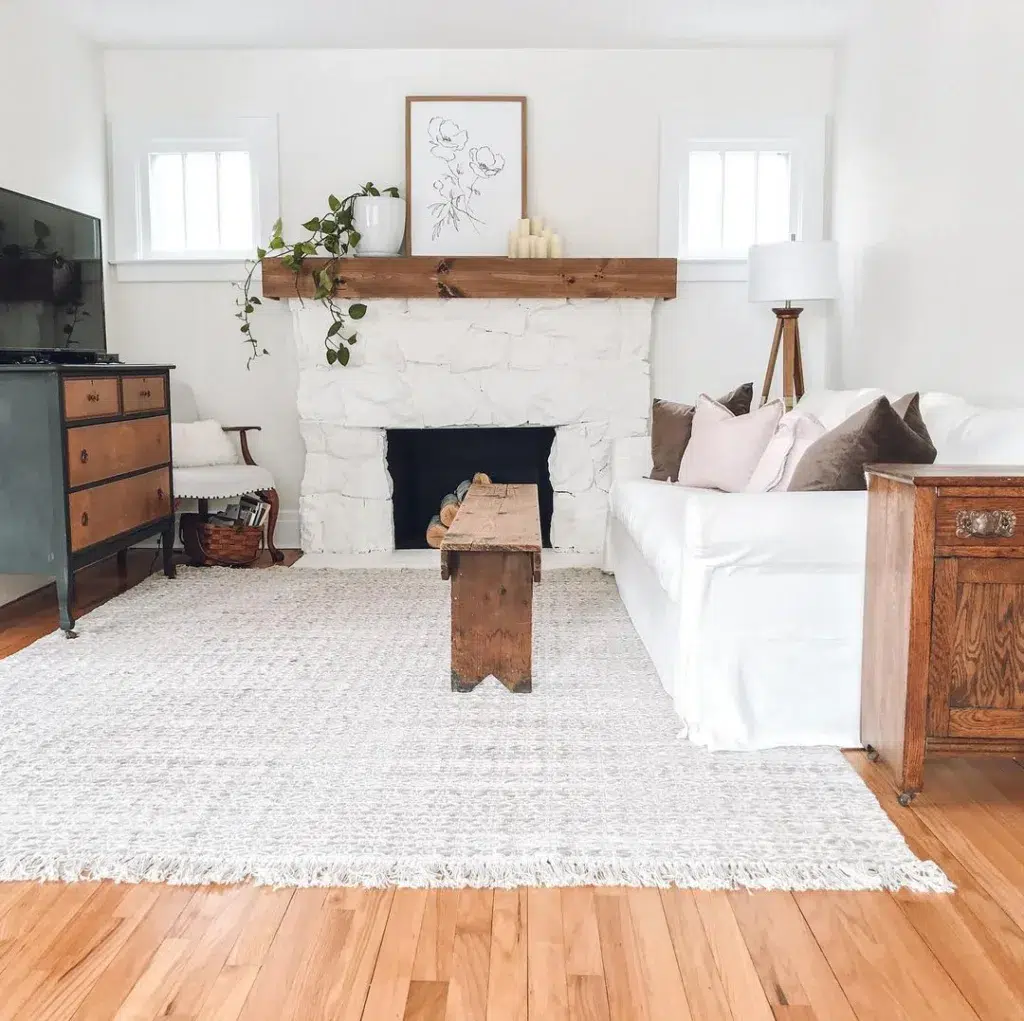 In this design, a wood shelf is positioned above the whitewashed brick fireplace. The wood mantel helps accent the wood floors in the space. A large white rug adds to the brightness of the room.
16. A Dining Room with a large Painted Fireplace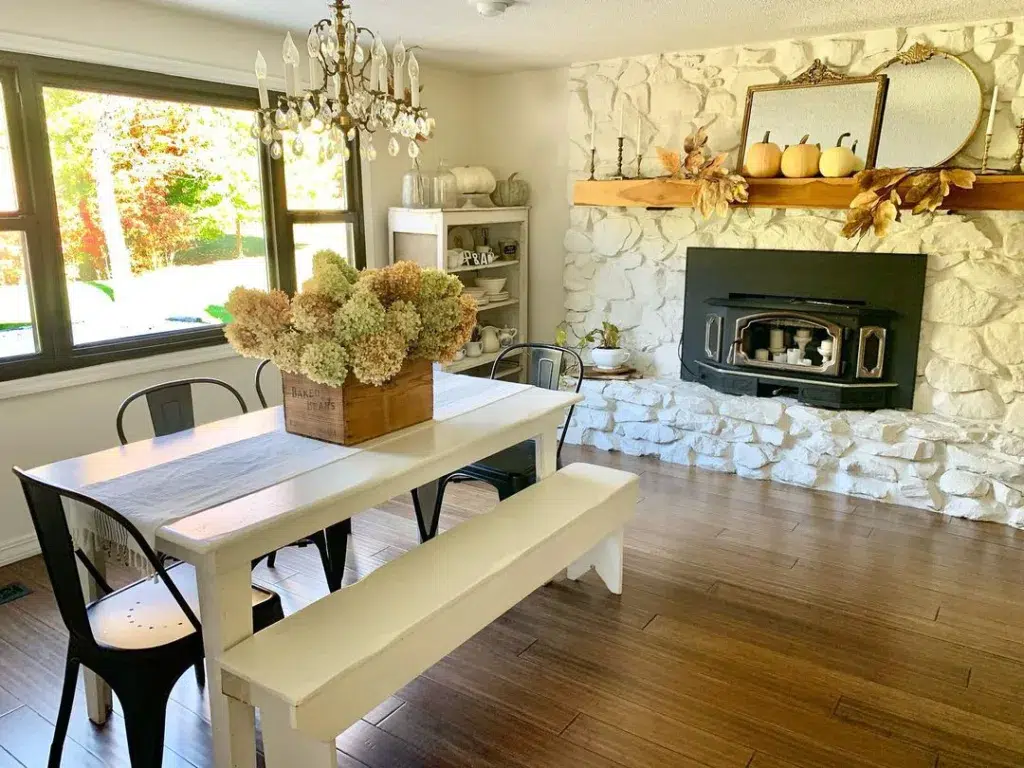 A dining room with a large painted fireplace decor looks like a room designed for gathering and enjoying meals with a focal point of an eye-catching painted fireplace. The fireplace acts as a decorative element that improves the room's ambiance overall and offers a cozy and welcoming feeling.
17. A green Painted Stone Fireplace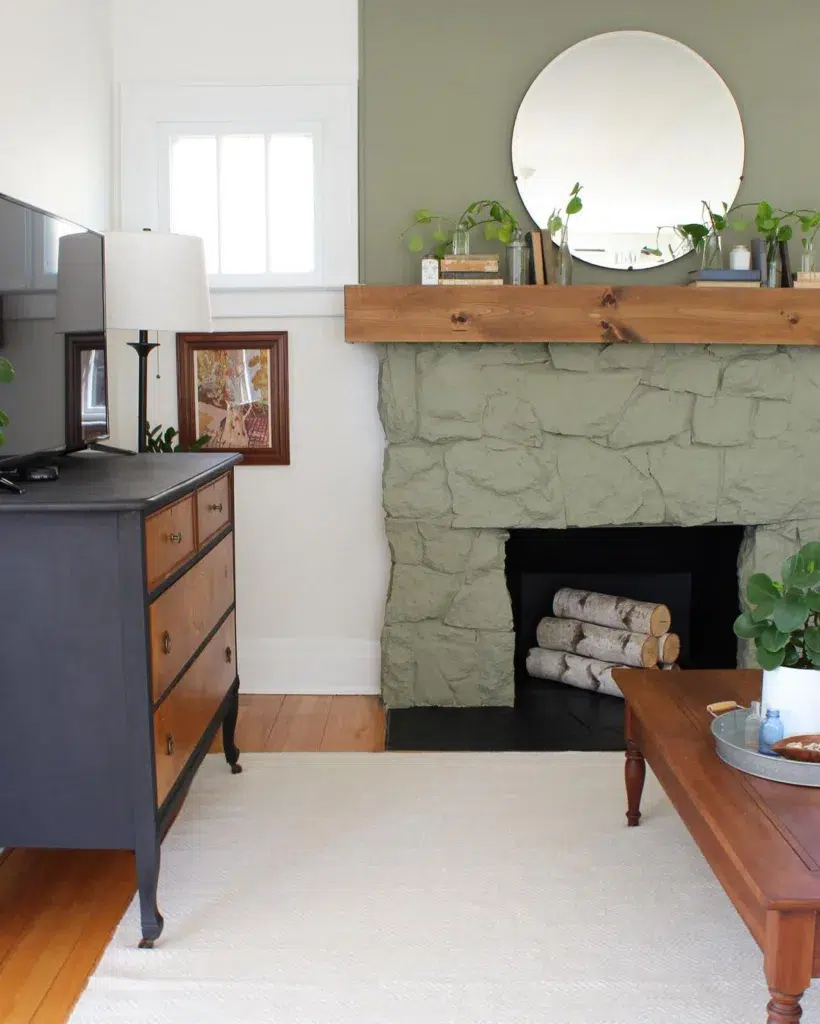 To add color and visual appeal to the room, a stone fireplace may be given a decorative touch whereby the stone surface is painted green. While this is a unique look, the green-painted stone fireplace stands out as a focal point of the room.
18. A Black Painted Fireplace Surround with Plants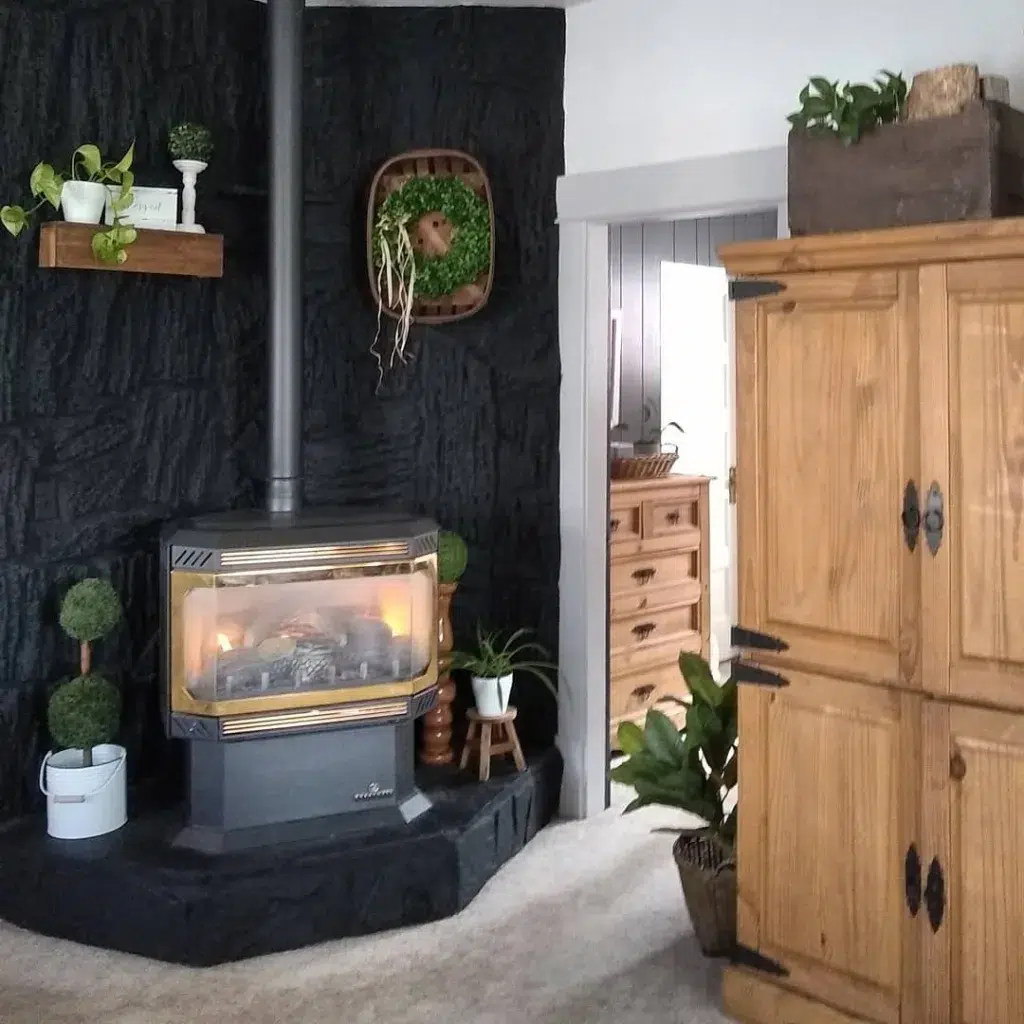 To add more natural elements to the room, this room's decor includes a fireplace with a black-painted frame. In addition, natural plants add a pop of color that balances the black-painted stone around the fire.
19. A Frame TV Above a Painted Fireplace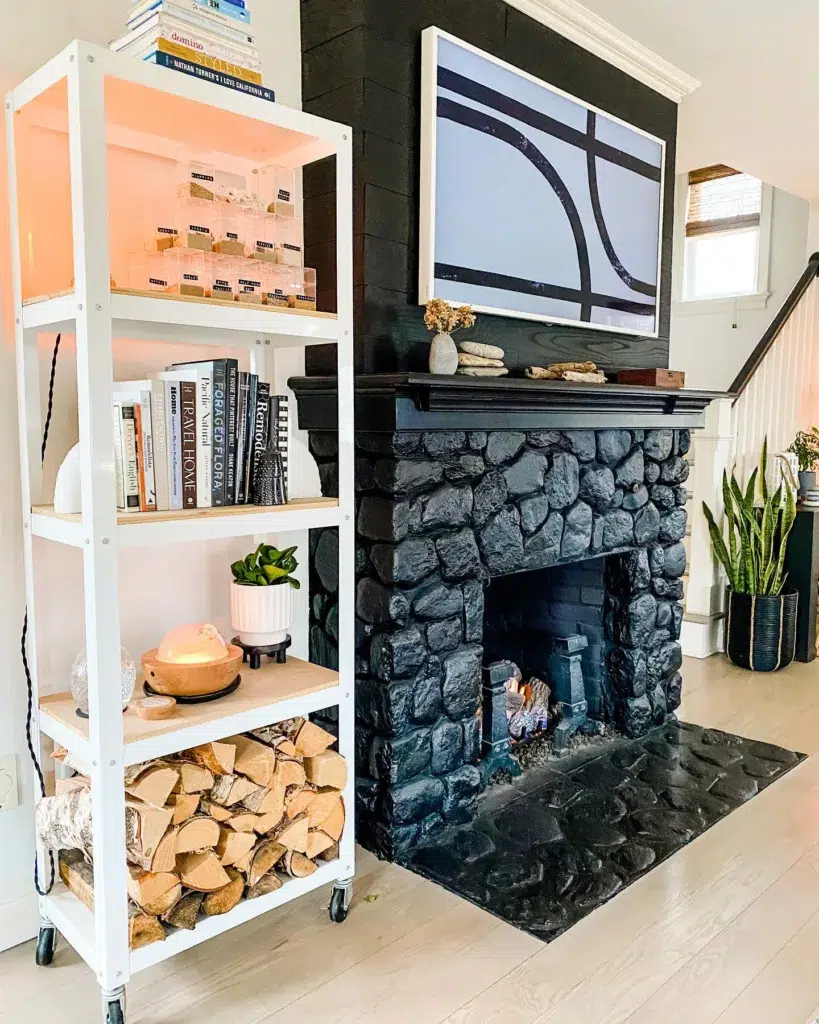 A modern, slim television above the fireplace completes the room's aesthetic. This combines contemporary design elements to form a stylish focal point for the space.