Black and white stairs are a timeless design that exudes luxury and class. But this design isn't just reserved for big mansions! Painting black and white stairs is an easy DIY project anyone can tackle (we even did it ourselves after refinishing our staircase)!
Black and white staircases traditionally feature black treads (or steps) with white risers (the front part of each step). While you can flip this design and paint your treads white, they'll be more prone to scuffing and dirt marks. On the other hand, railings and spindles (check out our guide to the parts of a staircase if you're lost at this point) are less prone to dirt, so you can choose which are painted white or black or stick with one color for both.
While this style may be a more traditional look, as you'll see from our inspirations below, you can adapt white and black stairs for any style, from modern to farmhouse homes!
Check out our favorite black and white stairs ideas and inspirations in the gallery below.
1. Black and White Stairs with Stained Glass Windows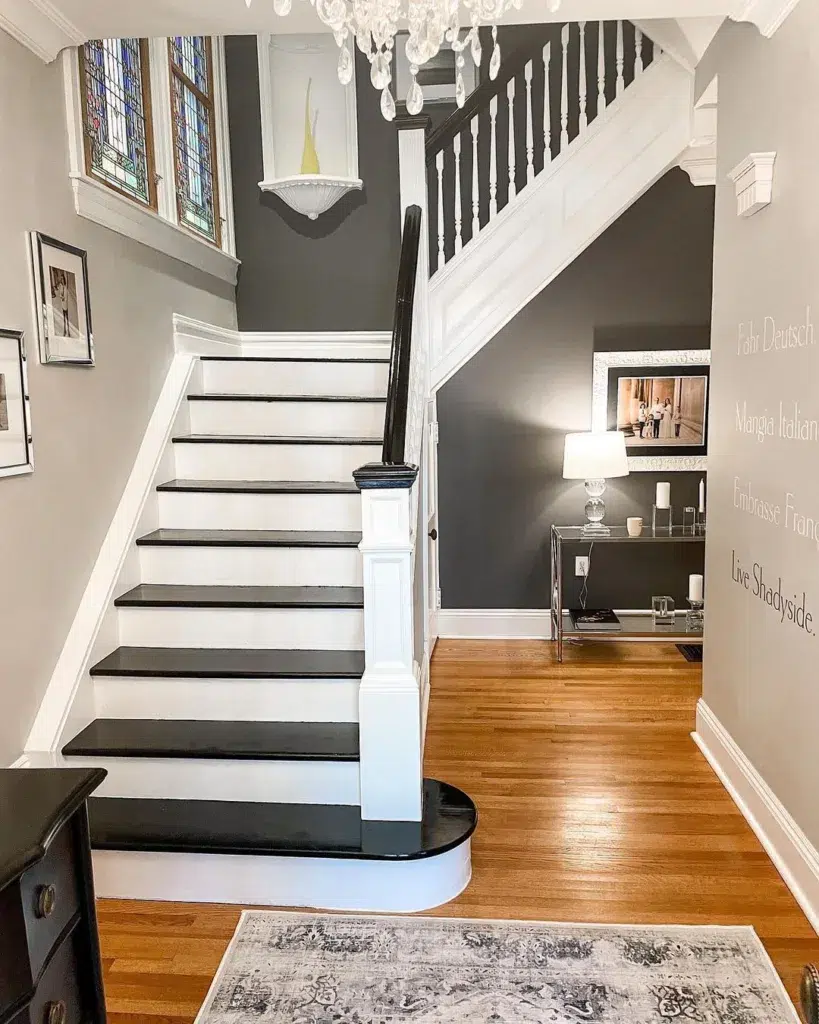 These black and white stairs lead to a small landing with stained glass windows. Grey and black walls around the entryway accent the stairs, while wood floors add warmth to the neutral color scheme.
2. Christmas Decor on Black Stairs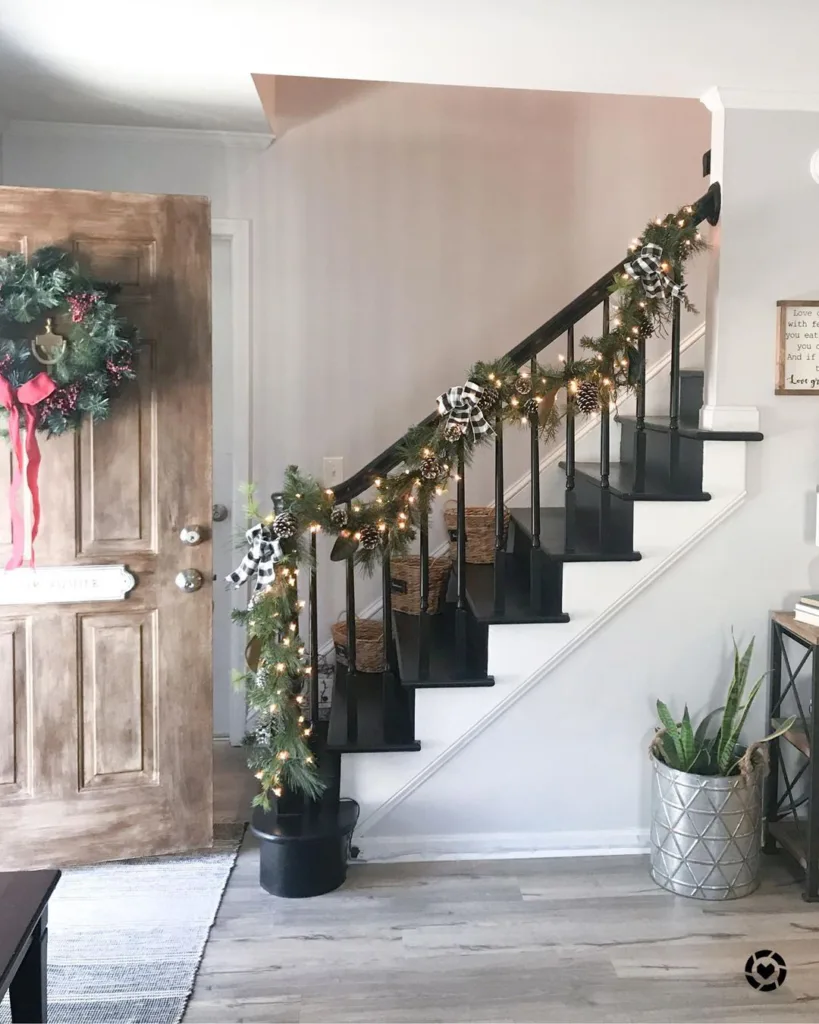 Christmas decor adorns this black staircase with white trim that lead to a rustic wood entryway door. The wood floors in the home continue the rustic farmhouse theme of this space with lots of black metal accents.
3. Black Accents on White Stairs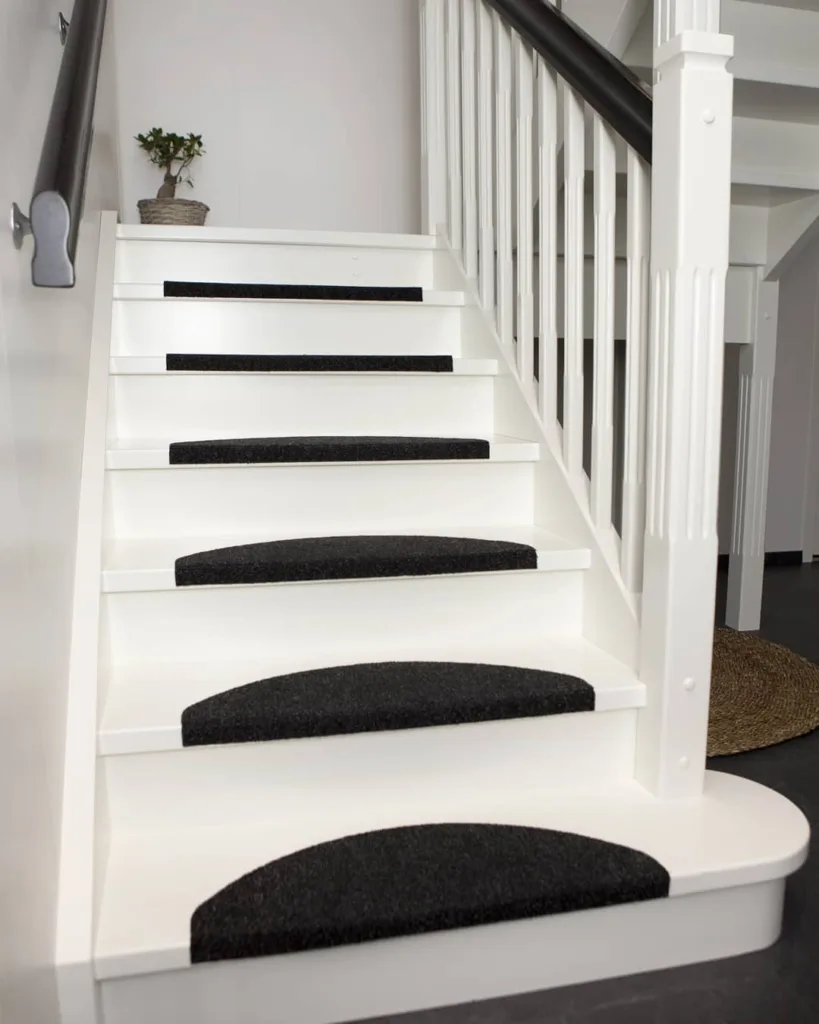 Black accents on the white treads of this staircase create a unique design complemented by the black railings. Making the black section out of the carpet also helps to increase grip if you're worried about slippery wood stairs.
4. Black Treads with White Nose Edging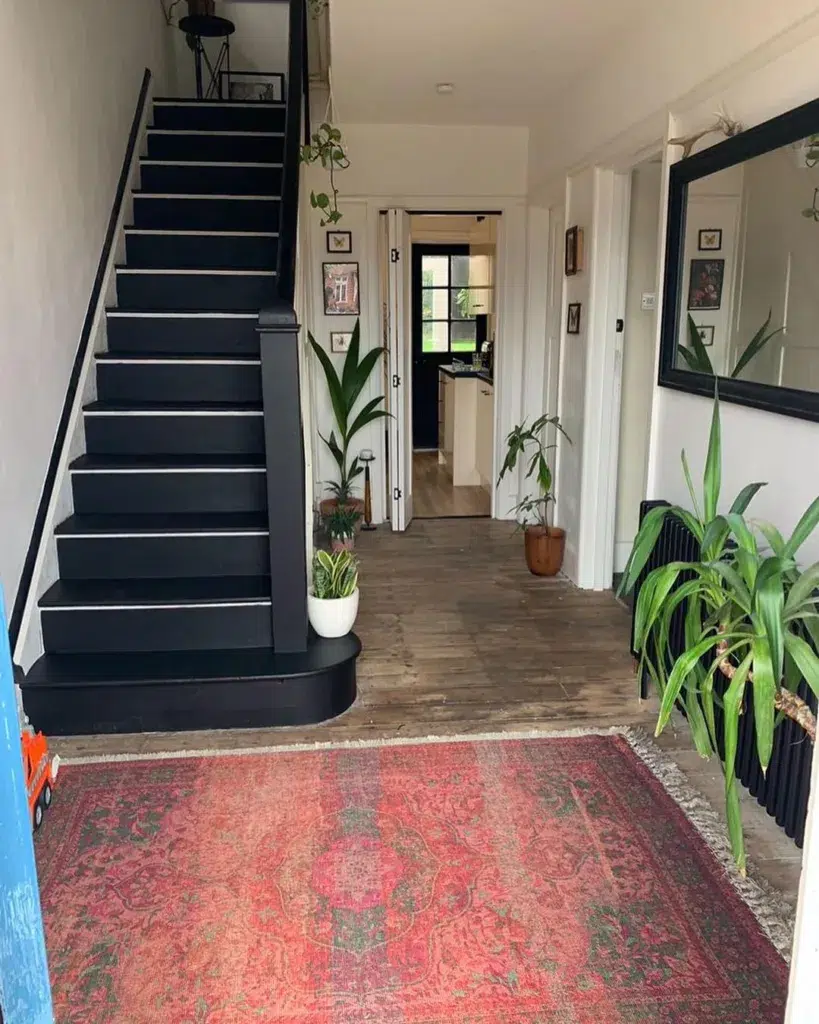 This black staircase features a white detail under the nose of each tread that matches the white trim next to the stairs. Rustic wood floors in the home contrast the modern look of the staircase.
5. A Classic Black and White Staircase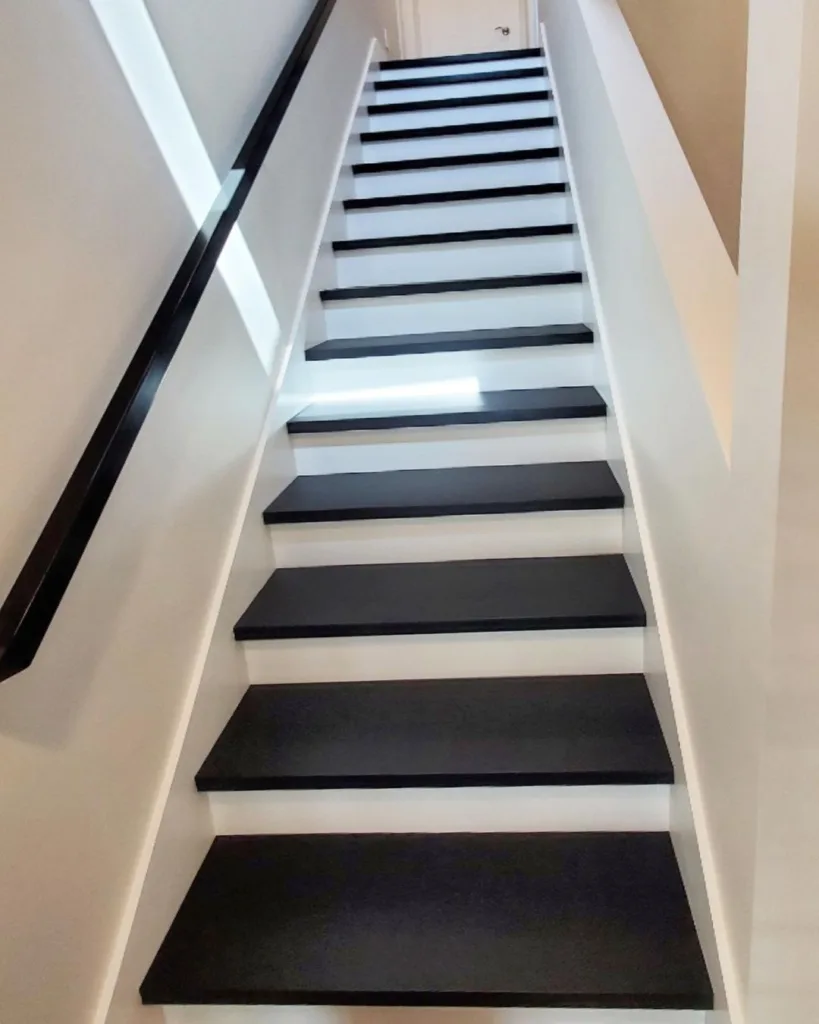 This simple staircase features black treads, shallow white risers, and a black railing. When designing your stairs, it's essential to consider the height and length of your treads and risers. This will determine which colors play a larger role in the look of your space.
6. Black Stairs with a Striped Runner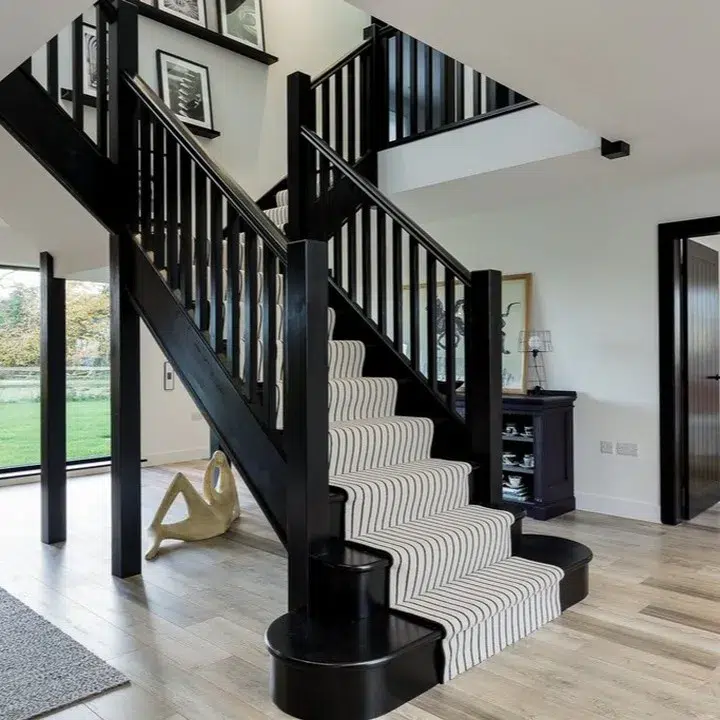 This black staircase uses a white and black striped carpet runner down the center to accent the white walls with black trim in the room. Hardwood floors add a light neutral tone to the space, brightening the area further.
7. A Gray Carpet Runner on Black Stairs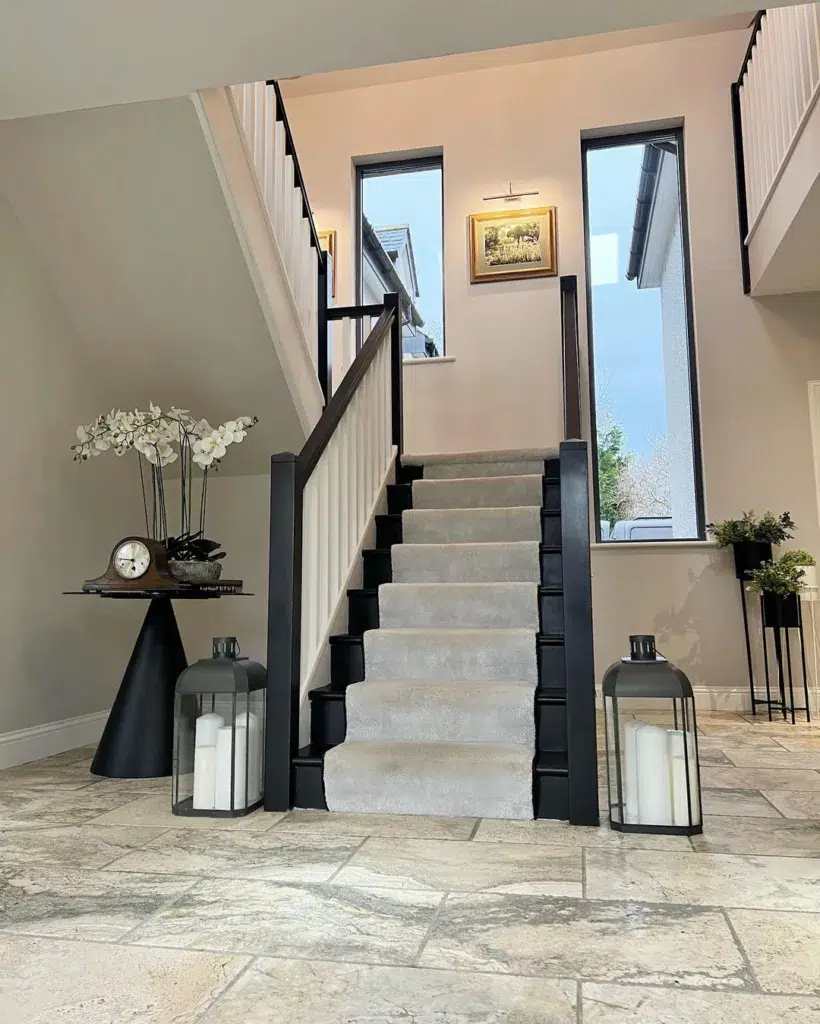 A grey carpet down the center of this black wood staircase adds a neutral tone that matches the grey walls in this entryway. White spindles connect the railings to the stairs and brighten the design.
8. Black and White Wood Stairs with White Walls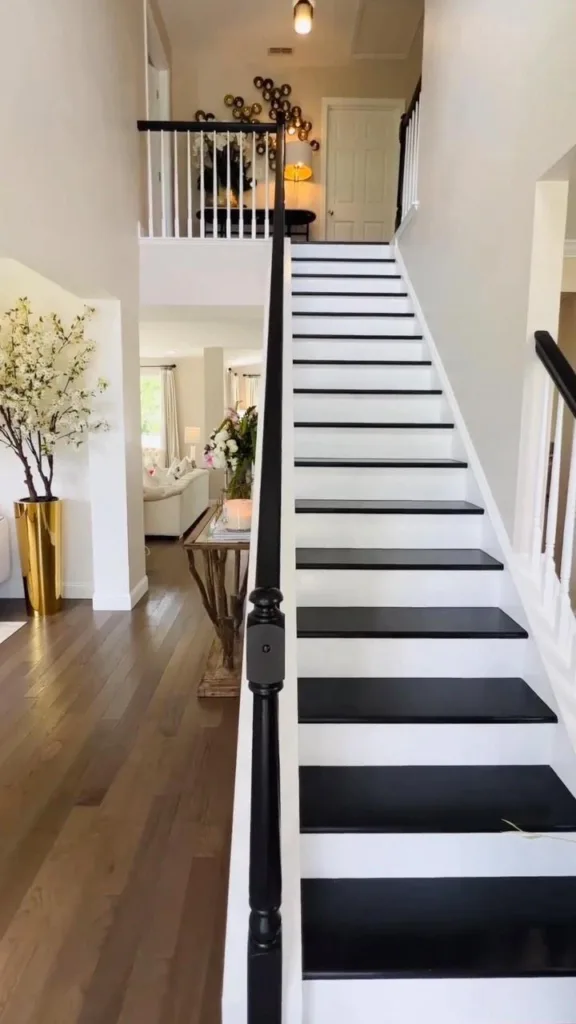 This home's white and black stairs match the white walls around the space while adding a bit of contrast. In addition, dark brown floors in the home add rich hues that make the staircase stand out even more.
9. A Modern Curved Staircase with Open Treads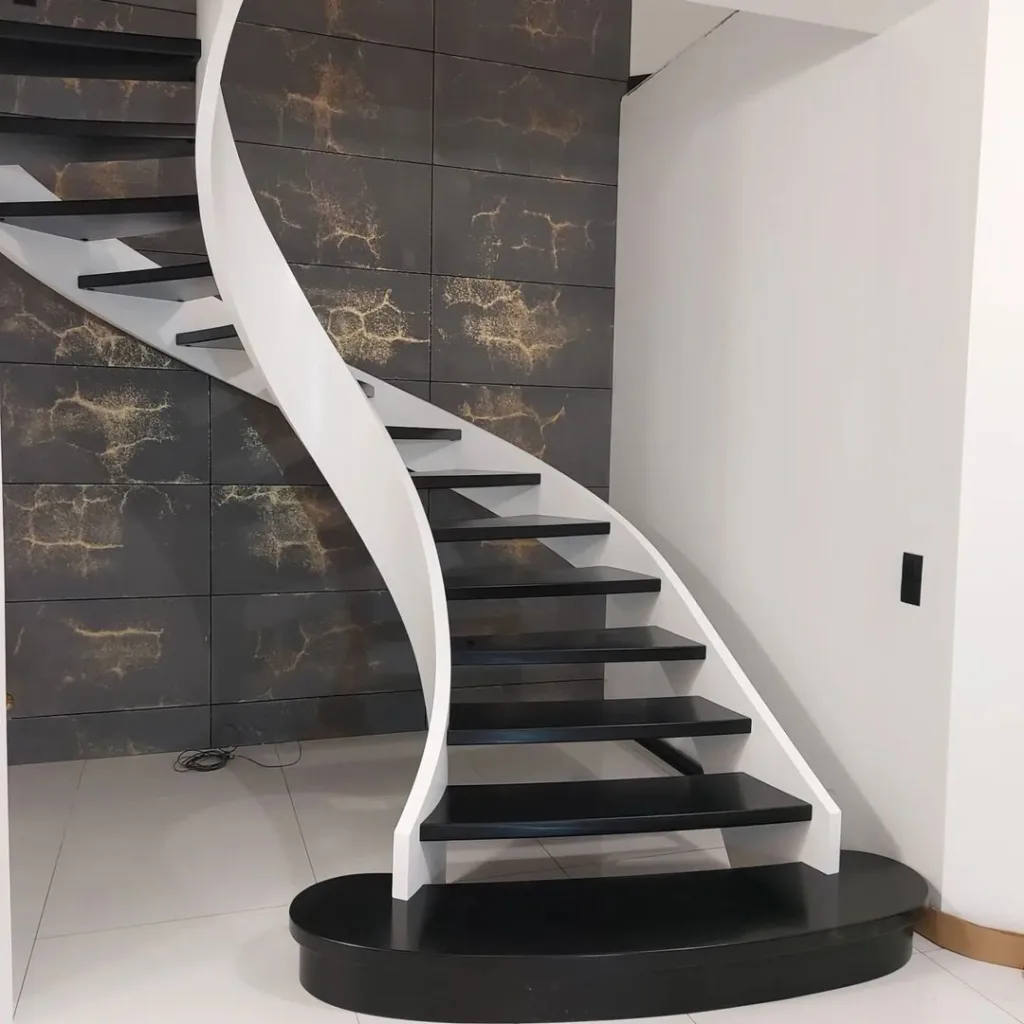 This modern curved staircase features black open treads with white siding for a sleek look. No railings are installed, adding to the contemporary design, and while these stairs wouldn't work with kids, it's still a beautiful look.
10. Black and White Circular Stairs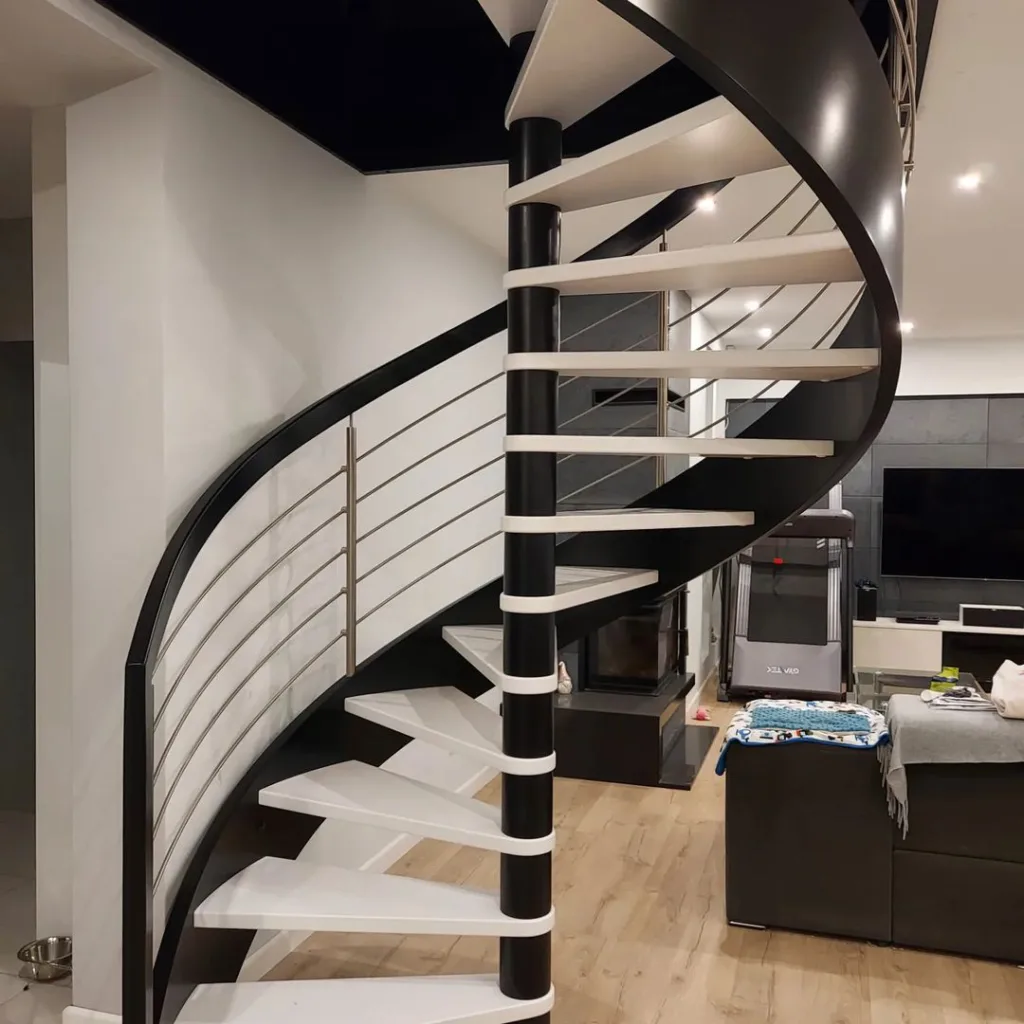 This circular staircase features white steps that match the light-colored walls in this apartment. Black railings and accents contrast the stairs giving them a modern look.
11. Black Treads With White Risers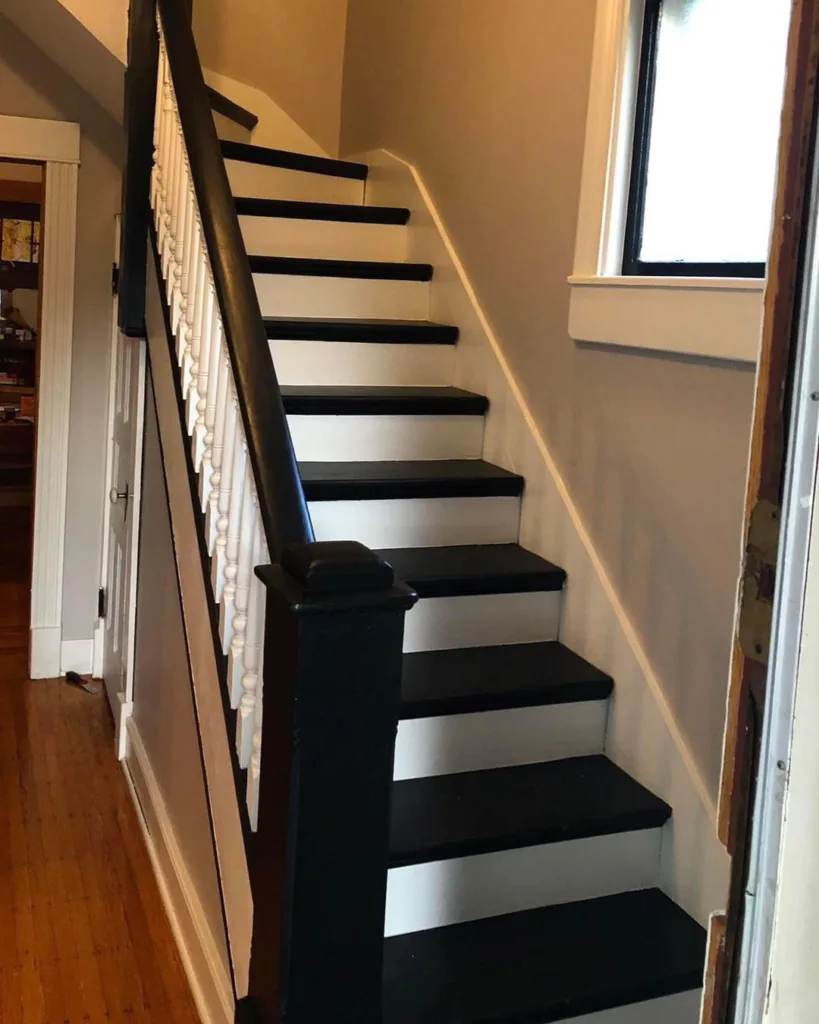 Painting this hardwood staircase black and white is the perfect way to add a classic look to this simple home. Since black and white are neutral colors, this style can work in almost any home, especially with hardwood floors.
12. A White Runner with Black Edging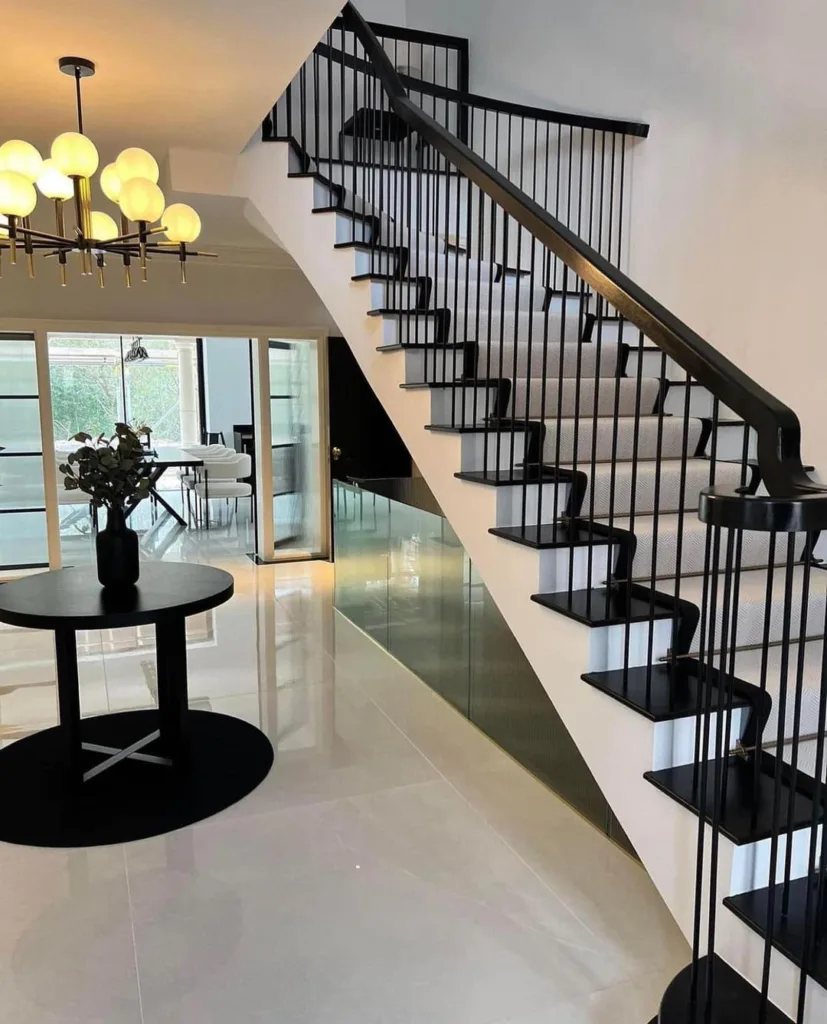 This entryway features large polished tile with a black console table that matches the black and white stairs. A grey runner on the stairs adds texture with black borders to help the carpet match the design of the stairs.
13. Intricate Black and White Stairs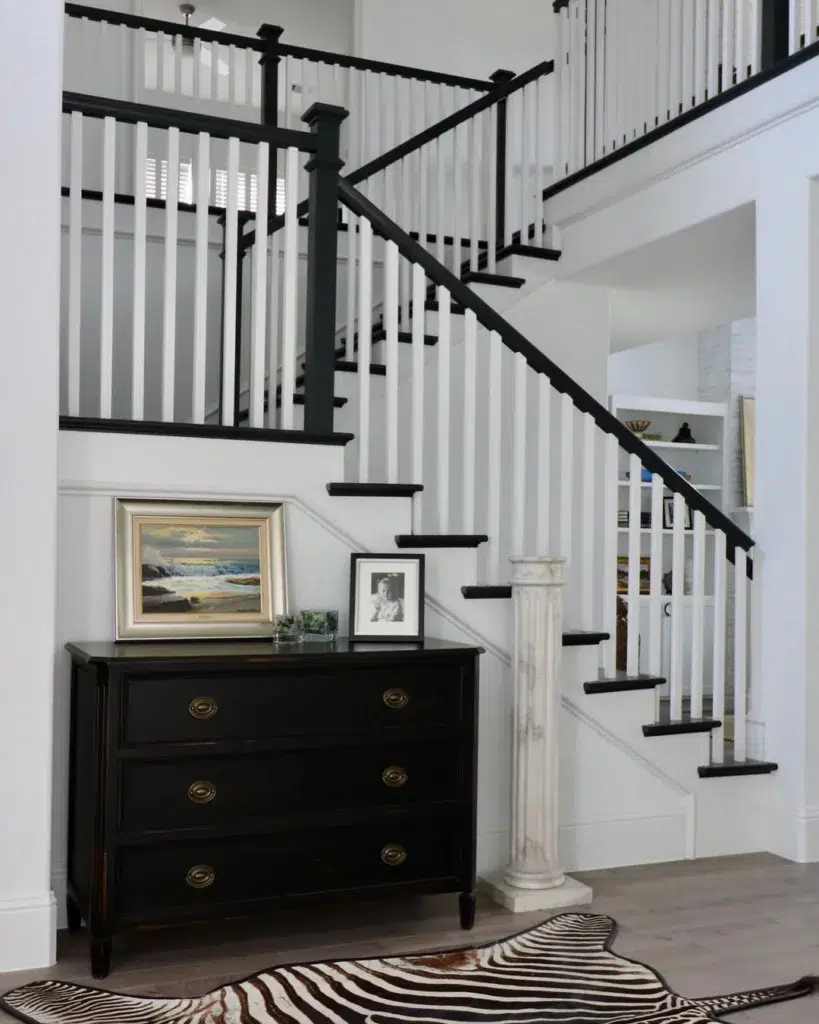 A zebra print carpet in the entryway accents this home's black and white stairs. White spindles separate black railings and treads, creating a balanced design that offers plenty of contrast.
14. A Matching Console Table and Stairs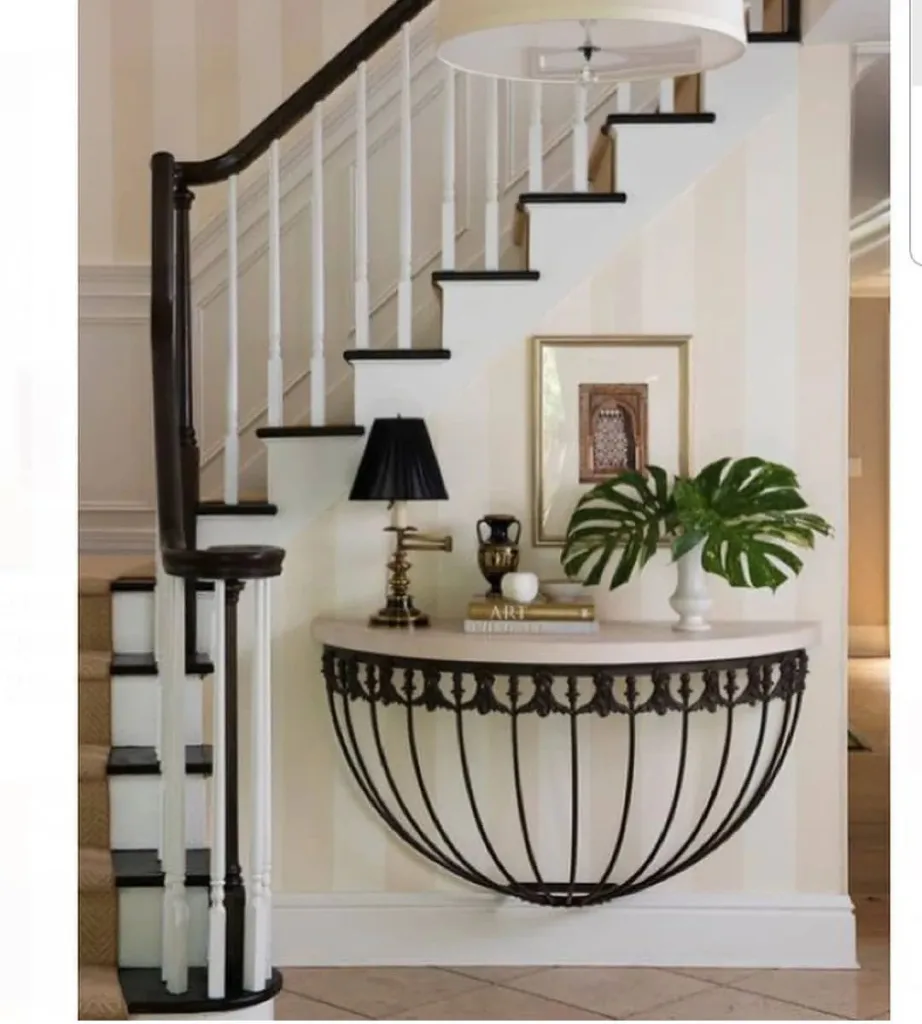 A built-in console table matches the color scheme of the nearby stairs with black railings and white spindles. In addition, a beige carpet is installed up the center of the stairs complementing the similar colored tile in the home.
15. Black and White Mosaic Pattern Stair Risers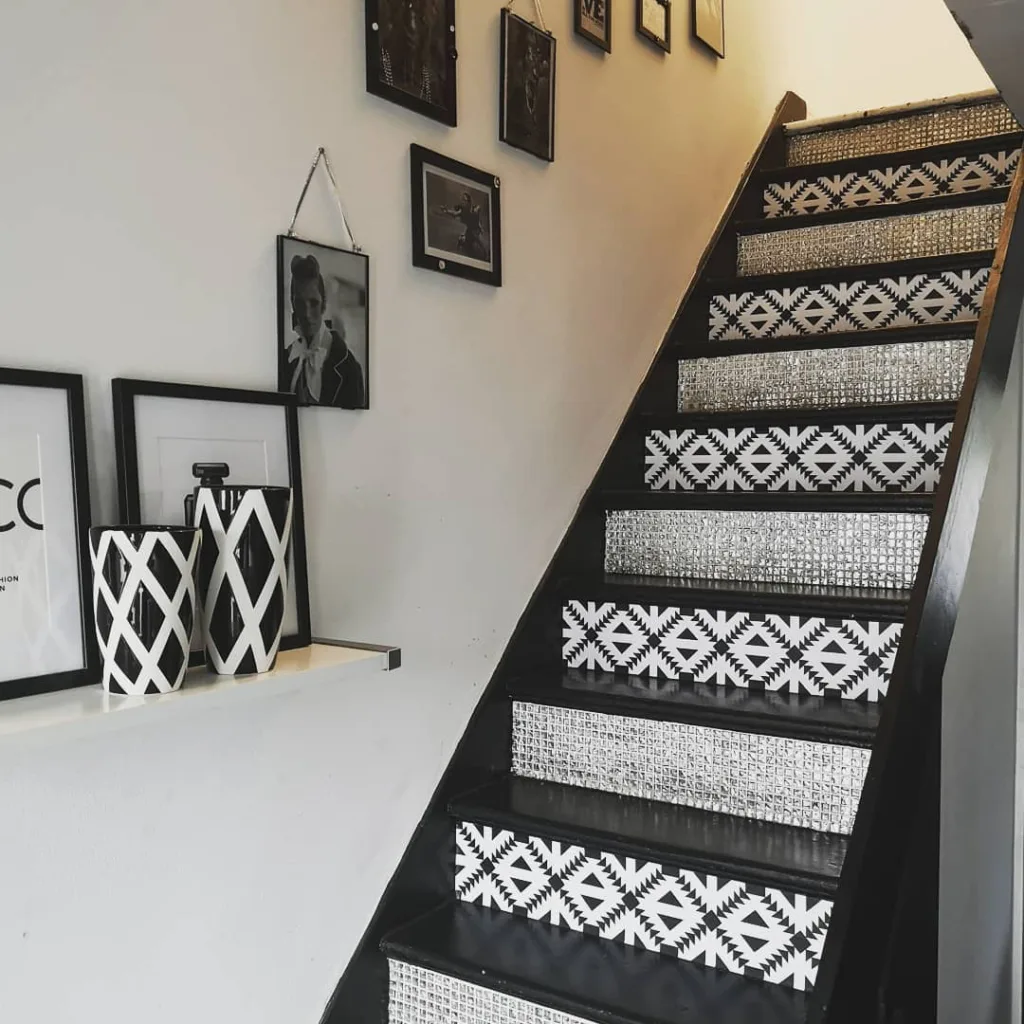 Alternating black and white patterns are installed on the risers of the stairs contrasting the black treads. In addition, the black and white decor on a nearby floating shelf complements the colors on the stairs.
16. Black Railings with A Grey Carpeted Runner
These black and white basement stairs feature a beige carpet runner on white trades contrasting the black railings. In addition, white walls in the space brighten the design further.
17. Grey patterned Carpet on Black and White Stairs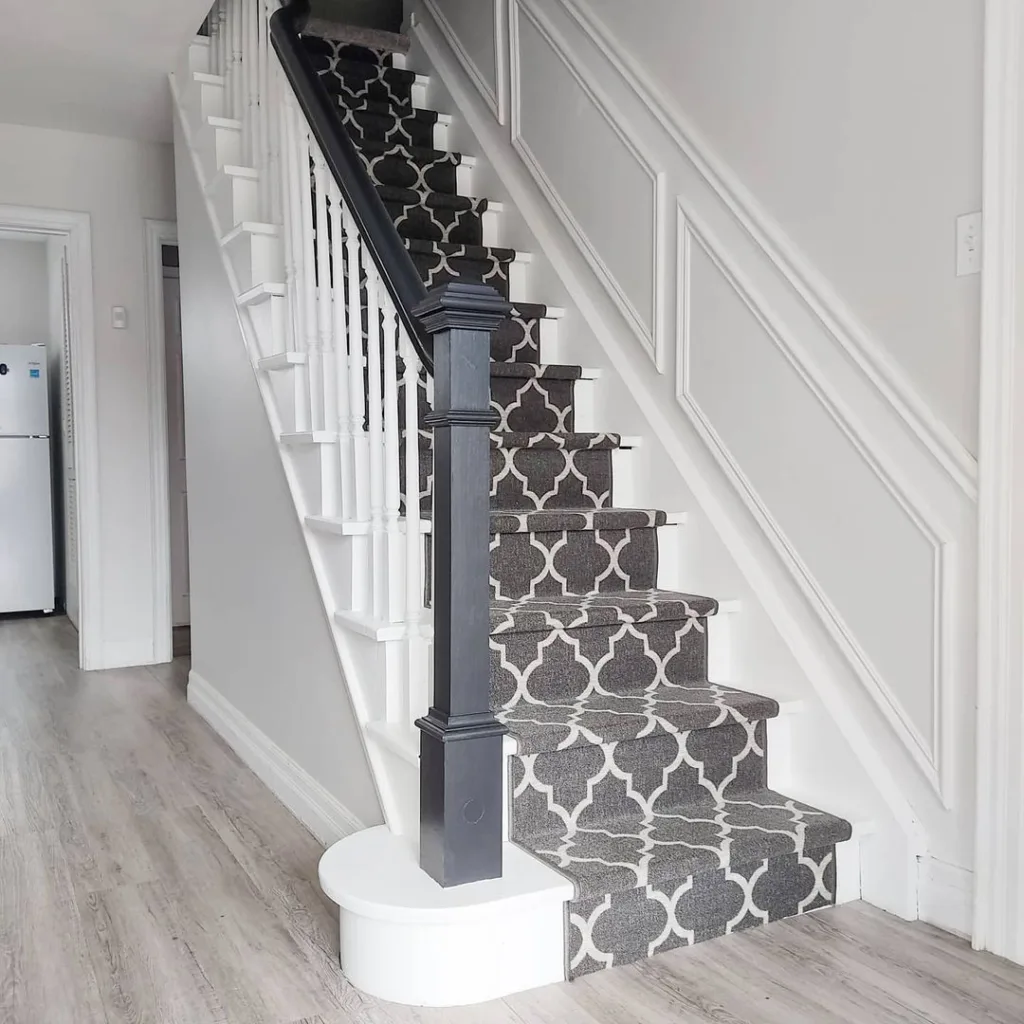 Grey and white patterned carpet add dimension to this white staircase with black newel posts and railings. In addition, white wainscoting is installed on the wall next to the stairs adding a unique detail.
18. A Black and White Staircase with White Railings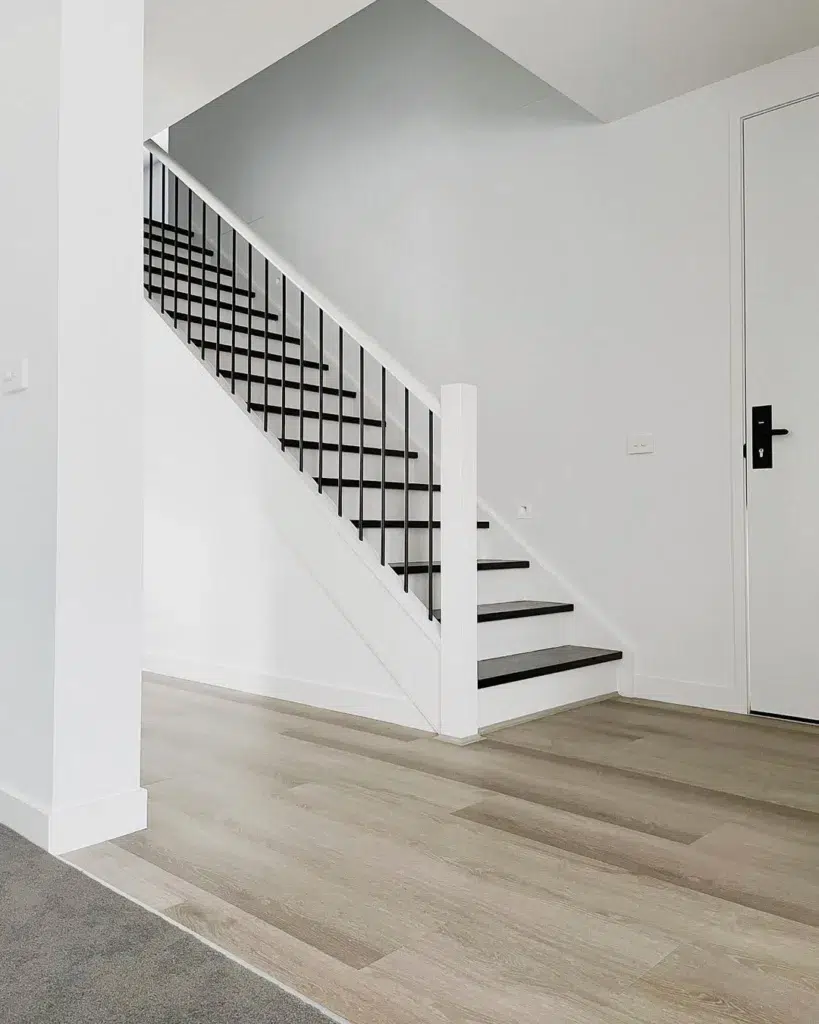 These farmhouse's black and white stairs accent this home's white walls and black door hardware. Light wood floors add to the simple design of the space.
19. A Black Pendant Light Over Grey Carpet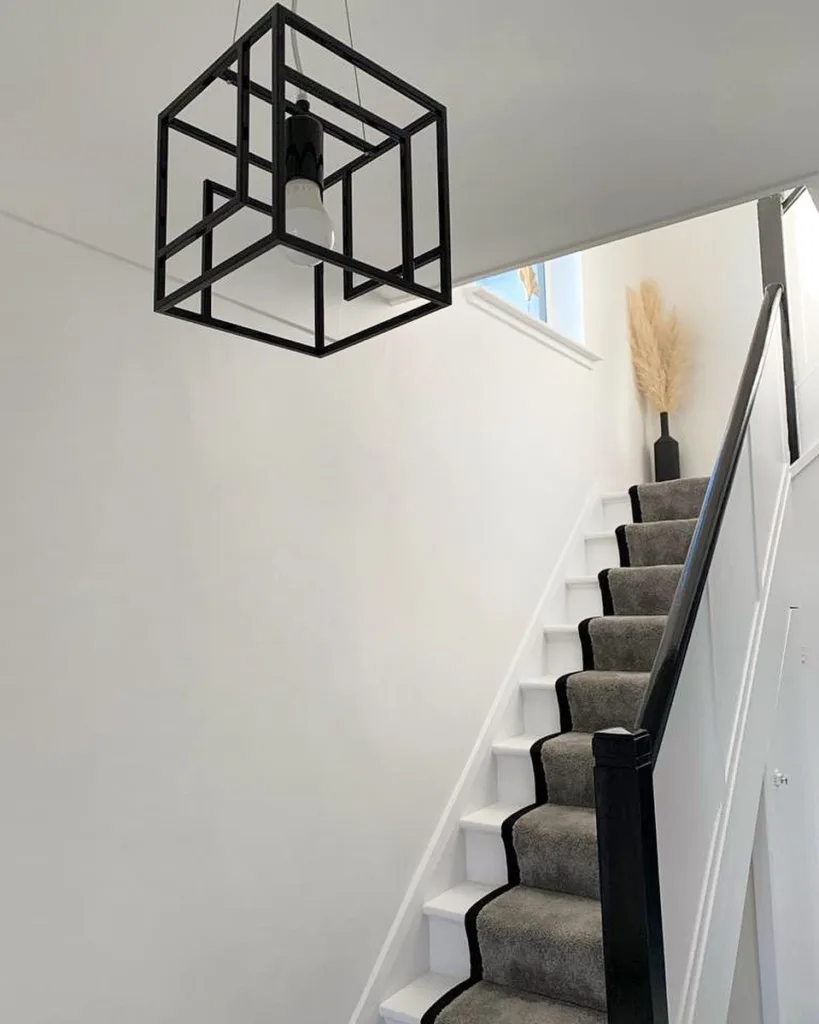 A grey carpet on this narrow staircase features black edges that match the high-gloss black railings. White treads brighten the look and match the walls. In the stair landing, a black vase is filled with neutral faux plants to add warm tones to the space.
20. A curved Black and White Staircase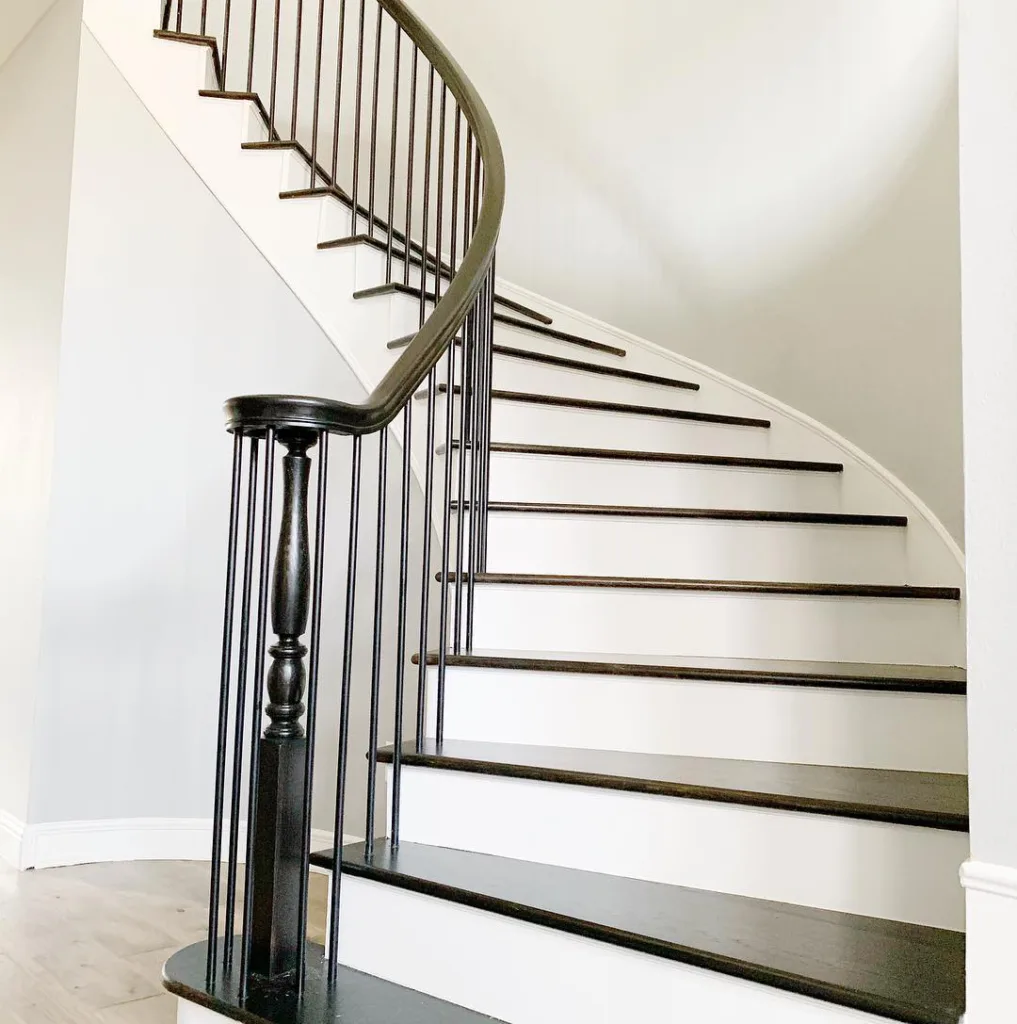 This curved white and black staircase adds a luxurious touch to this home, with thin spindles connecting the railing to the treads. When designing black and white stairs, you'll commonly see the risers painted white and the treads (or steps) painted black. This is because the steps will get dirtier over time, so painting them white would show more scuffs and wear.
21. White Wainscoting with a Black Console Entryway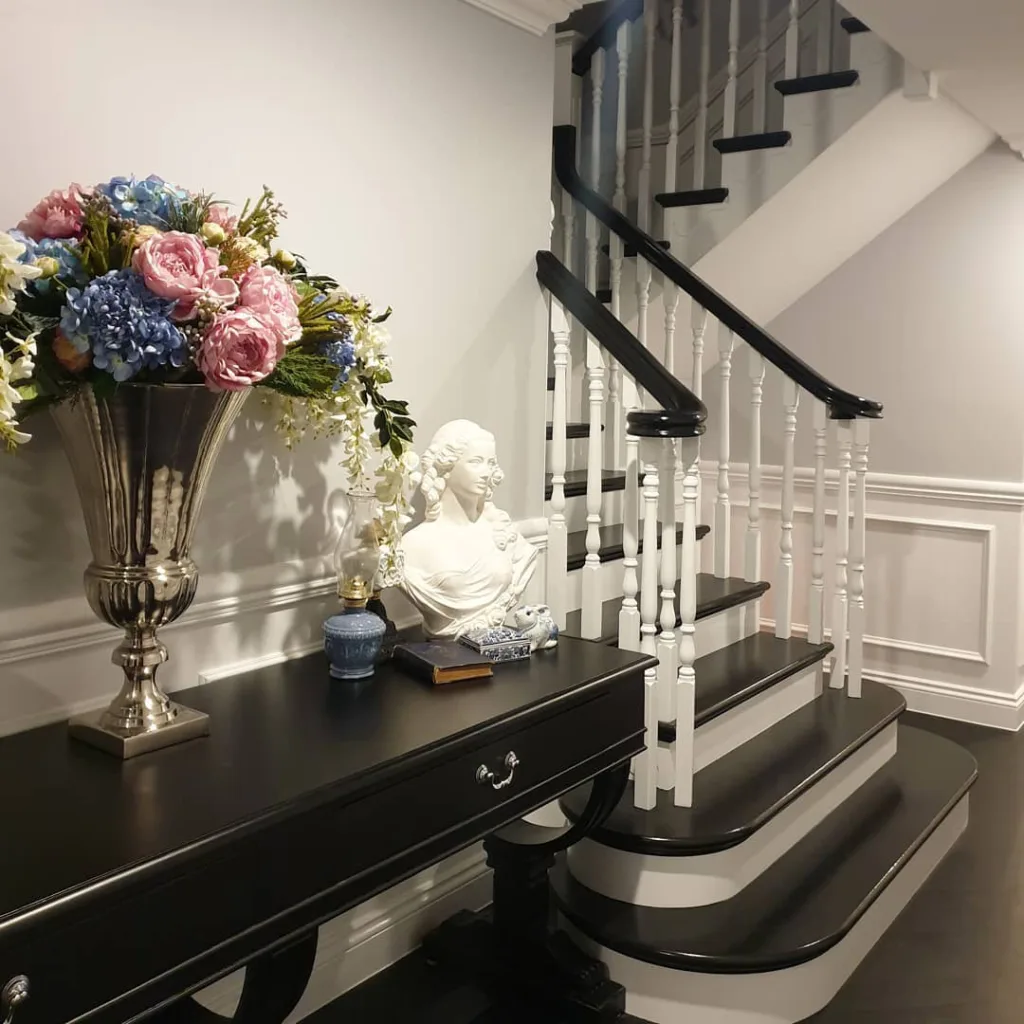 White wainscoting around this foyer accents the white and black design of the intricate staircase with rounded steps. A black console table is decorated with a polished silver vase and a white sculpture.
22. Modern Black and White Stripes
This funky staircase design features a curved, polished black railing extending to the white and black carpeted stairs. The color scheme is continued throughout the home with striped floors in the entryway, while a plant in the foyer adds a pop of color.
23. Black Railings with White Newel Posts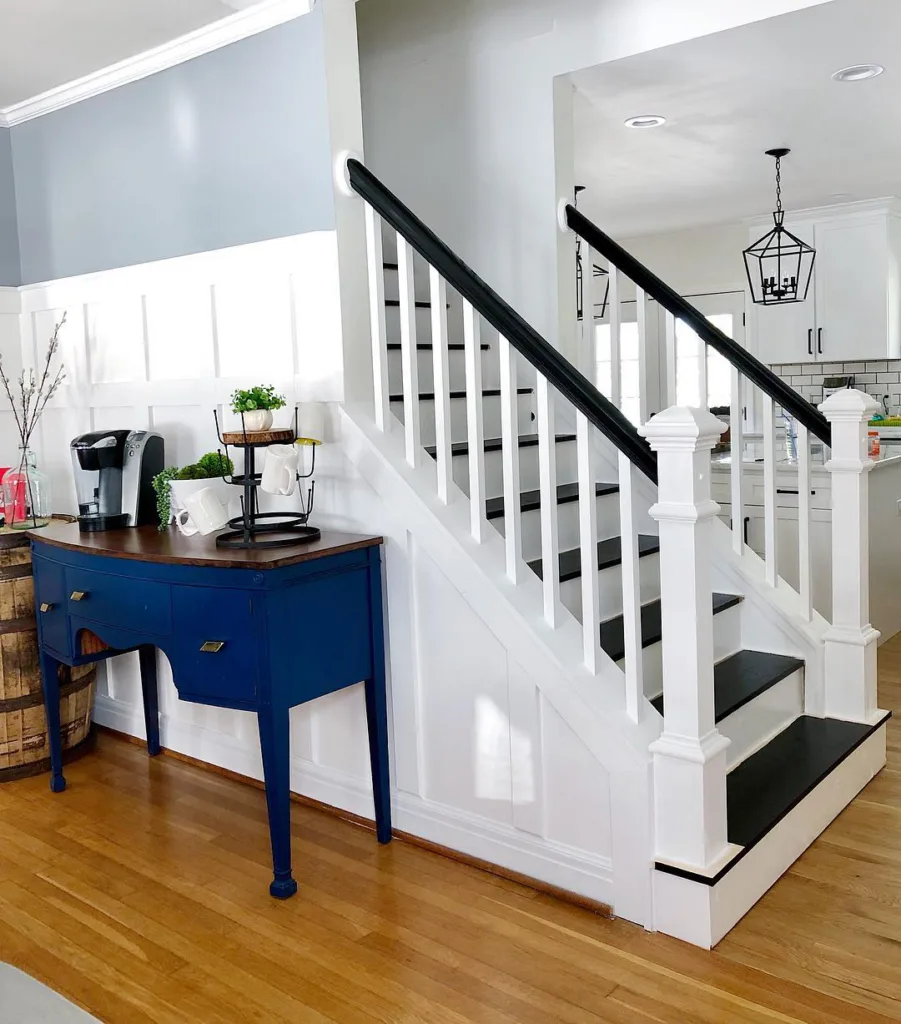 This cape-cod style home features squared stairs with black steps and white risers. A black railing connects to white newel posts on the bottom steps. A neutral thin plank hardwood floor is installed in the house, balancing the look of the stairs.
24. A Pink Accent Chair with A Black and White Staircase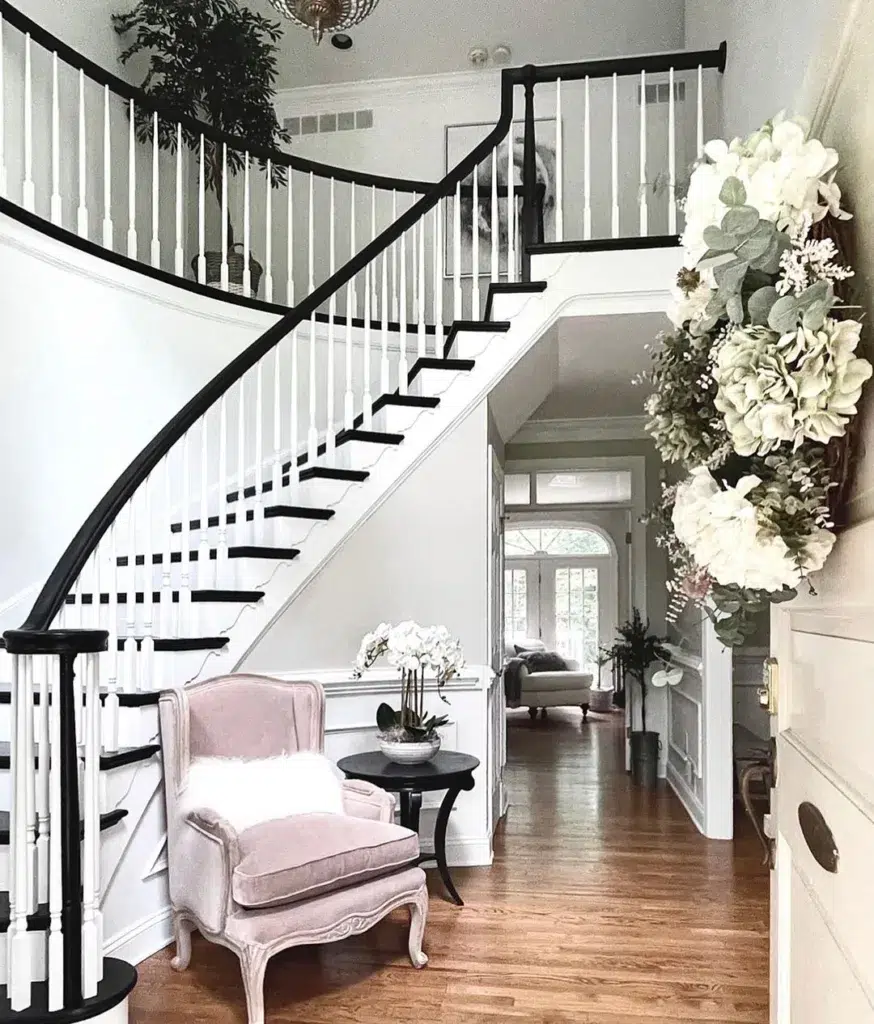 A pink accent chair adds color to this black-and-white foyer with hardwood floors. The centerpiece of the space is the curved staircase extending to the landing above. White wainscoting fills the downstairs foyer, adding an elegant touch.
25. White Railings and Posts with Black treads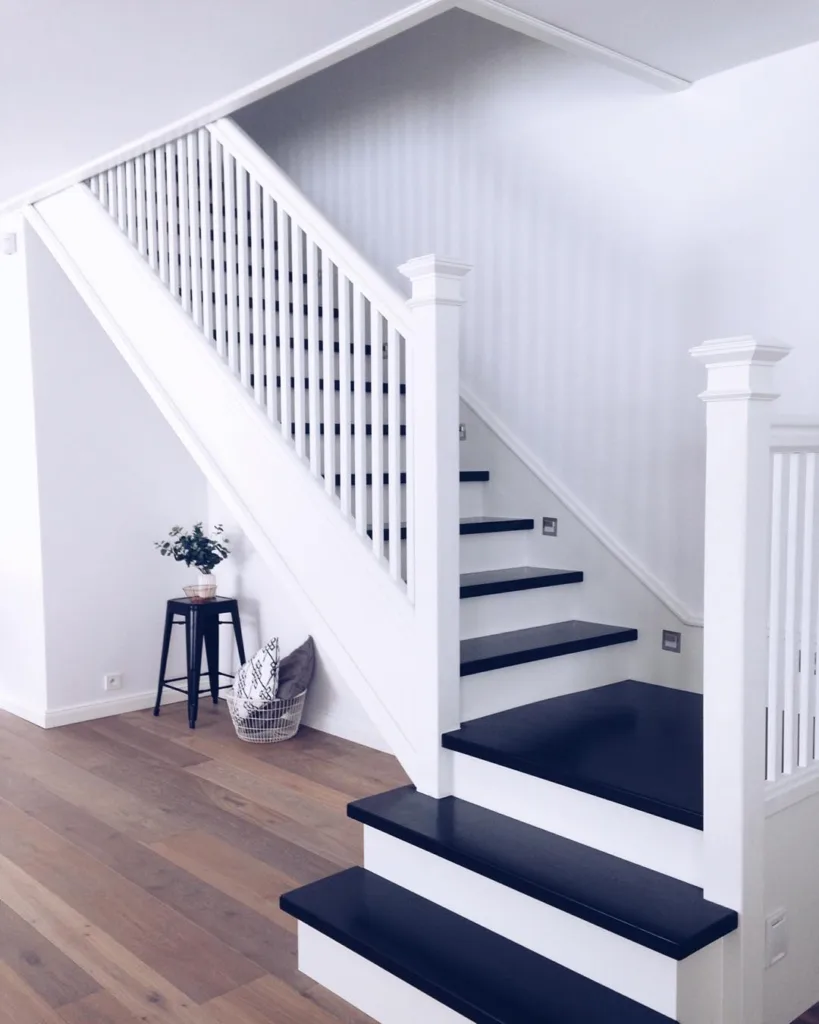 These painted black and white stairs match the bright white walls of this modern home. Wide plank wood floors add a transitional look to the space and balance the high-contrast stairs.
26. A chandelier Over a Narrow Staircase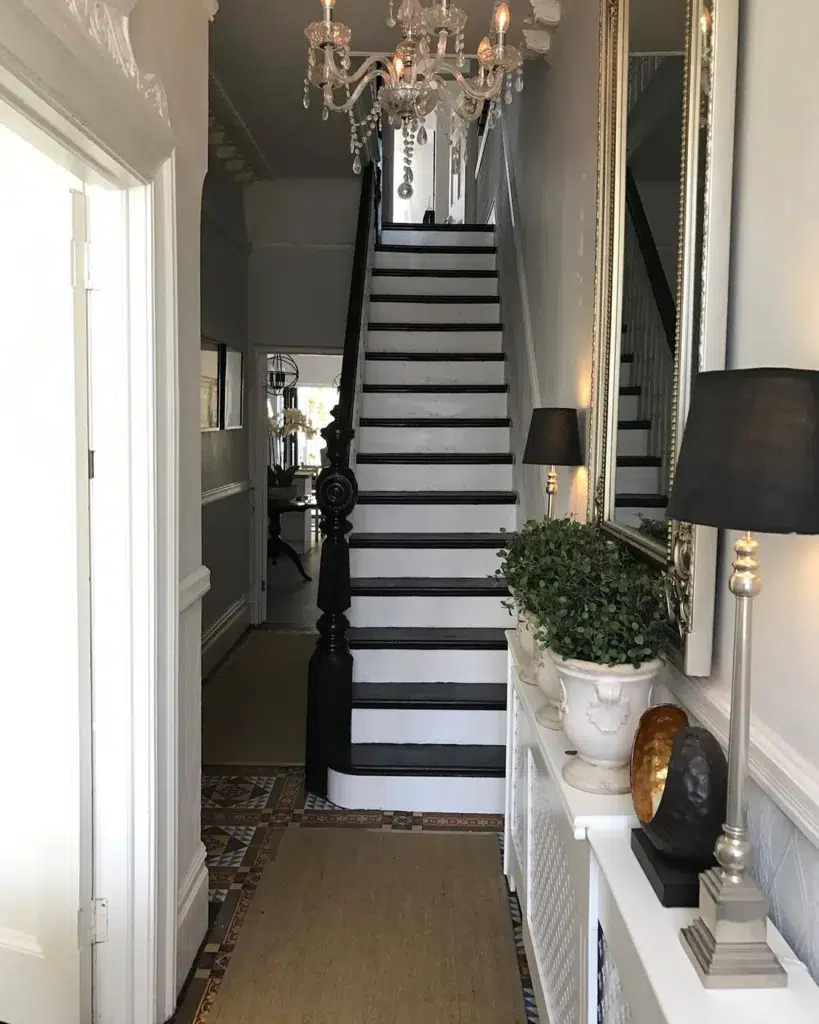 A crystal chandelier hanging in the foyer adds an elegant touch to this narrow space with a black and white staircase. The high-gloss paint on the stairs adds to the luxurious look and matches the trim around the area. When designing your stairs, determining the right paint finish is essential. Matte paints traditionally exude more modern or farmhouse styles, while semi-gloss or high-gloss paints introduce elegant and luxurious vibes.
27. Patterned Risers with Polished Black Accents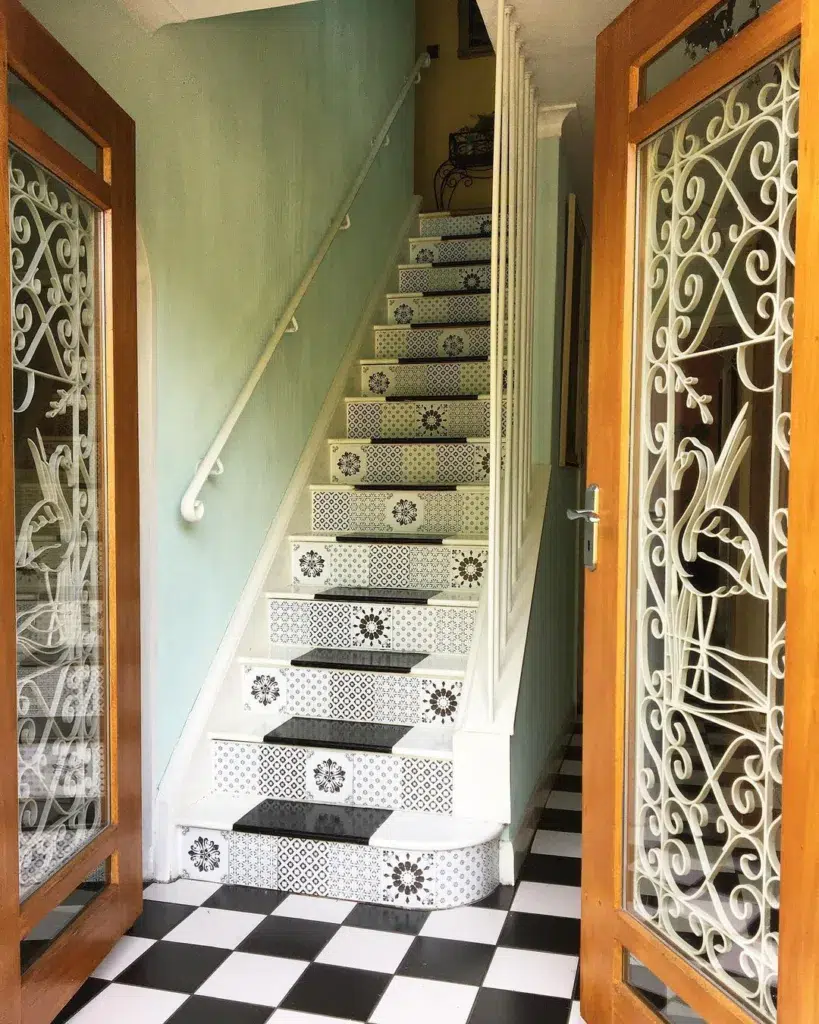 A unique pattern is painted on the white treads matching the checkerboard floor of this home. In the center of each step, a polished black tile is affixed, adding to the contrast of the look.
28. A grand Foyer with a Curved Staircase
This grand foyer features polished marble floors with grey veining and a circular grey couch for seating. A large curved staircase features long black steps, white risers, and an intricate black metal railing. On the wall next to the stairs, white wainscoting follows the curve of the stairs extending to the second floor. A large crystal chandelier hangs as the focal point of this space and adds plenty of light.
29. A Black and White Vertical Stripe Runner
This runner features black and white stripes extending up the stairs for a unique look. The runner's look accents the stairs' design while adding dimension to its pattern.
30. Black Railings on White Marble Stairs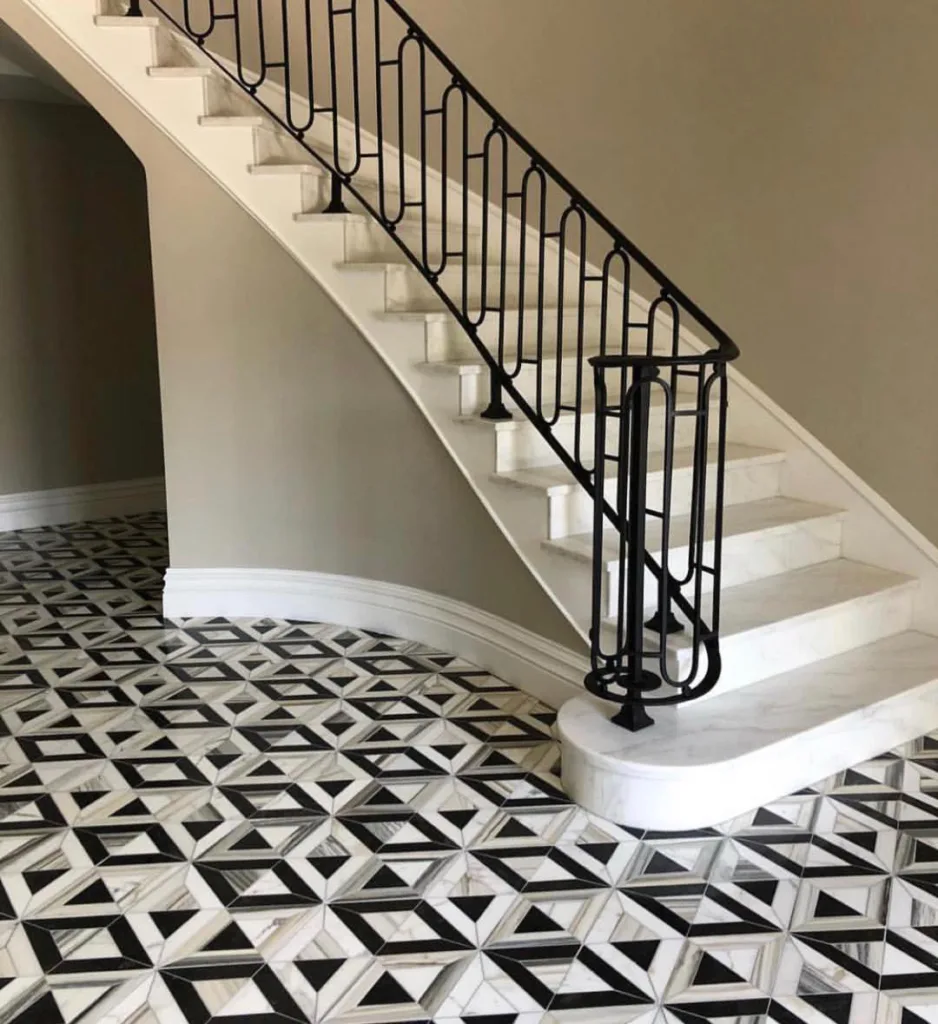 This white marble staircase features black metal railings for an elegant look. In addition, a black and white marble tile floor with a triangle design is installed in the entryway, adding a fun pattern to the space.