Bathroom counter decor is almost as important as the bathroom design itself. But it can be hard to find the right decor balance without filling your counter space. Don't worry; we've got you covered.
When choosing your bathroom decor, you first need to examine how much counter space is available. You'll want minimal bathroom counter decor for smaller bathrooms like guest or powder rooms. Otherwise, it will crowd the space. In these rooms, try adding a plant or a small soap tray that accents the colors around the area.
In larger spaces, you can let your imagination run wild with bigger plants, trays, and vases to help fill the counter and complete your design. So whether you're designing a farmhouse bathroom or a minimalist modern space, the right decor can help you pull your vision together.
Check out our bathroom counter decor ideas gallery to find your inspiration today!
1. Farmhouse Shiplap Bathroom Counter Decor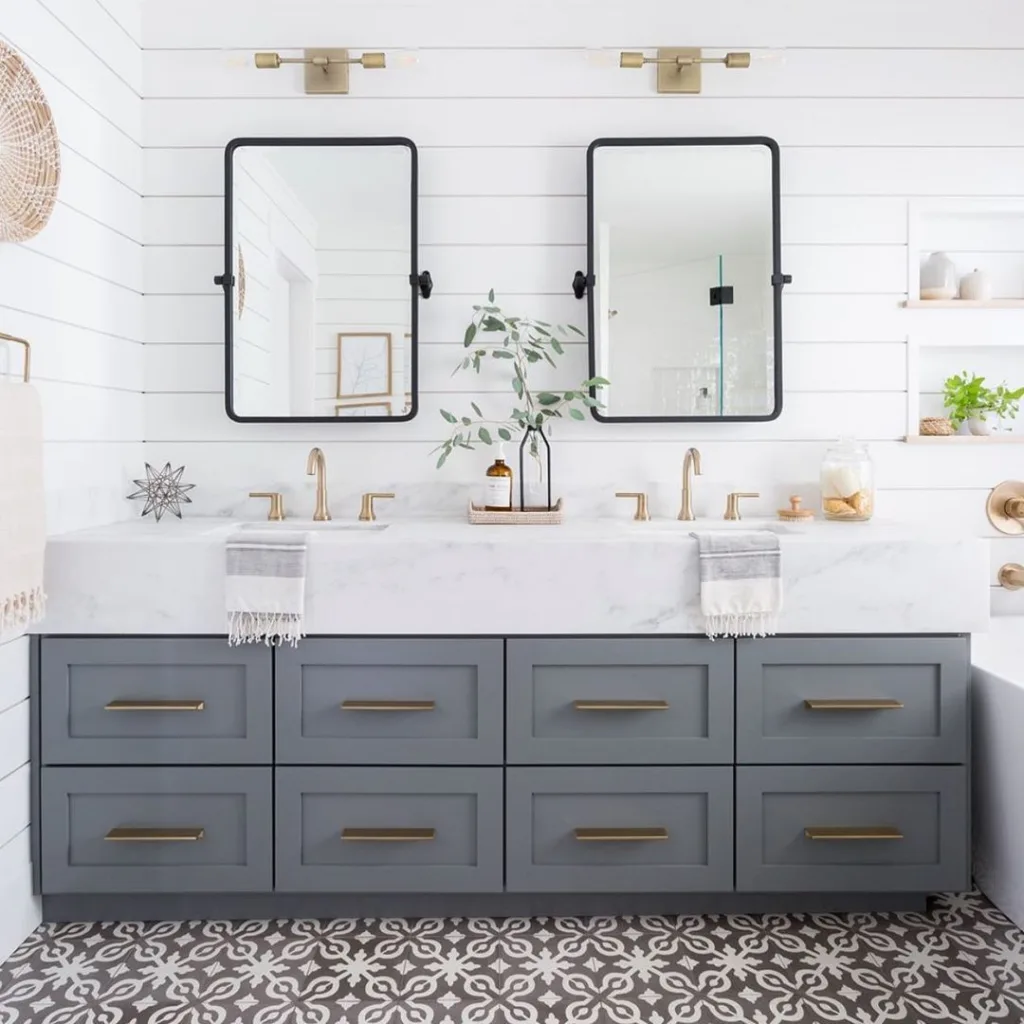 This farmhouse-style bathroom with dark grey cabinets uses a white countertop and white shiplap backsplash to brighten the space. Gold hardware in the bathroom adds a warm touch, while a neutral tray on the counter acts as decor with a bottle of soap and a thin plant in a glass bottle placed on it.
2. Using Plants As Decor on the Vanity Counter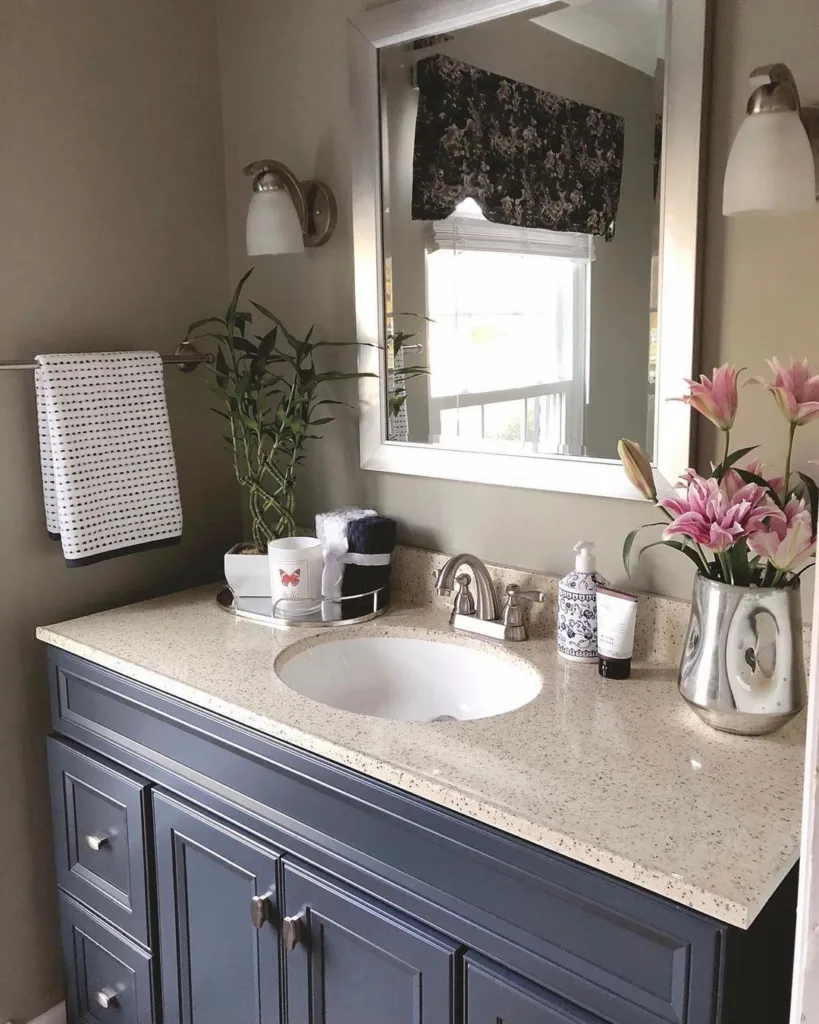 This simple bathroom uses a polished silver vase with pink flowers as decor to help modernize this design. On the opposite side of the counter, a silver tray matches the vase and holds towels along with another small plant. Silver hardware on the blue cabinet accents the decor.
3. Adding Brown Hues to Contrast a Beige Counter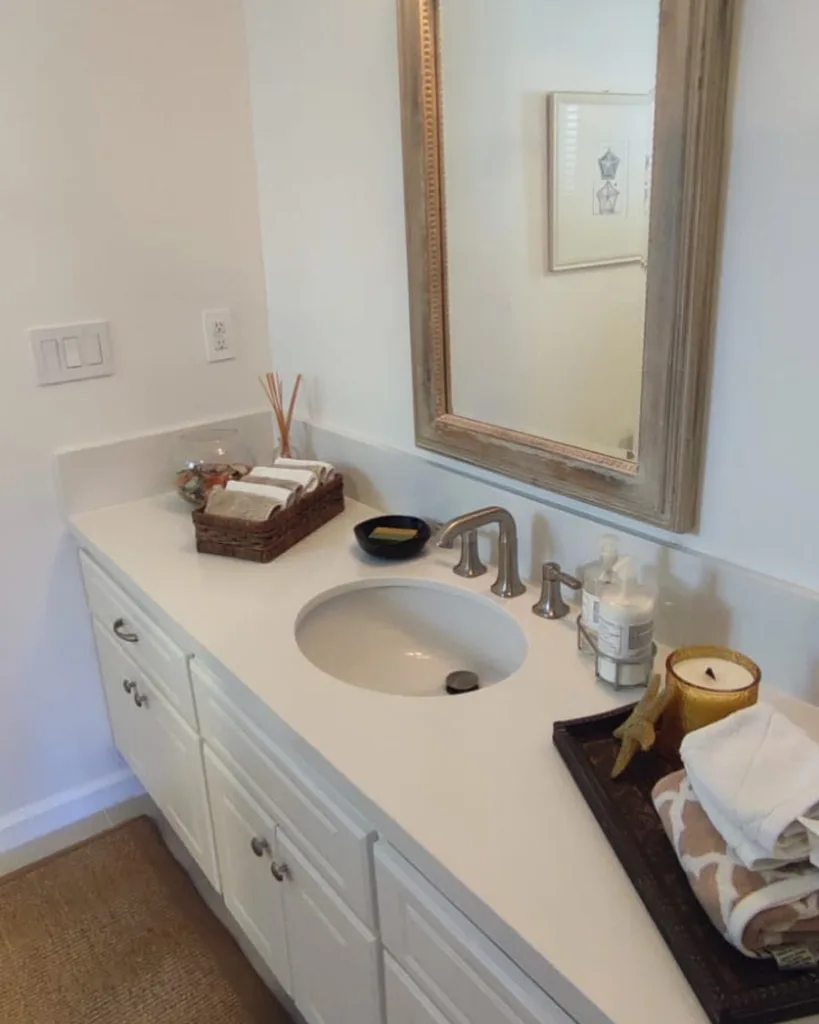 This white cabinet and white countertop bathroom create contrast with two brown trays filled with neutral and white towels. Adding darker decor to white bathrooms is a great way to help balance the design.
4. White Counter Decor in a Gray Modern Bathroom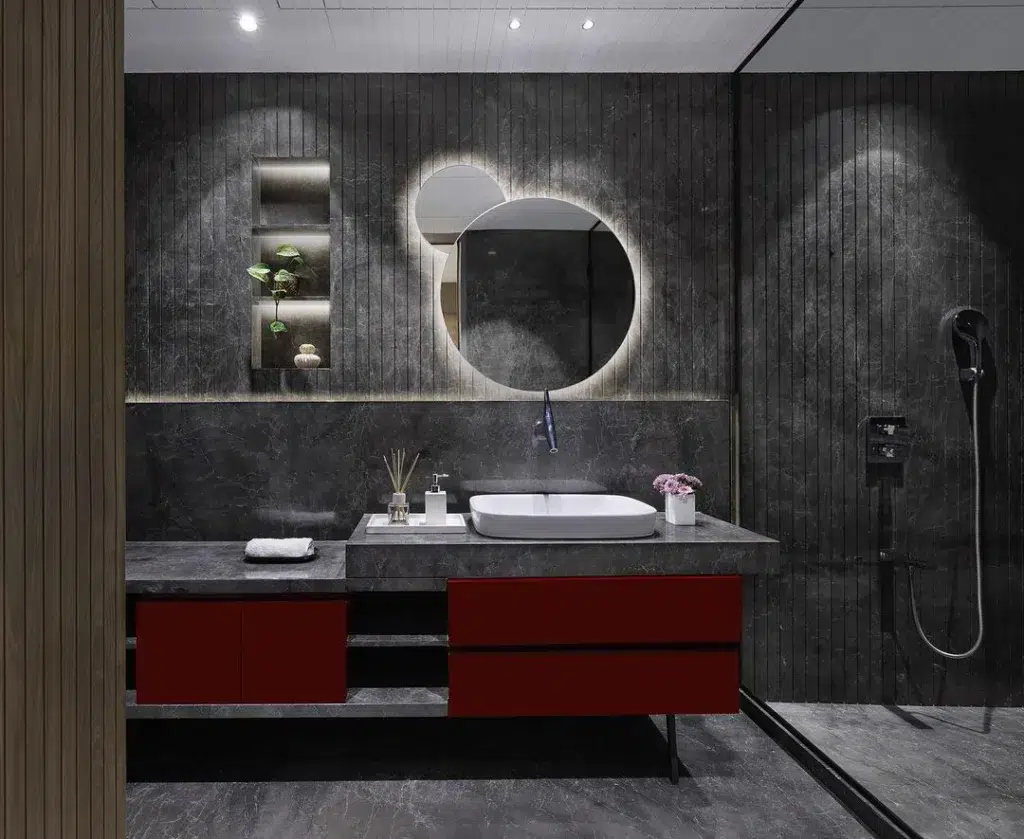 This modern grey bathroom features a white tray filled with a diffuser and soap. The tray matches the porcelain sink, contrasting the dark tones in this masculine space.
5. Colorful Vases in an Eccentric Bathroom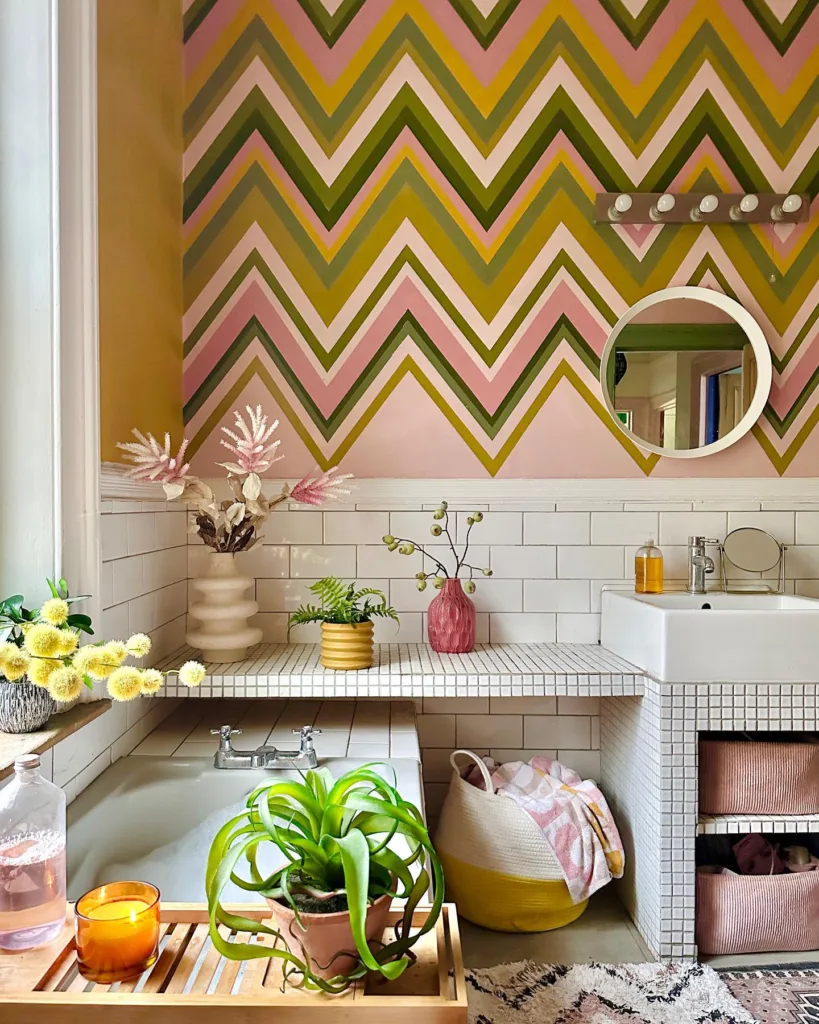 This eccentric bathroom uses colorful vases to continue the bright design of this space. White subway tile with black grout adds a simple backdrop that lets all of the colors shine. Using colorful bathroom counter decor is a great way to accentuate your style in otherwise simple spaces.
6. Minimal Bathroom Counter Decor for a Modern Look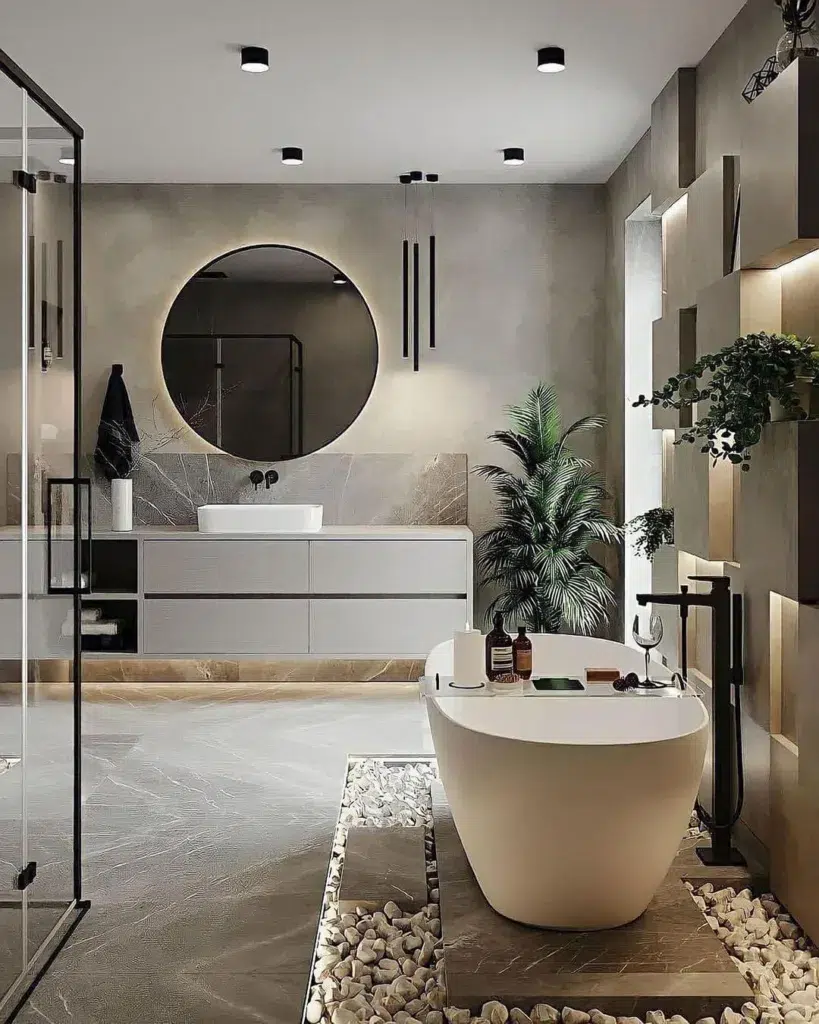 This modern bathroom uses a white vase as counter decor matching the white porcelain sink. The freestanding tub accents the sink, while plants around the space are used as decor. Adding greenery is a great way to introduce color and texture subtly, especially for modern rooms.
7. Neutral Counter Decor in a White and Gold Bathroom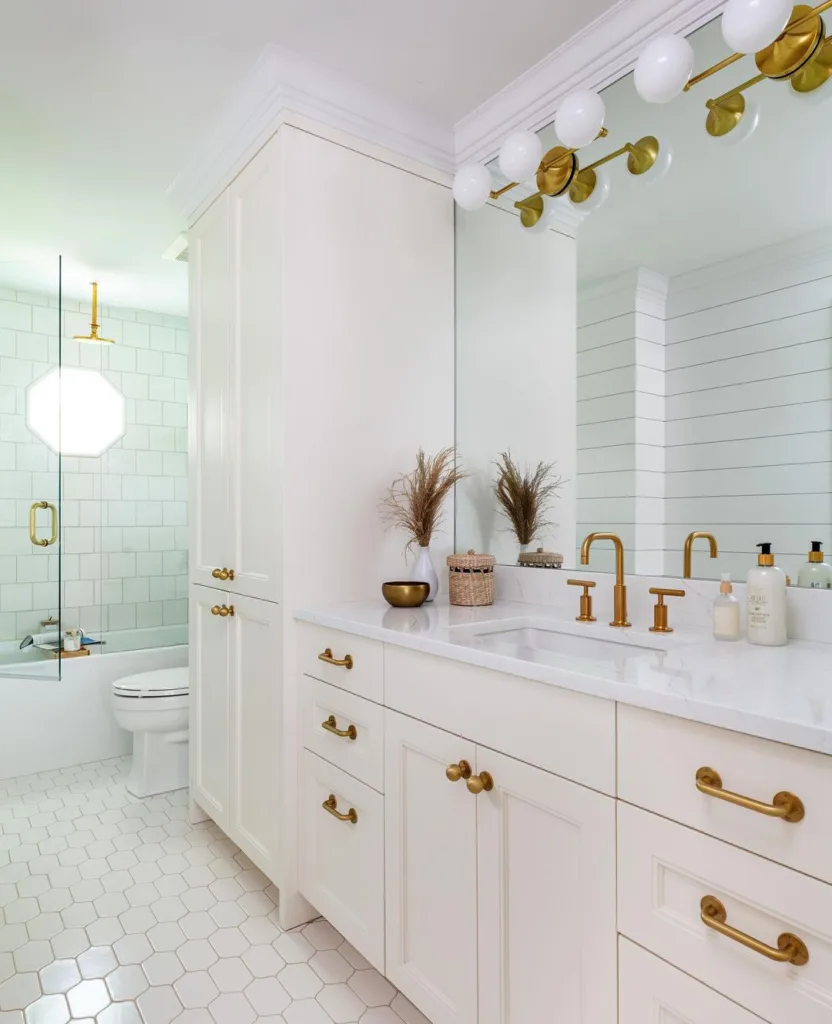 This shaker style bathroom features neutral and white colored decor to match the white and gold cabinet design. A white hexagon floor tile continues the bright design. A white subway tile shower has gold hardware matching the rest of the space, while a floor-to-ceiling cabinet next to the toilet provides plenty of storage.
8. A simple Tray Under Wood Shelves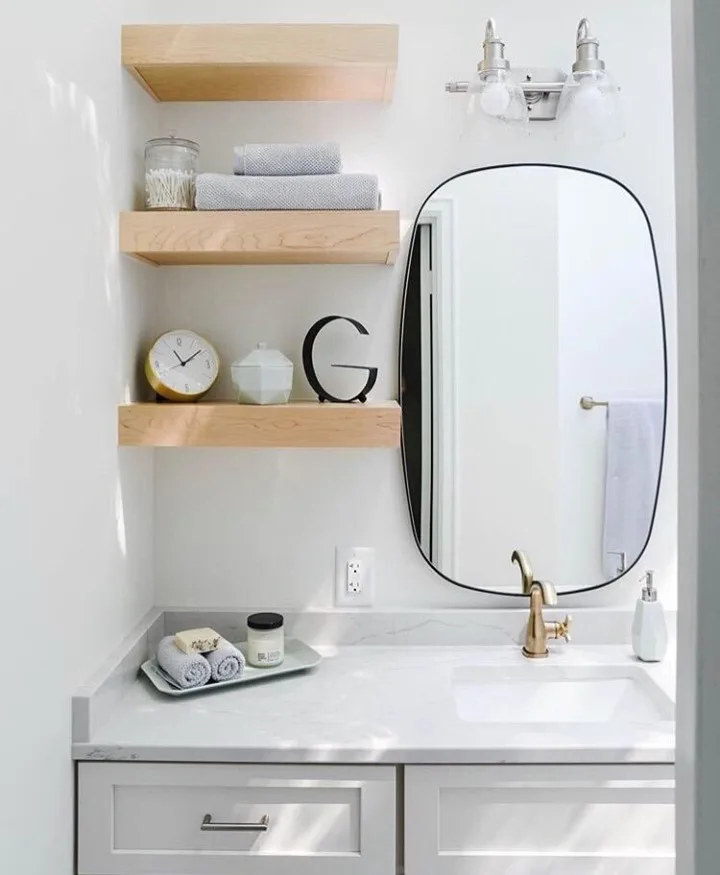 Towels and soap are placed on a grey tray on this bathroom counter, matching the hues found in this grey design. Wood butcher block shelves above add a warm neutral tone and hold grey and white decor, continuing the color scheme.
9. A Glass Vase and Plant On a Modern Vanity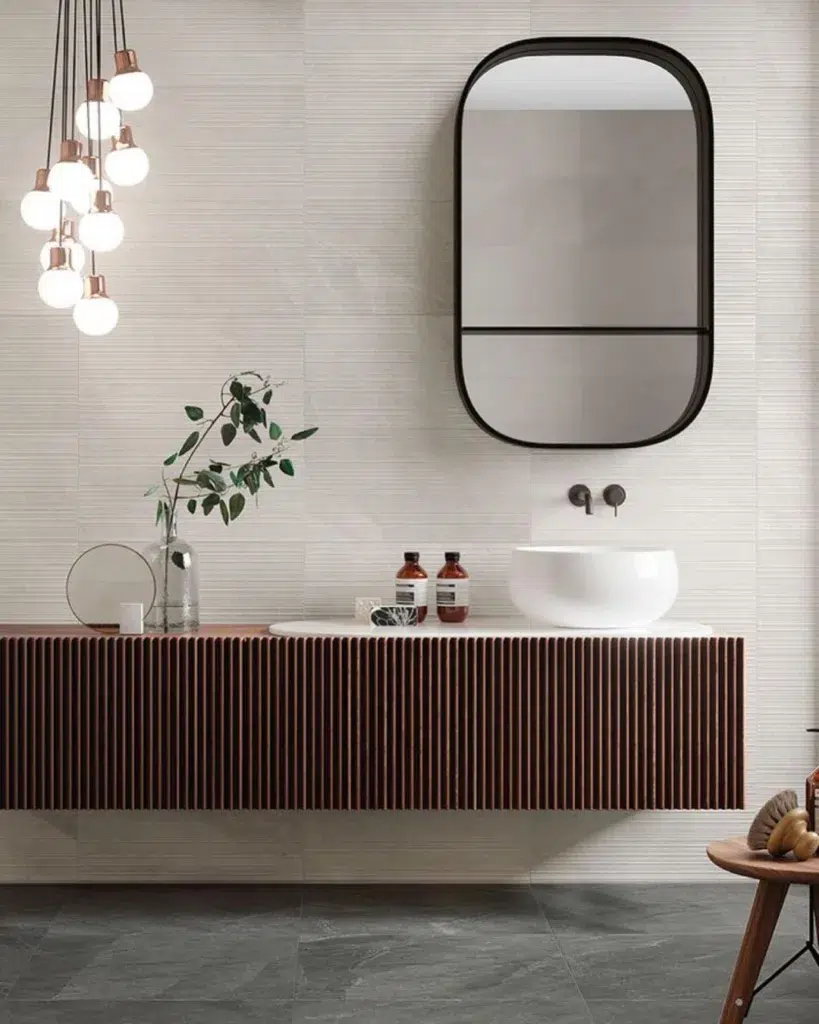 A brown wood vanity features a simple glass vase with a thin plant as decor, while a soap bottle beside the sink accentuates the space's colors. This design keeps its color scheme simple by repeatedly using white, brown, and green throughout the room.
10. Country Bathroom Decor on a Wood Vanity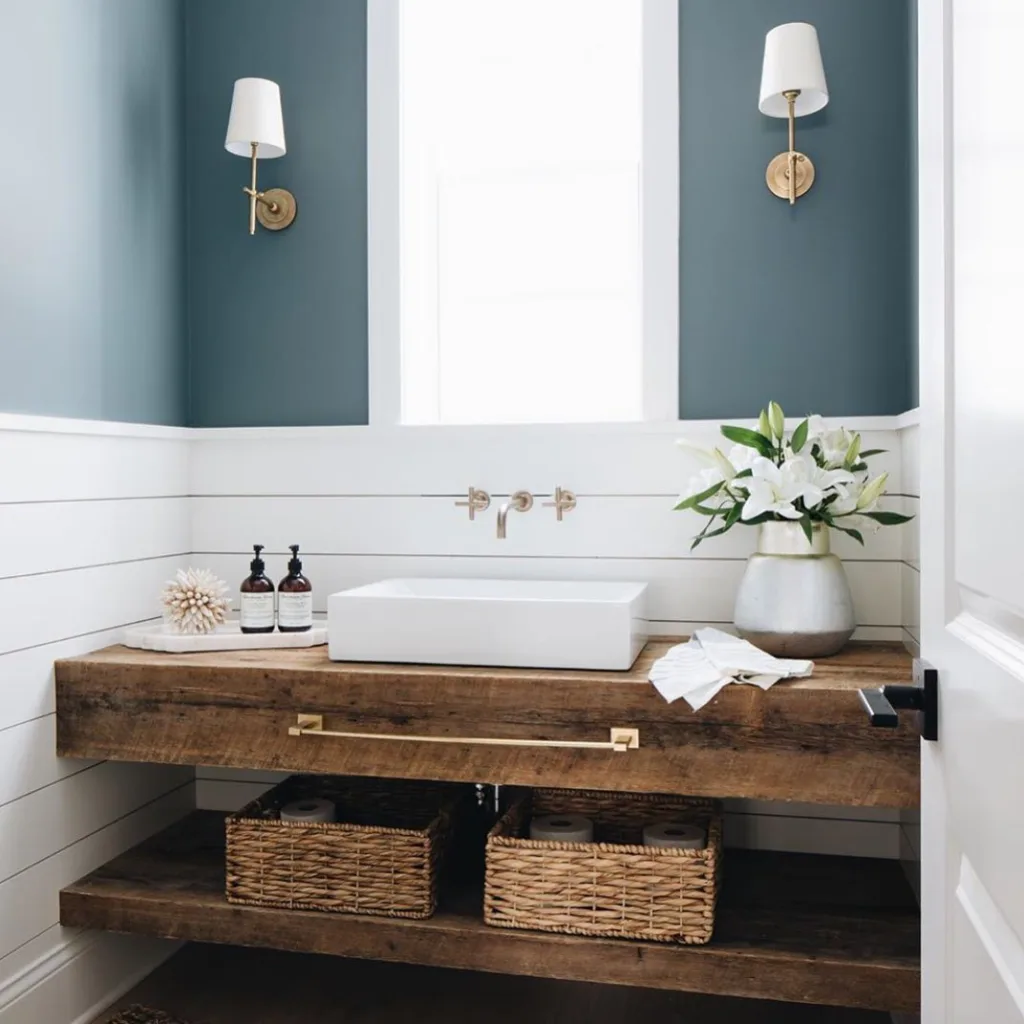 This bathroom with a half-shiplap accent wall features white decor that matches the sink on this rustic wood beam vanity. Brass hardware adds a luxurious touch that matches the two sconces hanging on the wall above.
11. Green Plants As Bathroom Decor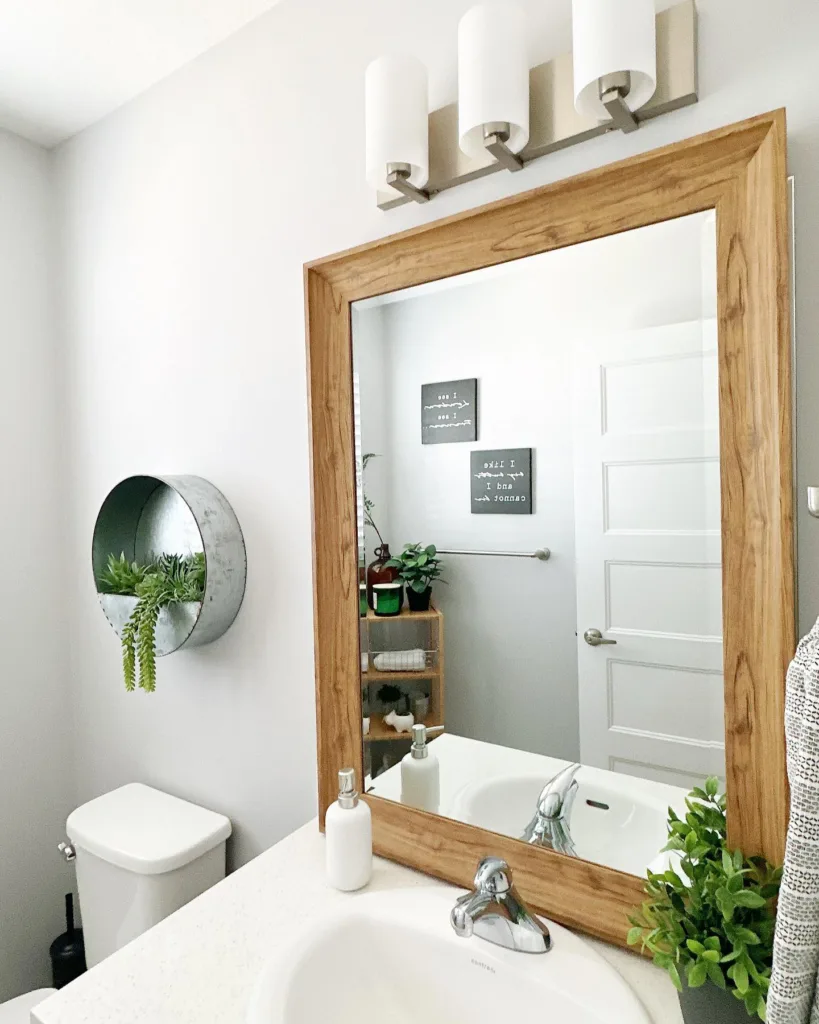 A green plant in a black vase is used as counter decor in this small guest bathroom with a white countertop. Since this bathroom has limited counter space, using a small plant helps add a pop of color without overcrowding the area.
12. Two Christmas Trees for Bathroom Holiday Decor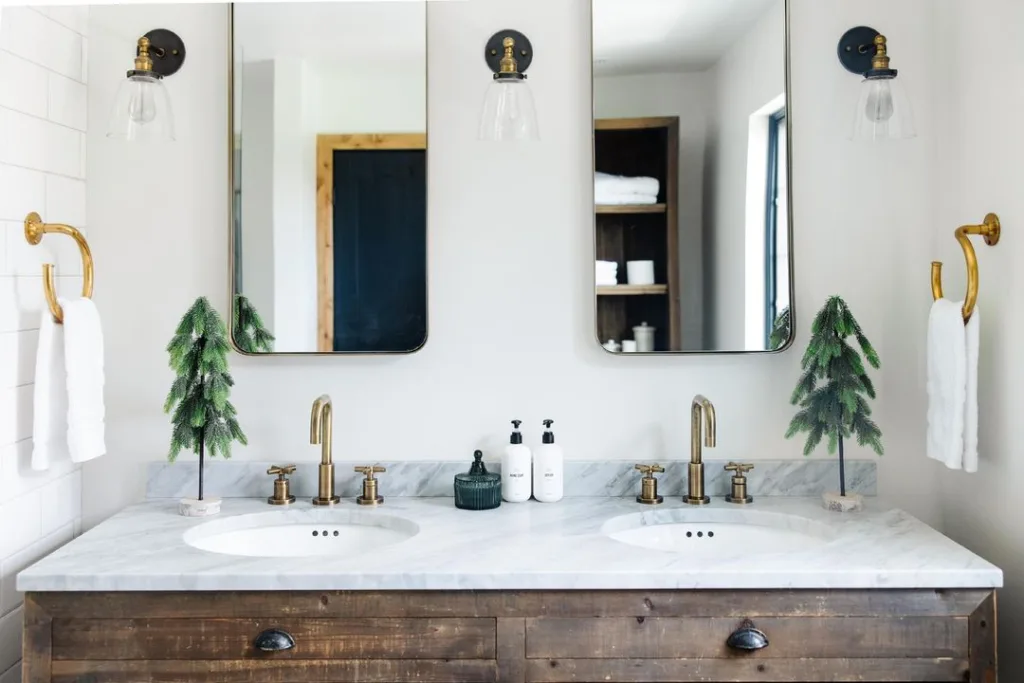 Two modern Christmas trees are positioned on opposite sides of this dual sink vanity, adding a bit of holiday cheer to the bathroom. In addition, a brown wood vanity exudes farmhouse vibes balanced by the marble countertop.
13. White Accents in a Grey and White Bathroom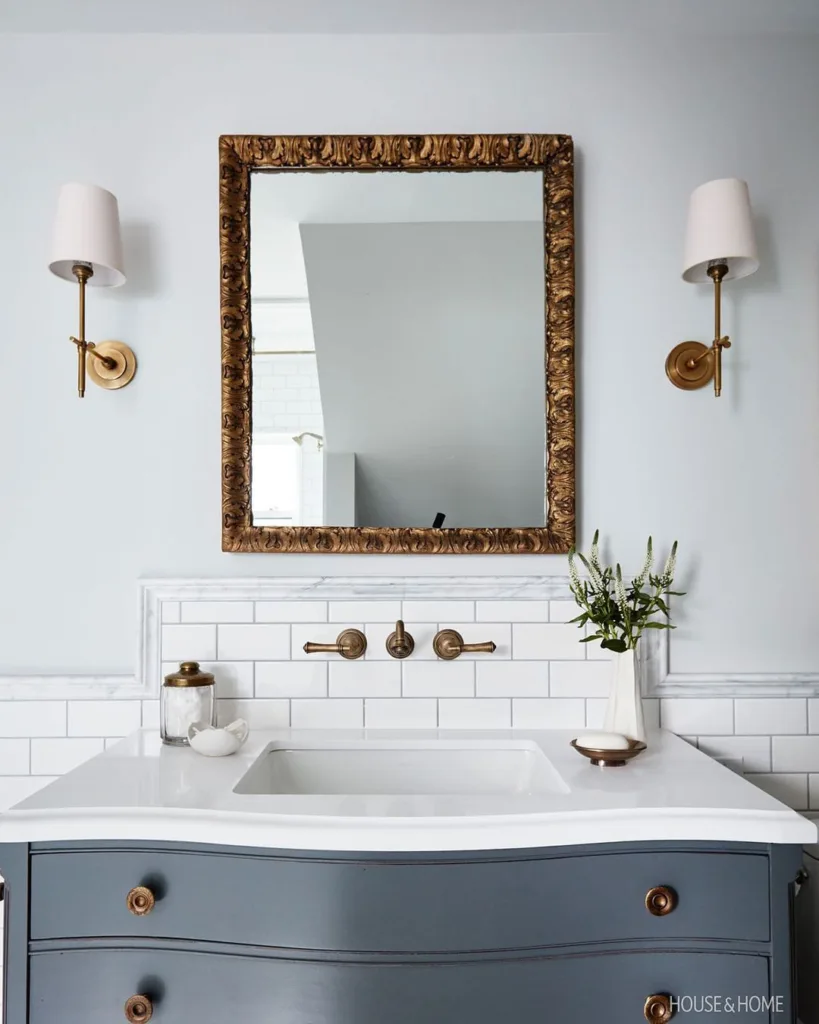 A grey wavy vanity with white countertops features a brass tray with soap and a white vase as counter decor. The tray matches the faucet, cabinet hardware, and filigree mirror, creating a cohesive design.
14. Glass jars As Decor for A Country Look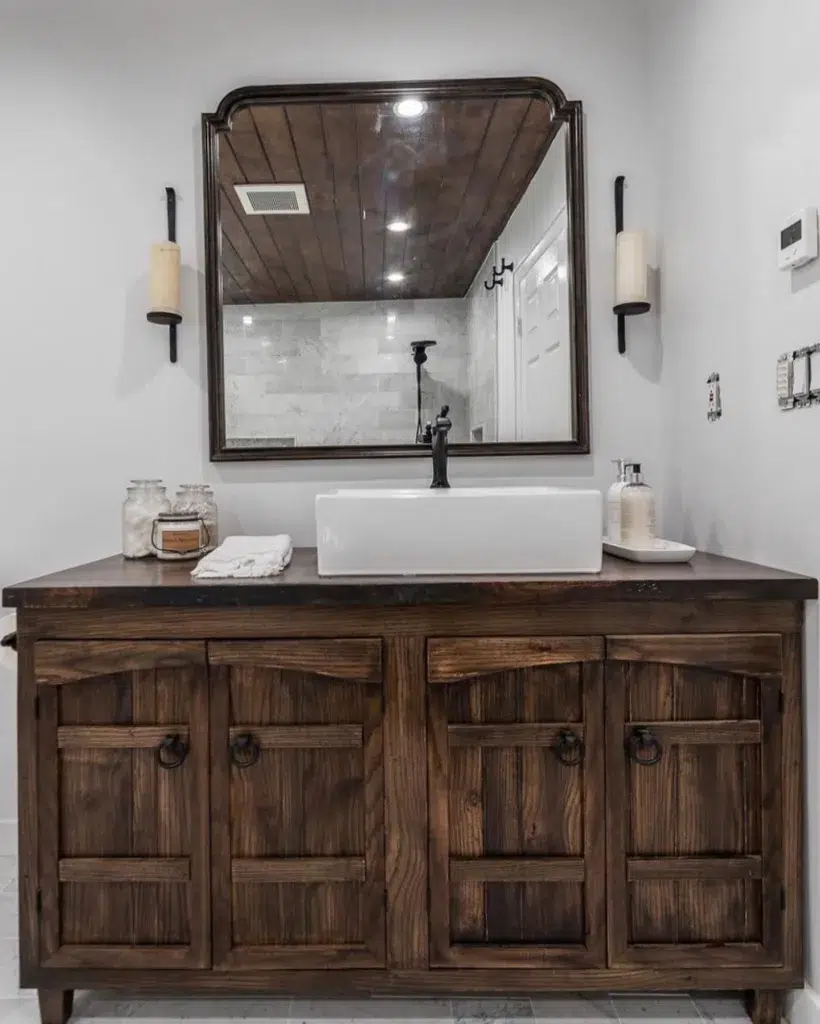 This brown cabinet uses white countertop decor to brighten the design, along with a white porcelain sink. Above, a brown framed mirror accents the vanity with dark-colored sconces on either side. Walls painted with Sherwin Williams Agreeable Gray help balance the design.
15. Blue Accents in A White Bathroom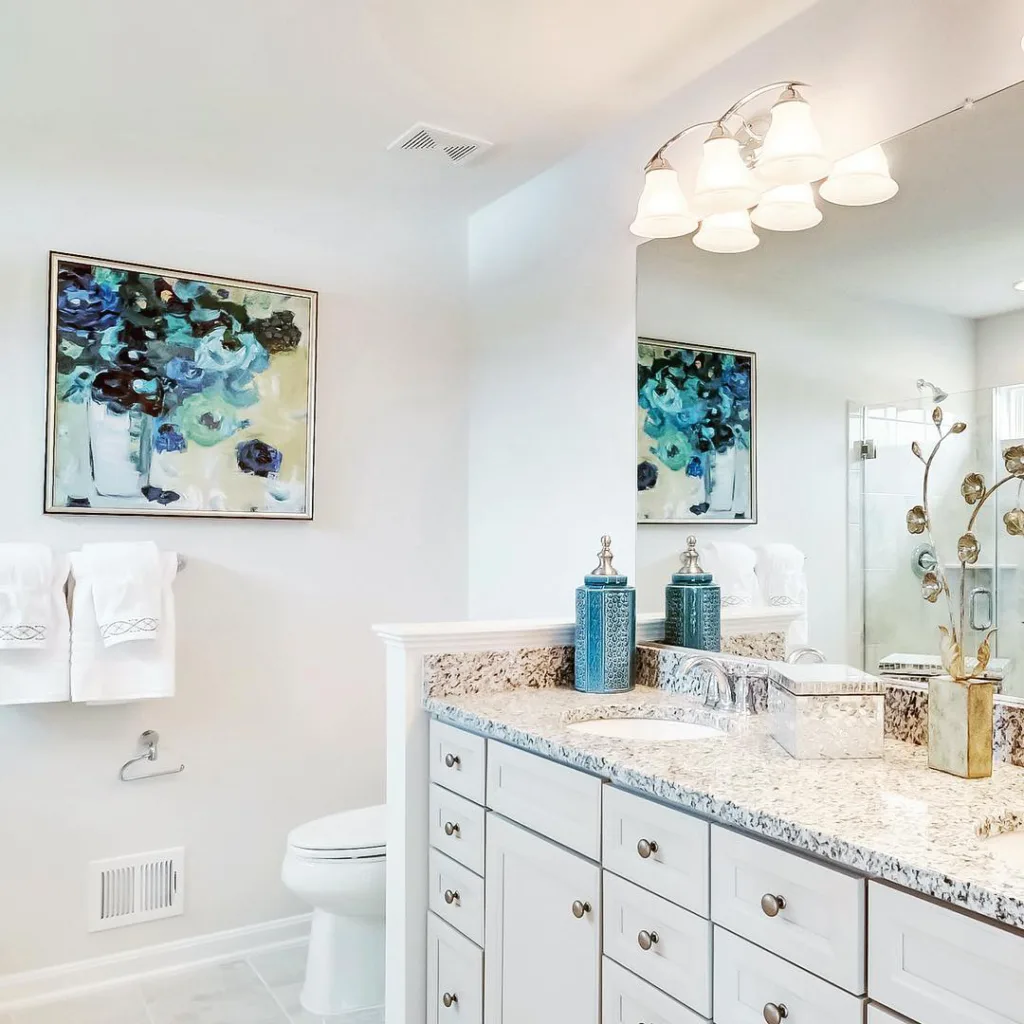 This white bathroom with busy granite countertops uses a blue vase on the counter to accent the colorful art on the nearby wall. Metal boxes are also placed on the counter and blend into the granite counter.
16. Simple Bathroom Counter Decor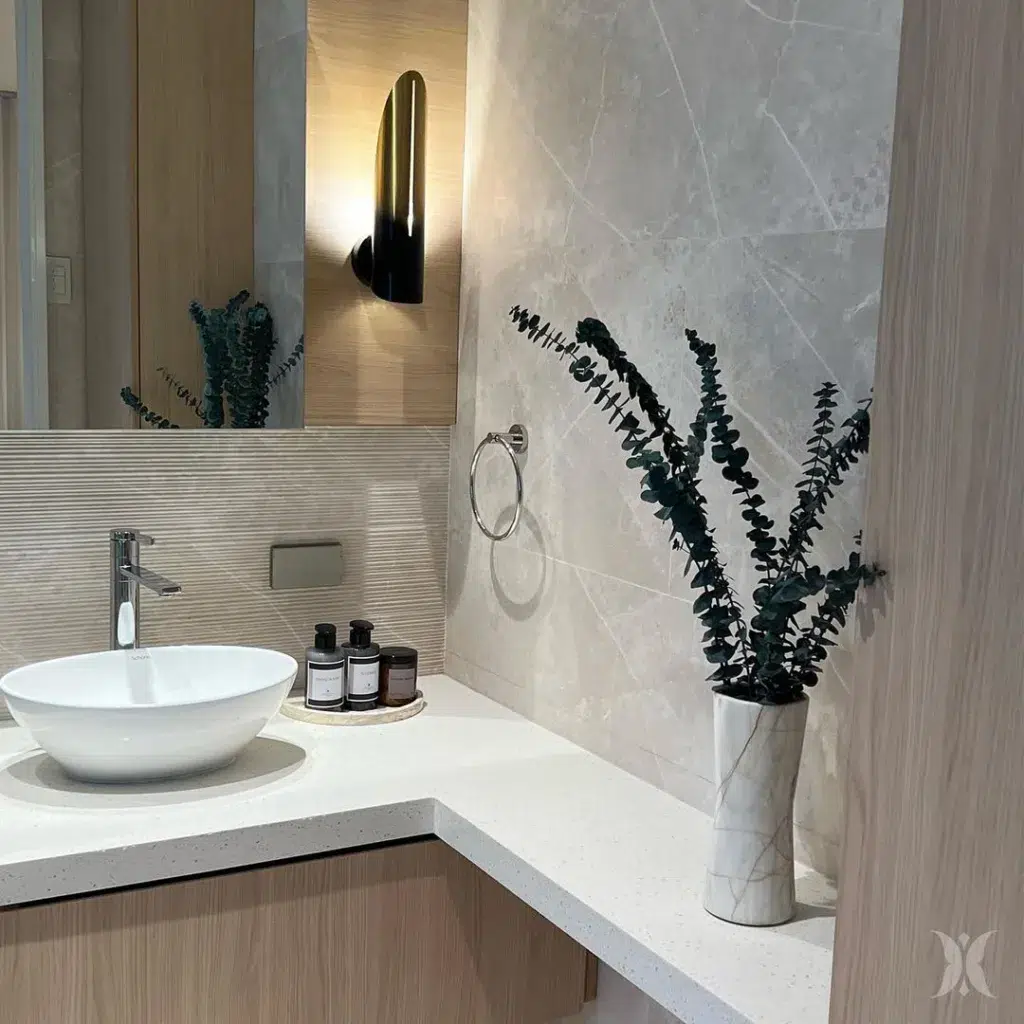 A neutral tray of soap and a marble vase is used as bathroom decor in this modern guest bathroom. Light wood cabinets and accents help add warmth to the space's contemporary design.
17. Neutral Guest Bathroom Counter Decor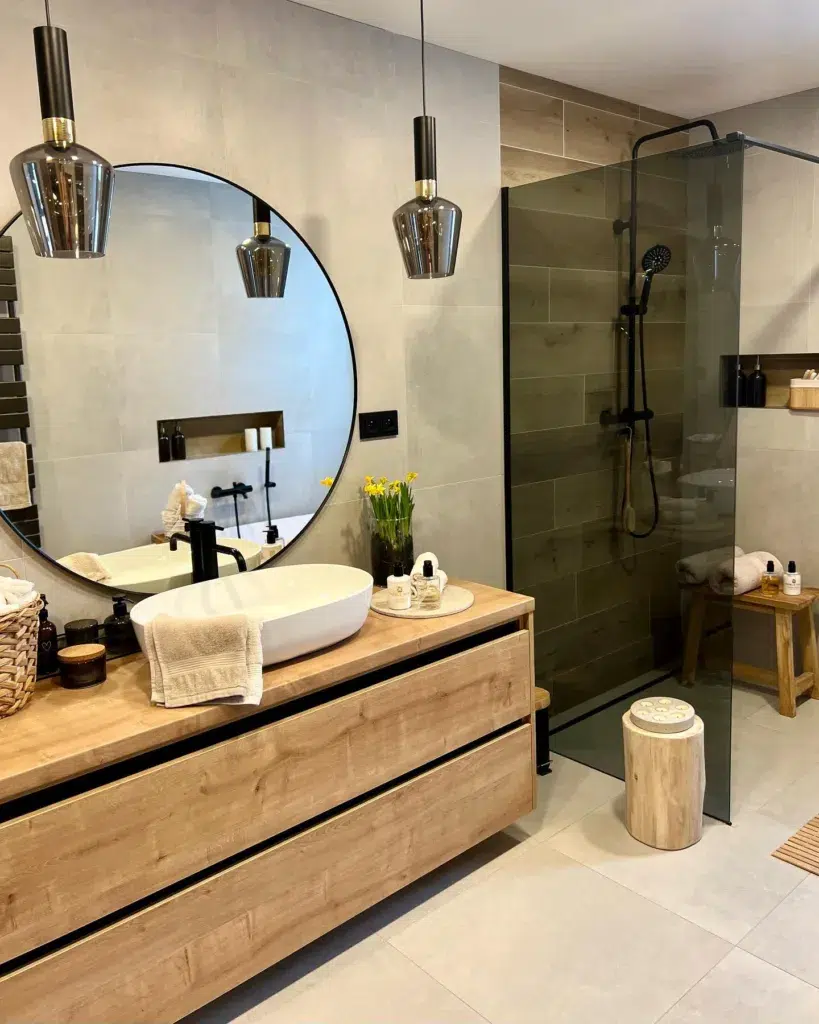 Black jars with wood tops add contrast while still matching the rustic wood vanity in this modern country bathroom. Grey floors add a masculine feel to the space that is balanced by the vase of flowers on the counter. Wood accents are continued around the bathroom to help tie the design together.
18. A Vase of Flowers As Master Bathroom Counter Decor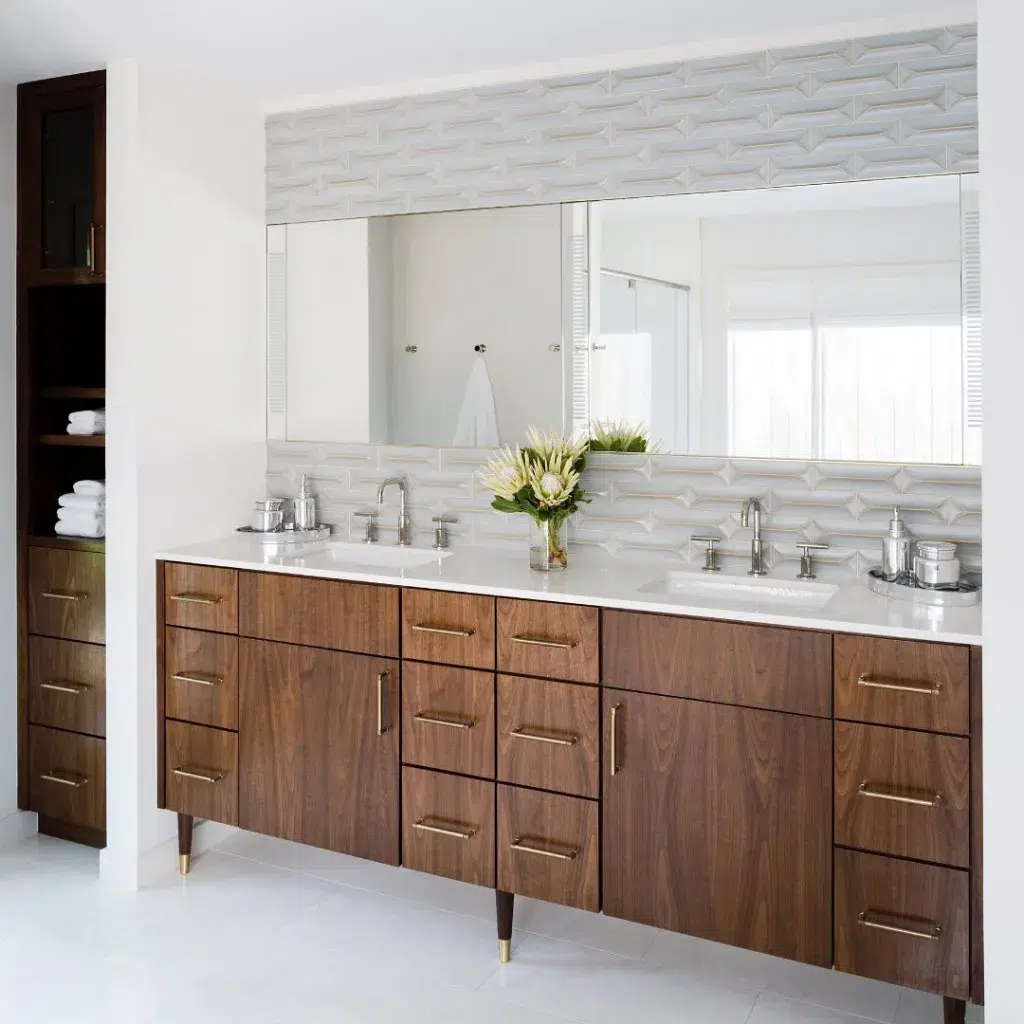 A brown twin vanity features a glass vase of flowers in between the two sinks. Placing decor between sinks in a double vanity helps bring the space decor. Otherwise, the large amount of counter space can start to feel empty and overwhelming.
19. Using Metal to Decorate a Bathroom Counter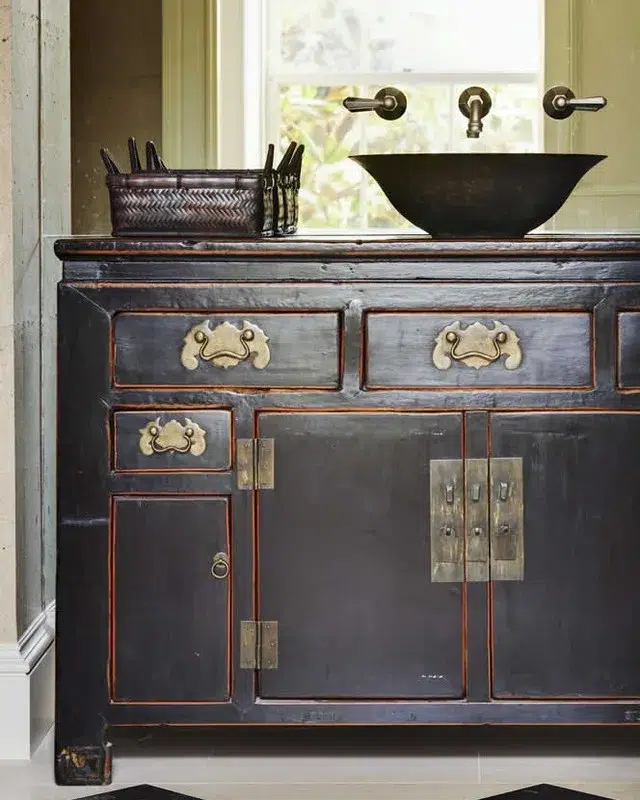 A metal basket next to the sink decorates this unique french-country vanity. Remember to consider textures and materials when choosing decor for your space, not just color. While the basket in this design isn't the same color as the vanity, it's made of a similar material that helps them go together.
20. A Potted Plant on a Dual Sink Vanity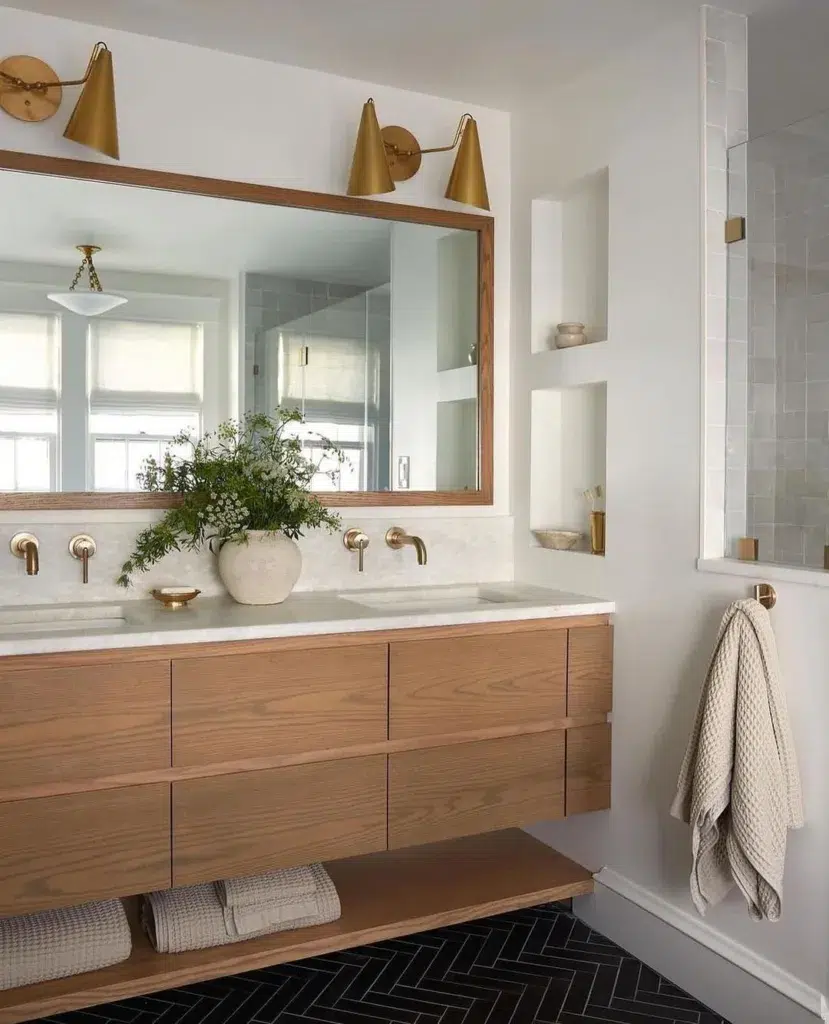 A large green plant fills the gap between the two sinks on this neutral wood vanity with gold hardware. Black herringbone floors add a stunning contrast to this space, with white countertops and white walls.
21. Black and White Decor in a Black Marble Bathroom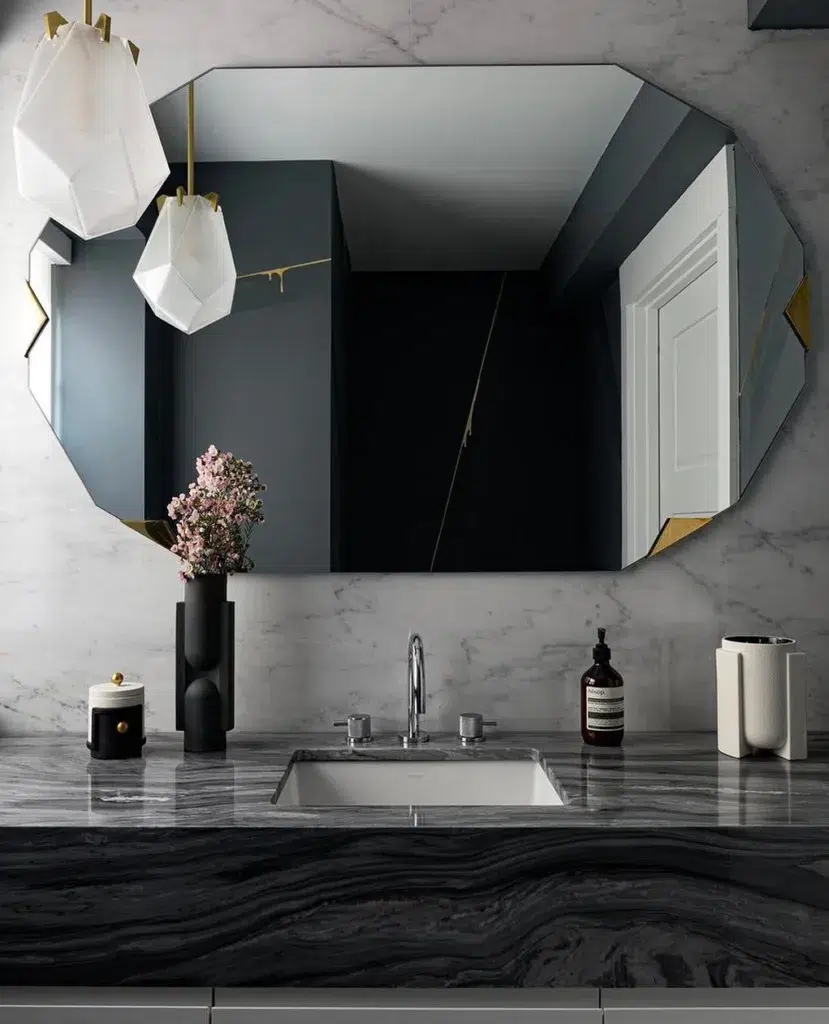 A black marble vanity is decorated with a black vase on the left and a white vase on the right. Using different black and white decor helps highlight the subtle white veining in the marble. A hexagon mirror with gold accents hangs above the sink and continues the modern design of this bathroom.
22. A small Plant in a Tiny Powder Room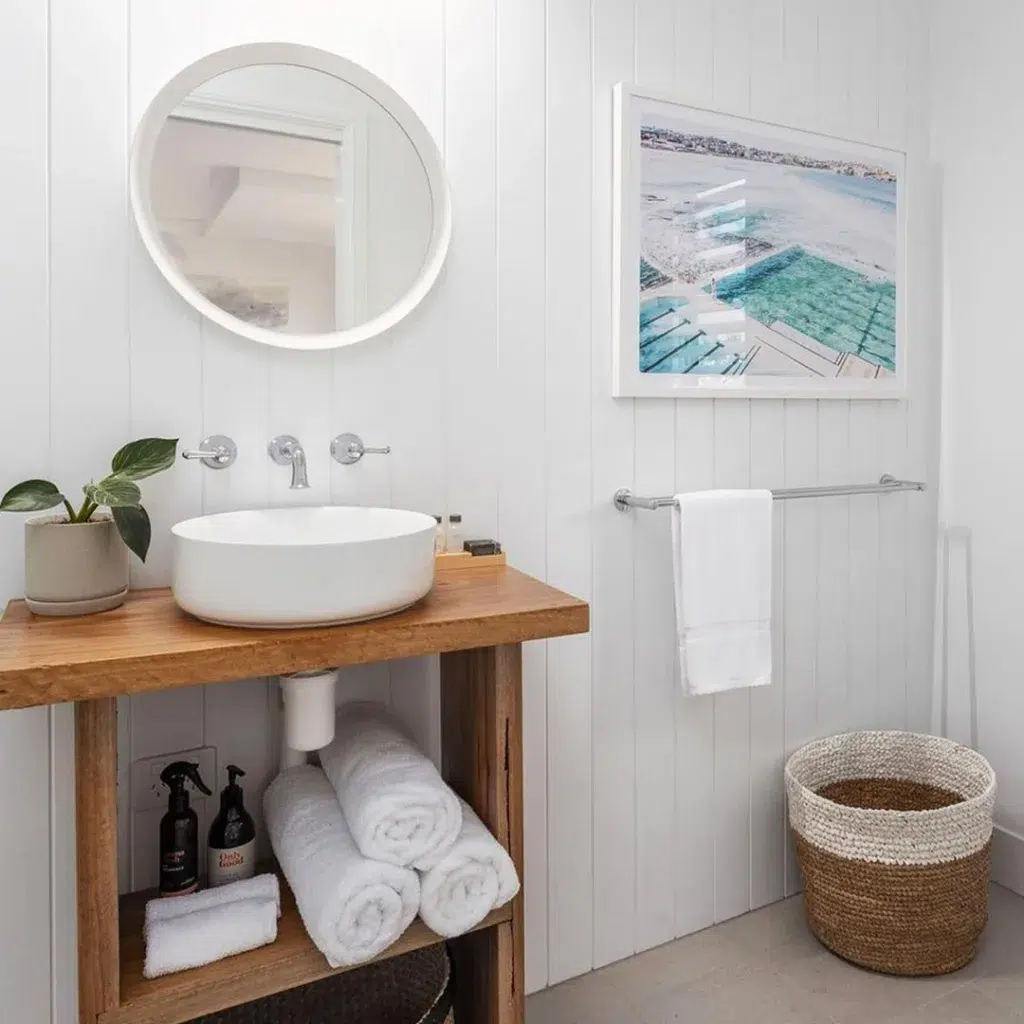 A small plant acts as guest bathroom counter decor next to a freestanding white sink. White towels on the open shelf below this wood vanity accent the sink. White vertical shiplap is used as backsplash with a white and teal piece of artwork, giving this space a coastal beach feel.
23. A Neutral Wood Vanity with a Waterfall Marble Counter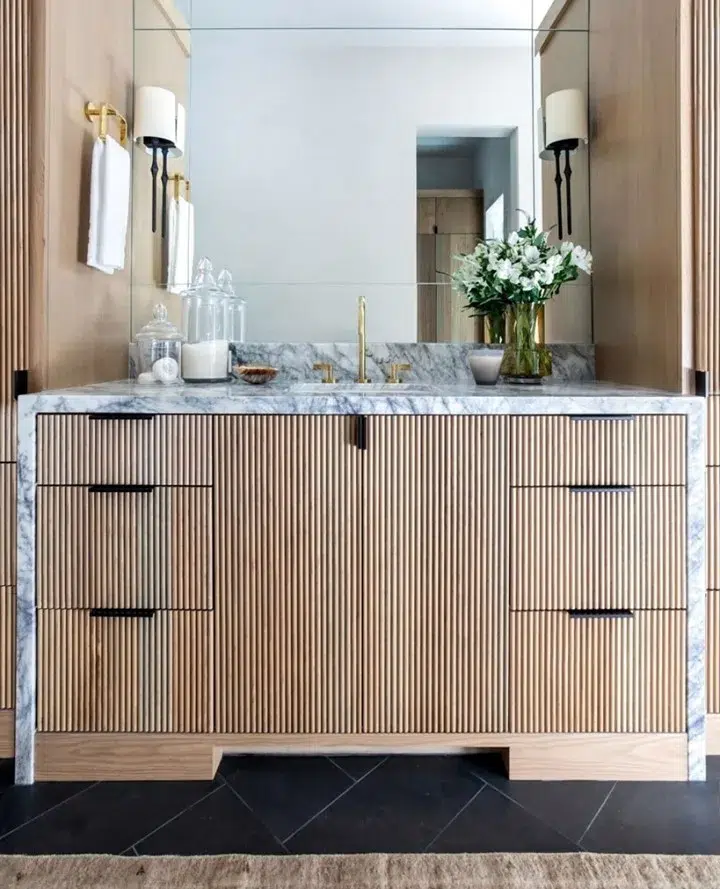 This modern white oak vanity features a marble waterfall edge countertop that adds a luxurious feel to the design. Glass jars are placed on one side of the sink, with a vase of flowers on the other for decor. We love using glass jars in a bathroom since they are see-through and let your original design stand out.
24. A Tall Plant between two Sinks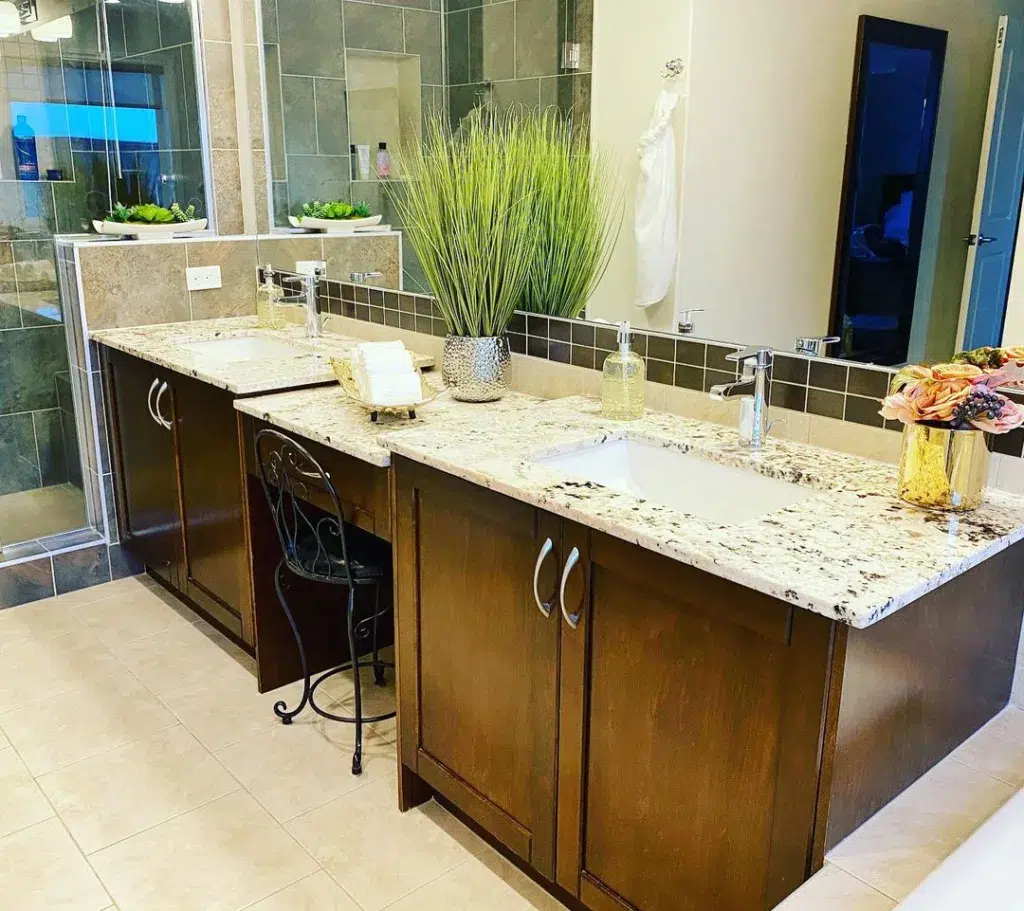 A tall foliage grass plant sits on the makeup counter between the two sinks in this large master bathroom. Using a tall plant creates separation between the two spaces and adds plenty of color to the design.
25. A Neutral Vase and Plant on the Counter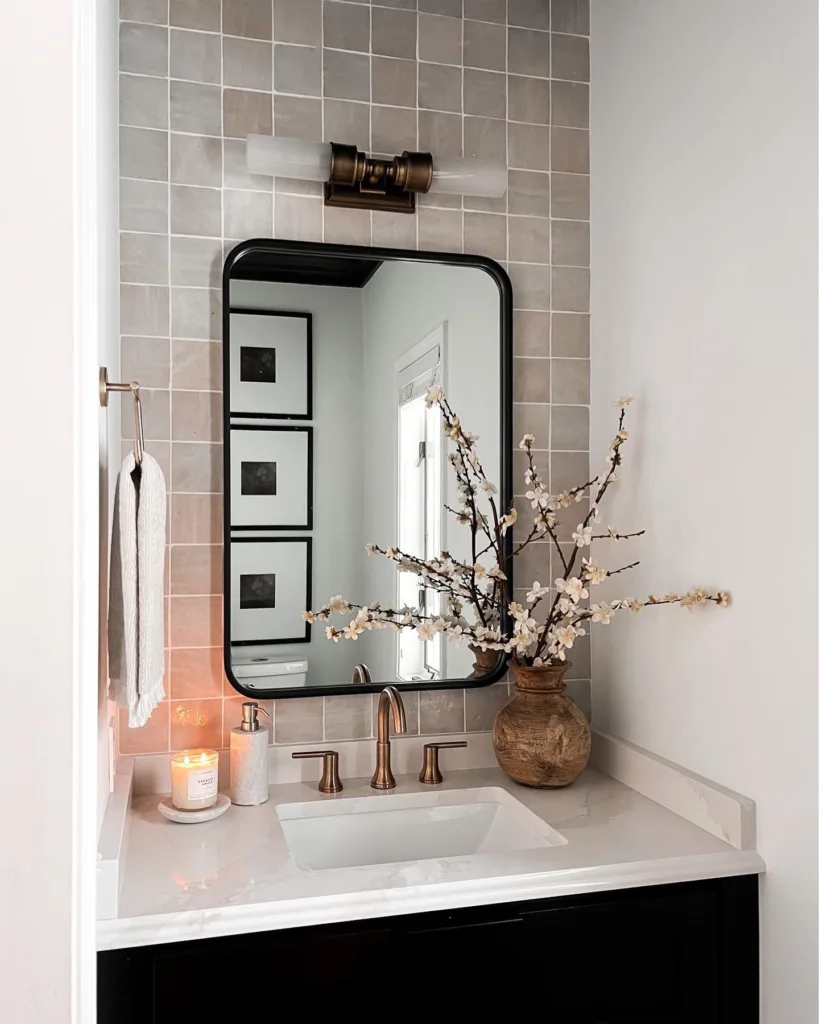 A round beige vase is used as decor, while a candle and white marble soap dispenser accent the white countertops. Black twigs with white flowers are placed in the vase and complement the dark-colored vanity and mirror in the space.
26. Black Soap on a Brass Tray in a Gothic Bathroom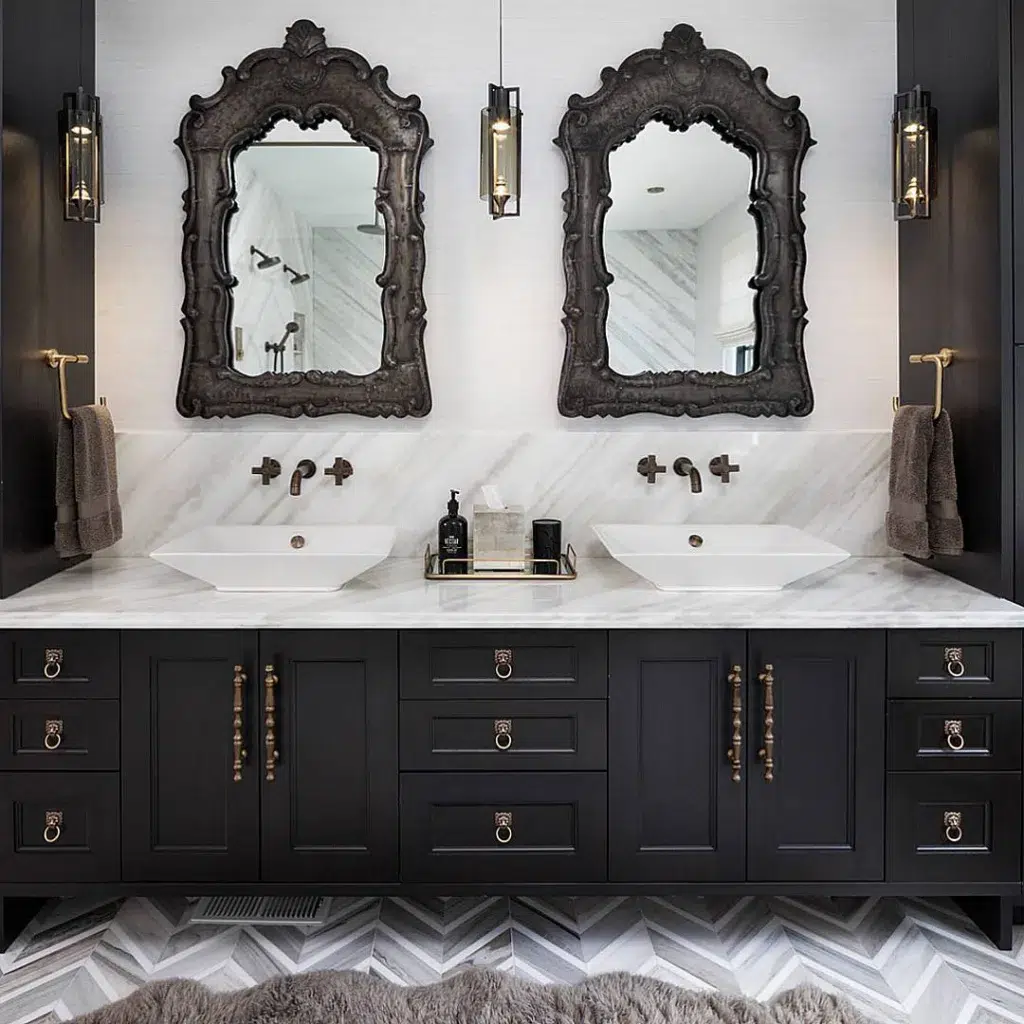 This gothic-style bathroom uses brass hardware to add a modern touch to the black cabinets and dark-colored mirrors. A gold tray with black soap and a white tissue box sits on the counter as decor and accents the colors around the room.
27. A Brass Vase on a Cement Countertop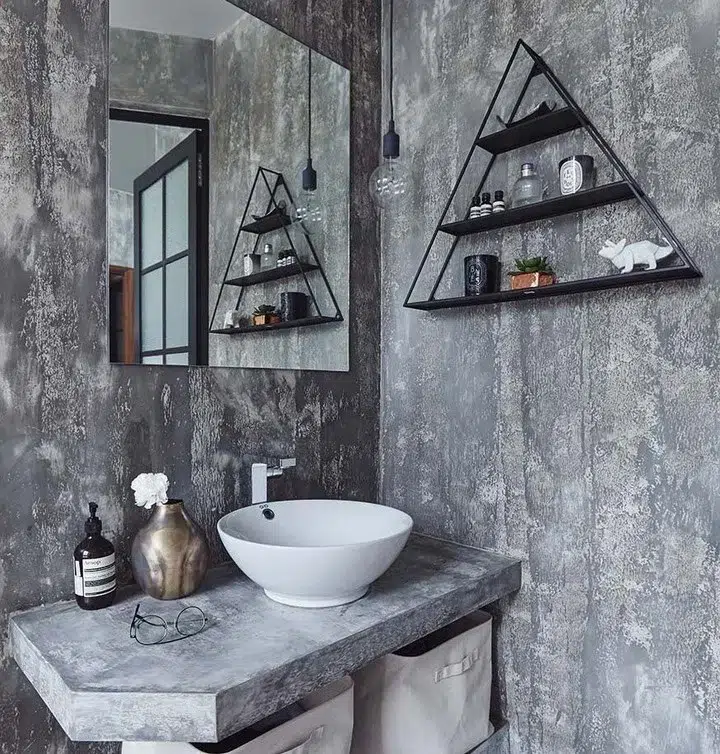 A brass vase adds warmth to this bathroom with a cement counter and walls. Using simple modern designs like the vase is the perfect way to balance the abundance of industrial textures in the room.
28. Beautiful Flowers in a Beige Bathroom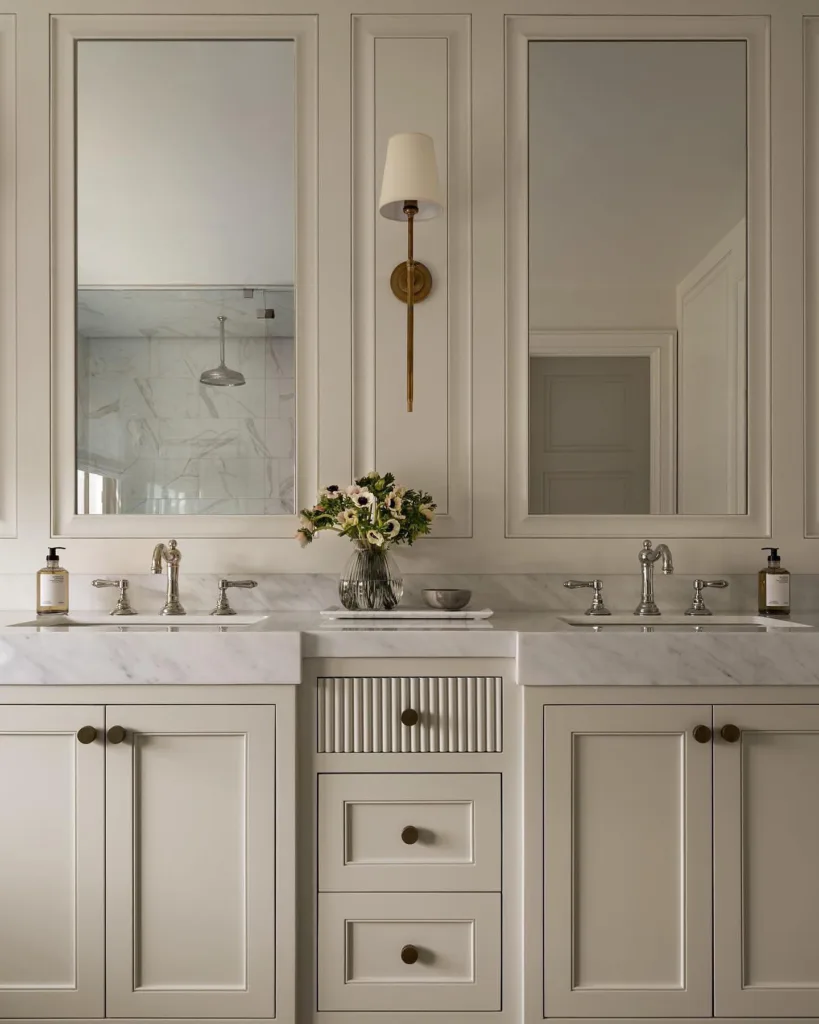 This beige primary bathroom design features dual sinks and a marble countertop. A marble tray between the sinks adds depth while still matching the counters, while a vase of flowers on top adds a colorful accent.
29. A large twig Plant on a Marble Countertop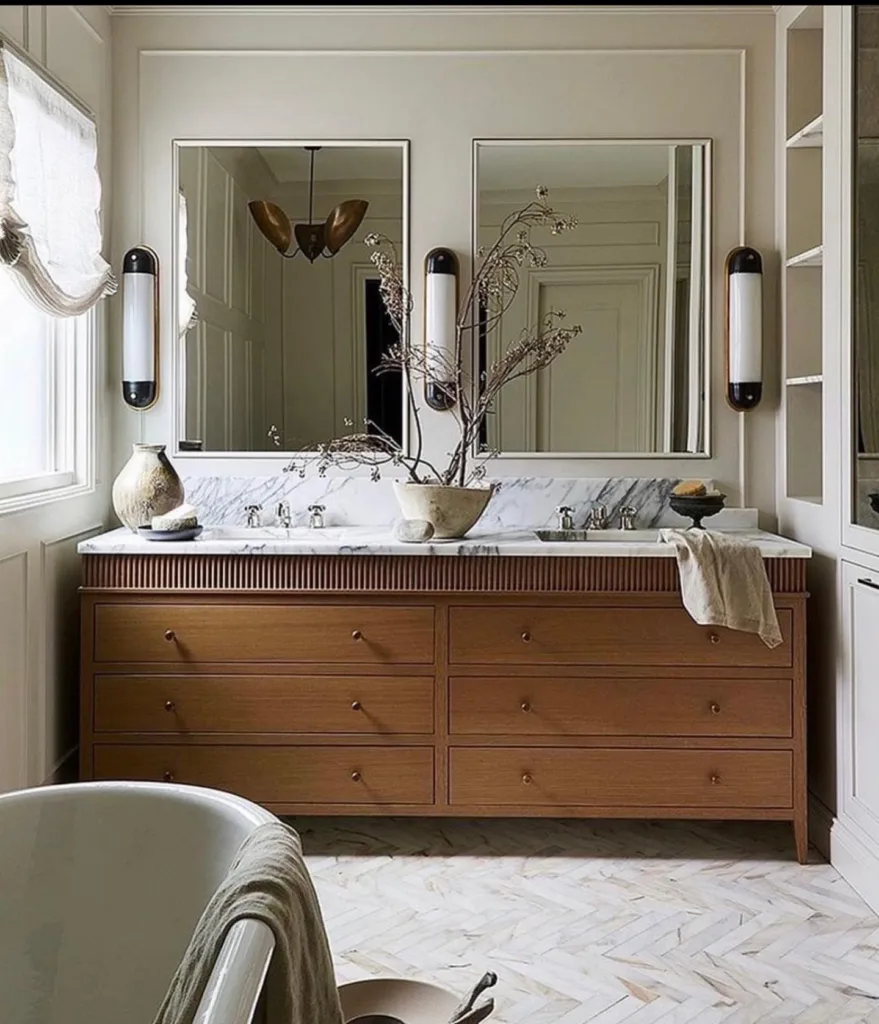 This bathroom uses a tall plant with twigs to accentuate the height of the space. A marble countertop extends to a low backsplash that meets the two framed mirrors. Three sconces hang on the wall between the mirrors and the wall. A herringbone marble subway tile floor features brown accents that complement the vanity.
30. Adding Greenery to a Neutral Bathroom Design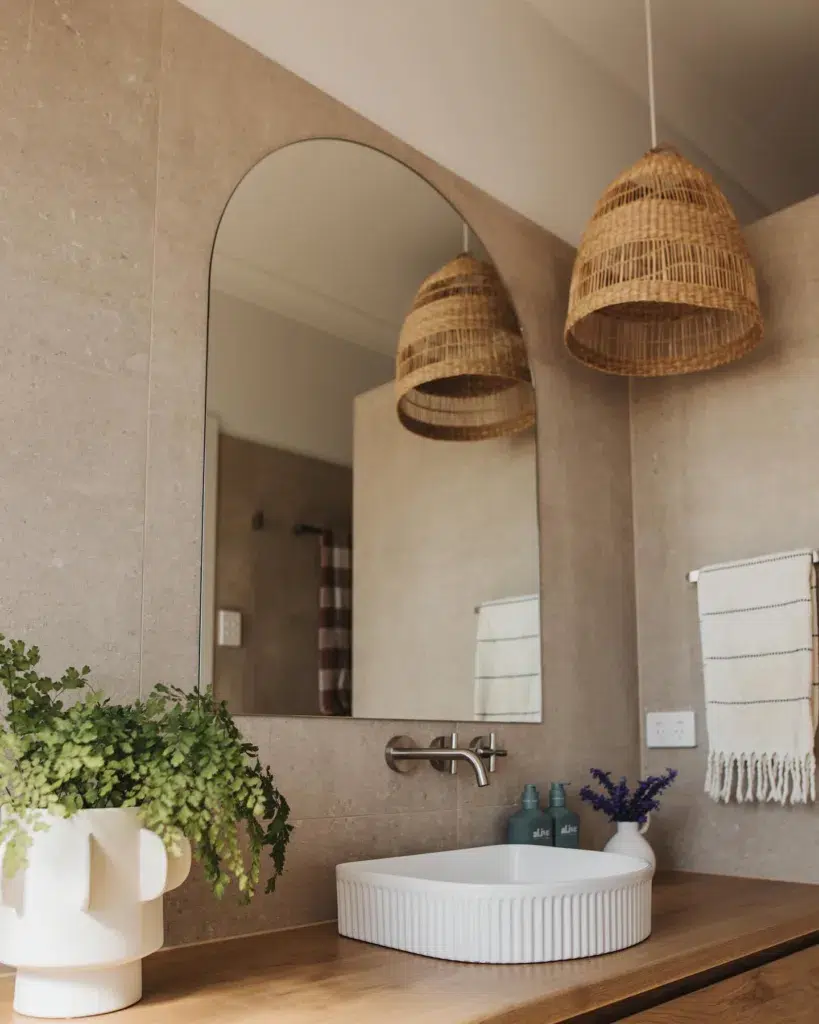 This neutral bathroom design features a white sink under the silver faucets. In addition, a white vase is filled with small plants that add color to the room.
31. A simple plant in a black and white marble space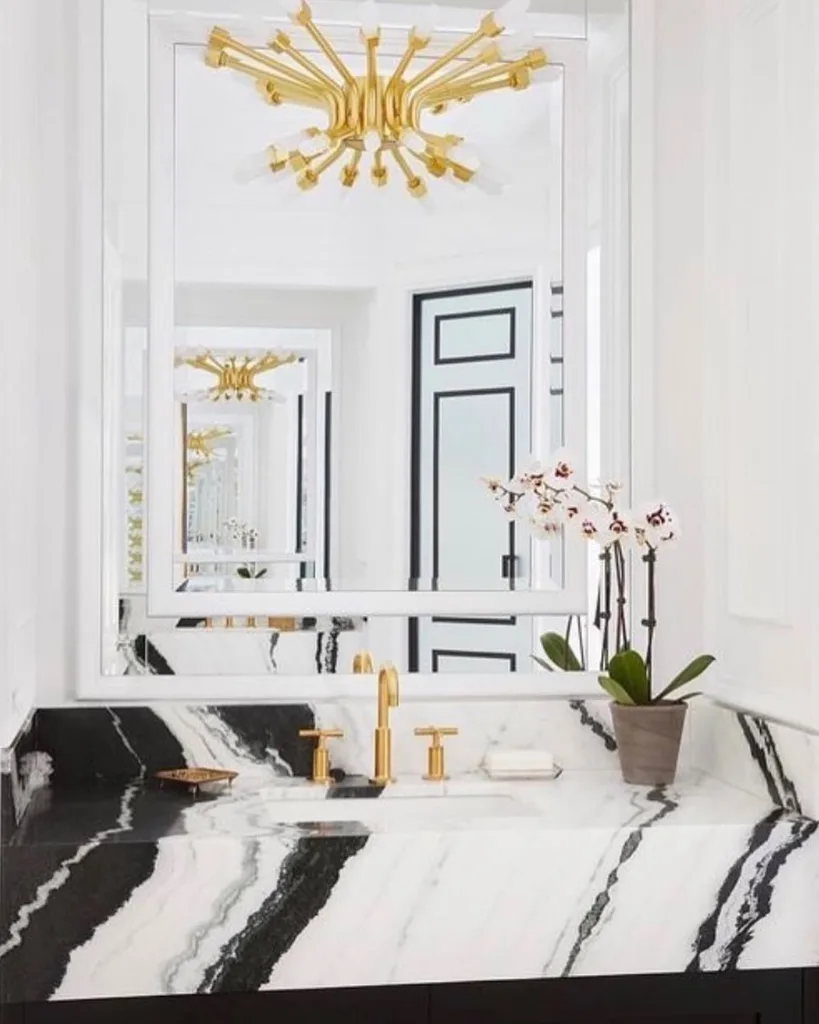 A small plant and a gold tray on this black and white marble vanity are used as decor. A gold faucet matches the light fixture above, adding color to the design.
32. A gold tray to match the mirror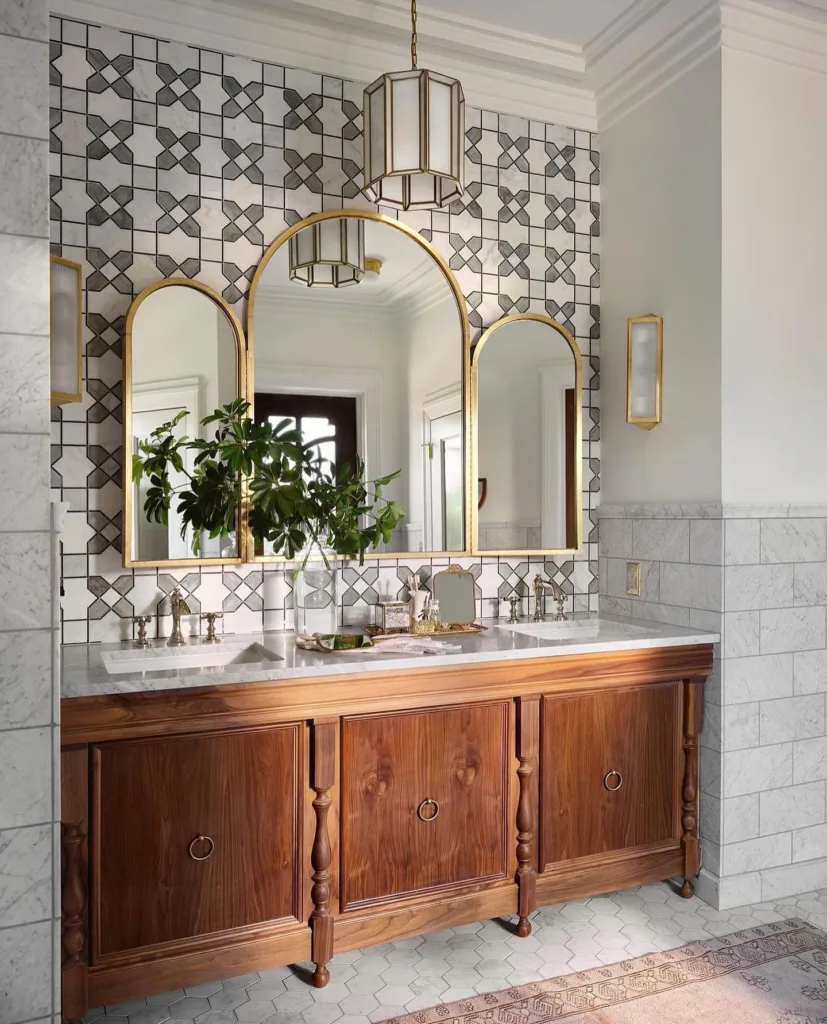 A gold tray acts as bathroom counter decor matching the mirror above and faucets. Grey subway tile surrounds this bathroom with a mosaic backsplash and rich brown vanity.
33. Plants as Bathroom Counter Decor with Wood Accents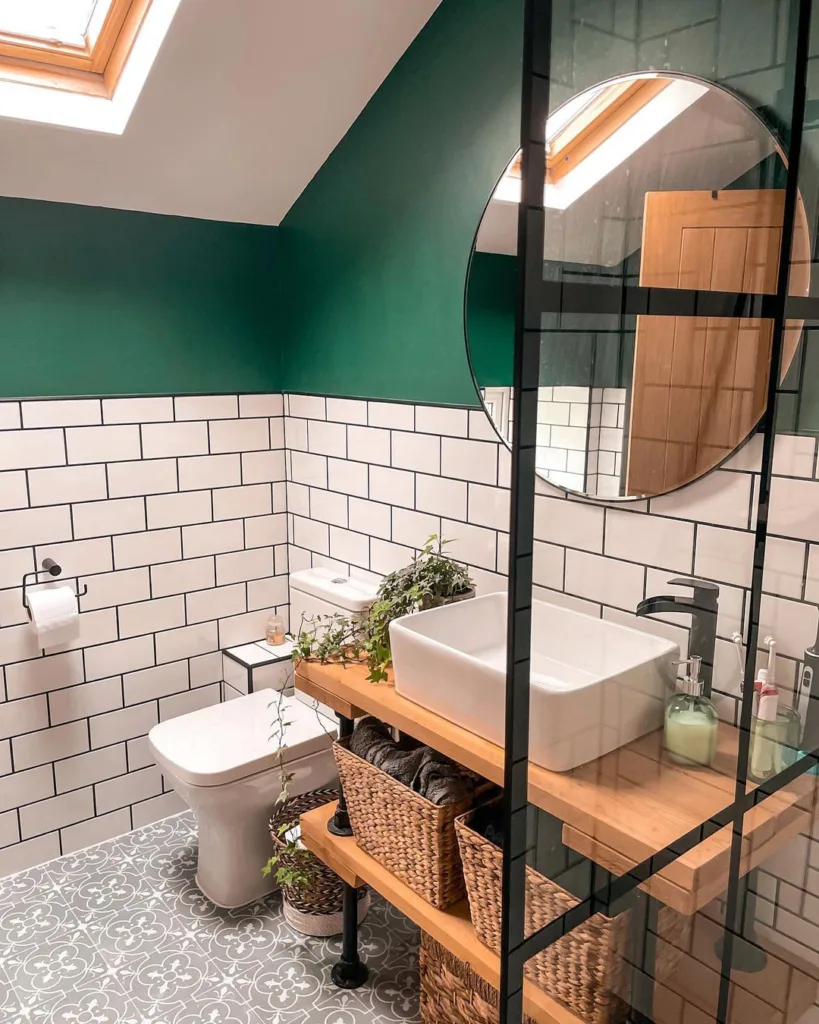 A vanity made of wood shelves with black pipes connecting the pieces has a black faucet and white sink, giving it a farmhouse look. A plant with long vines extends down the side of the open vanity, adding color to the area and matching the upper walls in this bathroom.
34. A Simple Tray of Toiletries as Decor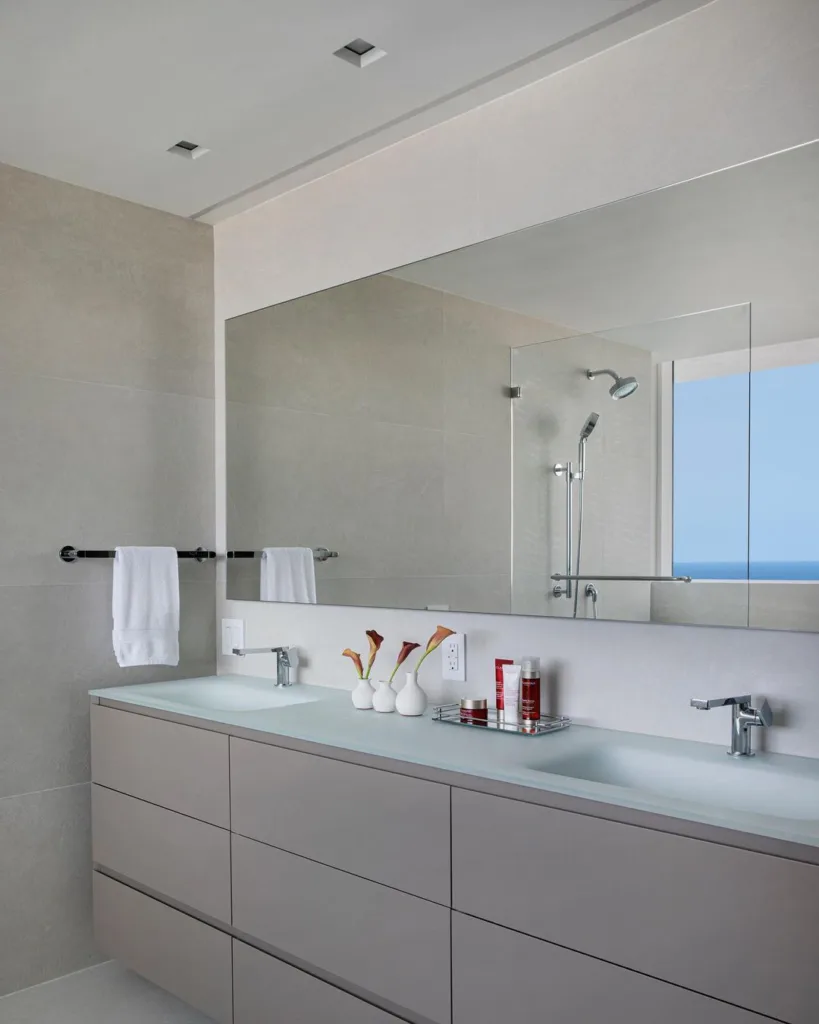 This minimalist bathroom features flat front grey cabinets and a glass countertop. A simple polished silver tray has red and white soap bottles that add color to the space.
35. Neutral Towels and Decor on a White Oak Vanity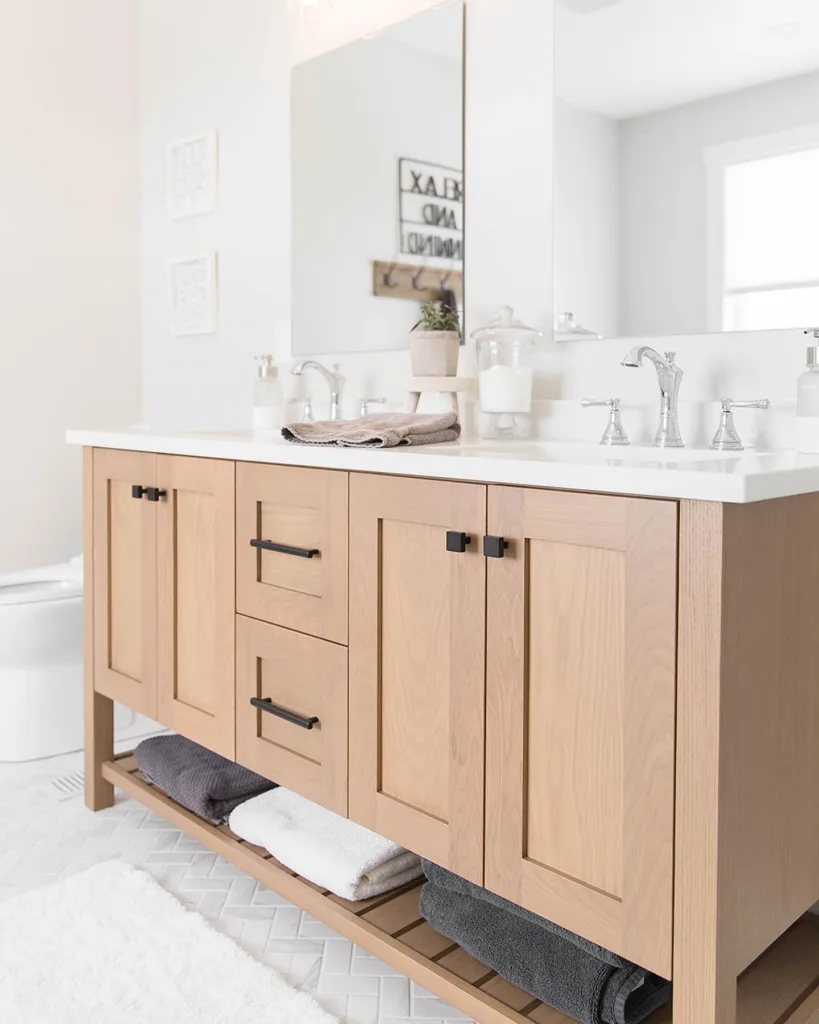 This white oak vanity with two sinks uses neutral-colored decor on the countertop to match the cabinets. White tile and walls around the space brighten the design letting the vanity be the centerpiece of this bathroom.