If you followed all the twists and turns of our home bar build, you know that this space wasn't without its challenges. But it's become one of our favorite spaces in the entire house, thanks to its warm, inviting feel. Since we've gotten some questions about the decor in our home bar, we wanted to include a complete guide to all of the decor and furniture we used to fill this space.
Our Completed Space
For our home bar, we repurposed our formal sitting room, which is right off of our dining room. This also made it convenient and functional for dinners and holidays.
To build the bar itself, we purchased our cabinets from Cabinets.com. And while there were some hiccups along the way, overall, the end product turned out great. Combined with the wine fridges, this really gives the space a high-end look.
And to contrast the dark blue of the cabinets, we decided to bring in warm brown leather seats. These seats are exactly what you think of when you picture a speakeasy or bar (plus, they were a great deal). Keep reading as we review each piece of furniture we purchased (including links) and how it fits into the space.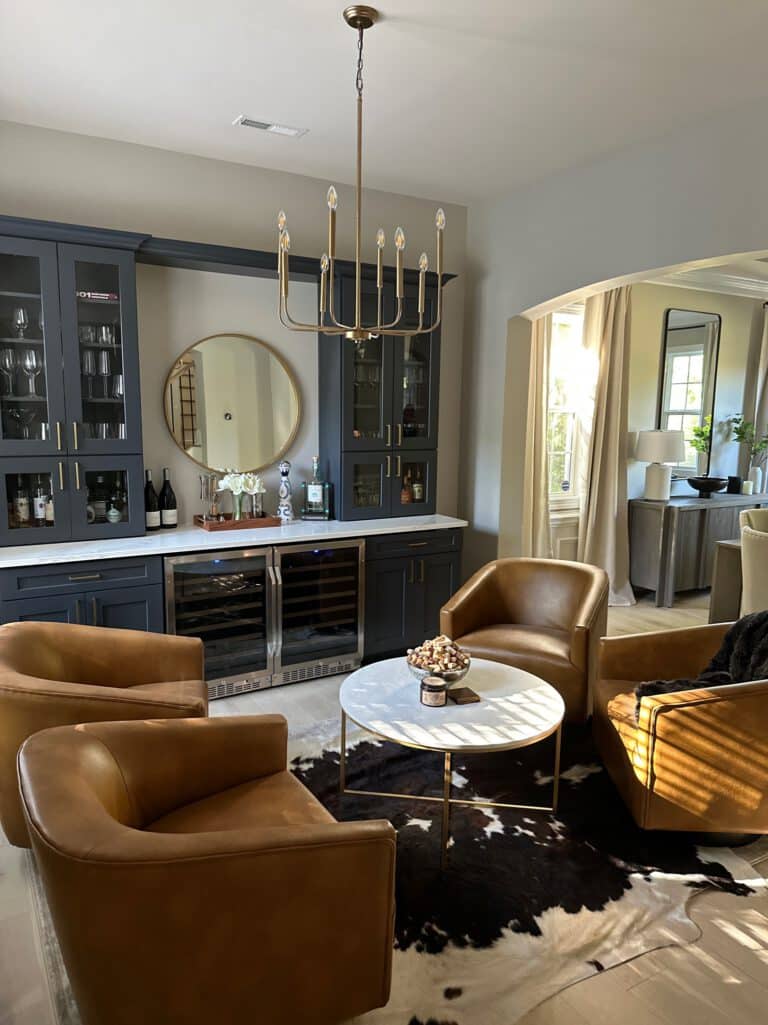 Home Bar / Lounge Furniture + Decor
Brown Leather Chairs
Product Link: Wayfair (in Camel)
The focal point of this room for furniture is definitely these chairs! The rich brown tones add a layer of sophistication, especially against the navy cabinets and gold hardware.
Plus, they're so comfortable! We get compliments on these chairs all the time, not just because they look great but because they're comfortable and swivel. These are the exact type of chairs we envisioned for this space, and we were able to find them for under $600 per chair. While still expensive, this is a great value compared to a lot of other leather chairs that can coster $1,000+ per chair!
And in a space like this, we don't have to worry about spills since they easily wipe off the chairs!
Faux Marble Top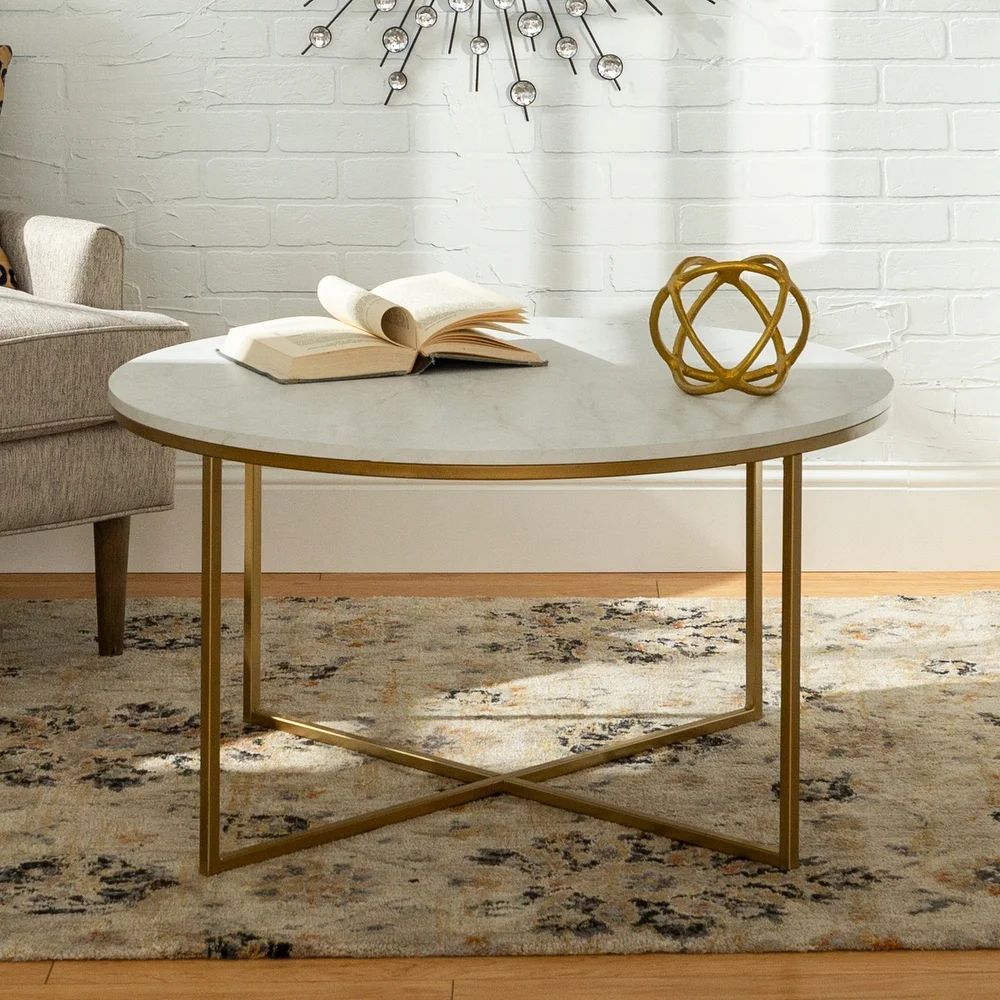 Product Link: Overstock (Gold/White Faux Marble)
Not only very affordable, but this table looks stunning! We loved the gold legs on the table that tied in well with the gold hardware on our cabinets. And it's more delicate design helped to balance out the brown leather chairs so this space didn't start looking like a man cave.
The only downside of this table is it does stain. We've had one or two unfortunate incidents where we left a wet bottle to find a water ring on the top after only a few hours. While most faded pretty well, you can still see them if you look closely enough. The easy solution? Using coasters!
But if you're worried that may not happen in your house, you may want to stray away from marble or faux marble tops since they tend to stain easily.
Cowhide Rug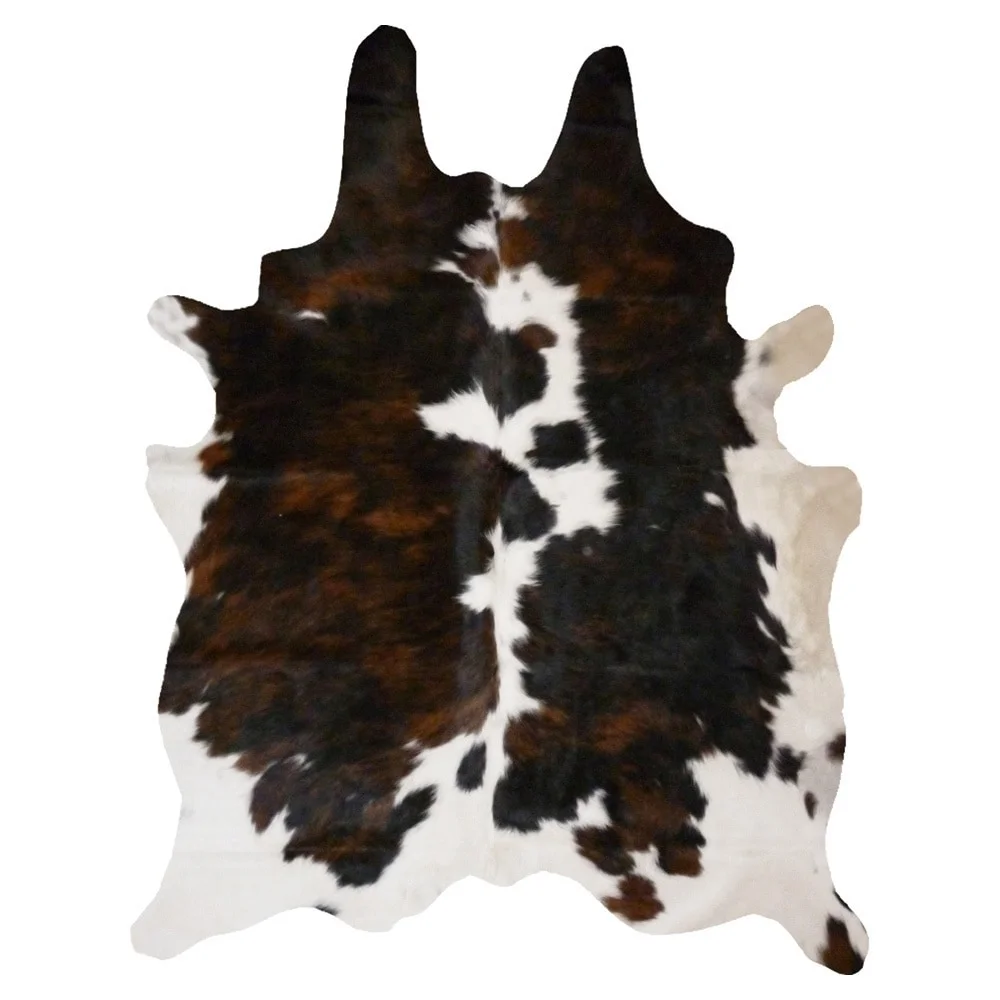 Product Link: Overstock
Another statement piece in this room is the cowhide rug. While we would never have said we were "cowhide rug" people, we decided to take a risk, and it definitely paid off! It's always a fun conversation piece, plus it is very stain resistant, so you don't need to worry about spills.
When we originally ordered the rug, we assumed it was faux cowhide just based on the price (Under $300!), but its actually real leather. We are fine with this, but if you prefer a faux cowhide, there are plenty of similar options on Overstock or Wayfair.
Neutral Bottom Layer Rug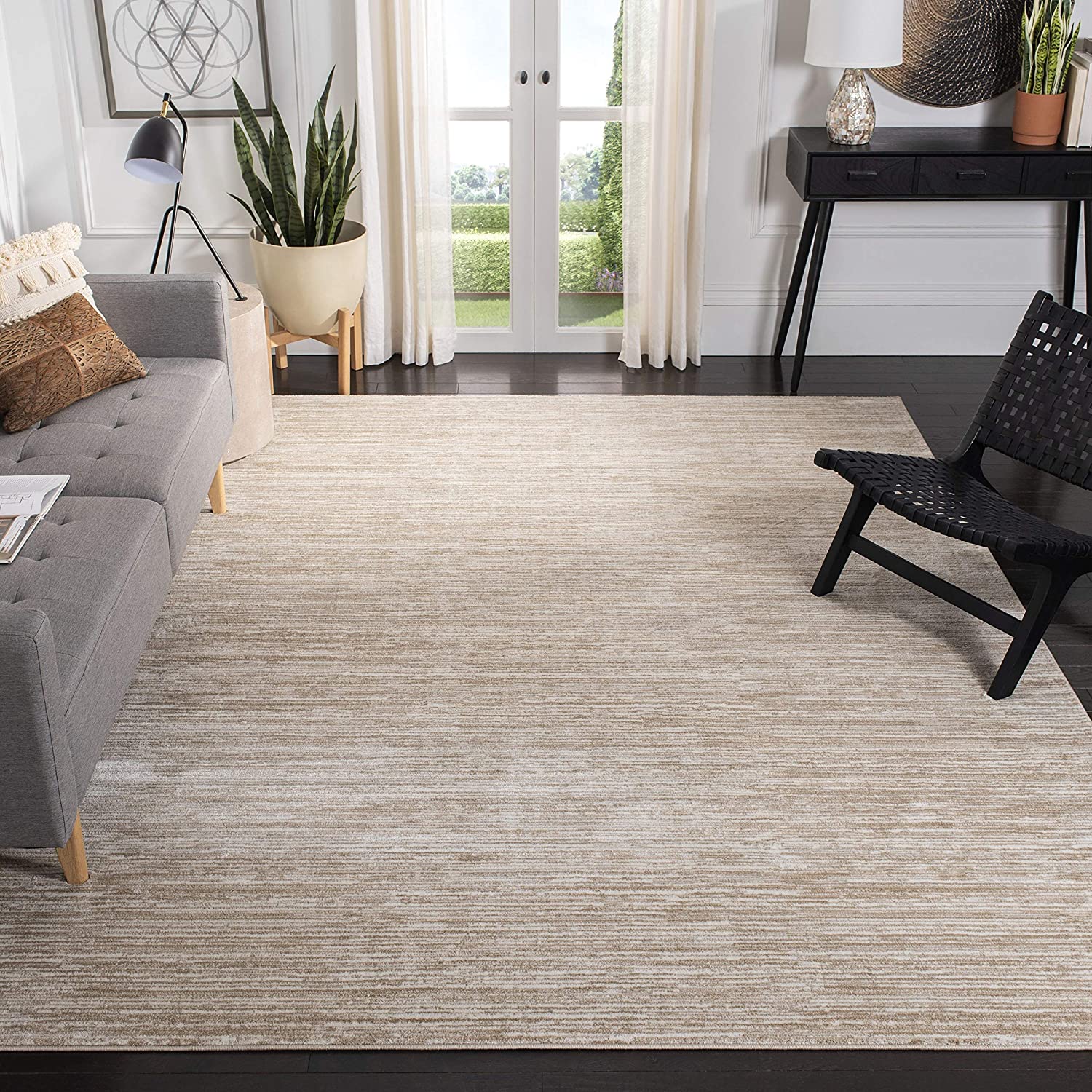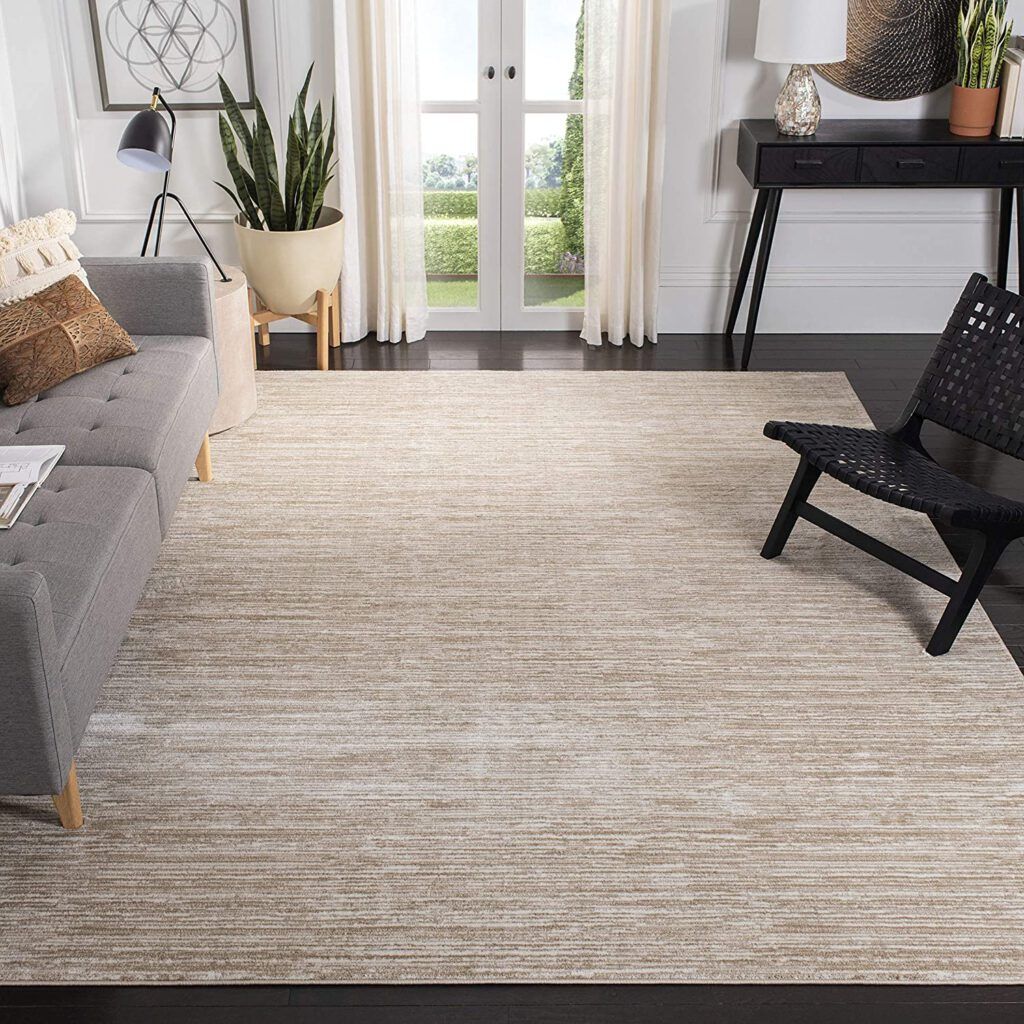 Product Link: Amazon (Cream)
Since we knew the cowhide rug wouldn't fill the entire space, and we wanted a bit more cushion, we decided to layer it with this neutral rectangular rug. For under $150, this is the perfect layering rug for any room, plus its neutral tones help it blend in while still looking great.
This rug is also a great option if you just want a neutral rug for another room in your house. It's held up great in our bar and still has a great bounce!
Coasters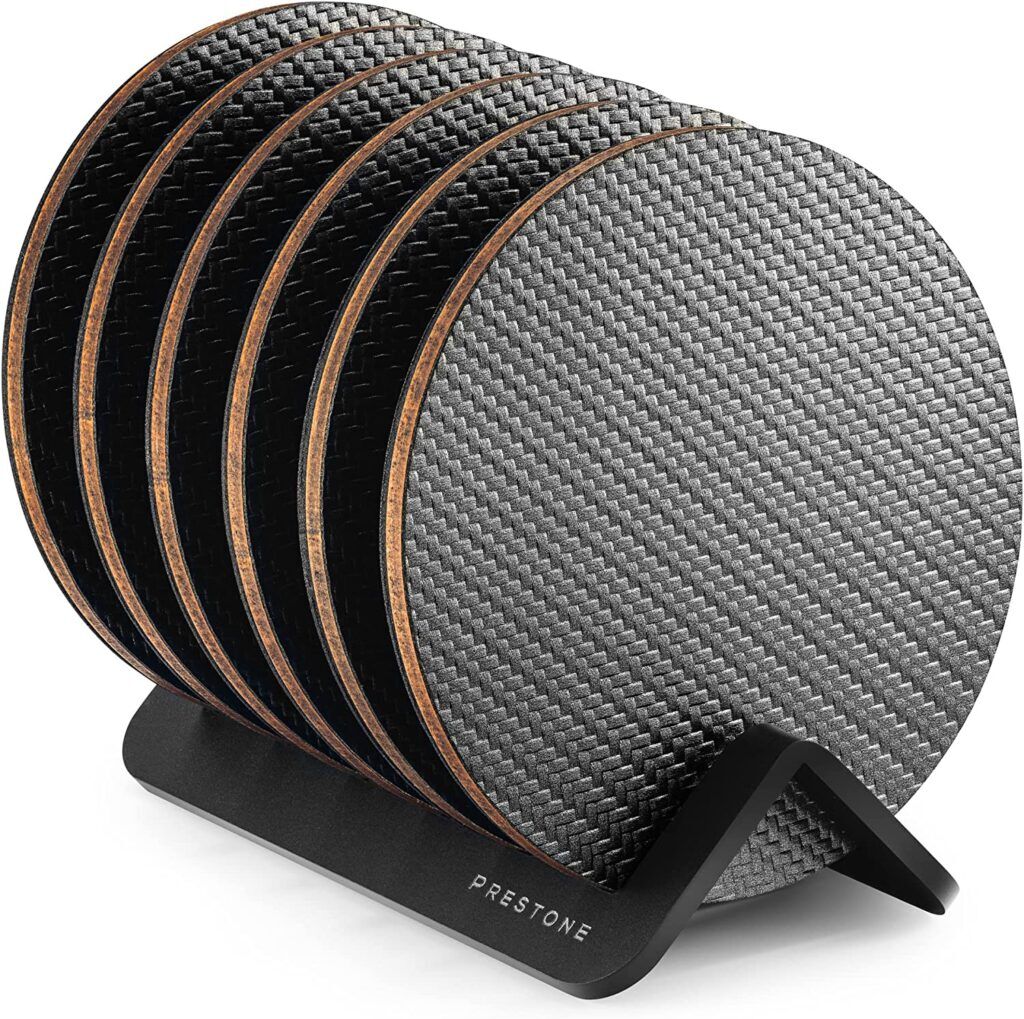 Product Link: Amazon
Now that we've covered the big furniture items, we can get into the fun decor. First up is coasters! As we mentioned above, the faux marble top stains easily, so these are a must-have for non-stemmed glassware.
While our original coasters are from Crate and Barrel (but no longer sold), we've linked very similar coasters from Amazon. We love that our coasters have hints of gold to tie in with our accents, and would recommend something similar based on the colors in your space.
Bar Tool Set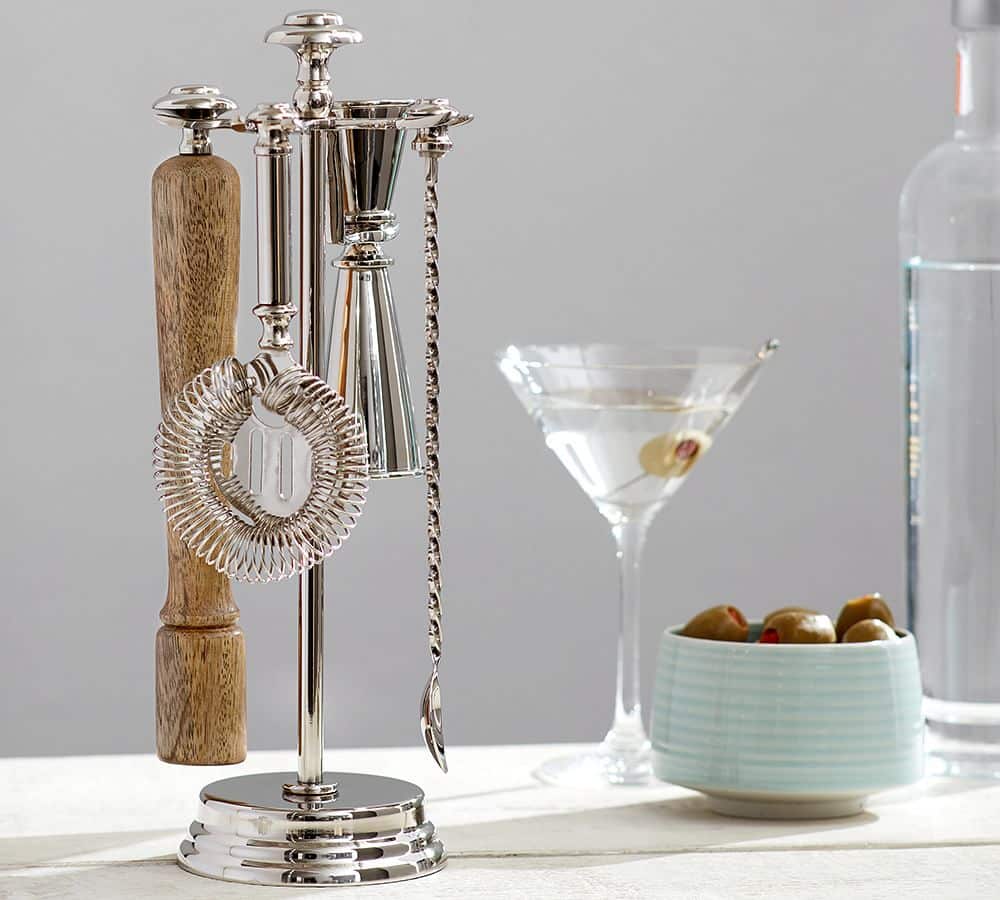 Product Link: Pottery Barn
Along with the bar, obviously, you need bar tools! We loved this set from Potterybarn that has the basic tools in a simple but elegant stand. And while we went with gold accents in a lot of other areas, we decided on the shiny chrome set to avoid gold overload. This is definitely a great-looking set and perfect for any bar!
Bar Tray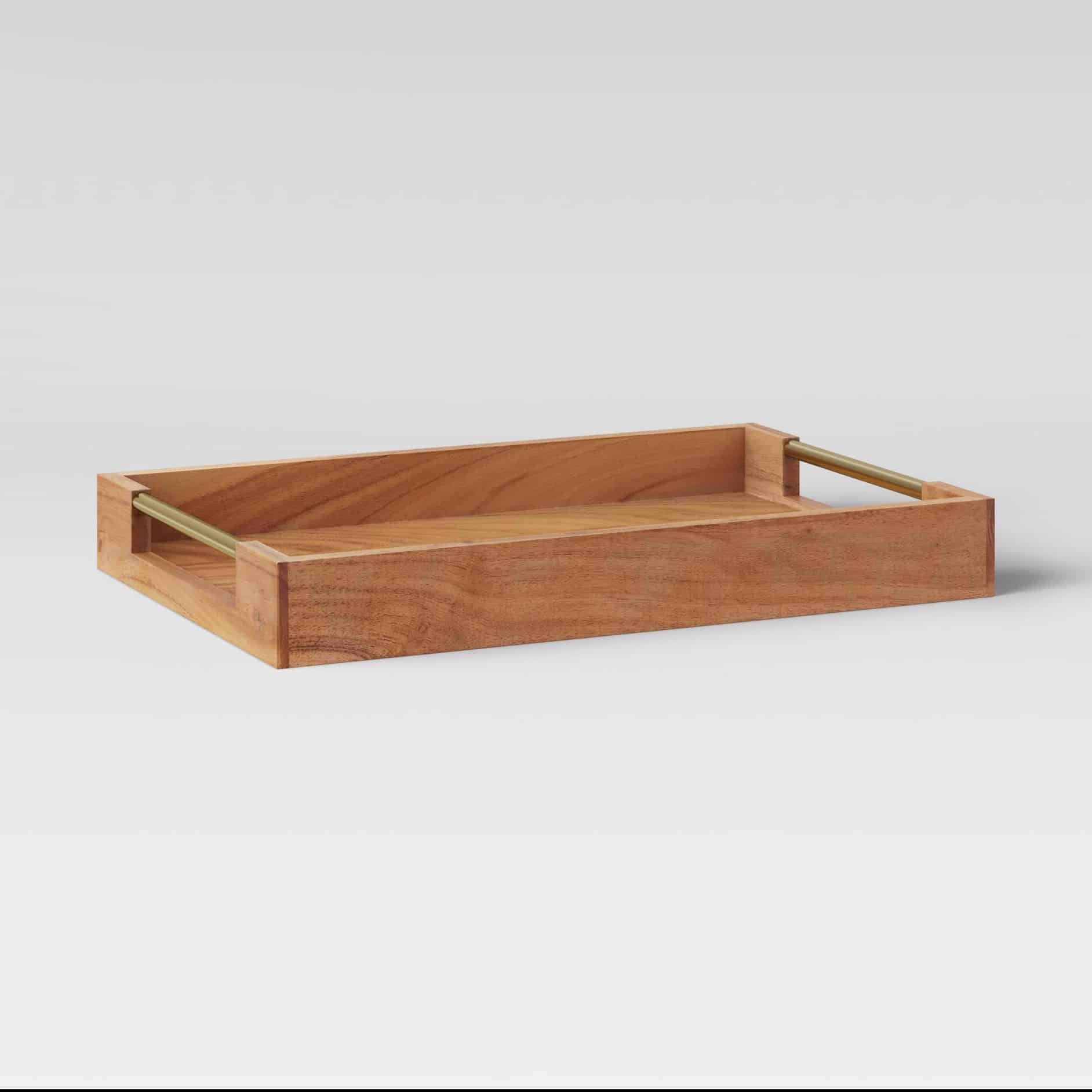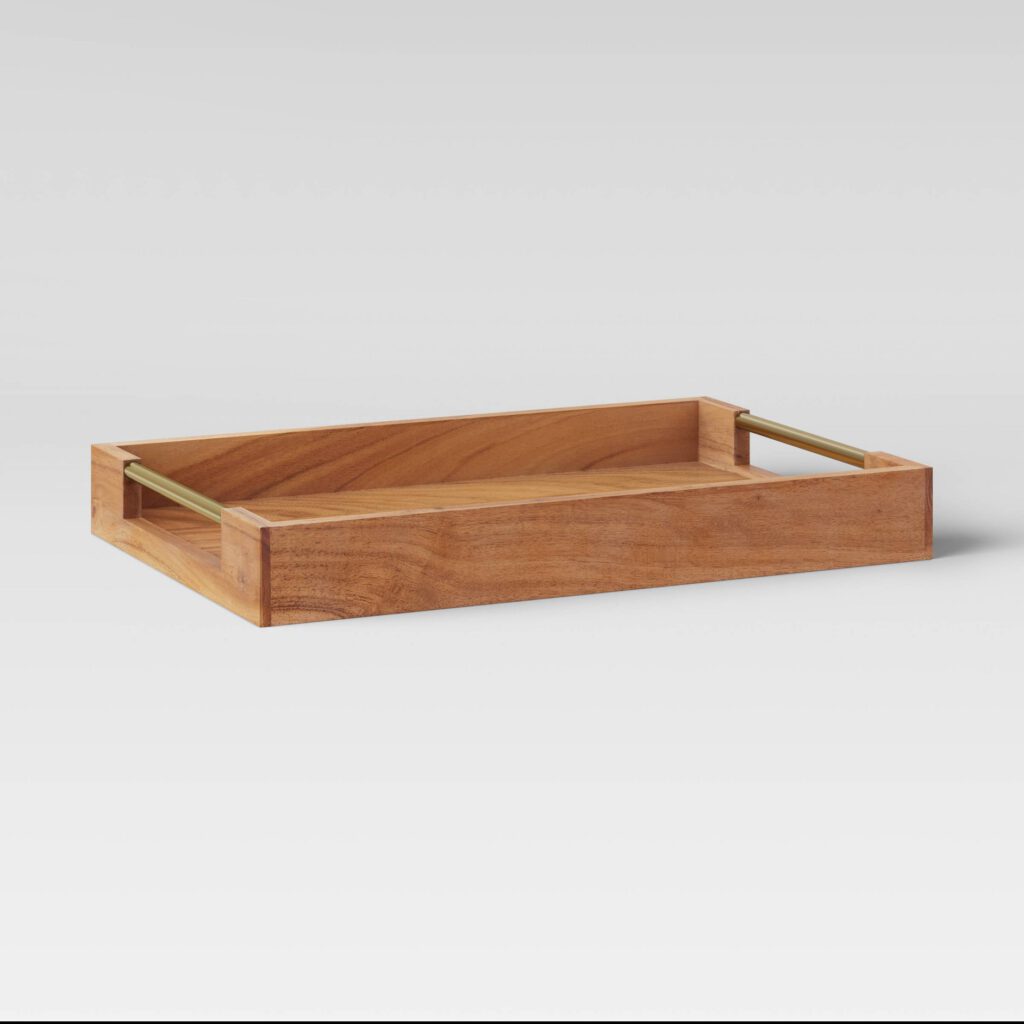 Product Link: Target
Finally, we found this great bar tray for the bar that helps organize the bar tools, shakers, etc., and adds a bit of warmth to the space. You can also use a tray like this for making drinks if you're worried about spills or staining, but honestly, we mainly use it for decor.
Misc. Glassware
Obviously, the biggest decor of any home bar is the glassware and bottles and such. We've had such a fun time slowly filling our cabinets and countertops with our favorite drinks and fun barware! Here are some of our favorite barware items we've purchased over the past few months:
Bottom Line
This is one of our favorite rooms in our home, and decorating it was a lot of fun. We love how our bar/lounge came out, and it's one of the most complimented spaces. Hopefully, the links and decor above help you on your decorating journey and don't be afraid to take some chances.
Have a question about our furniture or decor? Let us know in the comments below!