White and gold kitchen designs have surged in popularity in the last decade thanks to their bright and modern appearance. This style adds a luxurious touch with gold accents compared to traditionally used silver or black. But it doesn't have to break the bank.
Creating a gold and white kitchen can be as simple as updating your cabinet hardware, or for a luxury look, you can add gold appliances and pendant lights. Whether you're designing a farmhouse white and gold space or a more modern kitchen design, this color palette can work for any style. And as you'll see in our inspiration gallery below, you can easily introduce other colors into a white and gold kitchen.
Check out our favorite white and gold kitchen ideas for more inspiration below!
1. Gold Pendant Lights with Matching Hardware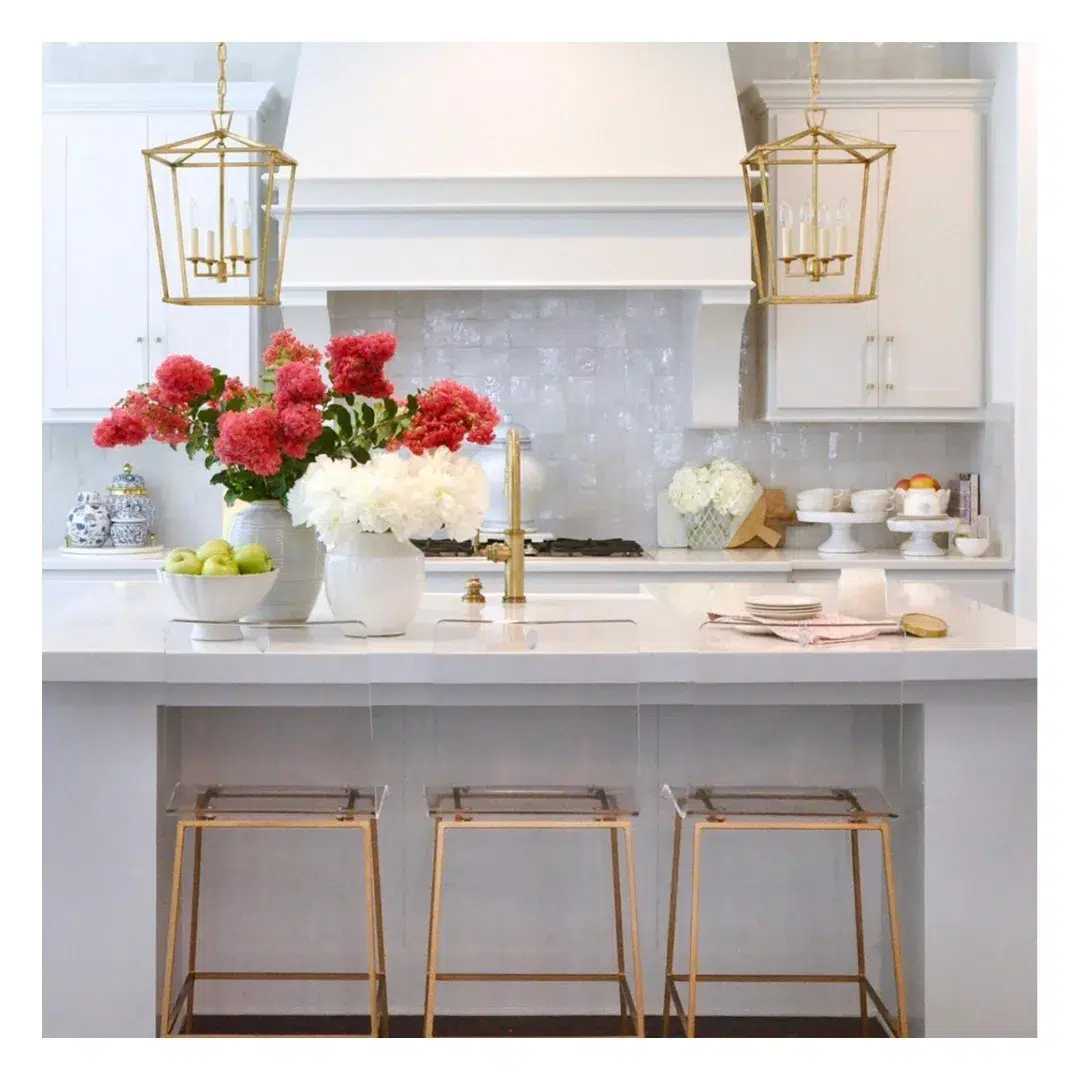 Gold pendant lights hang over the white island, accenting the gold hardware on the nearby cabinets. Gold and glass stools are placed at the bar continuing this color scheme. White polished tile backsplash adds a unique texture that reflects the light in the room.
2. A High-end Stove with Gold Accents in a White Kitchen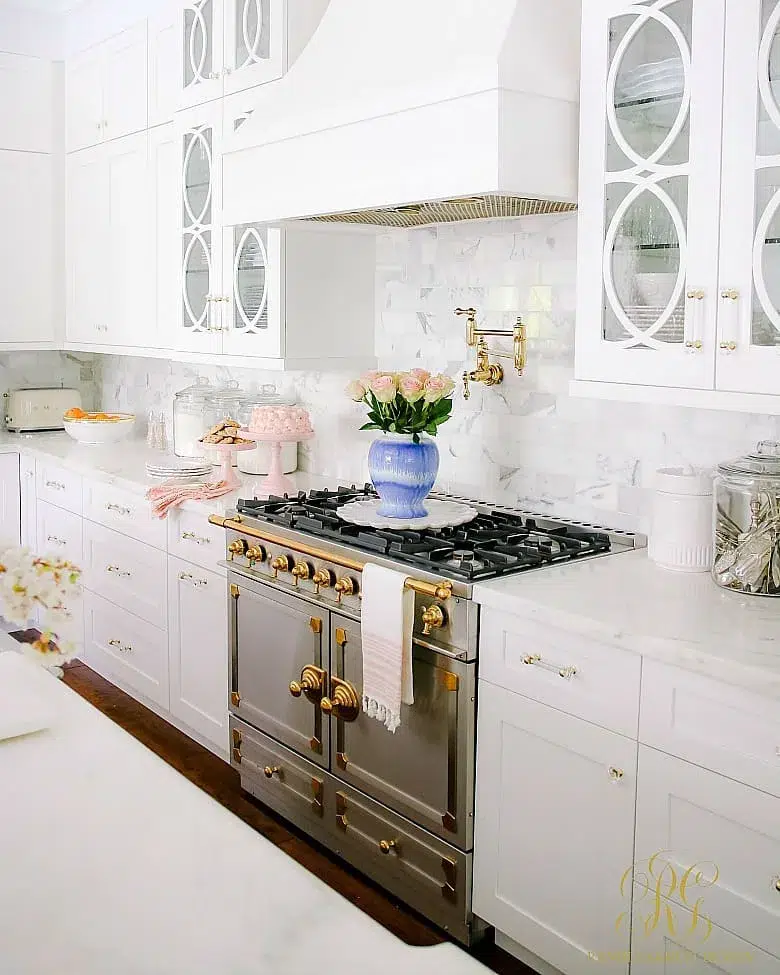 A high-end silver stove with gold accents matches the hardware on the white cabinets. The marble subway tile backsplash adds to luxurious feel to this kitchen.
3. white oak and painted cabinets for a balanced design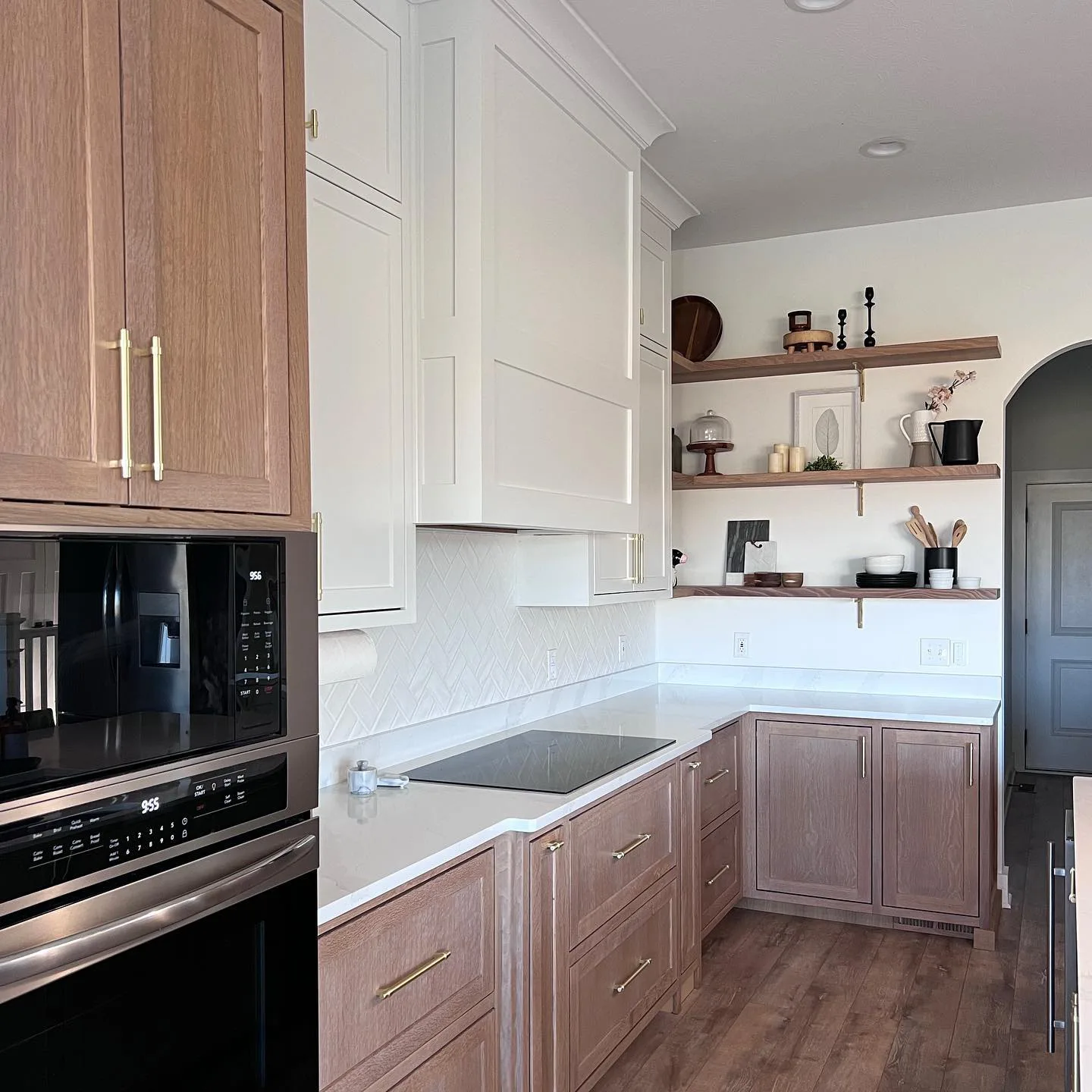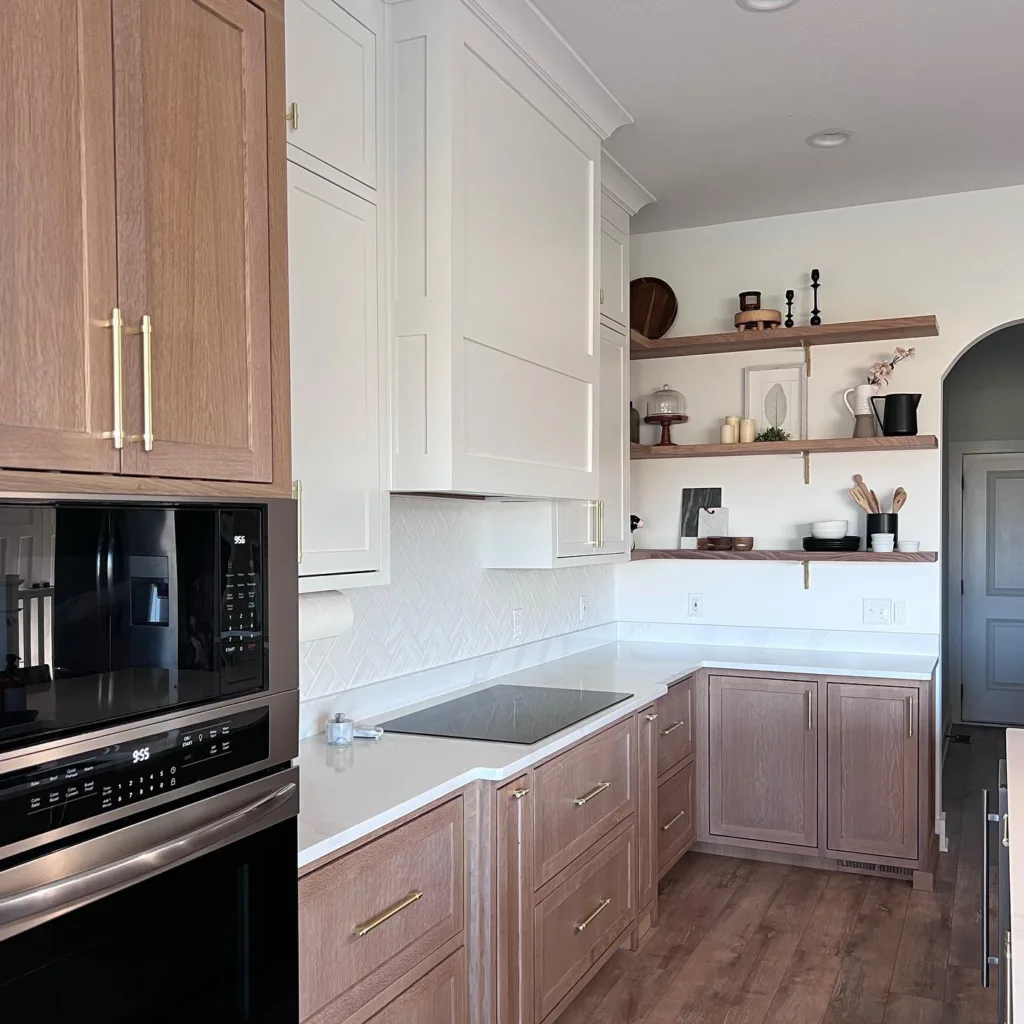 This two-tone kitchen design uses white oak and white-painted cabinets to create a well-balanced style. Gold hardware on the cabinets adds warm accents, along with the matching butcher block wood shelves on the wall.
4. Lots of Natural Light with a Gold Faucet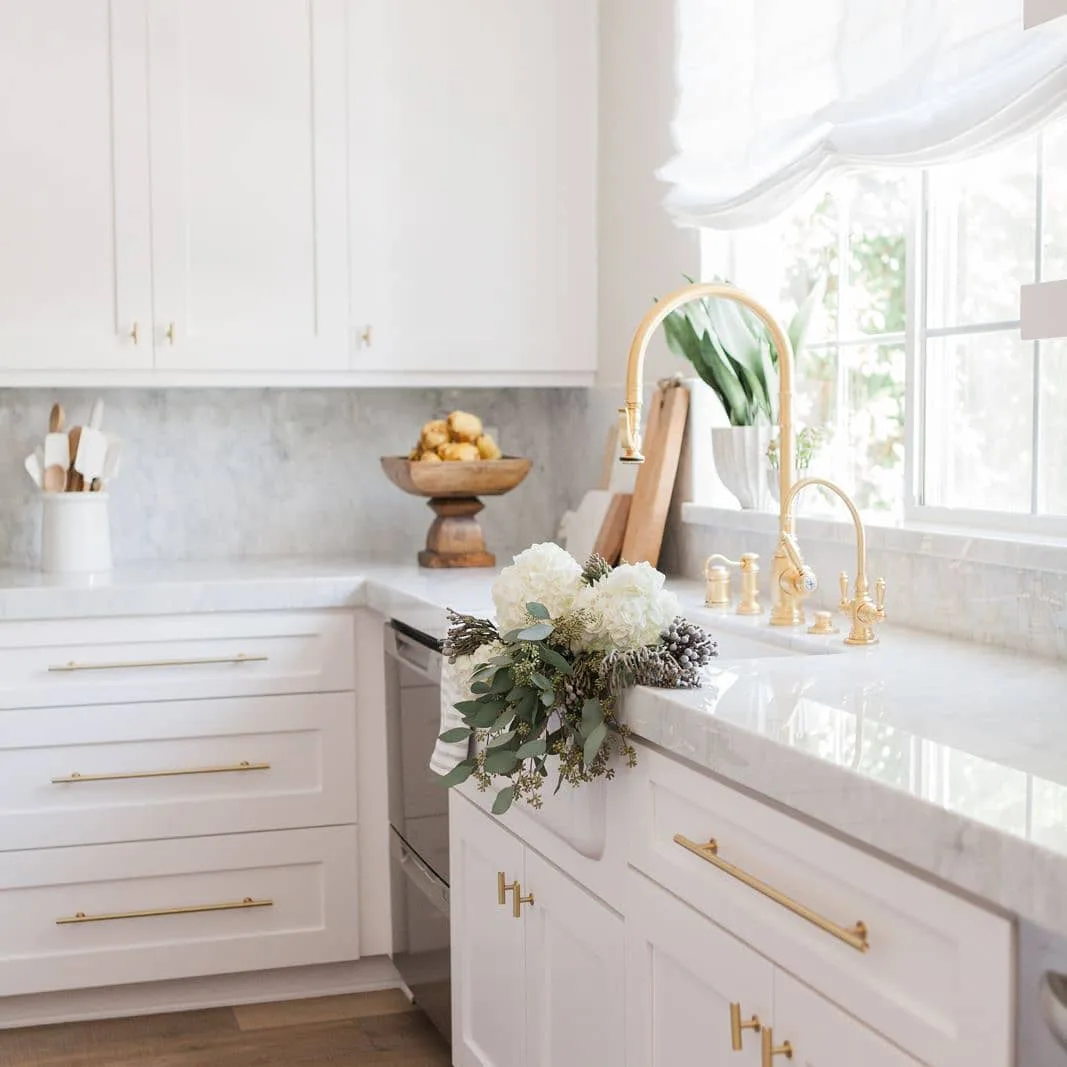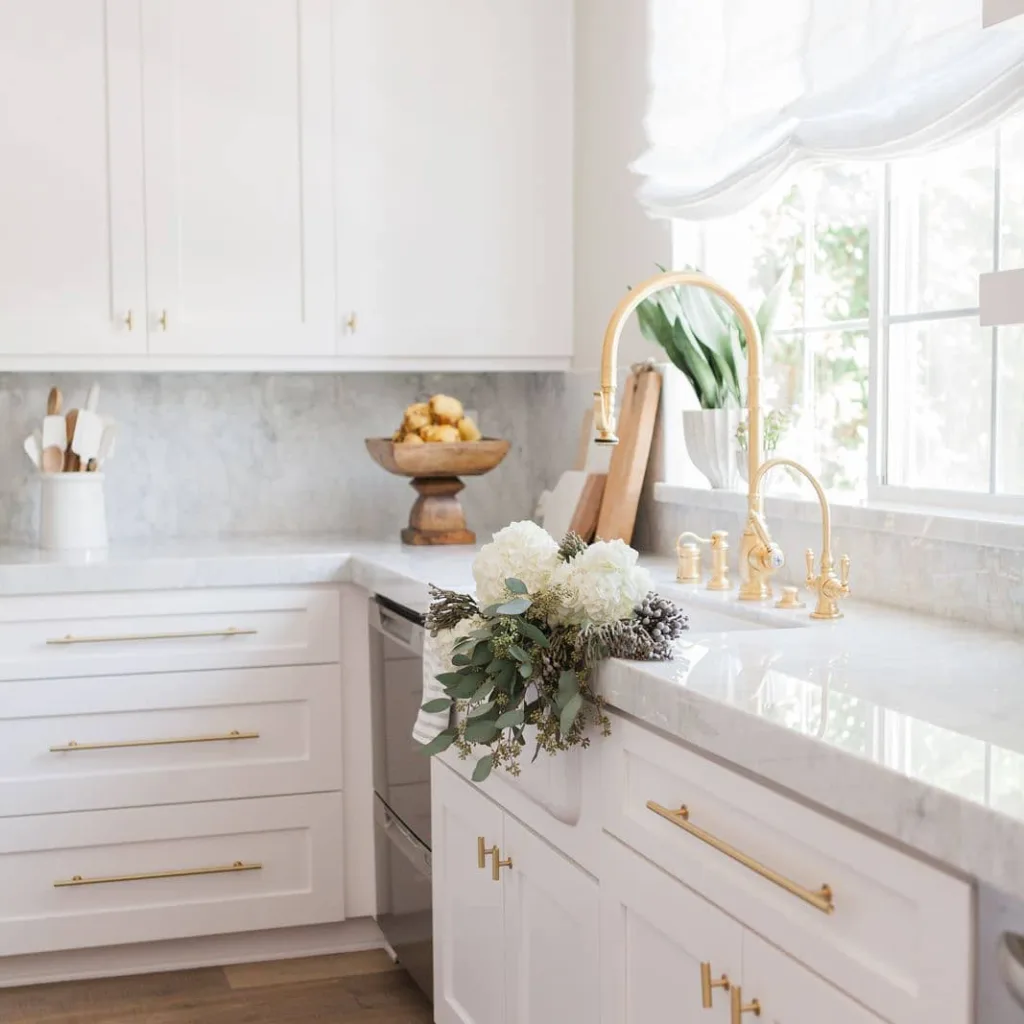 White shaker-style cabinets feature gold hardware that matches the faucet in the kitchen. Marble countertops and backsplash extend up the wall to the window behind the sink, which provides plenty of natural light.
5. White Backsplash with White Cabinets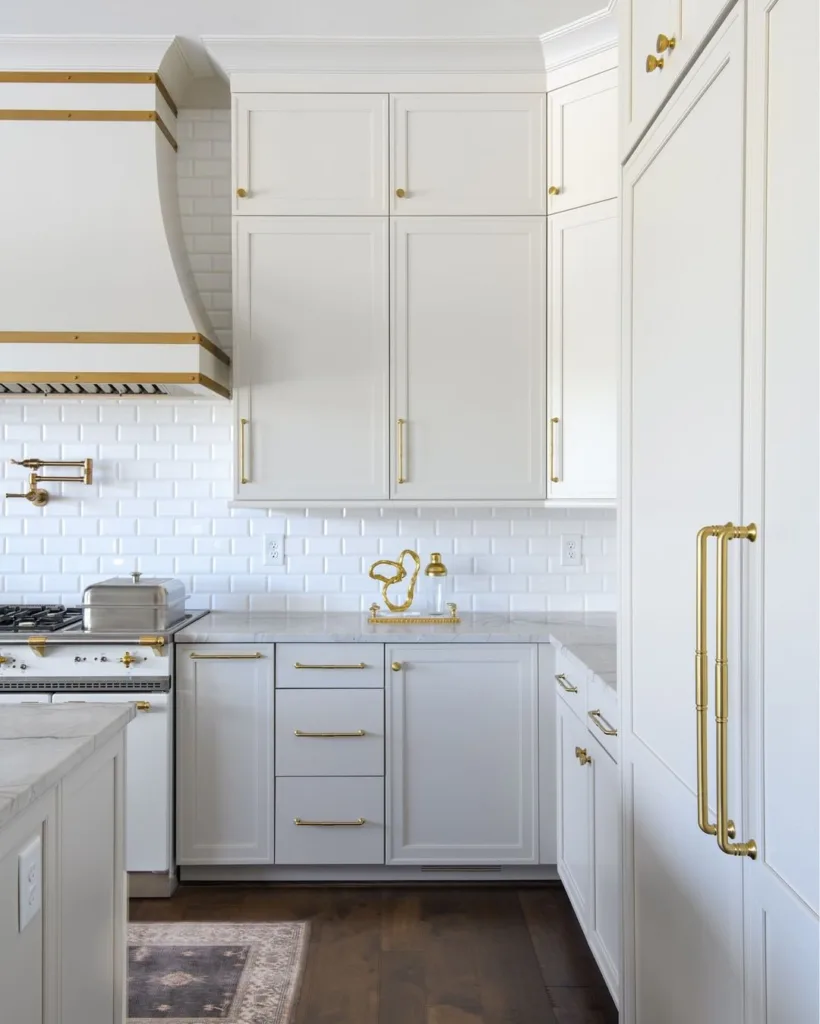 A white subway tile backsplash with light gray grout adds to the clean work of this kitchen with white cabinetry. Gold hardware matches the accents on the high-end stove and details on the large range hood above. A pot filler extends from the backsplash over the stove for convenience.
6. A small White and Gold Kitchen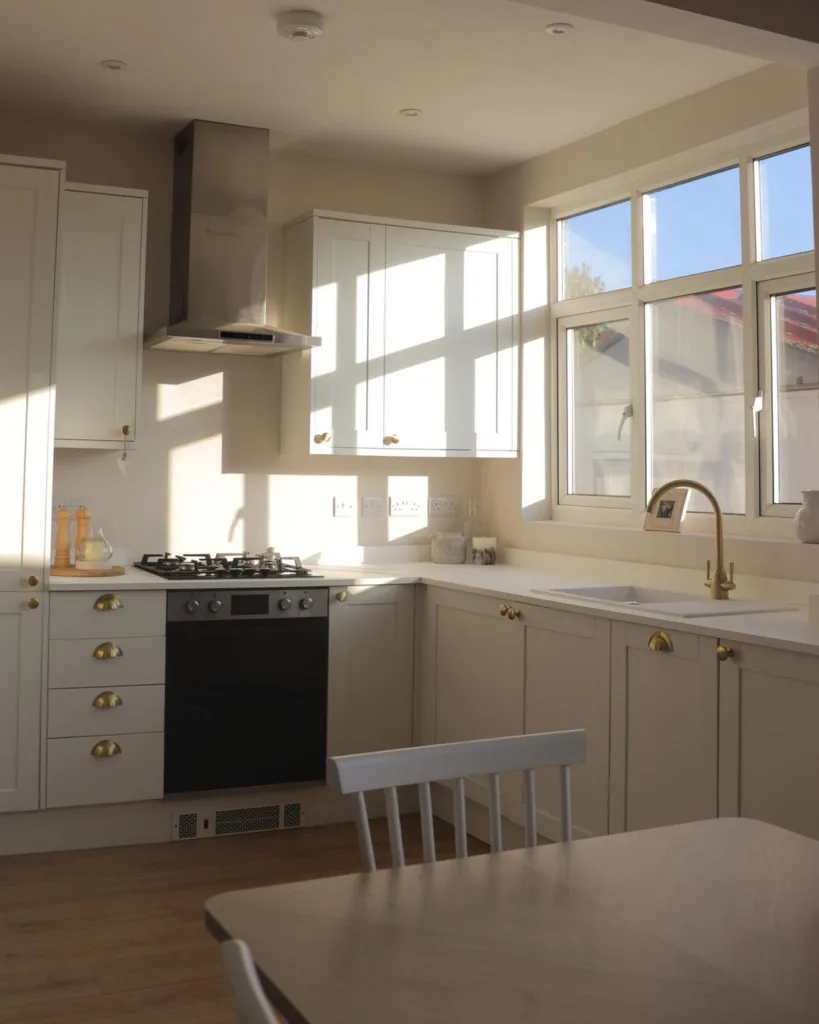 Light gray lower cabinets add contrast to the upper white cabinetry in this kitchen. Gold poles and hardware add a warm touch that helps this space avoid feeling sterile. Since Gold is a warm neutral color, it helps your kitchen feel more inviting compared to black and silver accents.
7. white quartz countertops and backsplash with gold
White quartz countertops and slab backsplash at a high-end look to the small kitchen with a black electric cooktop. White shaker-style cabinets feature gold poles that add a pop of color to this all-white space. A wood cutting board behind the stove helps bring in texture and cooking utensils nearby. When designing all-white kitchens, bringing in neutral color tones and natural textures is essential to make the space feel warm and inviting.
8. a modern white and gold kitchen with flat cabinets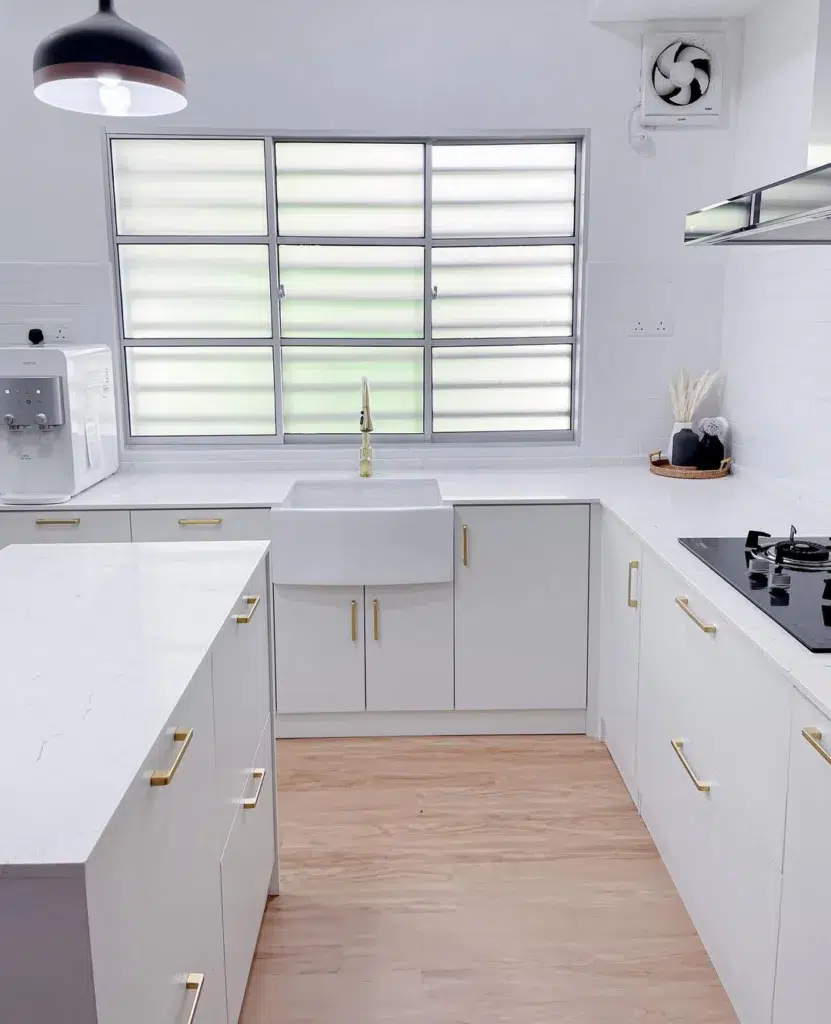 This modern white kitchen with flat front cabinetry has no upper cabinets making it feel open and airy. Gold squared handles add to the contemporary touch, while a farmhouse sink helps balance the style.
9. white and gold refrigerator to match the kitchen
This white and gold kitchen features a built-in microwave under the countertop and a shiplap range hood, giving it a farmhouse feel. A white and gold refrigerator matches the hardware on the cabinets, making it feel built-in. A gold pendant light over the island continues the color scheme.
10. Herringbone Marble Backsplash with Gold accents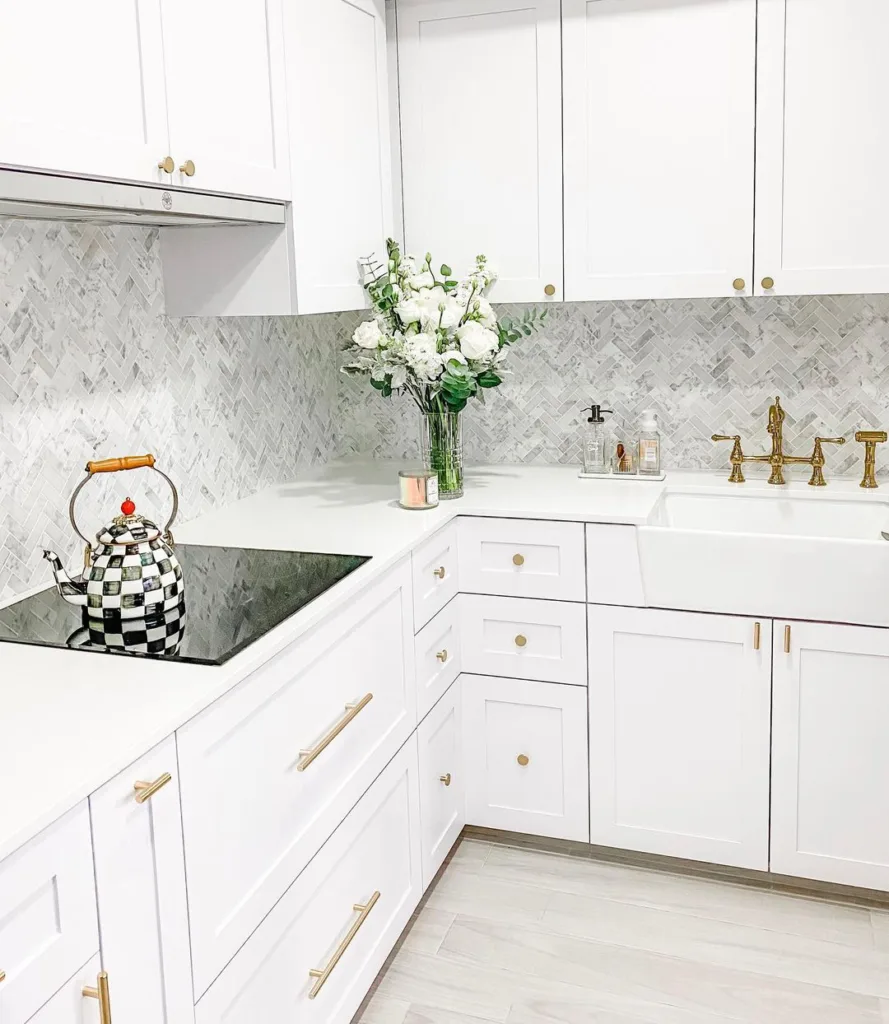 A herringbone marble tile backsplash offers a luxurious touch to this white and gold kitchen with a black stove top. Brass hardware matches the faucet over the farmhouse sink, with flowers nearby for decor. Light wood flooring adds to the bright color scheme of this design.
11. Modern gold pendant lights over a marble island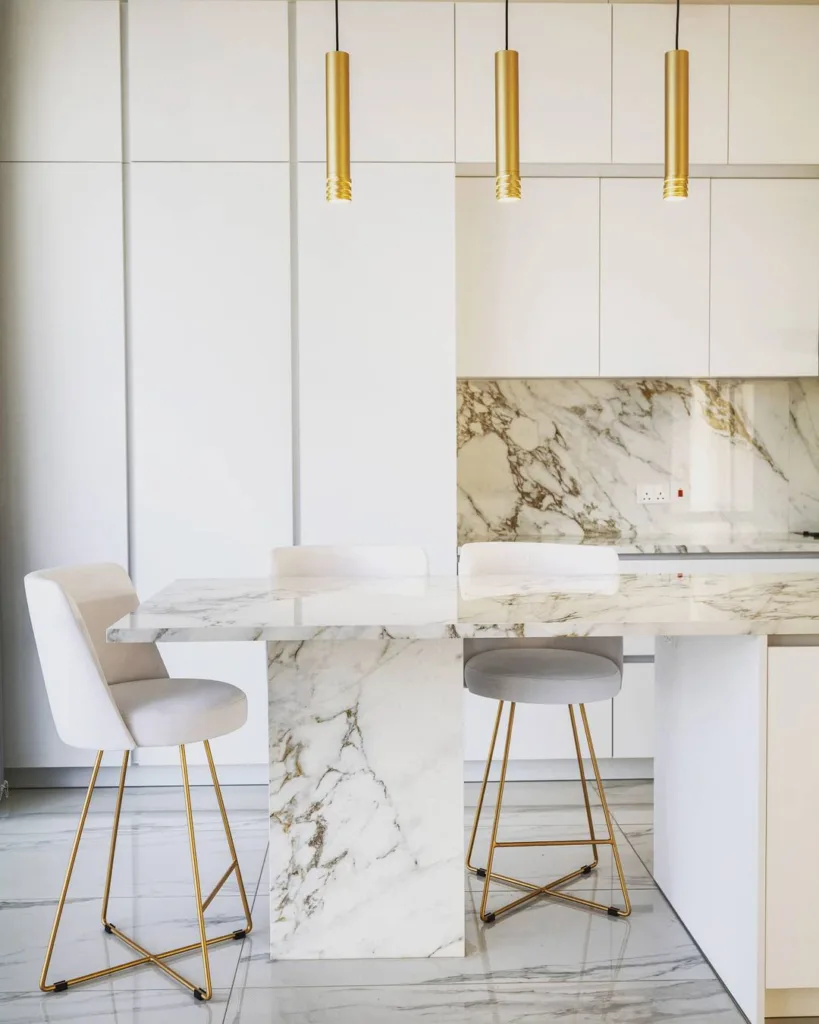 This luxury white and gold kitchen features three thin modern pendant lights over the marble island. Gold legs on the stools at the island match the pendant lights and gold accents around this kitchen. Brown veining in the marble complements the neutral tones.
12. A Black, White, and Gold Kitchen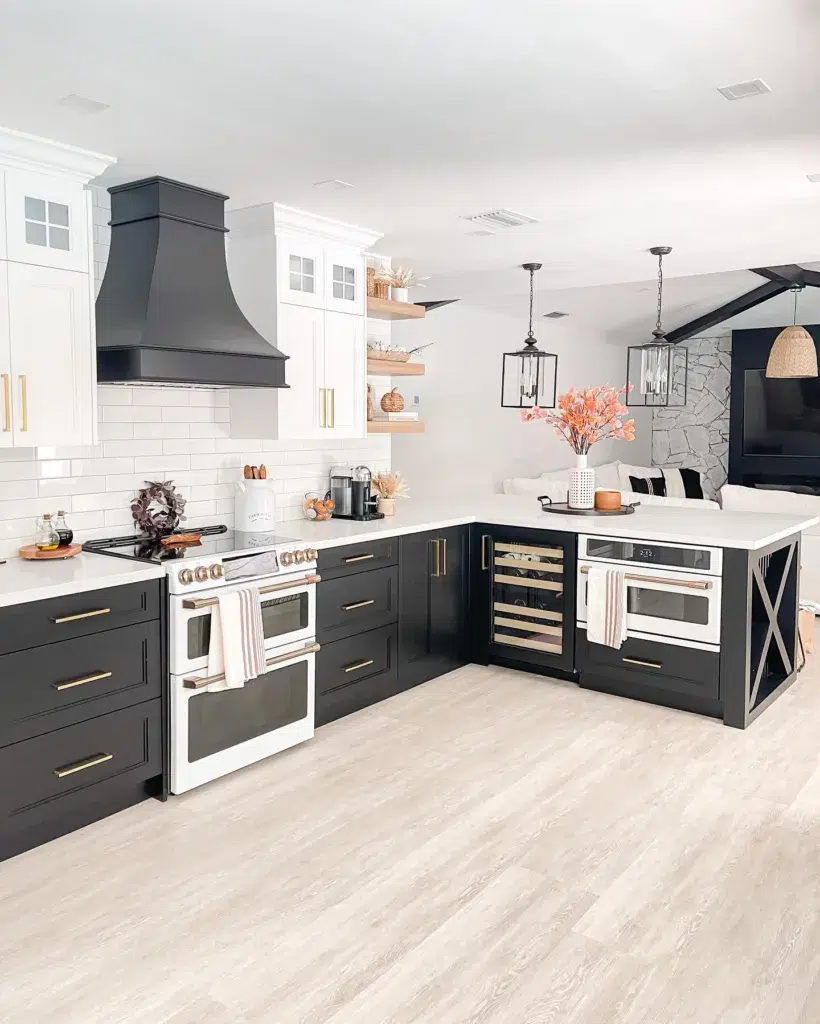 This black, white, and gold kitchen offers plenty of contrast thanks to the two-tone cabinetry. White appliances, including a built-in microwave and stove, match the upper white cabinets and subway tile backsplash. A black range hood above the stove complements the lower black cabinets in this stunning design.
13. Pink Backsplash in a White and Gold Design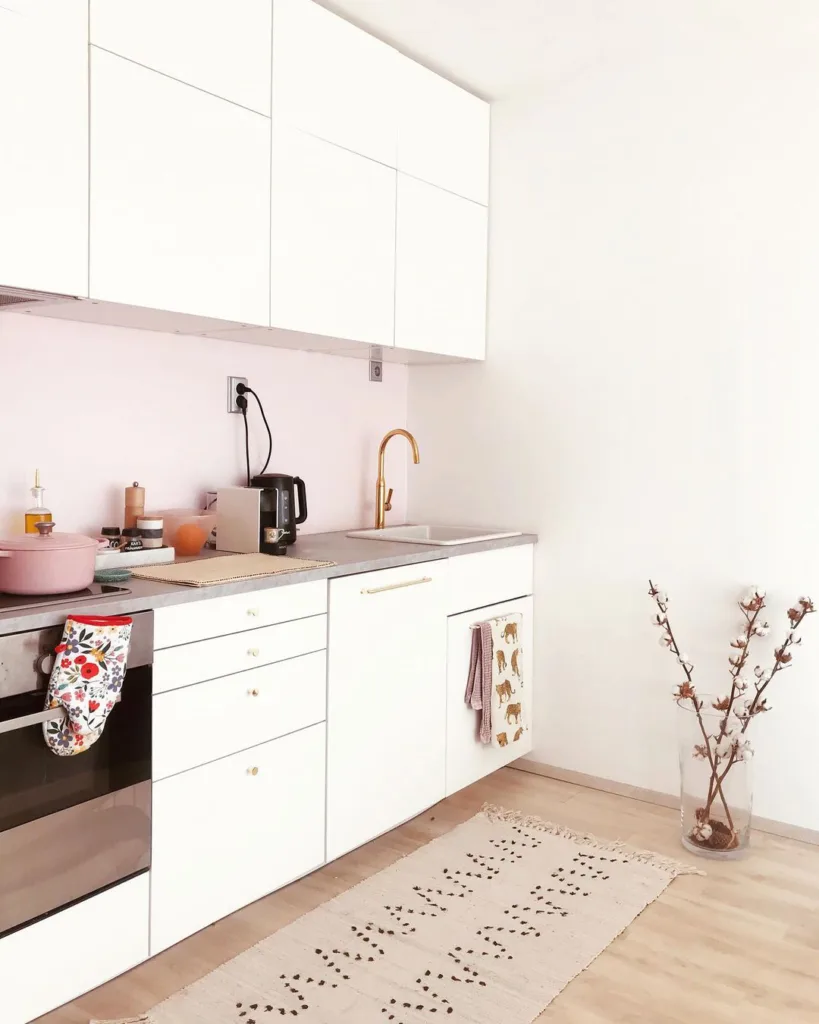 A pink backsplash in the small white kitchen it's a unique pop of color and a feminine style. Gold hardware on the cabinets matches the gold faucet, while stainless steel in the appliances and a modern touch.
14. Plenty of gold and white kitchen decor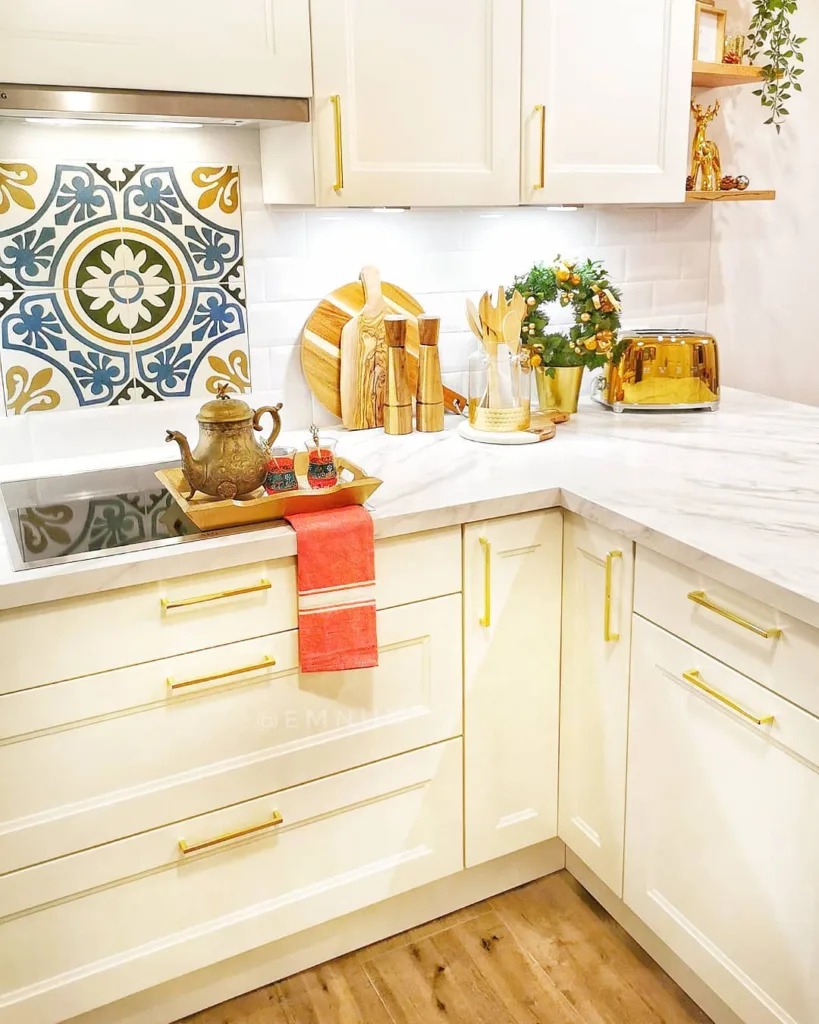 A colorful backsplash behind the stove echoes the colors found in this white and gold kitchen. Gold accessories are used as decor on the countertop in front of the white subway tile backsplash with white grout.
15. Farmhouse Style White and Gold Kitchen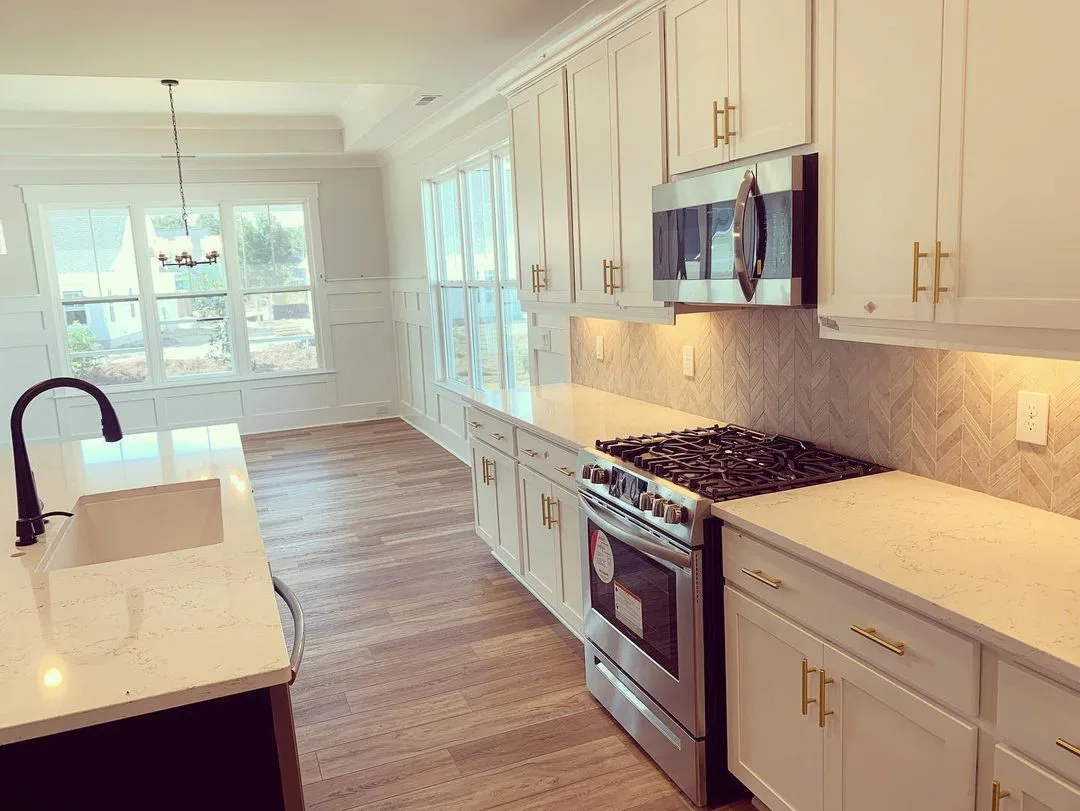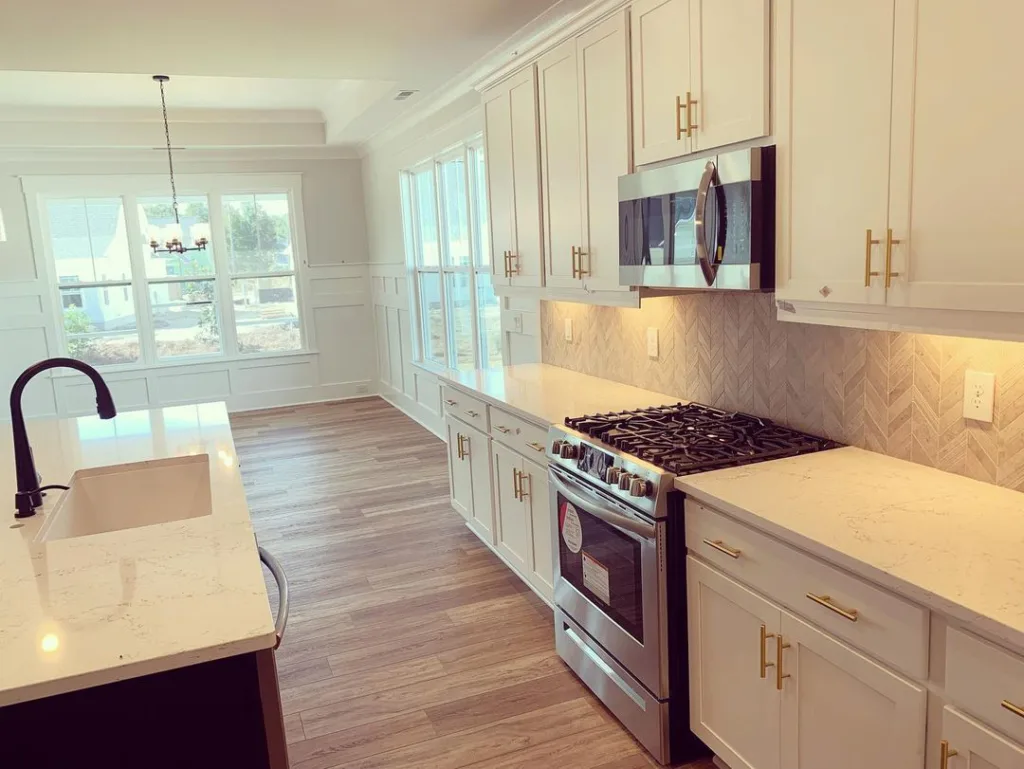 This farmhouse-style kitchen features a black island with white countertops that match the perimeter cabinets. White cabinets with gold hardware surround the rest of the kitchen with stainless steel appliances and a herringbone tile backsplash. Using gold hardware with shaker-style cabinets is a great way to create an updated take on farmhouse design. While farmhouse kitchens typically have a white and black color scheme, adding gold brings in warm, neutral tones.
16. a small white kitchen with black appliances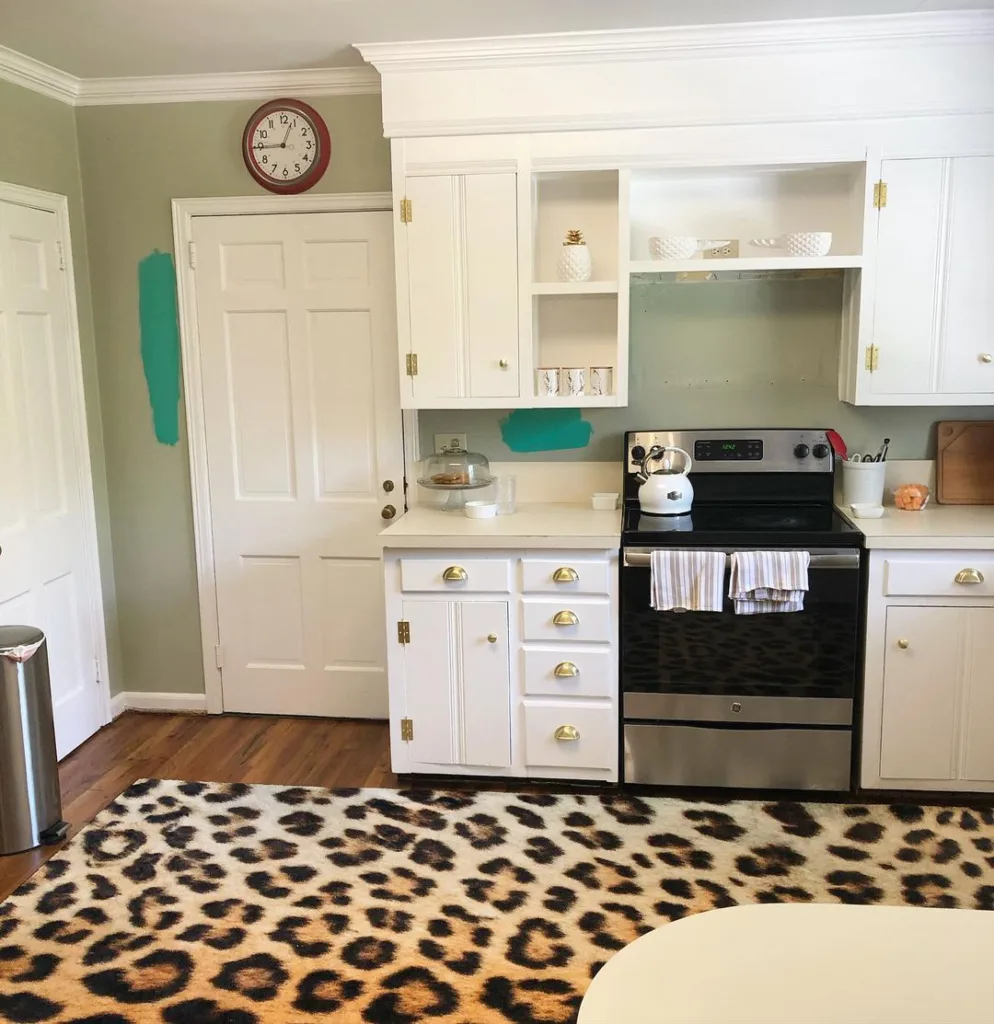 This small white and gold kitchen has green walls for a fun pop of color. Open shelves match the cabinets for a farmhouse style, while the cheetah print rug adds a unique flair. Since white is a neutral color, it can easily be incorporated into any design.
17. Gold pendant lights to match the hardware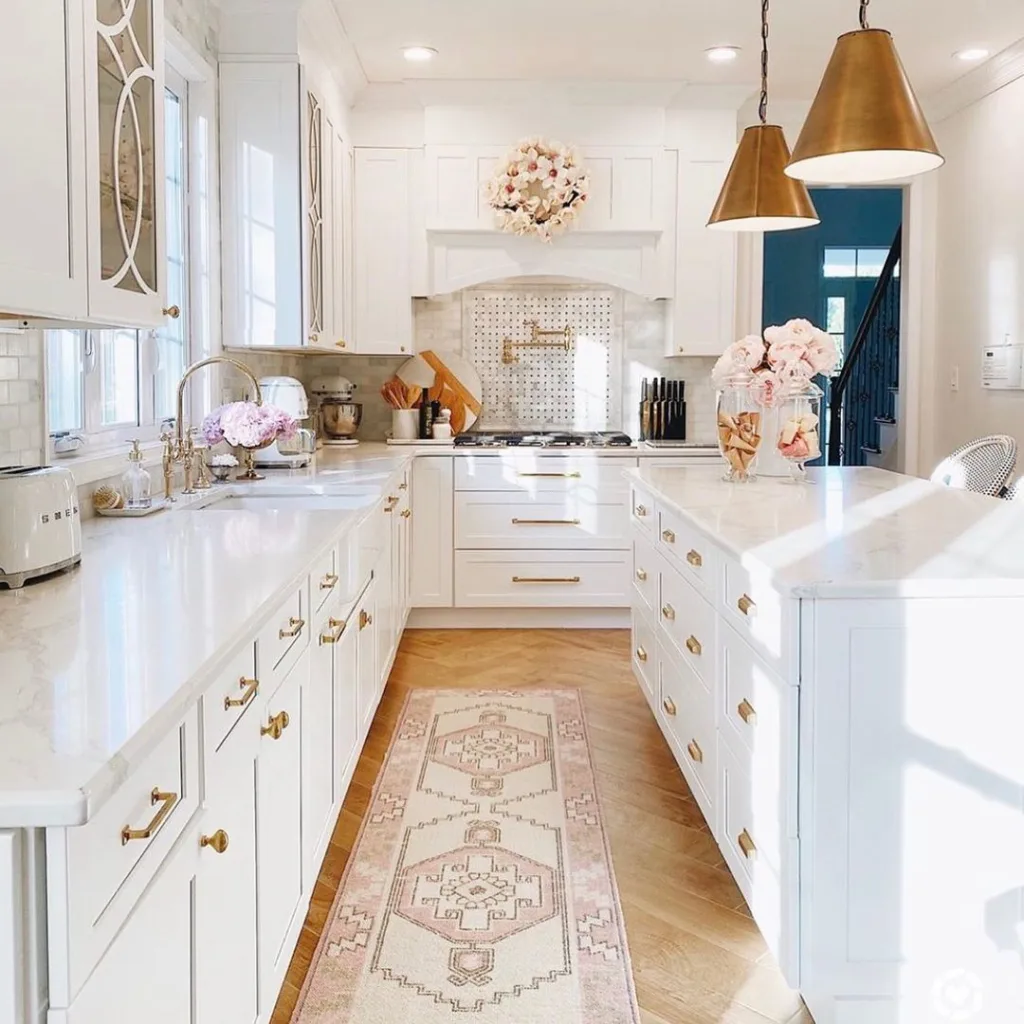 Cone-shaped gold pendant light hangs over this white quartz island with plenty of storage. An abundance of cabinets around the perimeter of this kitchen, with a large built-in stove top as the room's focal point. Gold hardware on all of the cabinets matches the faucet and pot filler for a cohesive design.
18. a grey and gold stove hood in a high-end design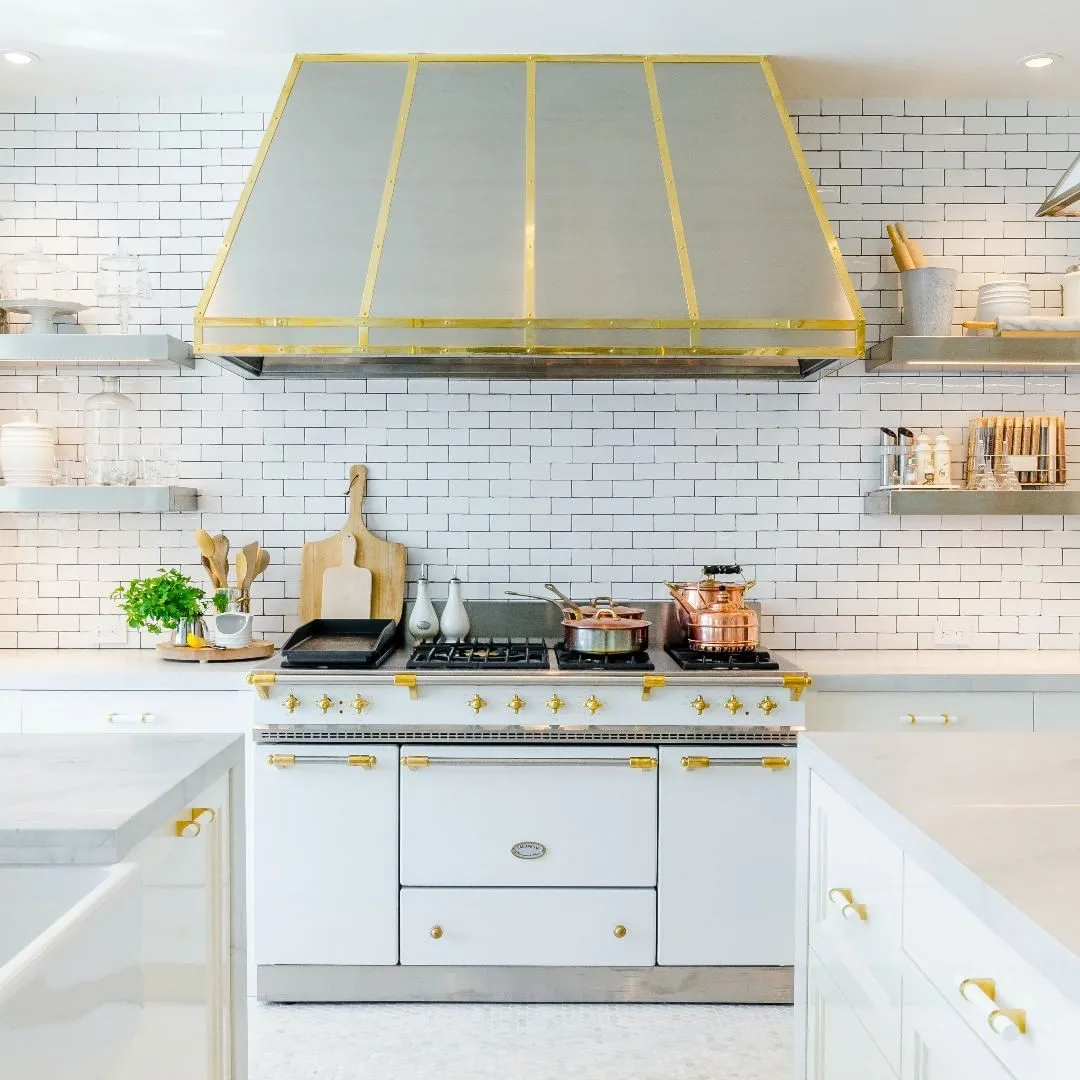 A large gray range hood with gold metallic borders matches the hardware and accents in this kitchen. Below, a large white high-end stove top is the centerpiece of this luxury kitchen. White subway tile backsplash with black grout extends from the countertop to the ceiling, with open shelves on the wall for storage.
19. polished white countertops for a modern look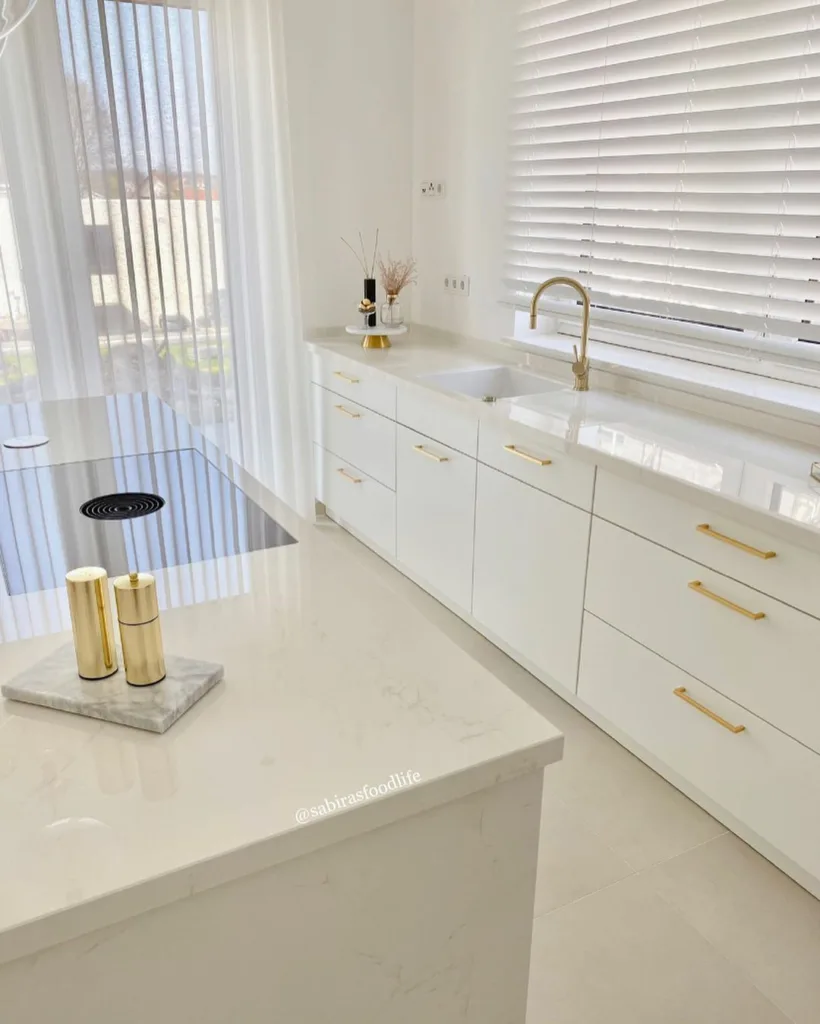 Polished white countertops and flat front cabinets give this white and gold kitchen a contemporary style. The gold decor is included on the island and counters to echo the colors in the space.
20. floor-to-ceiling white and gold cabinets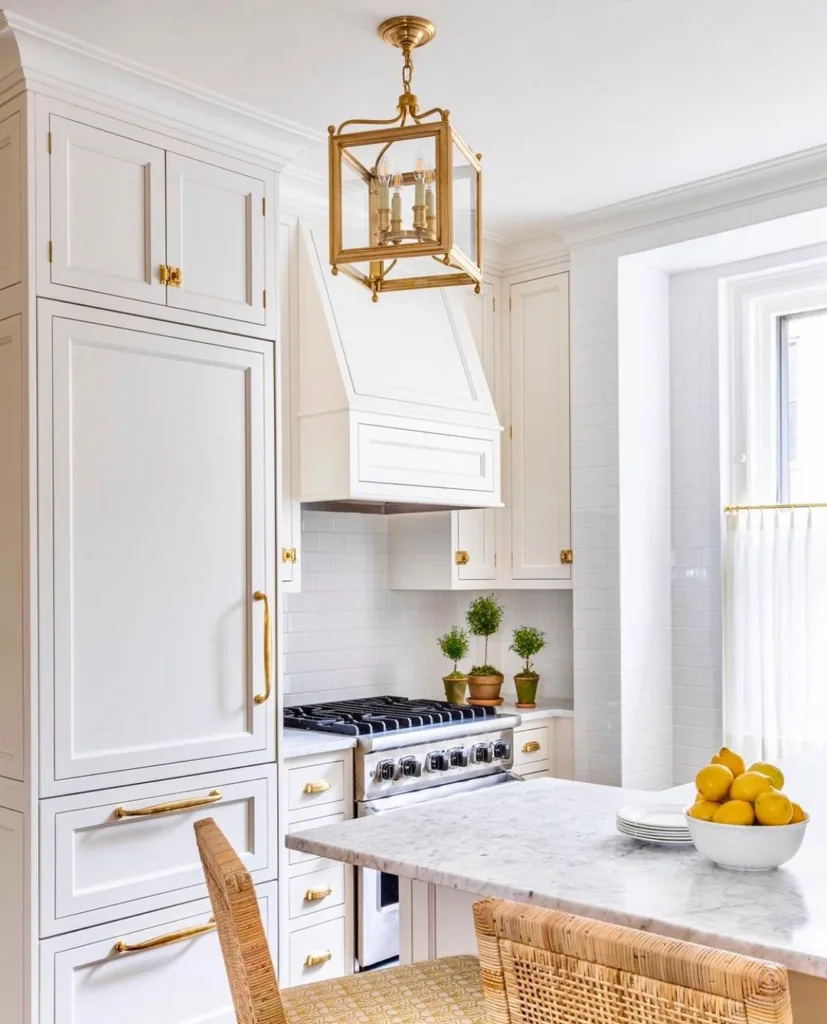 For the ceiling inset, cabinetry provides plenty of storage in this gold and white kitchen with a high-end design. A marble countertop Island features white wicker chairs that echo the neutral tones of the gold hardware. In addition, a fruit bowl is presented on the island as decor adding texture and color.
21. Rose Pink pendant lights in a white and gold kitchen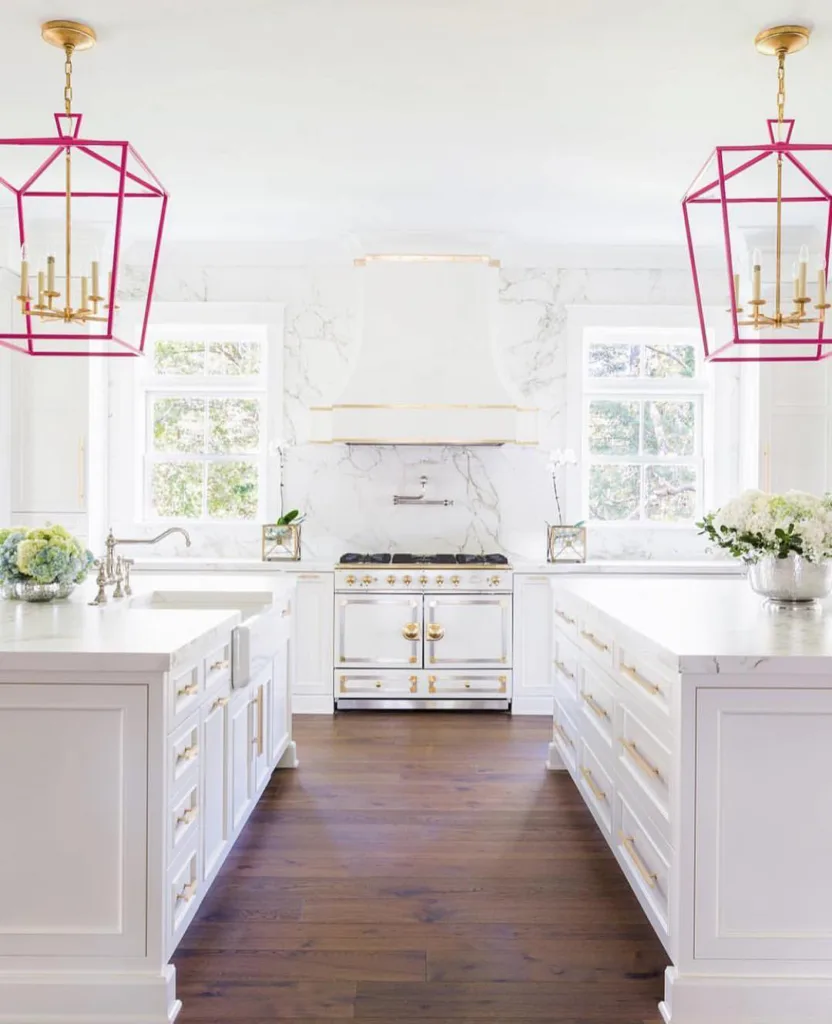 Rose pink pendant light with gold accents stands out in this white and gold luxury kitchen. Marble backsplash with gray veining extends from the countertop to the ceiling behind the high-end La Cornue stove top. Adding bright lights is a fun way to introduce a bit of flair and color to this space.
22. red chairs at the island with gold accents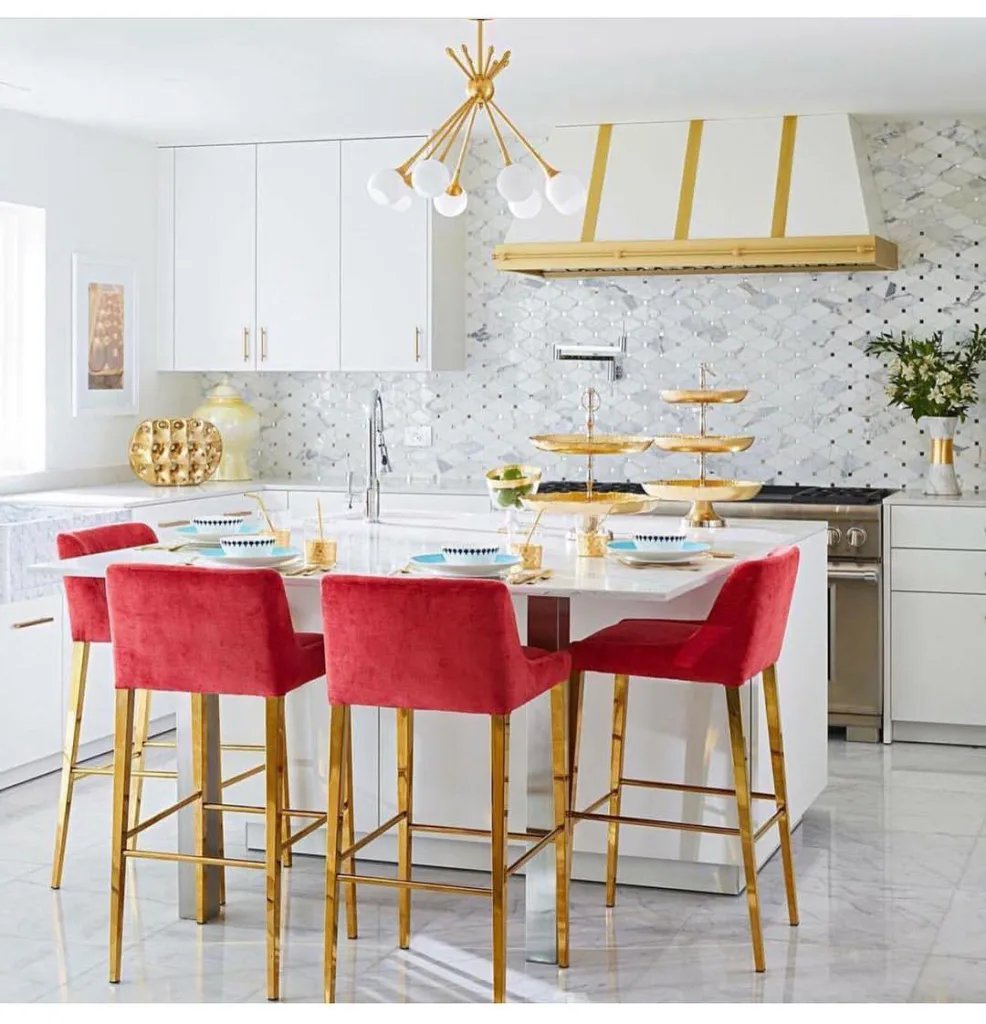 Red chairs jump out in this white and gold kitchen design, while the gold legs on the stools help tie them into the design. When adding an accent color to your kitchen, it's important to incorporate it into the primary and secondary colors.
23. Black appliances with a grey island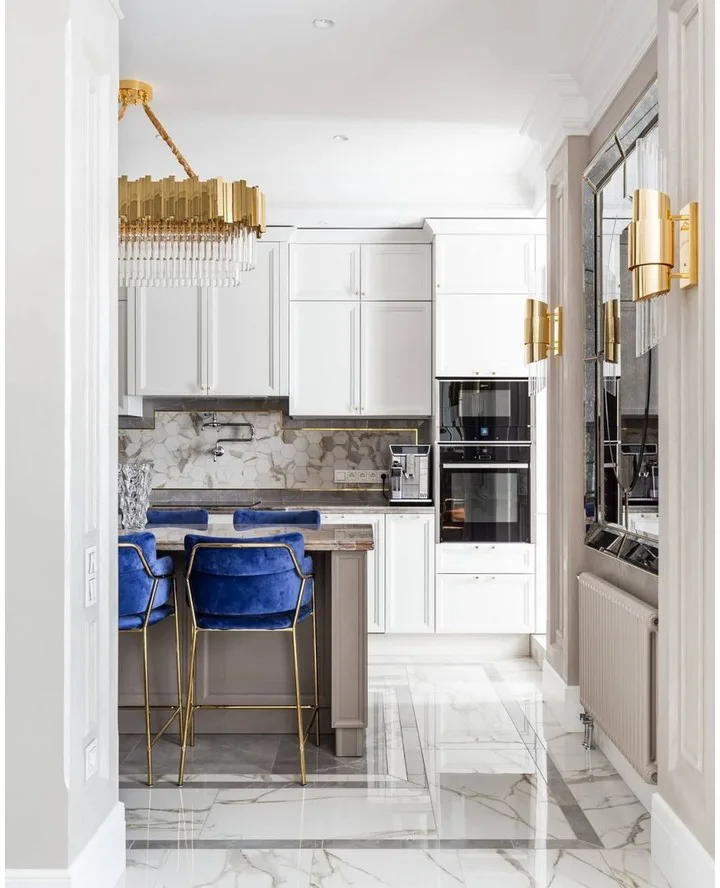 A gray island features blue chairs with gold legs to help complement the white cabinetry with gold hardware around the space. Using two different cabinet colors helps match the space's white and grey polished marble floor.
24. French country Cabinets with gold piping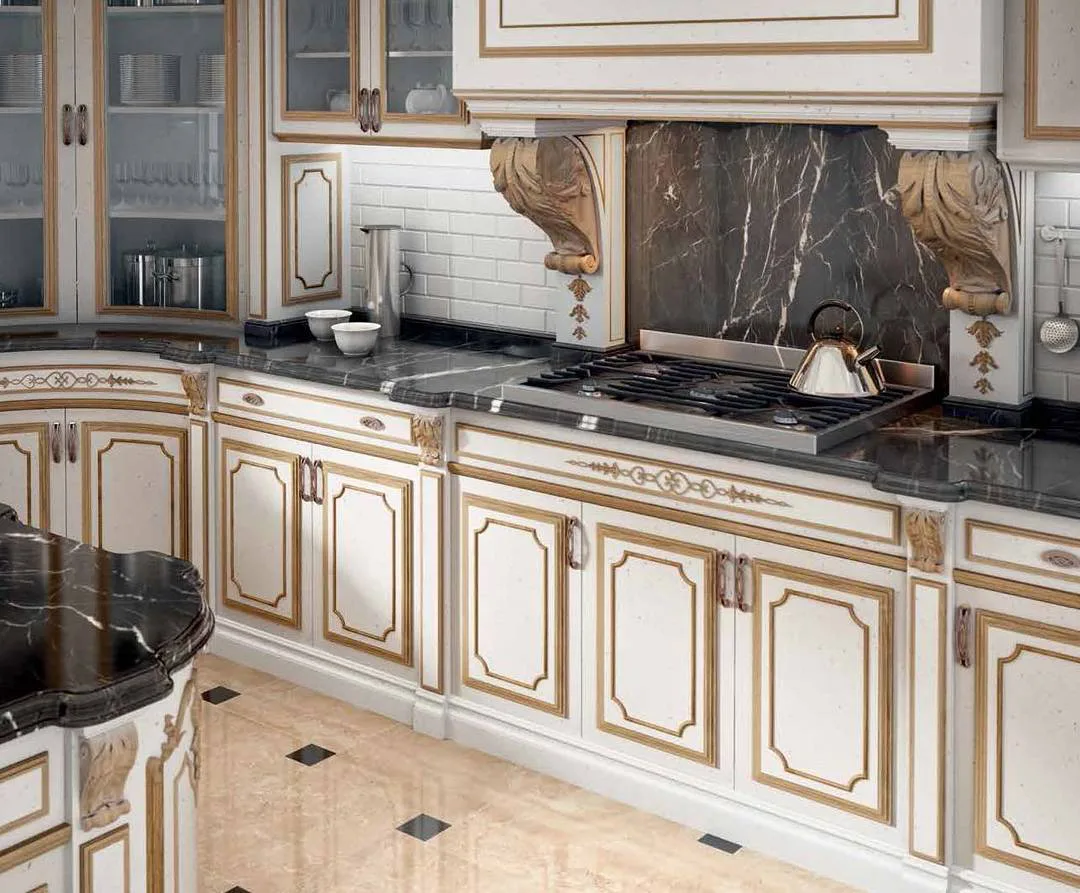 This French country kitchen features white cabinetry with gold piping around the edges giving it an ornate look. Neutral-colored floor tiles have black accents that complement the black marble countertops in the space. White subway tile backsplash helps tie the design together and adds a clean look.
25. rustic hardwood floors in a modern white kitchen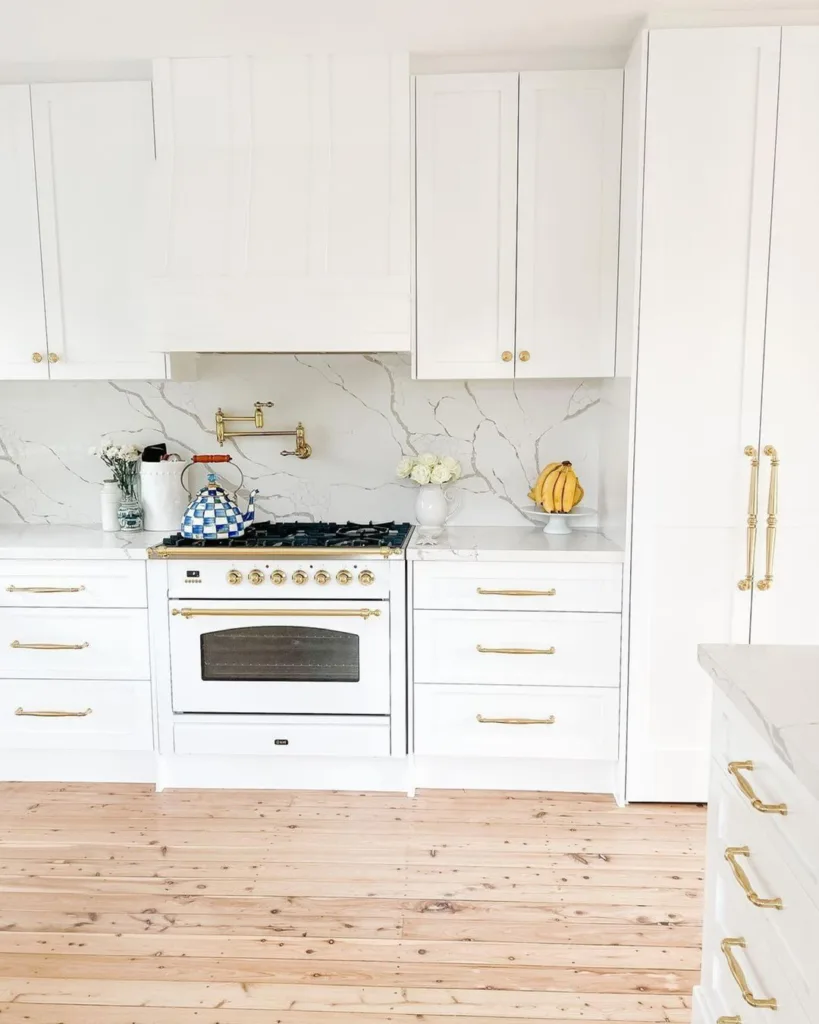 Rustic hardwood fours balance this modern white cabinet kitchen with white countertops with many natural knots and textures. Gold handles on the cabinetry add a luxurious touch, along with the quartz backsplash with grey veining.
26. Pink accents with white and rose gold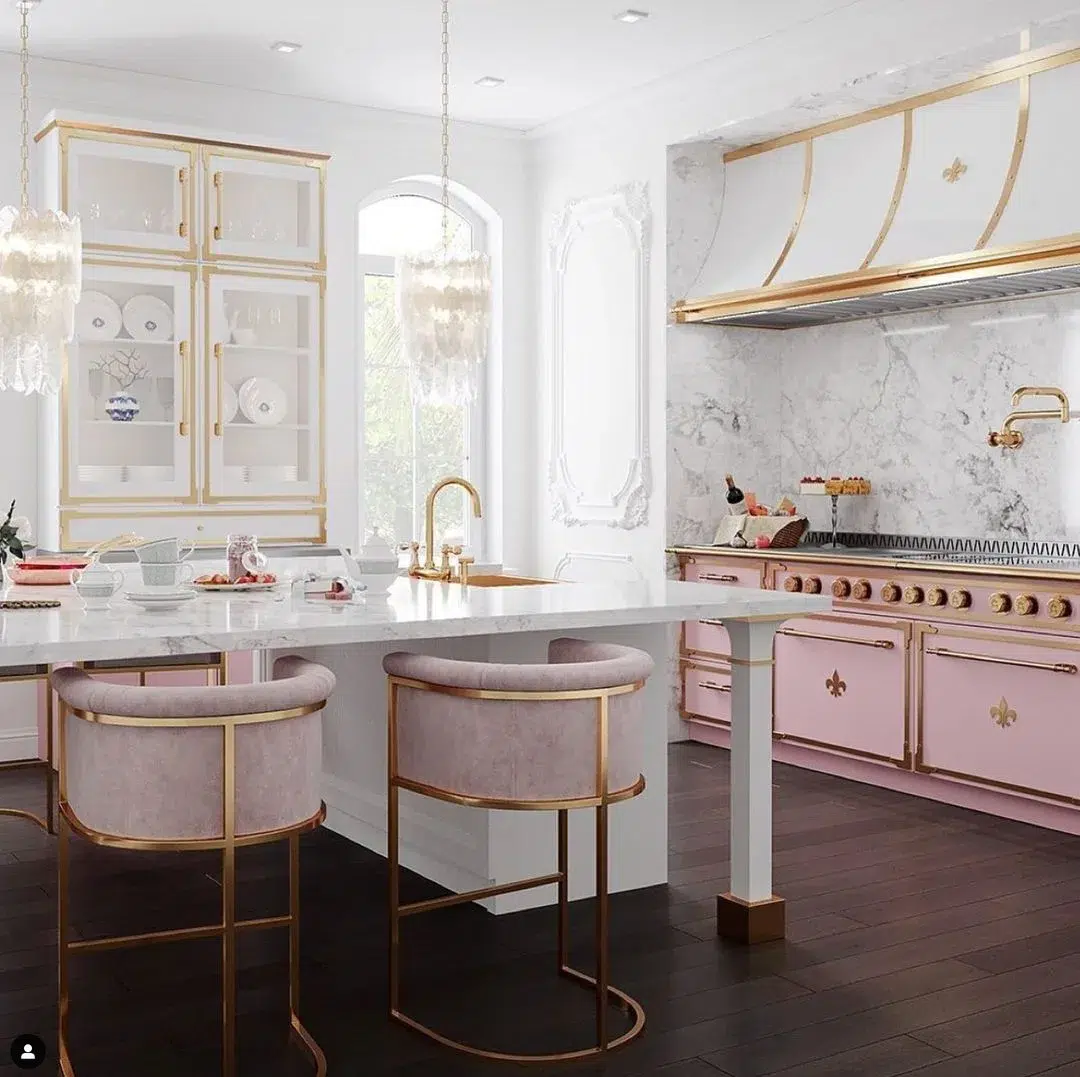 Pink accents around this kitchen match the bright pink high-end stove top with rose gold hardware. To create a cohesive design, rose gold accents are used throughout this luxurious space. In addition, Brown hardwood floors add a deep hue that balances the bright design.
27. A gold Range Hood with a stainless steel stove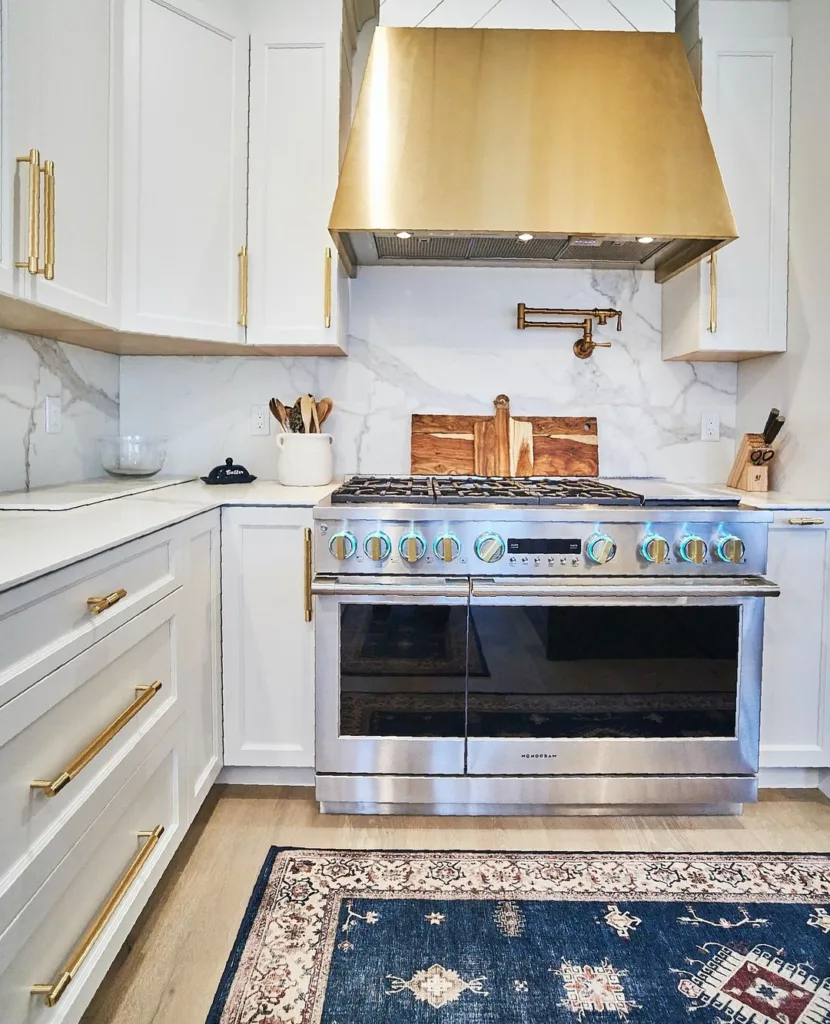 This white shaker-style kitchen has a large gold range hood hanging over the stainless steel stove top. Gold handles on the cabinets match the range hood Wiley courts backsplash adding a natural dimension to the space. Wood cutting boards leaning against the backsplash help to bring in warm tones.
28. white and gold Shaker Style Cabinets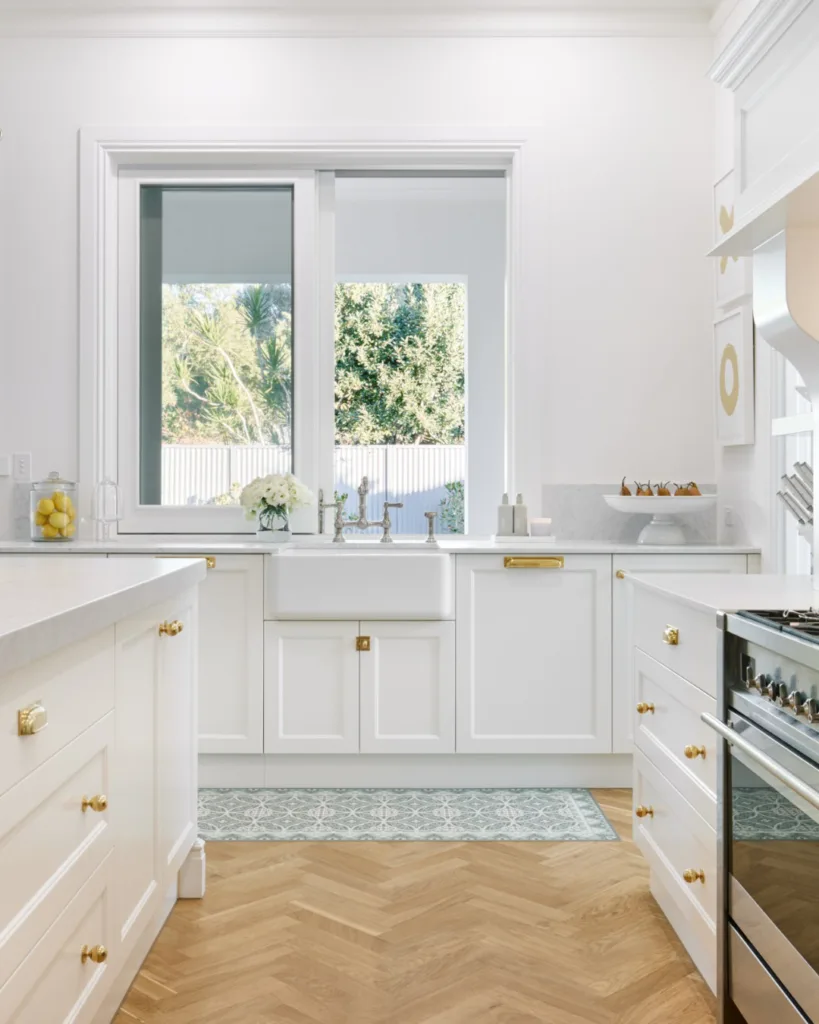 This country kitchen features white lower cabinets with white countertops and gold accents. A large window over the farmhouse sink has plenty of natural light. Instead of upper cabinets, this kitchen what's white walls adds an airy and openness to the space.
29. Open shelves with gold pendant lights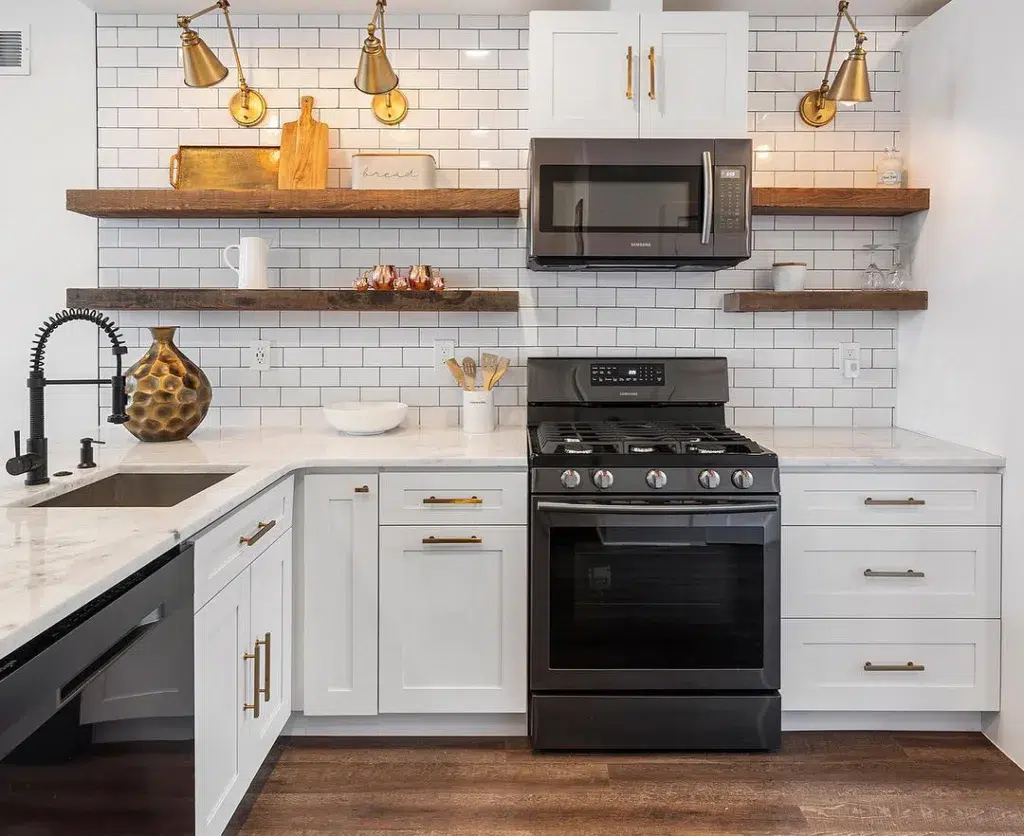 Three gold sconces hang over shelves mounted on the white subway tile backsplash in this small L-shaped kitchen. Black appliances have a stunning contrast that matches the faucet and black grout in the backsplash. Brown hardwood floors complement the shelving and add to the farmhouse style of this kitchen.
30. Full-Height Marble Backsplash with gold faucets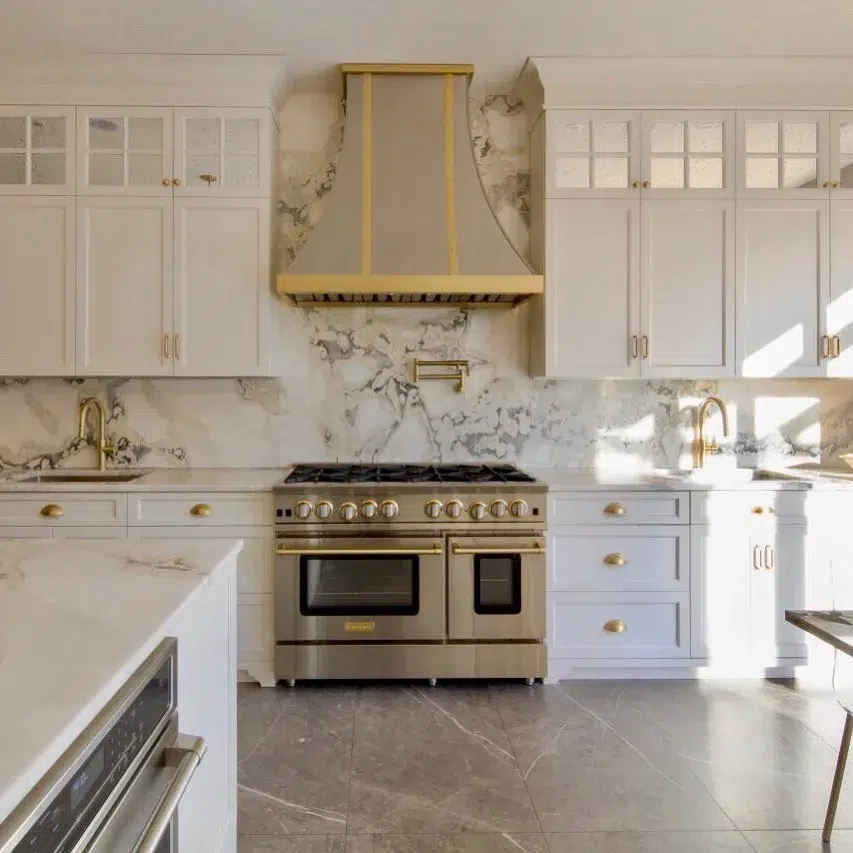 This high-end kitchen features of stainless steel range with gold handles that match the hardware in the space. An extensive range hood above the stove has gold metal accents for a luxurious look. The full-height marble backsplash has a stunning texture with grey veining and brown undertones.
31. Gold Upper Cabinets with White Lowers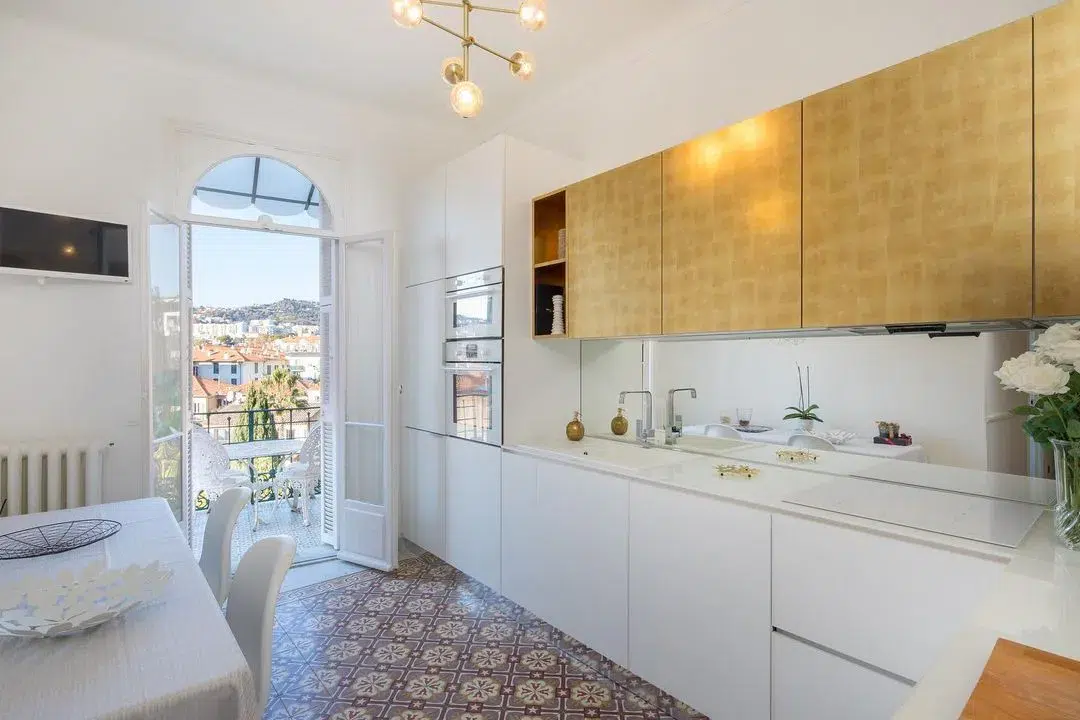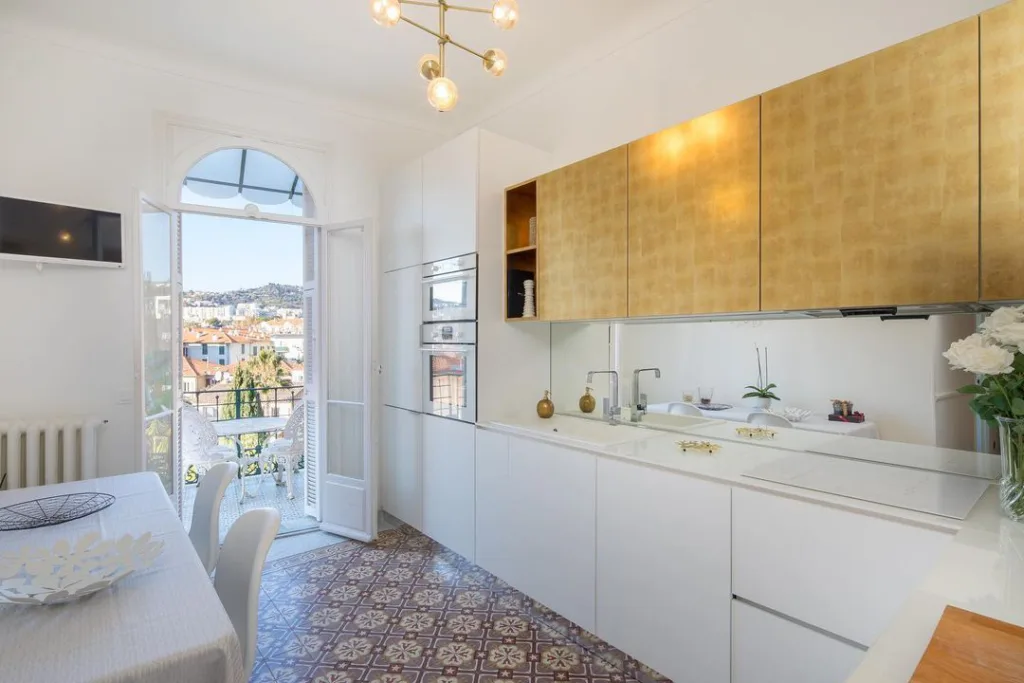 Gold upper cabinets add a bright flair to this small white apartment kitchen. Mixing countertop colors is a great way to bring in additional colors and avoid overpowering your space with one tone.
32. Starburst Gold Lights Over a Marble Island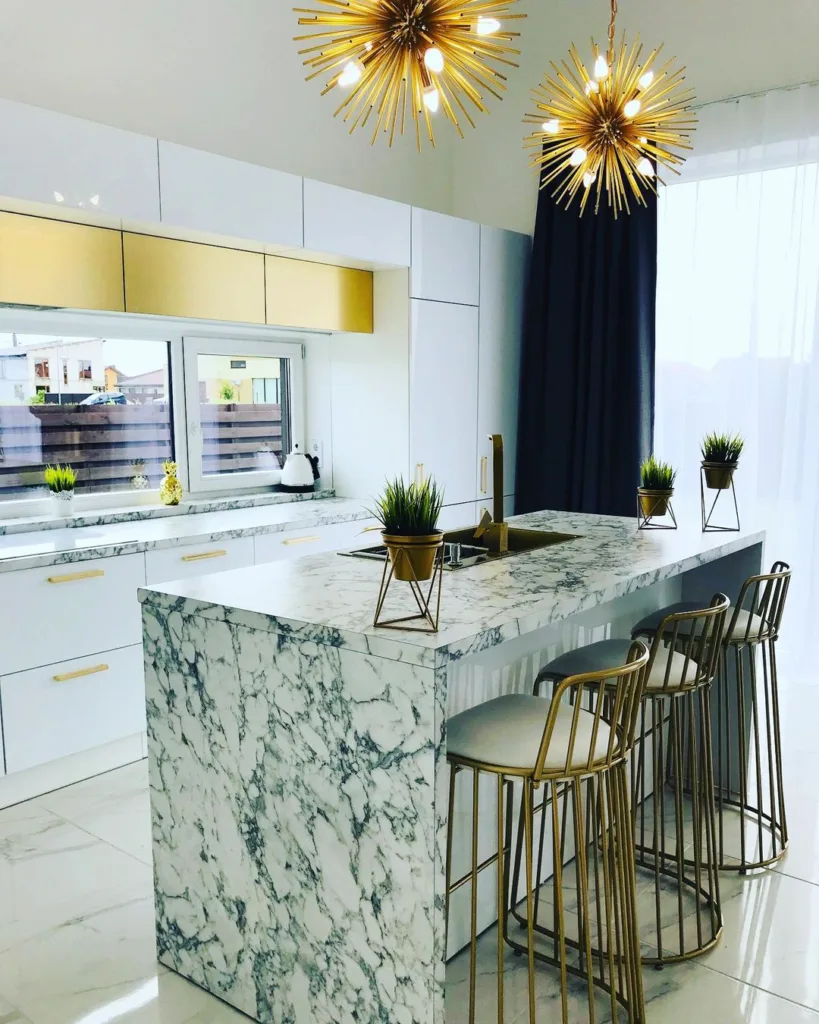 The marble waterfall island in this kitchen is the centerpiece of the space, with gold starburst pendant lights above. Three gold stools at the island accent the pendant lights and matching cabinet hardware. A gold soffit above the sink window adds another unique design element.
33. Two Grey Islands in a White and Gold Kitchen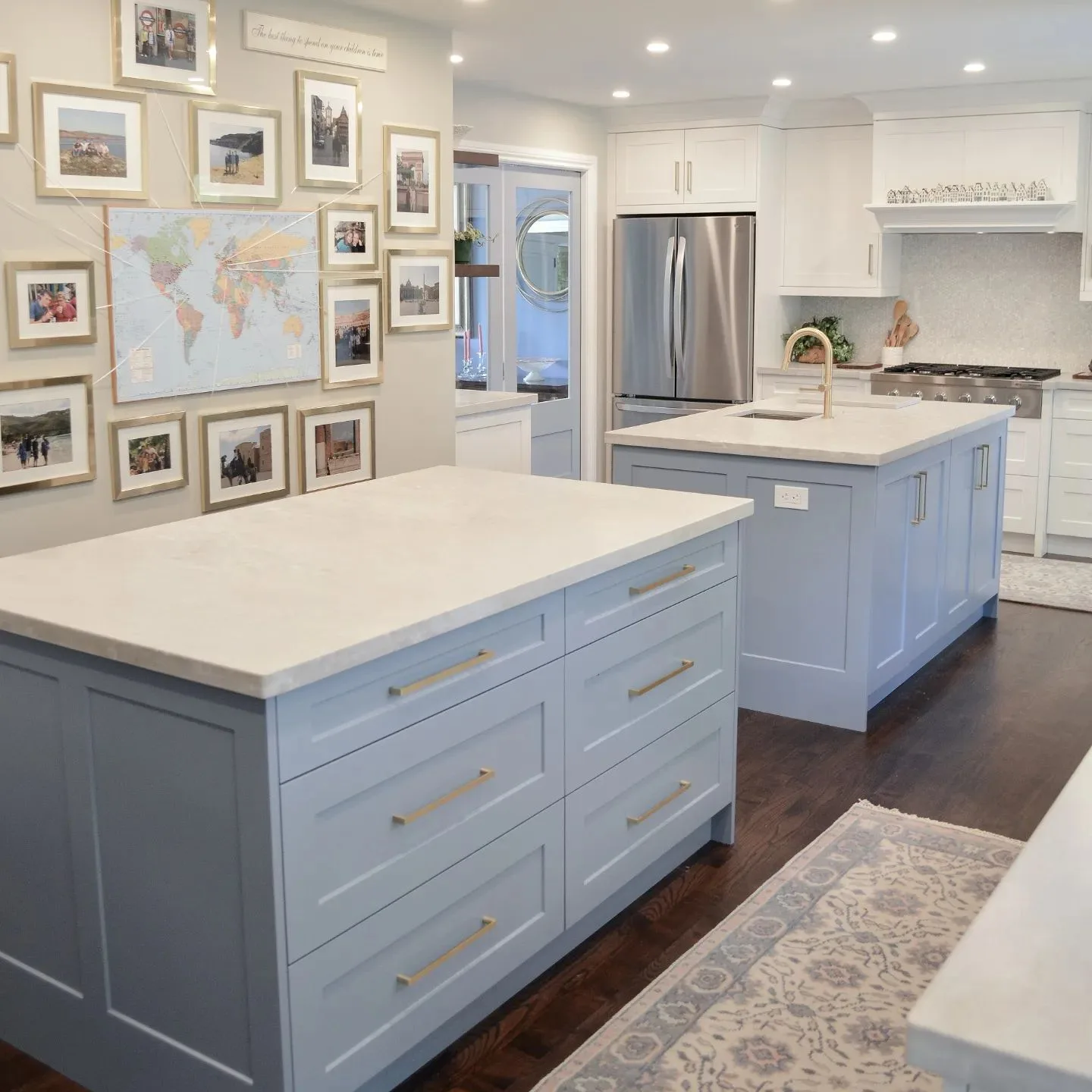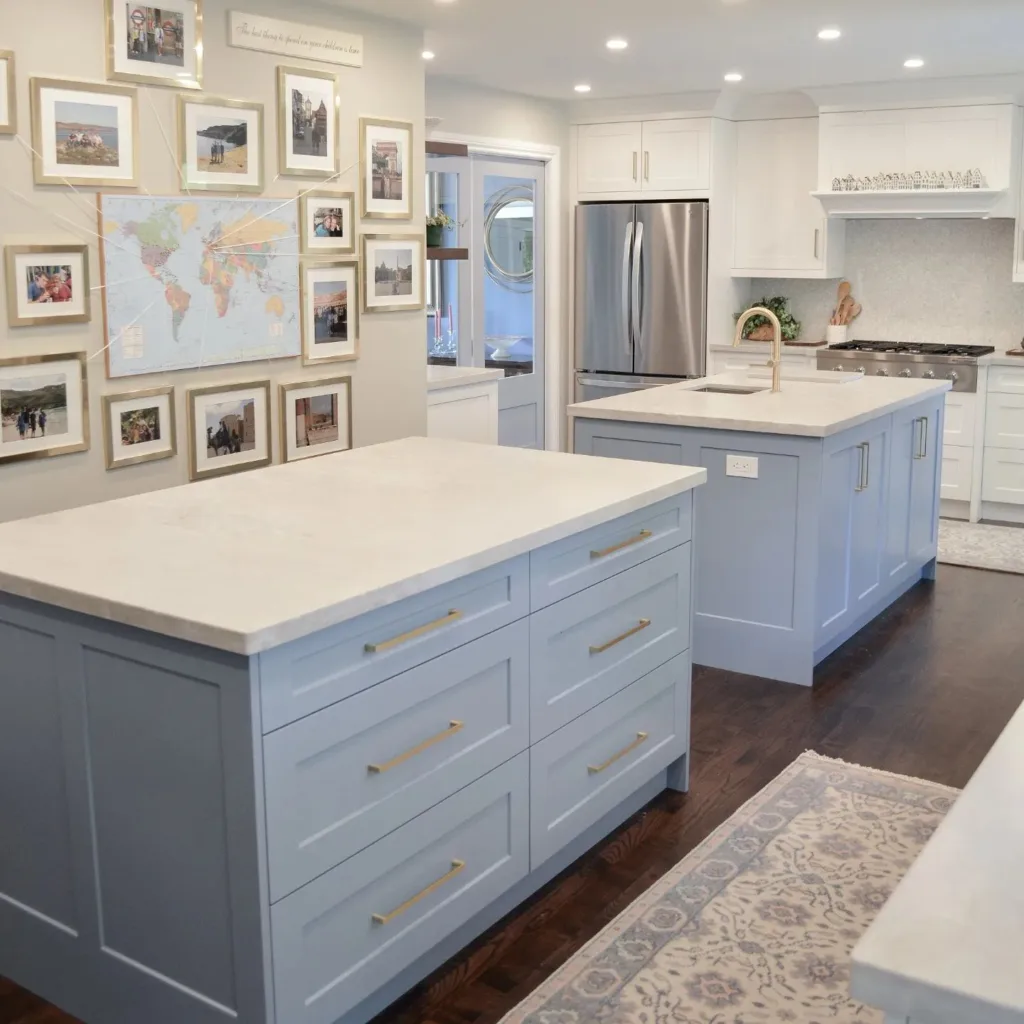 This white kitchen features two gray islands with matching white countertops. Gold hardware is used on both islands in the perimeter cabinets to create a cohesive design. Brown hardwood floors contrast with this kitchen.
34. An Off-White and Gold Design with a Brown Island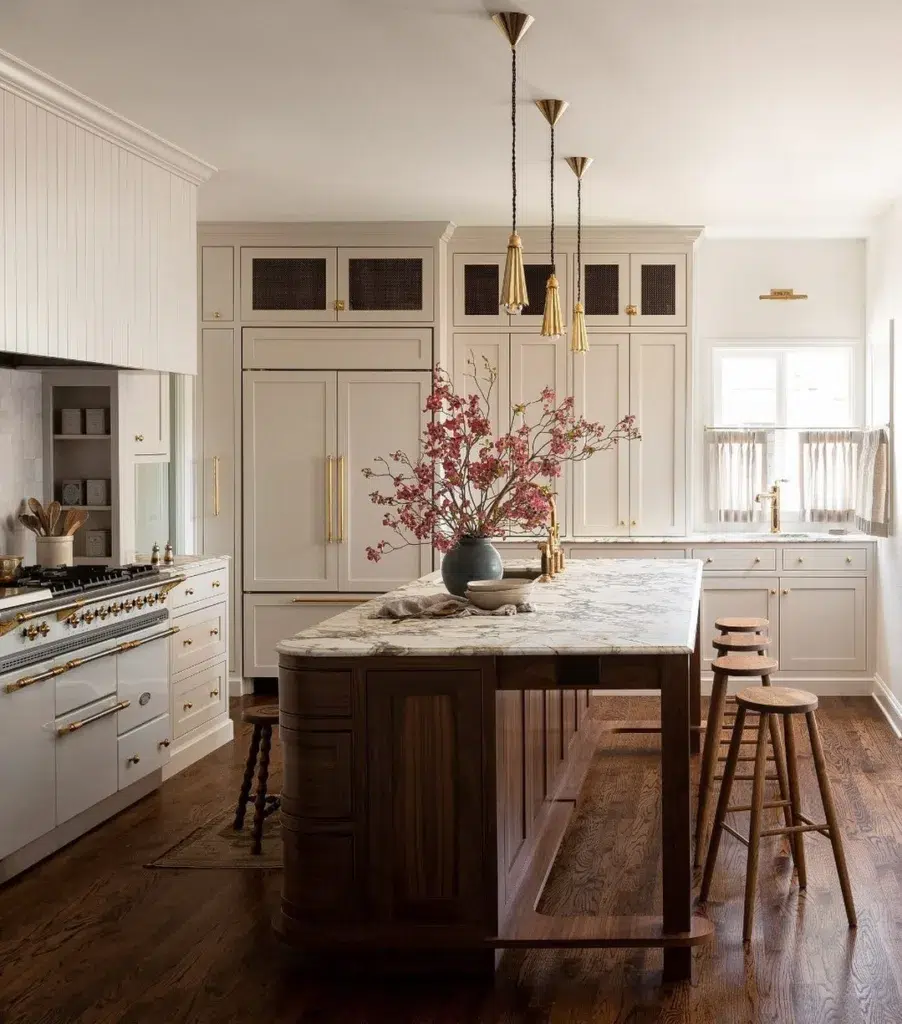 Off-white colored cabinets with gold hardware provide a rich, balanced look in this high-end country kitchen. A brown island adds contrast while its marble countertop echoes the beige undertones of the cabinetry. Using cream-colored cabinets is a great way to soften the brightness of white while still creating a light-colored space.
35. White Cabinets with Brass Hardware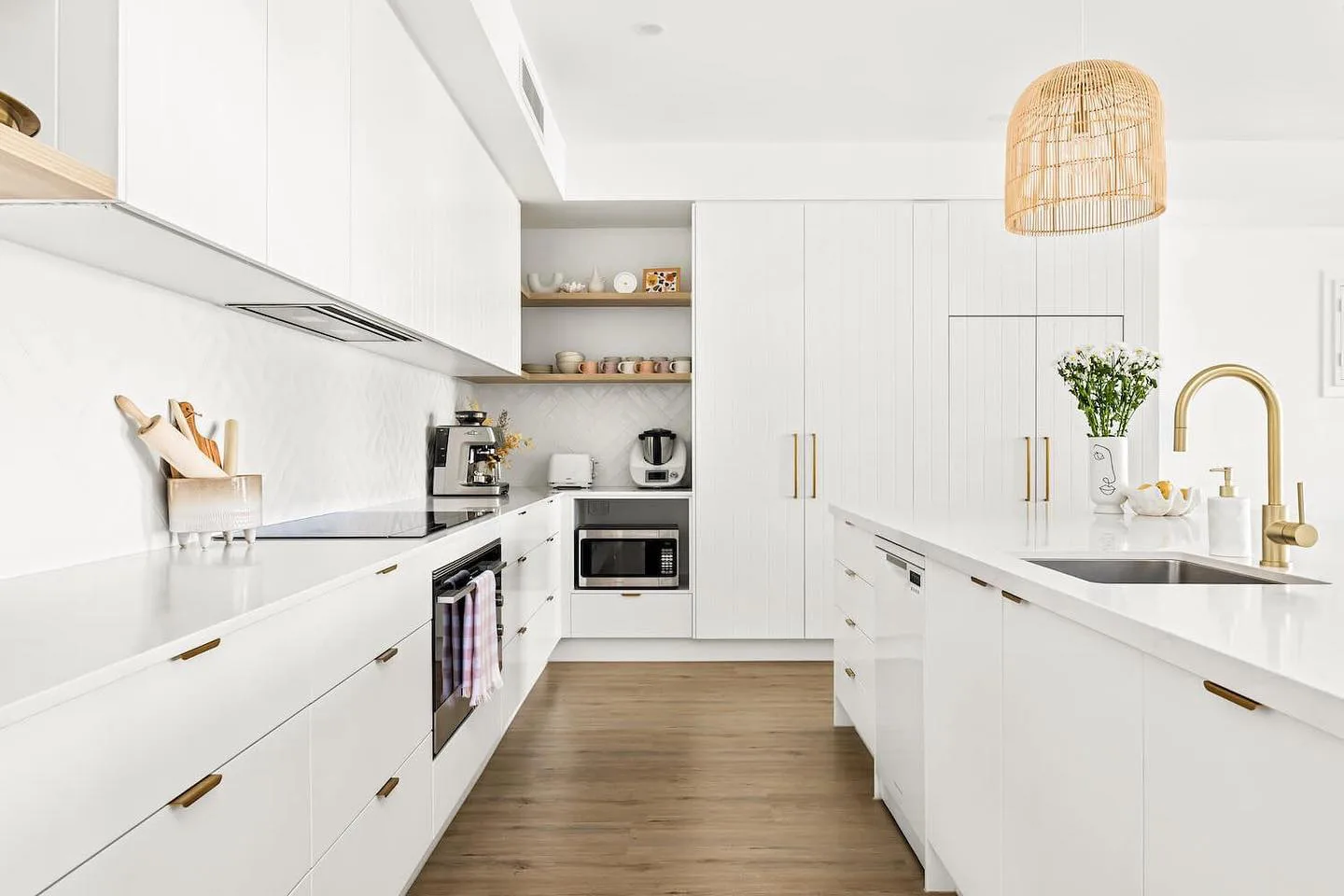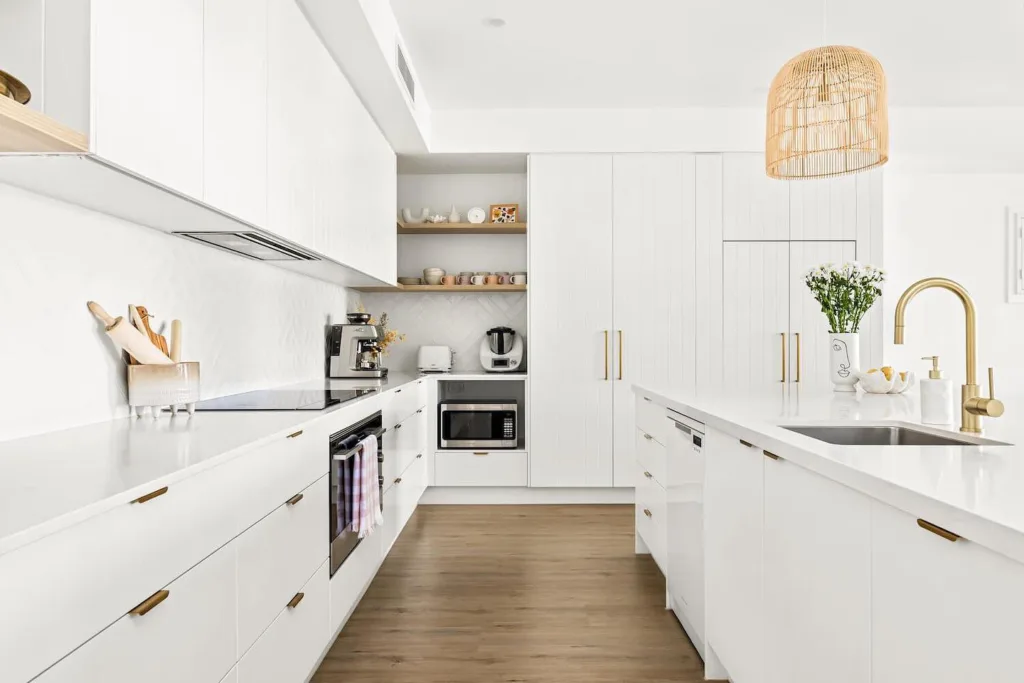 White flat front cabinets create a modern style in this kitchen with gold hardware and neutral-colored pendant lights. Open wood shelves above the built-in microwave lead to floor-to-ceiling cabinetry with plenty of storage.