Floor-to-ceiling cabinets not only provide maximum storage, they also add a high-end look to any space. And if you thought floor-to-ceiling cabinetry was just for the kitchen, think again! These cabinets are perfect for your laundry room, mudroom, bathroom, and more!
As you might have guessed, floor-to-ceiling cabinets fill all the space between your floor and the top of your room. So, not only do they give a high-end look to your room, but they also provide the maximum amount of storage! In a kitchen, you may also find counter-to-ceiling cabinets that achieve the same concept while exposing your countertop for a complete look.
Check out our favorite floor-to-ceiling cabinets in the gallery below!
1. Floor-to-Ceiling Closet Cabinets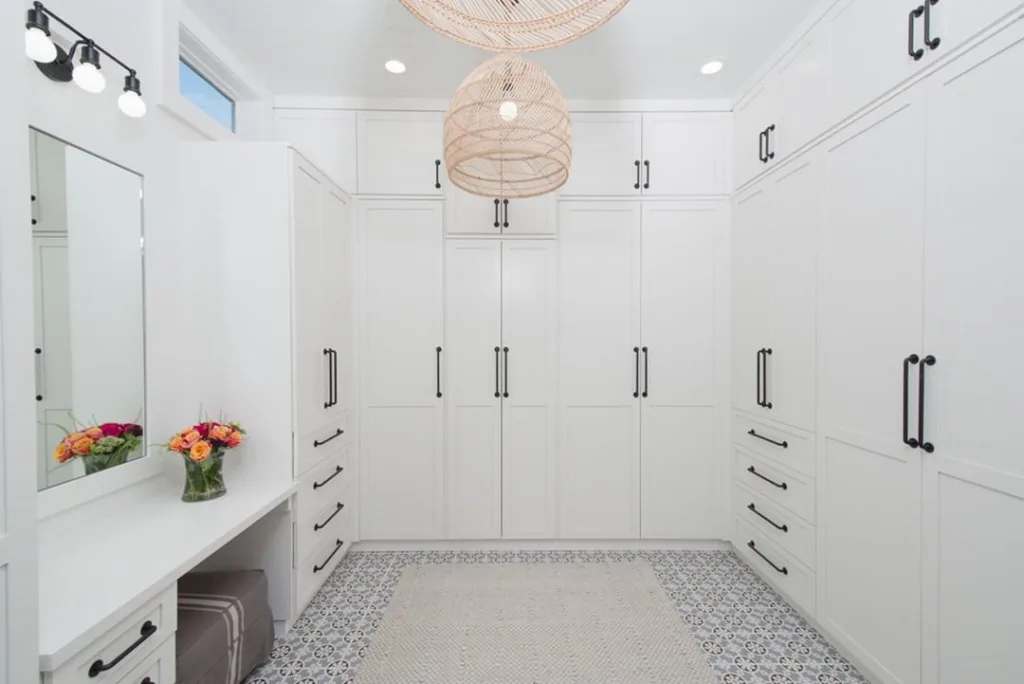 This white closet with black hardware uses for the ceiling cabinets for a high-end look that provides plenty of storage using cabinets in your closet. Using cabinets in your closet hides your clothes and provides a clean look all the time. Unfortunately, cabinetry is also more expensive than traditional open shelves that are used.
2. A dark Blue Kitchen with Built-in Appliances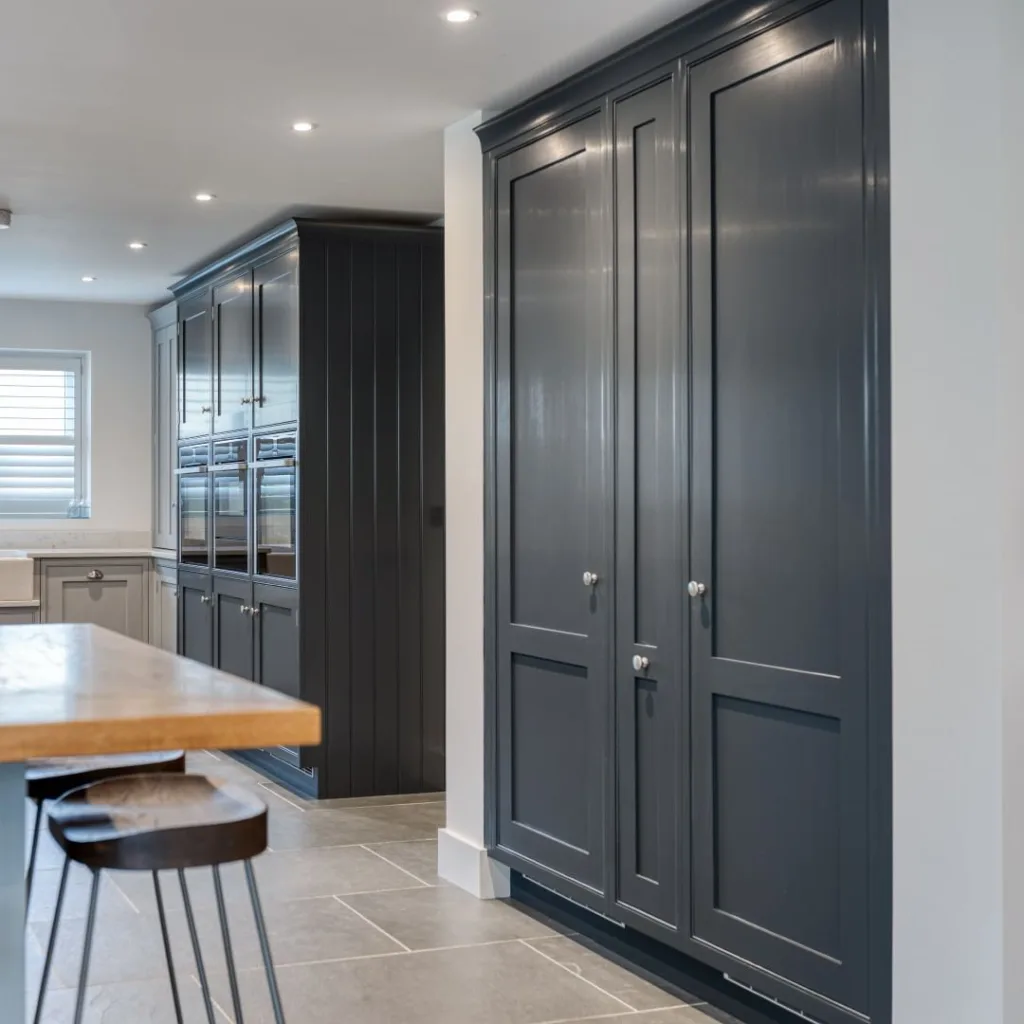 This kitchen with gray flooring features two walls of floor-to-ceiling cabinets with silver hardware. On the left side, a microwave and two ovens are built into the cabinets at shoulder height for easy access.
3. Green Cabinets with Glass Inserts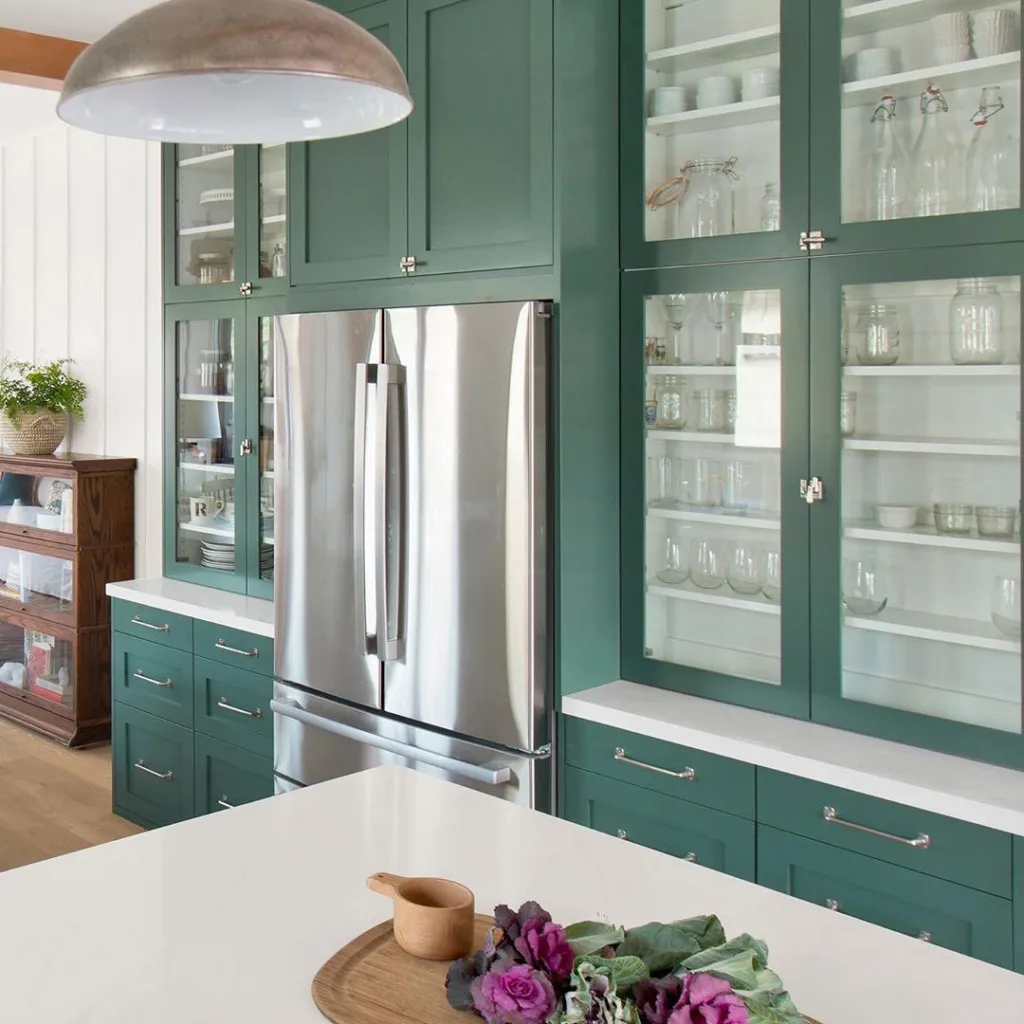 This kitchen with counter-to-ceiling cabinets features glass inserts to display glassware and other decorative items. Using two separate cabinets, a lower cabinet and an upper counter cabinet provides slightly less storage space than traditional floor-to-ceiling options but also offers countertop space. This also helps the cabinets feel like part of the kitchen since the countertop extends around the entire area.
4. Navy Blue Floor to Ceiling Cabinets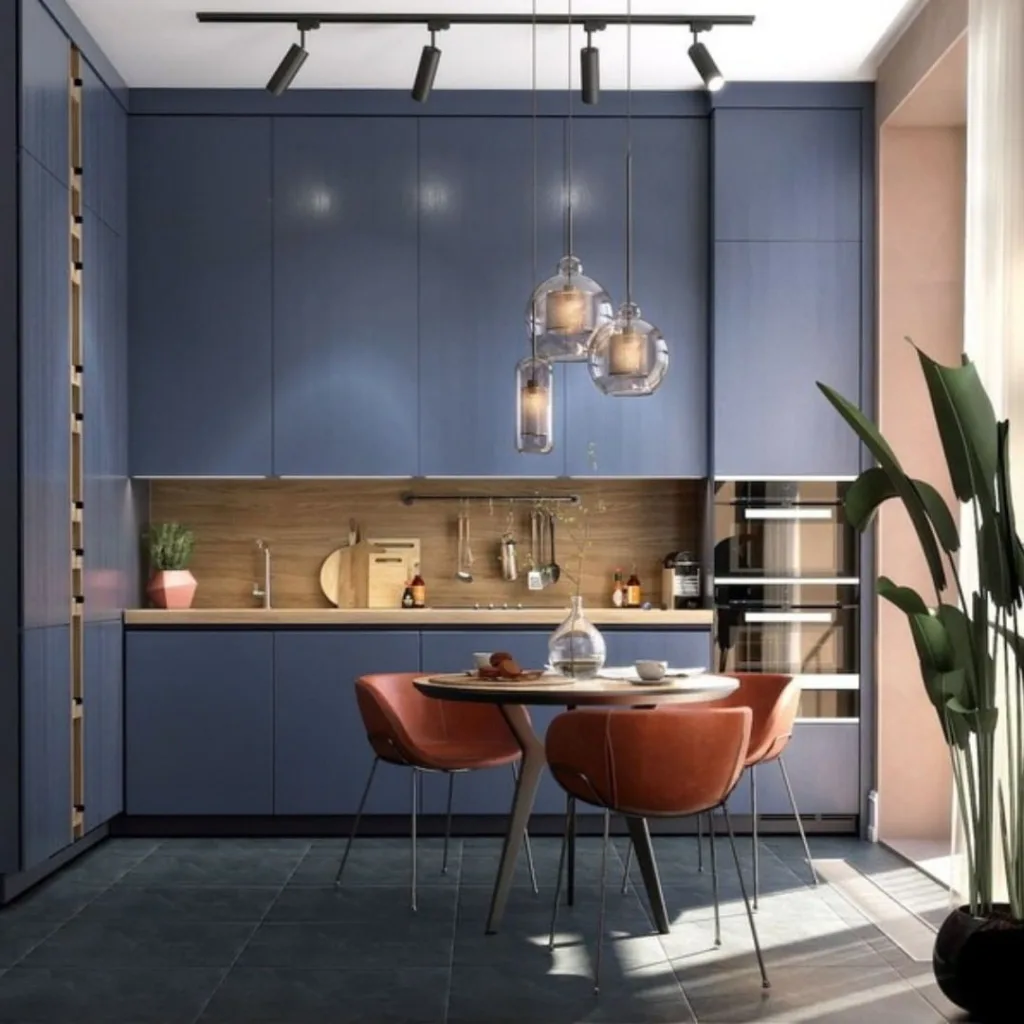 Modern flat front navy cabinets extend from the floor to the ceiling in the small kitchen with wood butcher box countertops. Gray tile floors continue the dark color scheme, while brown leather chairs at the table add warmth to the design.
5. Oak Cabinets in a Light Design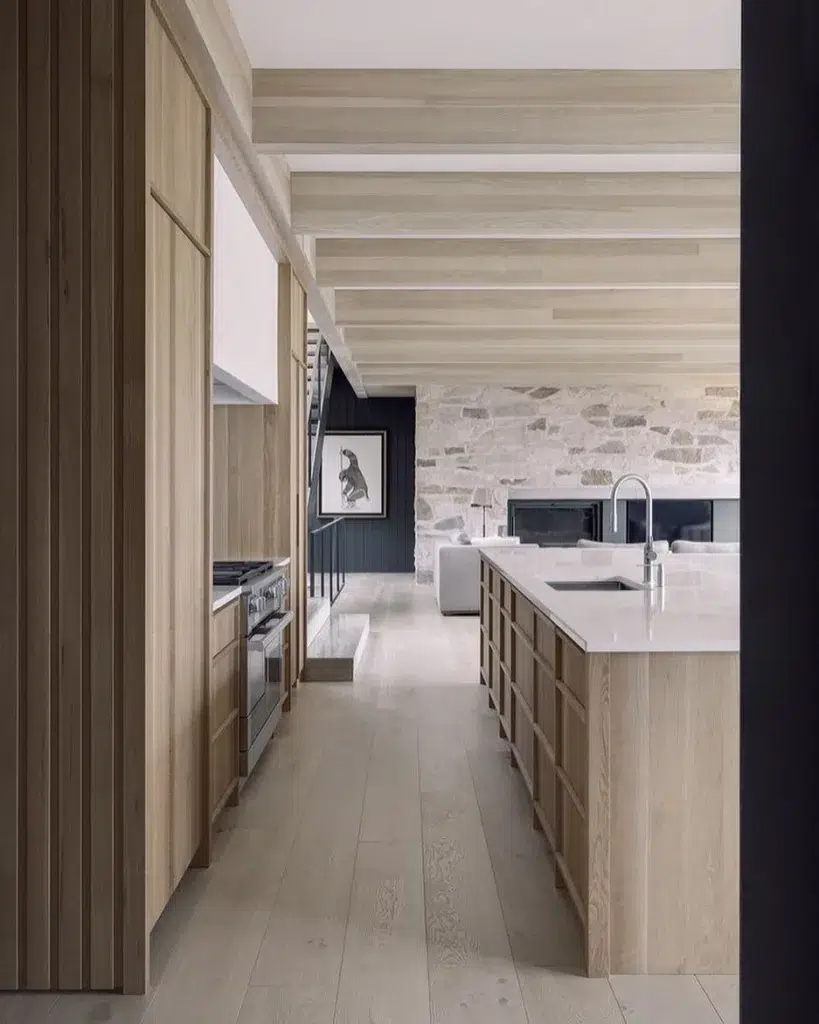 White oak cabinets with a natural stain give this kitchen a high-end look. Plenty of drawers at the matching island with white countertops provide storage. Natural wood beams span the ceiling tying into the color of the cabinetry and hardwood floors.
6. Arched Cabinetry that extends to the ceiling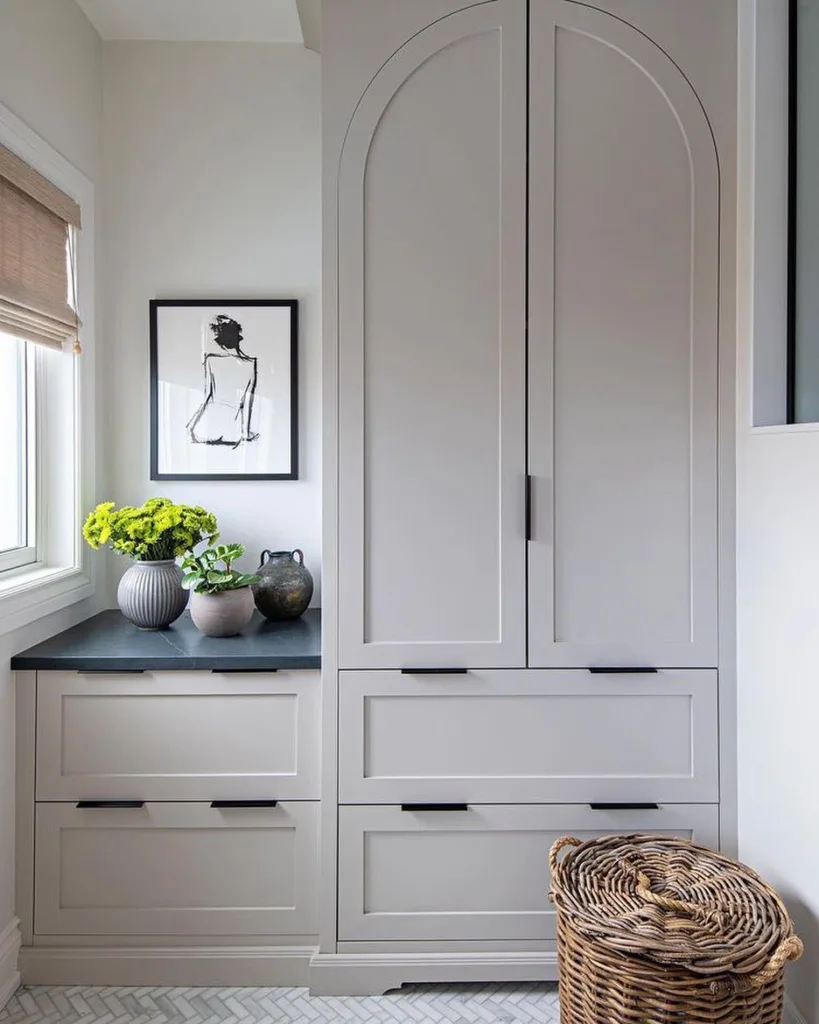 This gray cabinet nook features an arched design on the upper section of the floor-to-ceiling unit. Black slim handles match the black marble countertop next to the window. Herringbone marble tile adds a delicate detail to the flooring while accenting the gray cabinets.
7. Farmhouse Ceiling Height Cabinets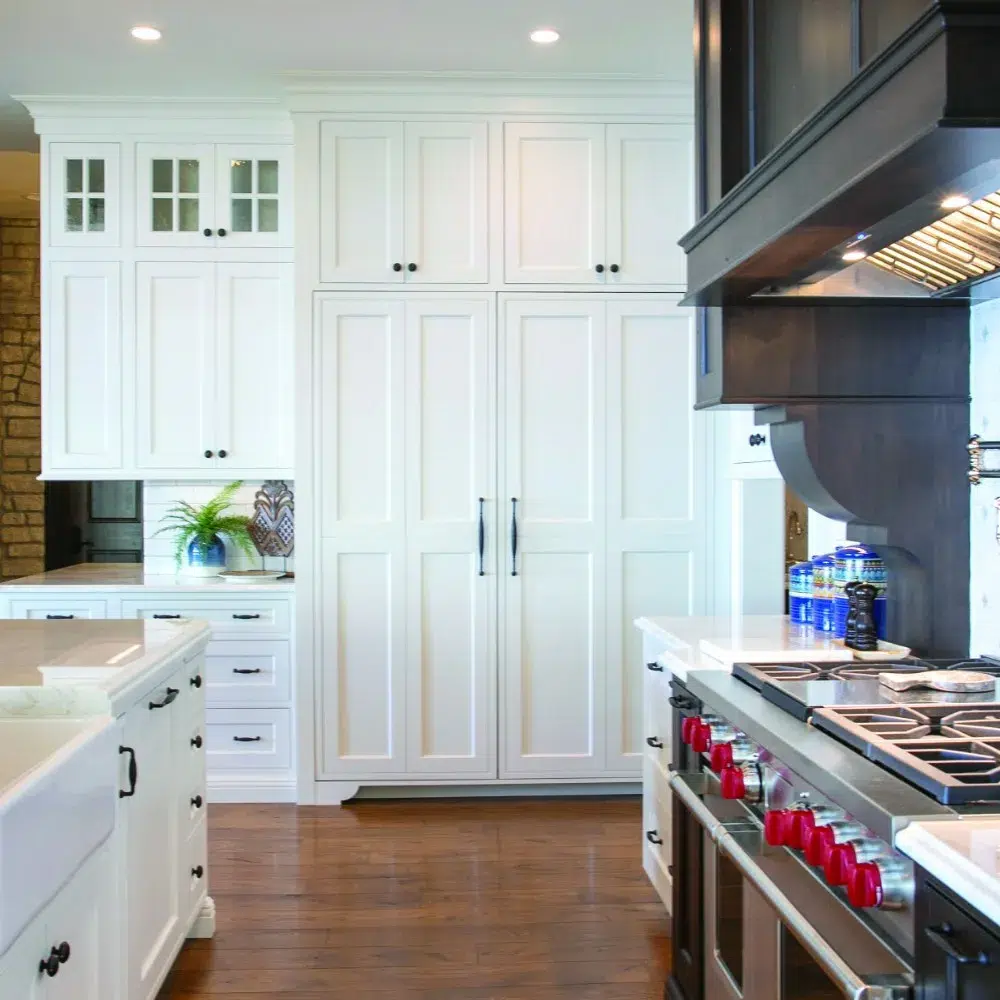 This farmhouse kitchen features a white cabinet with rustic black handles. Floor-to-ceiling cabinets fill one of the walls providing extra storage next to the island. A high-end stainless steel stove with red handles is positioned across from the farmhouse sink.
8. Modern Storage Cabinets Painted Black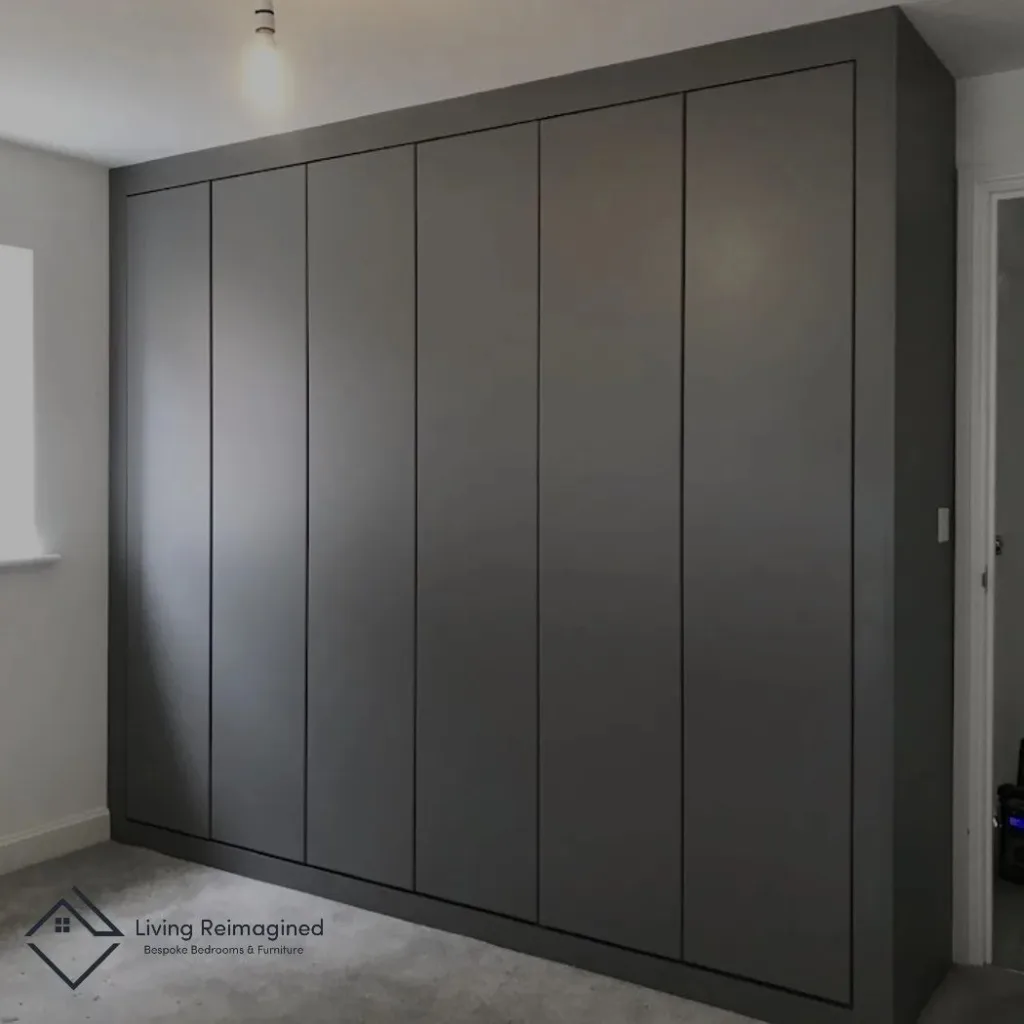 Flat front dark gray cabinets extend to the ceiling for bedroom storage in this simple design. Using a large cabinet as a closet is an excellent idea for small spaces and hiding clothes.
9. An Olive Green Mudroom with Funky Wallpaper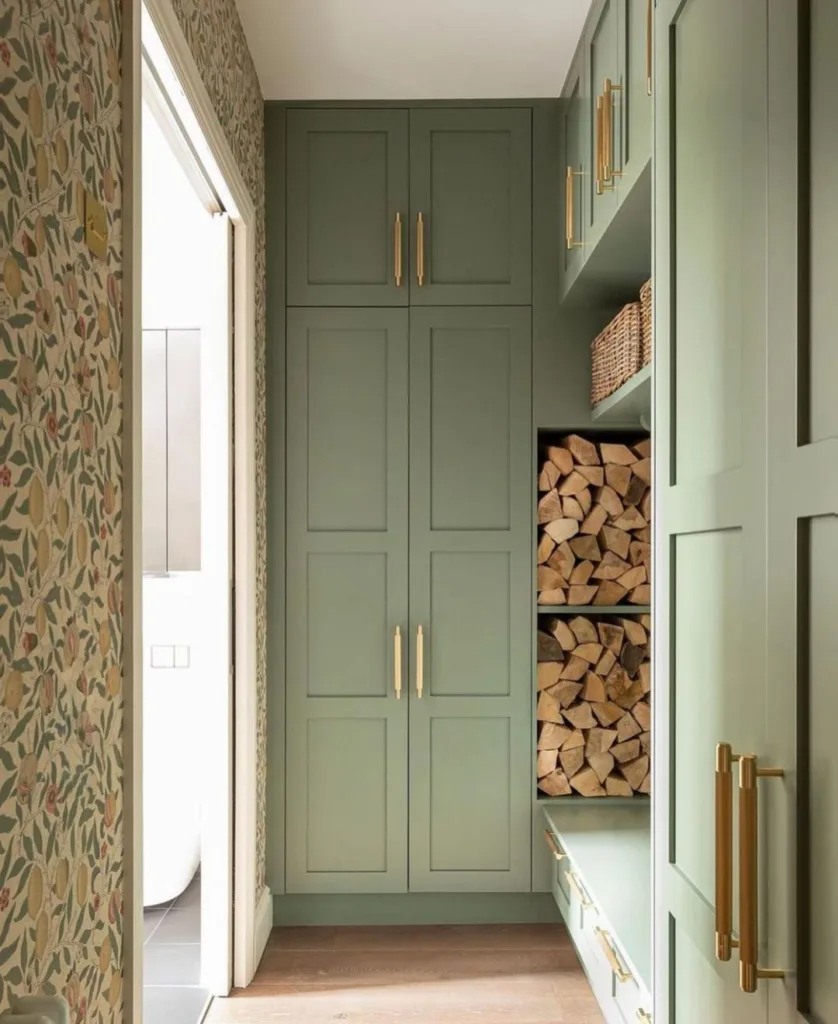 This light green mud room fills the walls with ceiling-high cabinets and a large bench for putting on shoes. Next to the bench, cubbies are installed for storing firewood year-round.
10. Floor-to-Ceiling Laundry Room Cabinets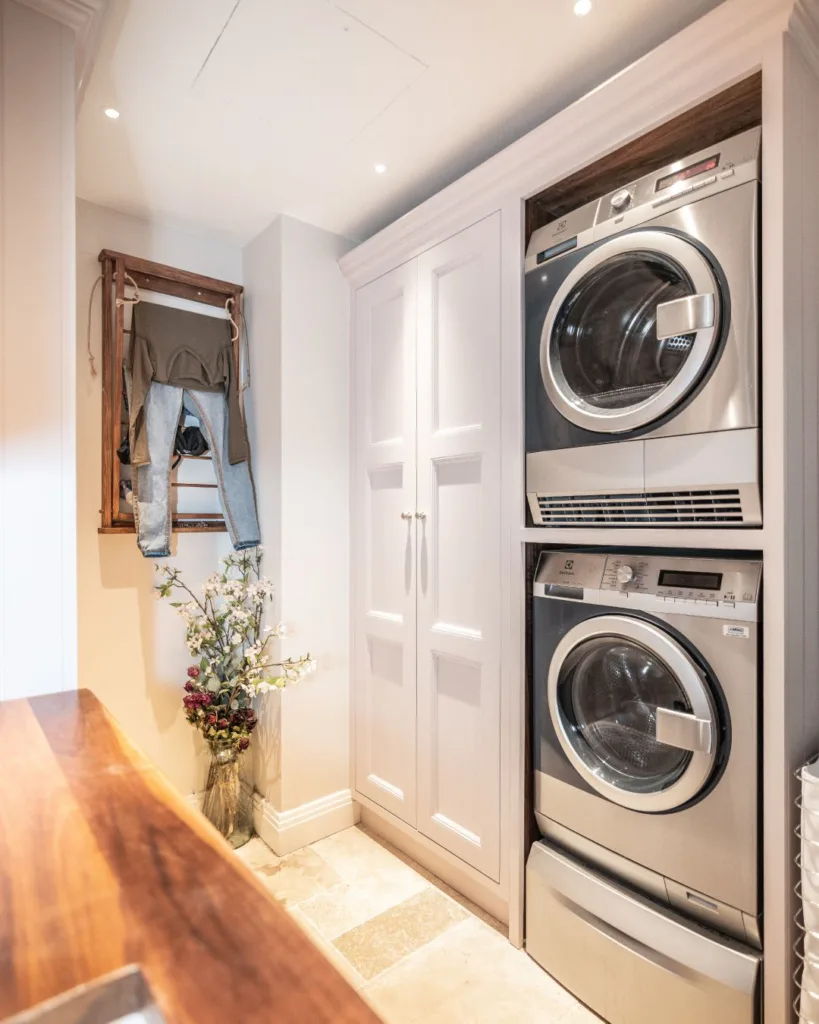 This laundry room with stacked washing machines wisely uses every inch of space by including a floor-to-ceiling cabinet next to the appliances. For smaller laundry rooms, this is a great way to use the height of your space for extra storage. A wood countertop across from the cabinets is used for folding clothes, while neutral-colored laundry room floor tile accents the earth tones in the space.
11. A wall of Ceiling High Cabinetry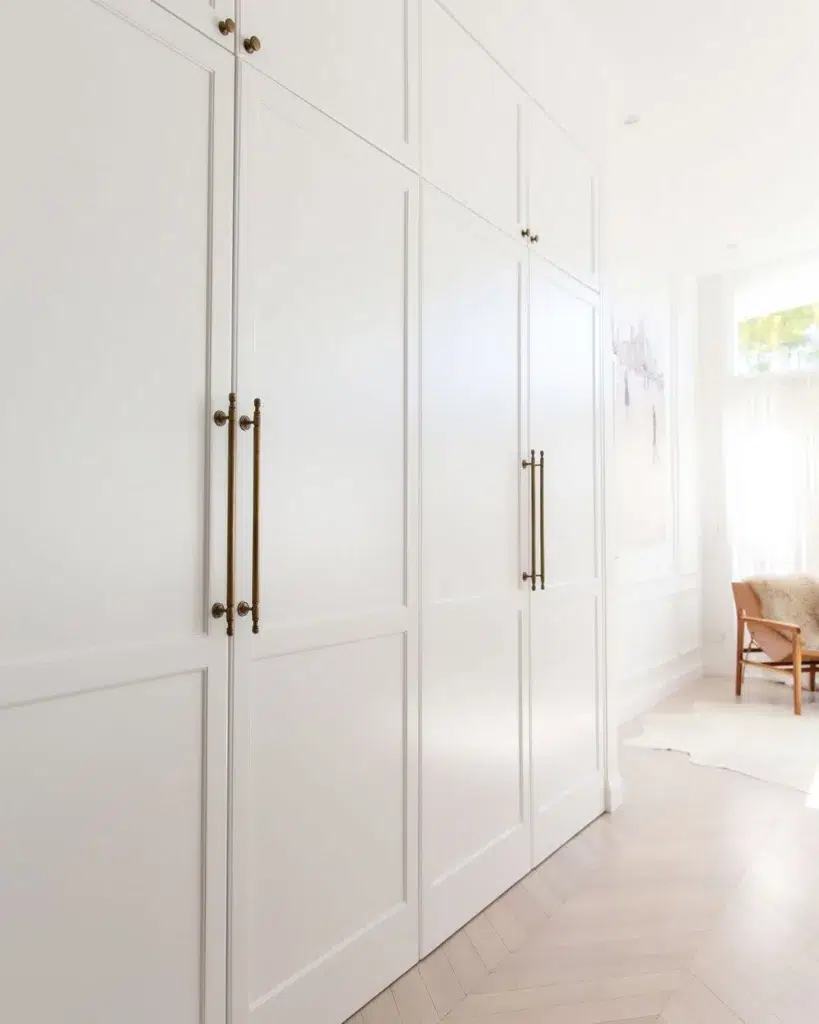 A wall of cabinets in this living room with hardwood floors is perfect for storing toys and other accessories. While cabinets are more expensive than traditional buckets, they offer a higher-end look for storage.
12. Playroom storage with wall cabinets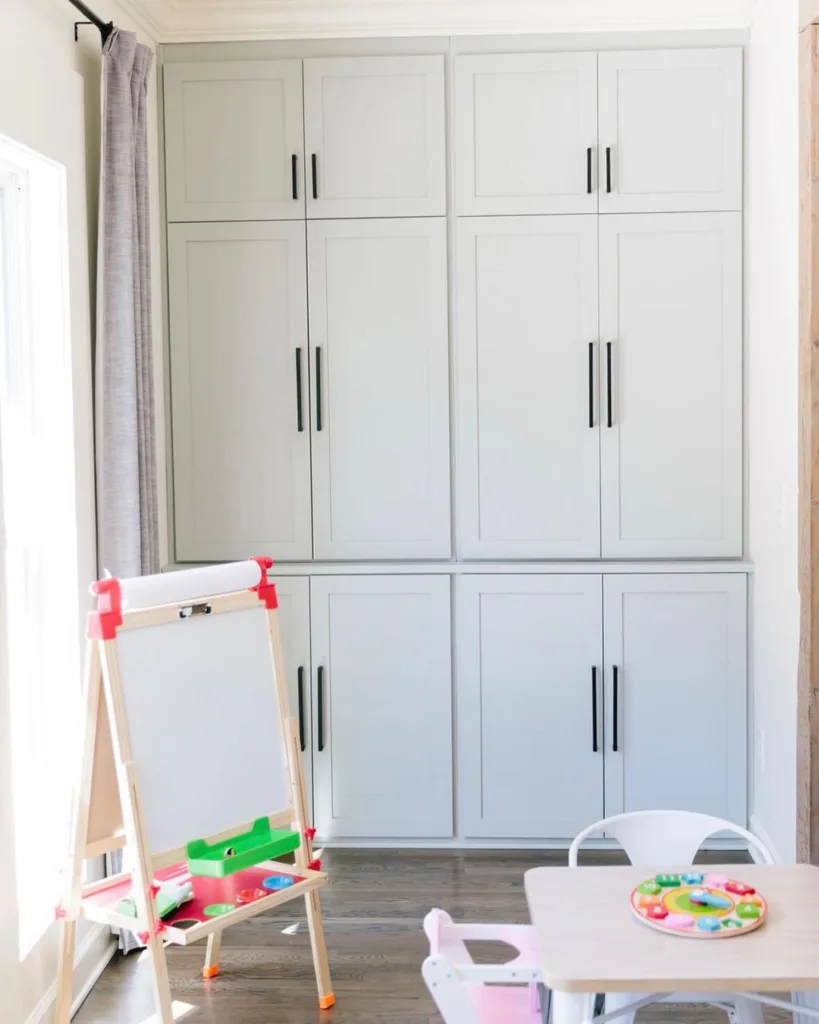 These kid's room floor-to-ceiling cabinets are the perfect way to store plenty of toys and clothes. The best part of cabinets is they hide away the piles of toys and messes from kids, instead of being out in the open.
13. Black Hardware on Light Green Mudroom Cabinets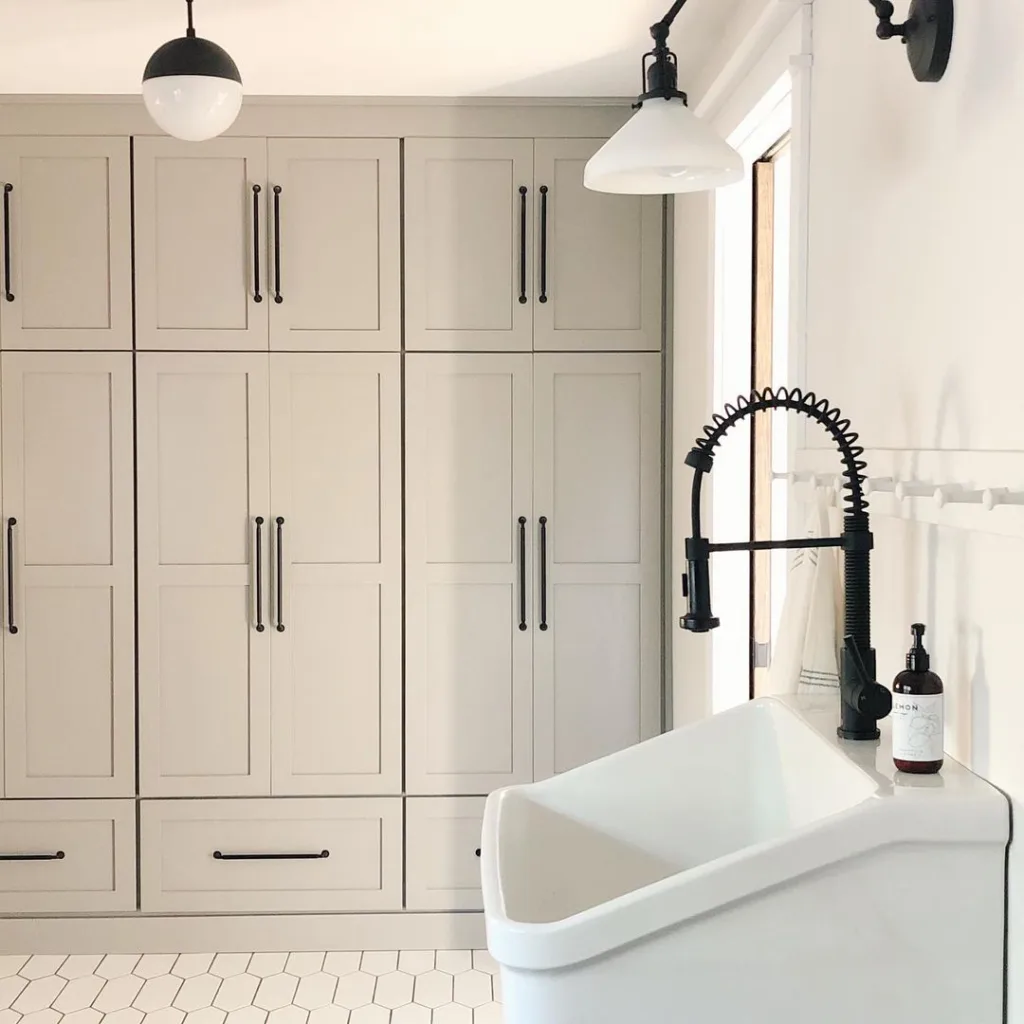 This white mud room with a hexagon tile floor features a farmhouse sink on the wall with a black faucet. Floor-to-ceiling light gray cabinets have black hardware that matches the faucet and the grout in the tile.
14. White Farmhouse Cabinets with a Glass Centerpiece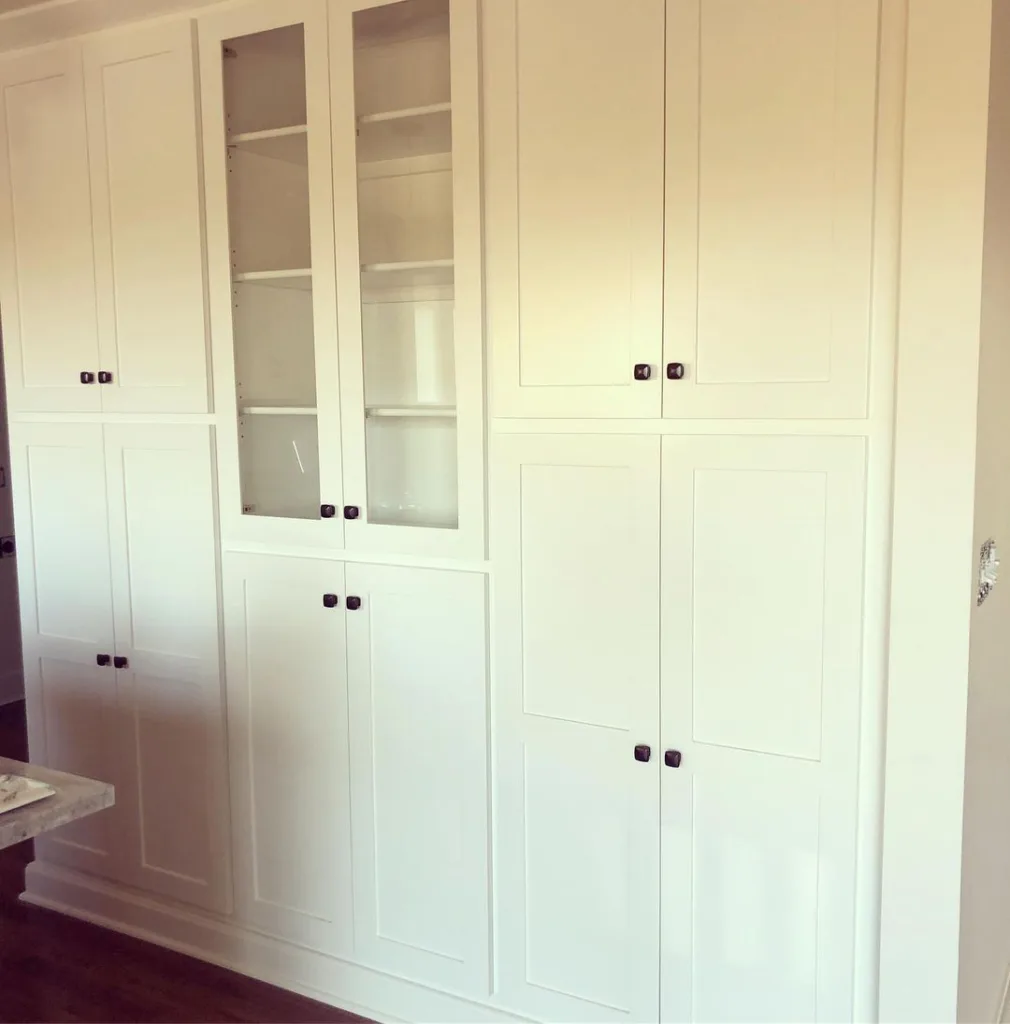 To help break up this wall of farmhouse-style white cabinets, the center upper cabinet features glass panels that allow you to see the inside. Mixing covered and glass cabinet is a great way to create balance when designing a space with ceiling-height wall cabinets.
15. Floor to Ceiling Kitchen Pantry Cabinets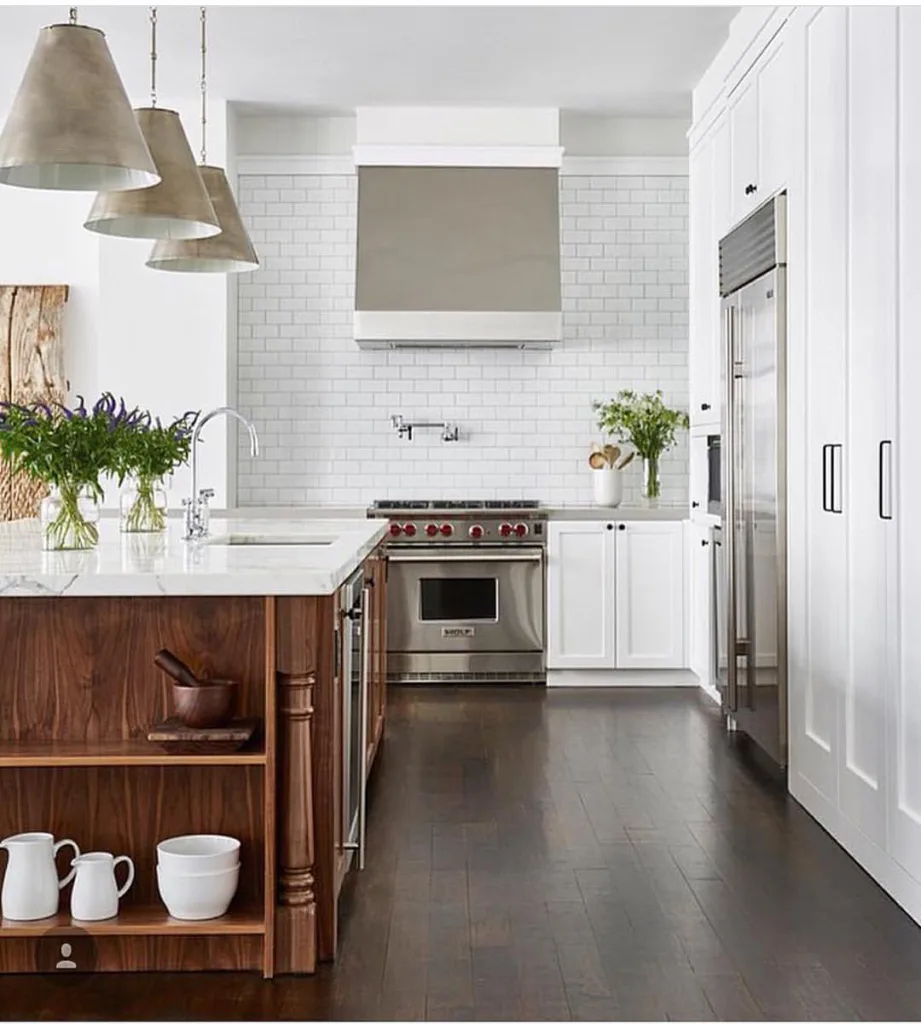 Dark brown hardwood floors contrast the white cabinets in this high-end kitchen. Next to the stainless steel built-in refrigerator, floor-to-ceiling cabinets fill the wall. Black hardware on the cabinets adds a farmhouse style that is continued by the white subway tile with gray grout backsplash.
16. Cream Cabinets with plenty of drawers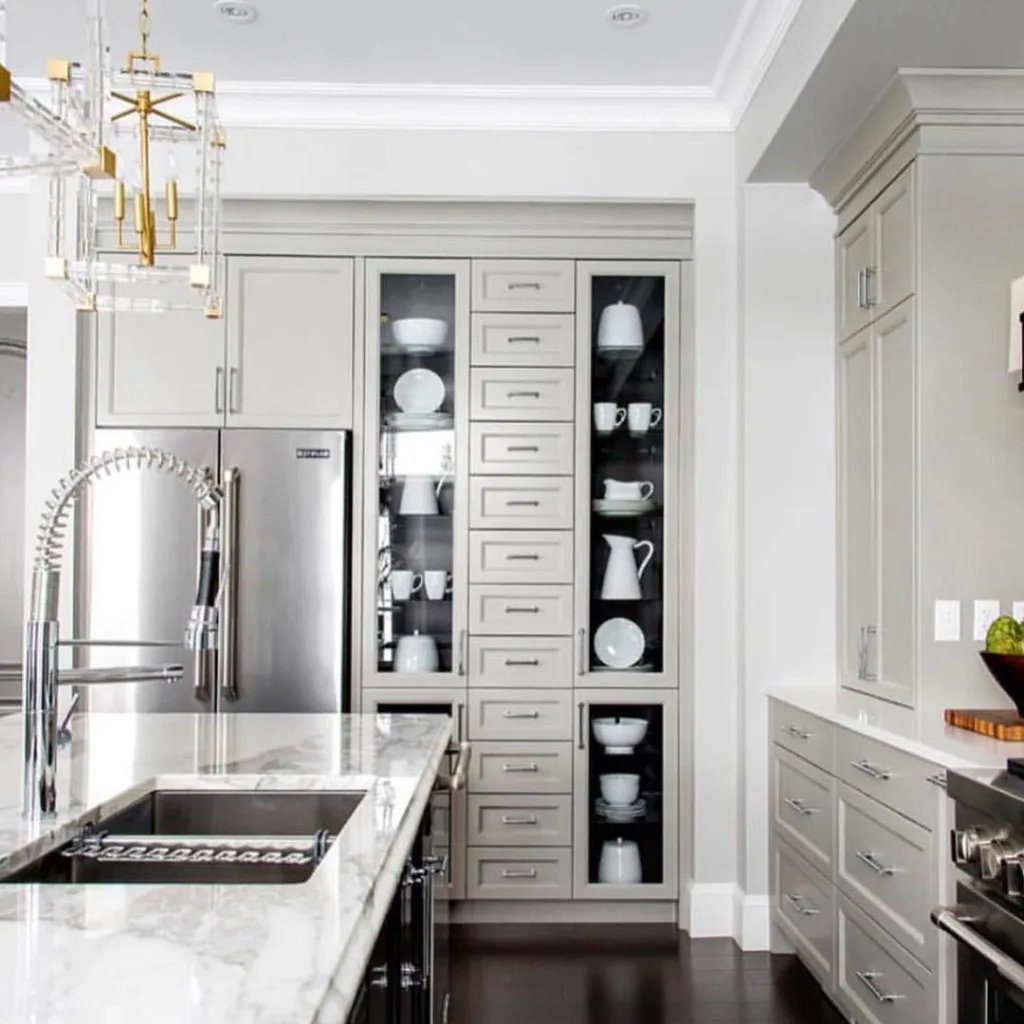 This unique design features floor-to-ceiling drawers in between glass panels of the cabinets. While it may be difficult to access some of the higher drawers, they certainly give the space a fun look. The light cream color of the cabinets exudes luxury and contrasts the dark brown floors.
17. White Oak Beams with Black Framed Glass Cabinets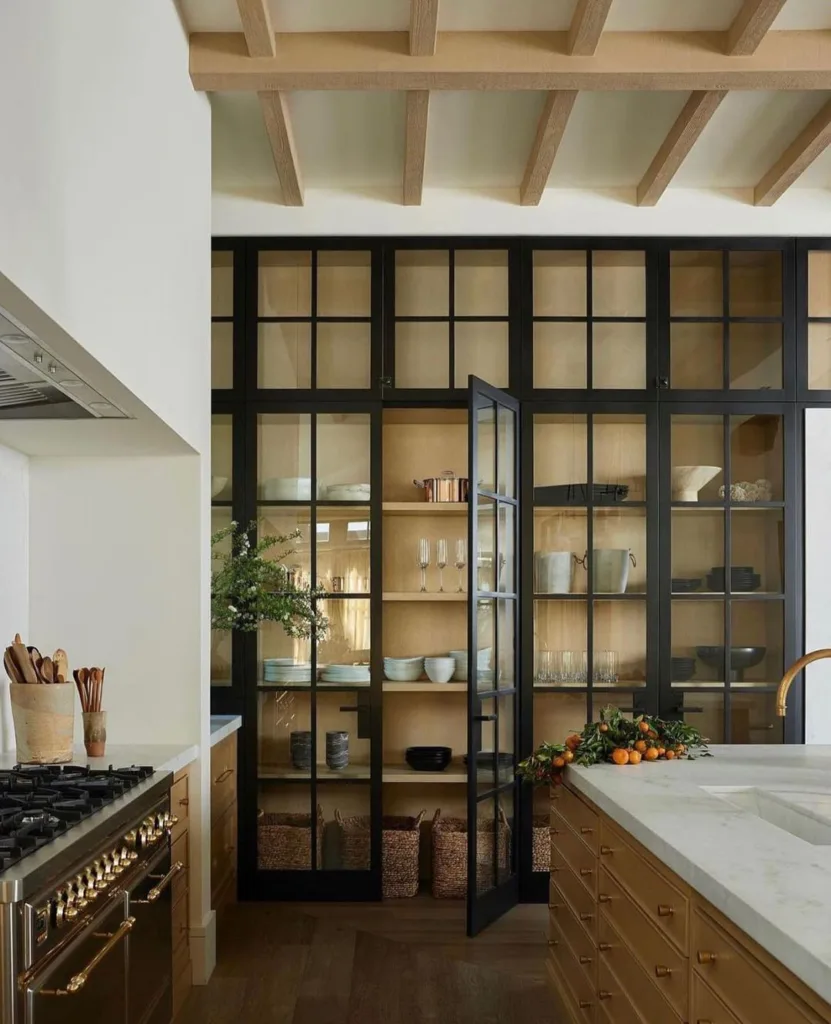 This luxury kitchen features floor-to-ceiling glass paneled storage with black framing and light wood interiors. The black doors create a stunning contrast against the natural colored backing, which also matches the white oak beams on the ceiling.
18. Beige Inset Cabinets to the Ceiling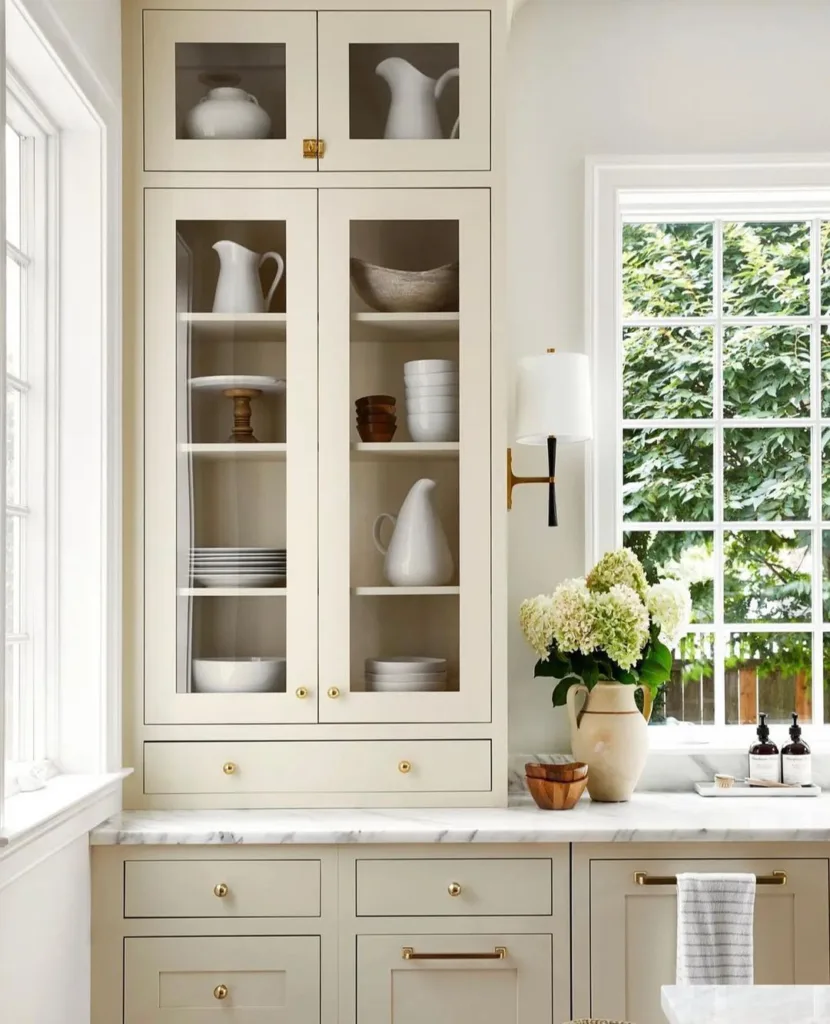 Beige cabinets in this kitchen extend from the countertop to the ceiling, maximizing storage while also allowing the marble countertop to be featured. We love counter-to-ceiling cabinets since they offer more of a kitchen vibe than full-height floor-to-ceiling cabinets. We used a similar cabinet design in our home bar project and love how it turned out!
19. Navy Flat Front Cabinets in a Small Kitchen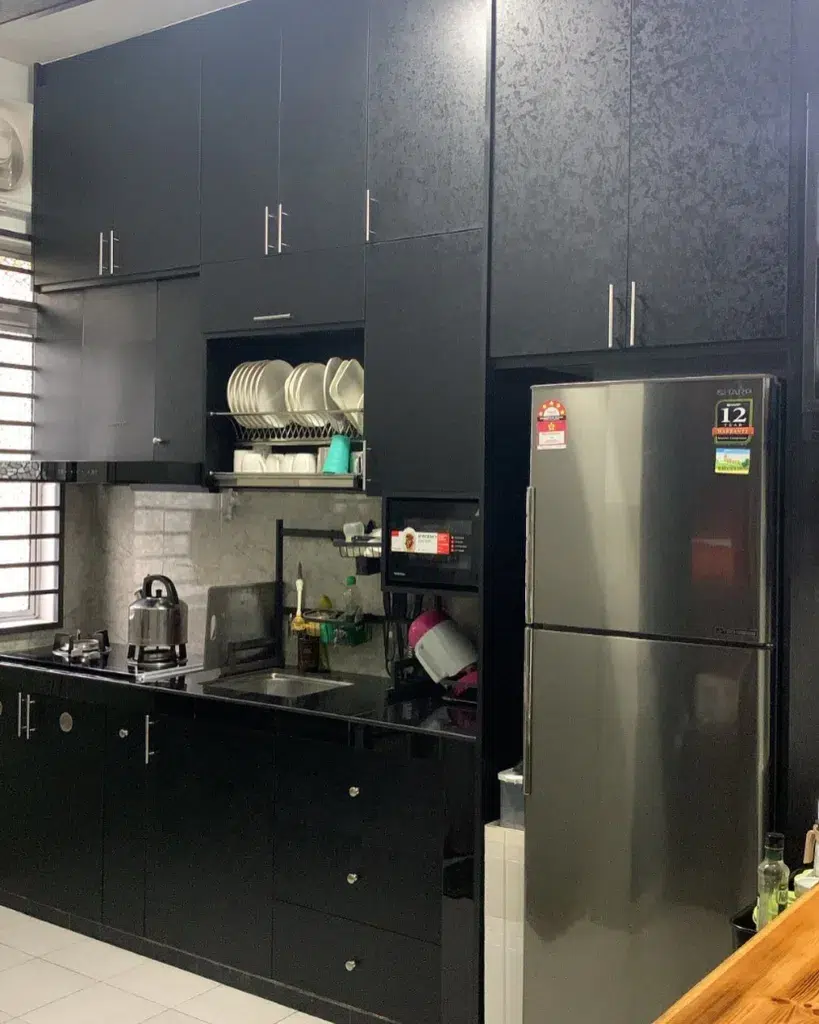 This kitchen features flat front navy cabinets that extend to the ceiling to help maximize the space in the small area. A unique texture on the cabinets adds depth and dimension to the room.
20. Natural Wood to the Ceiling Cabinets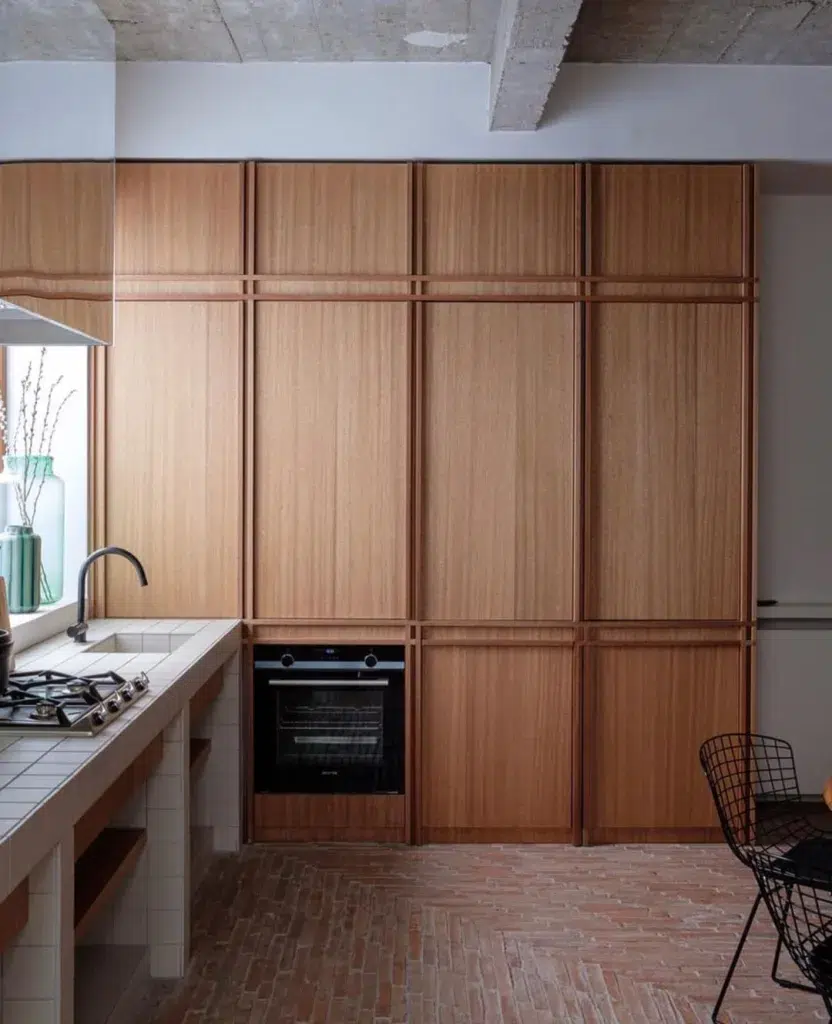 These floor-to-ceiling storage cabinets with doors create a seamless look since they don't feature hardware or handles. The built-in black oven stands out as a modern element on the wall of cabinets. A brick floor adds a rustic touch into the space.
21. Modern Gold and Wood Cabinetry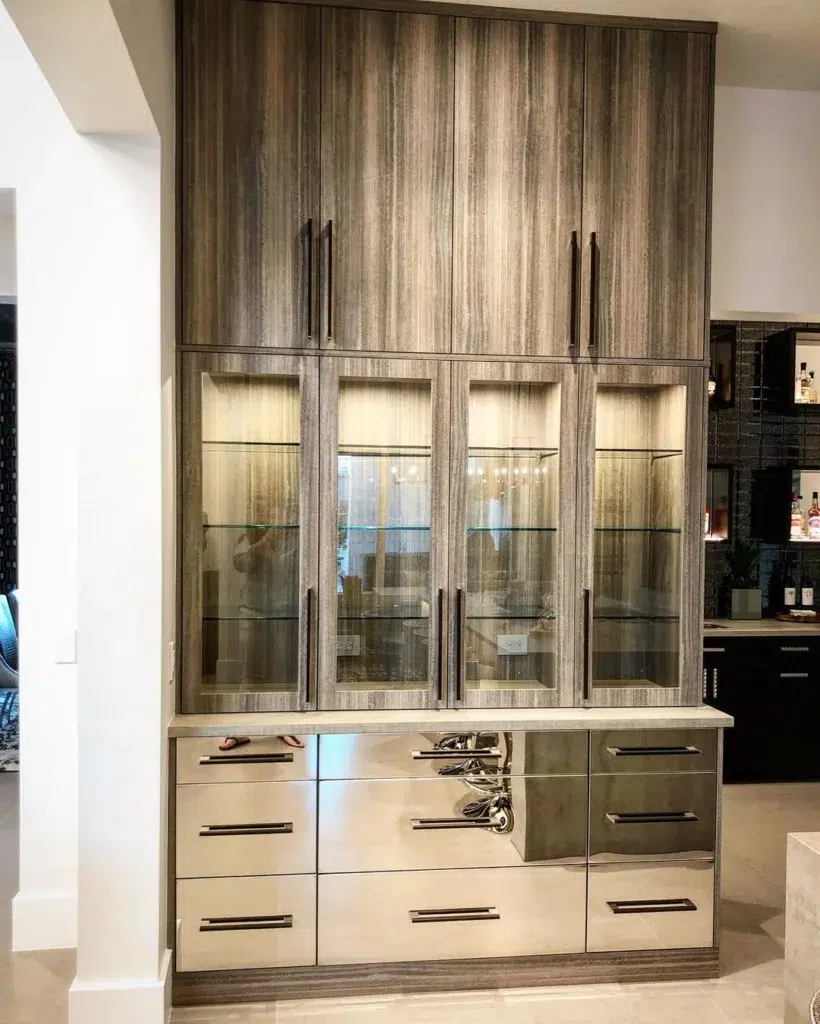 While these metallic floor-to-ceiling cabinets may not be for everyone, they certainly exude a contemporary style that is unmatched. Glass insert upper cabinets with a wood texture finish help balance and avoid overpowering the space with gold.
22. Black Cabinets All the Way to the Ceiling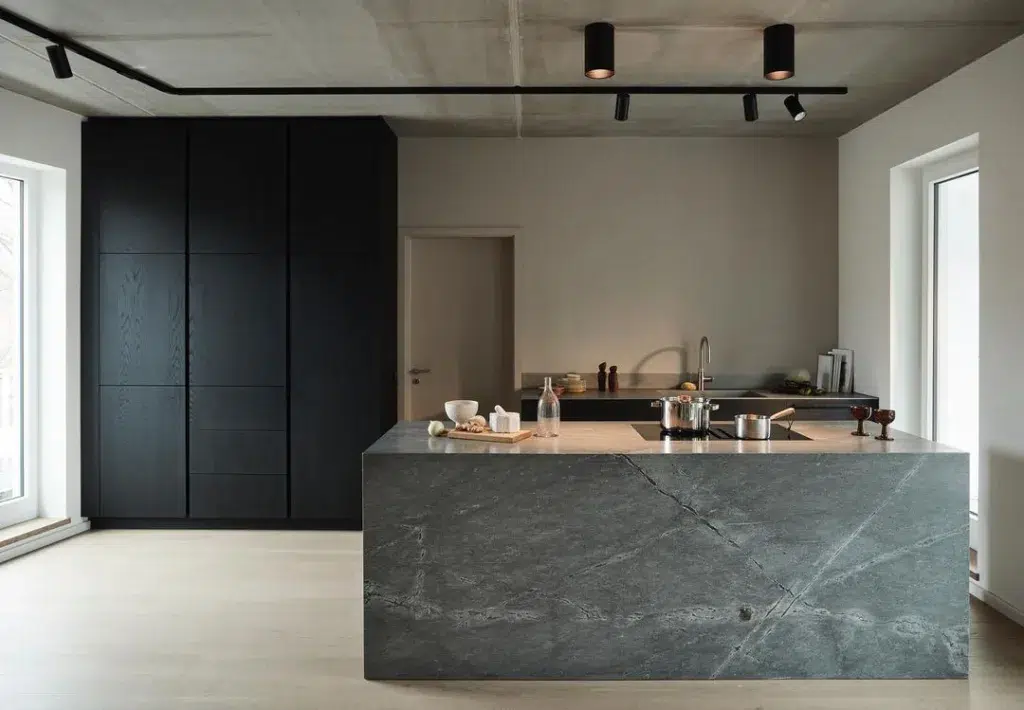 This minimalist kitchen features black wood cabinets that extend from the floor to the ceiling. No hardware on the cabinets is visible, giving them a sleek and modern finish. The remainder of the kitchen does not feature any upper cabinets giving it an open and contemporary look, while a gray marble island adds to the contemporary vibe of this space.
23. White Closet Cabinets with Maximum Storage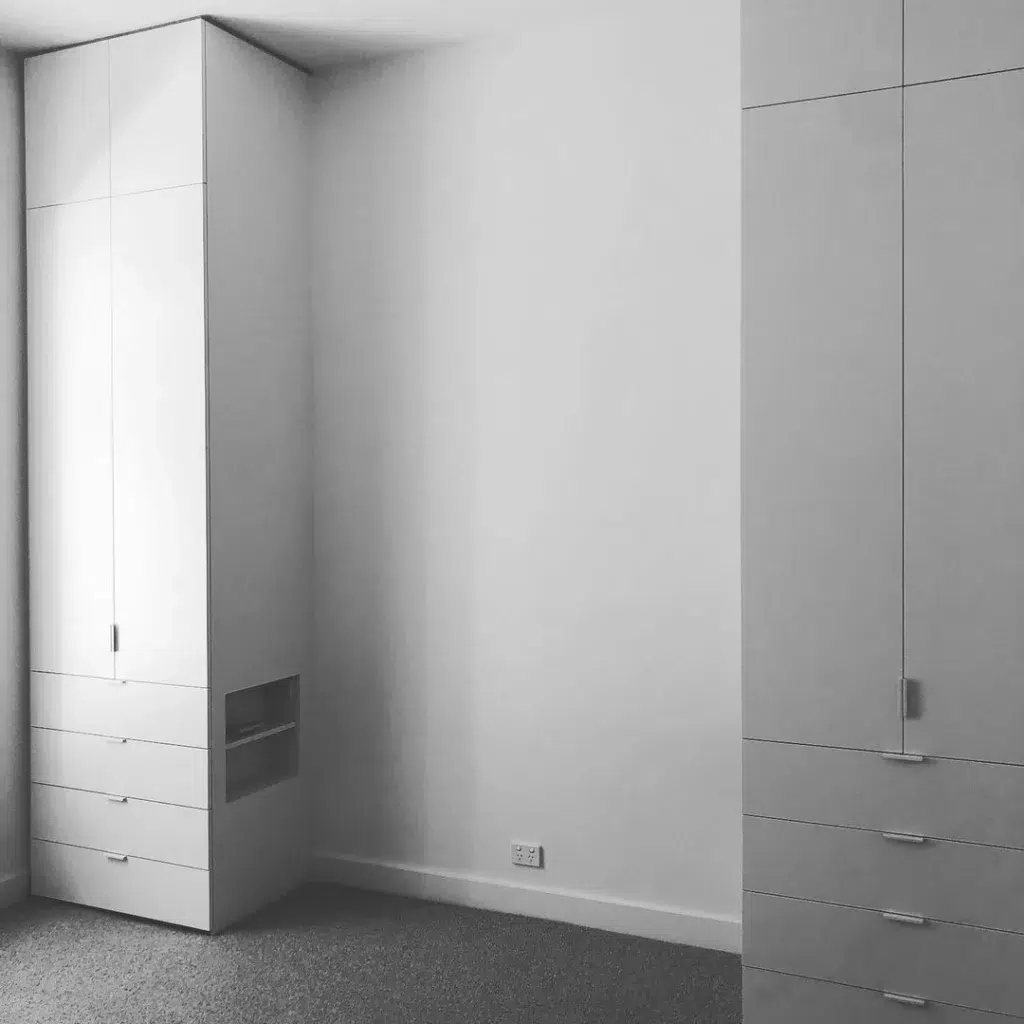 White cabinets extend to the ceiling in this closet, with drawers for storing clothes. An empty center space between the cabinets is the perfect place for a hanging rod or a dresser.
24. Wood Accent Trim with Hidden Cabinets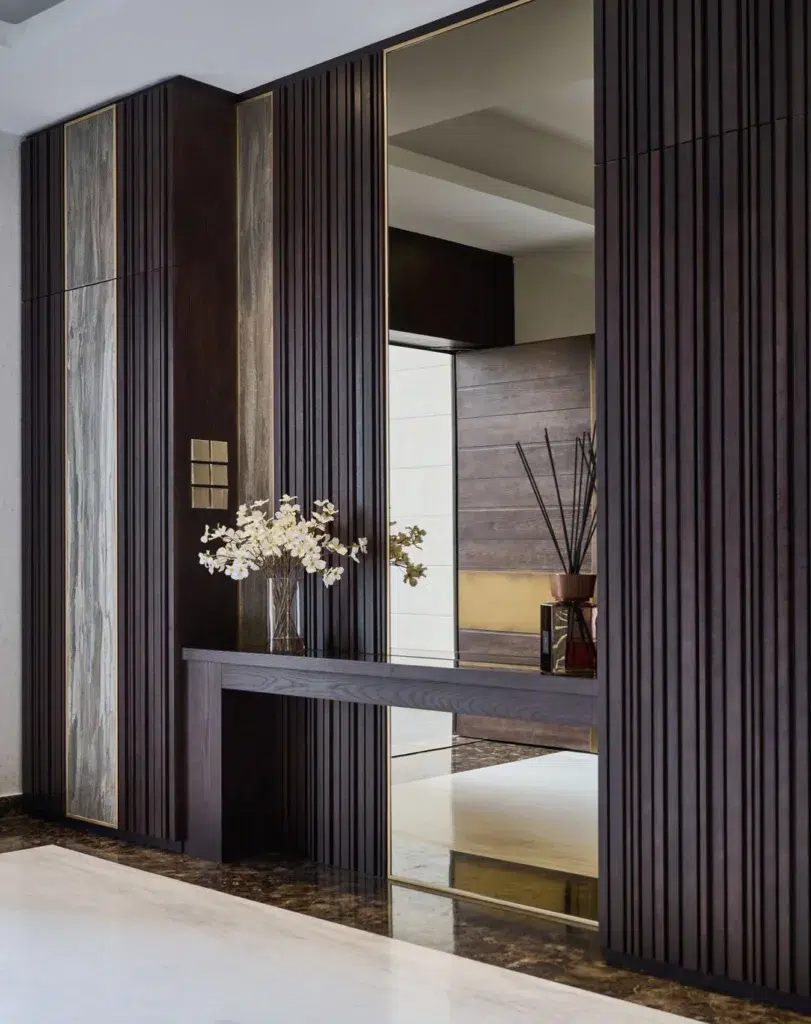 This entryway does a fantastic job of hiding its ceiling-height cabinets by blending them into the wood trim accent wall in between. A console table matches the brown use of the wood trim and extends between the two cabinets.
25. Gray Cabinets with A Shiplap Accent Wall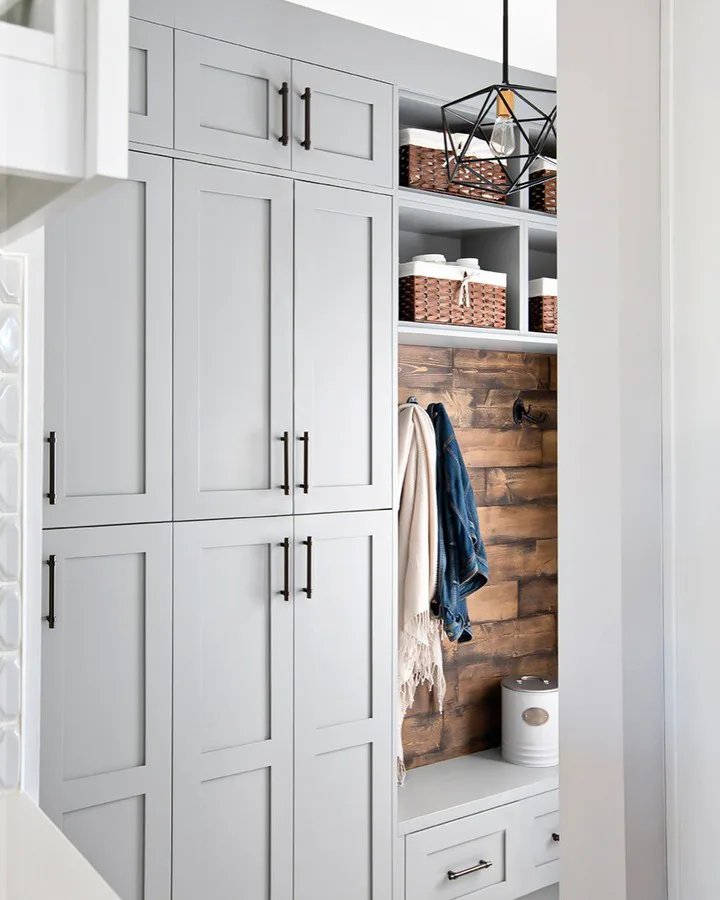 This tall mudroom uses high cabinets that extend to the ceiling to help fill the space, while a rustic shiplap accent wall sits behind the mudroom bench. We love using cabinets or lockers in a mudroom since they hide dirty clothes and jackets.
26. A Floor to Ceiling Cabinets Kitchen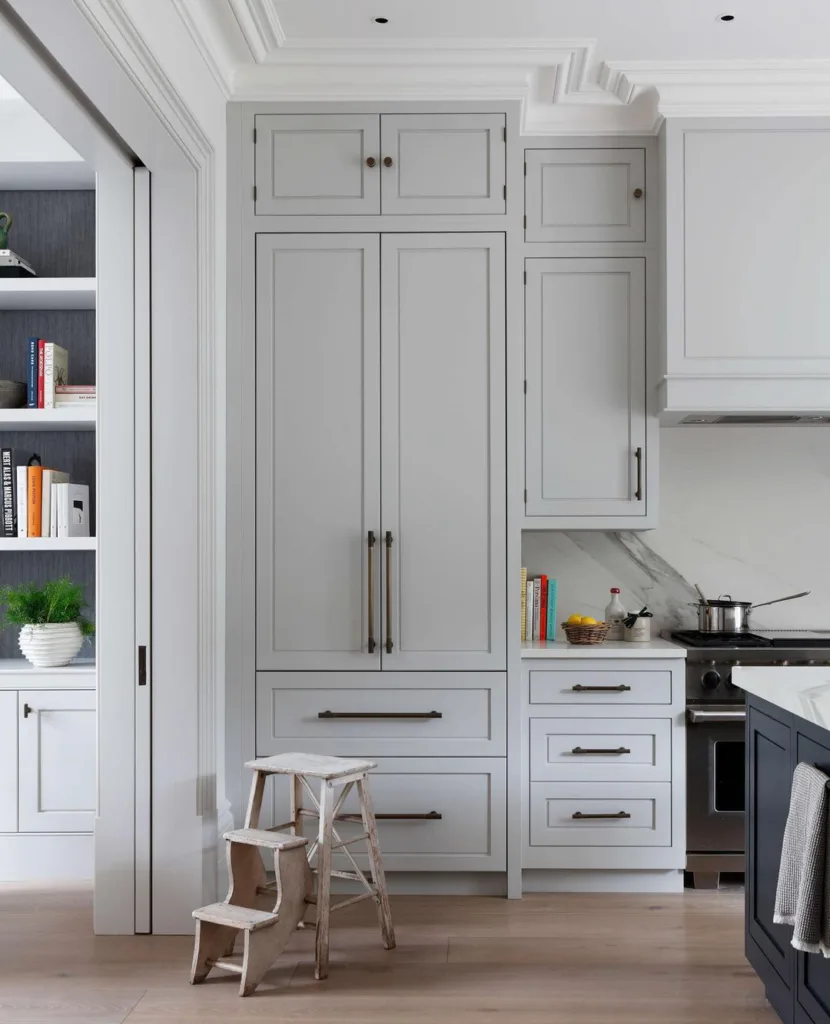 This floor-to-ceiling corner cabinet is perfect next to the high-end stove and marble backsplash in this kitchen. The light gray color of the cabinets is accented by dark brass handles and a navy kitchen island. We appreciate the matching step stool in this design since we'd certainly need it to reach the top shelves in this kitchen! When designing ceiling-height cabinets, most people opt to have the upper cabinets as purely decorative. But you can also make them functional; just be sure to think about how you're going to reach them!
27. A Wall of Wood Cabinets with a Hidden Pantry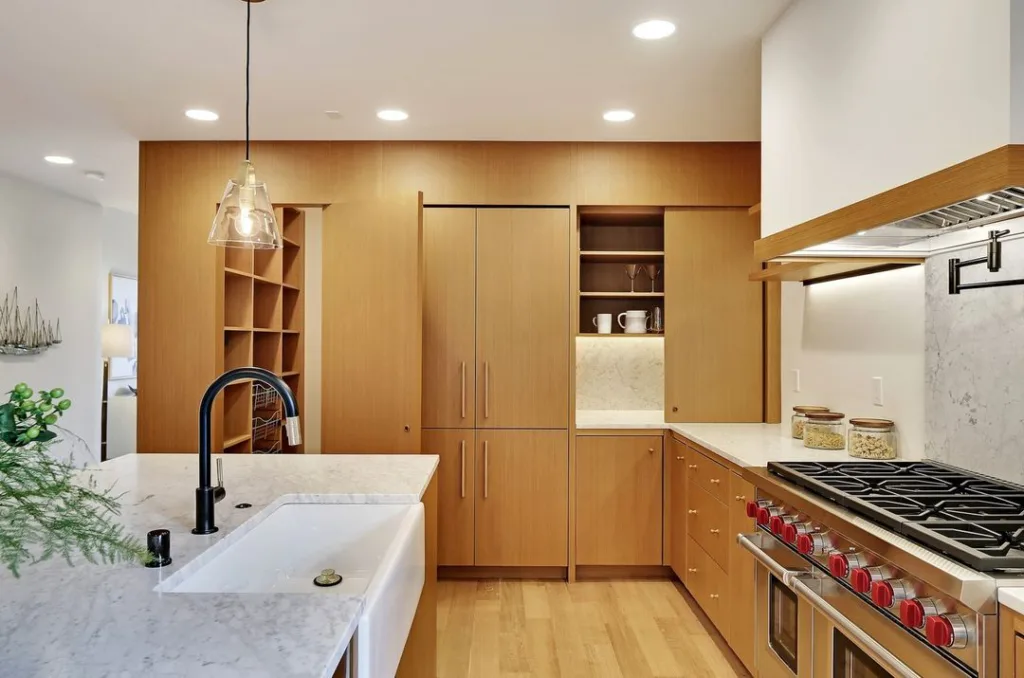 This hidden pantry is disguised by a floor-to-ceiling cabinet door designed to match the rest of the natural wood cabinetry in this kitchen. Gold hardware blends into the wood hues in the kitchen, while a white marble countertop and backsplash behind the stove create a luxurious element.
28. White Floor-to-Ceiling Mudroom Lockers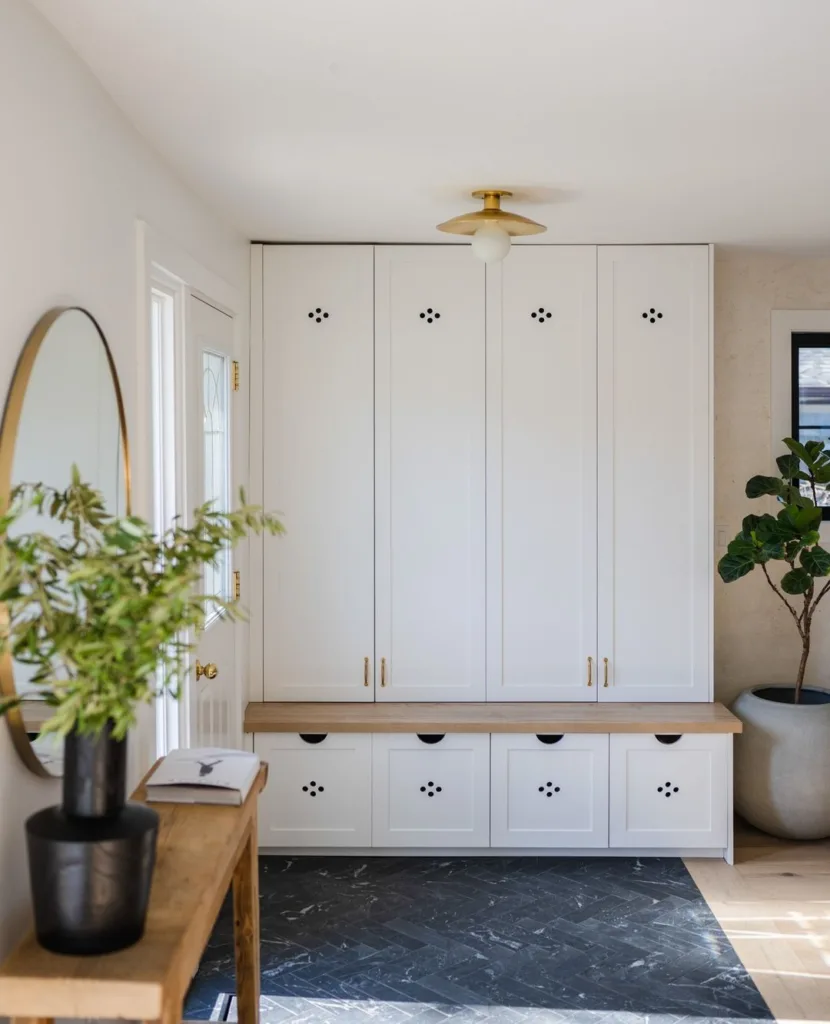 This mud room design features locker cabinets that extend to the ceiling for a custom look. Black marble herringbone tile fills the entryway, while the wood bench matches the hardwood floors in the rest of the home.
29. A Blue Shiplap with Wood Cabinets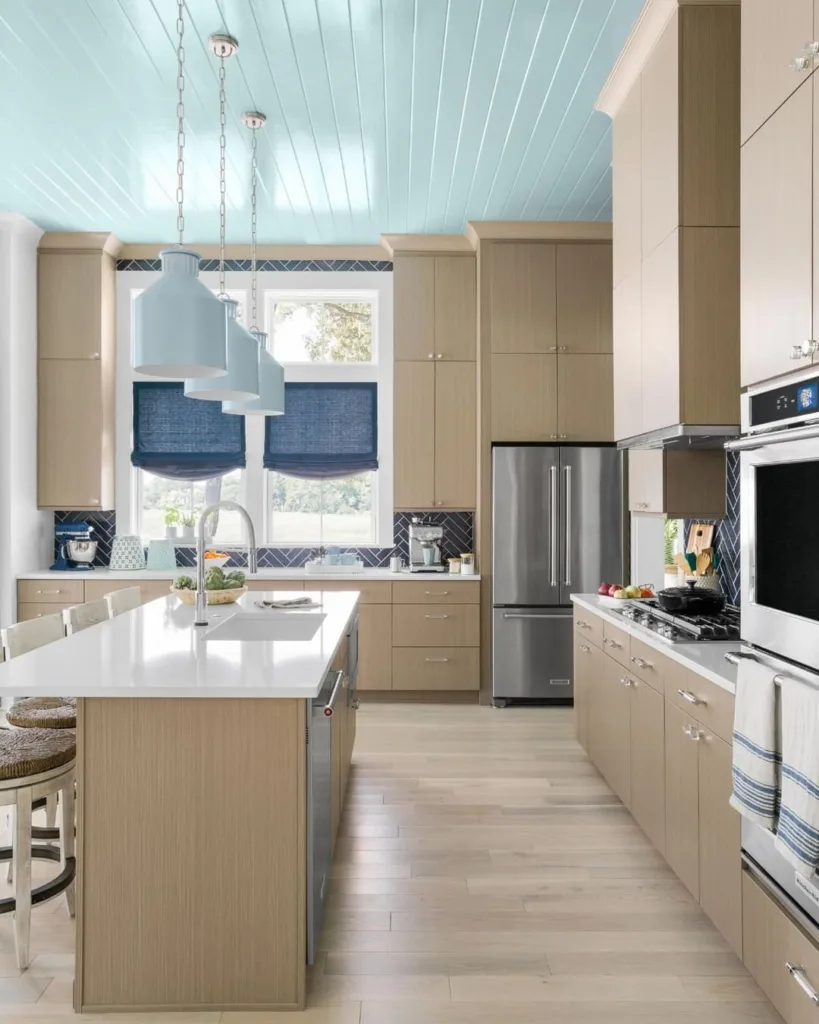 White oak floors match the ceiling high cabinets in this kitchen that leads your eye upwards toward the shiplap blue ceiling. Painting the ceiling light blue is a unique way to add a pop of color while the rest of the space sets a neutral tone.
30. Navy Blue Wall Cabinets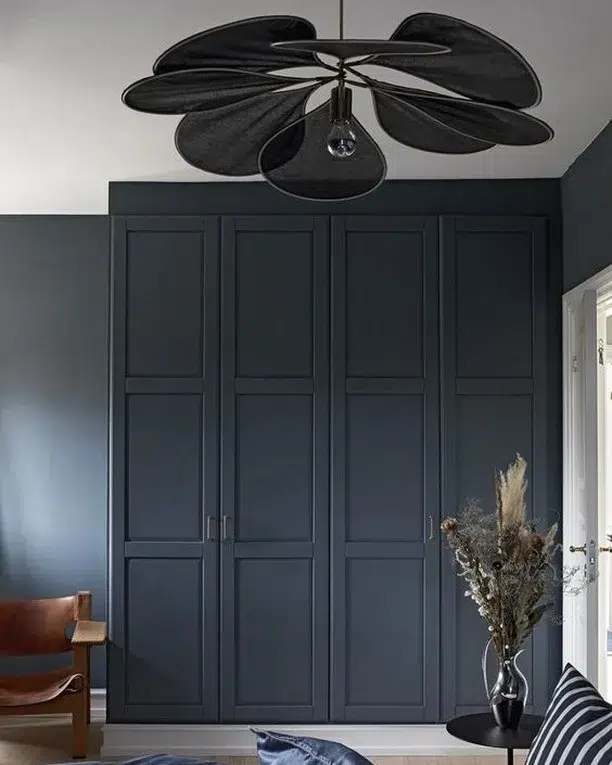 These large navy blue cabinets are painted to match the rest of the room, helping them blend into the design. White trim around the perimeter of the cabinets and room makes them feel like part of the floor plan.
31. White Mudroom Closet Storage with tall Storage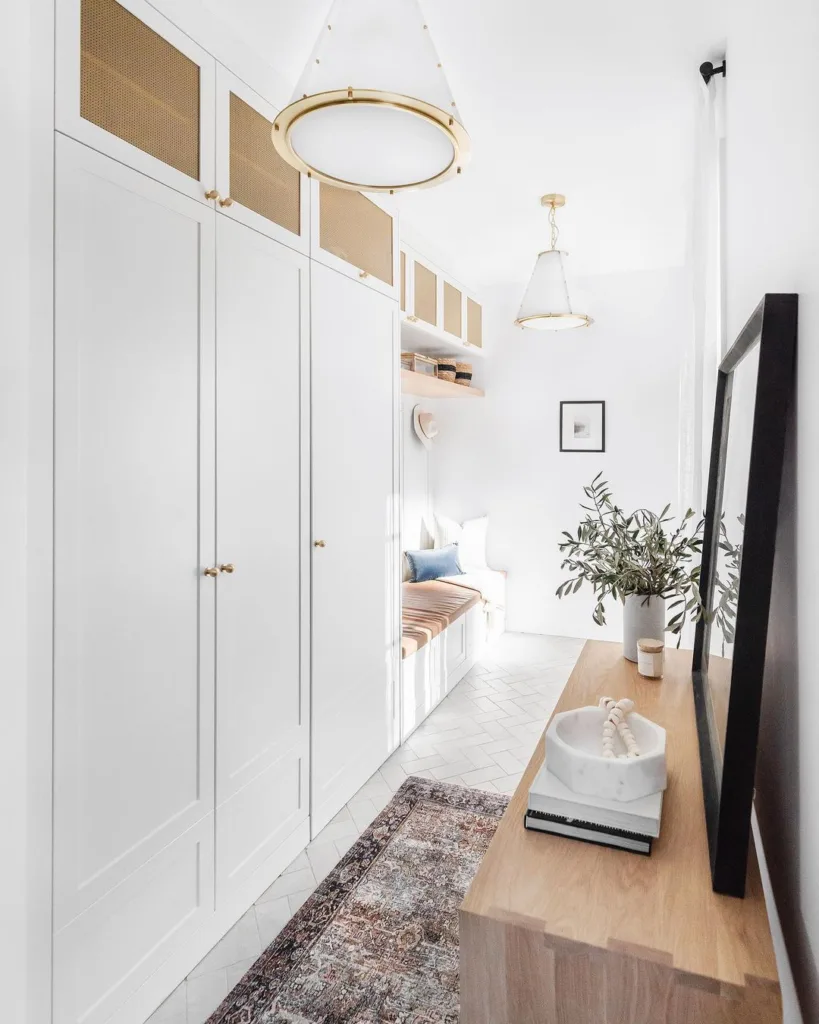 Tall white cabinets with small gold handles fill this mudroom entryway with a white subway tile floor laid in a chevron pattern. A wood console table across from the cabinets matches the light brown cushion on the mudroom bench. Neutral-colored inserts on the upper cabinets near the ceiling help complement the neutral tones in the space and break up the wall of white cabinets.