A dark green bedroom is the perfect space to create a pleasant ambiance ideal for enjoying a good night's sleep. Dark green is a versatile and sophisticated color that can bring a sense of serenity and elegance to your bedroom.
Plus, there is a dark green hue to fit every style and preference, from rich emerald green to subdued olive tones. It may seem daunting to have so many choices and not know where to begin. Fret not! These designs will inspire your next bedroom transformation, whether you're hoping to make a bold statement or opting for a more understated, subtle appearance.
Check out the gallery below of dark green bedroom ideas and designs for inspiration!
1. wainscoting Walls in a dark green hue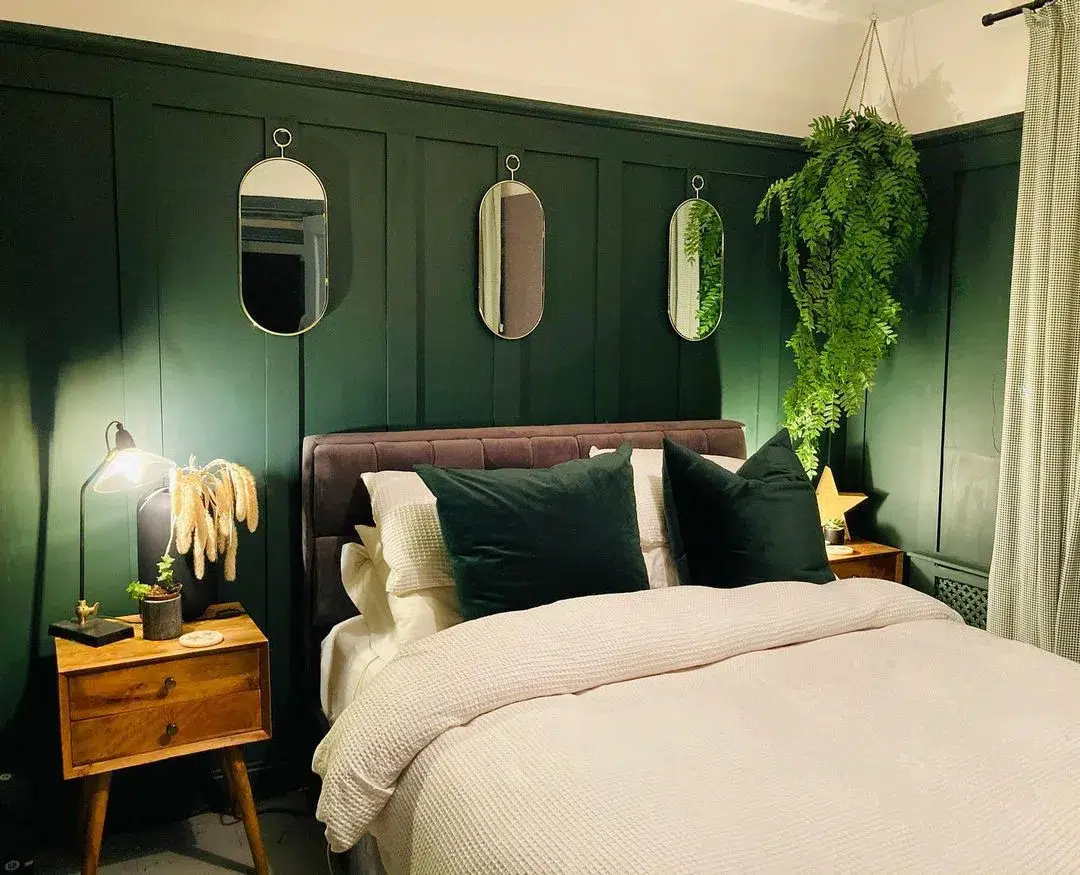 Dark green paint on the walls and half-wall wainscoting make this bedroom's décor distinctive. The dark green color gives the space a bit of drama and sophistication, while the decor style creates a classic and elegant appearance.
2. White bedroom with an Accent dark green wall
This bedroom decor is characterized as having a primarily white interior with an accent wall painted a dark green color. This particular type of design is frequently used to highlight a place and inject some color into a neutral area. The room's all-white color palette gives off a fresh, peaceful vibe, and the dark green accent wall gives it depth and visual interest.
3. Emerald green bedroom with a statement Mirror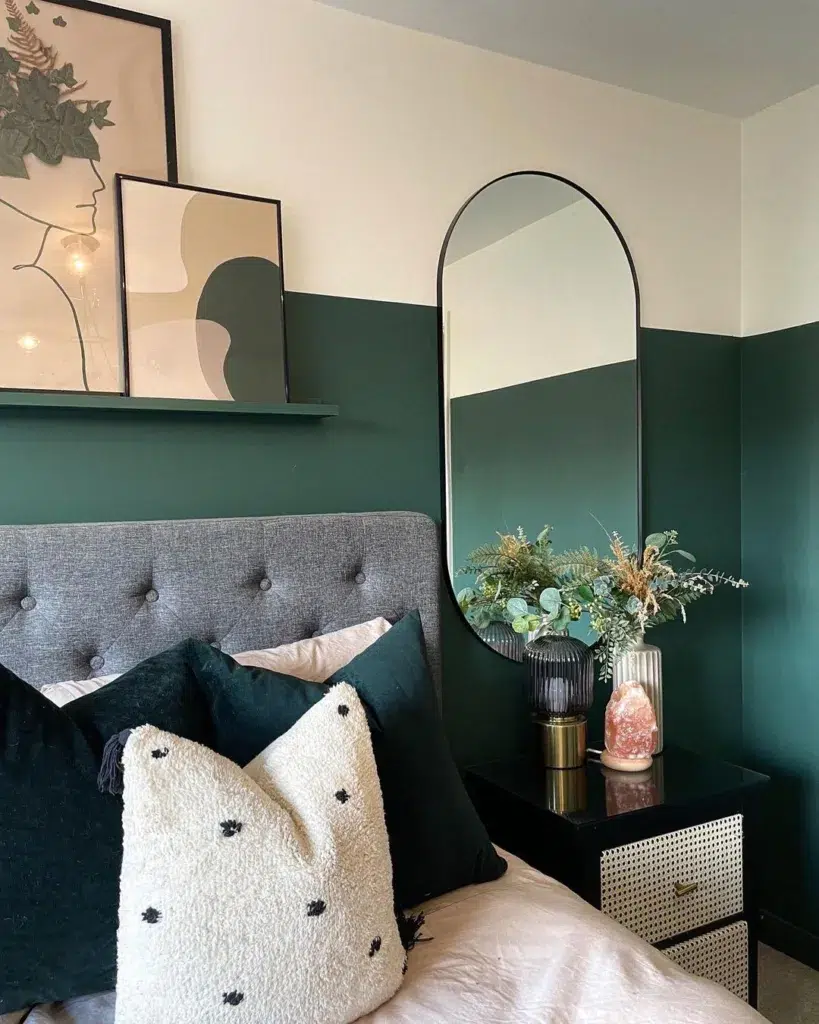 Emerald green, a rich and vivid shade of green, is the primary color of this bedroom's décor. Additionally, an abstract wall mirror in the decor sticks out as a decorative element in the space because of its spherocylinder shape.
Together, these components give the bedroom a tranquil and elegant ambiance.
4. Dark Green Bedroom with white curtains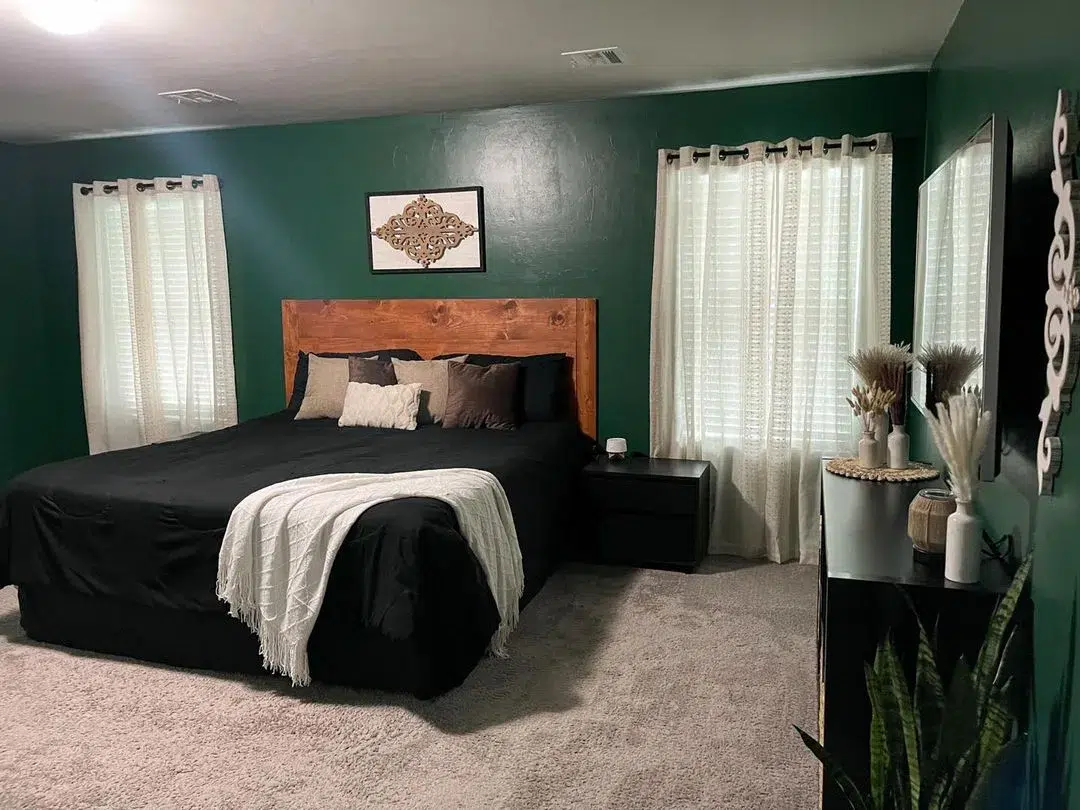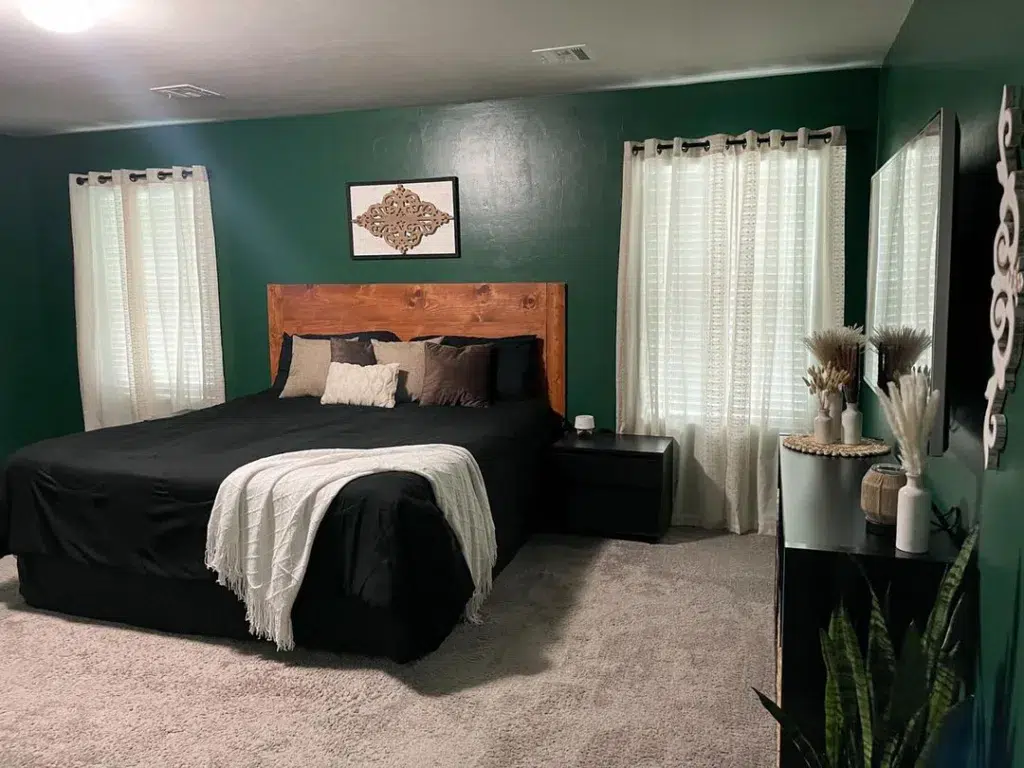 The predominant use of dark green in this bedroom's décor gives the space a luxurious and opulent feel.
The dark green walls and white curtains create a stunning juxtaposition that gives the room a feeling of brightness and spaciousness.
White curtains further prevent the room from feeling too dark or overwhelming by counteracting the weight of the dark green color.
5. Modern Dark green bedroom with black & white bedding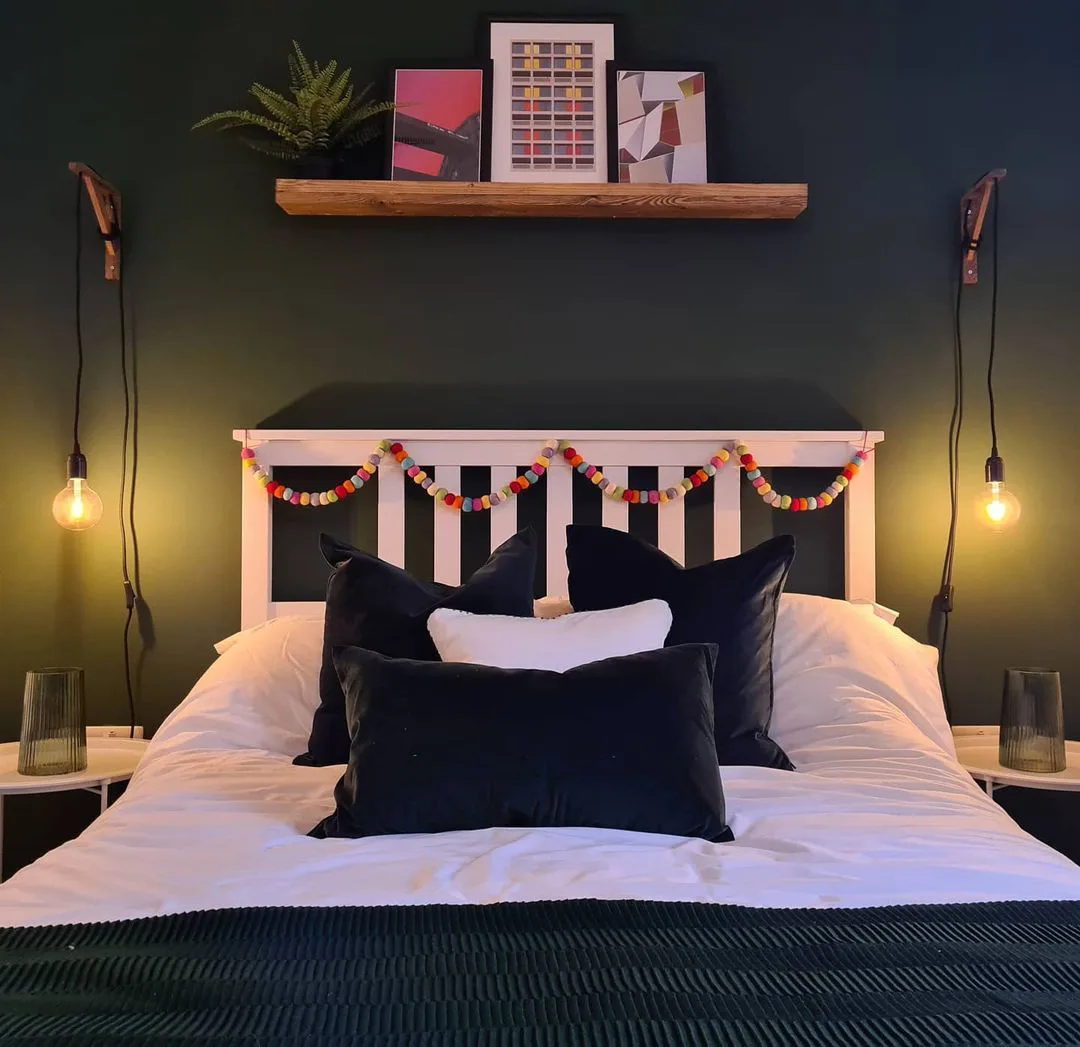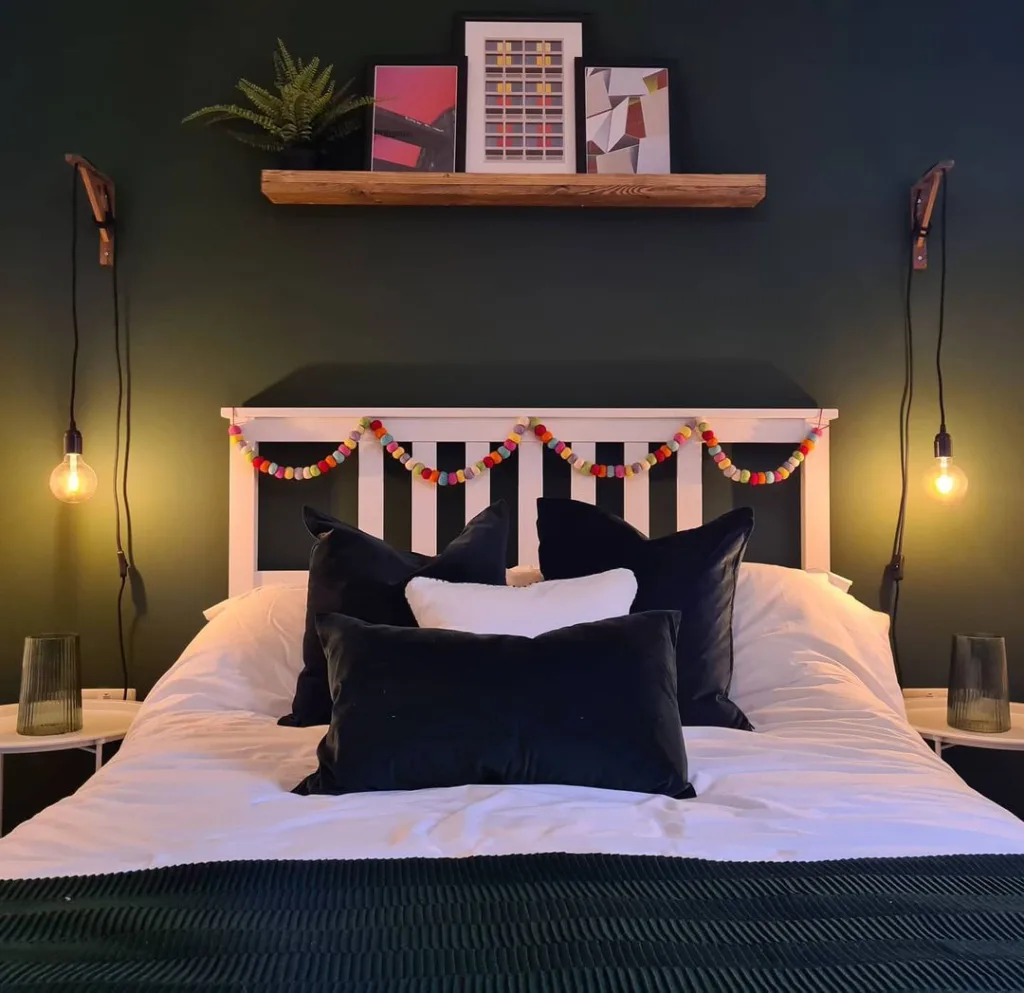 The walls in this bedroom's decor are painted a rich hue of green, giving the area a warm and intimate vibe.
The black and white bedding adds a contemporary element and contrasts effectively with the green walls. The outcome is a stylish and serene atmosphere that encourages rest and leisure.
6. Rustic green bedroom with textured bedframe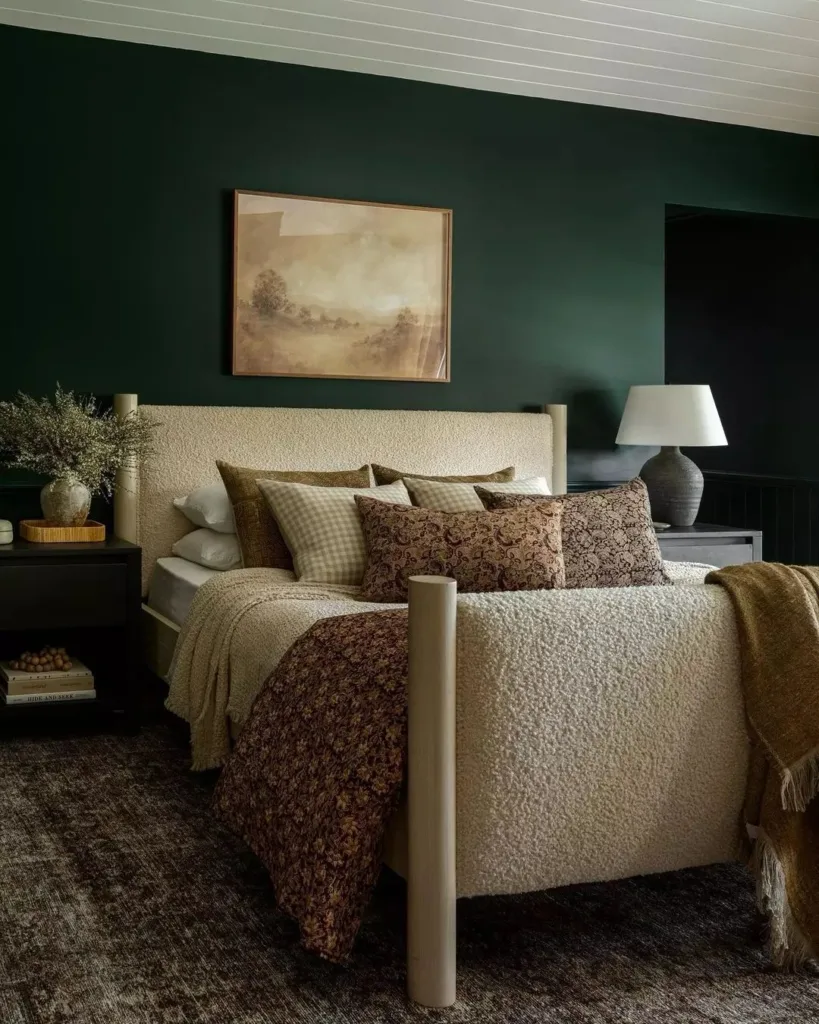 This bedroom décor includes a bedframe with a textured surface, green tones, and a rustic or natural aesthetic.
To create a warm and welcoming ambiance, this style of décor frequently uses earthy components like natural wood or woven textures.
The green color scheme in this design style can vary from subtle sage and olive greens to bolder forest greens and emeralds, producing a calming and soothing atmosphere in the bedroom.
7. Sage green bedroom with an accent light fixture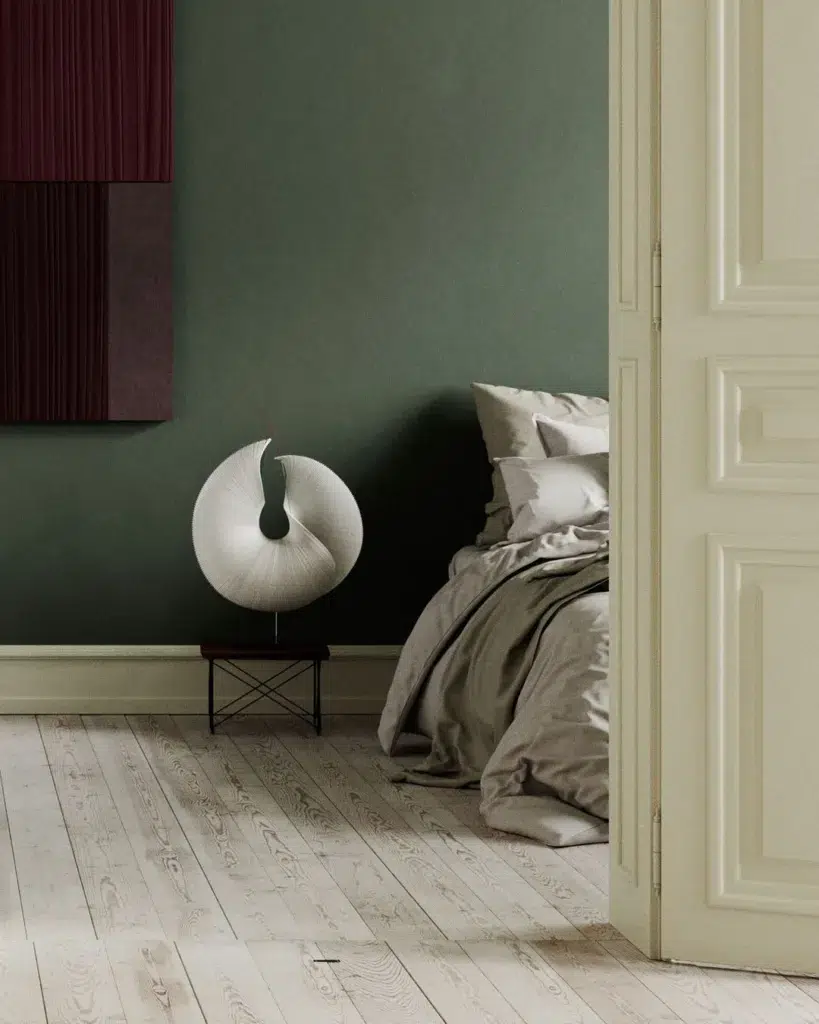 This bedroom décor includes walls painted in the calming and soothing shade of sage, a muted green. The light fixture gives the room a minimalistic yet beautiful accent.
The bedroom is given a calm and serene atmosphere by using the colors green and white, which encourages a state of serenity and tranquility favorable for unwinding.
8. Neutral bedroom with Luxe green wallpaper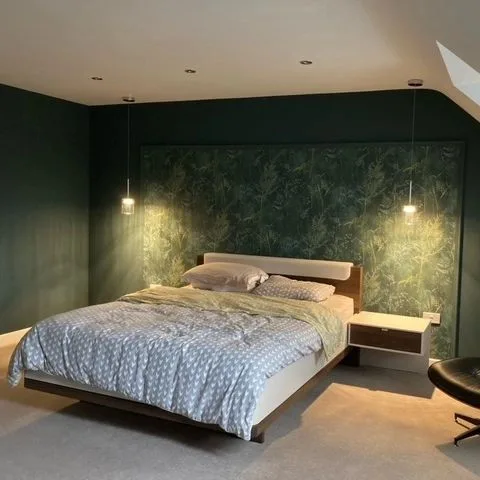 Adding high-end, opulent green wallpaper as a focal point to a neutral bedroom's subdued or neutral color scheme gives the space a luxurious feel.
The rest of the decor can be kept comparatively understated and straightforward to make the green wallpaper stick out.
With a dash of individuality and style, this kind of bedroom decor can infuse a serene and opulent atmosphere.
9. Emerald green bedroom with hardwood flooring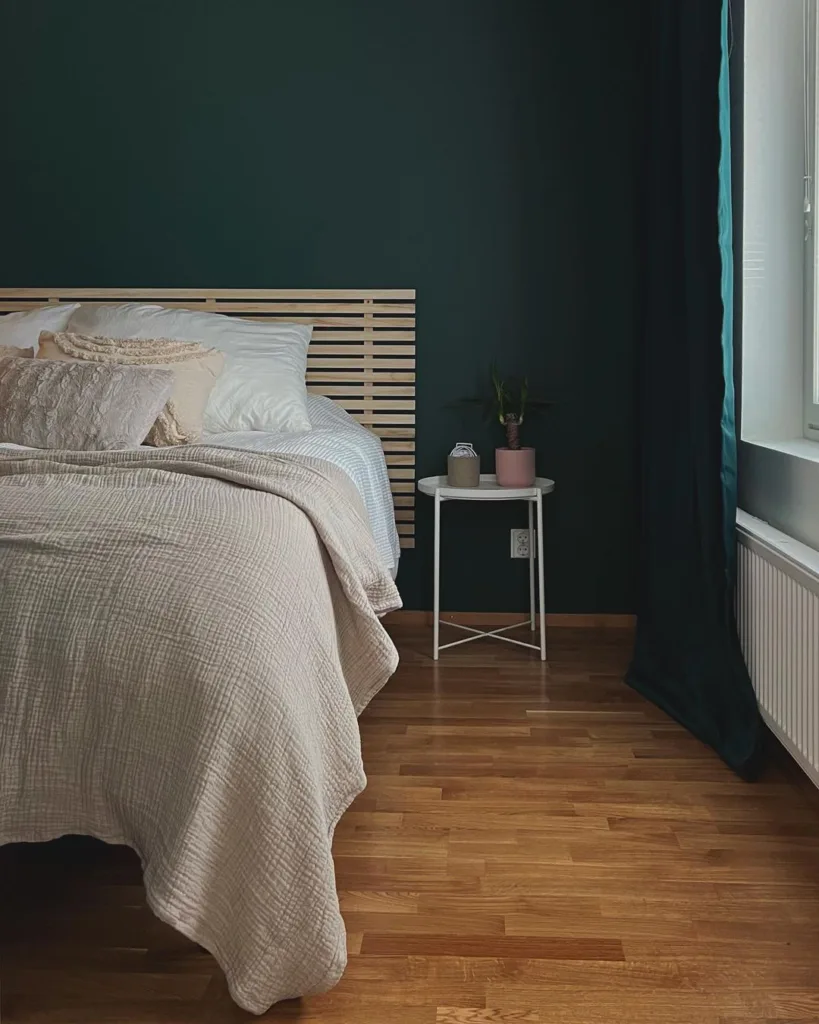 A bold and dramatic statement can be made in the area using the rich, vibrant shade of emerald green on the walls and the curtains.
While the hardwood flooring gives the room a cozy, organic texture that works wonderfully with the room's green walls, this combination will create a balanced yet aesthetic look.
10. Lush green bedroom with pink pillows & curtains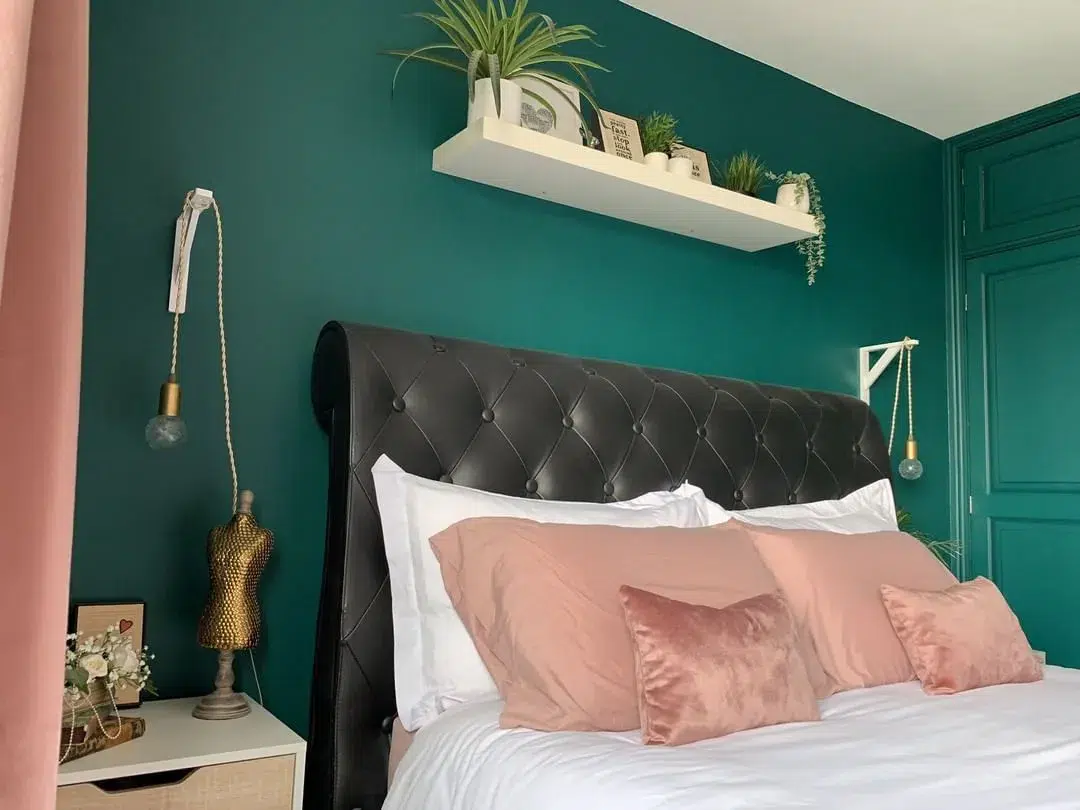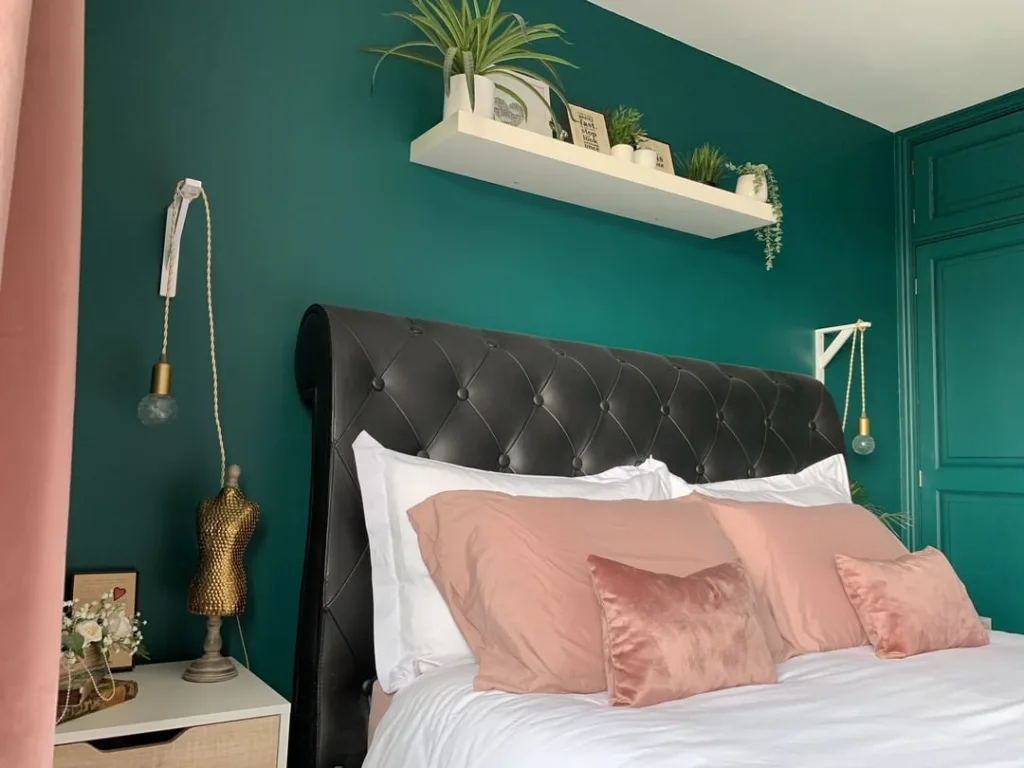 In this design, the bedroom's predominant color is green, which generates a serene atmosphere. On the other hand, the pink pillows and curtains give the décor a playful and feminine touch while adding a pop of contrast color.
Overall, a pink and green bedroom brings a playful energy with green's tranquil attributes and pink's fun pops of color!
11. Forest Green bedroom with picture frames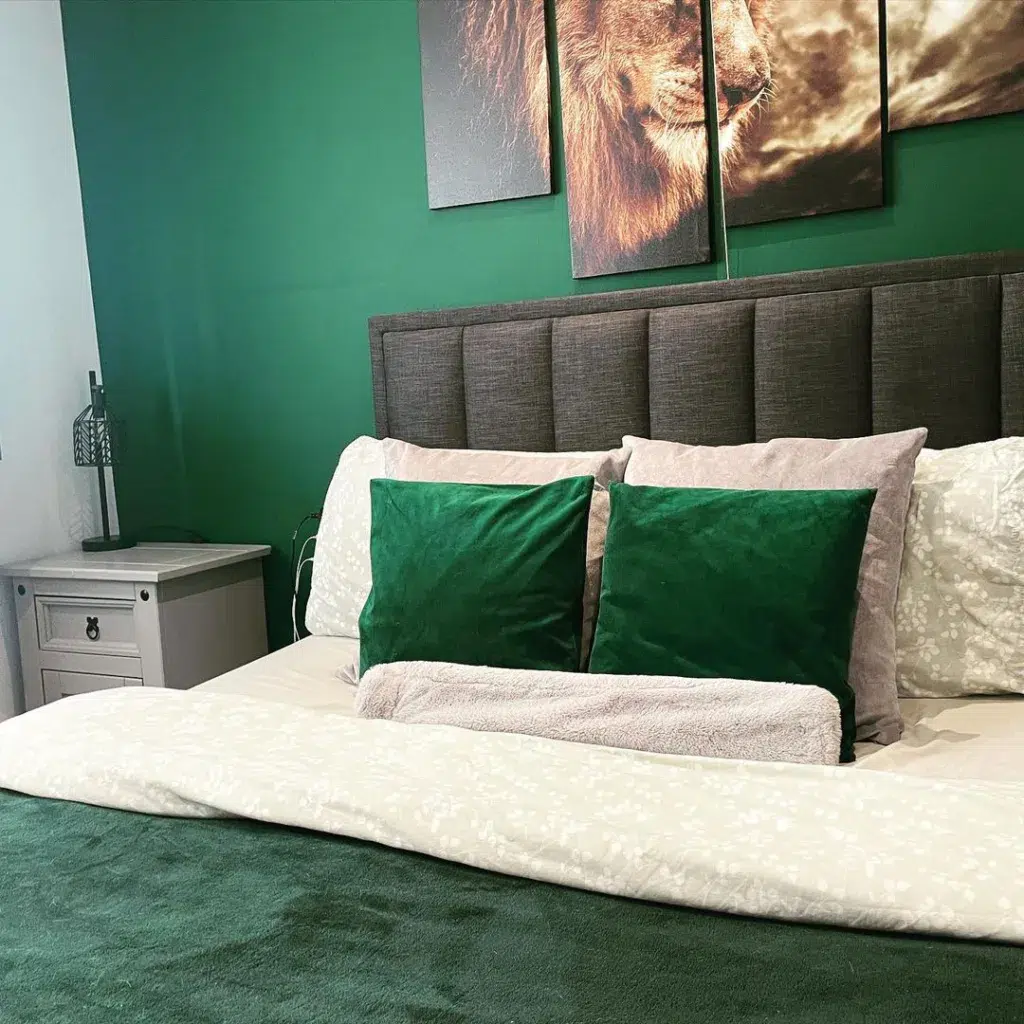 This bedroom decor is distinguished using a deep, dark green color reminiscent of a tropical landscape. Here, dark green is the dominant color for the room's walls, bedding, and other large surfaces.

Another critical element of this design is the picture frames, which display various works of art, photos, or other decorative items.
This decor style is frequently linked to a modern, indigenous aesthetic that promotes serenity and peace.
12. electric green room with white drawers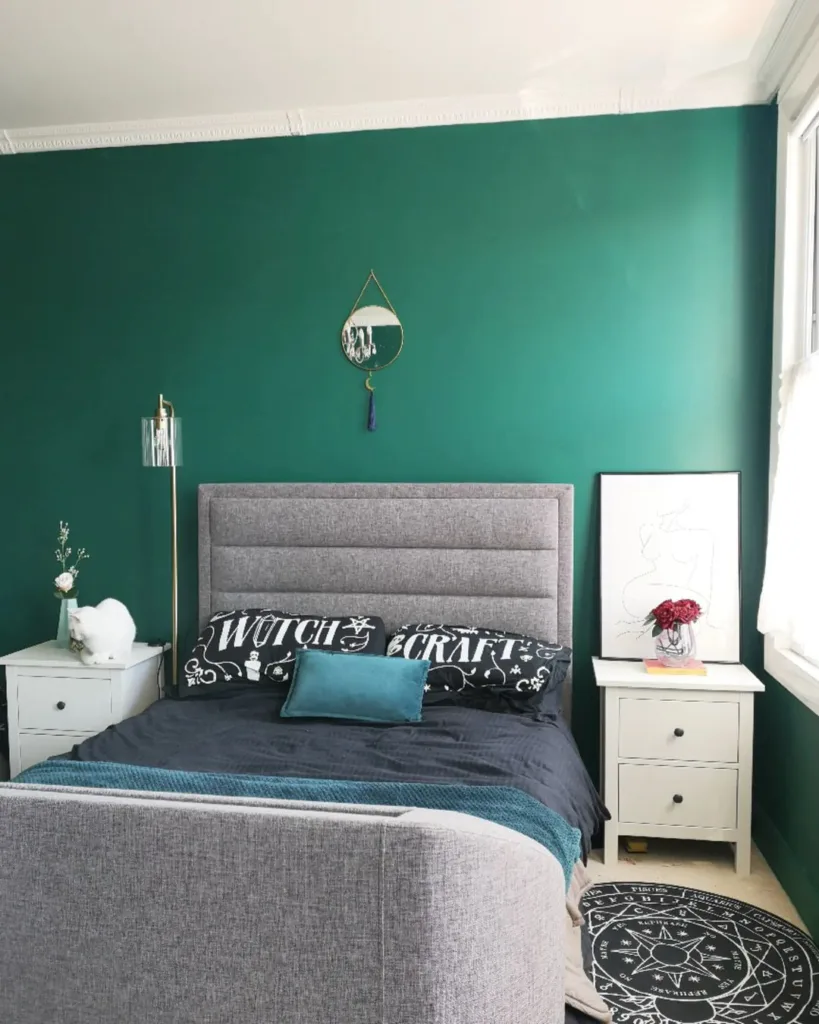 The walls in this bedroom decor are a vivid hue of green, and the white drawers present a striking juxtaposition that can give the interior a contemporary, pristine appearance.
This color scheme is perfect for those seeking to design a distinctive and eye-catching space because it can give a bedroom a bold and energizing look.
13. rustic green bedroom with Indoor plants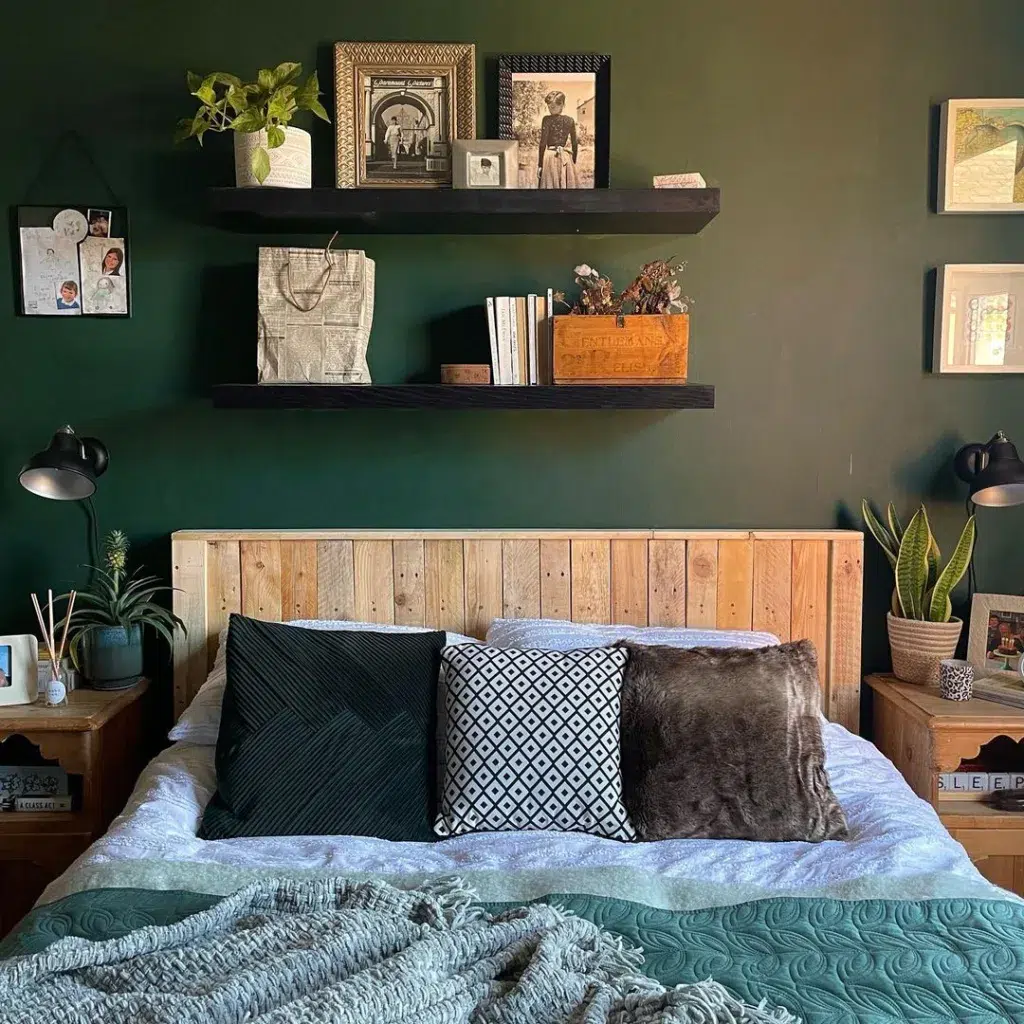 This style of bedroom design uses greenery, earthy tones, and natural elements to create a warm, welcoming, and tranquil atmosphere.
Thanks to the prominent dark green color, the space has a natural, organic feel.
Including indoor plants is a crucial component of this decorating theme as they bring color and life to the space, enhance the air quality, and promote relaxation.
14. dark green bedroom adorned with eccentric pieces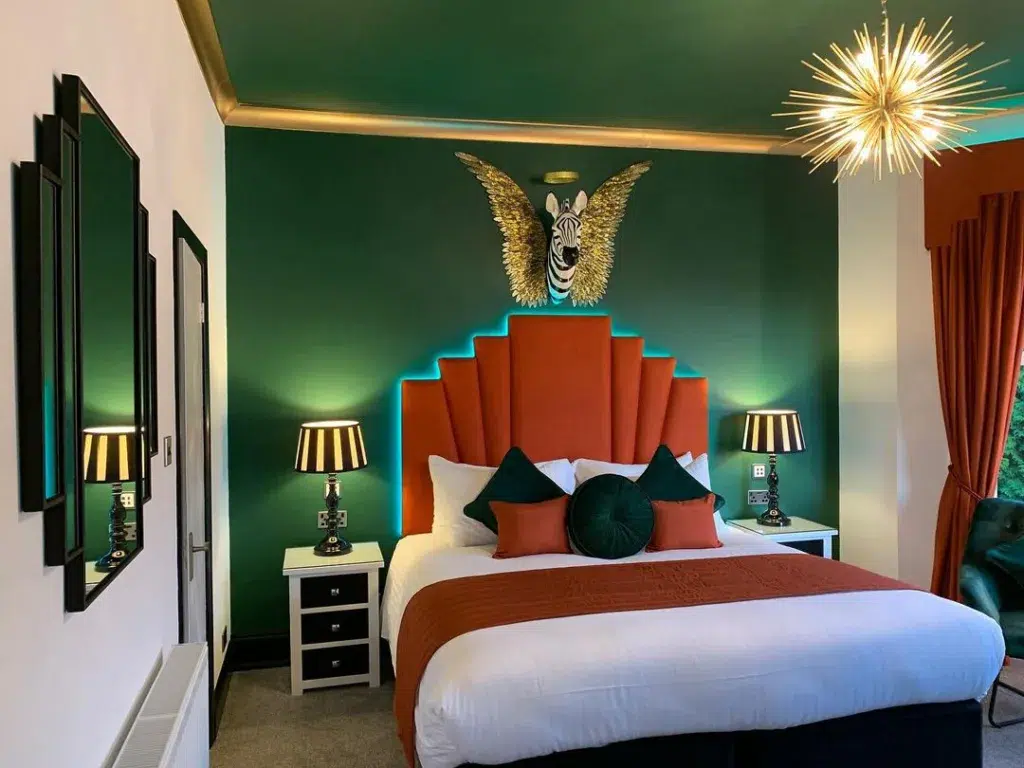 This bedroom style is primarily decorated in green tones, focusing on deeper hues like forest green, emerald green, or hunter green.
The eccentric pieces may include unusual or peculiar furniture, artwork, or decorative elements that add personality and character to the space.
Overall, this bedroom décor can produce a whimsy yet chic atmosphere.
15. dark green walls in a neutral bedroom
It is possible to create a natural and organic atmosphere for a bedroom by combining neutral furnishings and sap green walls that can make a refreshing and calming atmosphere.
These dark green walls can be the room's primary highlight when bedding, drapes, and furniture are neutral hues like beige, cream, or white.
16. Olive green bedroom with white bedding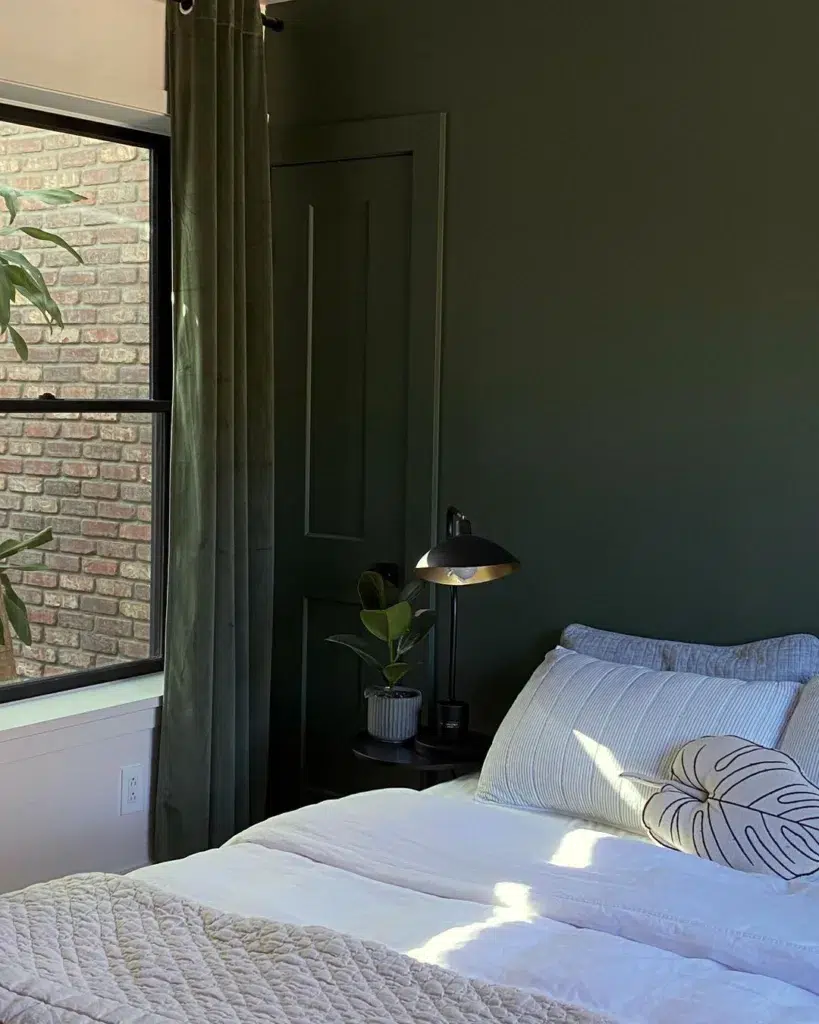 Olive green, the primary color for the room's walls, furnishings, or accessories, defines the bedroom's style.
Additionally, the white bed in this decor adds an eye-catching distinction that can help balance out the room's visual heft.
Overall, the colors used in this bedroom's décor are soothing and natural, which can help the space feel peaceful and serene.
17. Emerald Green bedroom decorated with fairy lights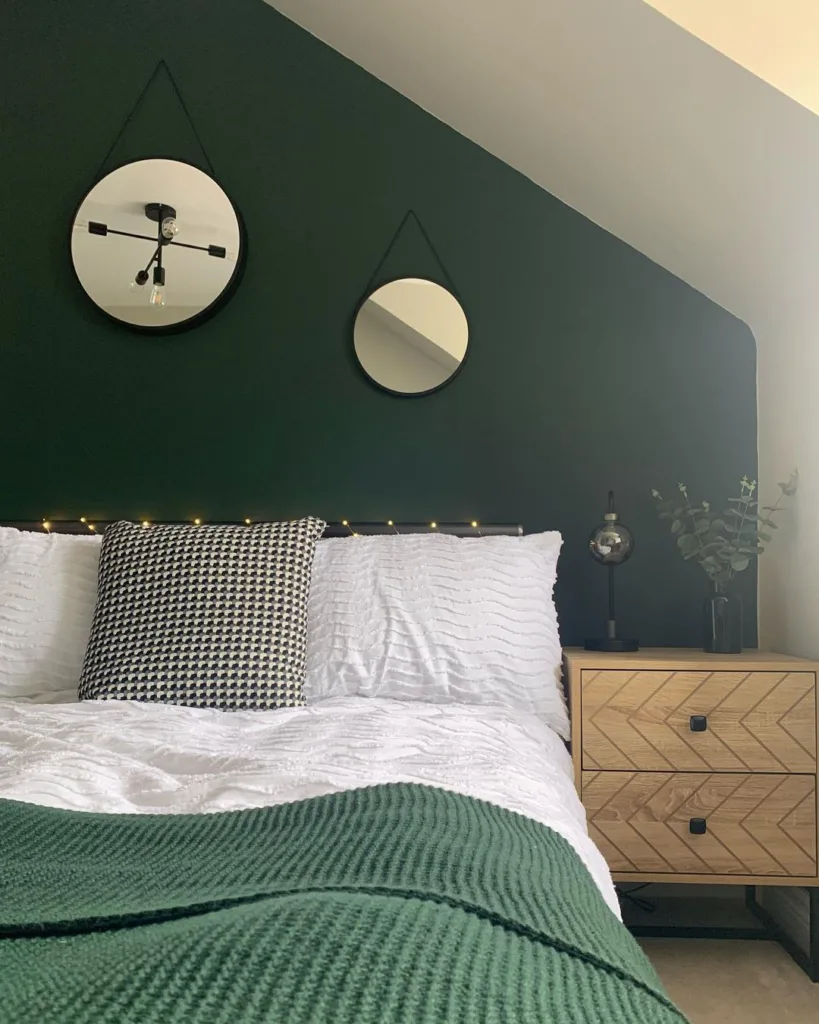 This décor style combines the use of the color emerald green with twinkling fairy lights to create a cozy ambiance in the bedroom.

The emerald green color palette gives the room a solid and elegant appearance, and the fairy lights give it a whimsical, magical feel.
These components work together to create a tranquil and calming environment for sleeping and unwinding.
18. 50 shades of green Bedroom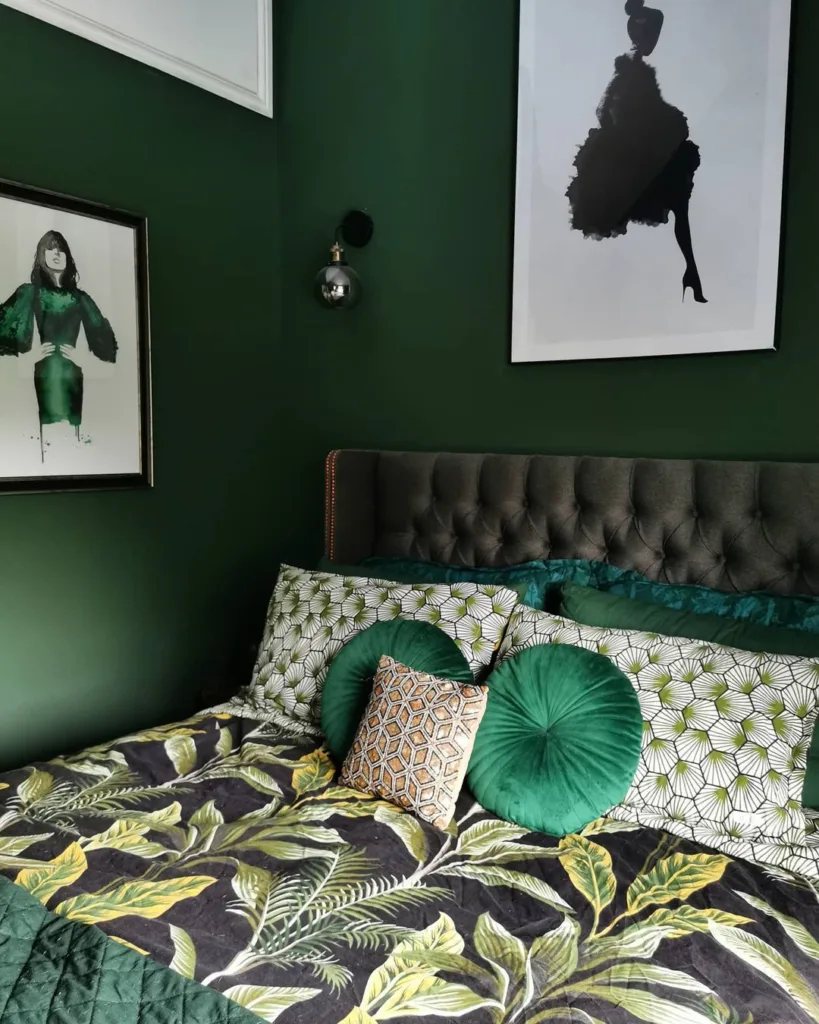 The color scheme of the "50 shades of green" bedroom decor includes a variety of green hues. This can encompass any shade of green, from pale pastels to dark woodland greens and every hue in between.
The other bedroom components, such as throw pillows and bedsheets, include various foliage motifs.
Everything in the room, including the walls, bedding, accessories, and decor items, can integrate various shades of green.
19. forest green bedroom with Yellow throw pillows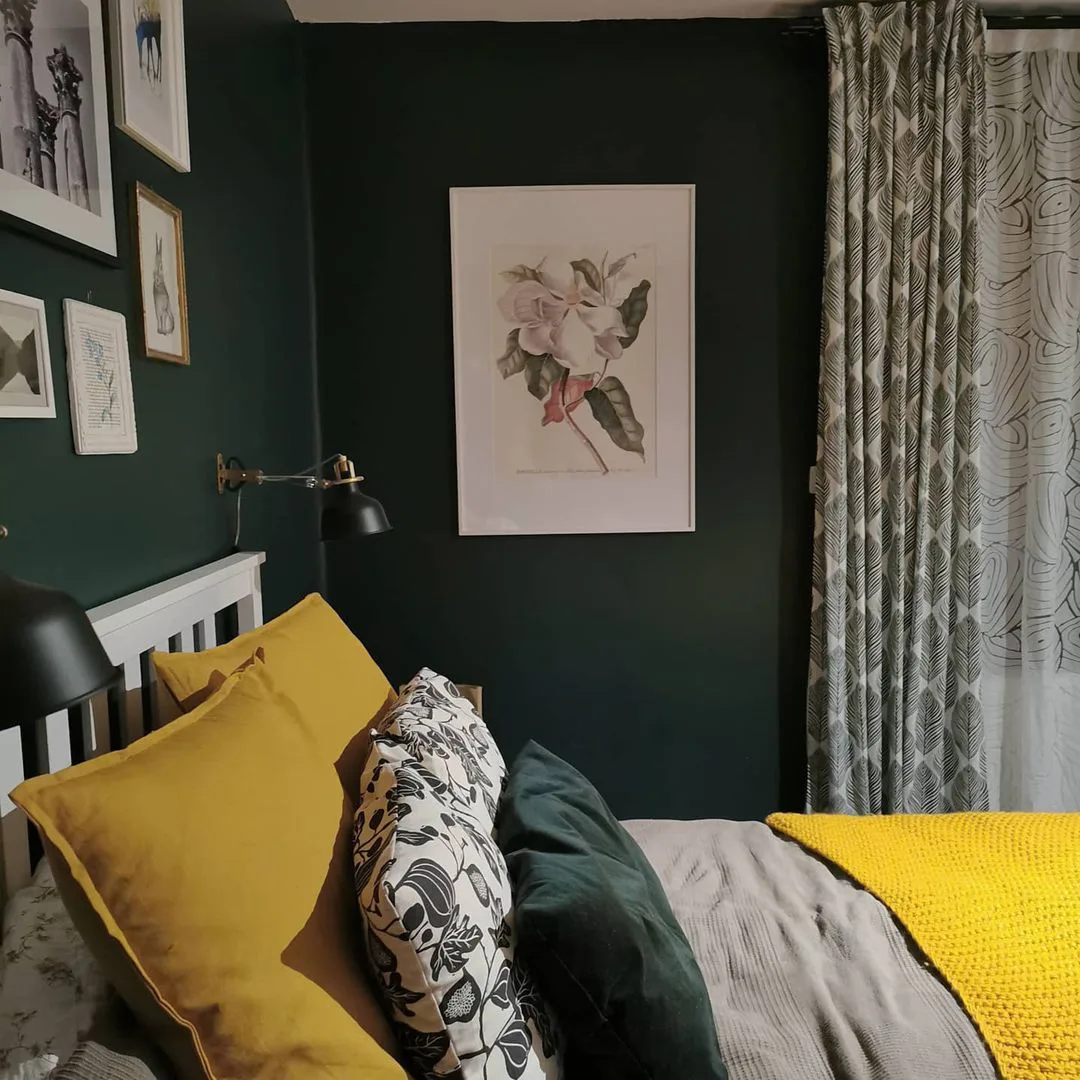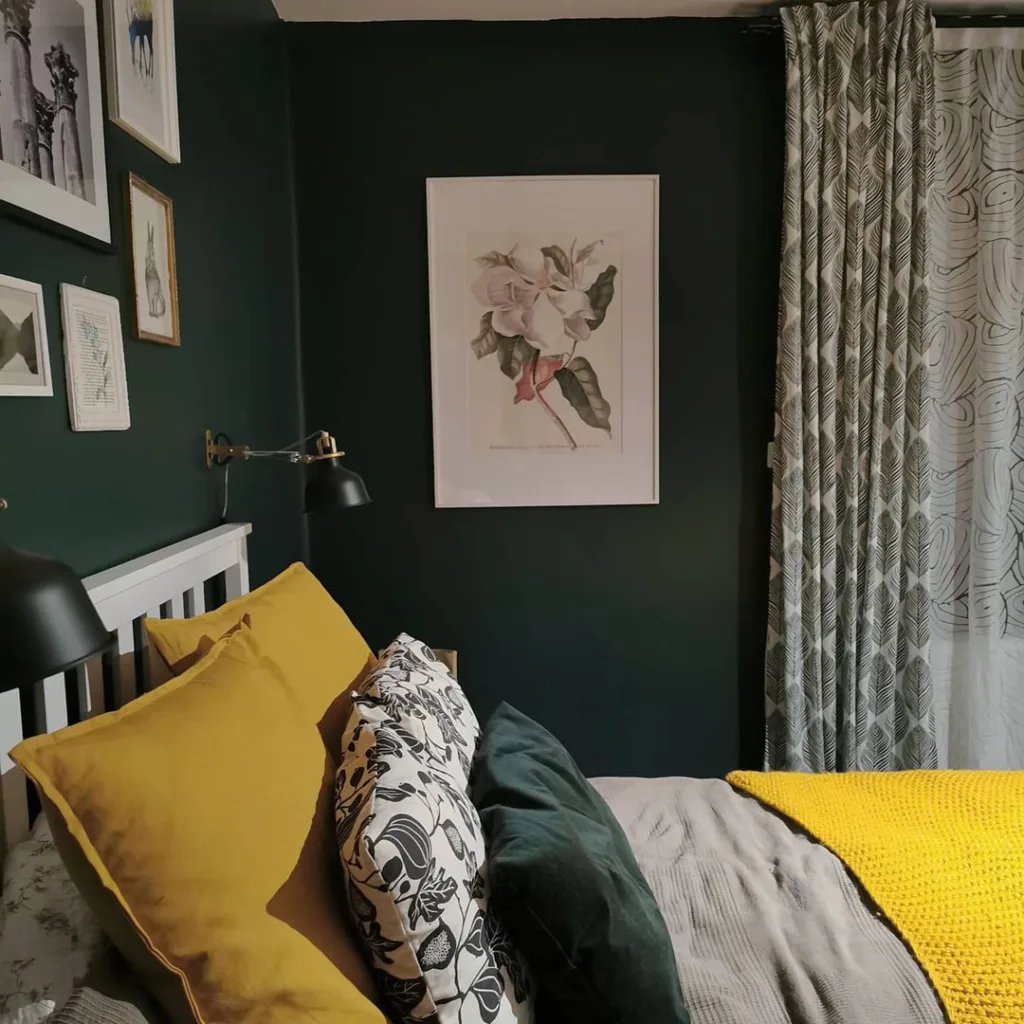 The deep, rich shade of forest green can elicit feelings of serenity and relaxation in the bedroom. But on the other hand, yellow throw pillows give a splash of contrast that can energize and revitalize the room.
Yellow and forest green work well together to produce a complementary color scheme that is both striking and appealing.
20. Olive green walls with bedside lamps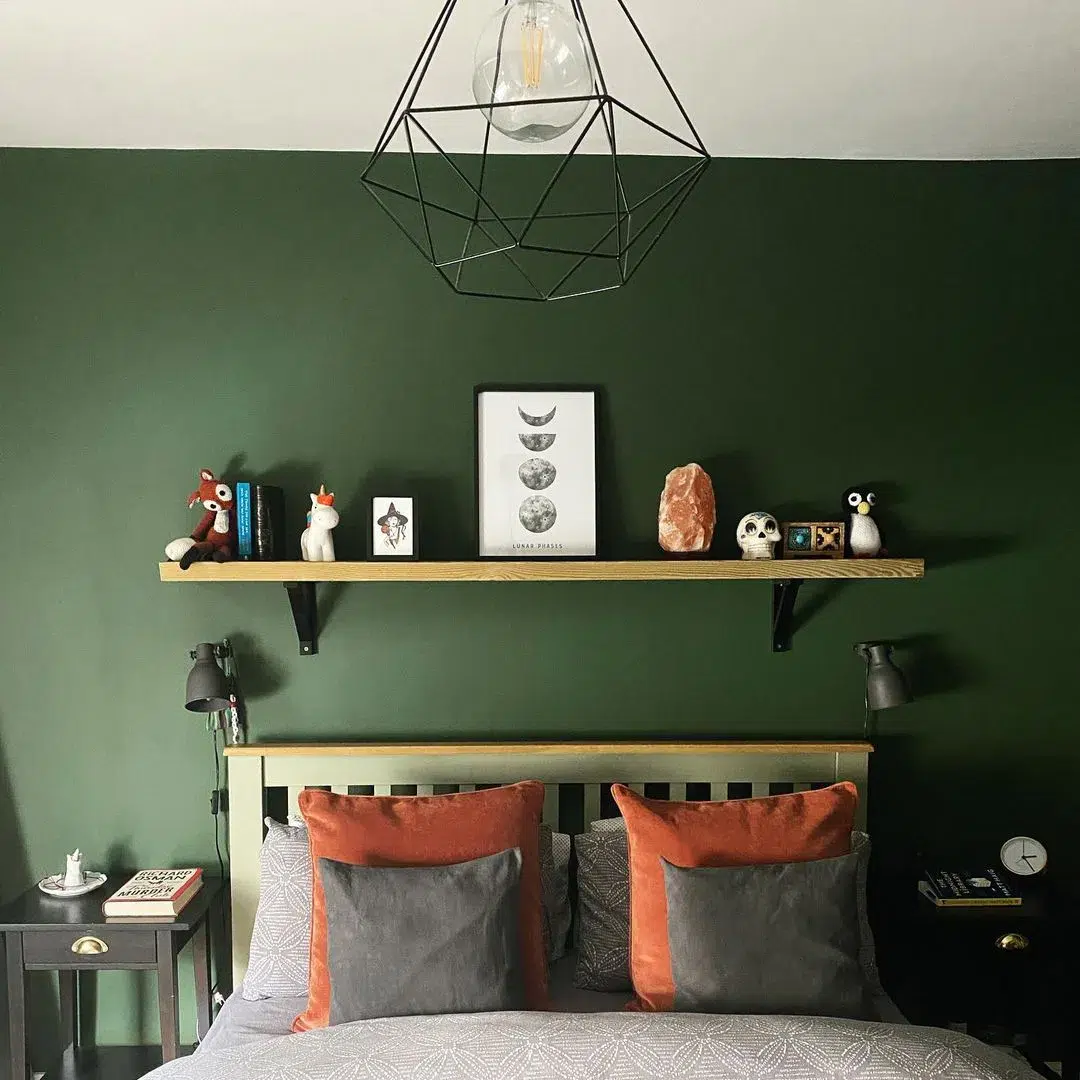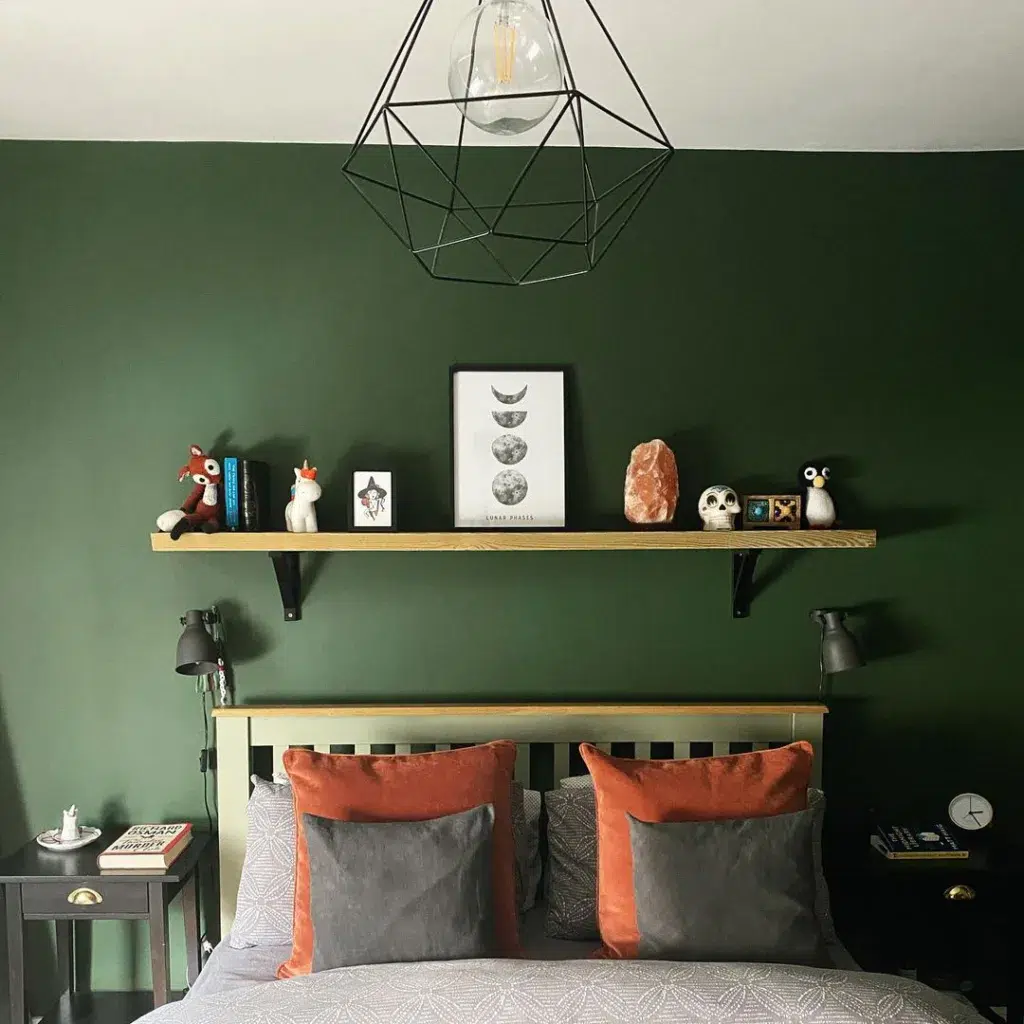 The use of olive green as the dominant color palette and bedside lamps as the primary lighting source defines this bedroom's design.
The lighting fixtures give bedrooms a homely, cozy feel. Overall, this bedroom layout can produce a serene and inviting environment for rest and leisure.
21. botanical-themed bedroom with wooden drawers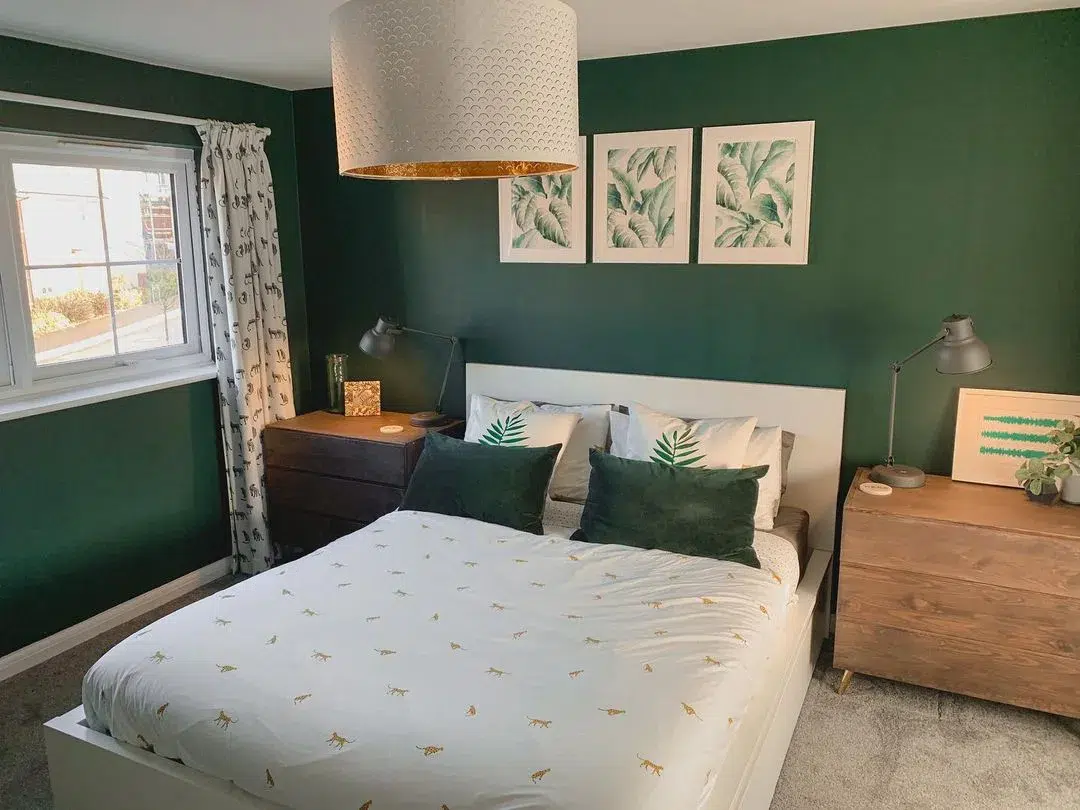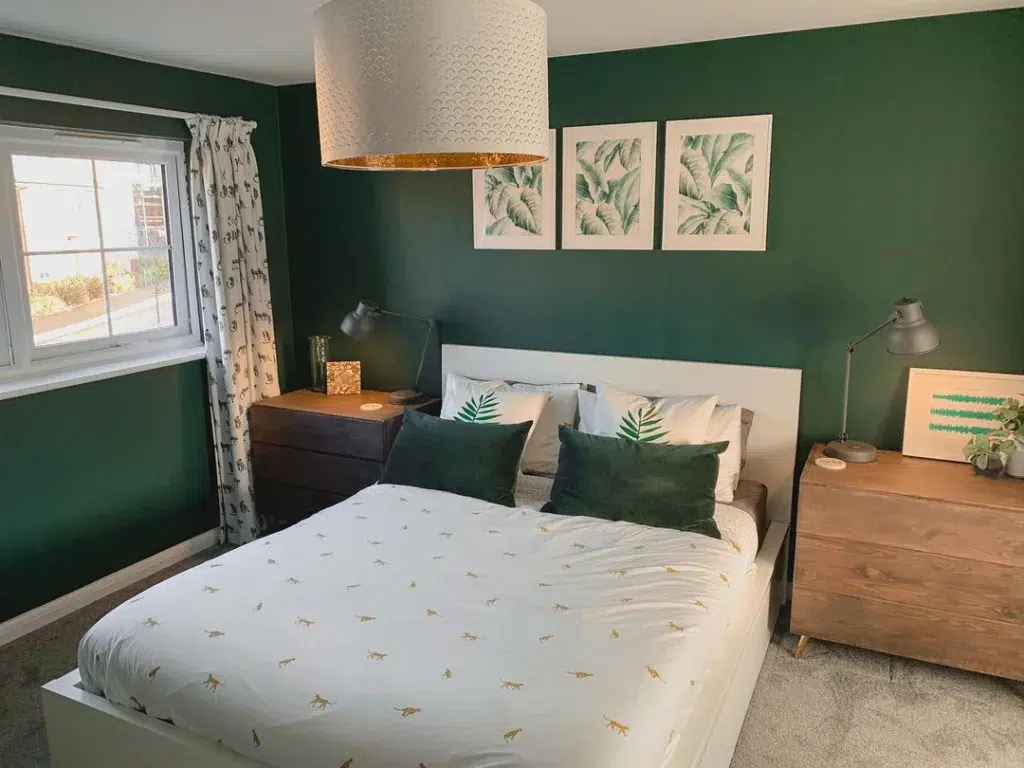 A botanical-themed bedroom features decor inspired by nature, plants, and greenery.
The color scheme can include dark green, brown, and white tones, and the botanical motif may include foliage prints or wall art.

The wooden drawers can complement the botanical theme while adding a rustic and natural element to the bedroom's decor and are helpful for storage.
22. Emerald Green Walls adorned with motivational motifs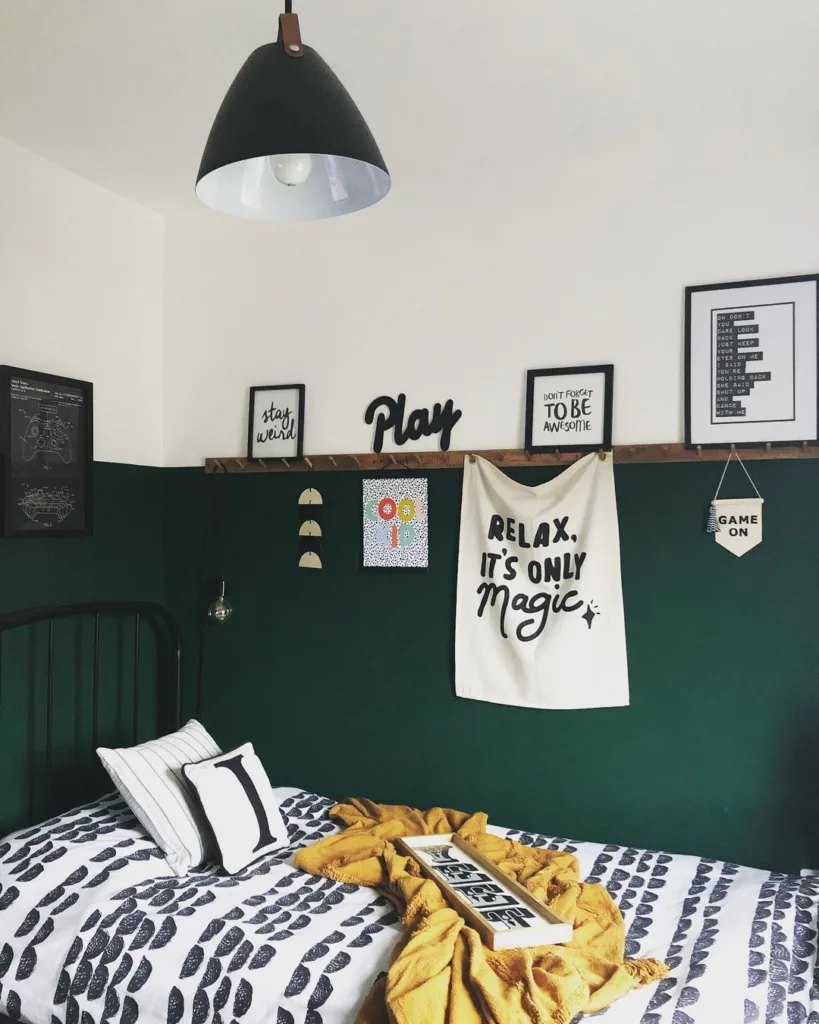 The bedroom walls are painted a deep emerald green, a striking and opulent choice for a bedroom. Additionally, motivational motifs are added to the walls, potentially as peppy and inspiring quotations.

This type of decor is an excellent choice for anyone who wants to create a cozy and uplifting atmosphere in their bedroom.
23. Rustic bedroom with an accent dark green wall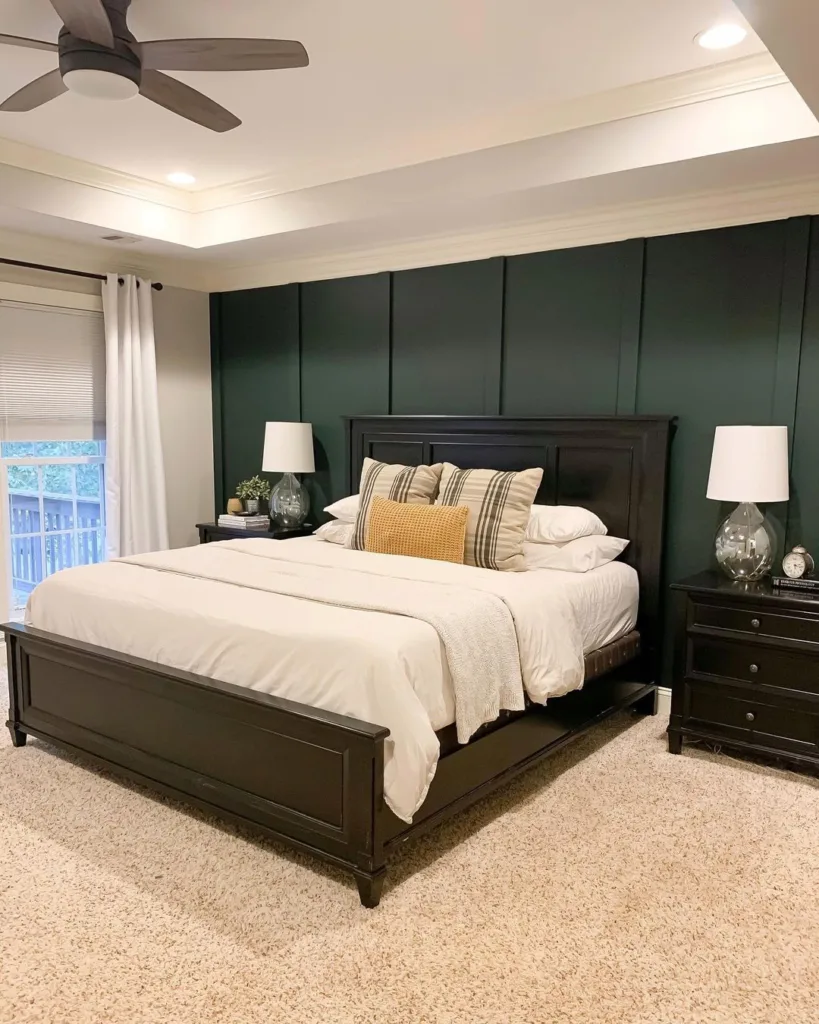 A rustic bedroom with a dark green accent wall uses board and batten traditional, natural, and antique design elements with a contemporary flair. The dark green accent wall gives the room a striking splash of color and creates a focal point that draws the eye and balances the entire area.

This combination creates a warm and cozy environment perfect for relaxing and unwinding.
24. boho green bedroom with a tiny bedside table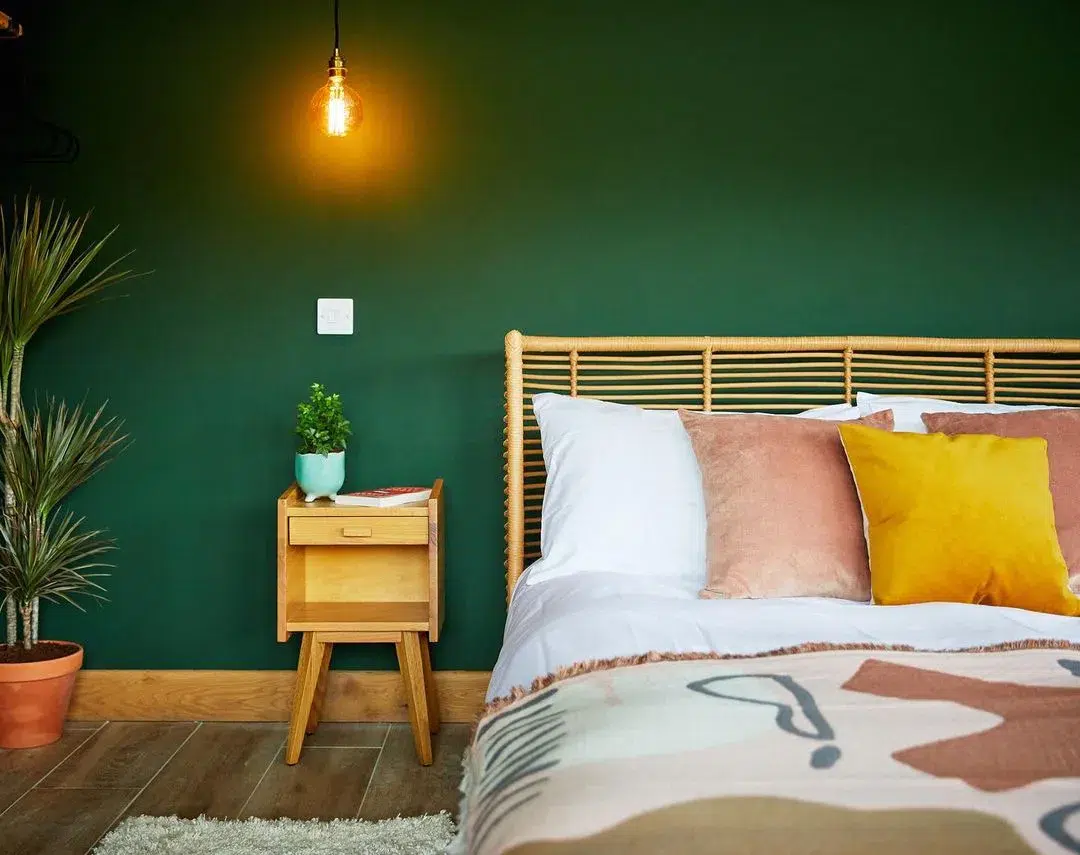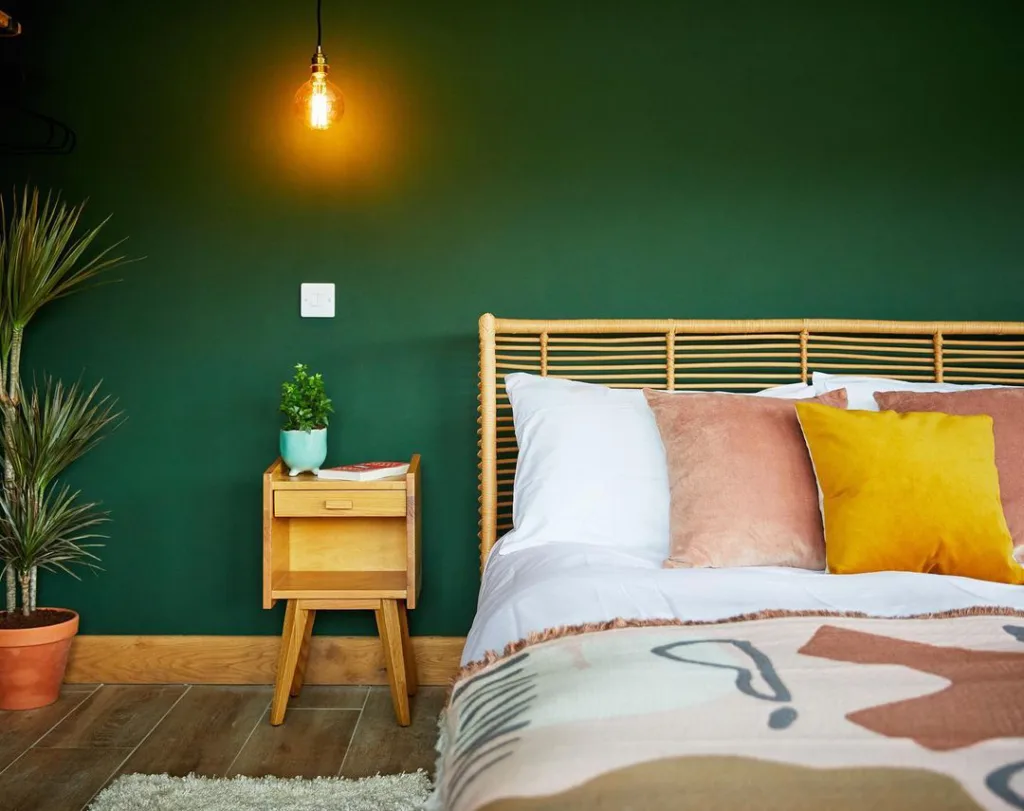 Typically, a boho green bedroom combines earthy and bright colors with eclectic décor.

A tiny side table in this context may refer to a small accent table used to hold a lamp, books, or other small items.
The small side table and a scheme of boho green combine to give the bedroom a cozy, natural look.
25. Dark green bedroom with mirror on the walls
The predominant wall color in this bedroom's decor is dark green, and the mirror walls function as surfaces for reflection.
The mirror walls add a bit of glitz and visual interest to the space, while the dark green color can produce an inviting and intimate atmosphere. Overall, it is a unique and contemporary choice for bedroom decor.