Curved staircases are the focal point of any home since they break away from traditional functional stairs and add a fun flair. When most people think of curved stairs, they think of a grand palace with a massive entryway. This idea also means that seeing a curved staircase instantly makes you think you've entered a high-end home!
Since curved staircases are custom designed for each home, they're more expensive than traditional straight stairs. You should expect to spend at least double on curved stairs than normal ones, but this price can quickly increase depending on the materials and finishes you select.
Whether you're living in a palace or just want to add grandeur to your home, a curved staircase is a perfect way. You can create modern curved stairs using metal and glass materials or use traditional wood treads and spindles for a classic design. (P.S. To learn all the stair terminology, check out our parts of a staircase guide).
Browse our favorite curved staircases and ideas in the gallery below!
1. A modern Neutral and black Curved Stairs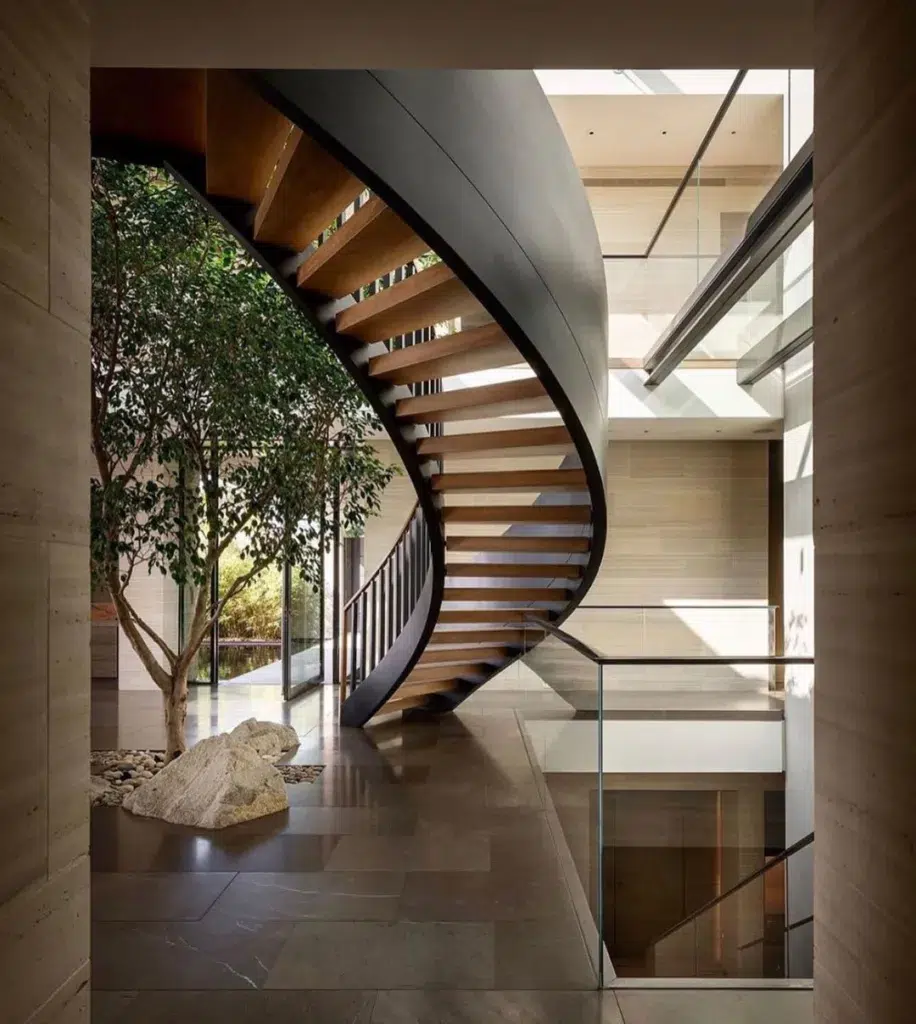 This modern home's centerpiece is the curved staircase with open wood steps and black siding. To create an open look, one side of the stairs uses traditional spindles, while the other has solid paneling. Light beige tile, along with a planted tree, add to the outdoorsy feel of this entryway.
2. A White Contemporary Curved Staircase with Molding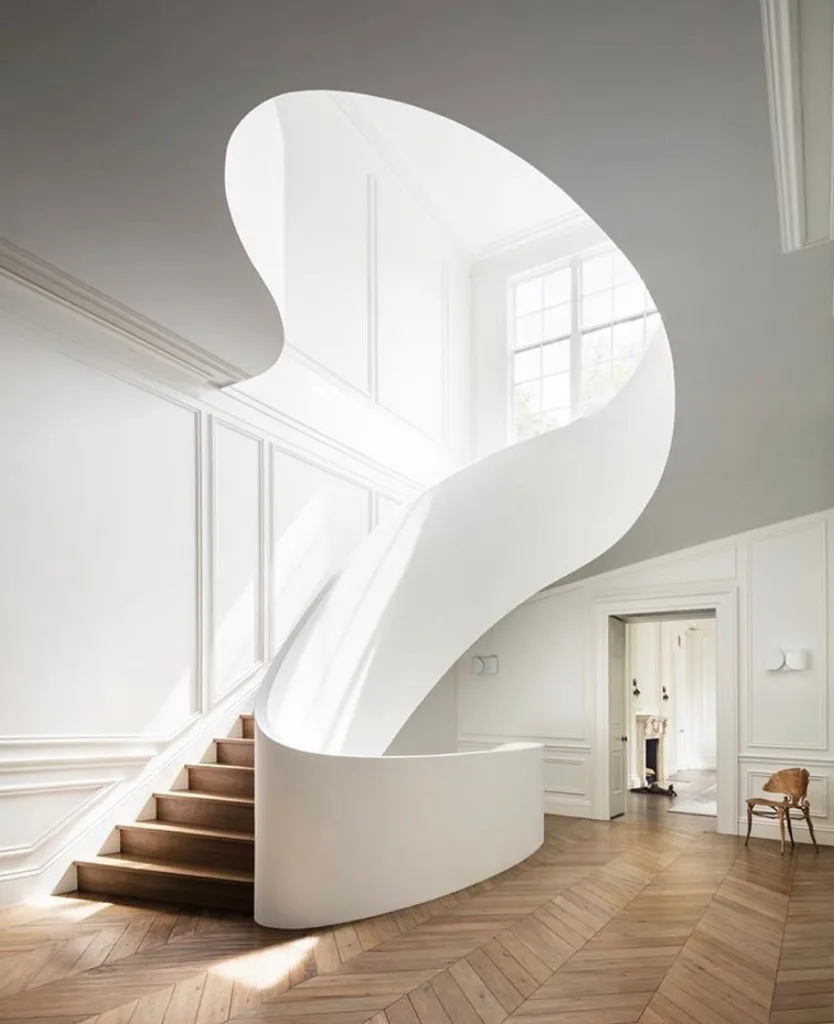 This modern entryway features a white curved staircase with solid paneling on one side. The paneling's unique angles add to the space's contemporary feel, while the nearby wall is finished with traditional box molding that balances the look. In addition, Chevron wood floors are installed, adding to the luxurious look of this home.
3. Black Railings and Wood Treads on Circular Stairs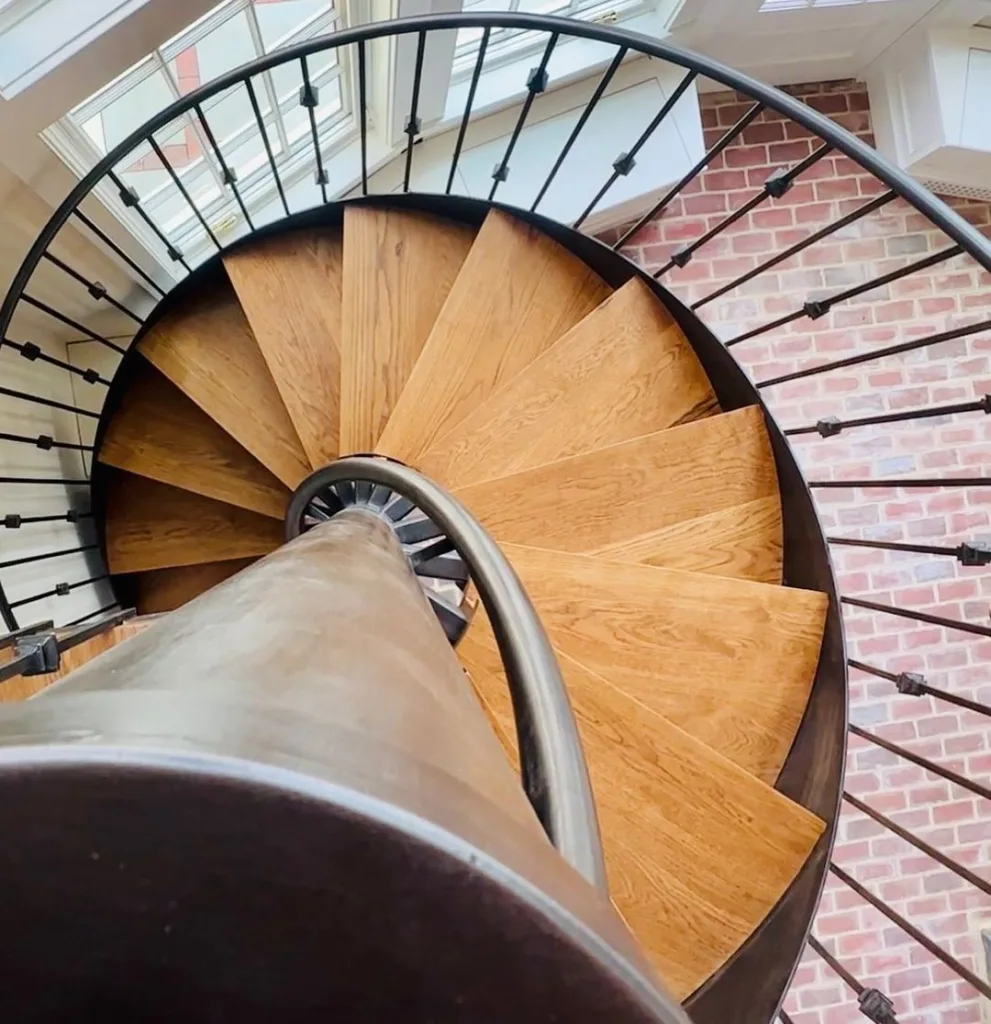 This circular staircase perfectly blends old and new with wrought iron spindles, banisters, and classic wood treads. The brick floor in the space underneath adds to the rustic feel of this design.
4. Double-height Ceilings in a Large Living Room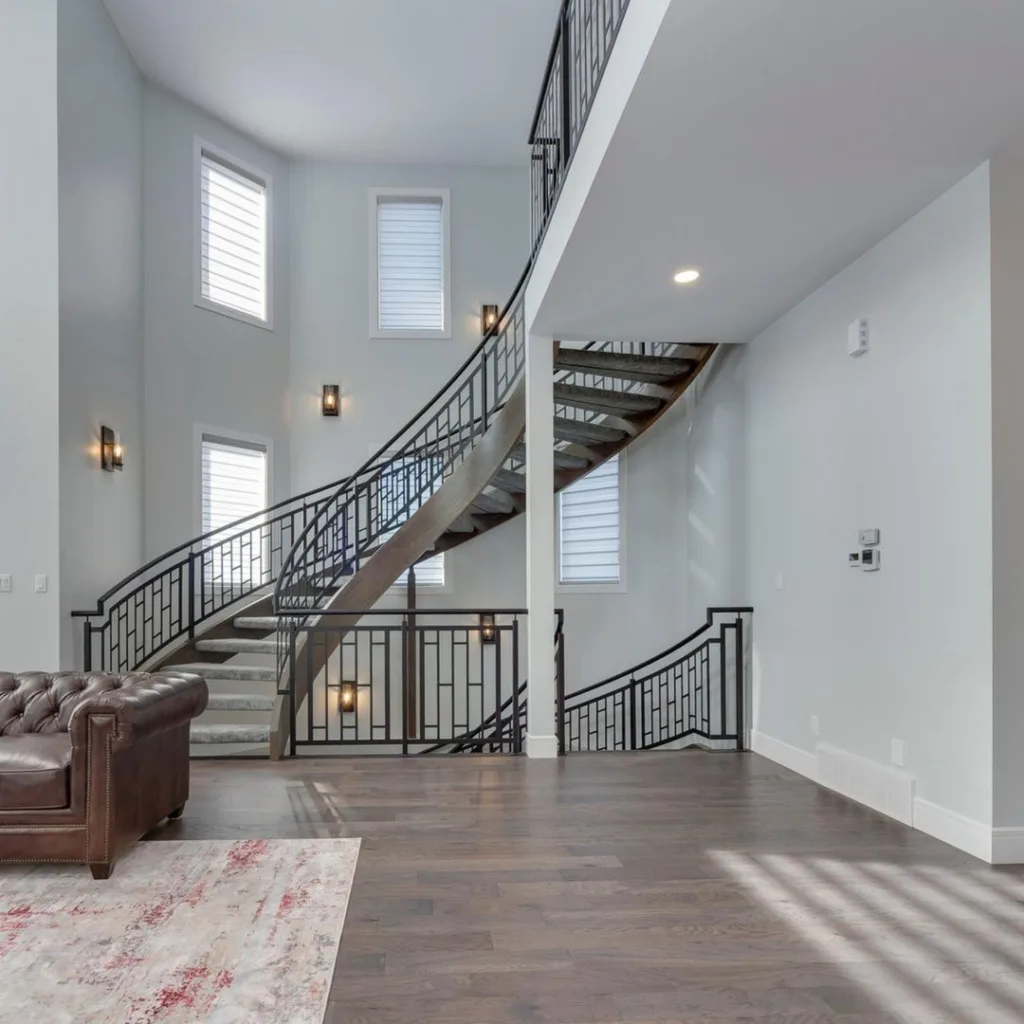 This two-story living room design features curved staircases extending upwards and downwards to other floors in the home. Intricate square metal ballisters line the stairs adding an opulent feel. The black metal helps contrast the white walls in this home, while rich brown floors add a touch of warmth. Sconces on the walls next to the stairs add soft lighting and help fill the ample space.
5. Intricate Tile and Stone Stairs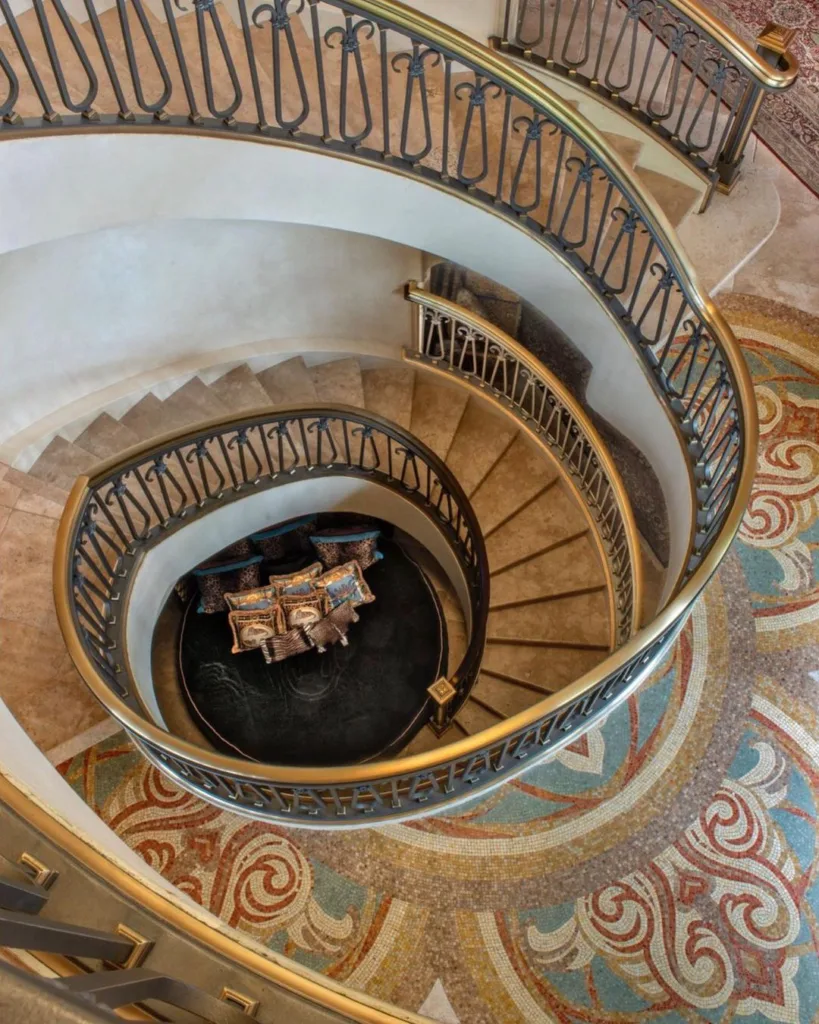 This intricately curved staircase exudes historic European vibes with its intricate tile floors and ornate black ballisters. Brass railings add to the luxurious feel of these stairs and contrast the black metal ballisters. Teal and red accents in the mosaic tiles add a pop of color to the space.
6. Using Neon Lights as Decor Near Curved Stairs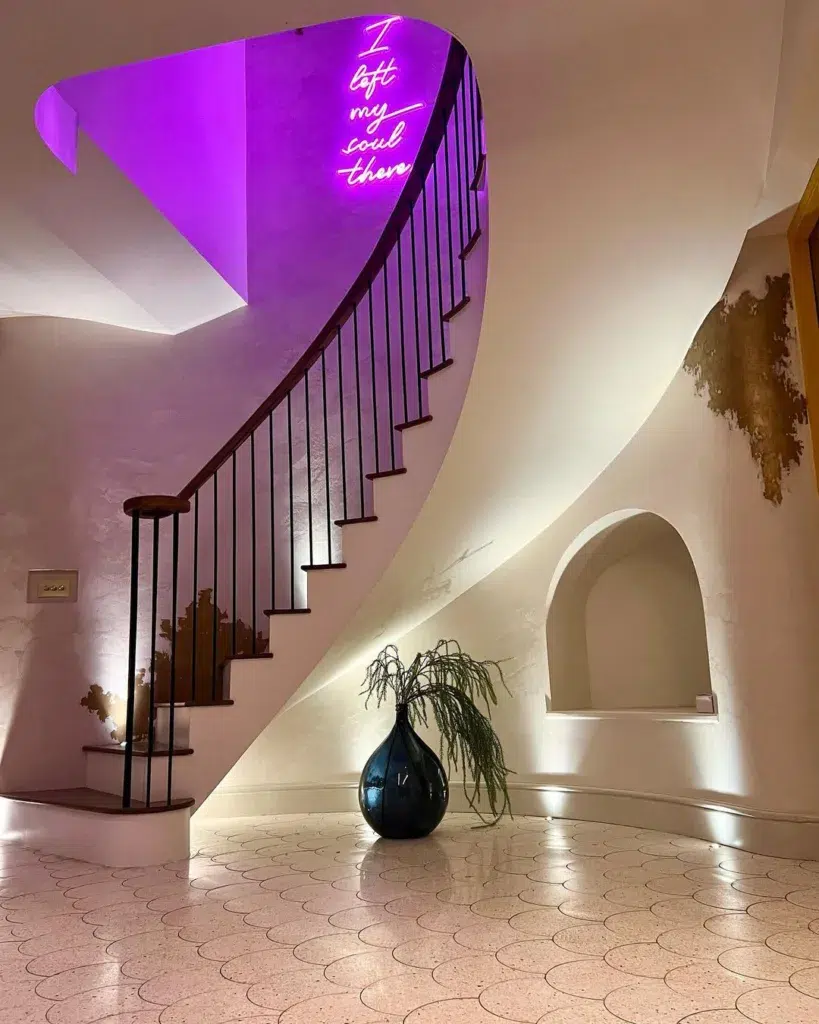 Try adding a neon light like this space for a unique curved staircase decor idea. The light feature adds a fun purple hue to the room and helps make this traditional-style staircase feel more modern.
7. Carpet Stair Treads On a Curved Staircase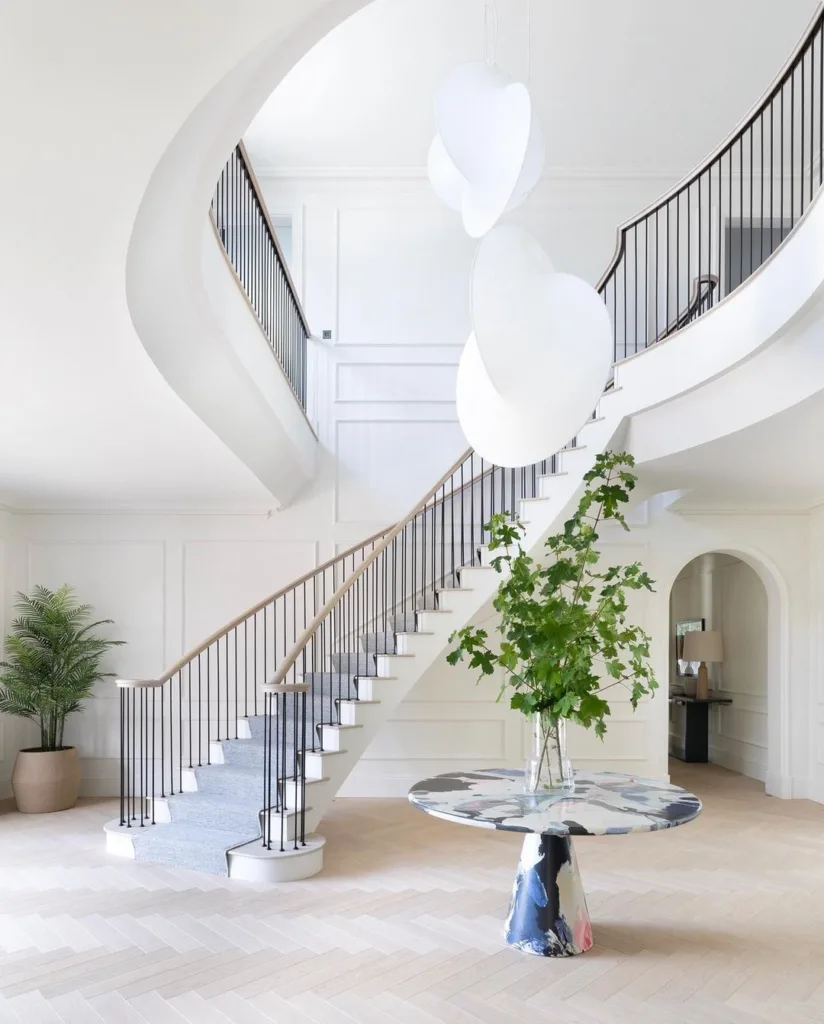 This curved staircase features grey carpeted treads with white accents contrasting the black ballisters. For a touch of warmth, neutral-colored railings are installed and accent the herringbone pattern wood floors in this entryway. A white and black marble table displays decor and matches the colors in the staircase.
8. Gold and Glass Ultra Modern Stairs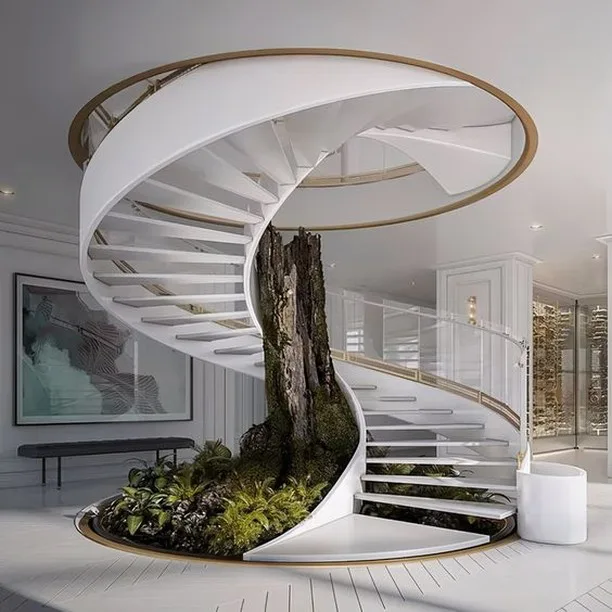 This curved floating staircase is embedded in the floor plan of this home, with a garden growing at the bottom. A nearby wall features traditional crown trim and large artwork that balances the contemporary feel of the staircase.
9. A Curved Glass Floating Staircase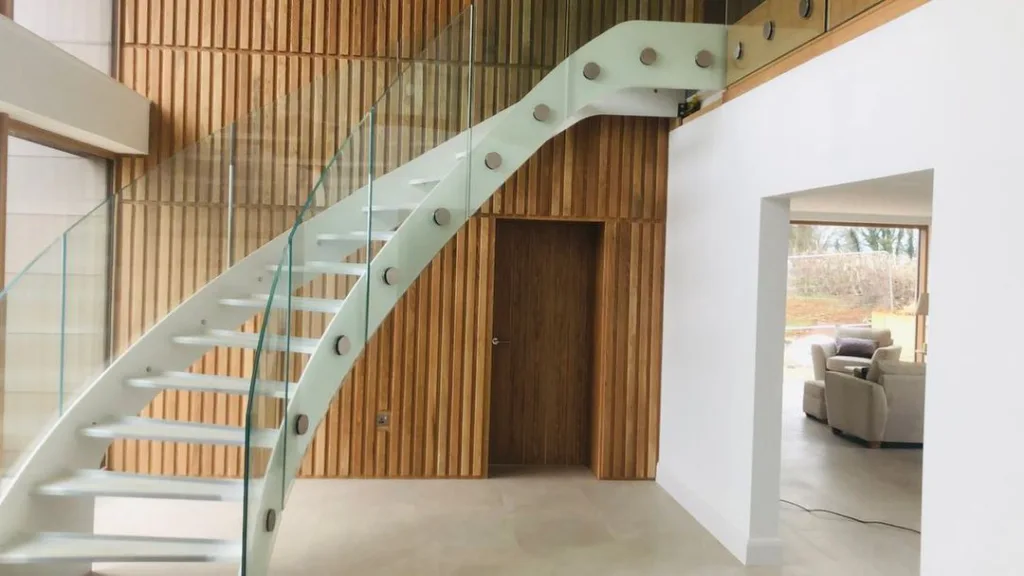 This curved glass staircase has floating steps that enhance the openness of the design. A wood trim accent wall behind the stairs exudes neutral tones that brighten the modern white walls in this home. Glass staircases are great for smaller spaces or when you want to create a sense of openness.
10. Carpeted Curved Stairs with Wood Rails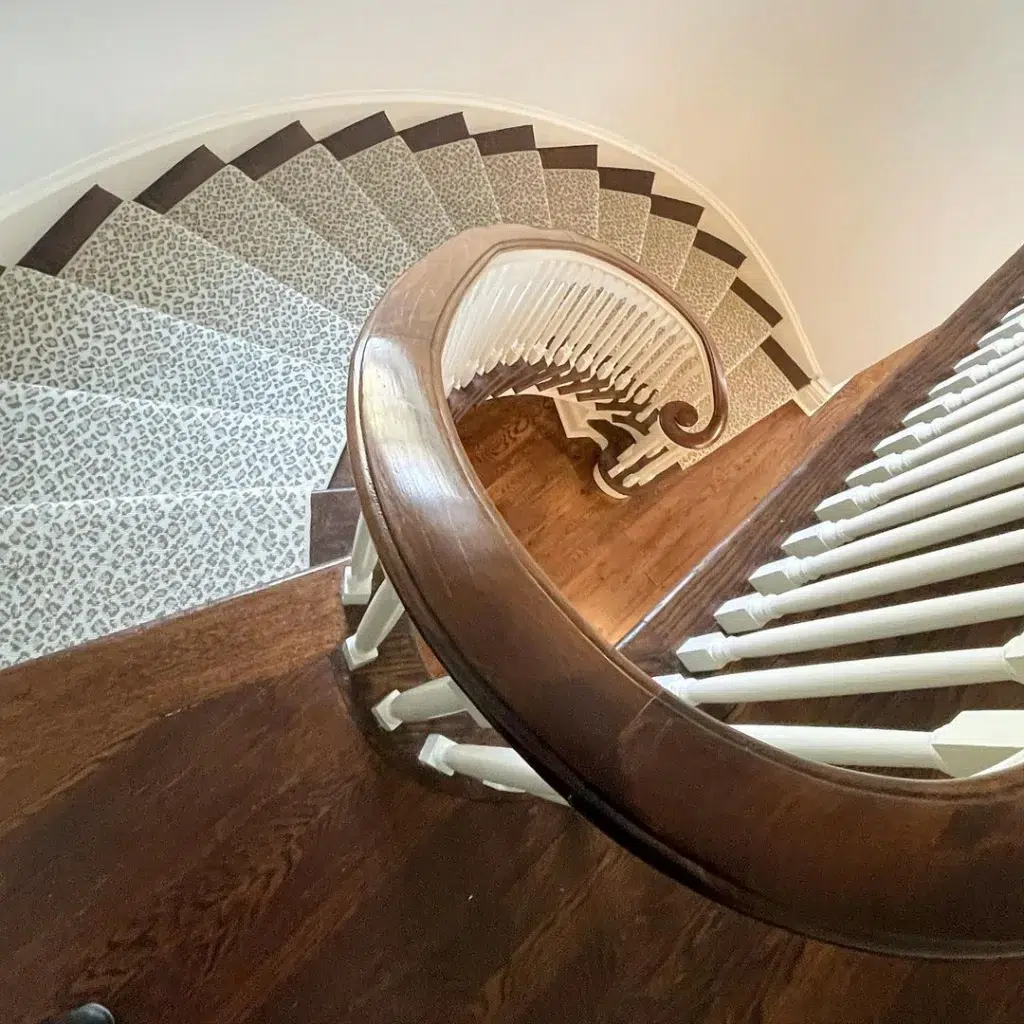 The cheetah animal print carpet stair treads on this curved staircase are certainly not for everyone, but they add a fun touch to this traditional design. Dark brown wood banisters match the wood floors in the rest of the home, while white ballisters add a bright contrast. When designing your stairs, it's essential to consider the colors in your home, especially the rooms or landings around your stairs. Otherwise, your stairs can appear out of place, no matter how beautiful.
11. White Modern Stairs Leading to a Home Gym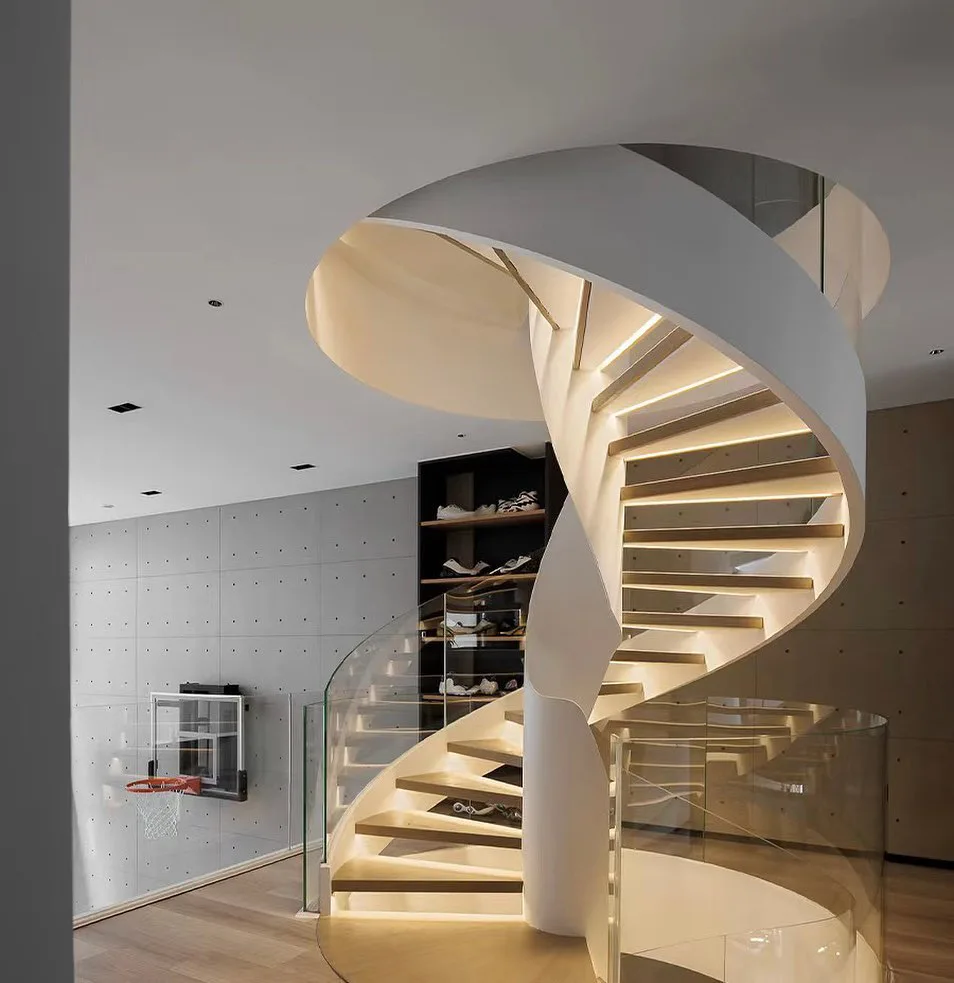 The ultra-modern circular floating staircase features built-in lights that highlight the unique design. Glass railings allow the stair tread design to stand out while you overlook the home basketball court as you head downstairs.
12. A Modern Curved Staircase with White Plaster Sides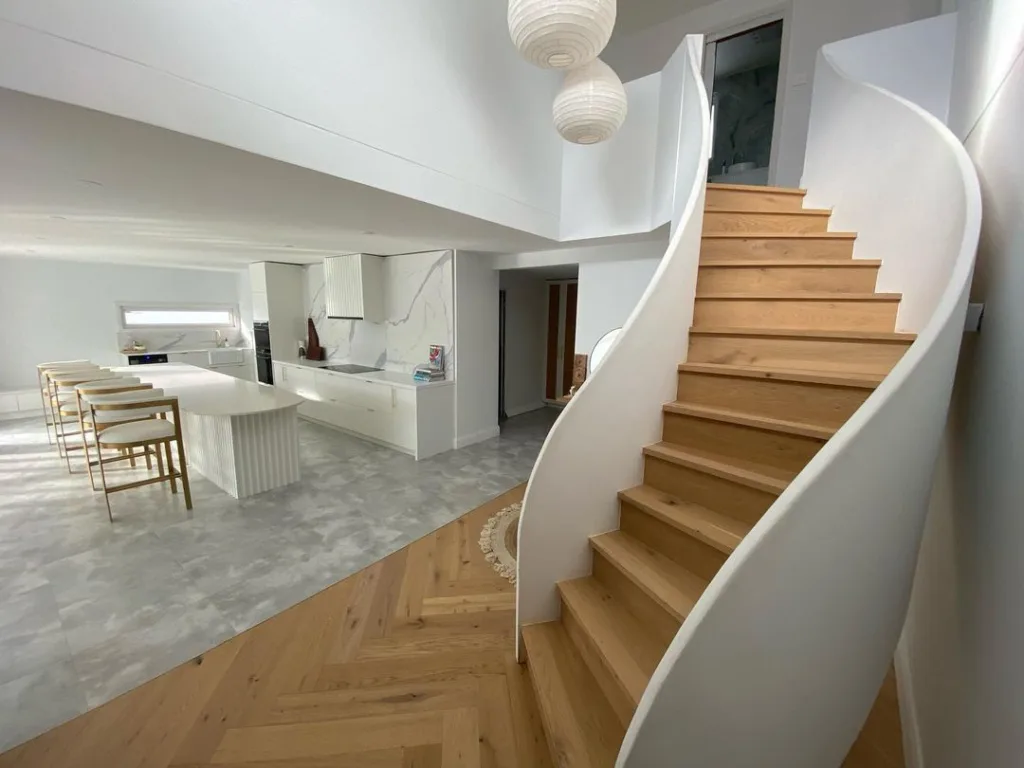 Neutral-colored treads and risers create a seamless look that blends with the hardwood floors in this home. Wood solid sides on the stairs have softly curved angles that add a modern look to this design. While you traditionally see banisters and ballisters, using solid paneling is a high-end look that can also be affordable.
13. Two Curved Stairs With a Crystal Chandelier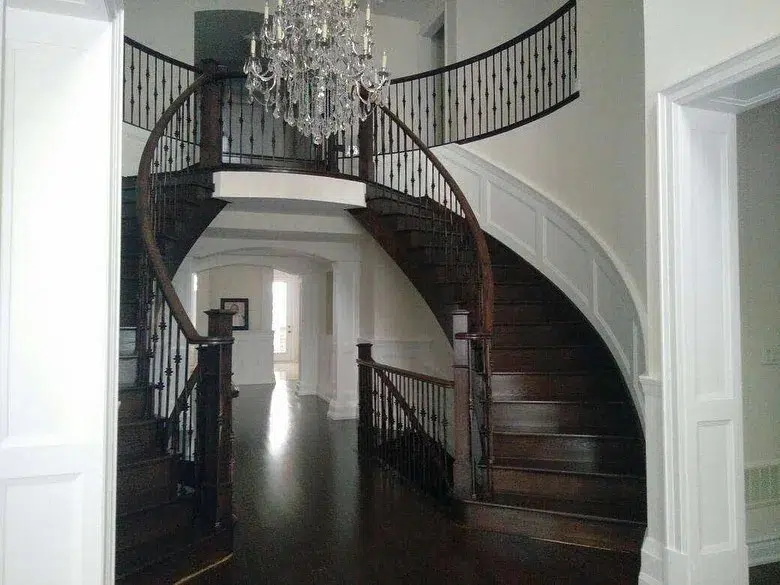 These split curved staircases (also known as dual staircases or bifurcated) feel like you're entering a palace. The stairs are designed to match the home's wood floors, creating a seamless look, while white wall molding adds a stunning contrast. In addition, a crystal chandelier hanging between the sets of stairs adds even more luxury to the space.
14. A White and Black Stairs Foyer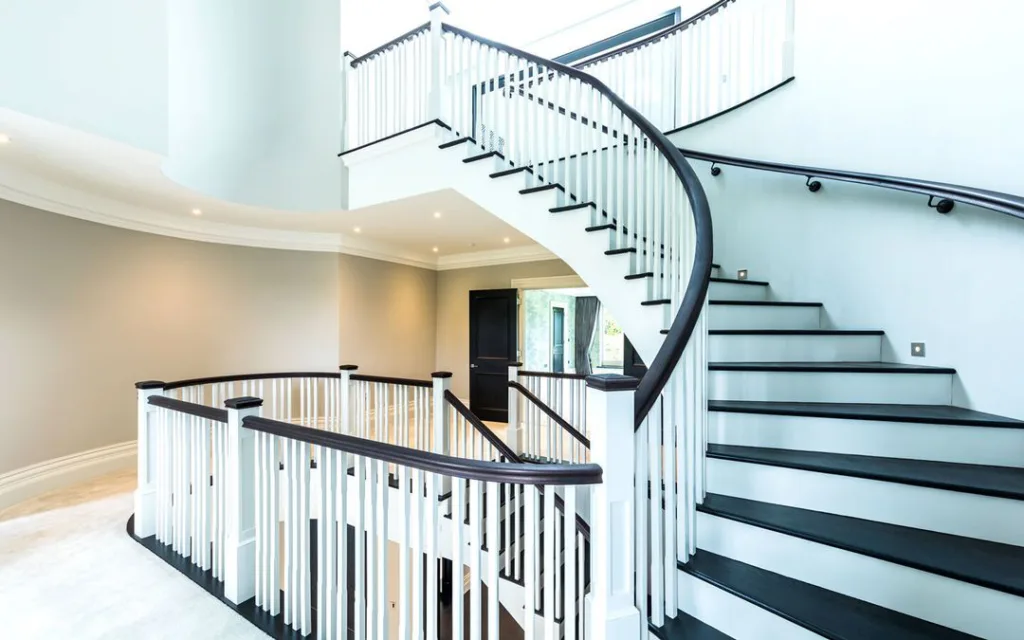 These white and black stairs exude a classic style amplified by the curved design of the staircase. We love the look of black and white stairs and even attempted this look when we refinished our staircase. While it came out great, we still completely renovated our stairs for a different look. Regardless, we still swoon over the black and white stairs look.
15. Grey Marble Steps in a Modern Neutral Staircase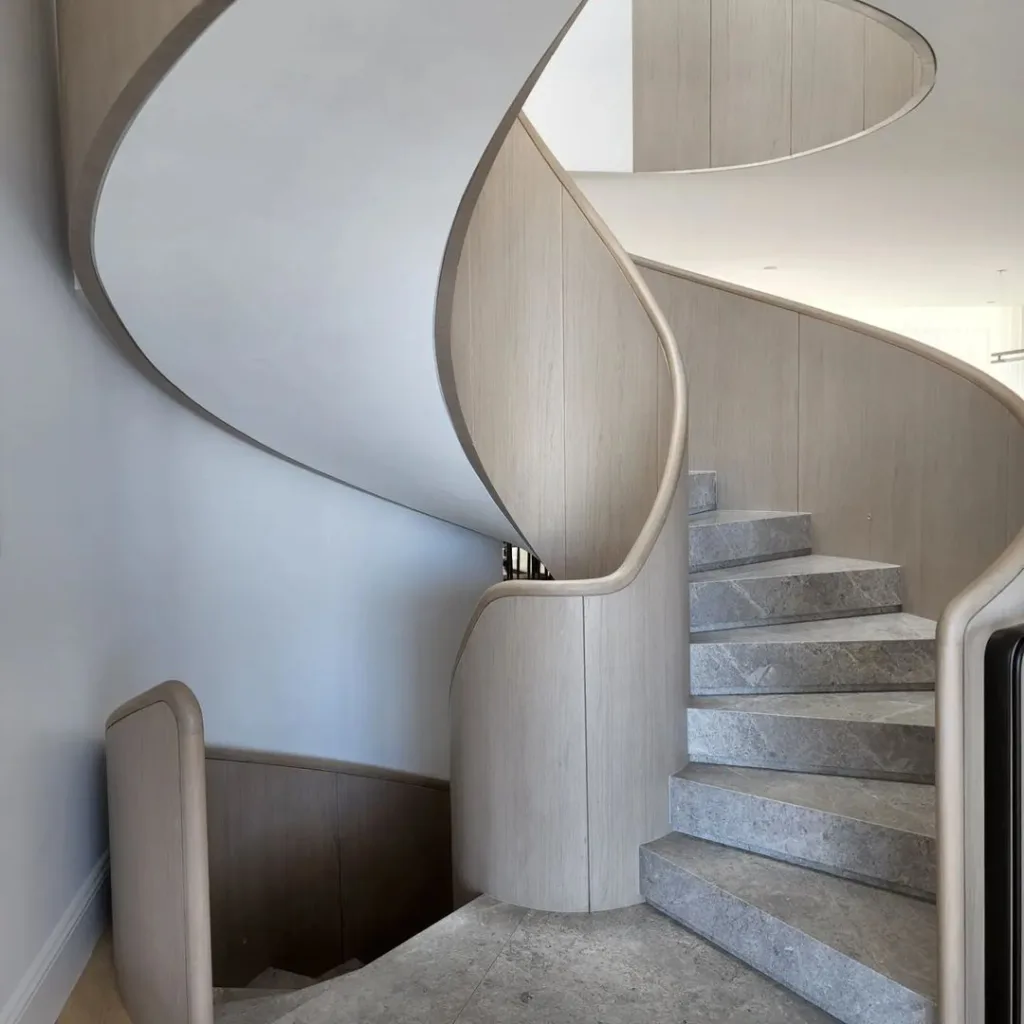 This high-end design features grey marble steps with white veining. Using stone for your staircase is the ultimate in luxury and durability, but it also comes with a price tag. Natural stones like marble or granite are much more expensive than traditional wood treads. So you can expect to pay 3-4x the amount for your stairs, or even more, based on the materials selected.
16. An intricate Tread Design with Black Railings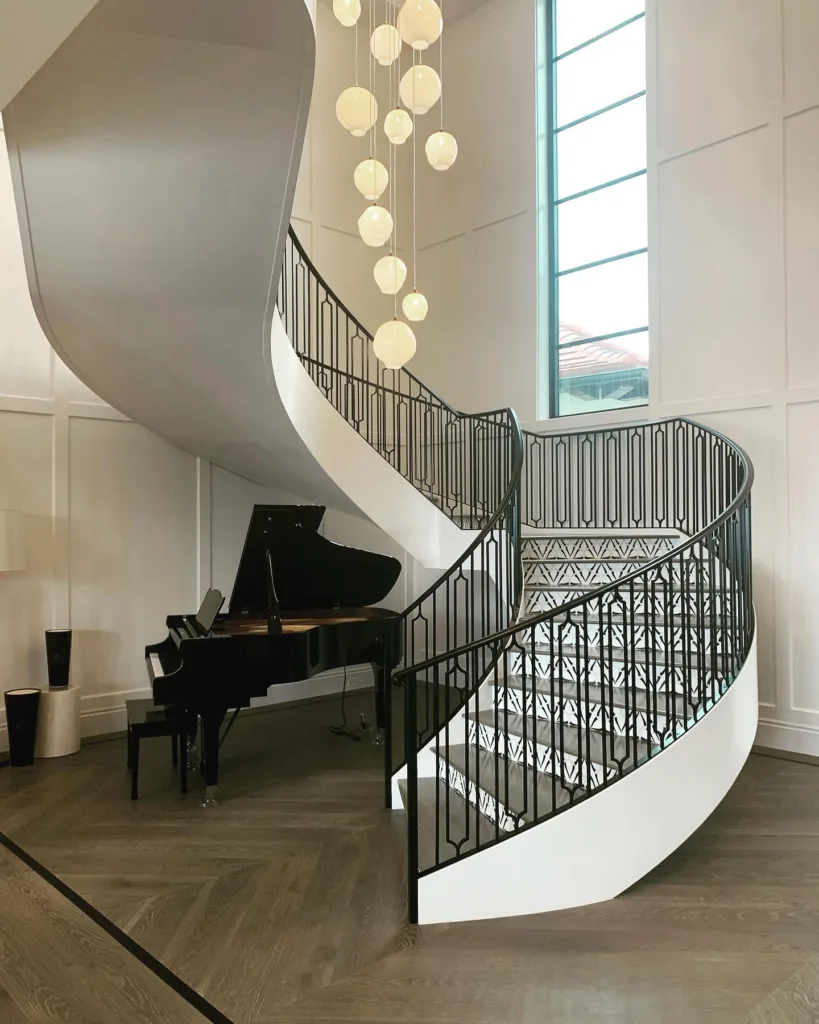 This floating curved staircase allows for a grand piano underneath, helping create a stunning landing area. Chevron wood floors with black detail add to the opulent look, while board and batten molding on the white walls create contrast against the stairs and piano.
17. A Black Iron Banister with wood treads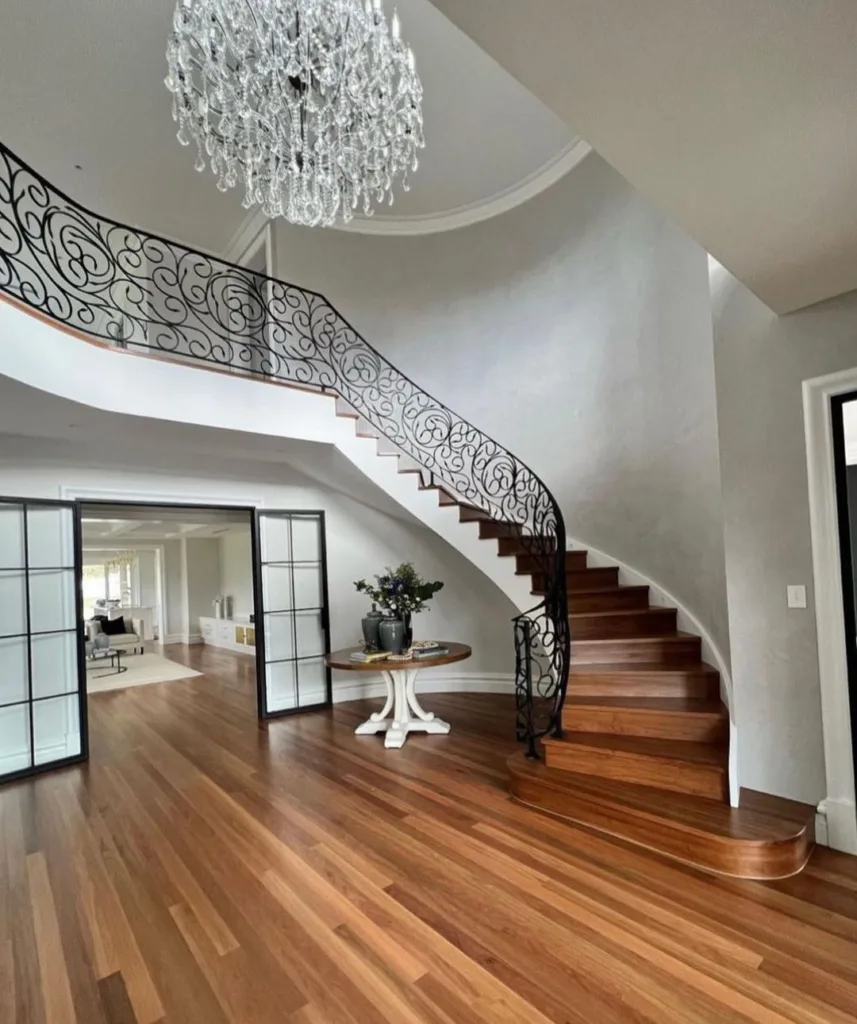 This curved staircase railing is the centerpiece of the entryway featuring an ornate design handcrafted in metal. Using custom railings instead of traditional ballisters is a great way to upgrade the look of your stairs, but it's also more expensive. Before deciding on your staircase design, you'll want to consider how visible your stairs are in your home. For example, the stairs are the focal point of this foyer, so investing in their design is an easy way to create a beautiful space.
18. An Open Staircase that hugs the wall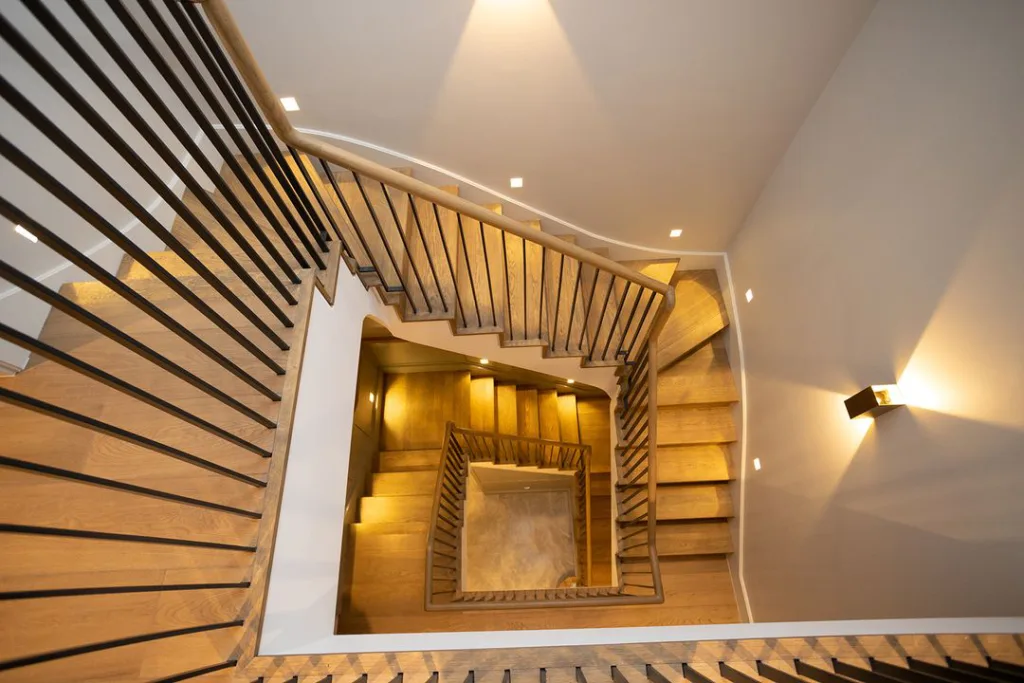 This open staircase feels like it keeps going on forever as it hugs the walls of this multi-floor home. However, lights built into the walls help you see the steps, especially at night. If you're renovating your stairs, adding lighting on the walls or under the steps is a great idea, especially if there aren't any windows around your stairs.
19. A simple curved staircase that matches the door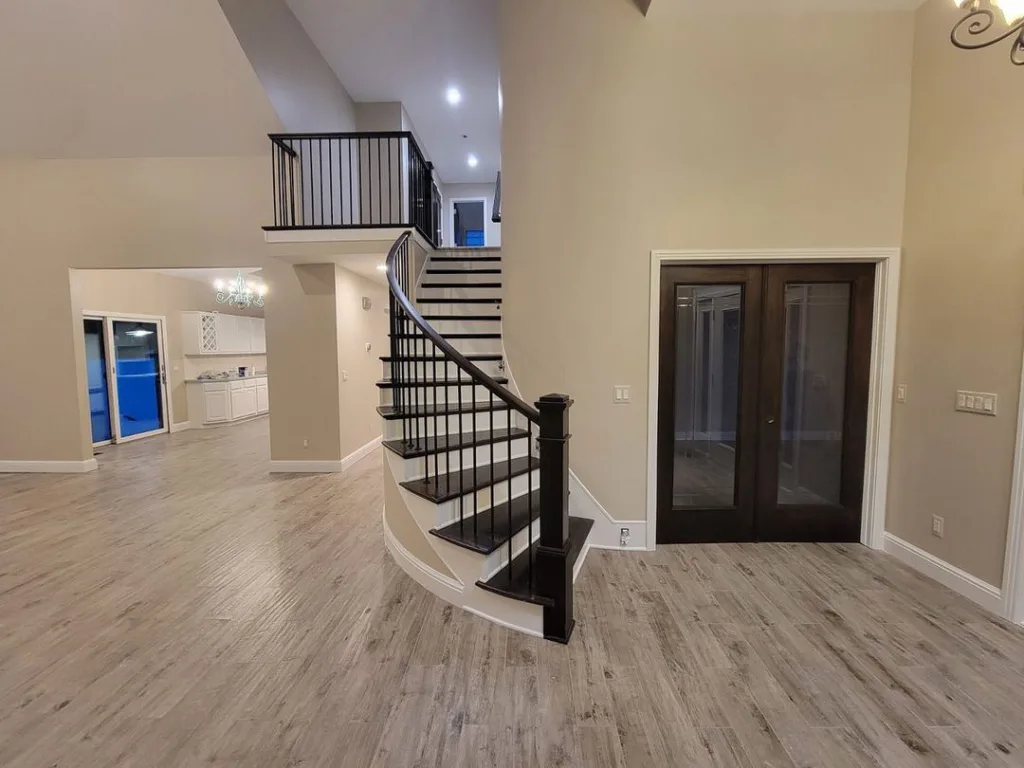 This simple curved staircase has black treads and white risers that match the nearby front door. The curved design adds an attractive design that elevates the stairs compared to a traditional staircase.
20. Two-Story Curved Staircase in a Fancy Home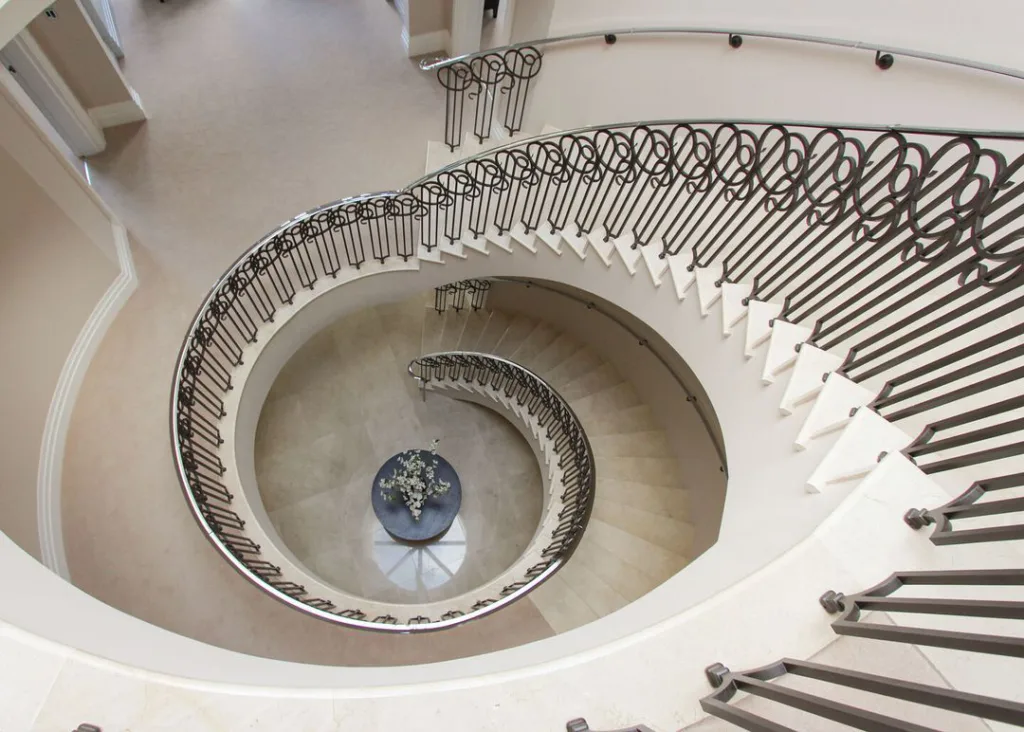 This multi-level curved staircase creates continuity between the floors of this house using the same black metal ballisters and railing. A black table with flowers as decor is centered in the foyer, accenting the ballisters and contrasting the beige polished tile floors.
21. Modern Wall Molding Next to the Stairs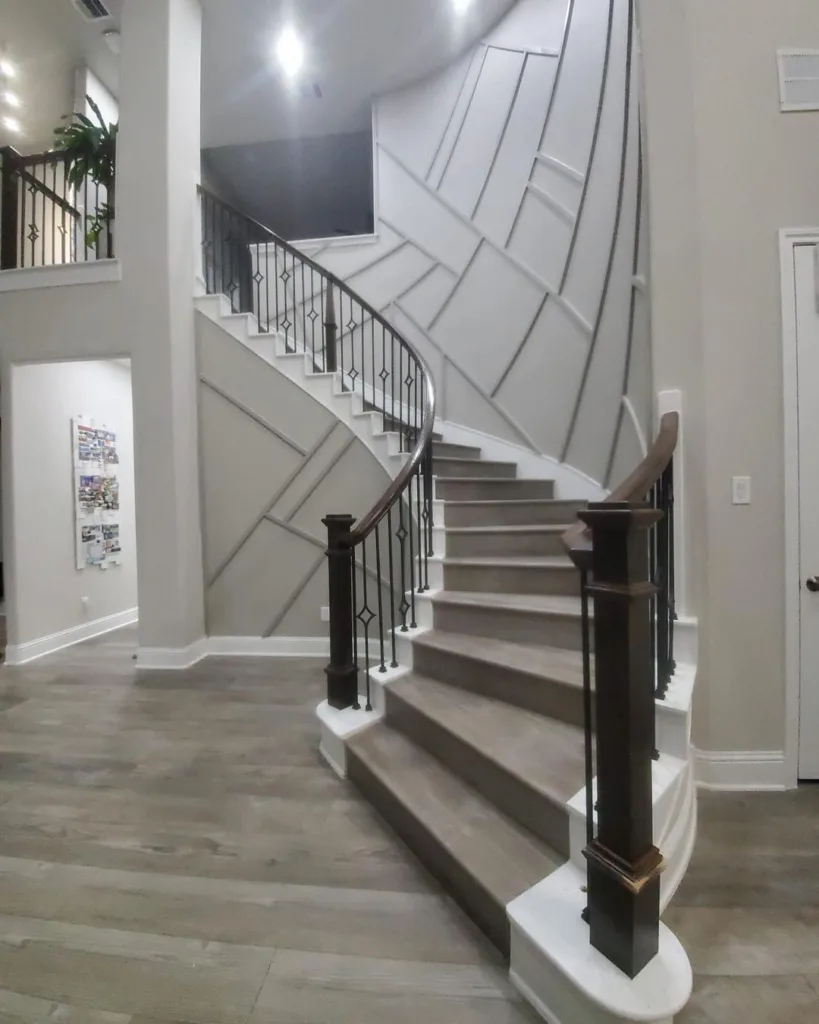 A modern accent wall with angled wood planks elevates this curved staircase giving it a contemporary look. Adding molding to the walls around your stairs is our favorite way to fill those large empty spaces.
22. Glass Floating Stairs with wood steps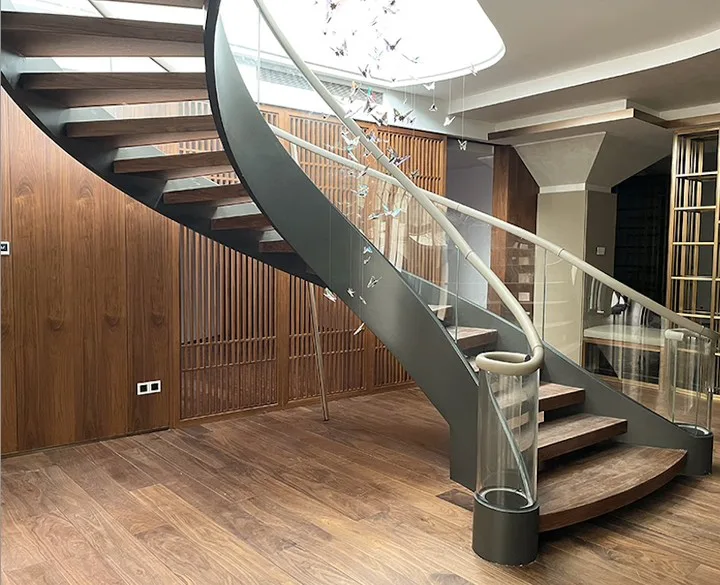 This curved staircase railing design uses silver metal on top of glass panelings that make the stairs' black structure stand out. Brown wood open treads help balance this staircase's modern look and match the home's wood floors.
23. A Piano Decorating a Curved Stairs Foyer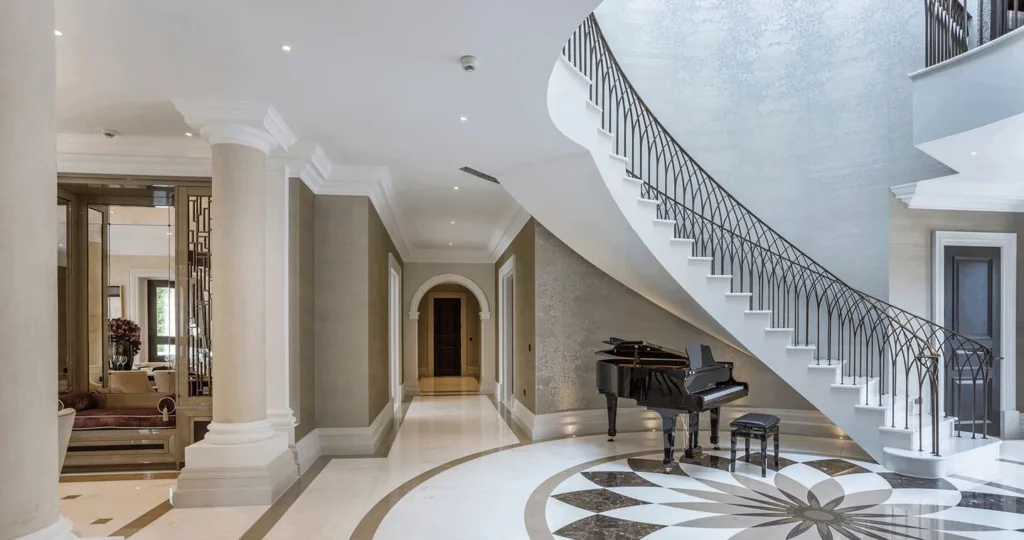 A black piano serves as the decor in this entryway with a large curved staircase. Black iron ballisters match the tones in the piano, while white treads and risers add a stunning contrast.
24. A Gold Chandelier with White and Black Stairs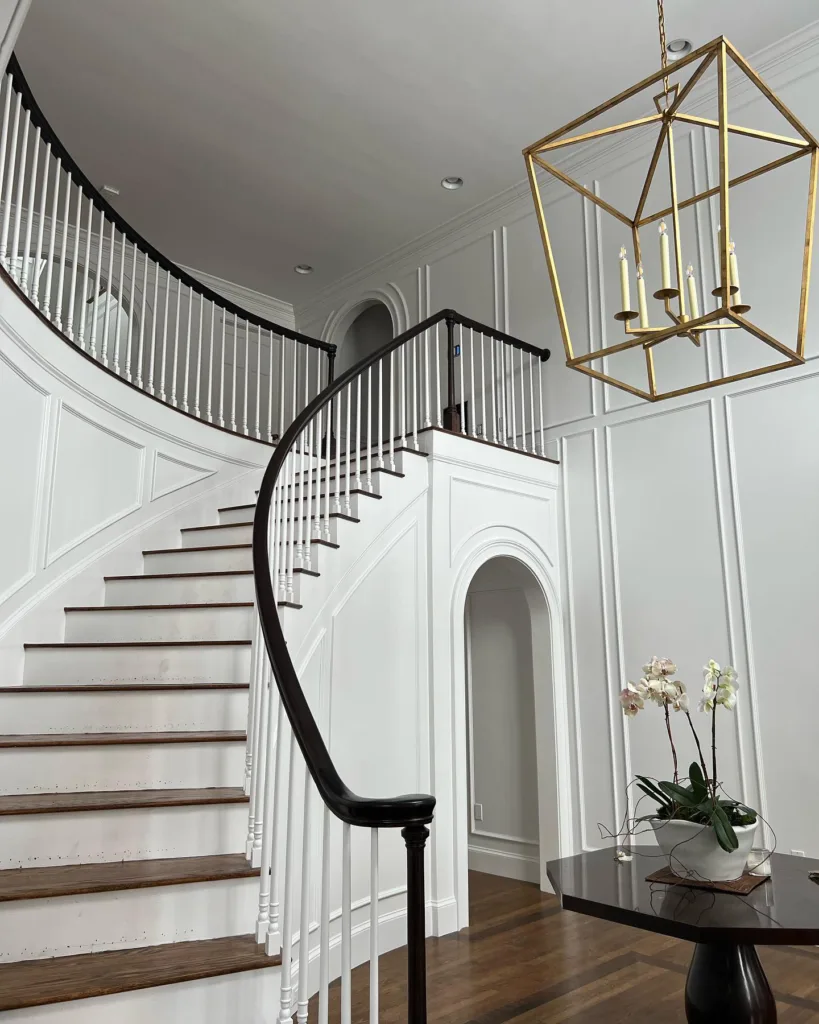 This curved wooden staircase has white risers (the front part of the stairs) to match the molding and walls around the foyer. A polished black table shaped like a hexagon adds a modern touch accented by the gold chandelier hanging above it.