A beach-themed living room brings a light and airy style to your home, whether you're right on the water or miles from the coast. And even if you don't have that dream beach house just yet, you can still create the perfect beach-style living room on a budget.

Beach-style living rooms are known for lights of white, beige, and blue shades that mimic the colors you'd find on the beach. But don't feel limited by these colors, you can add any accent colors or go in a completely different direction to fit the style of your home. For example, use more black, grey, and white tones to create a modern beach style.
Check out the gallery below for pictures of our favorite coastal beach-themed living rooms!
1. Light Blue Cabinets in A Beach Living Room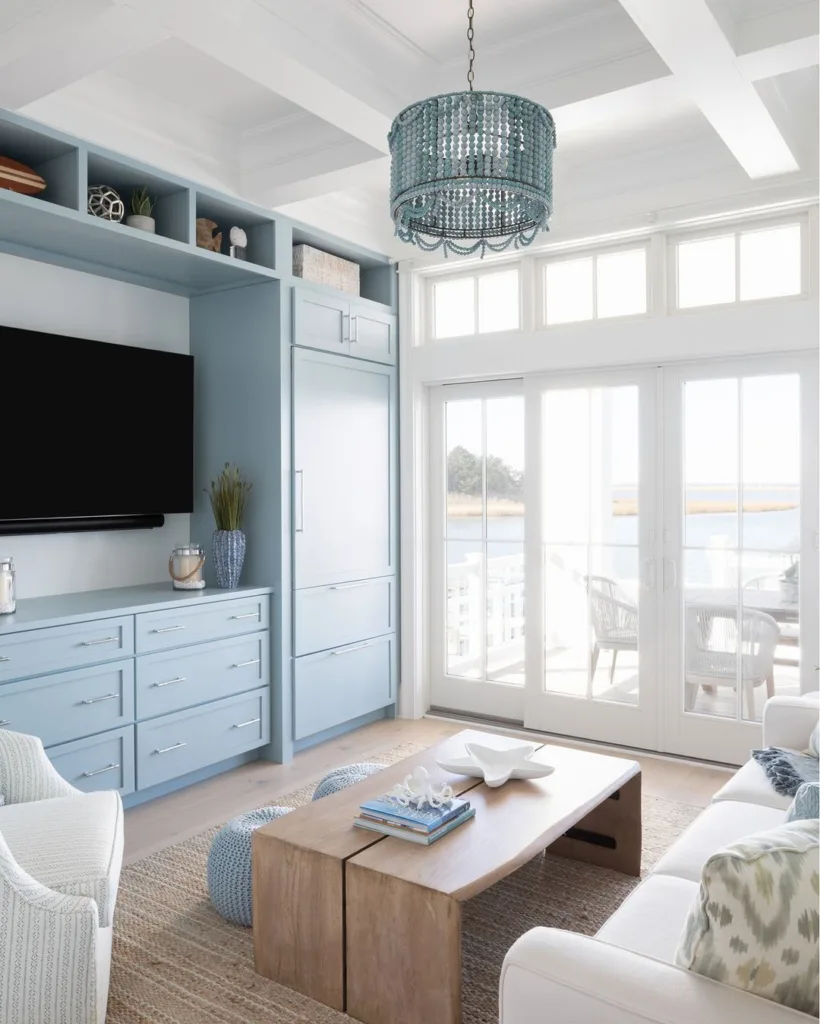 This small beach-themed living room features light blue cabinets around the TV, offering plenty of storage. A white sofa and accent chair are positioned around the wood coffee table, which brings in an outdoor feel. Large glass doors overlook a balcony and water view.
2. Neutral Accents and White Walls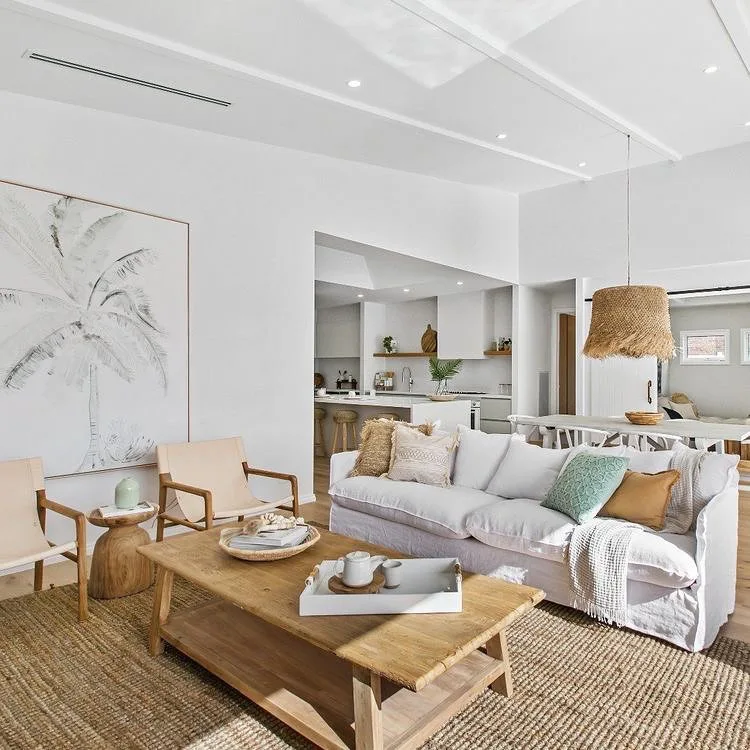 This living room with white walls features an off-white couch and beige accent chairs that add a neutral hue. A similar colored coffee table and woven rug add to the neutral color scheme, with matching throw pillows on the couch to tie into the design. Large artwork fills the wall behind the accent chairs. A kitchen behind the living room with an open floor plan features butcher block wood shelves and white countertops.
3. Large Sliding Doors in a Beach Condo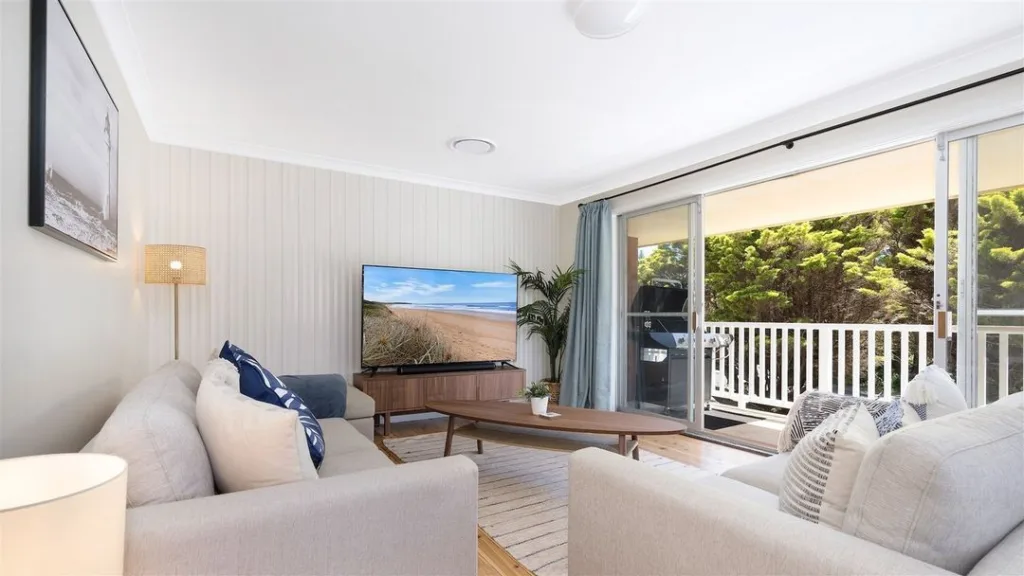 This beach apartment features shiplap paneling on the wall behind the TV to add texture to the space, while large door sliders open the living room to the balcony. A coastal-themed living room is all about introducing the outdoors to your area; lots of windows and open doors are the perfect way to accomplish that.
4. Light and Airy Neutral Chairs in a Beach House Nook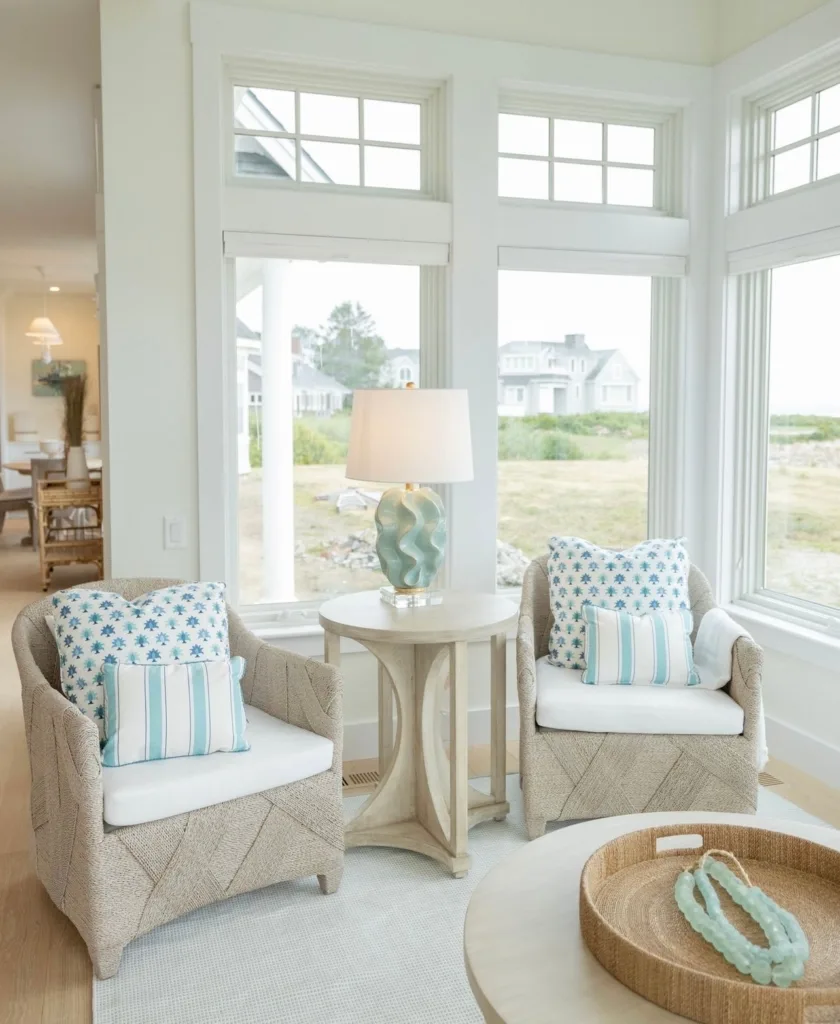 This beach house living room nook features two neutral-colored wicker accent chairs with white cushions. Blue, teal, and white accent pillows introduce beachy colors to the area and are accented by decor on the wood end table and coffee table. Large windows around the seats let you enjoy the ocean view from this stunning home.
5. Dark Wood Accents in a Small Coastal Living Room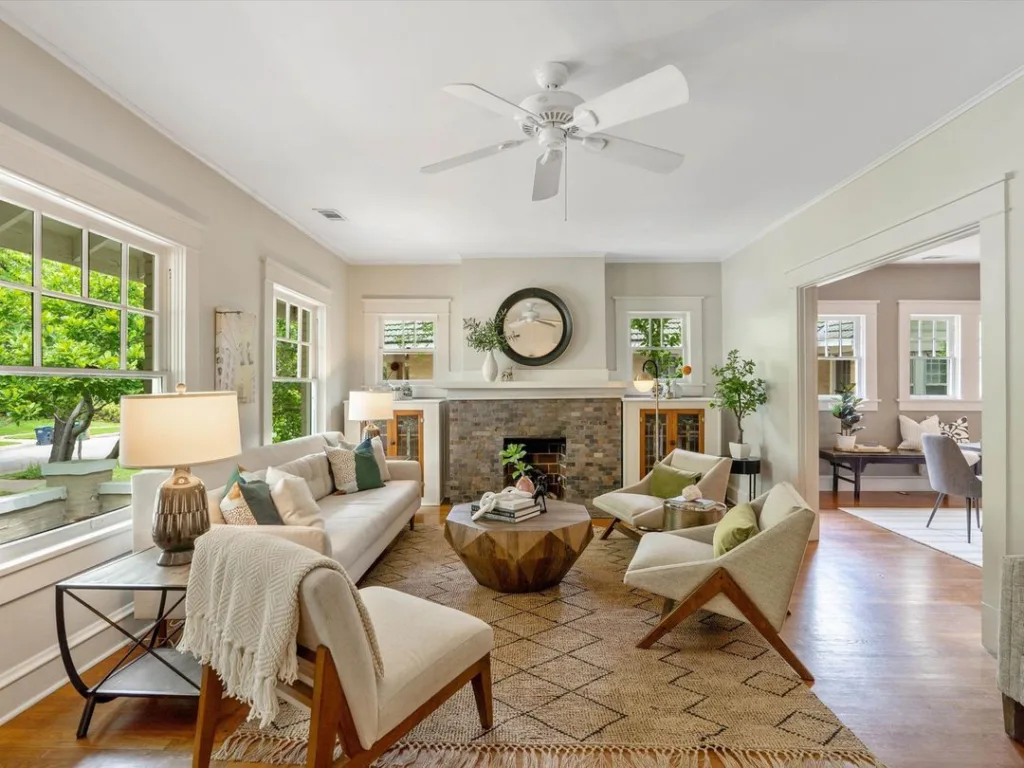 This beige living room with brown and white accent chairs shows that you can create a coastal beach theme without the traditional white and blue colors. Instead, use rich brown woods to create a pacific island theme that uses warm woods to bring the outdoors inside. A stacked stone fireplace at the end of this living room adds even more texture to the space.
6. Light Furniture and Shiplap Walls at the Beach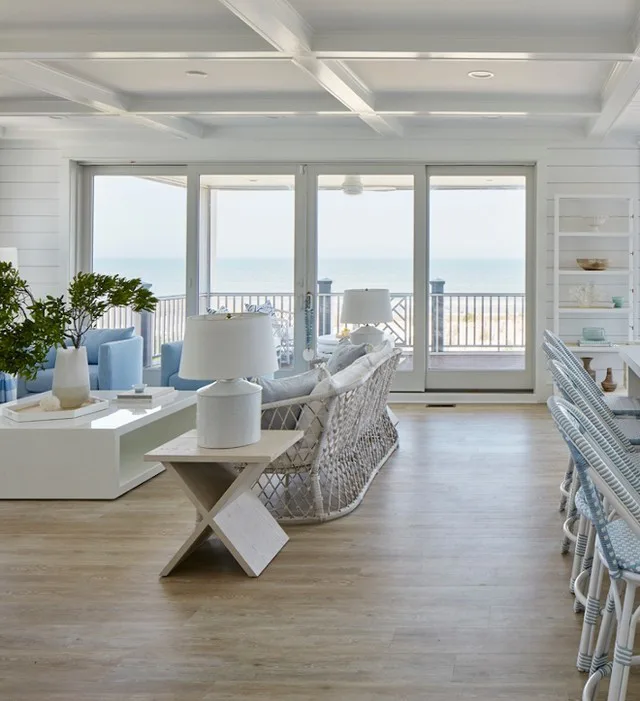 White and light blue furniture fills this coastal living room with light wood floors and an abundance of natural light. Light blue chairs at the island continue the color scheme, while large doors expose the ocean view from this beach house.
7. Light Blue Accents and Neutral Furniture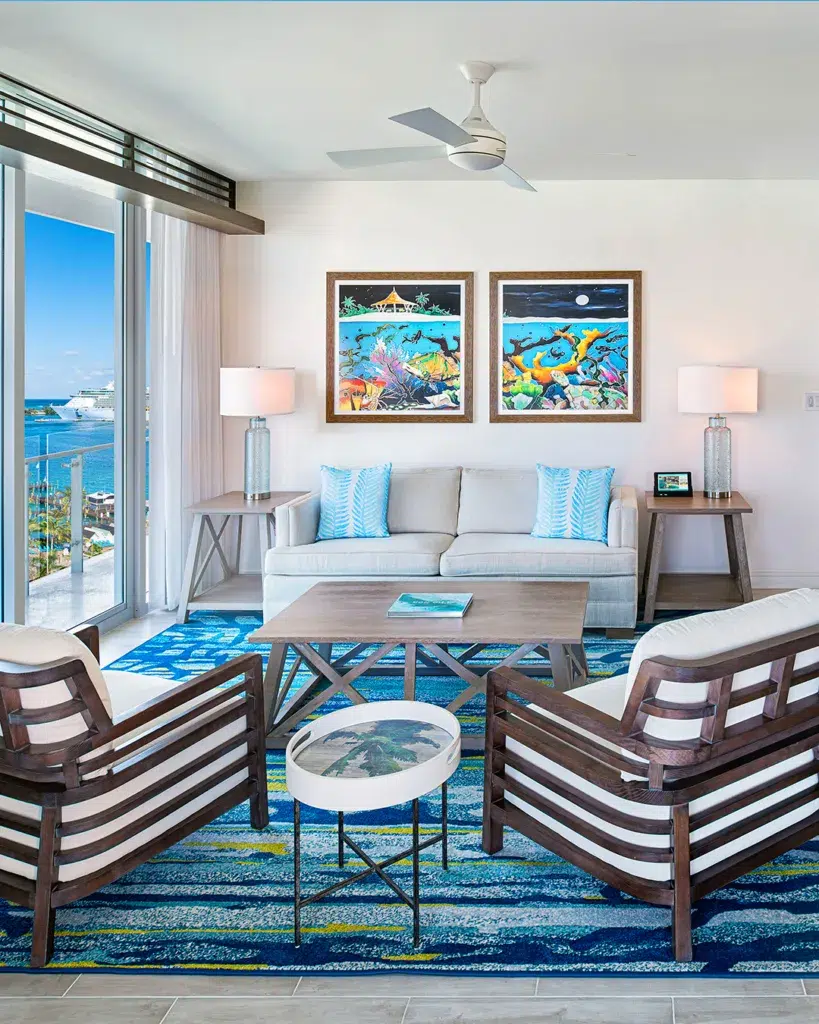 Light blue and teal accents are carried across this Bahamas beachfront living room with a bright rug, artwork, and book on the coffee table as decor. Dark woods create a contrast against the bright colors while continuing the nautical themes. Rich wood colors in a coastal design introduce tones similar to a yacht or boat, enhancing your design.
8. Wood Ceiling Beams with a Hawaiin Theme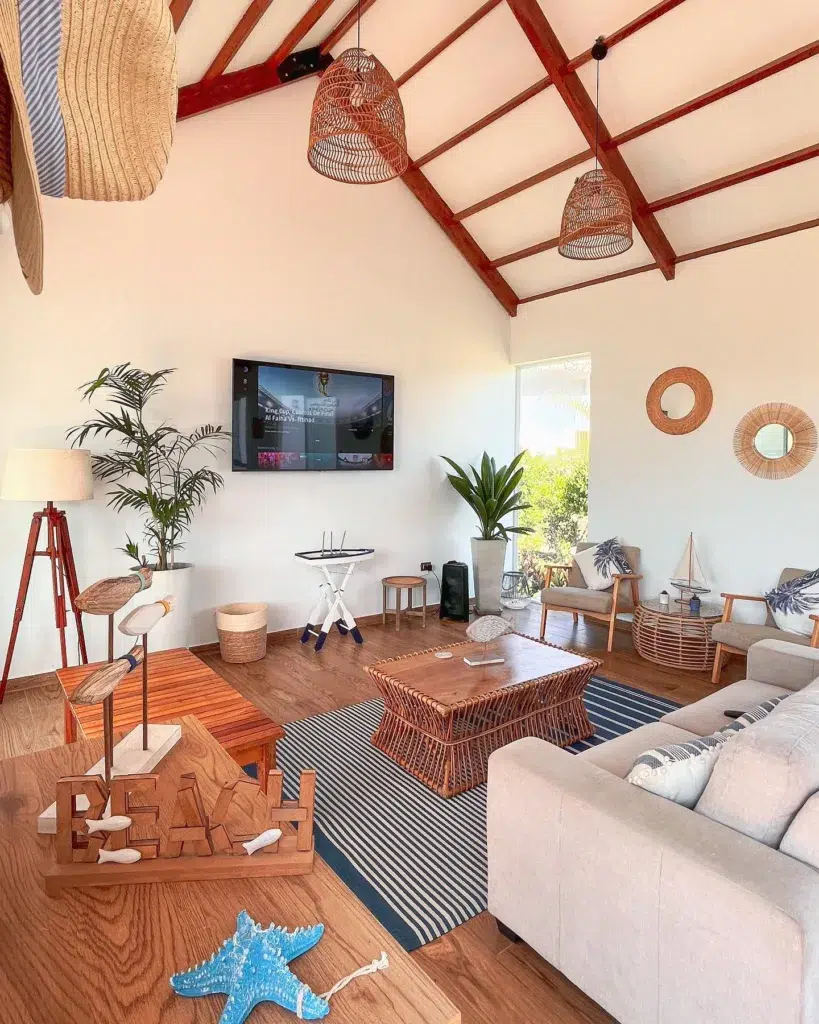 Brown wood beams accent the wood floors and furniture throughout this space introducing a Hawaiian coastal theme. While we traditionally think of beach-themed living rooms as having white and blue tones, you can also add warm brown tones to channel a Hawaiian-like feel. These hues also help break away from the monochromatic look of white spaces.
9. A Neutral Beach Themed Living Room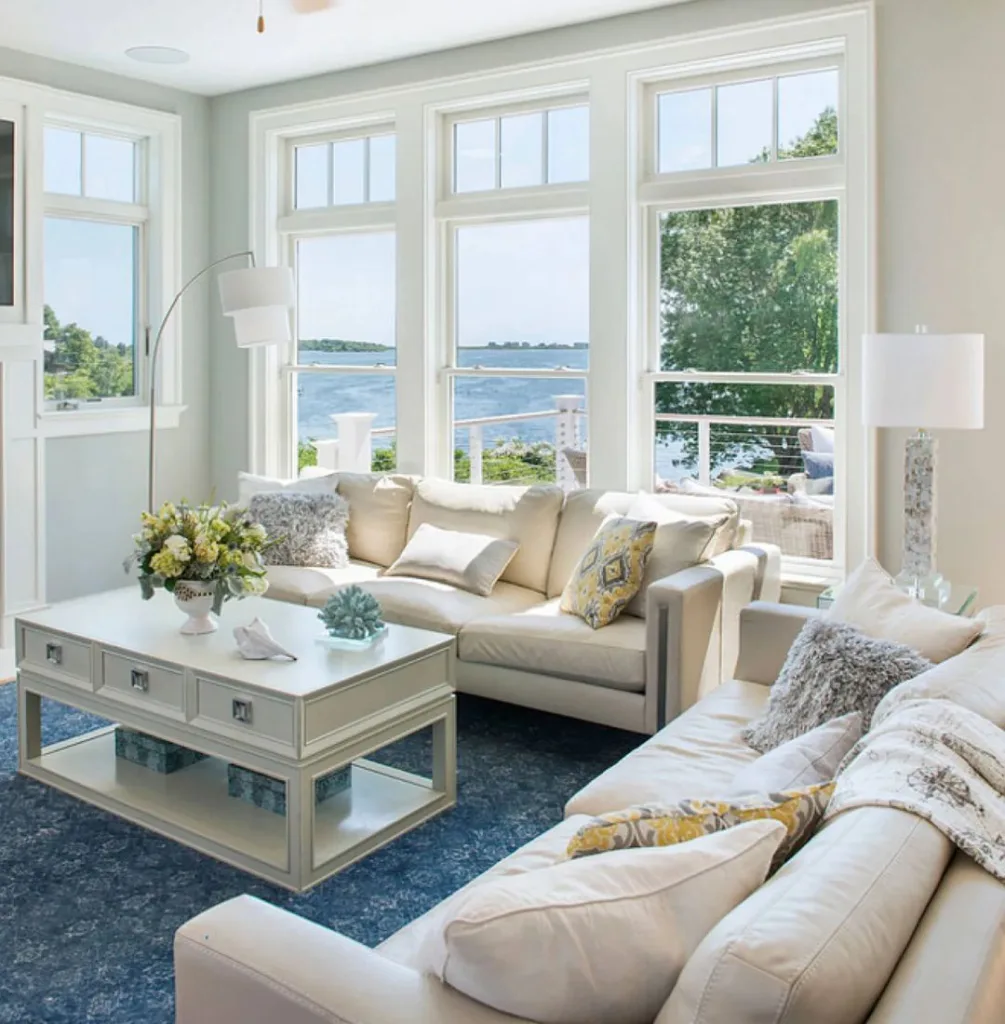 This small water-view living room uses beige couches for a light design that is accented by the dark blue rug. Using blue and teal colors is a great way to introduce ocean-like colors and create a coastal design.
10. Two Accent Chairs and a Water View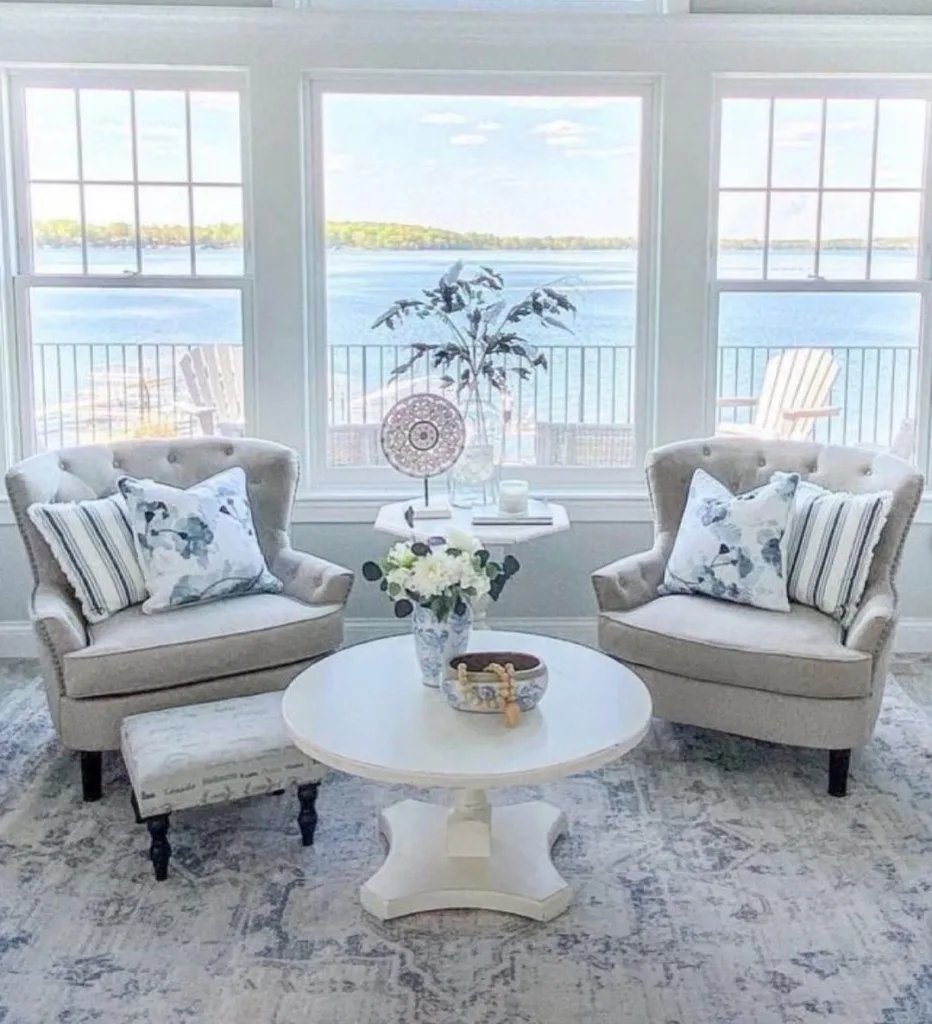 This beach house sitting area keeps it simple with two grey accent chairs and a white coffee table. Flowers on the table act as decor with subtle blue accents on the throw pillows. Windows behind the seats expose the water view and act as the space's centerpiece.
11. Off-White Accent chairs and A Gold Chandelier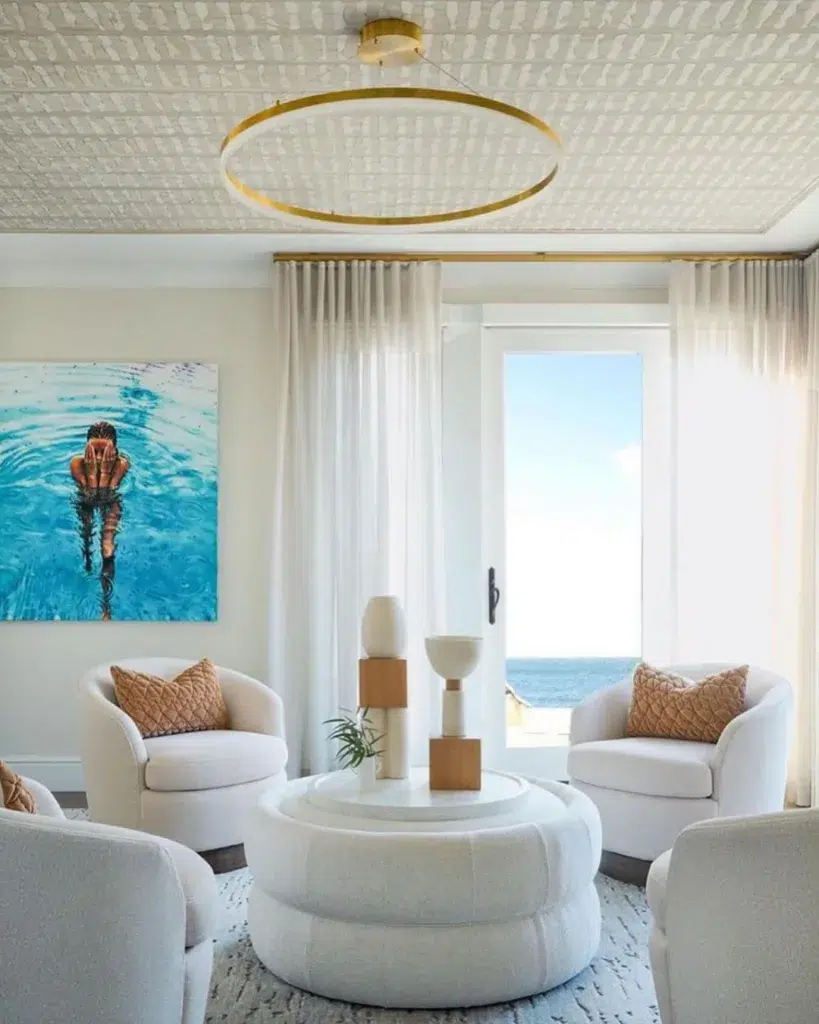 Four white accent chairs surround a matching coffee table with wood decor. Light brown throw pillows match the decor, while soft blue artwork on the blue exudes a beach house feel into the room.
12. A brown accent wall with modern furniture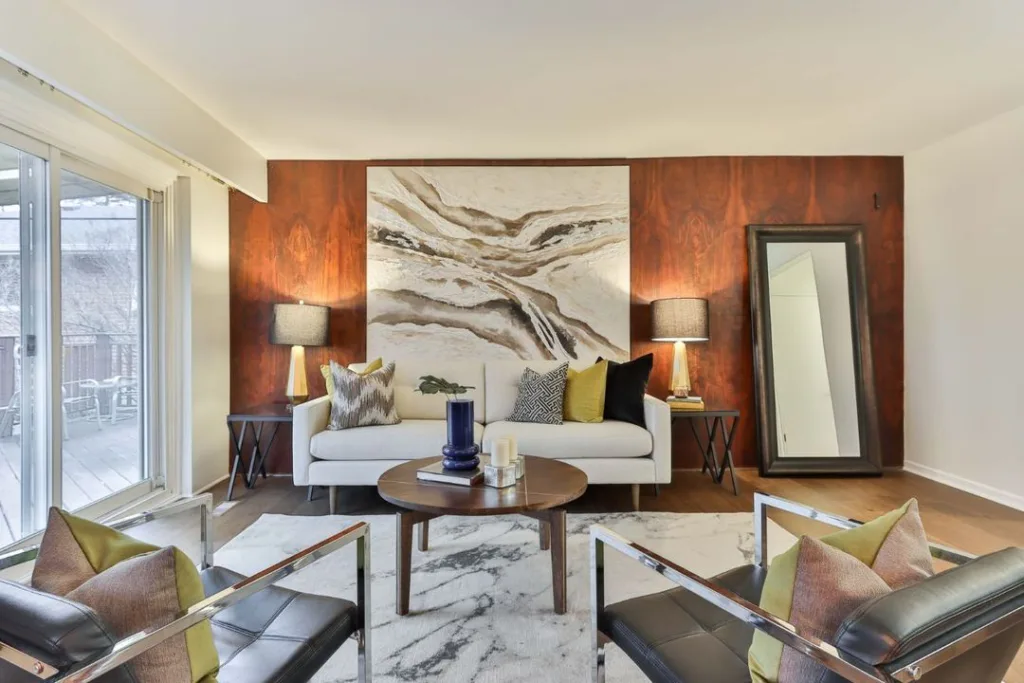 This apartment living room uses a light white sofa with a brown wood paneled accent wall to create a Polynesian-like beach theme. The chrome and black accent chairs add a modern flair to the room.
13. A Grey Modern Beach House Design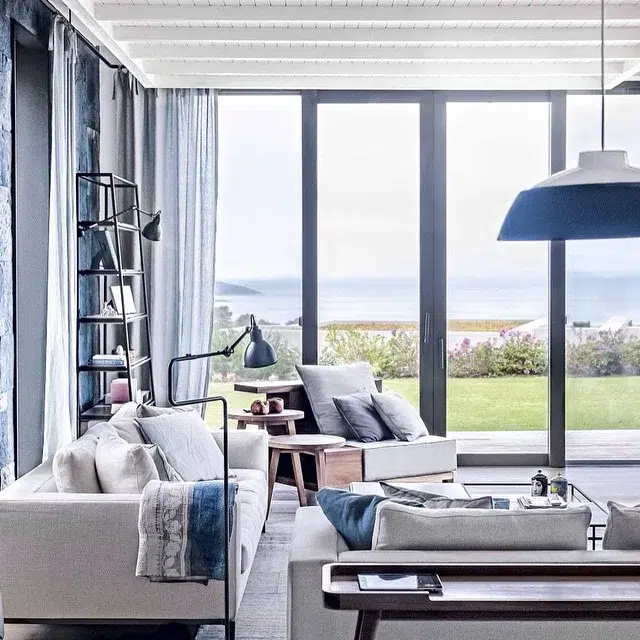 This modern grey beach house proves you don't need to stick to a white and blue color scheme. Navy throw pillows on the grey couch and accent chair complement the ocean view, while tall curtains let you control the amount of light in the space.
14. AWhite and Black Beach House Living Room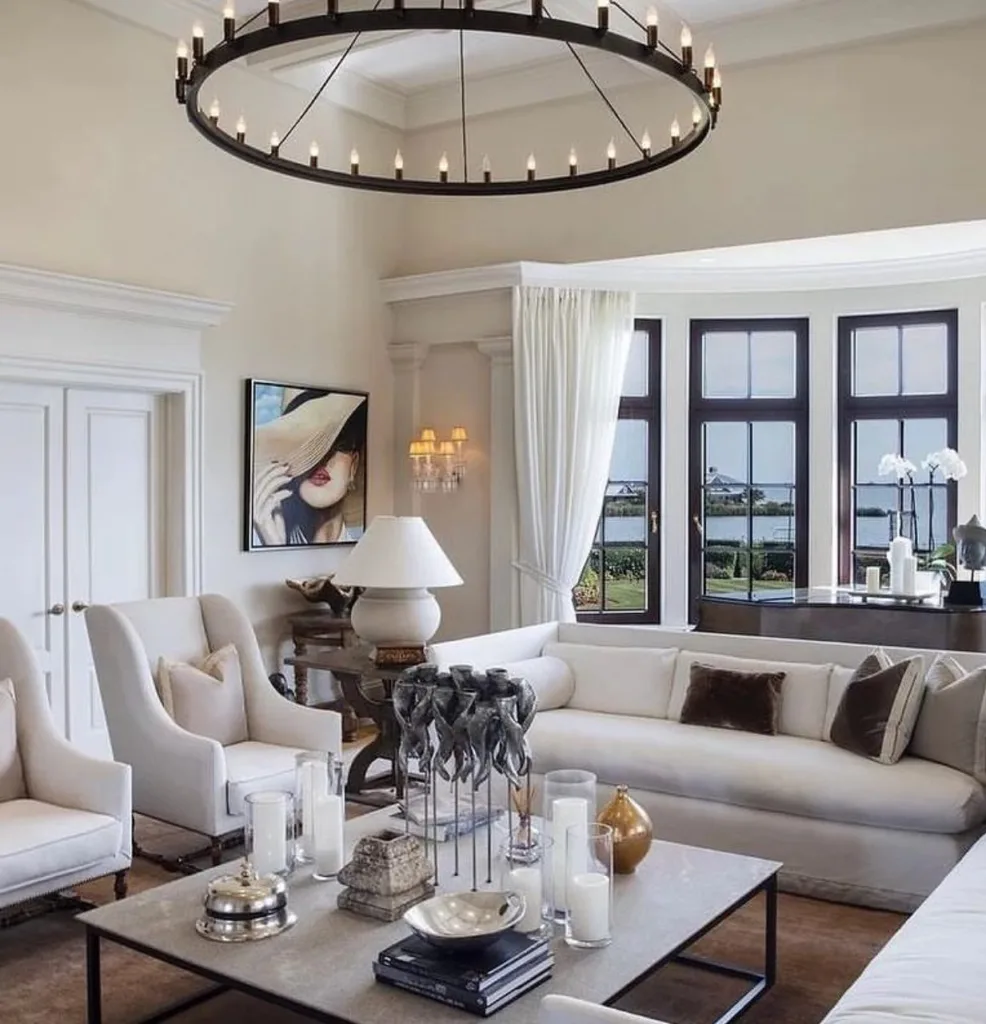 This black and white themed living room exudes a classic style with two white sofas and accent chairs creating a seating area. The black legs on the coffee table and dark-colored throw pillows accent the black window trim that stands out on the white walls.
15. Neutral Wood Trim in a White Space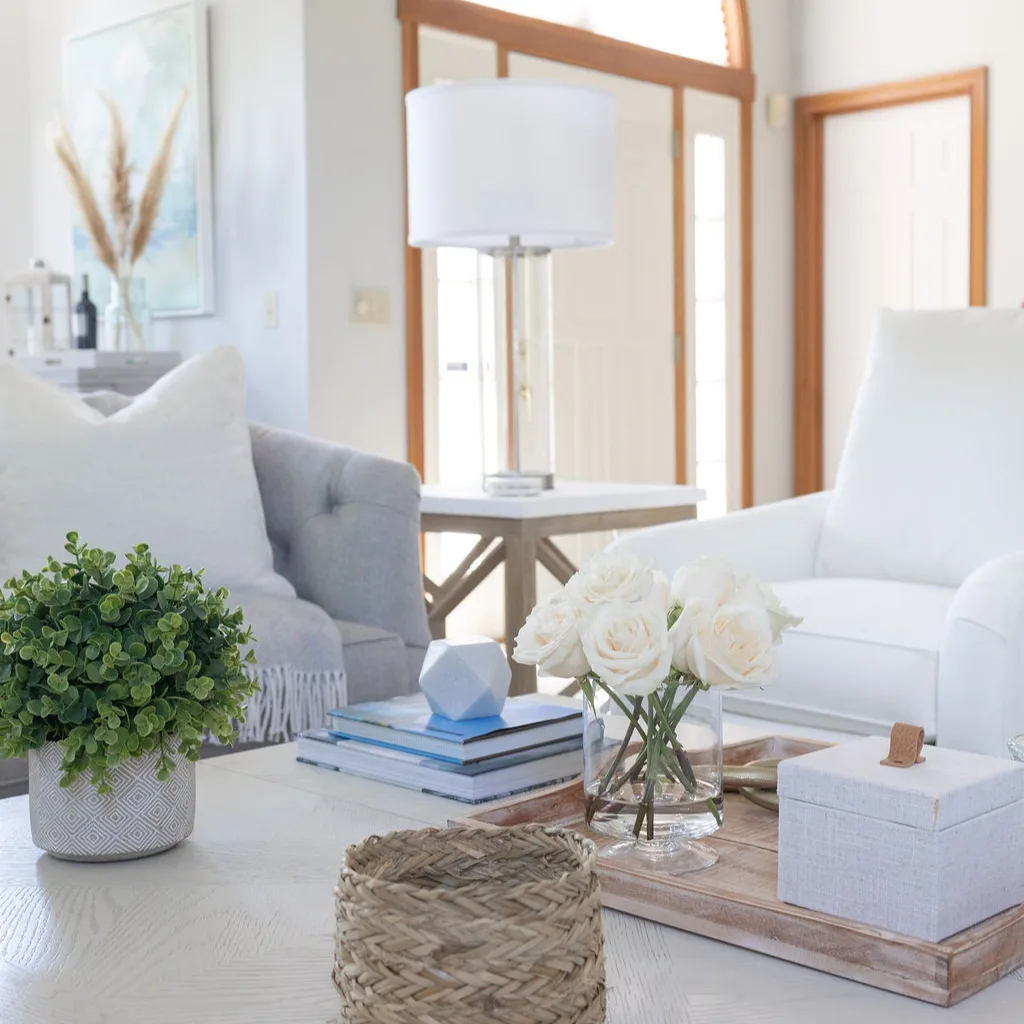 Neutral wood trim around the doorways balances this living room's light beachy color scheme. A grey couch features a white throw pillow that complements the nearby white accent chair. The decor on the coffee table continues the light colors with a light wood tray to bring in the sense of nature.
16. Blue and White Accents for a Coastal Theme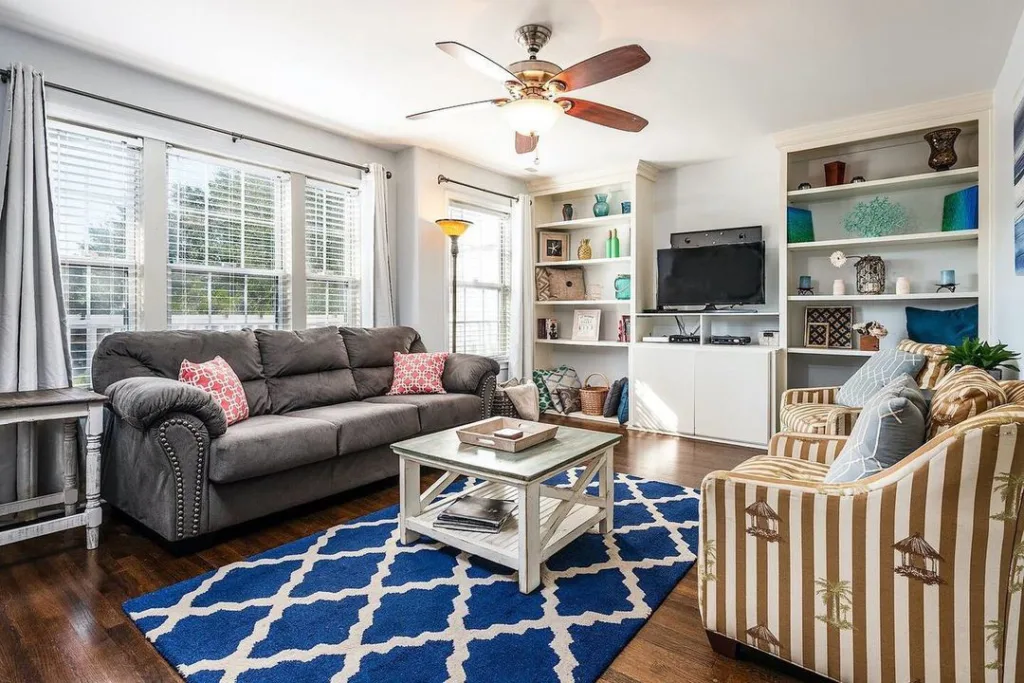 The blue and white decor on the built-in shelves next to the TV creates a coastal style in this living room. The beach vibe is continued with the blue and white rug and nautical-themed accent chairs.
17. Lots of Windows in a Beach House Living Room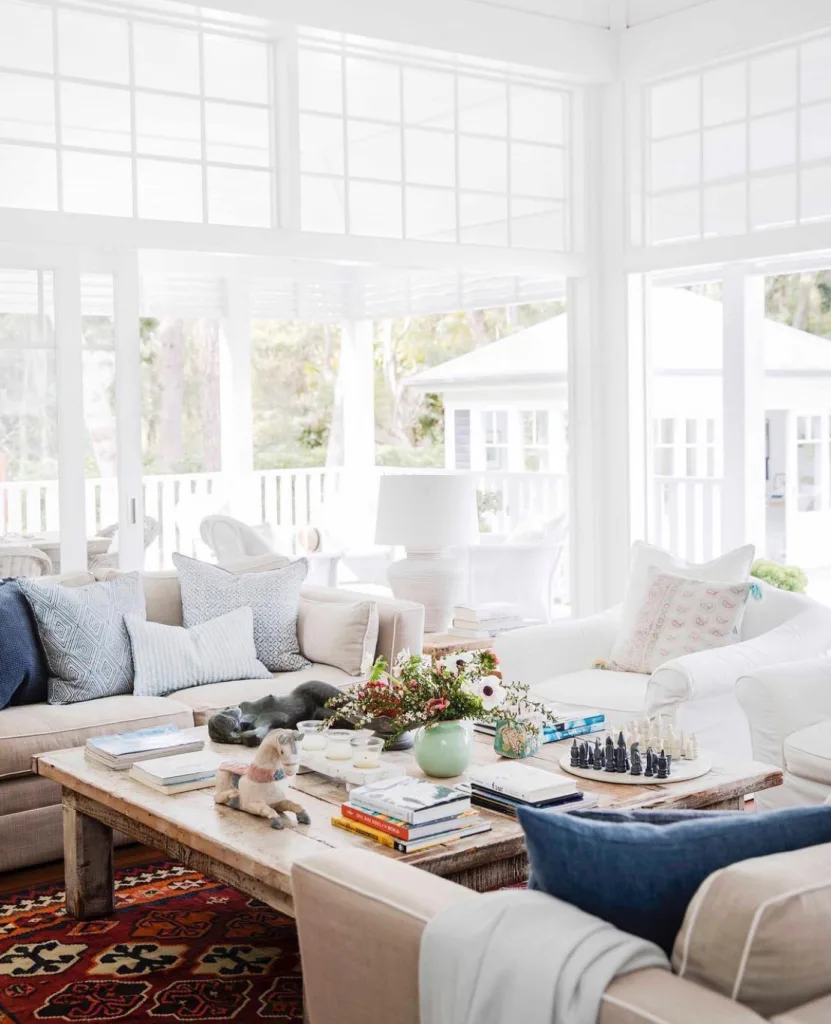 This beach house living room is flooded by light thanks to the abundance of windows surround the room. This natural light helps brighten the beige couches and white accent chairs around the wood coffee table.
18. Light Blue Accent Chairs and A Wood Coffee Table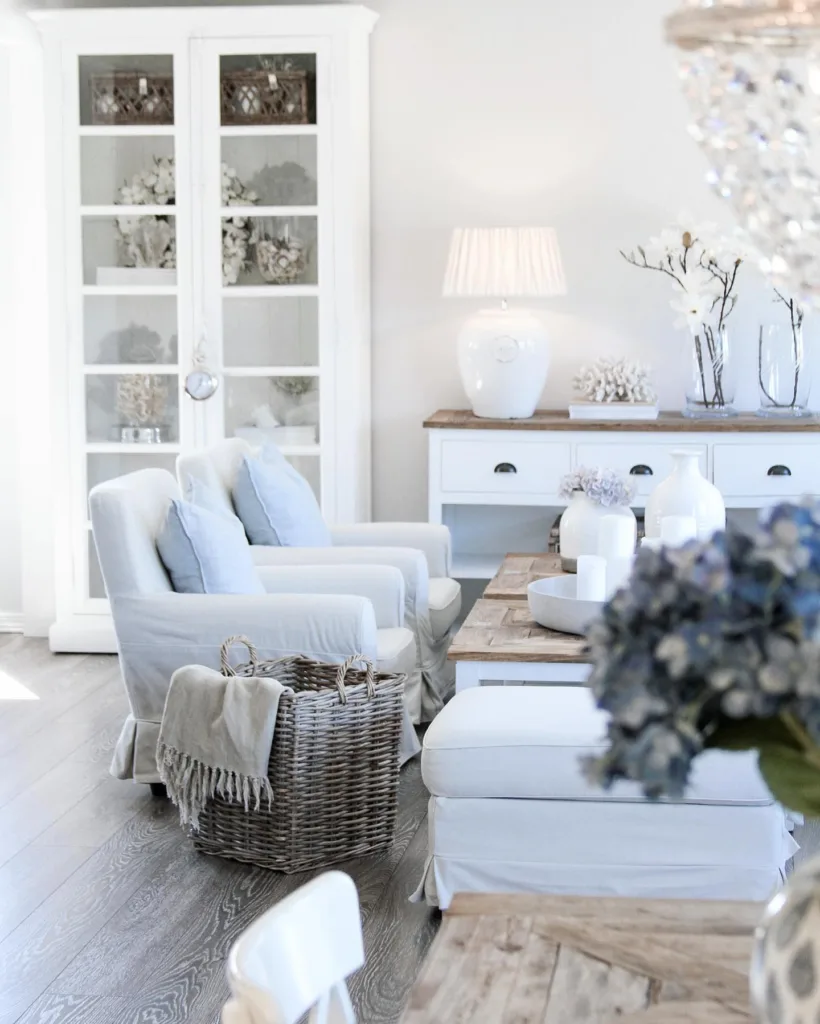 Light blue accent chairs with matching throw pillows add a subtle pop of color against the white dresser and console table. Grey wood floors add texture to the space along with the matching wood coffee table and dining table.
19. Wood Beams with Beige Coastal Curtains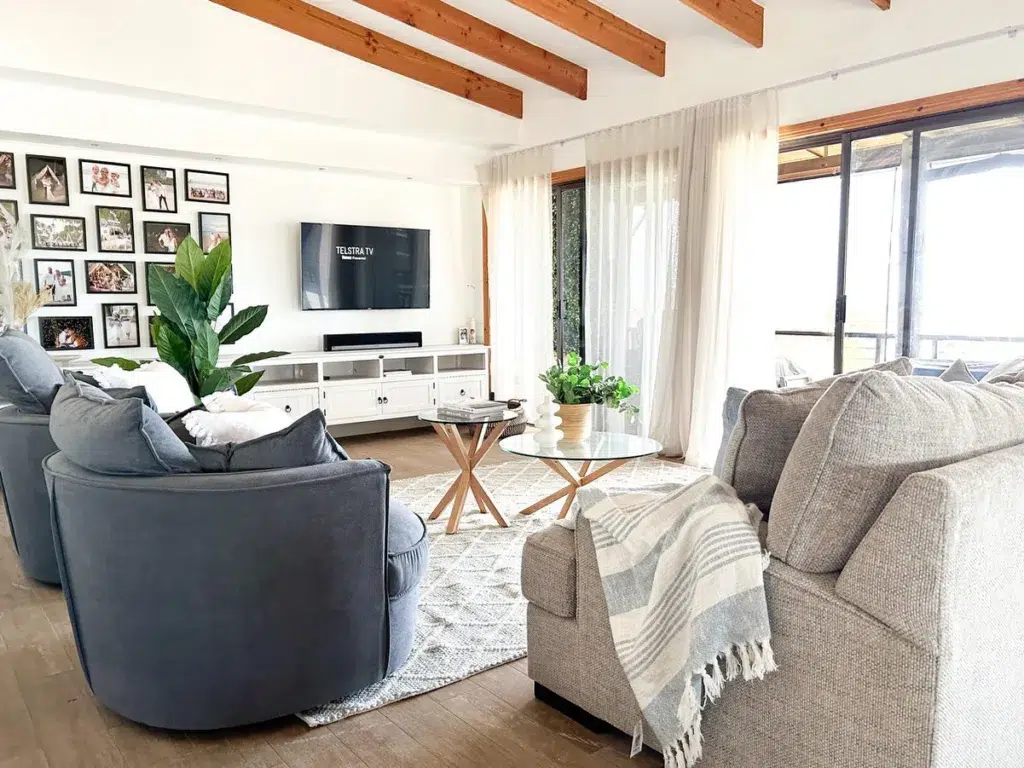 Rich wood ceiling beams match the trim around the large doors that lead to the balcony in this coastal living room. Dark grey accent chairs add contrast to the light grey couch and white walls in the space. Wood legs on the glass coffee tables in the center of the room accent the wood trim in the area.
20. A Two-Story Living Room with Modern Furniture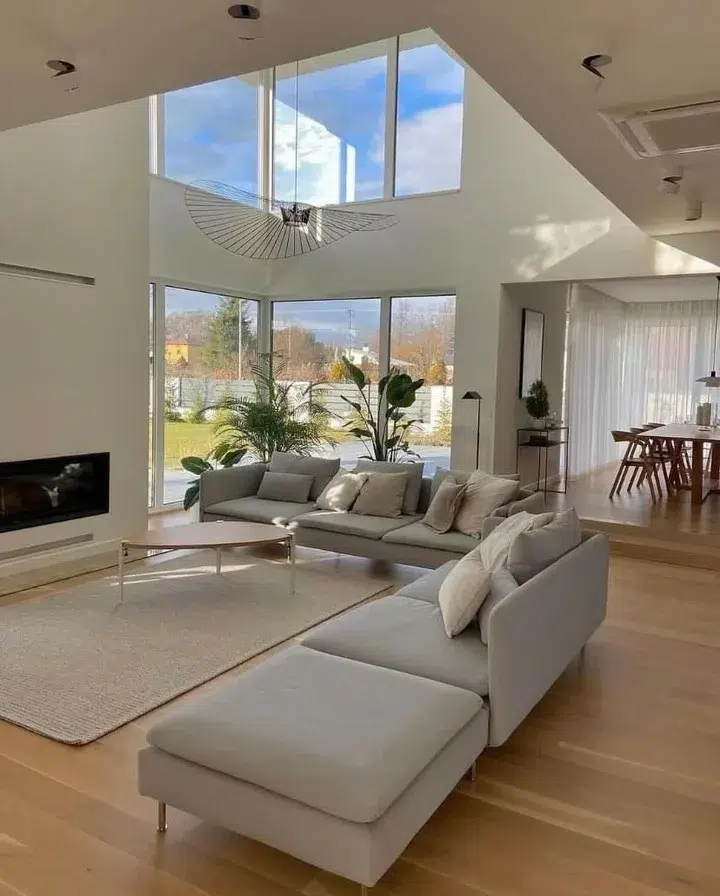 This modern white living room exudes beach vibes thanks to the sleek grey sectional and warm hardwood floors. Plenty of natural light gives the space a light and airy feeling thanks to the two-story windows.
21. A Coastal Sitting Area with Ocean Views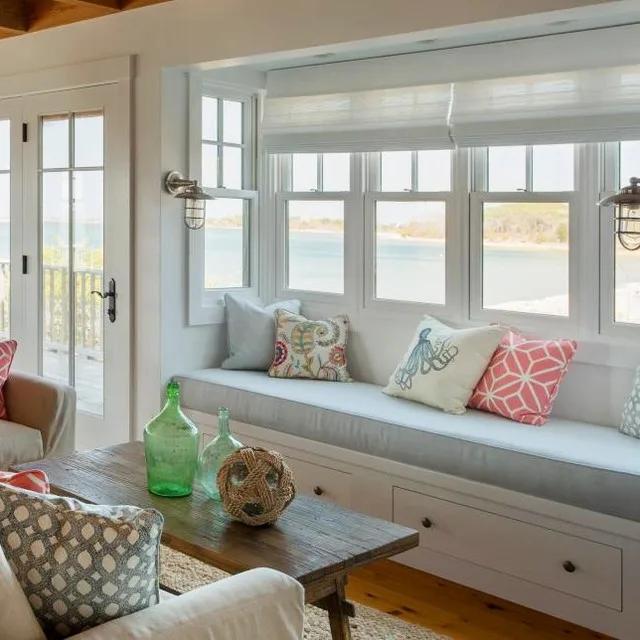 This cozy seating area features a bench with a light blue cushion built into the bay window overlooking the water. A wood coffee table adds a nautical texture to the space with accent chairs around the area for additional seating.
22. Neutral Sofas and a Whicker Light
This stunning beach view living room uses beige furniture to bring in hues similar to sandy beaches. White walls with large windows let in plenty of natural light and let you enjoy the ocean views. Along with blue and white colors, using beige in coastal style designs is common since it replicates the colors you'd find on the beach.
23. Light Blue Artwork and Accents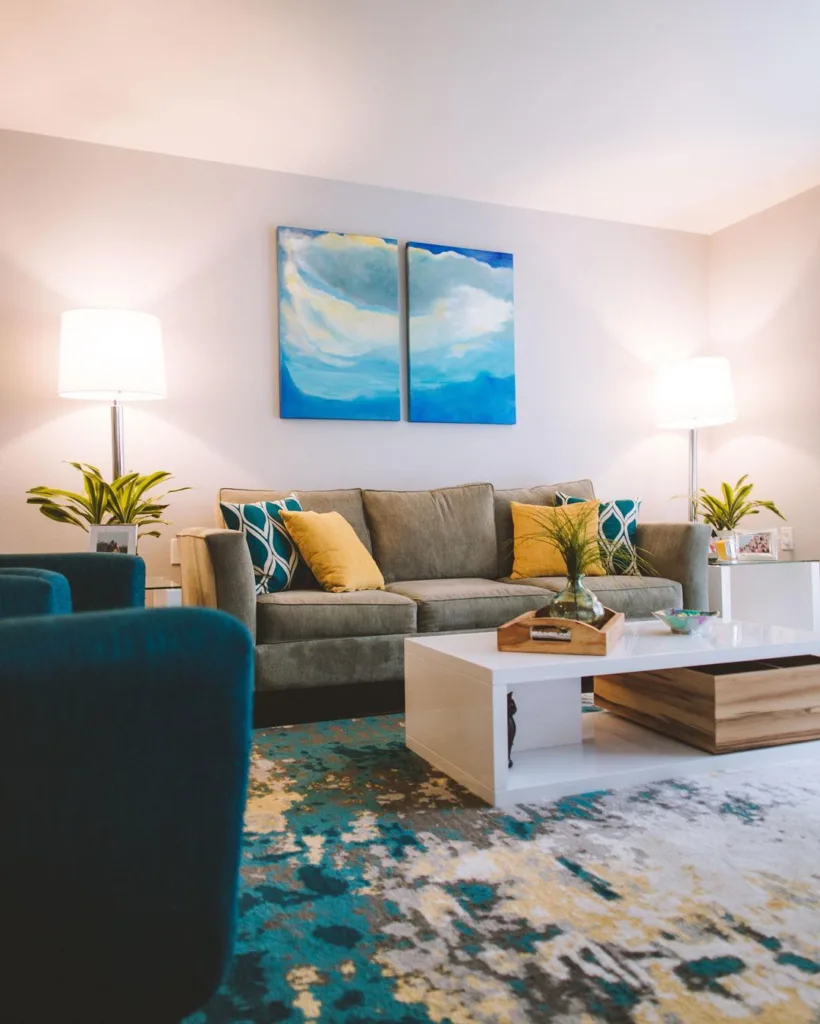 The brown couch in this living room uses teal and yellow throw pillows to accent the floor rug and nearby blue chair. Artwork on the wall with lots of blue hues continues the coastal feel of this space.
24. A Blue Couch with Teal Accents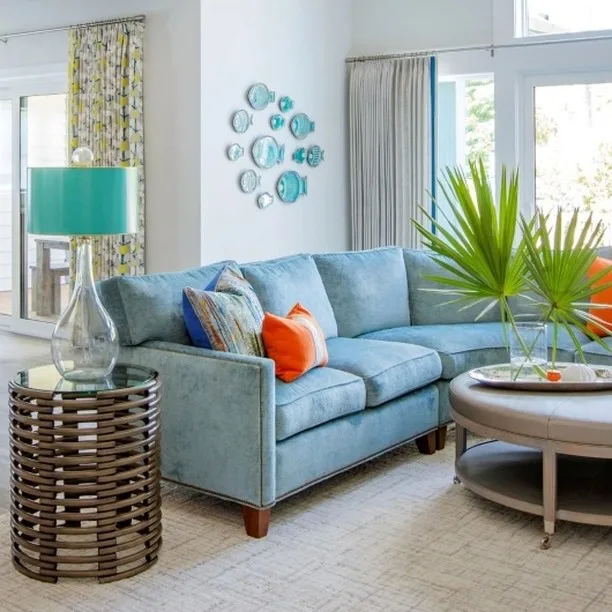 Teal wall art matches the nearby glass lamp, adding an ocean-like feel to this space. A light blue L-shaped couch continues the color scheme in this beach-themed living room.
25. White Walls and a Light Grey Couch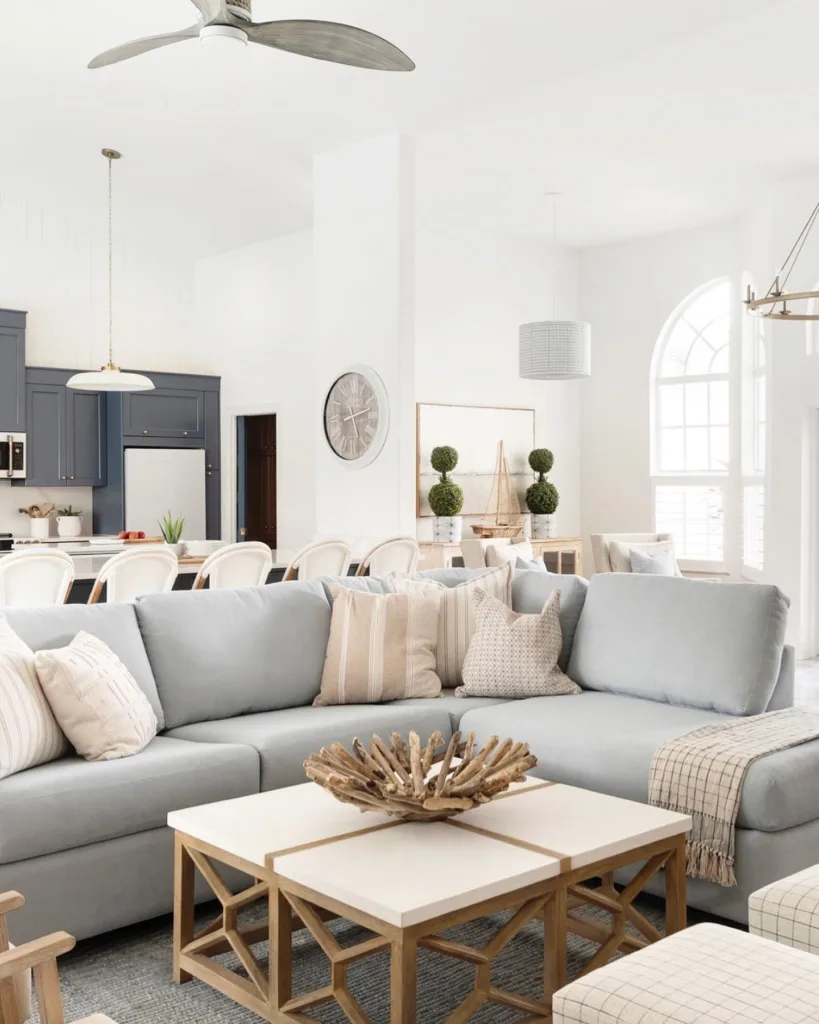 This open floor plan coastal themed living room uses natural wood decor and furniture throughout the space to emulate the outdoors. Beige throw pillows on the grey couch complement the wood, while white wicker chairs in the kitchen add a beachey feel. Navy blue kitchen cabinets introduce contrast to the kitchen.
26. A Small Beach Themed Living Room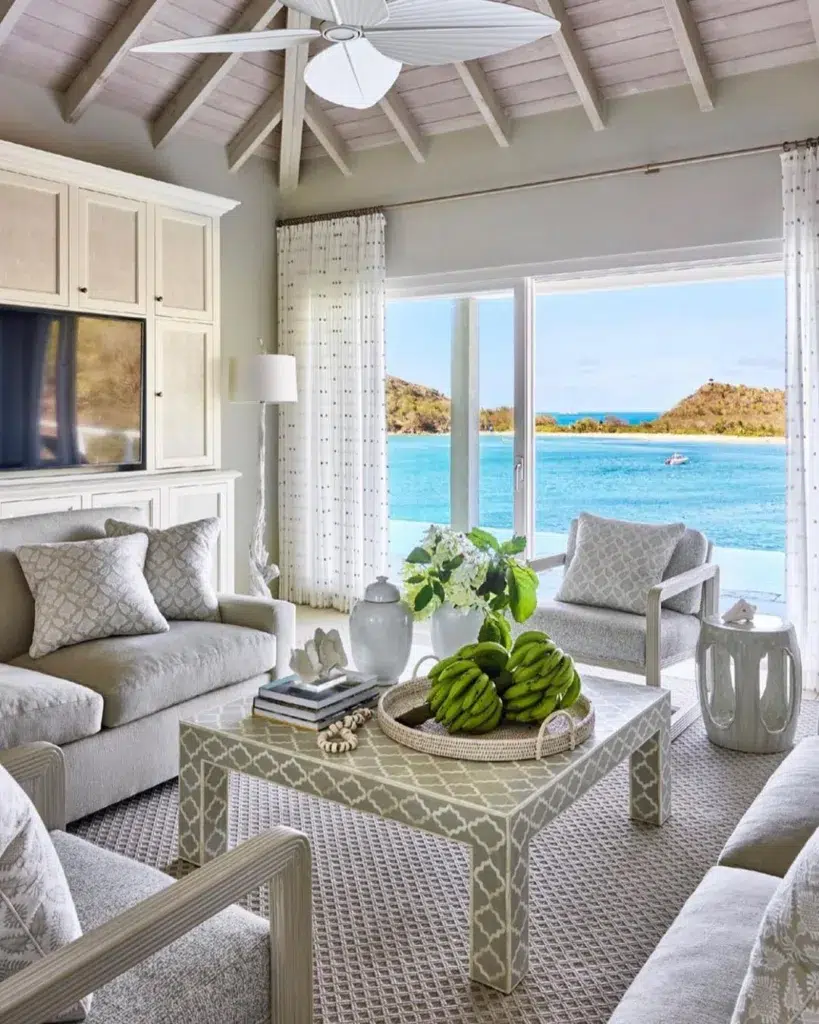 The highlight of this small coastal living room is the expansive water views from the large sliding glass doors. The blue water from the ocean adds a pop of color to the space that perfectly complements the grey and beige color scheme. In addition, a natural wood shiplap ceiling adds to the beach feeling of this bungalow. When designing a beach living room, it's essential to consider the views in your color scheme.
27. An All White Beach House Living Room With A Blue Rug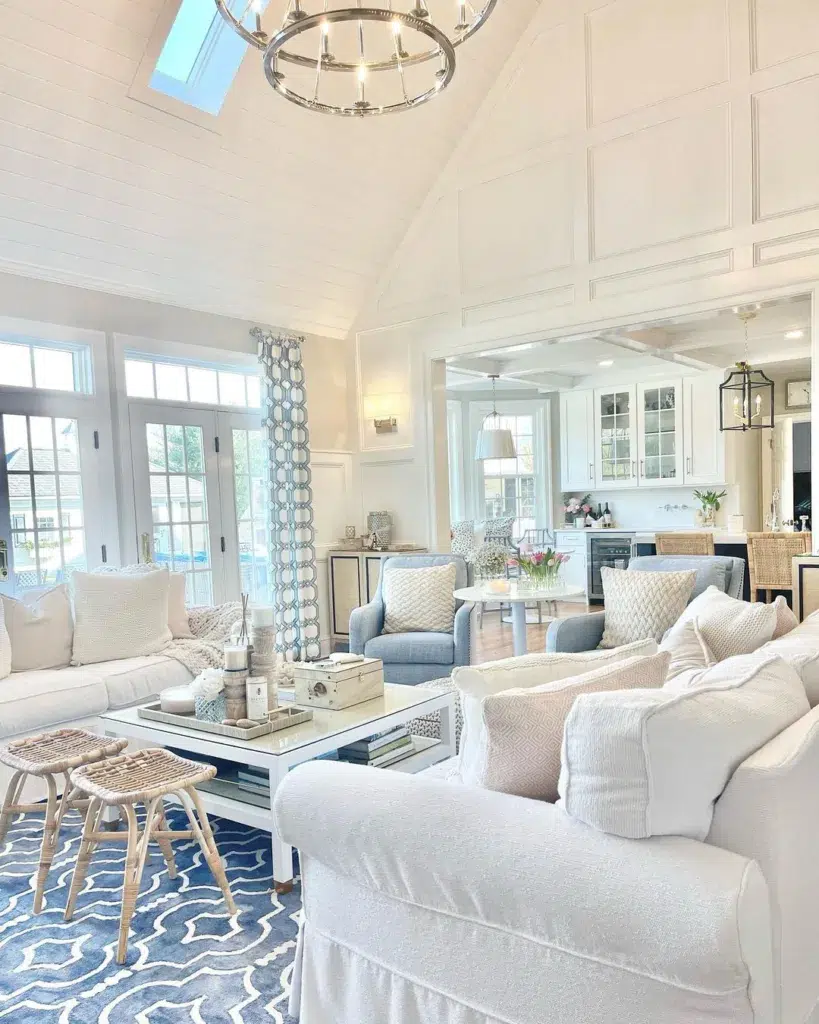 This light living room uses two small white sofas across from each other with two blue accent chairs for a pop of color. Two wicker stools are positioned next to the coffee table for extra seating. Using stools or ottomans is a great way to have plenty of seating for guests without breaking the budget. A blue and white patterned rug adds to the beach theme of this space.
28. White Shiplap with Nautical Striped Chairs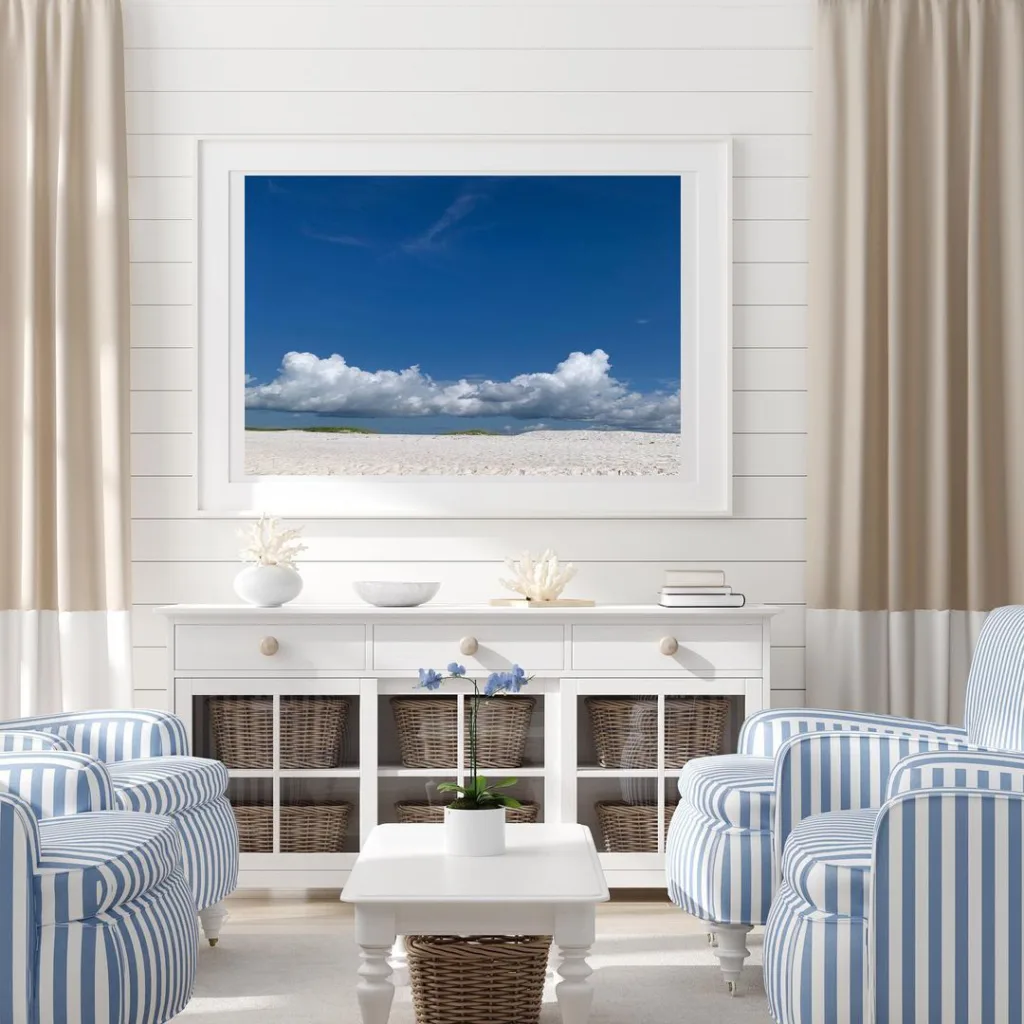 A white shiplap accent wall features a framed photo of the ocean that introduced a nautical theme to this living room. Four blue and white striped accent chairs continue the beach-style design with a white coffee table in the center of the room.
29. Ocean Artwork in a Nautical-Themed Nook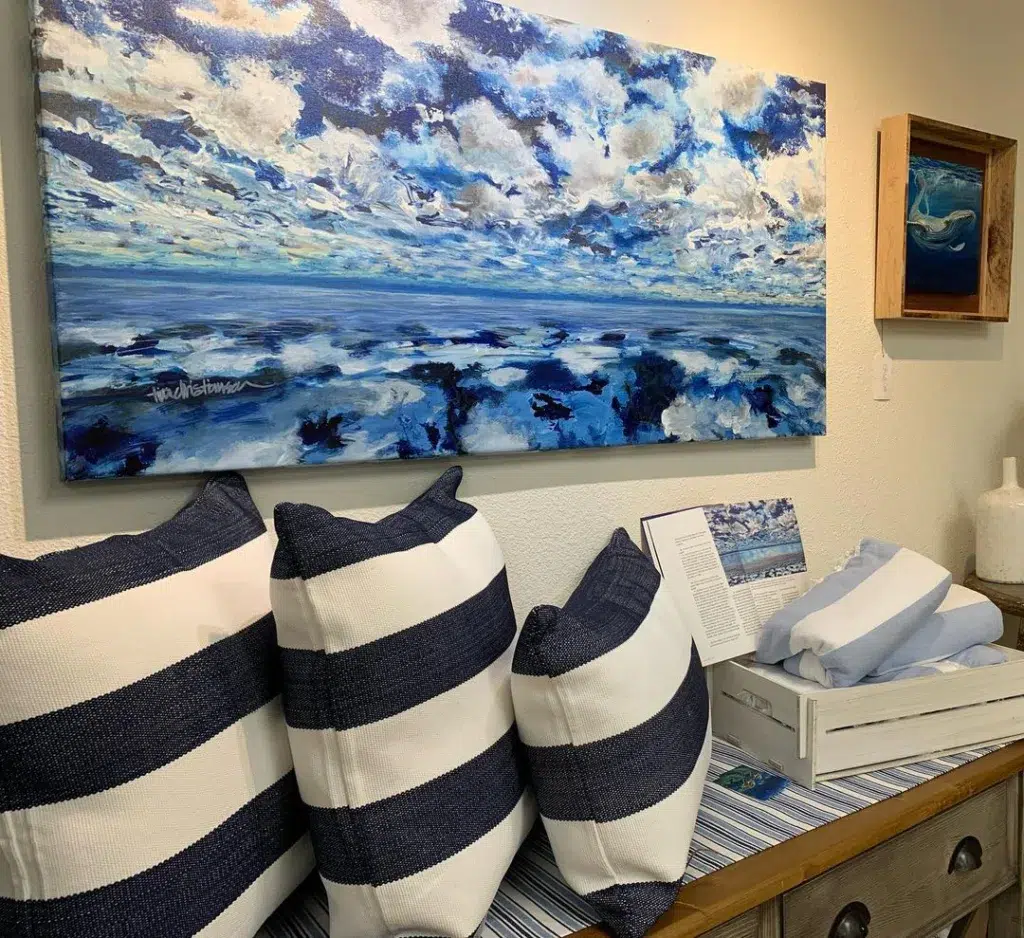 Blue and white striped pillows under a large piece of ocean themed artwork gives this small seating nook a beach theme. A white-painted wood basket is filled with light blue towels and a book to complement the color scheme.
30. Open Walls for a Coastal Living Room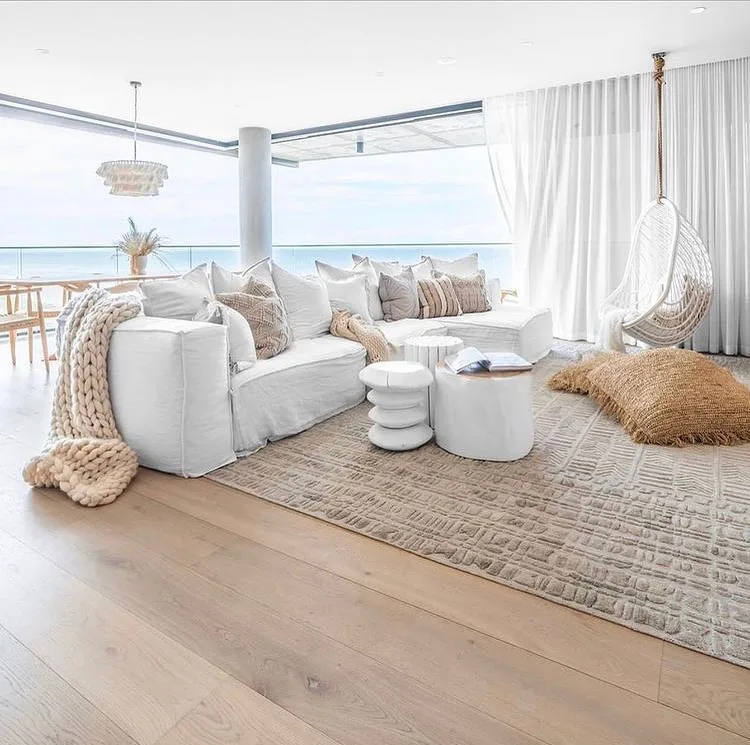 Sliding windows create a completely open living room in this beachfront home for an indoor-outdoor design. White furniture with beige accents matches this space's outside wood furniture and hardwood floors.
31. A Small White Beach Theme Sitting Area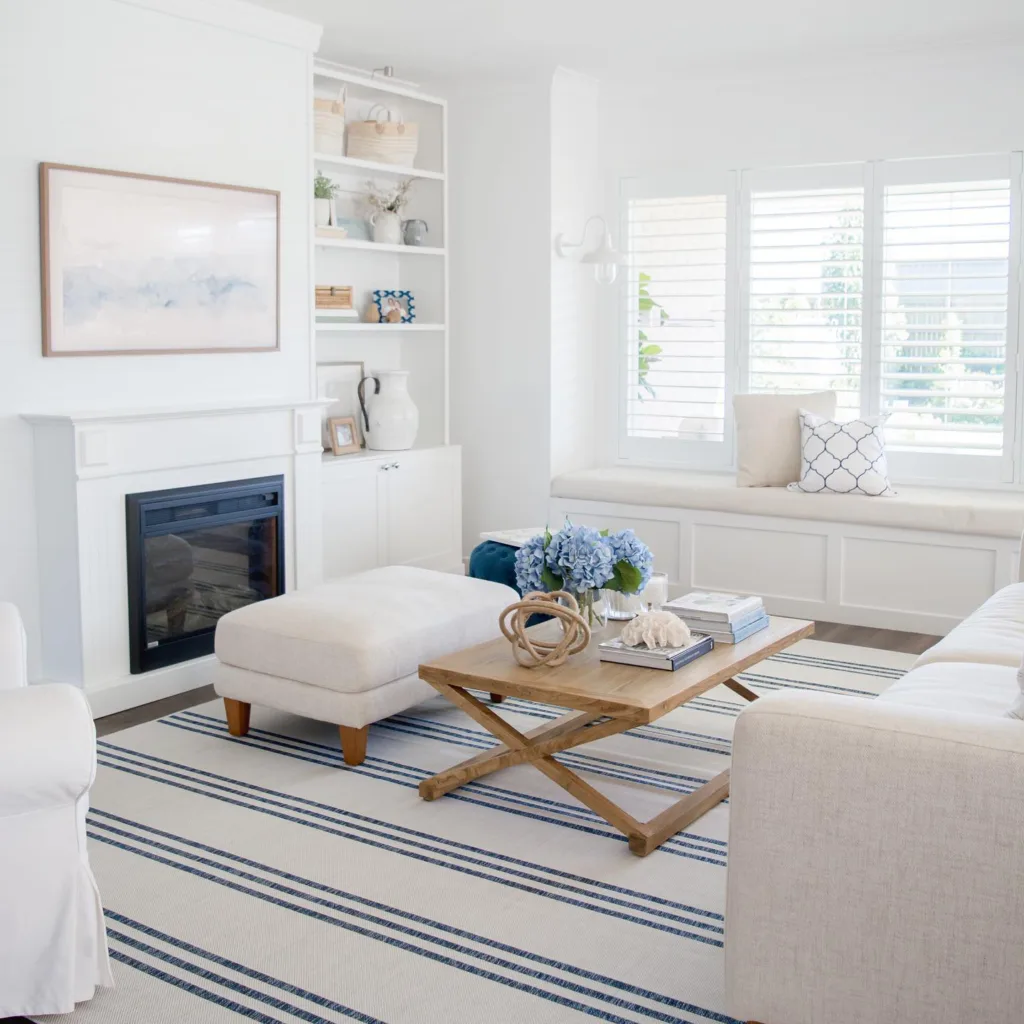 A picture with a wood frame hangs above the white fireplace in this coastal design sitting area. A wood coffee table matches the picture frame, while light-colored furniture adds to the bright design. A white built-in next to the picture is filled with decor that accents the colors in the space.