Built-in bunk beds are a great way to add extra sleeping space to your home while still keeping a beautiful design. Whether you are looking for a fun kids' room or a vacation home bunk room, built-in bunk beds create an entertaining space for everyone.
Bunk beds maximize space by stacking two or more beds on top of each other. This lets you get even more sleeping space in small areas than regular beds. Now, built-in bunk rooms have become a staple in high-end vacation homes as the perfect way to host lots of guests in a beautiful space.
Check out our favorite built-in bunk bed ideas in the gallery below for inspiration!
1. Black Built In Bunk Beds with Gold Metal Accents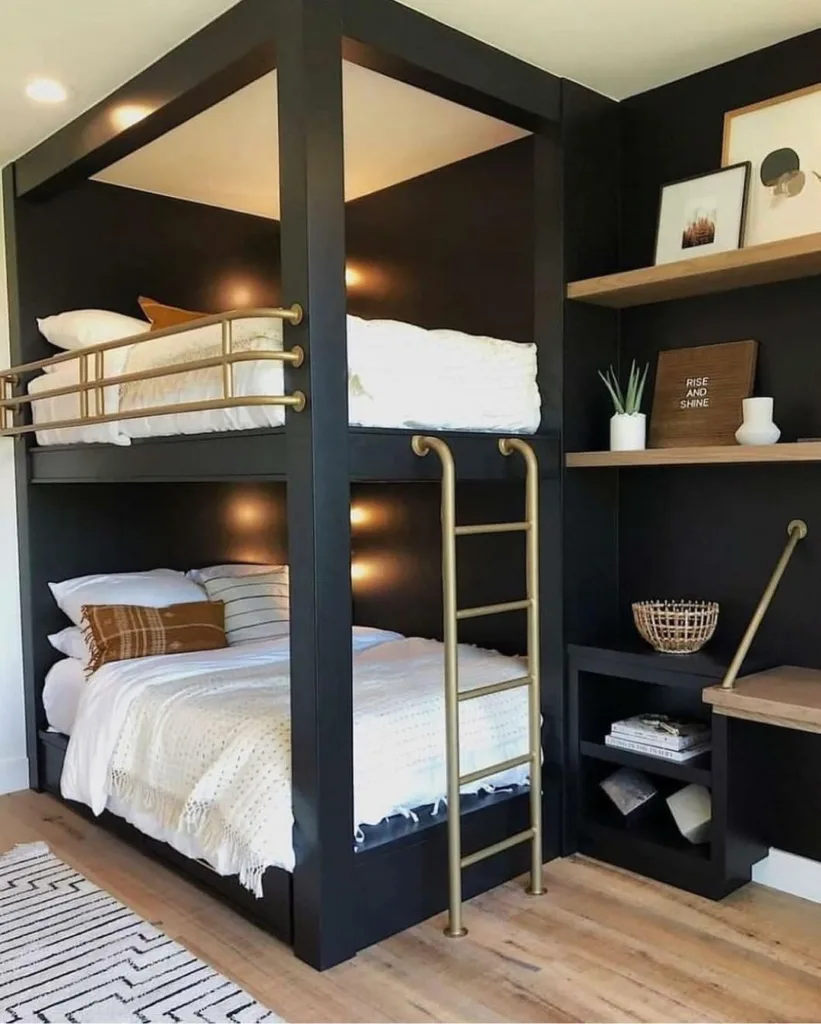 These black built-in bunk beds use gold railings and a gold ladder to accent the dark colors. Hardwood floors add warmth to the space, while white bedding creates contrast. For even more space, this design uses queen-sized mattresses to sleep two people in each bed comfortably. Depending on your area, you can see whether you can accommodate twin, full, queen, or king-sized bunk beds.
2. Four bunk beds with stairs and white shiplap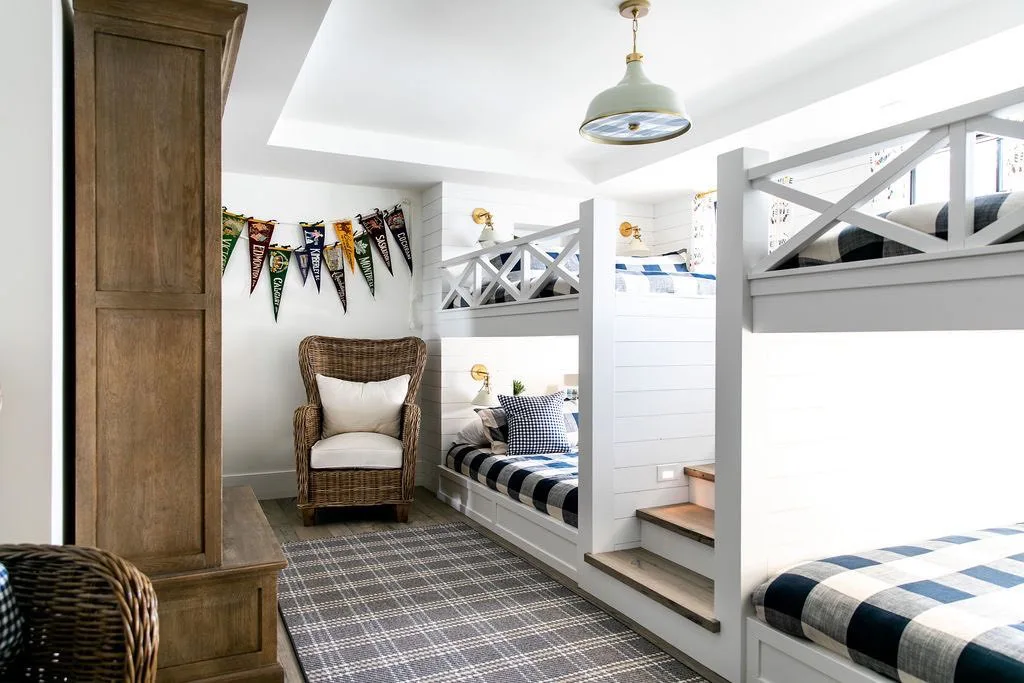 This bunk room has enough space for four built-in bunk beds with a staircase in between, providing access to the upper beds. Adding stairs to your design is a great way to make upper beds even more accessible than a traditional ladder that can be tough to use in the middle of the night. Matching plaid bedding on all the beds and a white shiplap accent wall gives this space a farmhouse feel.
3. Modern Built-in Bunk Beds with Green Accents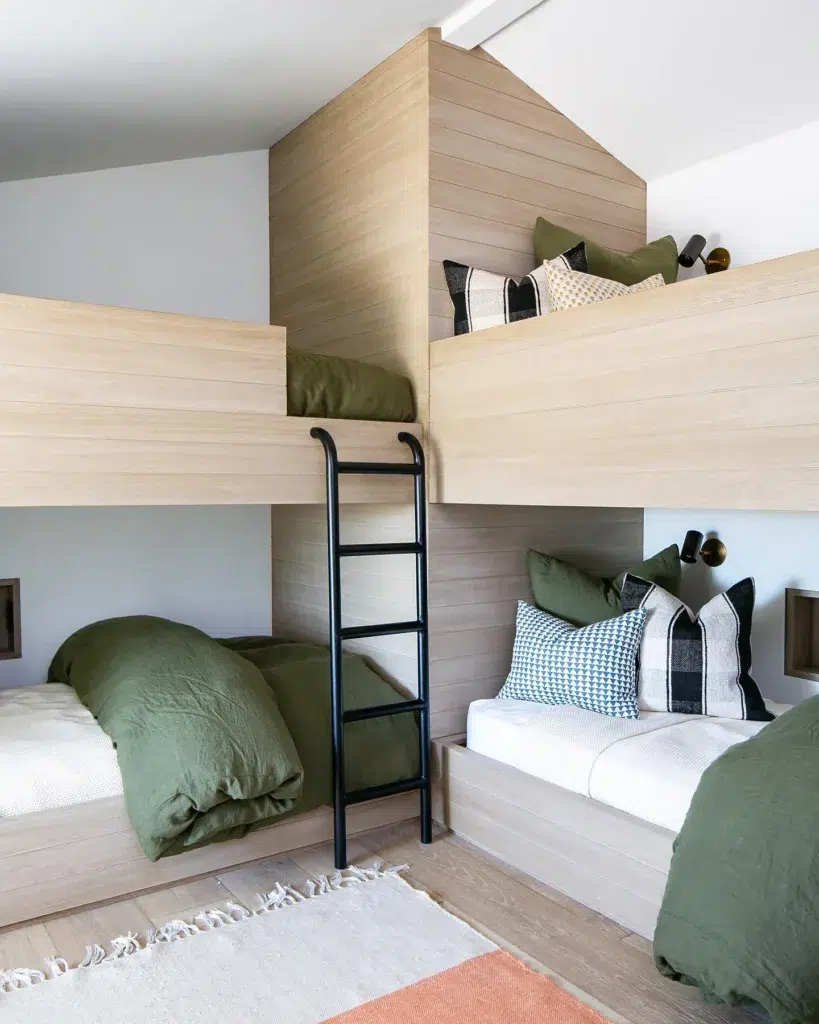 These four modern built-in bunk beds are made of light wood planking to create a simple color palette. For a pop of color and contrast, dark green comforters are added to each bed. A black metal ladder provides access to the upper bunks.
4. White Shiplap and Floral Bedding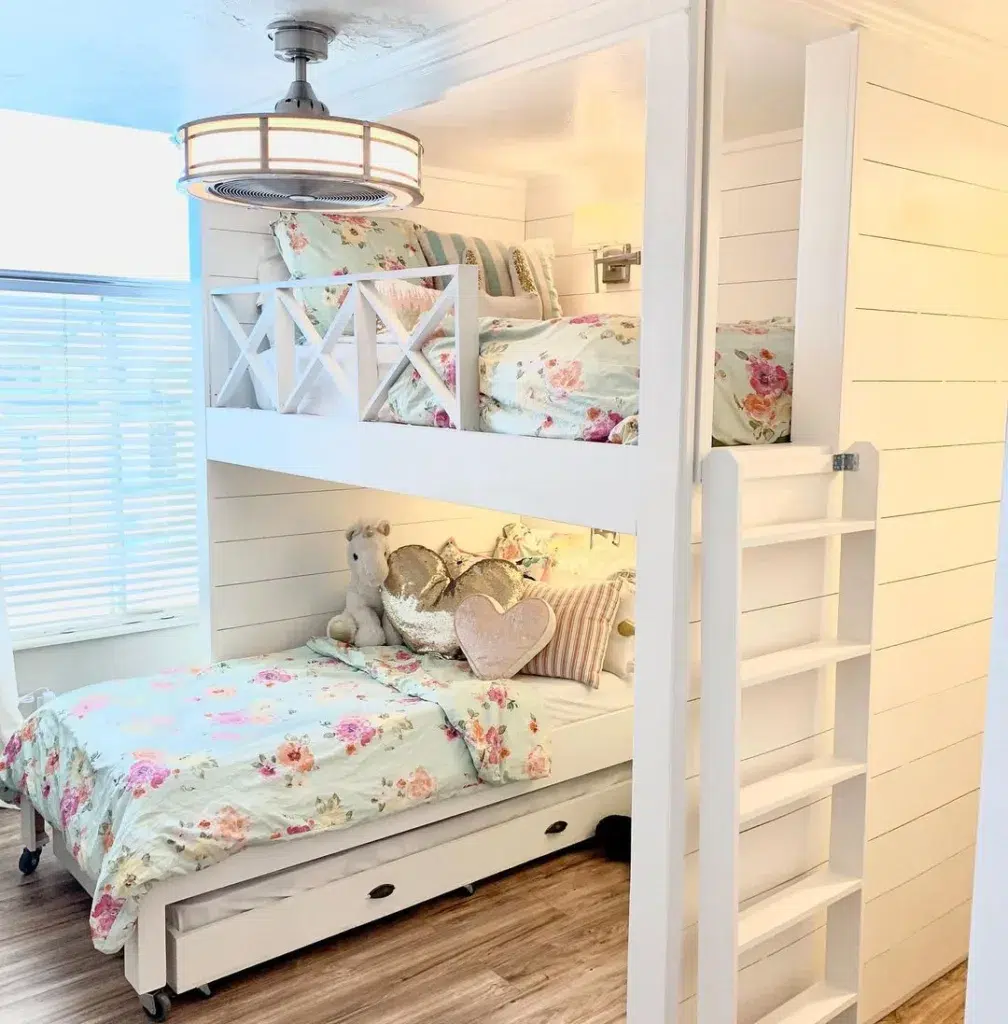 This farmhouse bedroom features a full-size bunk bed loft allowing for extra sleeping space above the bed on the floor. Floral bedding adds the country charm of this space, along with white shiplap around each bed.
5. A Natural Wood Design with Steps and Storage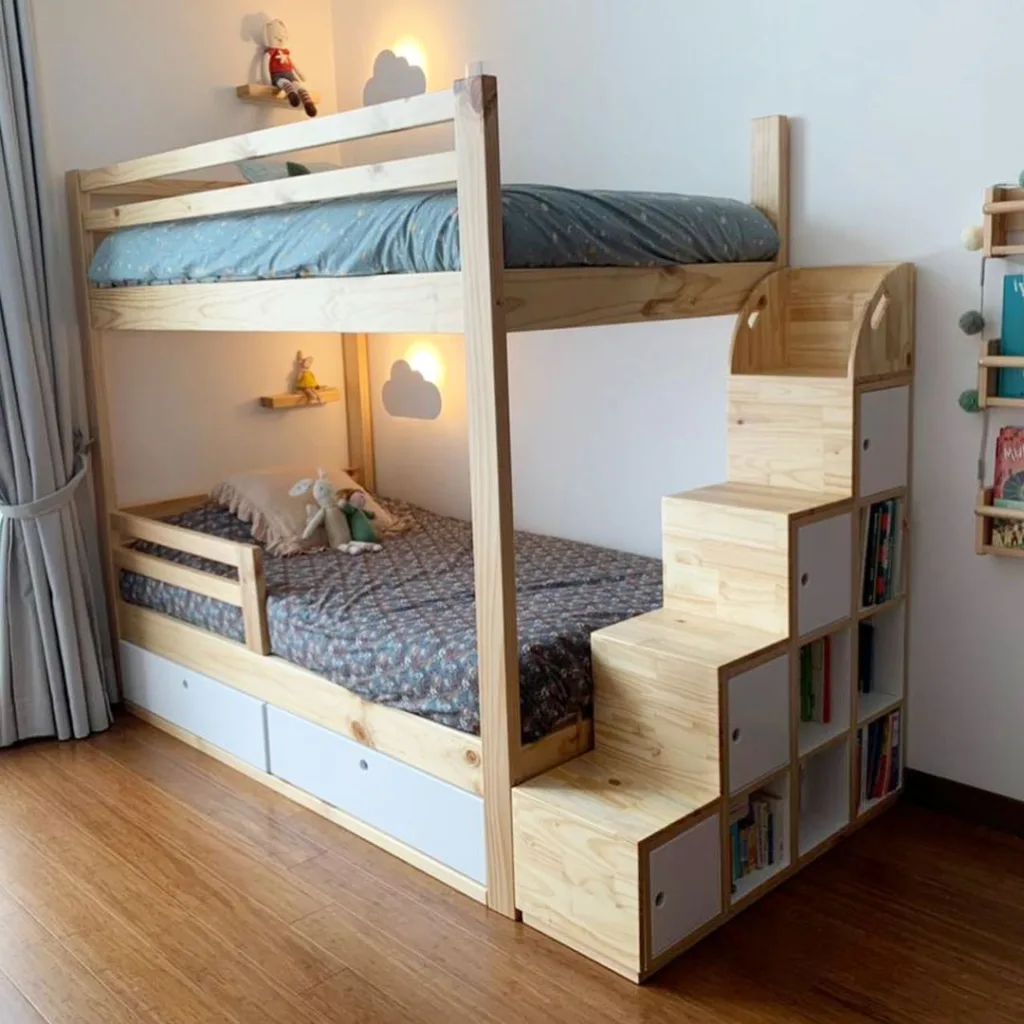 Natural wood gives these built-in bunk beds a rustic charm, with steps at the end of the bed that doubles as storage. Drawers under the bed maximize every inch of space in this design, perfect for any small bedroom.
6. Light Wood Bunk beds with Accent Walls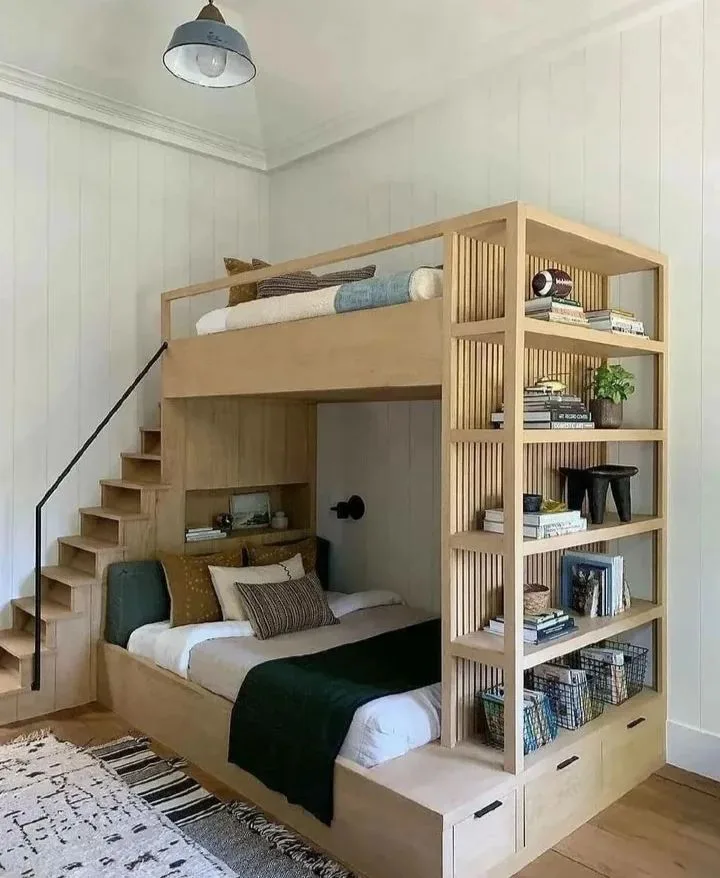 A light wood accent wall built into the end of this bunk bed design adds a modern flair. These adult bunk beds feature a queen bed on the bottom with a full-size mattress on top. This is the perfect design for a guest room where you want the ability to accommodate an extra guest on occasion.
7. A wood shiplap ceiling with matching steps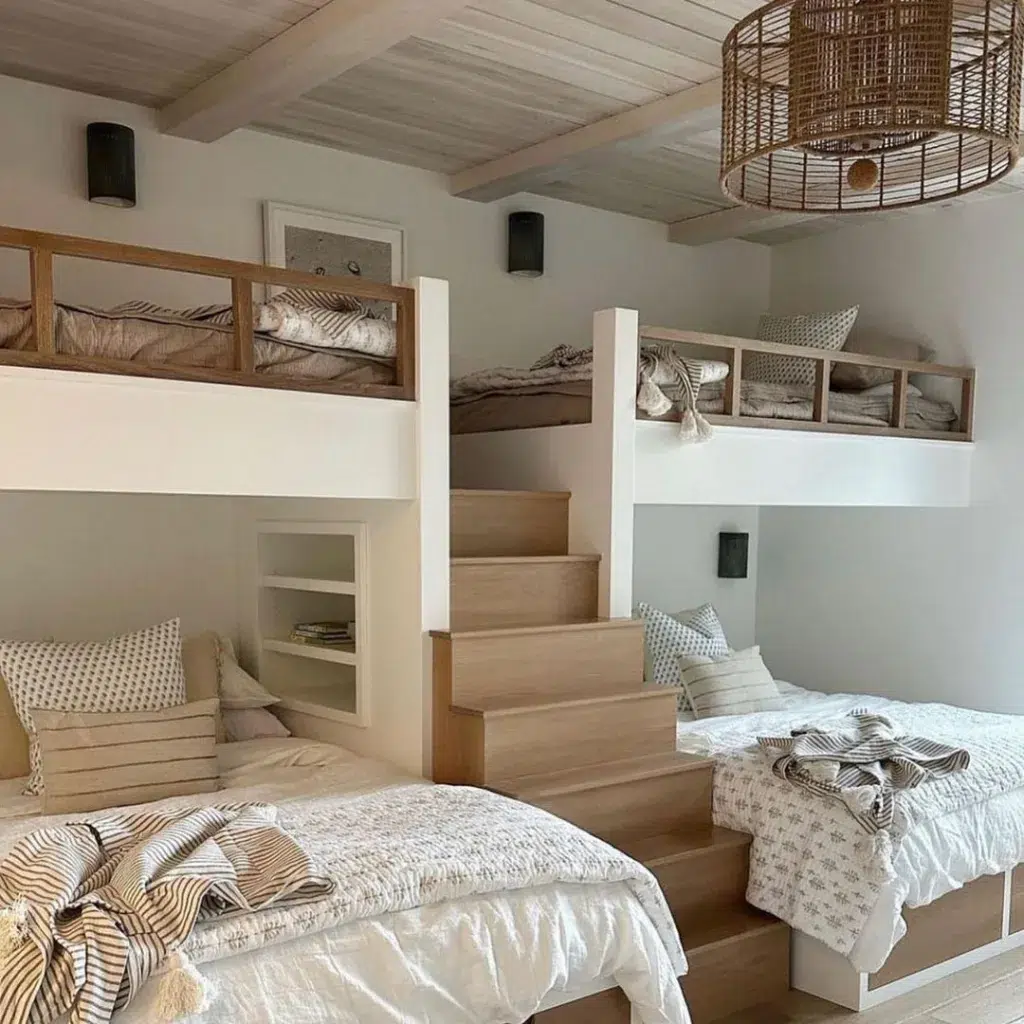 White oak stairs and railings match the wood shiplap ceiling in this bedroom with two queen beds and built-in twin bunk beds above. This design includes built-in shelves and Lighting for each bed so you can store your phone while you sleep.
8. Grey Upholstered Bunk Beds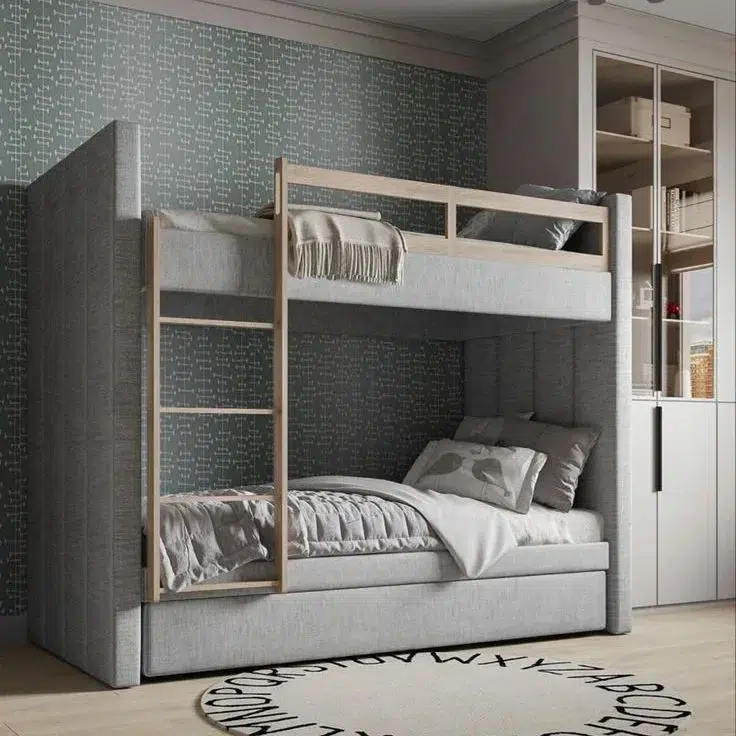 This grey upholstered bunk bed with wood accents seamlessly blends into this neutral room with a wallpaper accent wall. The grey bookcase beside the bed gives this space a mature look, while the rug on the white oak wood floor reminds us this is a kid's room.
9. Vertical Shiplap and Beige Trim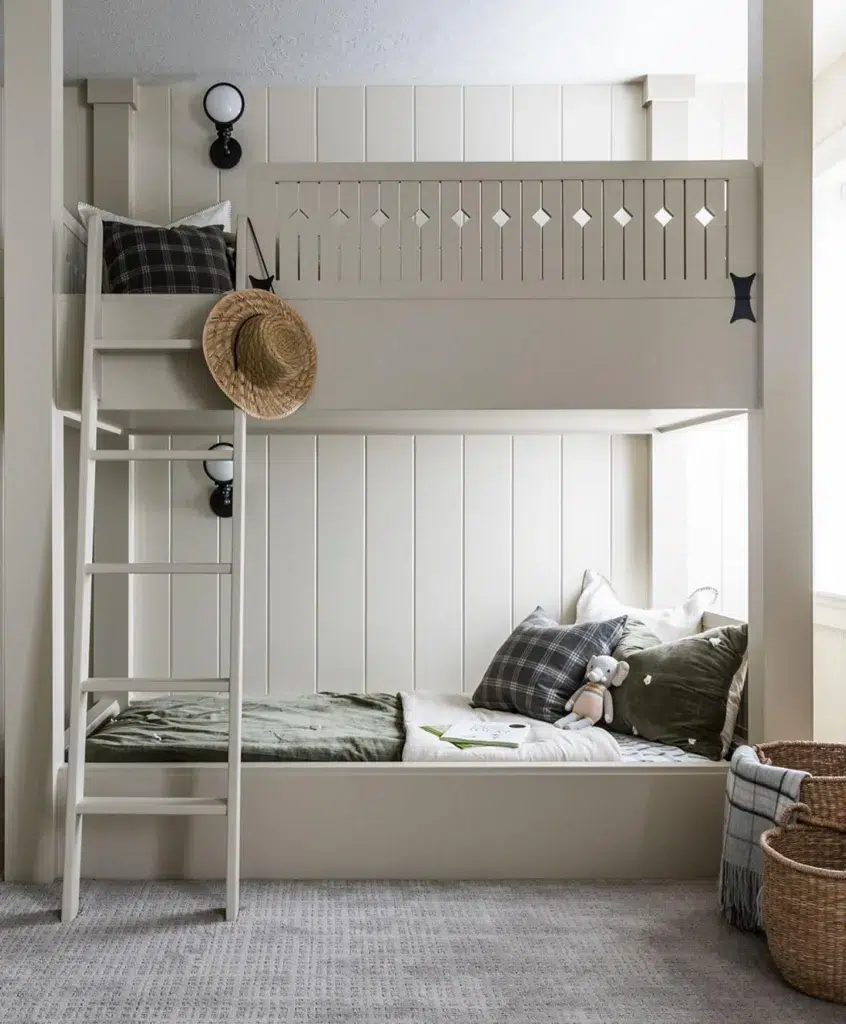 This beige built-in bunk bed design uses a vertical shiplap on the wall behind it to complete the design. Painting the bed, ladder, and walls the same color creates a cohesive design that blends into this room with grey carpet.
10. Modern Floating Bunk Beds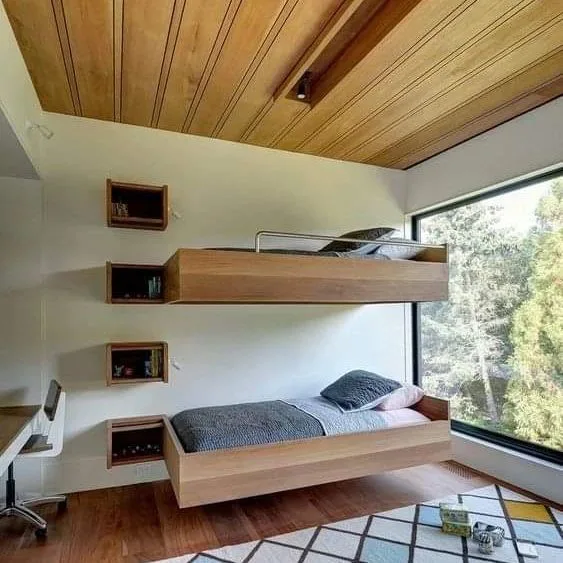 Floating bunk beds give this space a modern design with wood accents around each mattress, adding warmth. A large single-paned window provides abundant natural light and frames nature outside.
11. A nautical themed bunk room with Rope Railings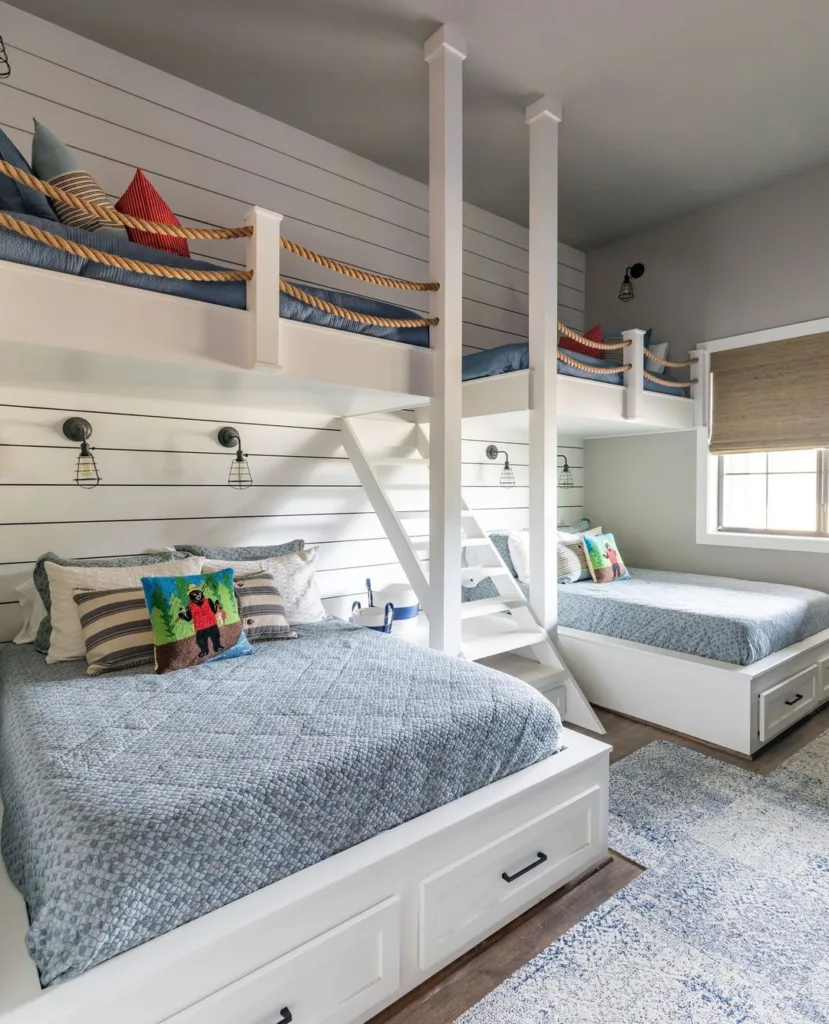 Rope railings, white shiplap, and colorful accents give this bedroom a nautical theme that is fun for everyone! Blue and gray floor rugs are custom-cut to fit the space and match the bedding.
12. A White and Blue Coastal Design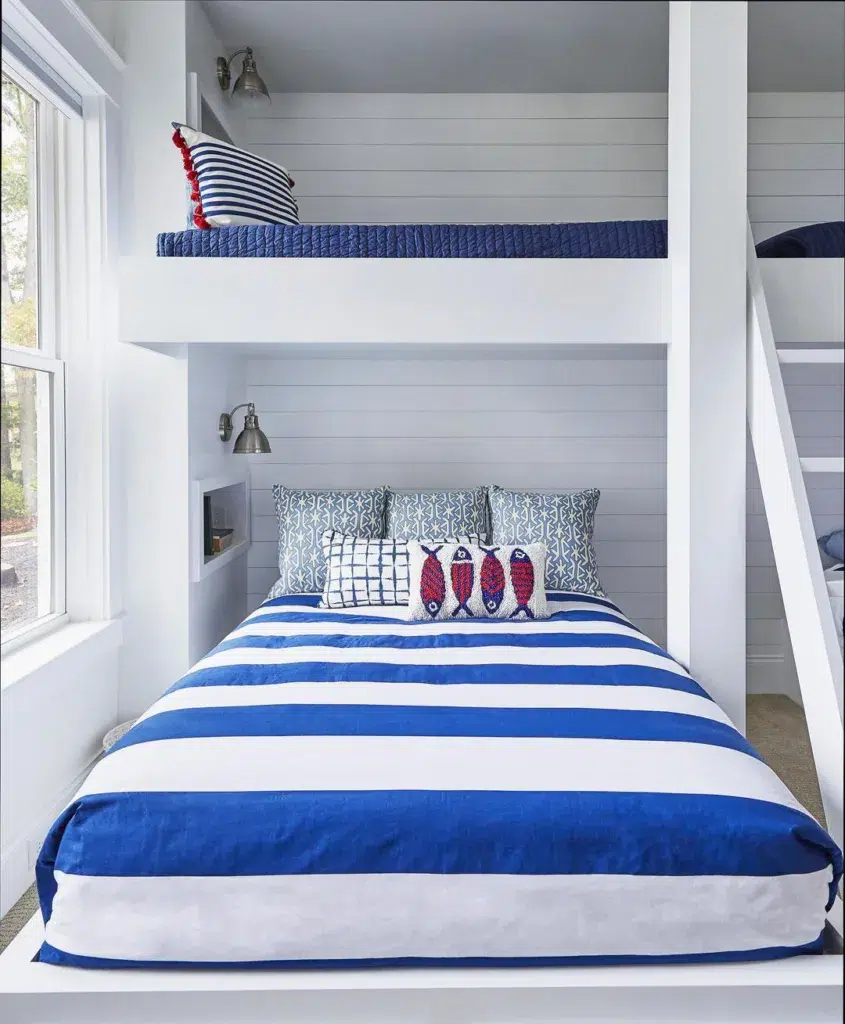 This coastal-style built-in bunk bedroom provides plenty of sleeping space for guests at the beach. White shiplap and walls brighten the room, while blue and white bedding adds a pop of color that accents the beachy style.
13. Rustic White Wood Bunk Beds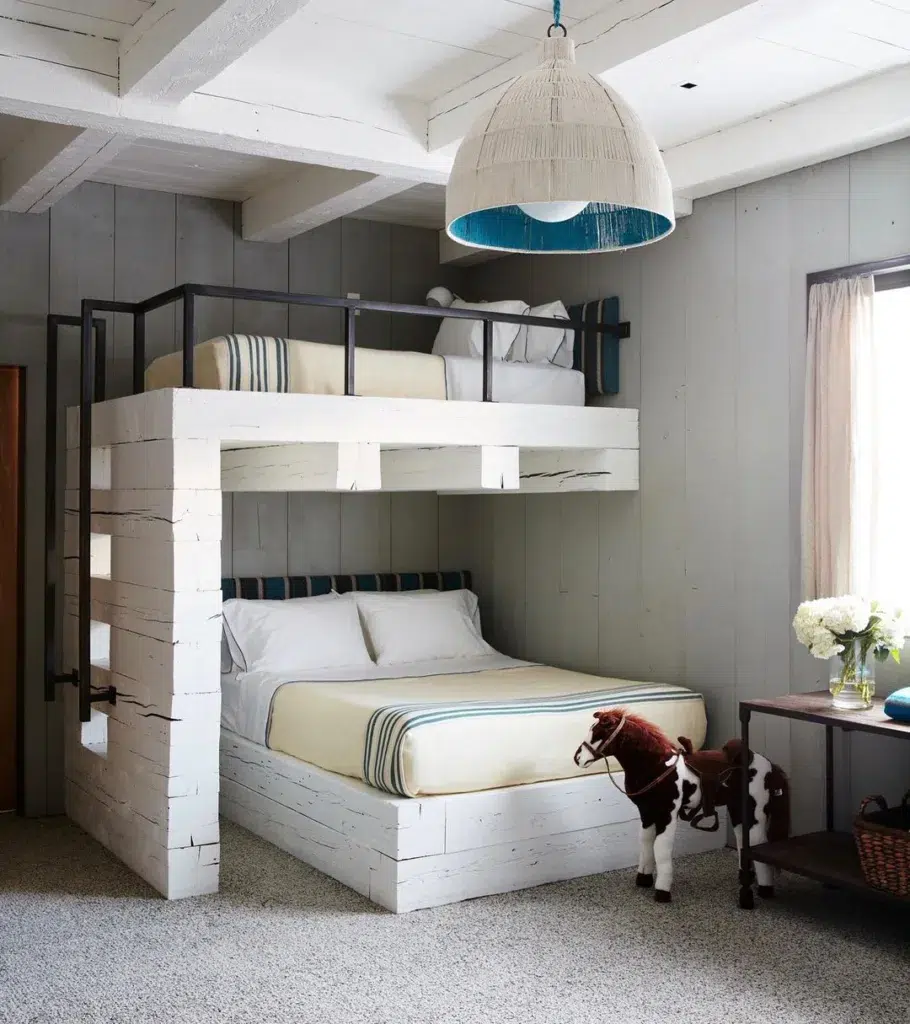 Rustic white wood adorns this built-in bunk bed design with a queen bed under a full-size lofted bed. This loft-style design is a great way to add an extra bed to your existing bedroom set, assuming you have the ceiling height. While you can build bunk beds in rooms with 8-foot ceilings, it's a tight fit. Instead, these designs work best in rooms with at least 9-foot ceilings.
14. A green and Pink Bunk Room with Curtains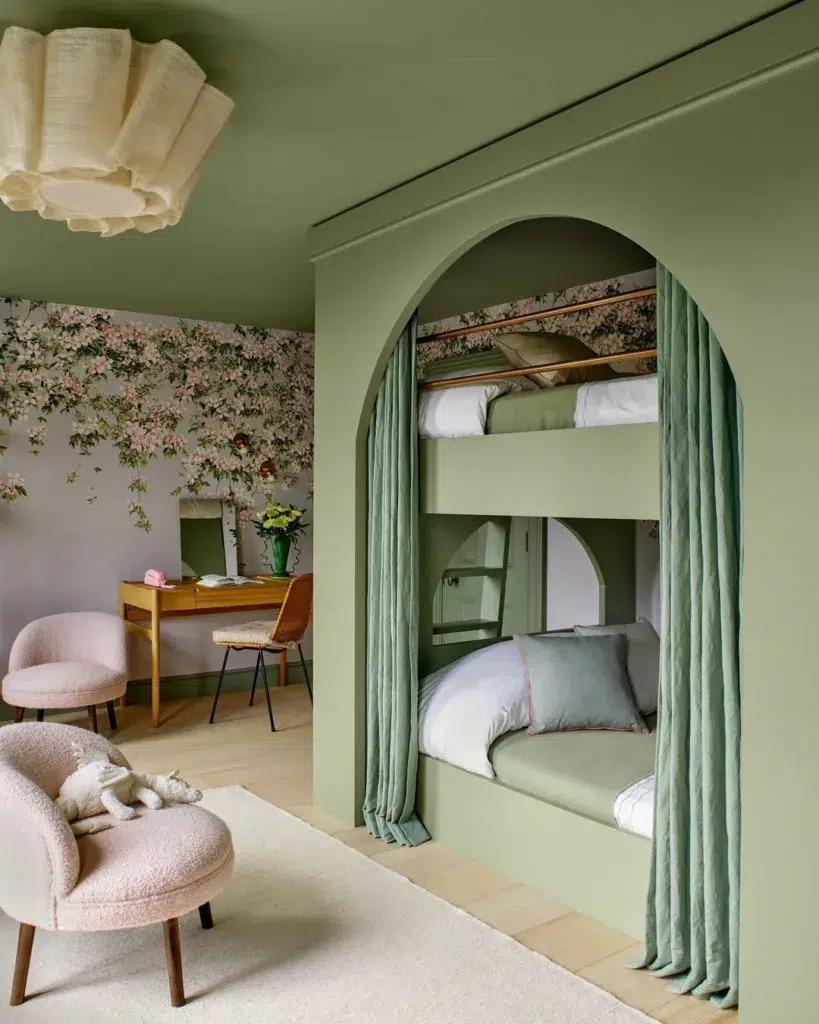 Green walls surround these queen-sized bunk beds with matching curtains letting you completely enclose the space. Archways soften the design and lend to the feminine style of the room with pink chairs and accents to contrast the green hues. While green is traditionally considered a masculine color, pastel green tones with shades of pink are a great way to flip the look into a feminine style.
15. White Bunk Bed Ideas With Blue Bedding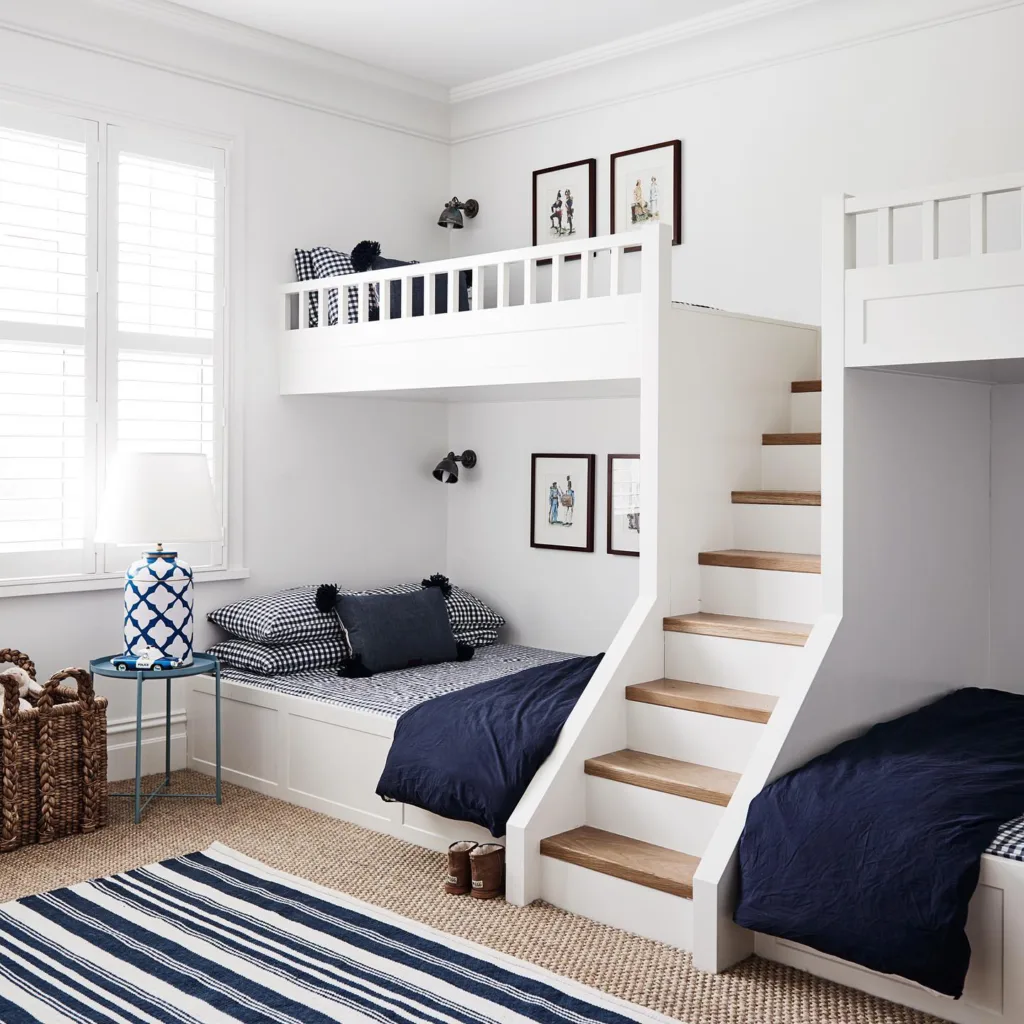 White trim around the built-in bunk beds in this space matches the walls in this bright bedroom. Wood treads on the stairs leading to the upper beds add a warm accent that complements the neutral-colored carpeting. To complete the look, a blue and white area rug matches the navy bedding.
16. A light wood bunk room with four beds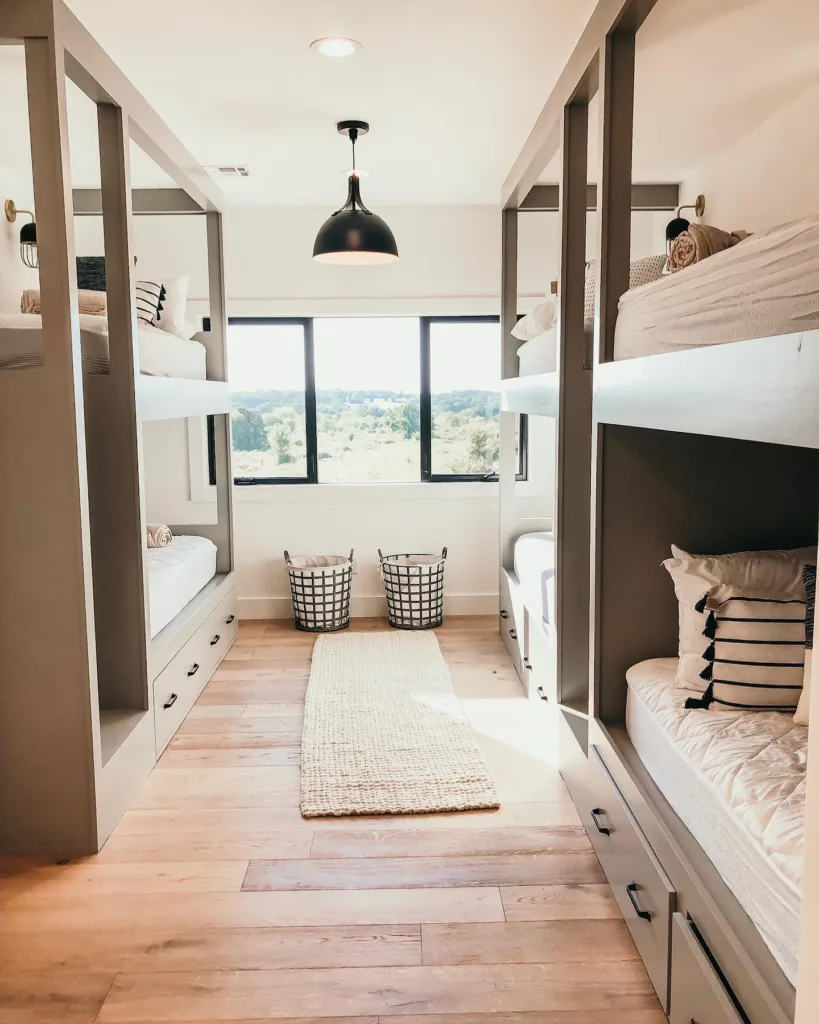 Six Built-in bunk beds fill this room with hardwood floors providing plenty of sleeping space for everyone! Building the beds out of light wood gives this space a more adult style that exudes warm neutral hues. White bedding continues the color palette with black accents carried across the room.
17. neutral girls bunk beds built into the wall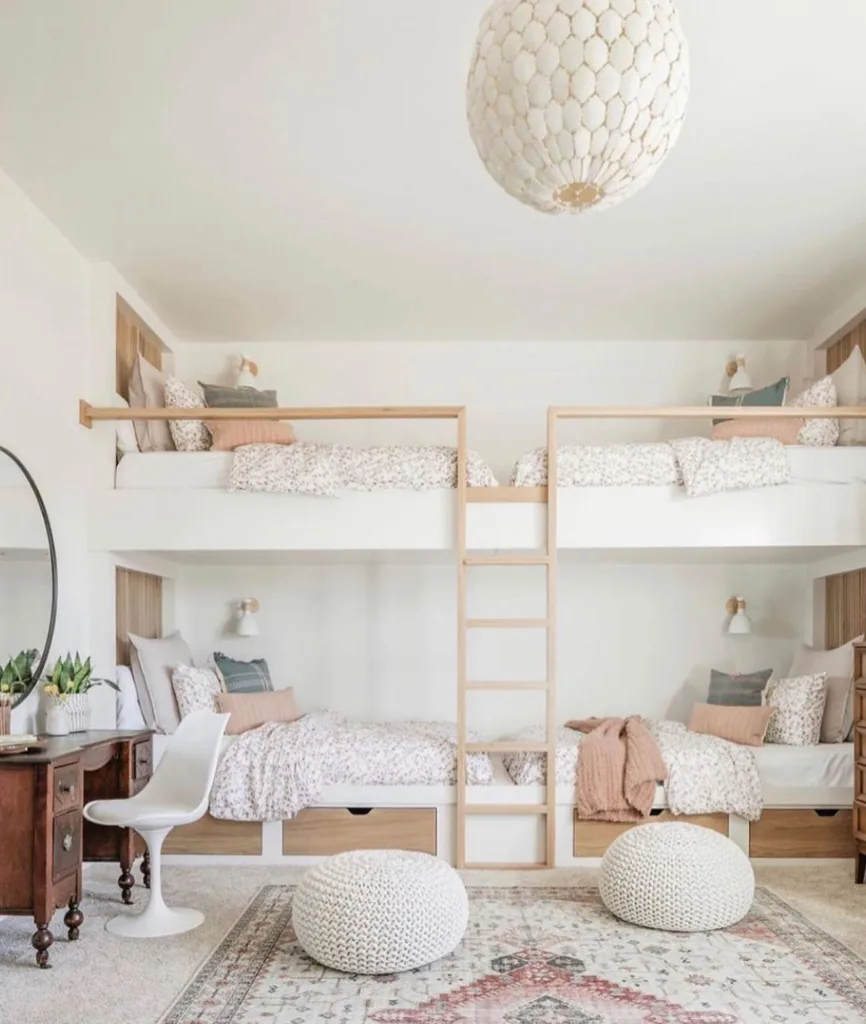 This four-bunk built-in design faces the beds on each level toward each other, creating a fun setup for kids' sleepovers. A wood ladder up the center provides access to the upper bunks and adds a warm accent that is continued by the drawers underneath the mattresses. Adding drawers is the perfect way to maximize storage space with bunk beds and creates a space for guests to store their clothes.
18. Pink Bedding and White Shiplap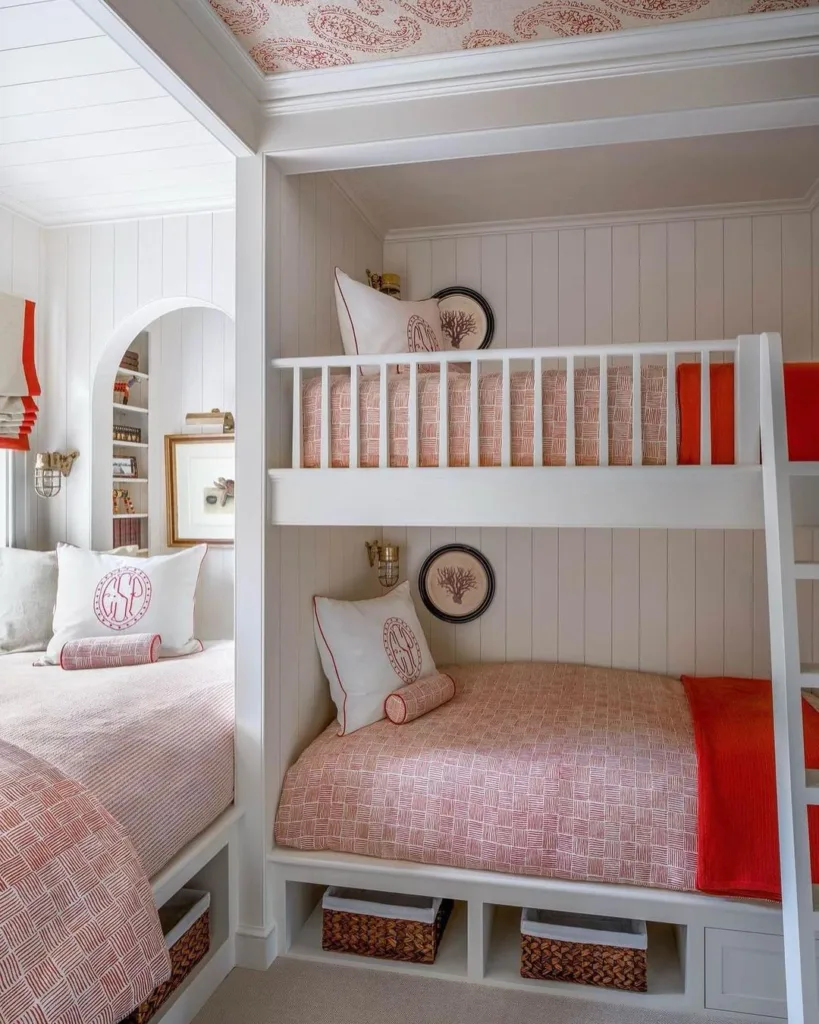 These built-in corner bunk beds are perfect for a girl's room, with plenty of space for sleepovers. A queen-sized bed is flanked by twin bunk beds for friends, with matching pink and red bedding across the room. Vertical shiplap on the walls adds a feminine farmhouse touch, while baskets under the beds introduce neutral tones.
19. Built-In Twin Bunk Beds with a Wood Accent Wall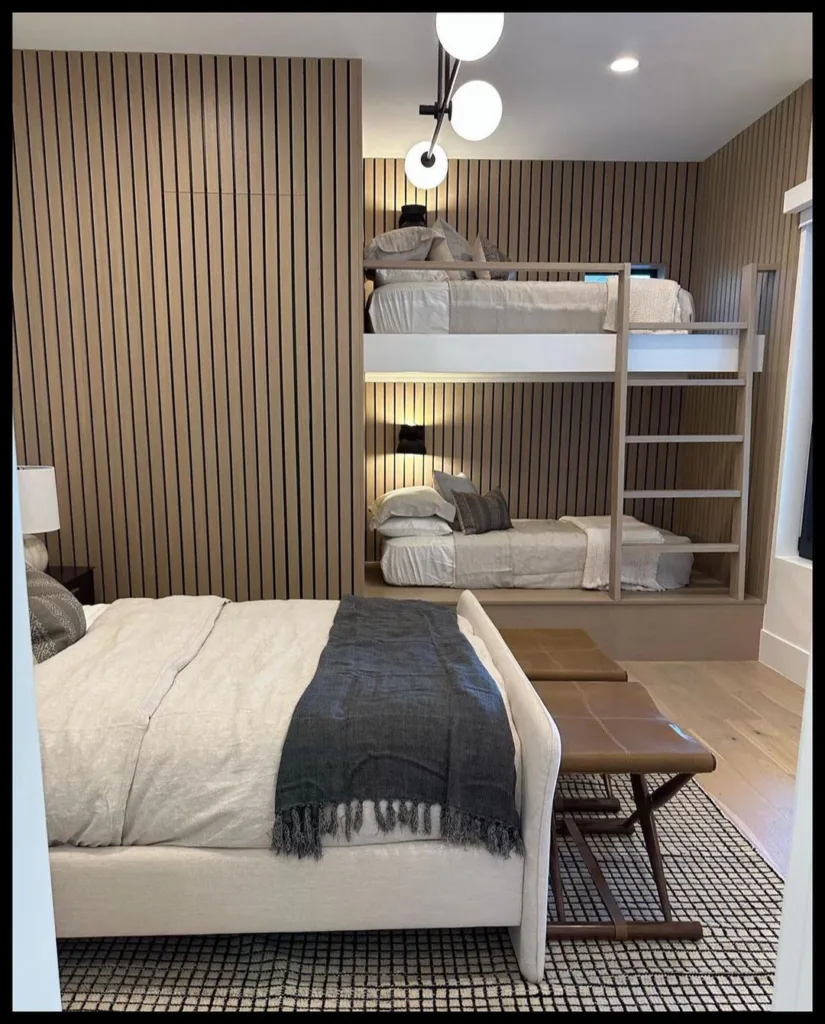 This guest bedroom uses the extra space to create a bunk bed accent wall. Combining wood trim with two full-size beds is the perfect way to add sleeping space without taking over your guest room. This design also works great for hosting families with plenty of space for parents and kids.
20. Green Board and Batten with A Metal Bed Frame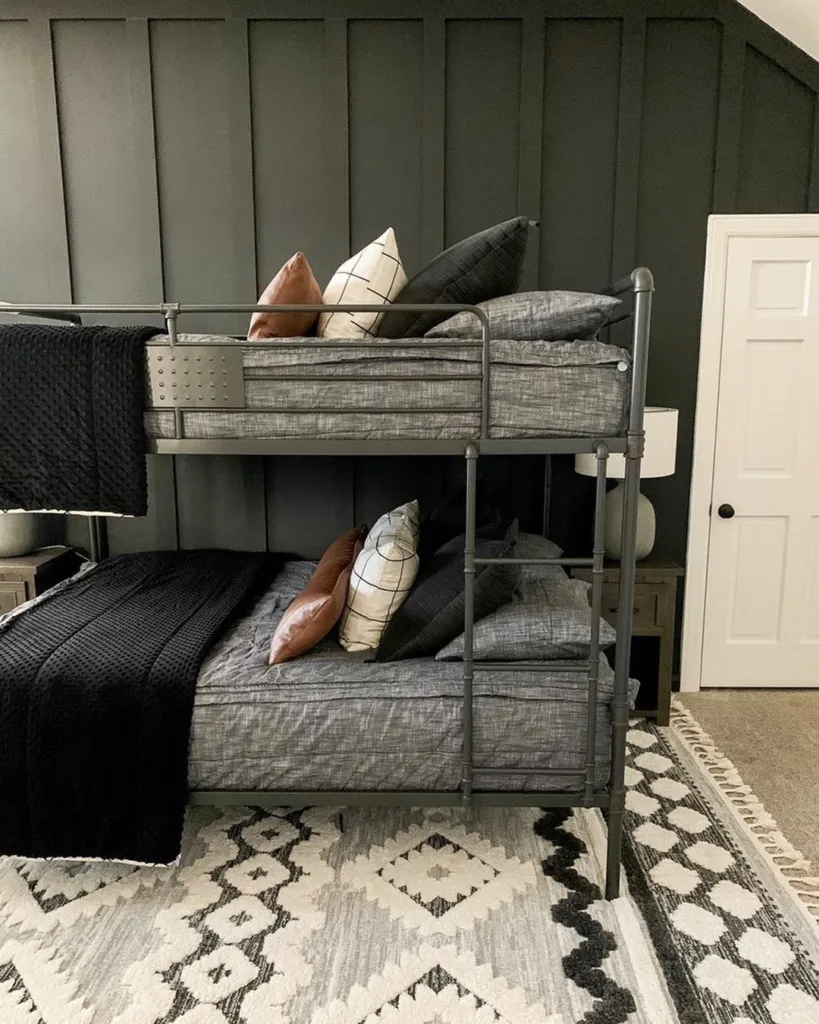 Charcoal board and batten behind the metal frame beds give this space a masculine vibe, continued by the dark bedding. Dark accents in the beige and a grey area rug complement the black throws on the beds. Leather throw pillows add a pop of color while still sticking with the dark neutral color scheme.
21. A Modern Wood Bunk Room with Lighting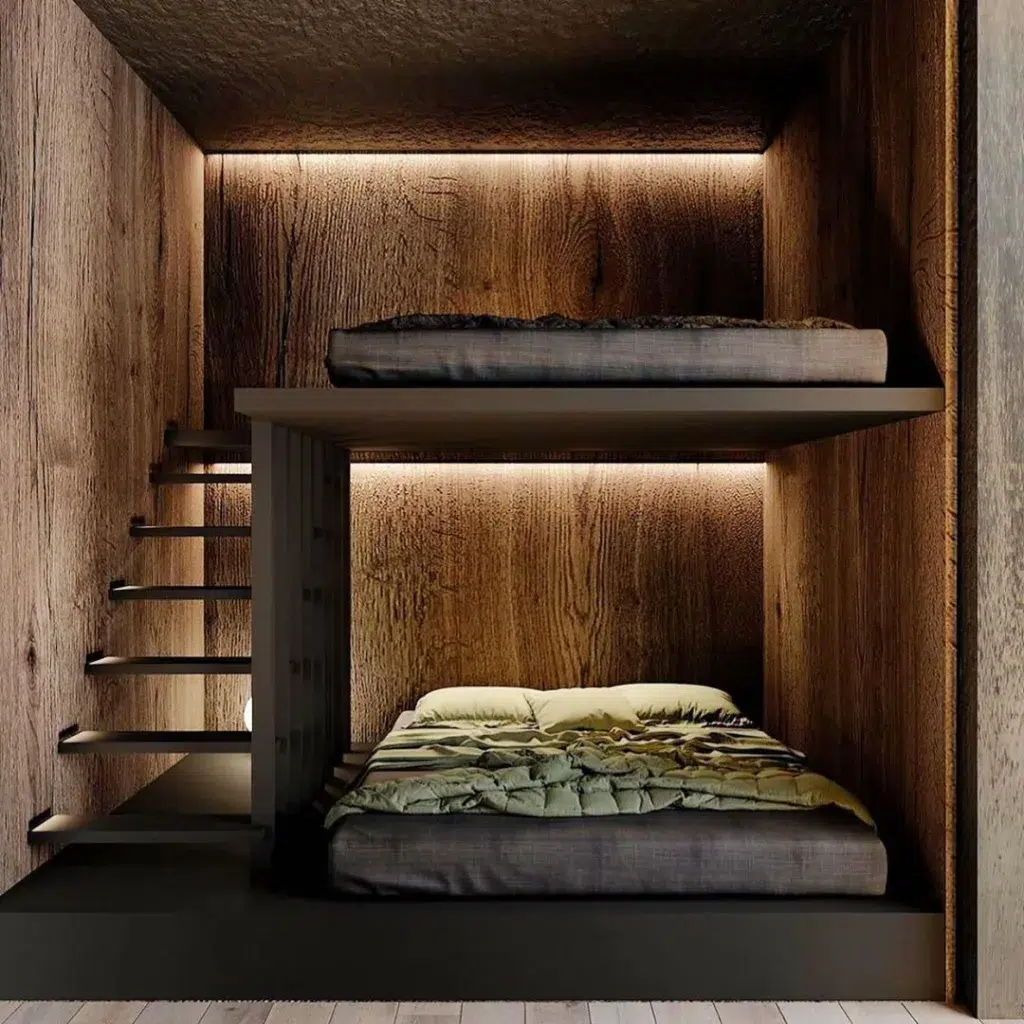 Floating steps lead to the upper bed in this ultra-modern design with king-sized built-in bunk beds. Wood paneling on the walls around the room adds a rustic touch, while hidden Lighting continues the modern vibe.
22. Queen Built-in Bunk beds with Stairs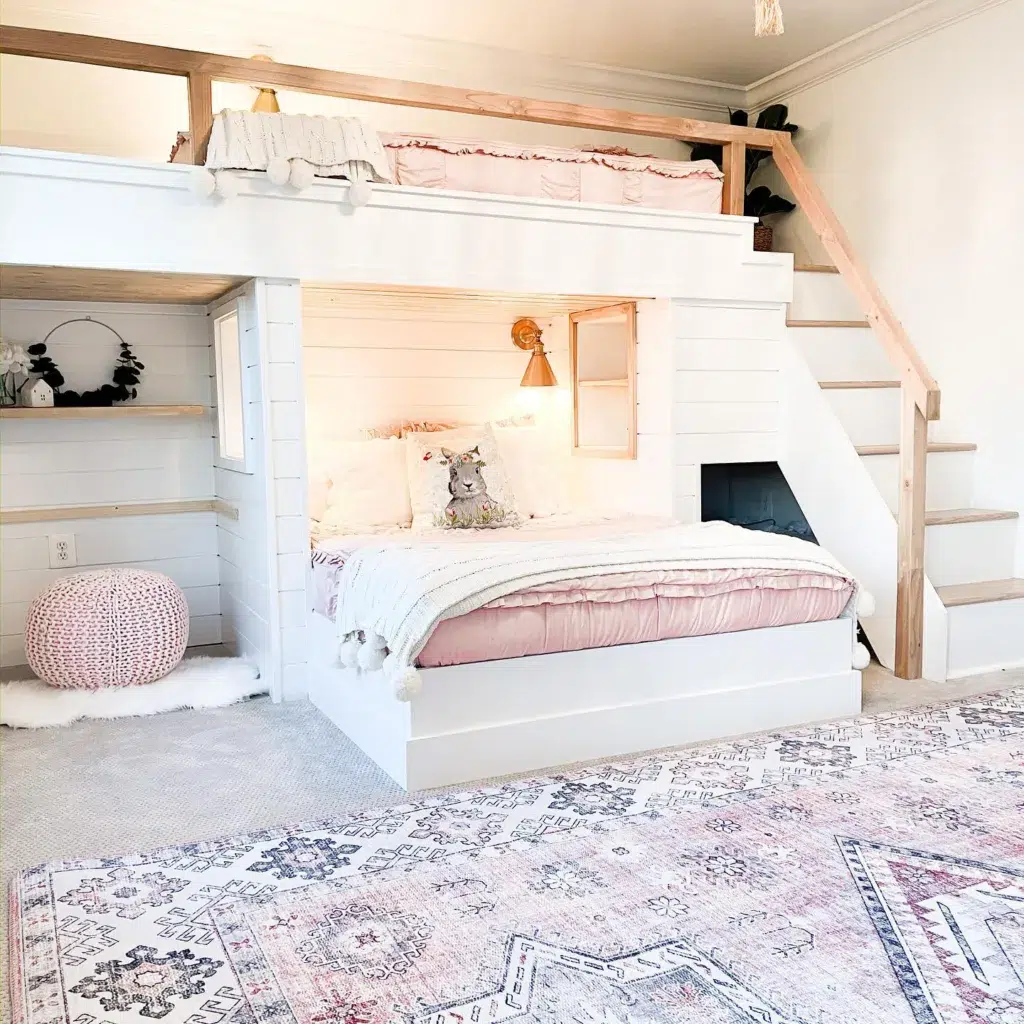 This bedroom with a platform queen-sized bed features a loft area built around it that houses a full-size bed for friends. Pink bedding and accents are continued around the room, including the pastel hues in the area rug. Wood accents on the staircase and shiplap planking add to the farmhouse design.
23. A loft Style bunk bed with a matching dresser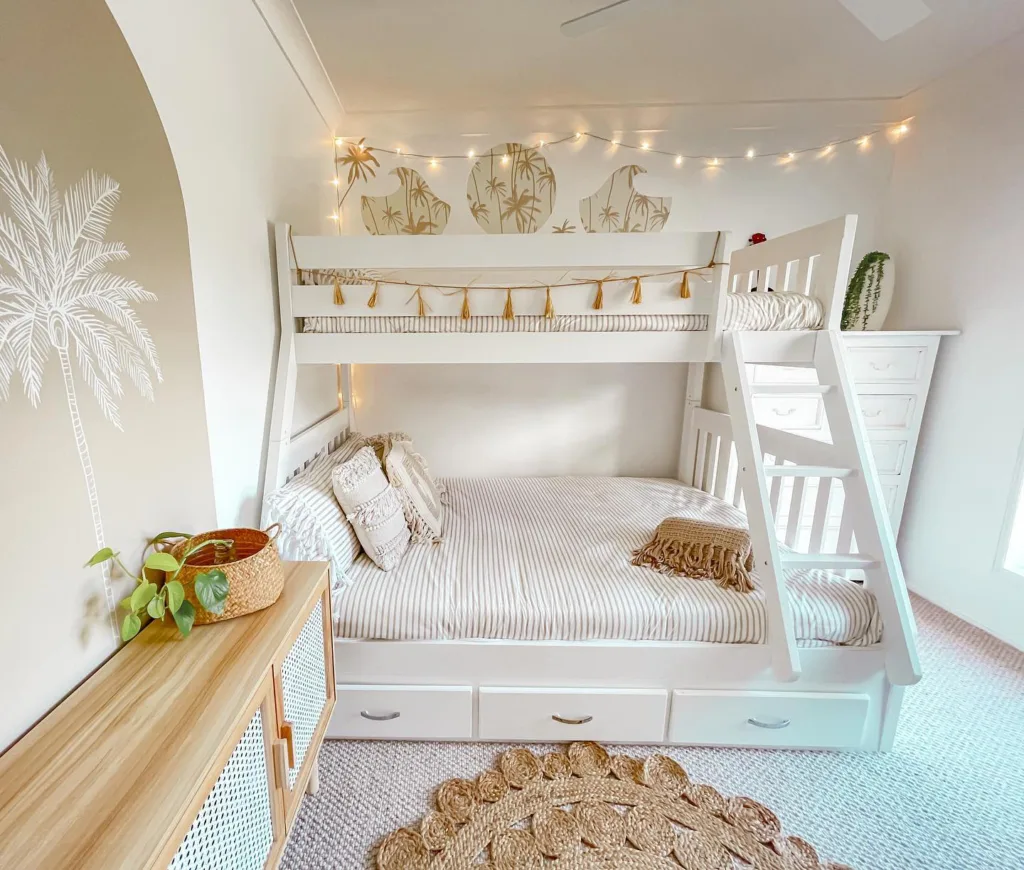 This small room uses every inch of space with built-in kids' beds that feature a ladder connecting the two levels. The simple white design matches the room's walls, while beige accents and neutral woods help add warmth.
24. Rustic Built-in Adult Bunk Beds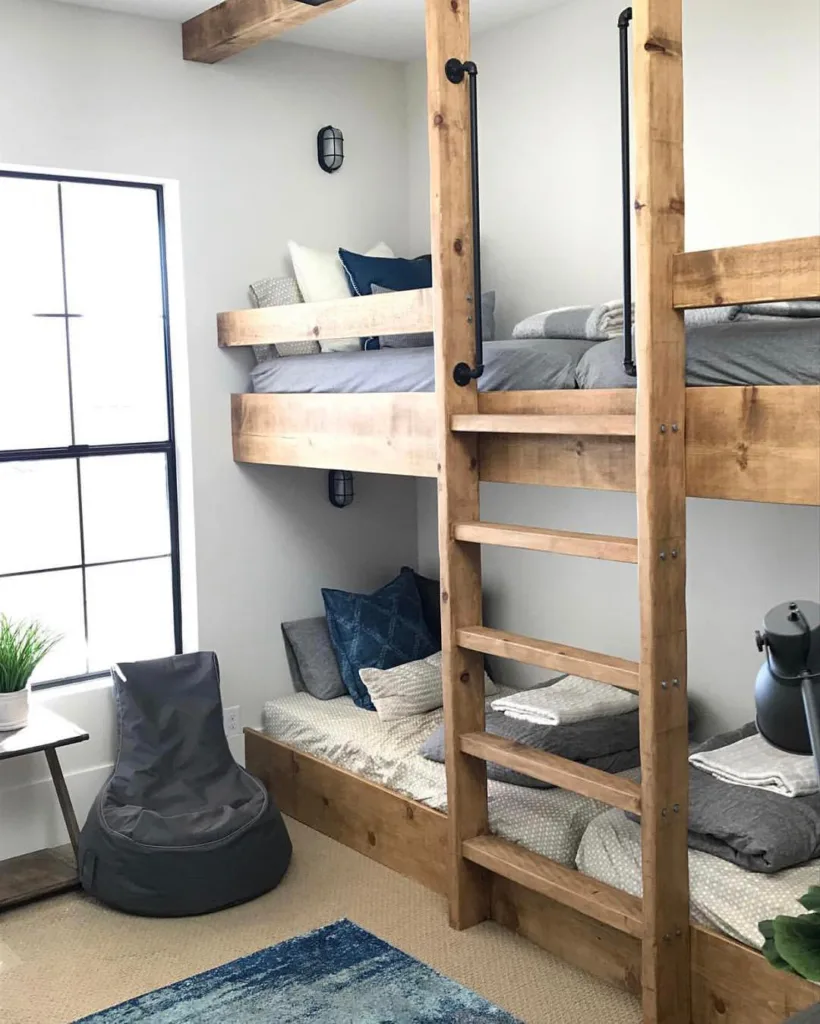 Rustic wood forms these adult bunk beds, perfect for a ski cabin or mountain house. Natural knots in the wood add to the design and complements the beige-colored carpet. Navy and dark gray throw pillows add to the masculine feel and complement the area rug.
25. Wood Shiplap with colorful bedding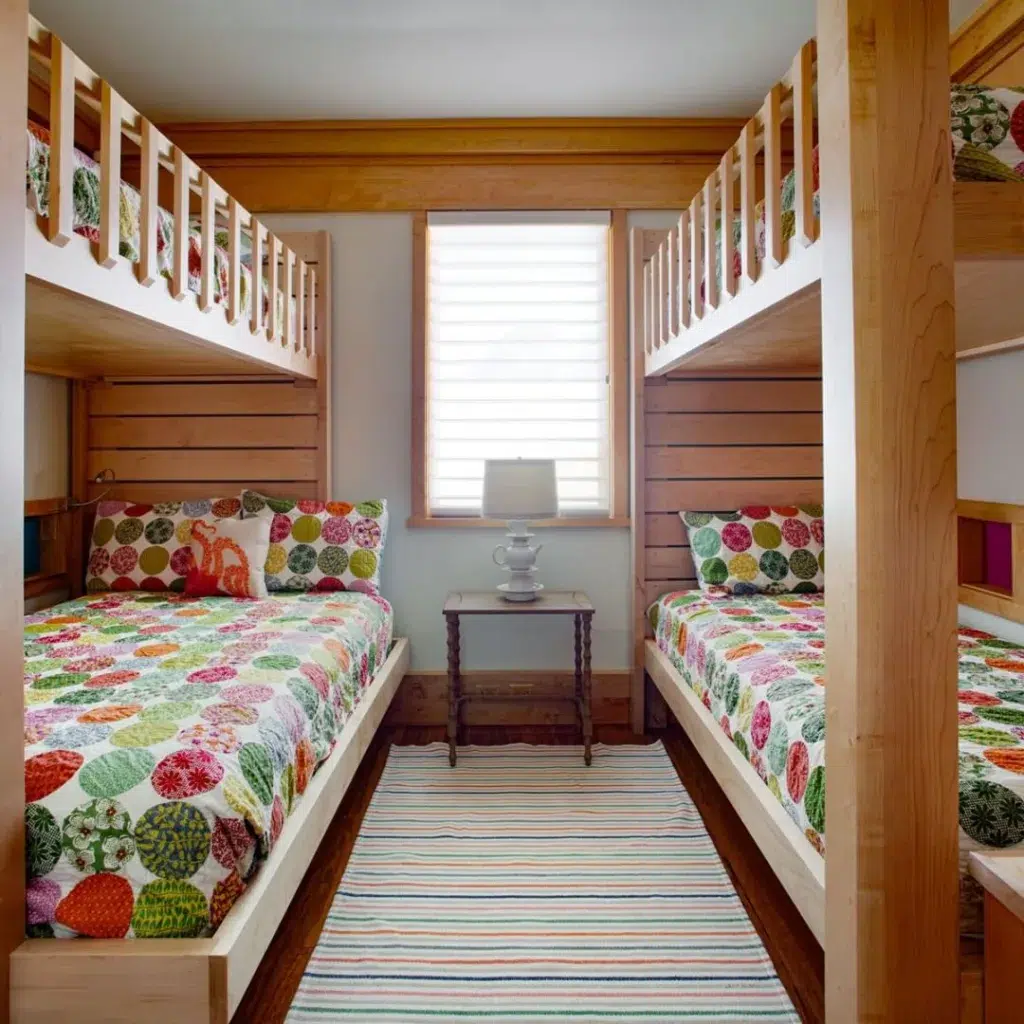 Wood shiplap on the walls is continued to the four twin bunk beds helping them feel like a natural part of the room. Colorful bedding jumps out against the light wood in this space.
26. Queen Sized beds with a loft area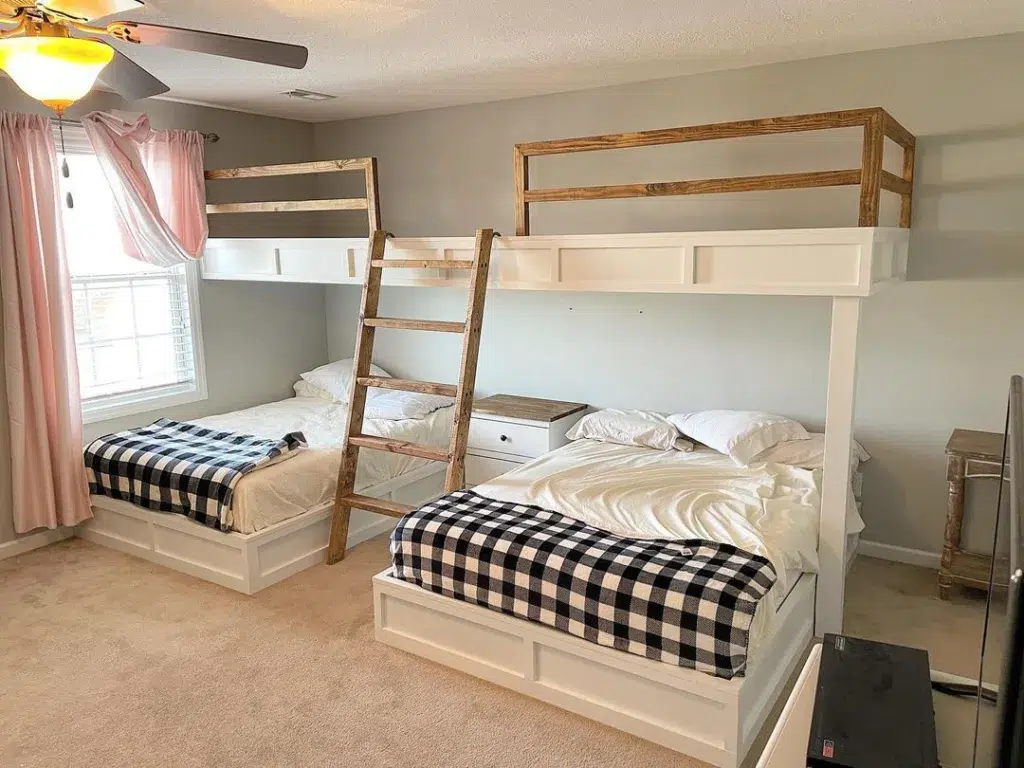 Two queen-sized beds have a loft area built on top of them, which can be used for activities or two twin mattresses. While the wood ladder letting you climb to the upper bunks is fun, if you're creating adult bunk beds, consider adding stairs. This makes the upper beds more accessible and easier to navigate in the middle of the night.
27. Green shiplap with four beds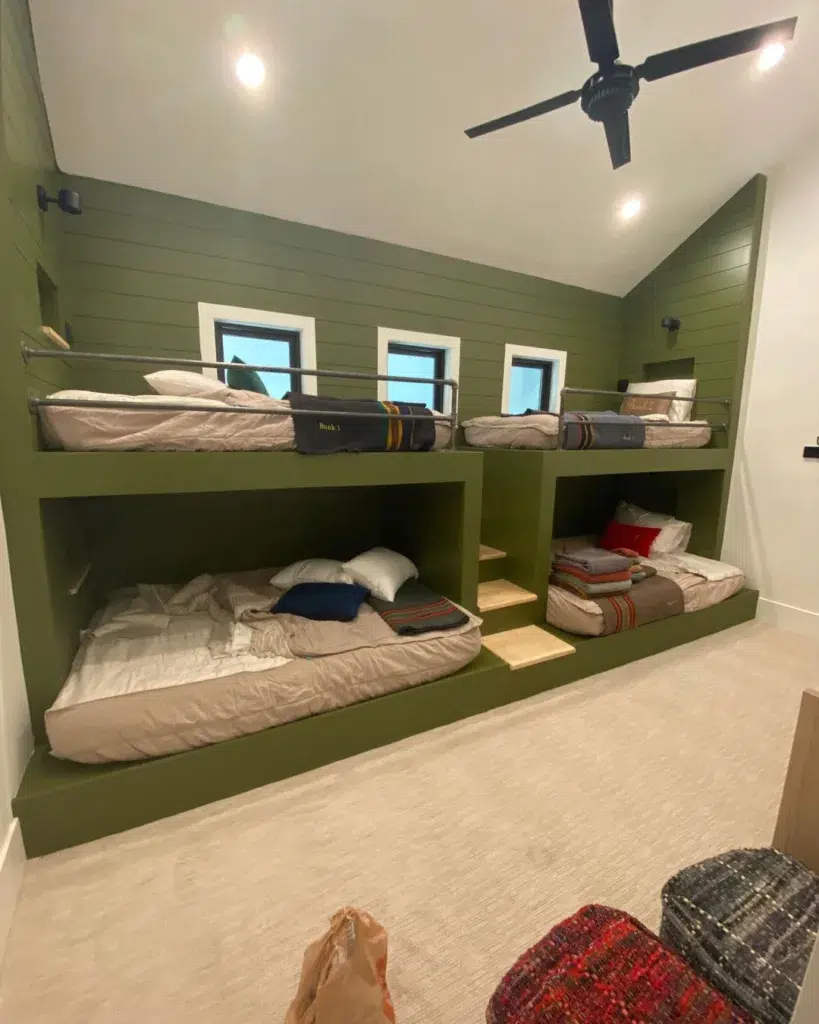 Painting the bunk area of this room green creates separation in the room and adds a fun accent. Grey and white bedding help match the wall and carpet colors in the rest of the room, tieing together the design.
28. Corner Bunk Beds with Book Shelves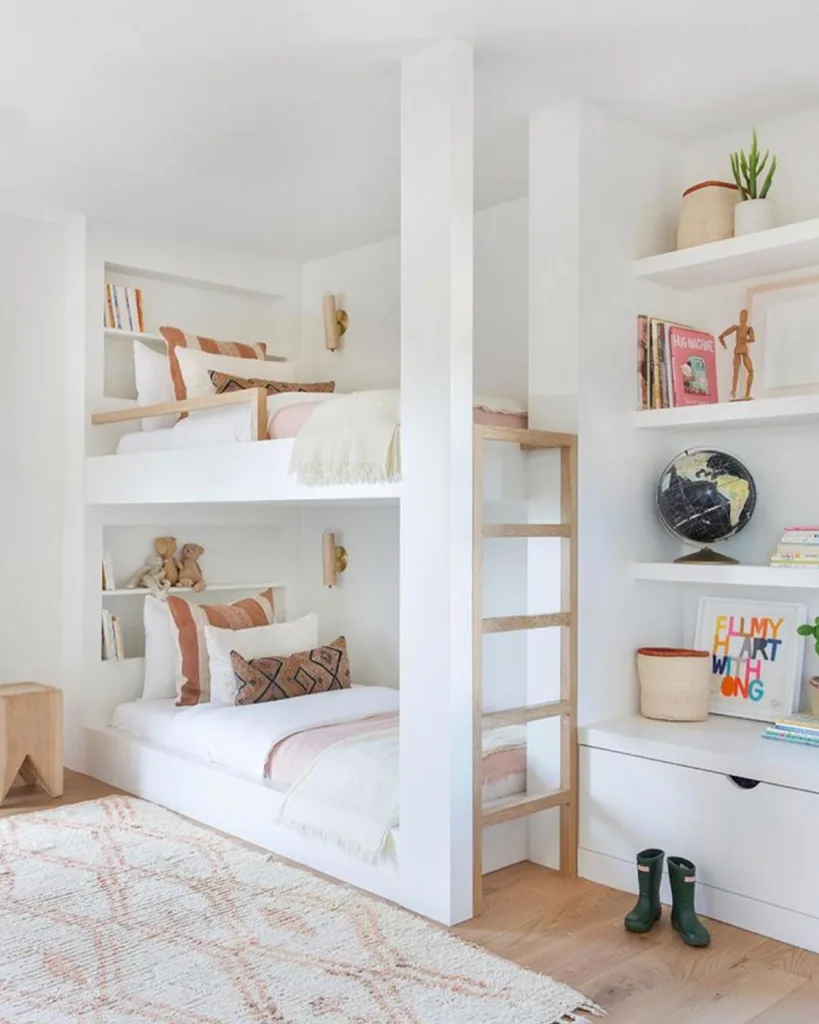 Corner bunk beds in this white bedroom feature built-in shelves behind the pillows adding extra storage space. A natural wood ladder matches the hardwood floors and upper bed railings for a simple design.
29. Extra Storage with Drawers Built Into the Beds
This room features drawers under each of the lower bunks and adds drawer space into each step of the staircase leading to the upper beds. This is a creative way to maximize every inch of space and give your guests a place to store their clothes when visiting. In addition, built-in lights for each bunk add another luxury touch, making it feel like each bed is its own room.
30. Pink beds with wood accents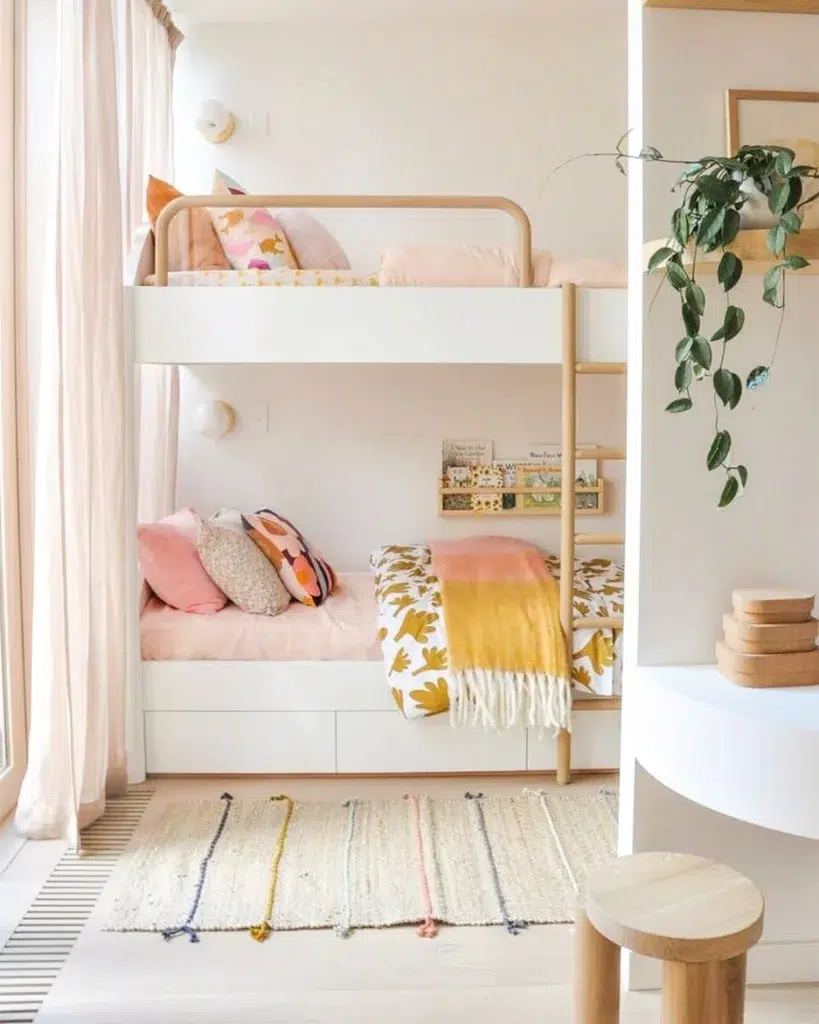 Using wood railing and ladders is one of our favorite built-in bunk bed ideas for a girl's room since it introduces neutral tones that look great with pastel colors. This room combines the look with light pink and yellow tones on each bed. These colors are continued on the beige rug with thin strips of color.
31. Navy and White Bunk beds for a boy's room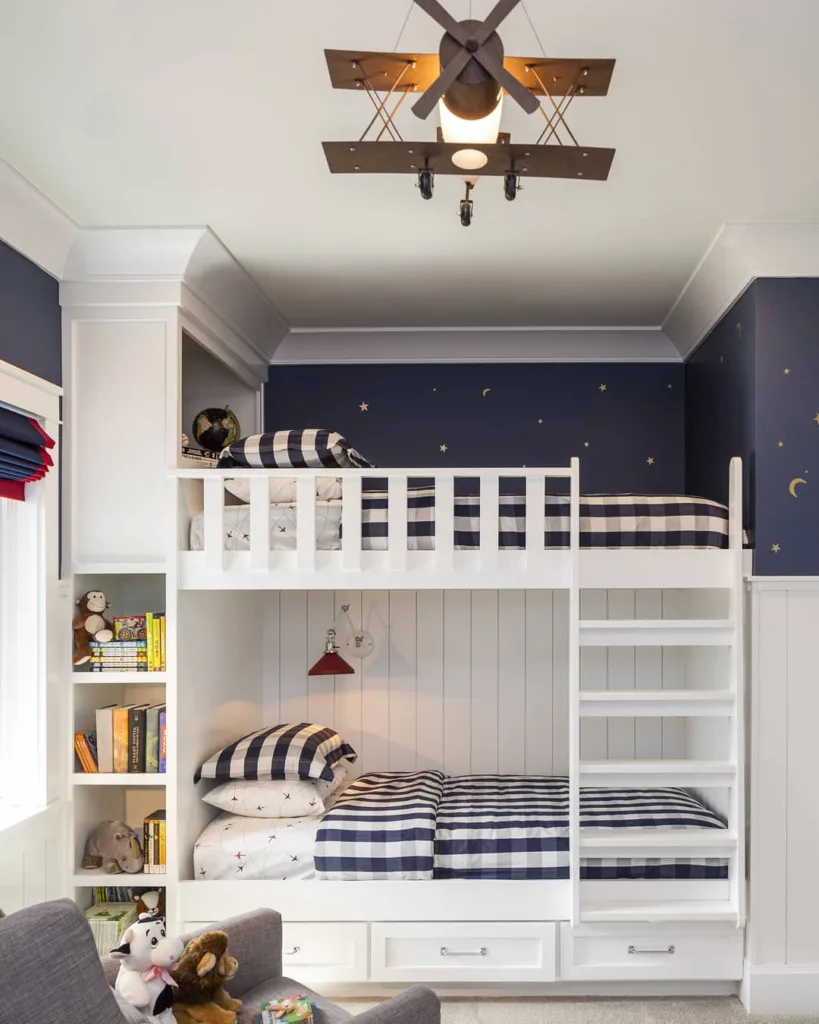 This boy's bunk room design features a vertical shiplap behind the bottom bunk that extends around the room. The half-wall shiplap paneling stops at the top bunk, where the wall is painted navy with stars and moons added to create a night-sky mural. The white and navy color scheme is complemented by plaid bedding on each mattress.
32. dark Custom Built-in bunk beds with Lighting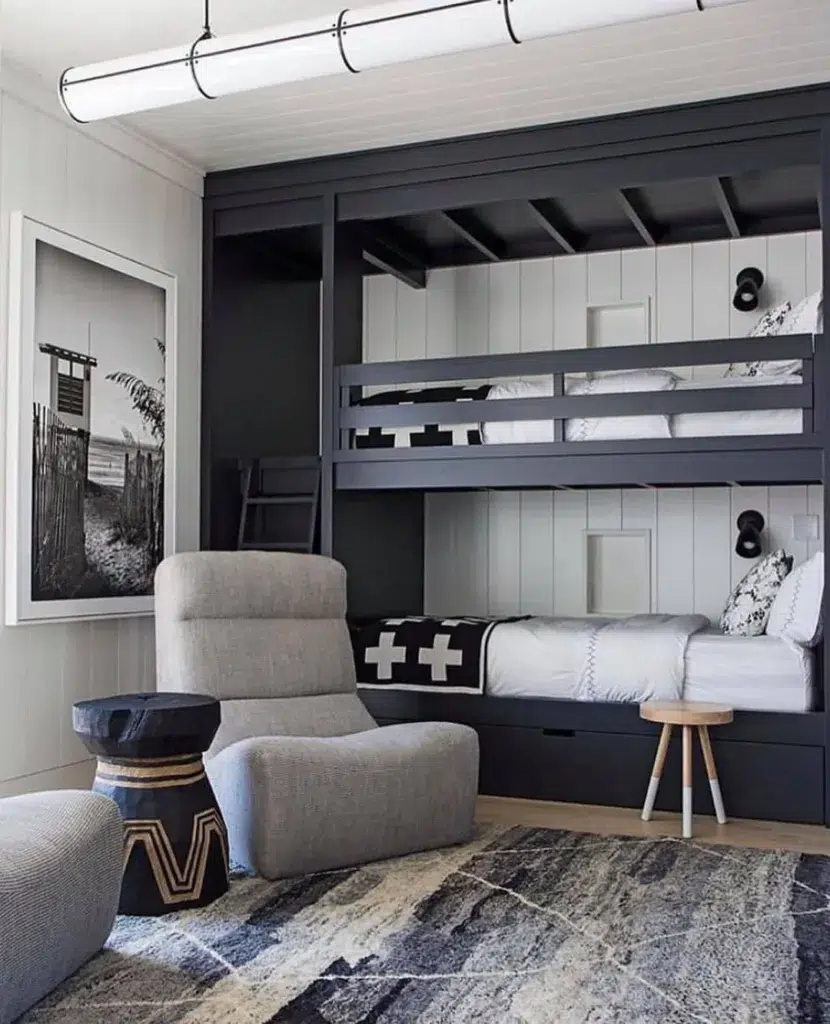 These custom built-in bunk beds feature individual lights and niche shelves in each bunk, making it feel like your own personal sanctuary. Painting the black bunk beds also gives the space a masculine design, which is continued by the grey chairs and dark accents.
33. Light Blue Accents for a coastal style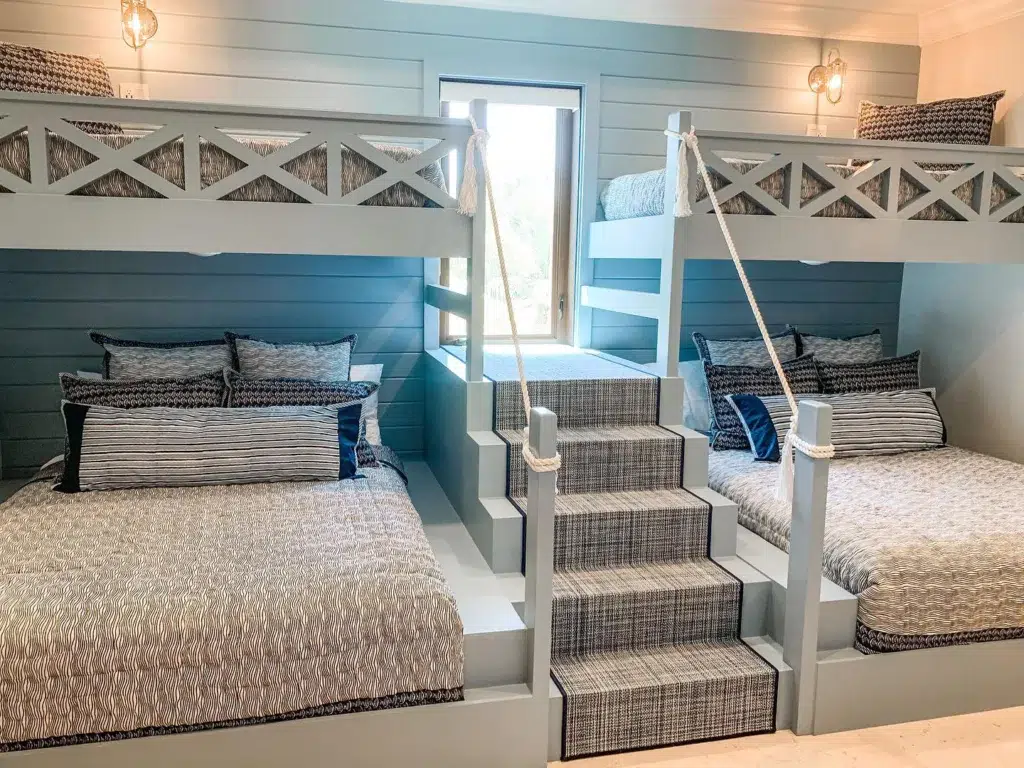 These double built-in bunk beds exude luxury with a carpeted staircase extending to the upper twin mattresses. Below, two queen mattresses are nestled into the light blue framing that matches the shiplap accent wall behind the beds. Painting your bunk beds an accent color is a fun way to create separation in your room.