Teal kitchen cabinets are the perfect blend between blue and green for adding a pop of color to your kitchen. While this style has traditionally been associated with a farmhouse style, we'll show you how teal cabinets can be used in any design, from contemporary to eccentric.
Teal is a deep blue-green color available in various shades, from light to dark.
1. Teal Cabinets with a High-Gloss Finish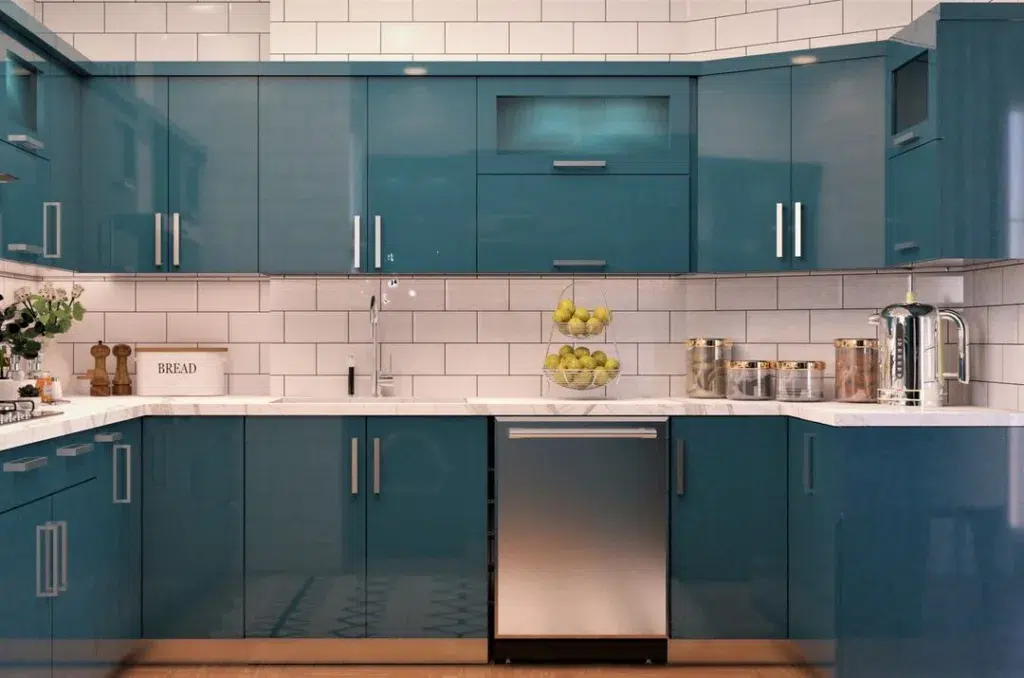 Dark polished teal cabinets reflect the light in this small kitchen with a white subway tile backsplash. Using polished cabinet fronts creates a stunning effect, but it's essential to consider the lighting in the room.
2. Teal Cabinets with Gold Hardware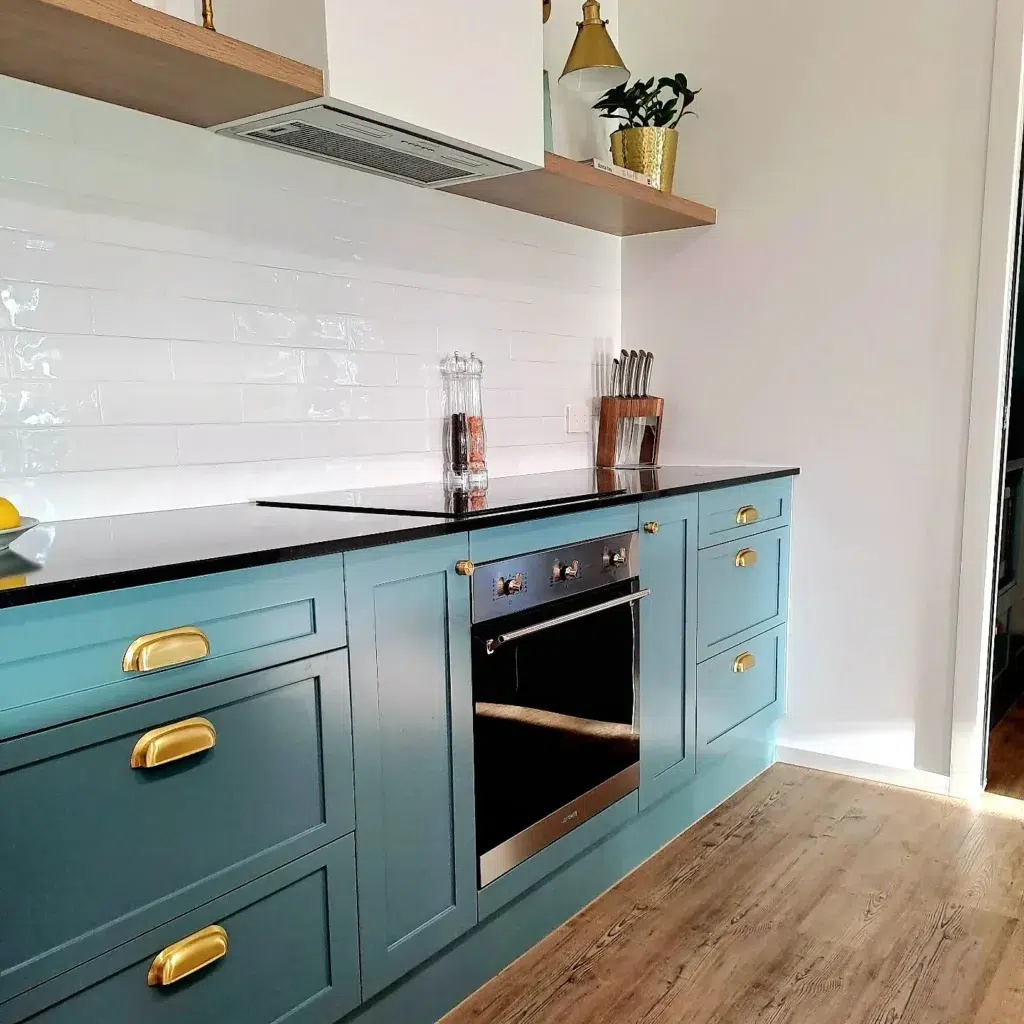 This teal cabinet kitchen uses gold hardware to add a luxurious touch, while black countertops contrast the space. White subway tile with white grout is used as a backsplash for a bright look, with wood butcher block shelves for storage.
3. Open Wood Shelves in a Two-Tone Kitchen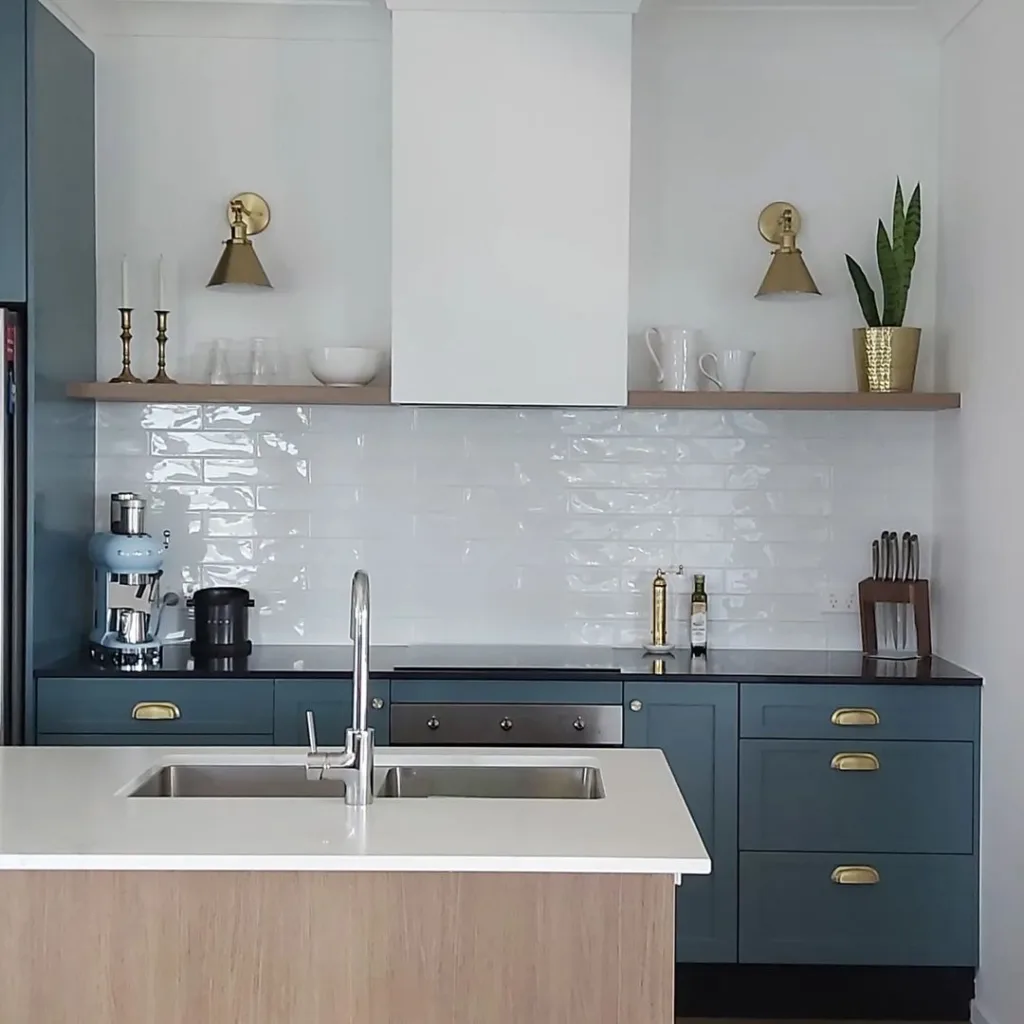 This two-tone kitchen combines teal blue cabinets around the perimeter with a white oak island that brings in natural tones. Black countertops on the teal cabinets create a dark contrast, while a white counter on the island matches the subway tile backsplash.
4. Dark Teal Cabinets with White Countertops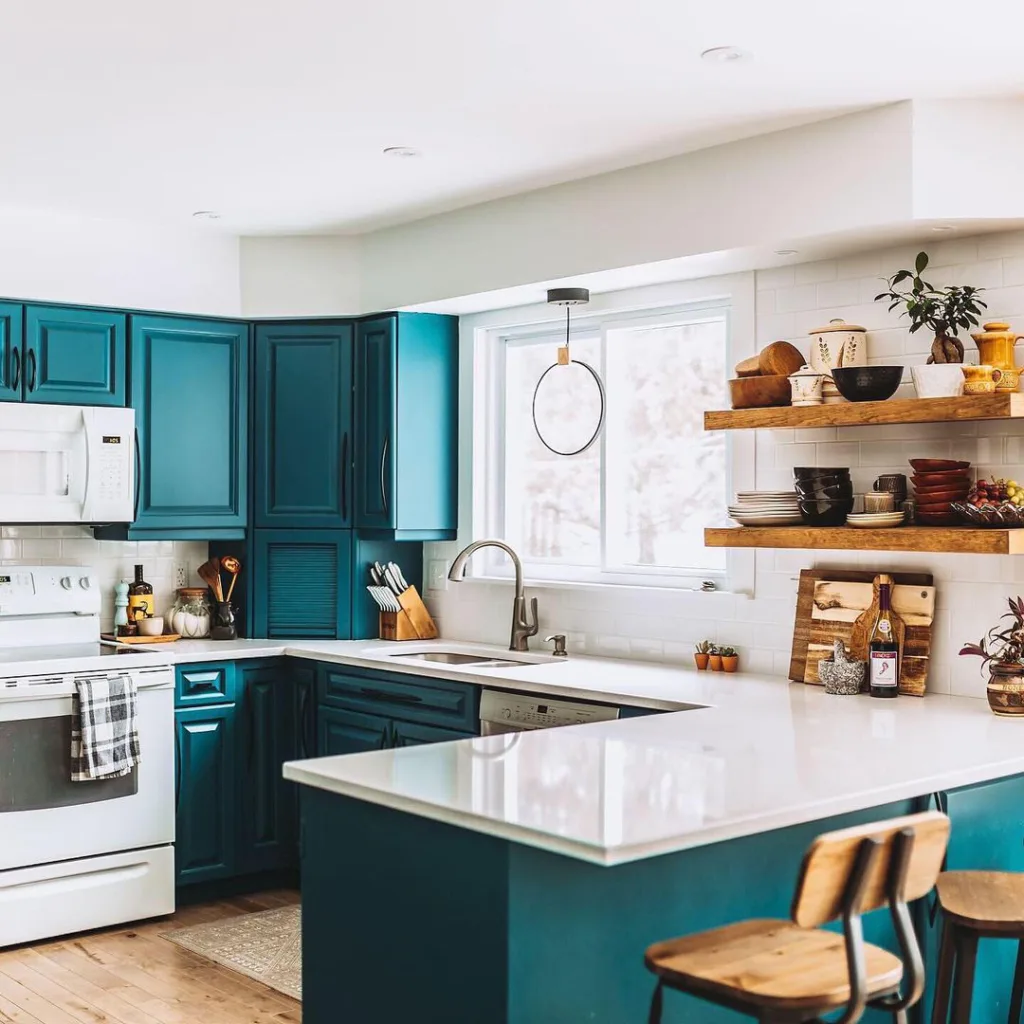 This teal L-shaped kitchen features white countertops that match the stove and microwave. Open wood shelves next to the window are accented by wooden stools at the counter.
5. Teal cabinets in a Home Bar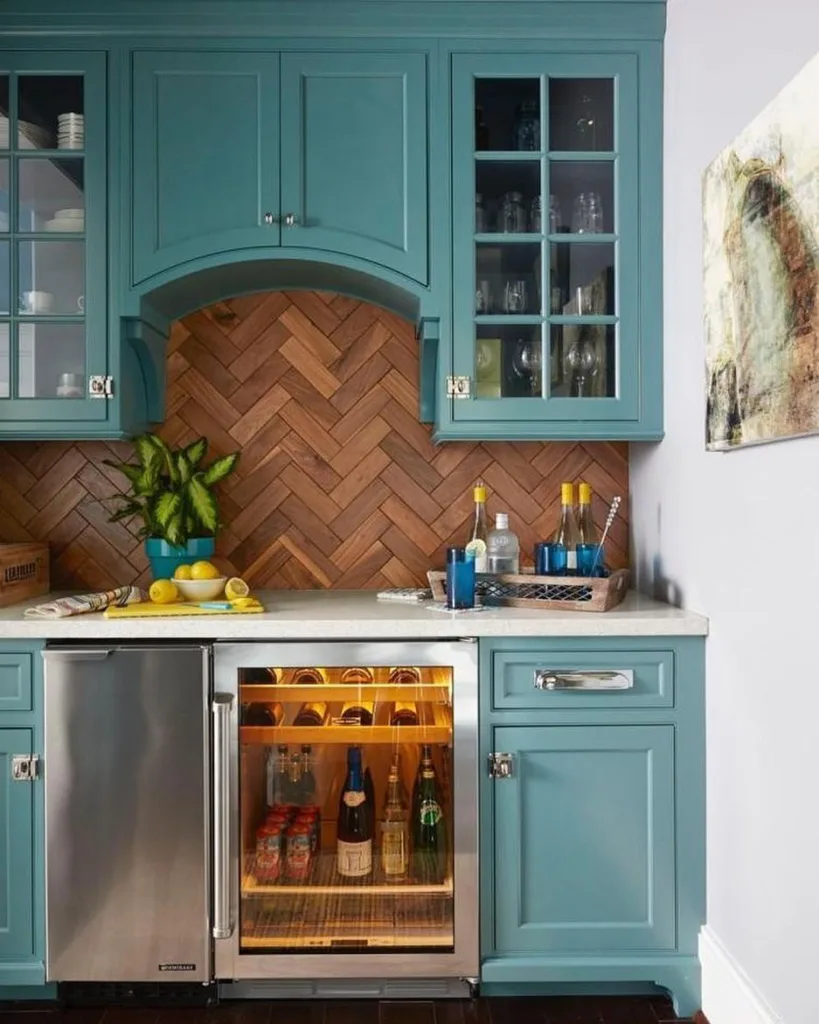 These light teal cabinets near a grey wall create a beautiful home bar with a stainless steel mini-fridge and ice maker. A chevron wood backsplash adds warm neutral tones to the space, balancing the colorful cabinets. Similar to our home bar, this design uses upper glass cabinets for displaying glassware and barware.
6. A butcher Block Countertop with Grey Marble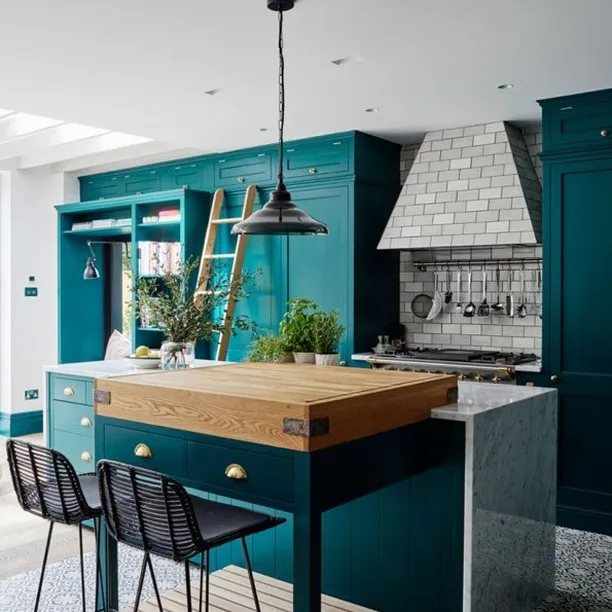 This teal cabinets kitchen features a large island with a grey granite waterfall countertop that matches the marble subway tile backsplash. A wood butcher block extends from the island, offering a place for seating and food prep. The drawers under the wood countertop are painted dark teal to contrast the rest of the kitchen.
7. Teal Blue Cabinets And White Counters
These modern teal kitchen cabinets feature a shaker-style design and brass hardware. White countertops around the space match the white walls in the rest of the home. A grey tile backsplash is arranged in a herringbone pattern to create contrast.
8. Modern Teal Kitchen Cabinets with Black Countertops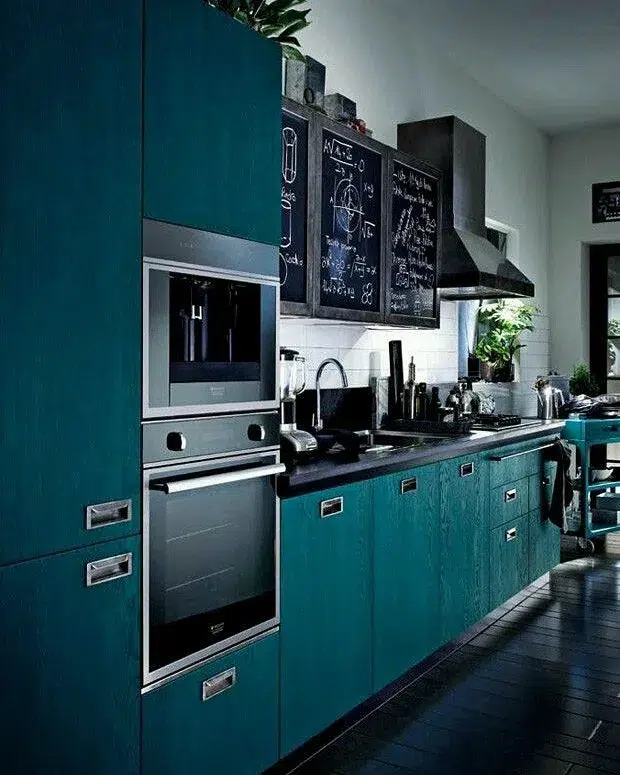 Black countertops and appliances add to the style of the modern teal kitchen cabinets in this space. Black hardwood floors match the countertops and continue the dark contemporary style. Using teal cabinets in this space is a great way to introduce color and break away from traditional white and black modern designs.
9. Black Hardware with Dark Teal Cabinetry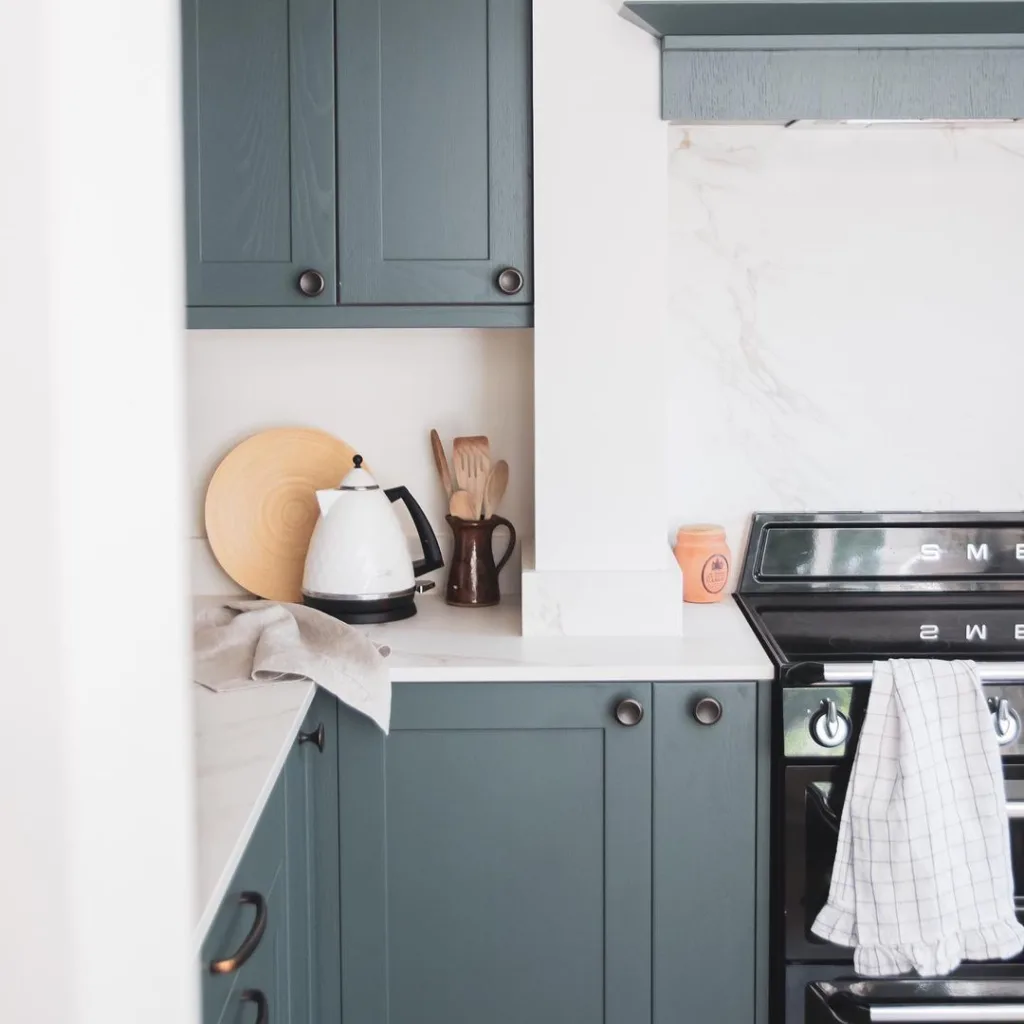 Dark teal cabinetry with a matte finish is contrasted by black hardware that matches the nearby stove. White quartz backsplash and countertops brighten the space with neutral-colored decor displayed.
10. White and Teal Cabinets with a Big Island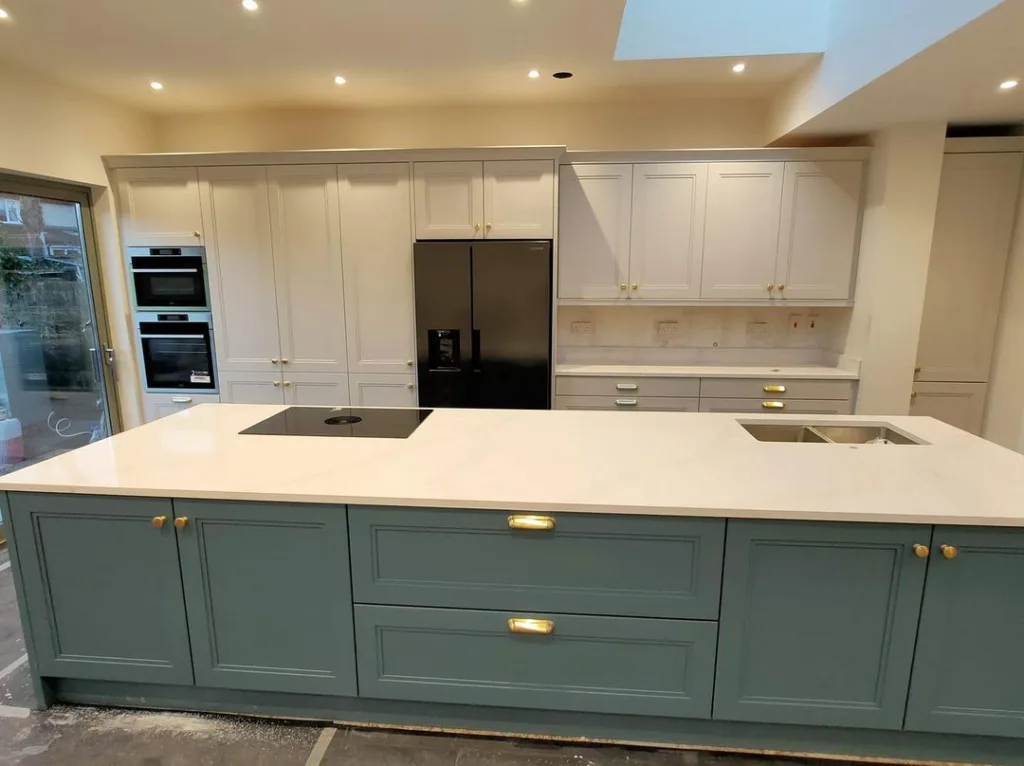 This kitchen combines a wall of white cabinets with a large teal island for a two-tone design. A black electric stove stop is installed on the island and matches the black fridge and ovens. Gold hardware is used on all of the cabinets to connect the two areas of the space.
11. Green Teal And Blue Cabinets With Subway Tile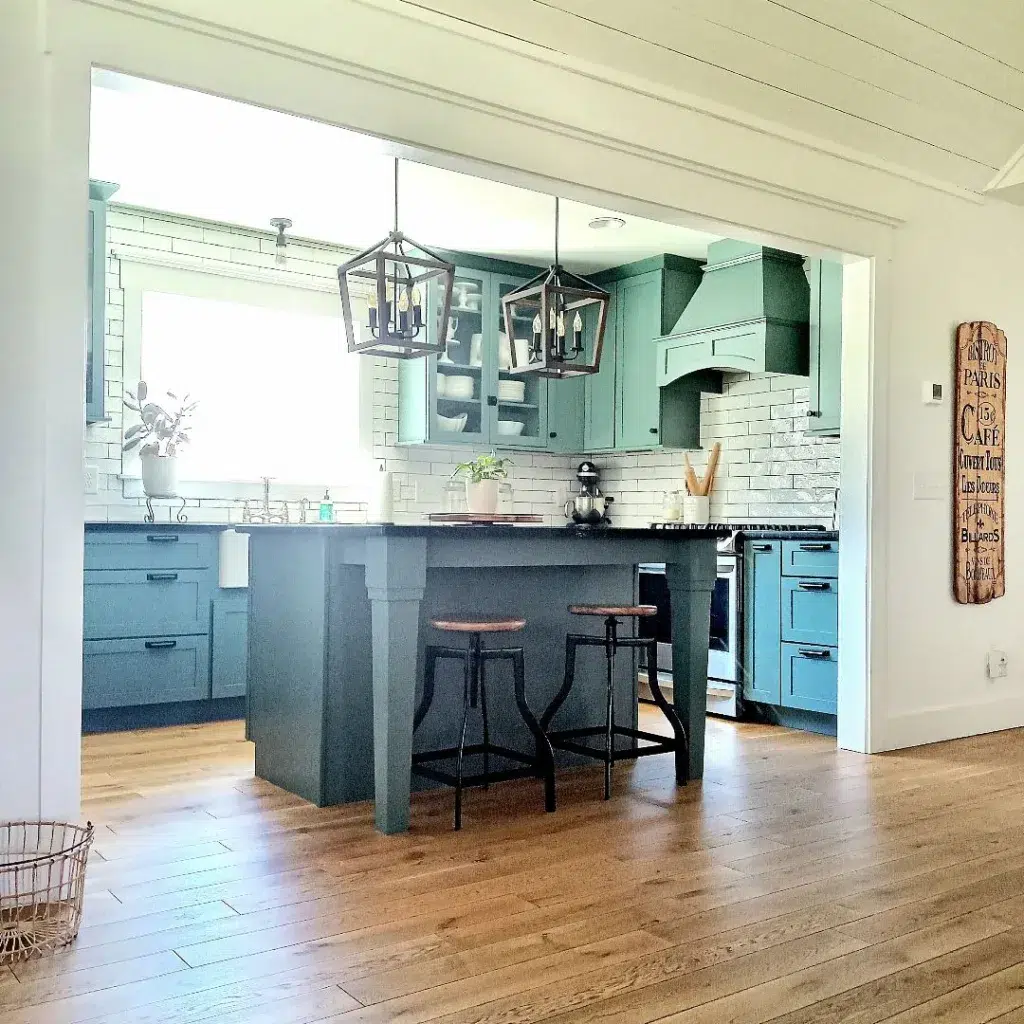 This rustic kitchen combines teal green upper cabinets with blue lower cabinets. Black hardware is installed on all the cabinets and matches the stools at the island. White subway tile with gray grout is installed as a backsplash.
12. A Light Teal Island with Gold Hardware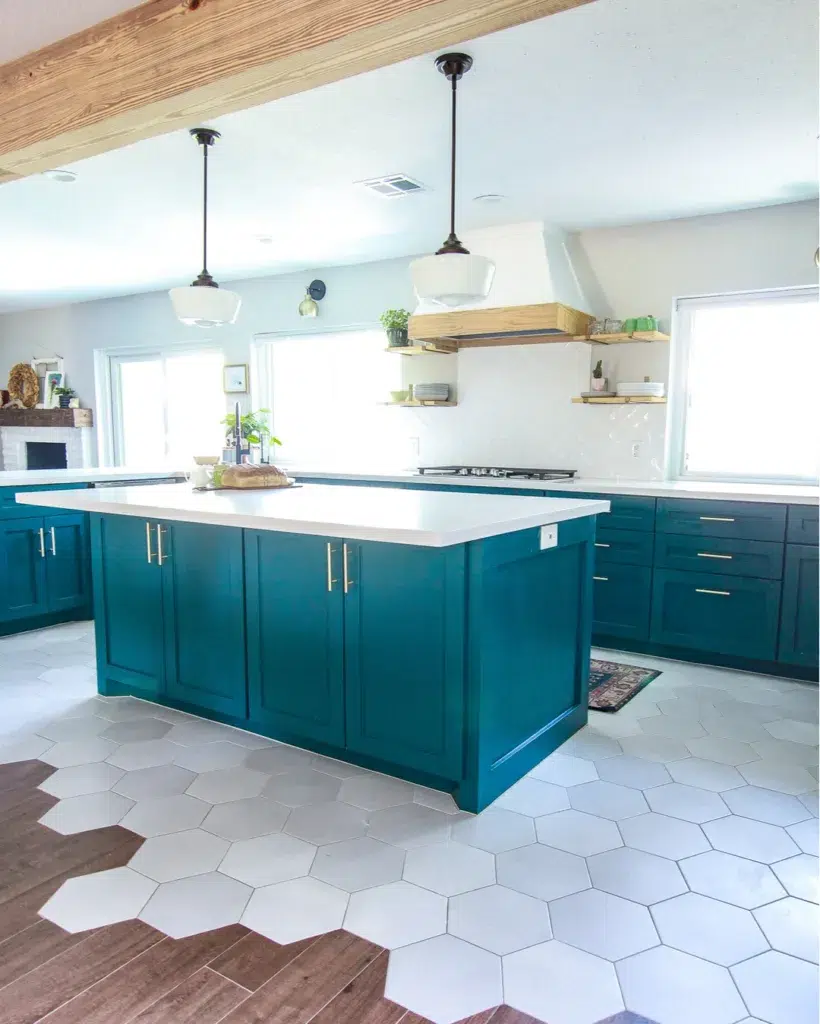 This modern teal kitchen features white hexagon floor tile blended into the house's wood floors. Instead of upper cabinets, wood shelves are installed around the stovetop for an open design. In addition, white countertops are installed in the kitchen to brighten the look even further.
13. Black and Gold Pendant Lights Over a Teal Island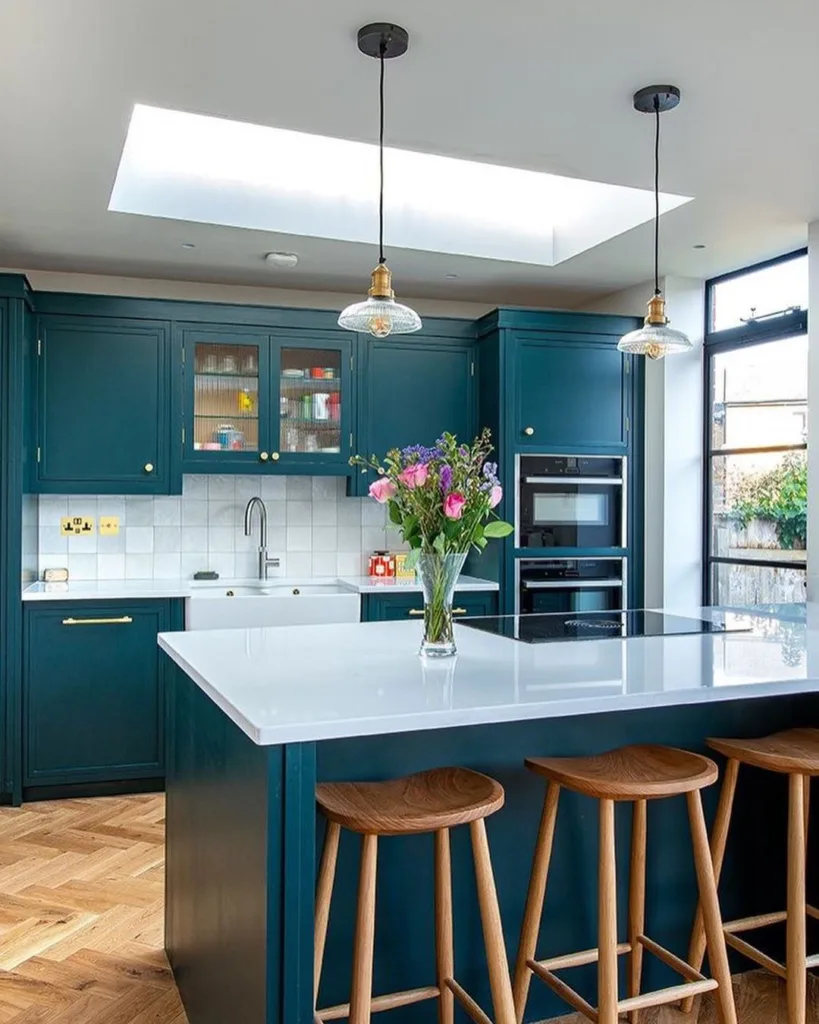 Black and gold pendant lights hang over the teal blue island in this kitchen, while wood barstools at the island accent the chevron wood floors in this space. Teal cabinets with a white farmhouse sink are installed in the rest of the kitchen.
14. A wood Range Hood with Open Shelves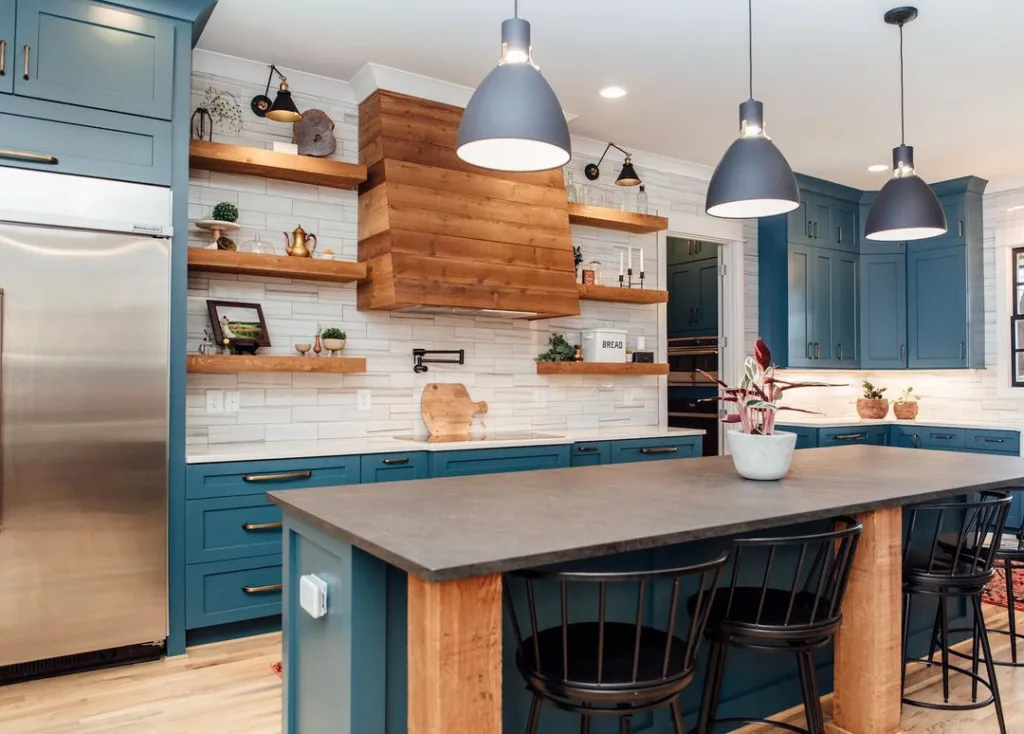 A wood shiplap range hood in this Aegean teal kitchen matches the island's open wood shelves and rustic wood accents. A large stainless steel fridge gives this space a high-end look. White glass tile is used as the backsplash, while the island has a black countertop creating contrast in the area.
15. Green Teal Cabinets with a Blue Island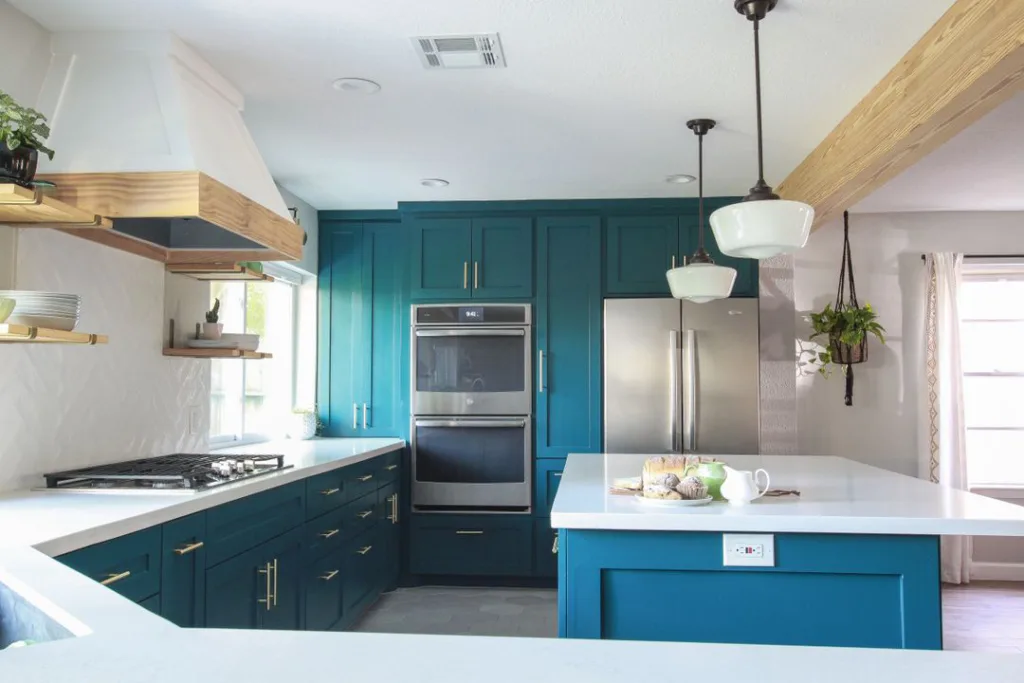 Floor-to-ceiling blue teal kitchen cabinets surround the double ovens in this design. White countertops around the space match the herringbone subway tile backsplash giving this space a light and airy design. Light oak wood beams and accents are used to add a modern touch.
16. Antique Teal Kitchen Cabinets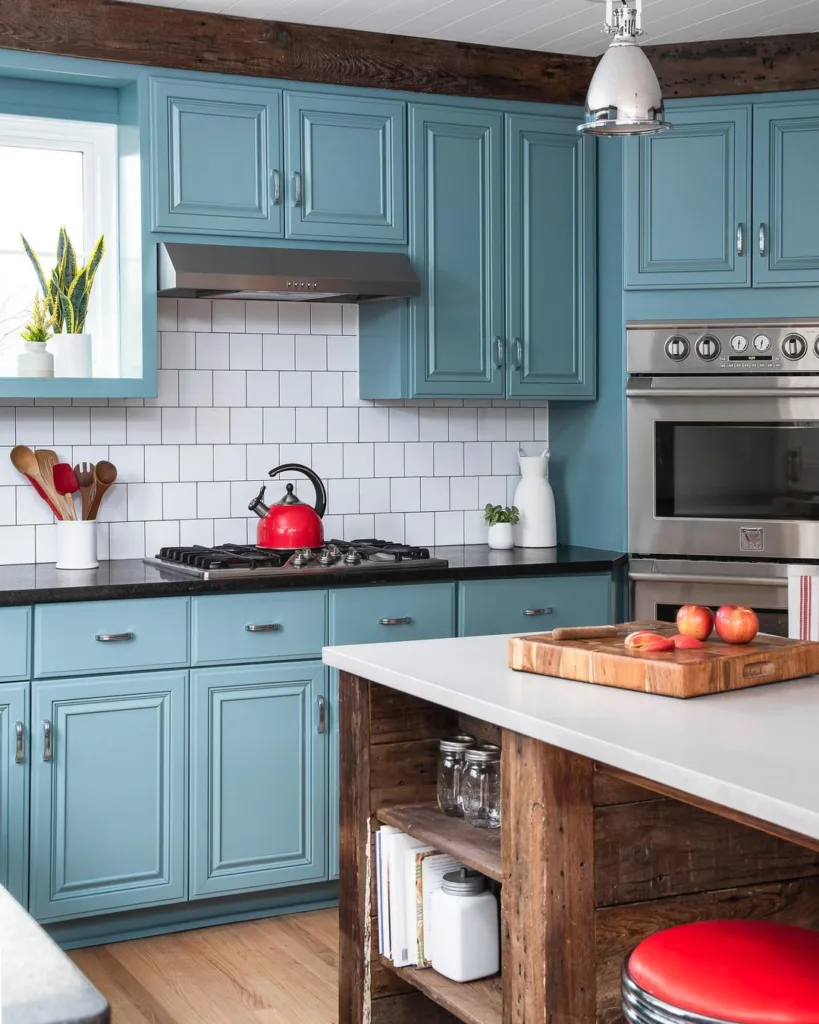 Antique teal cabinets fill this country kitchen with a rustic wood island. Black countertops on the teal cabinets add a stark contrast, while the white tile backsplash brightens the design. A wood butcher block on the white island countertop is used as decor.
17. Open Wood Shelves and Quartz Countertops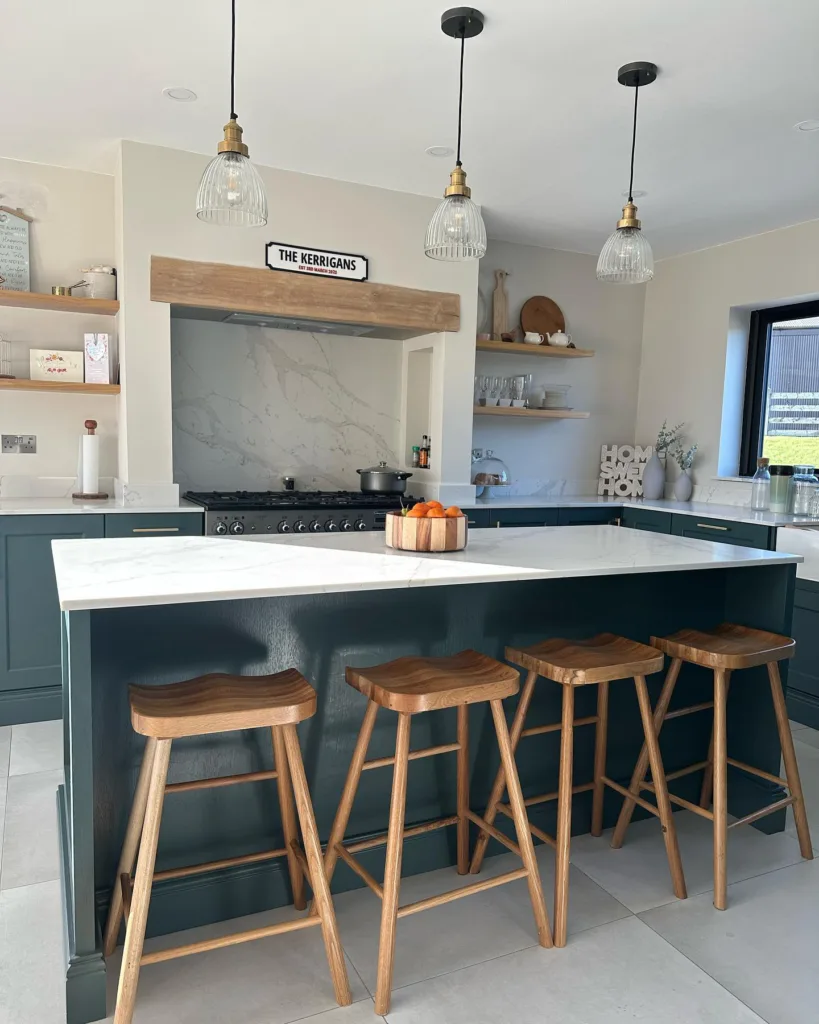 Dark teal paint with a semi-gloss finish gives this kitchen island a high-end look that matches the matte perimeter cabinets. Using the same hue of teal with a different finish is an easy way to create depth in your design without introducing new colors. Grey tile floors add a subtle contrast that accents the veining in the quartz countertop and backsplash behind the stove.
18. Rustic Wood Beams on a Teal Painted Island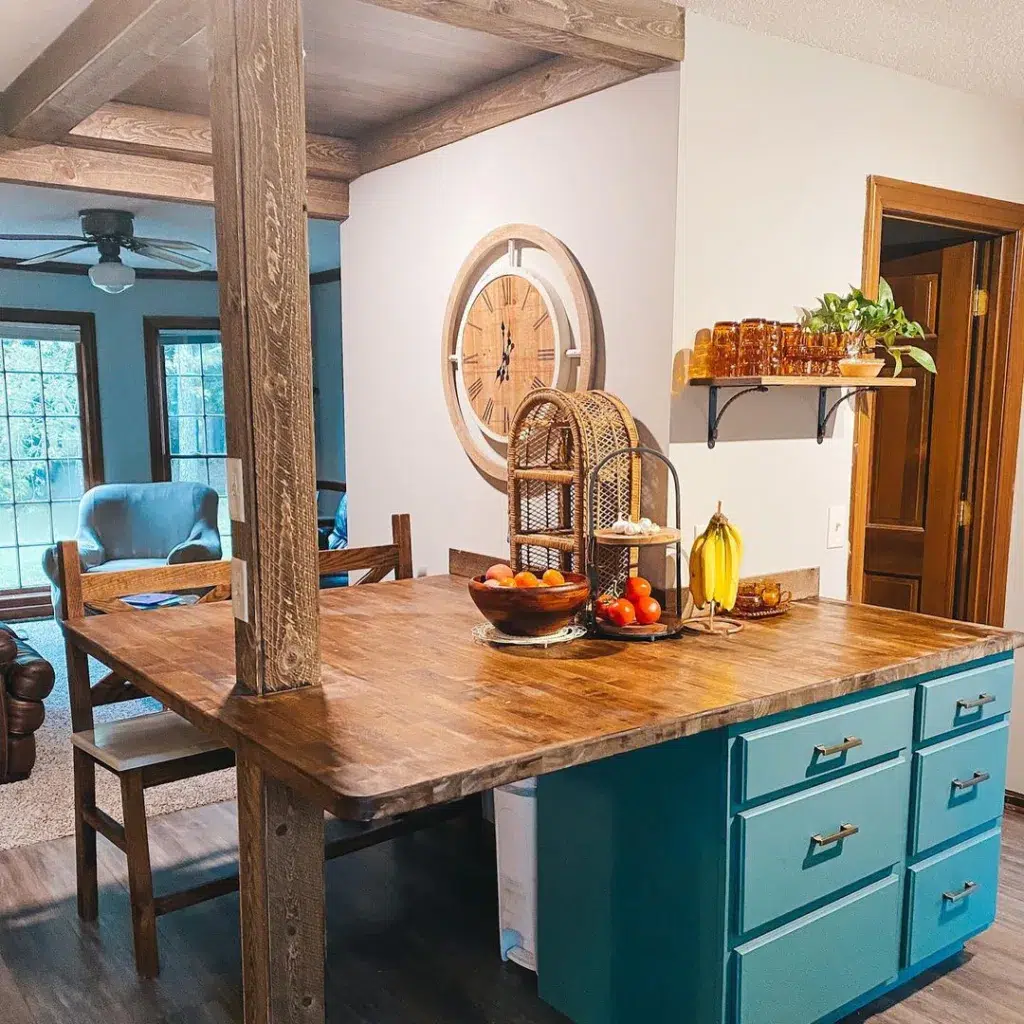 A rustic wood countertop on this farmhouse teal island matches the rest of the wood elements in the space. In addition, the teal color of the cabinets is an excellent choice for this space since it exudes an old-world charm that blends with the rustic style.
19. A Teal Farmhouse Country Kitchen with Plants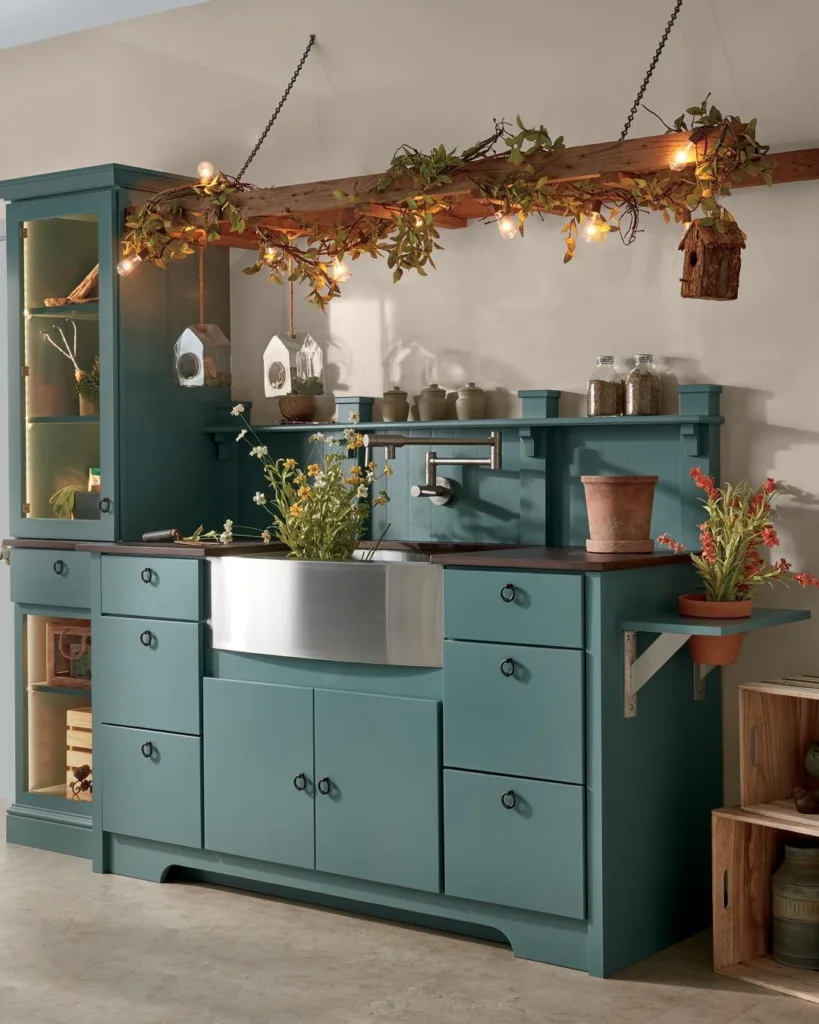 A stainless steel farmhouse sink adds a modern touch to this teal farmhouse kitchen with flat front cabinets. Black rings are installed as handles on the cabinets. Many plants hang around the kitchen, adding a rustic and outdoorsy element to the space.
20. Wood Trim Cabinets Painted Teal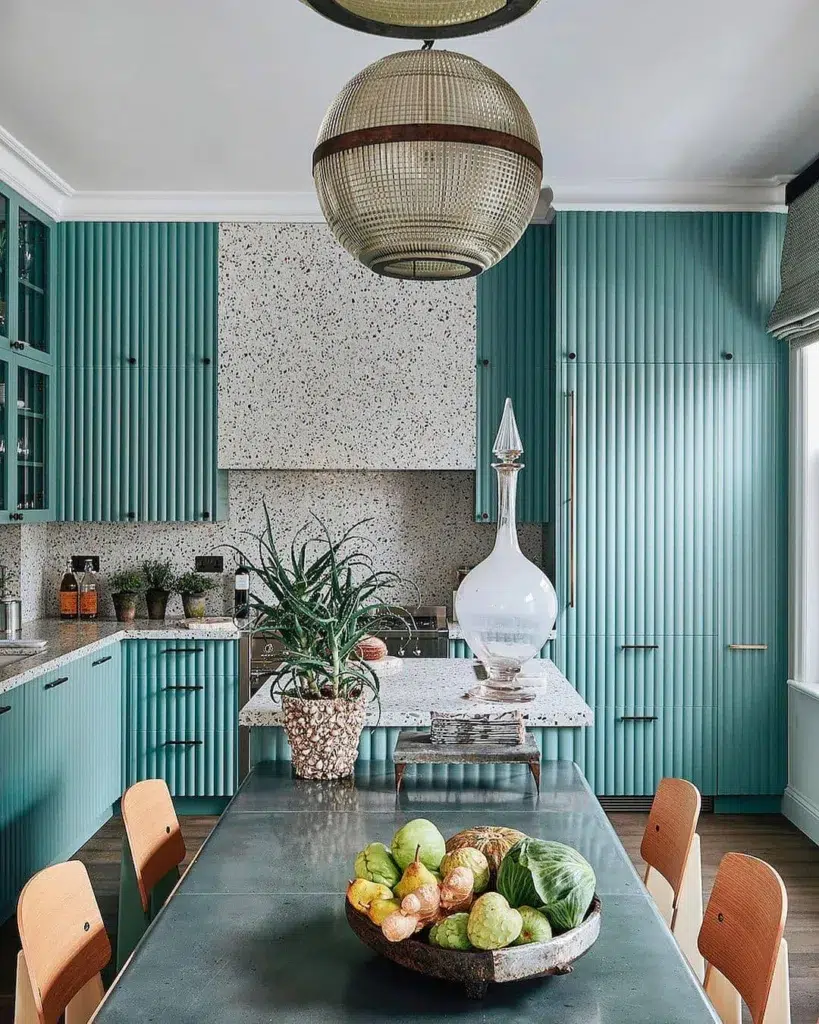 Teal cabinets with wood trim accents on their fronts add depth and dimension to the space. You can actually achieve a similar look by gluing dowels to your cabinets and painting them your favorite shade of teal. This DIY project is a great way to upgrade your cabinetry on a budget. This space accents the unique cabinet design with a speckled backsplash creating an eccentric style.
21. A modern Teal Kitchen with Gold Accents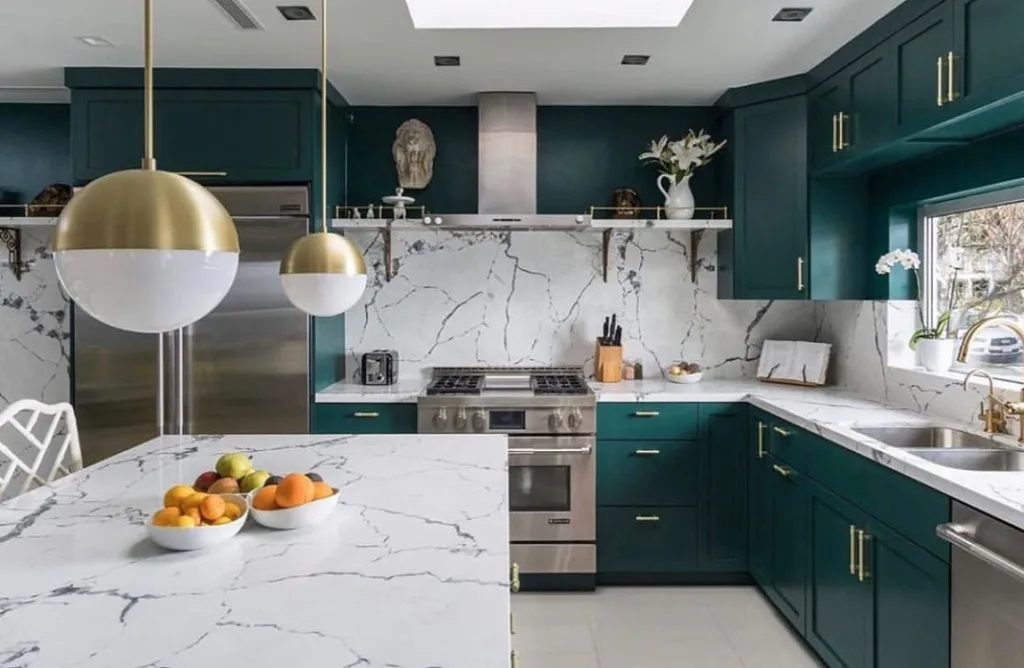 Gold and white pendant lights hang over the island in this modern kitchen with a marble backsplash and countertop. Brass hardware on the cabinets matches the pendant lights, while stainless steel appliances add a more dramatic look. If you don't like the look of exposed stainless steel, you can also opt to panel your refrigerator and dishwasher to match your cabinets.
22. Pink Pendant Lights with Dark Teal Cabinets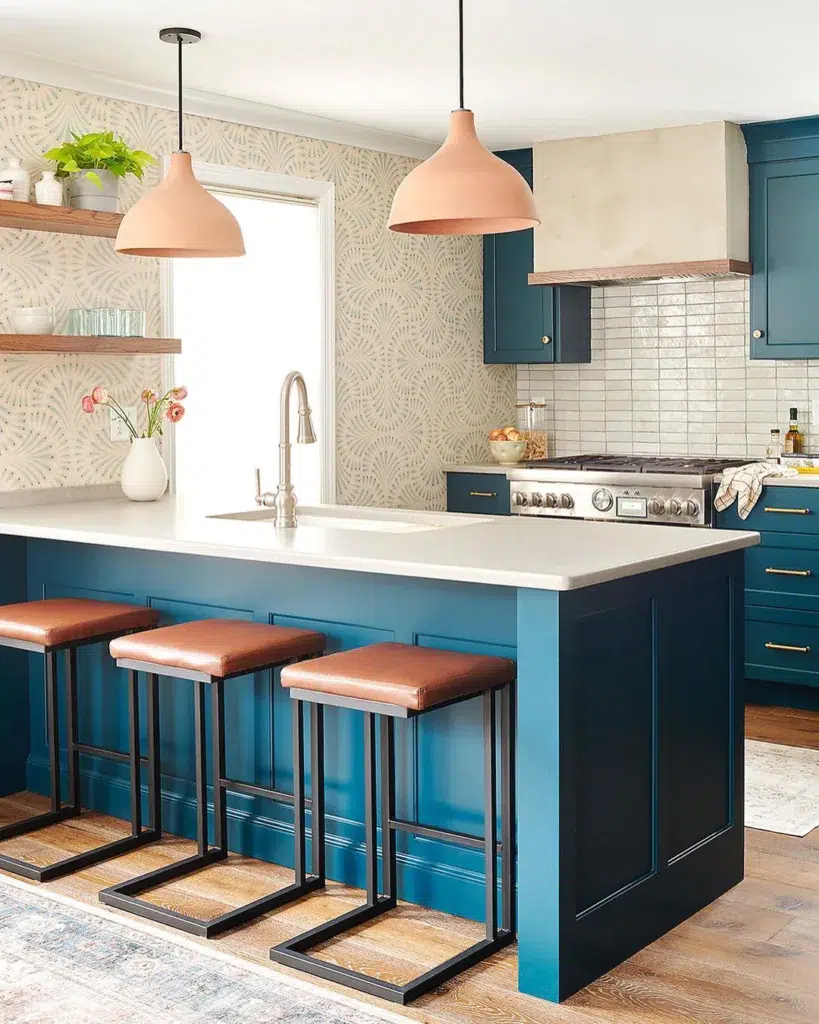 This dark teal kitchen features a white stacked tile backsplash with a polished finish that reflects light around the room. Pink pendant lights hang over the island, adding a secondary accent color. Brown bar stools complement the light wood floors and shelves while still looking great with the pink and teal color scheme.
23. Dark Teal Kitchen with Marble Backsplash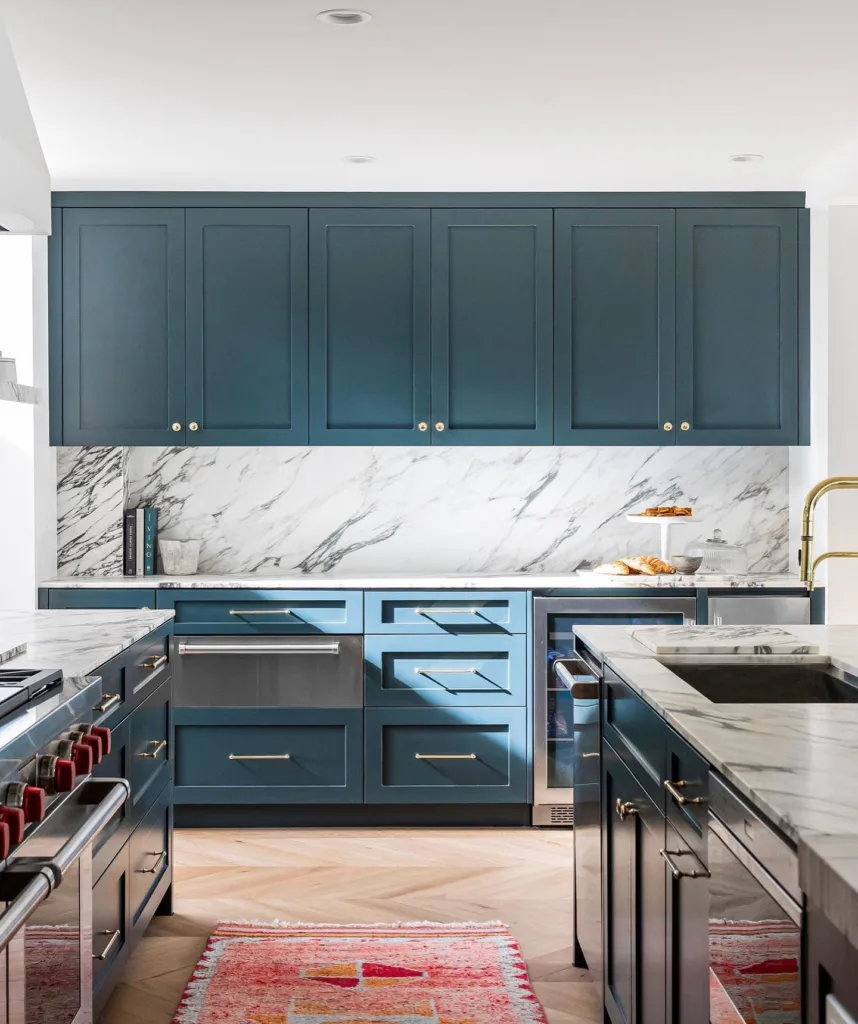 Marble countertops and backsplash feature gray veining that matches the stainless steel appliances in this kitchen. Dark teal shaker-style cabinets fill this space with gold hardware adding a luxurious touch. The built-in microwave on the island is across from the high-end wolf stove with red handles. A red floor rug accents the stove and sits on the chevron wood floors.
24. Bright Teal Tile and Cabinets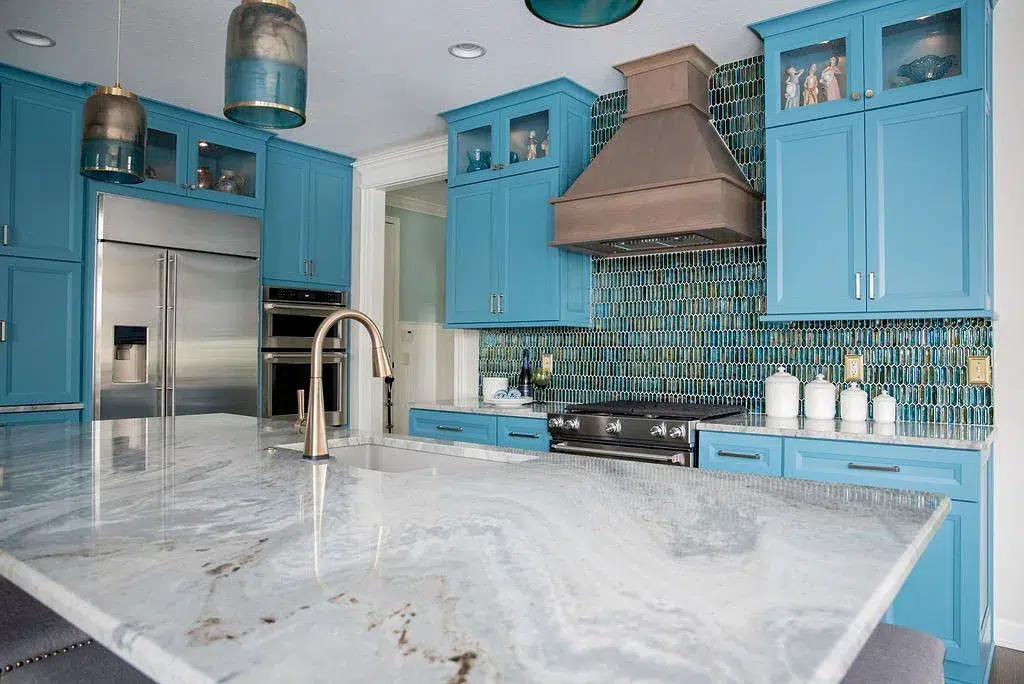 Teal tile is used in a mosaic pattern in this kitchen with light blue teal cabinets for a stunning design that stands out with color. Stainless steel appliances help balance the teal hues in this space, along with the grey countertop on the large island.
25. Dark Teal with Black Countertops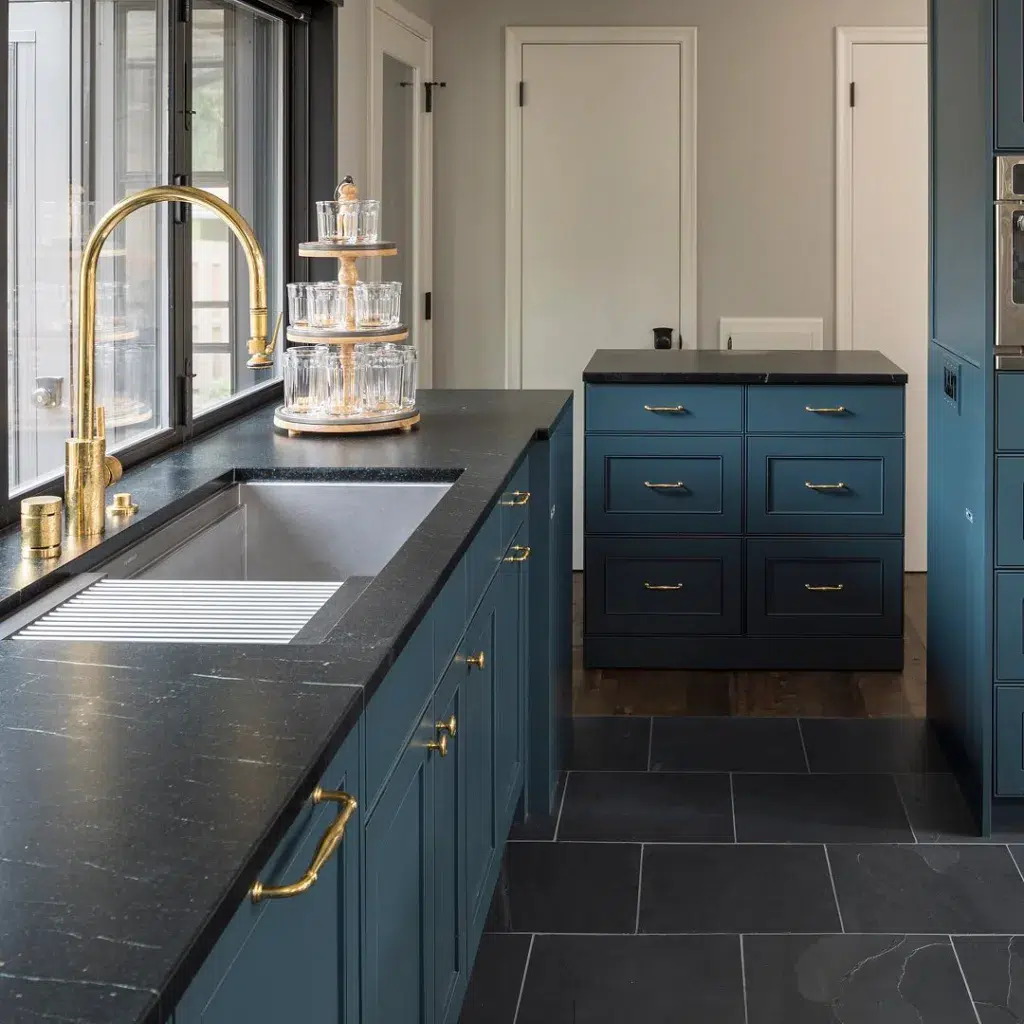 Black marble countertops and floor tile contrast the dark teal cabinets in this elegant kitchen. Antique brass hardware is installed on the cabinets and matches the gold faucet.